Portland, the largest city in Oregon by the Willamette River, is a must-see destination on the west coast of the United States. Only an hour and a half away from the Oregon coast, Portland sits in a beautiful location in the Willamette Valley. Not to be confused with its name sake Portland, Maine on the East Coast, Oregon's biggest city offers plenty of city activities, but with nature right in its backyard. Easy access to public transportation makes getting around a breeze. The Portland Street Car and Max Light Rail will get you anywhere in no time. You could easily fill a week or more with shopping, meandering through parks, and visiting museums. But if all you got is one weekend in Portland Oregon, we've got the itinerary for you!
This post contains affiliate links. This means we make a small commission at no cost to you if you click through and make a purchase. All prices listed are accurate at time of publication.
1 Weekend In Portland Oregon
It's not just a rumor that it rains a lot in Portland! Pro Tip: umbrellas won't do the job, make sure to bring a proper rain jacket, no matter what time of year you plan your weekend getaway! But even if it pours, you'll find plenty of indoor things to do. And once the sun comes out, the great outdoors are there to accommodate you.
BEST PORTLAND RAIN JACKET
The Columbia Women's Switchback III Jacket is a fan favorite! Buy it now on Amazon!
Can't miss attractions On Day One
Washington Park
To get your fix of nature you don't have to go further than two miles from downtown Portland. That is where you will find Washington Park, a 410 acre public park that holds a lot of attractions, and the perfect place to take a deep breath and enjoy the greenery. Entry is free, but there's a $2 per hour fee to park.

Archery Range: it's free to use, but you must bring your own bow. Crossbows are not permitted.
Hoyt Arboretum: a museum of living trees. On 12 miles of trails you will find no less than 2,300 species of trees from all over the world. Get yourself a trail map and start exploring this wondrous forest. Admission is free.
International Rose Test Garden: there's a reason Portland is known as The City Of Roses! This rose garden has been around since World War I, when rose hybridists from around the world sent roses to Portland to be tested. The best time to visit here is between May and October, when a lot of the 10,000 roses of 610 varieties are in bloom. The garden offers incredible views of Mt. Hood and the Portland skyline. There's no fee for admission, but you can book a tour for a small fee.
Portland Japanese Garden: 12 acres of tranquility! The Japanese Garden contains 8 different styles of gardens, and an authentic Japanese tea house, the Umami Café. Admission is $ 19.95 for adults, $ 16.95 for seniors, $ 15.95 for students, and $ 13.95 for kids between the ages of 6 and 17. Younger kids can get in for free.
Oregon Zoo: The Oregon Zoo is the number one paid attraction in the state of Oregon. If you are hesitant about seeing animals in captivity, you can rest assured that your admission fee of $24 ($19 for children, kids of two years of age or younger are free) will go to good causes. The zoo doesn't just offer educational programs and makes on-the-ground conservation efforts, but it also puts in the work to save local species, and species under threat around the world. The Oregon Zoo promises a good time for people of all ages.
World Forestry Center Discovery Museum: this is your chance to form a real connection with the forest. It's the museum's vision to have 'a society that values and takes action to support the economic, ecological, and social benefits of forests'. They do that by offering a range of great programs, and by educating visitors through their exhibitions. Admission is $ 5 for everyone except kids younger than 2. The museum is closed on Monday and Tuesday – no problem if you are spending a weekend in Portland!
Oregon Holocaust Memorial: a cobble-stone area, meant to be a town square, which is scattered with bronzes of shoes and other items left behind by the victims of the Holocaust, and a stone bench with wrought-iron gates. Wall panels inform about the history of the Holocaust.
Lewis and Clark Memorial: a 34 foot tall granite shaft with the seals of the states that used to form the Northern Territory (that is Montana, Oregon, Idaho, and Washington) honors explorers Lewis and Clark.
Coming of the White Man: a bronze statue of two Native Americans, looking east upon the route that brought the white man to this part of what would later be known as the United States.
Chiming Fountain: Designed with a Renaissance fountain in mind, the Chiming Fountain has been at its place in Washington Park since 1891.
Sacajawea Statue: this statue honors Sacajawea, a Shoshone Indian woman who assisted in guiding the Lewis and Clark expedition.
Lan Su Garden
The Lan Su Garden is a Chinese garden, modeled after the Ming Dynasty gardens in China, and one of the most authentic in the United States. It's a place of serenity where you have the chance to escape from Portland's busy parts. If you plan to do only one nature related activity during your weekend stay in Oregon, make sure it's the Lan Su Garden.
Portland Saturday Market
The Saturday Market, held at Tom McCall Waterfront park, is a great place to spend some time on your first day in the city. This the largest continuously operating open-air arts and crafts market in the United States features over 250 booth offering everything from local arts and crafts to must=try foods of the great Pacific Northwest.
Must-see galleries
The Pearl District, just northwest of downtown, is Portland's hippest neighborhood. It one of the best places to shop, with many indie boutiques, hip brands, and other must-see stores. Strolling through the wide array of galleries can fill a whole rainy day. Here are just a few you absolutely have to squeeze into your tight weekend itinerary.
Elizabeth Leach Gallery
The Elizabeth Leach Gallery is an institution in Portland. Open since 1981, this gallery represents artists who have established themselves internationally, as well as well known artists from the Pacific Northwest. Showcased is an ample mix of contemporary media. They host multiple exhibitions every year, so even if you have been, there will be something new to explore the next time you go.
Gallery 114
Gallery 114 is owned and run by artists, allowing their members a lot more artistic freedom than other galleries. Therefore you can expect art you may not get to see elsewhere. Gallery 114 was founded in 1990, making it one of the West Coast's art collective. Local artists showcase a variety of media, and there is always a new exhibition to look forward to.
Best Places to Shop
The Pearl District is an epic area for shopping. Between a legendary book store, quirky boutiques, and locally made souvenirs, your credit card will be burning in your pocket!
Powell's City Of Books
Powell's Books occupies an entire city block and is the stuff of book nerd legends! This independent book store has been in business since 1971. They sell new, used, and rare books! Book enthusiasts could spend a whole day here and not get bored. The only danger? Your wallet will be much, much lighter!
Everyday Music
At Everyday Music you will find used CDs, DVDs, and records, as well as a great selection of new vinyl and discs. Music enthusiasts have a chance to find treasures within the used items that may not be available at any other store. Their inventory covers a wide range of genres, and it changes constantly, so if you didn't get excited about anything on offer on Saturday, make sure to return on Sunday!
Marine Layer
Marine Layer is a San Francisco based company, known for making 'absurdly soft clothing'. Their clothes are made to feel like your favorite shirt. Yes please! Plus, they are a small business, just a bunch of friends making clothes, and we love to support that!
Danner Boots
Planning to hit the great outdoors? Make sure you have proper boots! Danner makes high quality boots, well adapted to the conditions of the Pacific Northwest. All boots are produced in the US, with unrivaled craftsmanship and only the best materials. Those are boots that'll last you through many years of adventure.
Steven Alan
Hailing from New York City, the well known fashion mecca, Steven Alan opened his first store in 1994. What can you expect when visiting this Portland based store? A collection of clothing designers and independent labels you won't find at any of the big department stores!
House of Lolo
House of Lolo is a boutique run by a team of fabulous female entrepreneurs. They offer beautiful collections, curated with you in mind! In 2015, they added home décor and furnishings to their selection. No matter if you are looking for something unique to wear, or a unique item to freshen up your home, this is the place to go.
Garnish Apparel
Ever watch Project Runway? If you are a loyal follower of the show, you will remember Michelle Lesniak, who won season 11. Garnish Apparel is where she sells her unique designs. Call ahead to make an appointment with a stylist – it's complimentary!
MadeHere PDX
Here at Her Adventures, we LOVE locally made items! And at Madehere PDX, there's nothing but that. The shop was founded in 2014 by a group of local entrepreneurs who realized the enormous potential of Portland made items. In their gallery style shop you can admire and buy 10,000 products from 150 local makers. They offer anything from soap to hot sauce, and from home items to jewelry and clothing. Locally made items are some of the most popular souvenirs to bring home, so don't miss the opportunity to shop here.
Favorite attractions to visit on day 2
You've had a busy and successful Saturday. Wake up leisurely, have a nice breakfast, and get ready for a jam-packed Sunday!
Favorite Portland Museums
Pittock Mansion
Portland doesn't offer a ton of historic attractions, but the Pittock mansion is worth your time. The mansion is built in the Renaissance style, looking like a French château . Once a prominent Oregon family's home, it is now a museum, built to tell a story. The story is of Portland's transformation from a pioneer town to a modern, industrialized city.
Portland Art Museum
The Portland Museum of Art is a museum that strives to make art accessible to everyone. Their commitment to accessibility, diversity, equity, and inclusion is at the forefront of their work, and we love that! They offer programs and show exhibitions with that in mind, making this museum ever more interesting.
Oregon Museum of Science and Industry
Visit the OMSI – the Oregon Museum of Science and Art. OMSI is dedicated to bring science to as many people as possible, creating a learning experience that's fun and inspiring. The museum is interactive, getting visitors involved in the exhibitions, which makes it a great place to go for young and old.
Nicest parks
You already visited Portland's most famous park, Washington Park, yesterday, but there is more! If you are opting to get outside after a few hours spent strolling through these interesting museums, we know just the places to go on your long weekend trip.
Forest Park
Forest Park is huge! It covers 5,000 acres, making it one of the largest urban parks in the United States. It features more than 80 miles of trails, giving you the chance for a nice walk or a long hike.
Mount Tabor Park
Five miles east of downtown you'll encounter the dormant volcano of Mount Tabor. The scenery is incredible, even though the park is that close to the city. You'll find spectacular views of Mt. Hood and downtown Portland on a clear day, as well as three great trails that'll lead you to the top of Mount Tabor.
Multnomah Falls
Multnomah Falls is about 26 miles away from the city center BUT! It's the Pacific Northwest's most visited natural recreation site! If that doesn't get you out there, I don't know what will! There's a visitor center with restrooms, a snack bar, a restaurant, and, of course, a gift shop, all of which you'll need after you climbed the quarter mile trail to the Benson Bridge, from which you will have a great view of the 620 feet tall waterfalls. You can even make it all the way to the top of the falls, but that will require a very steep one mile hike, so make sure you come prepared with water and snacks.
Mount Hood
If you would rather prefer to spend Saturday being a city dweller and Sunday exploring the great outdoors, then head out for a day trip to Mt. Hood National Forest today. There's no best time to visit – it all depends on your preferences. In the summer months, drive the Mt. Hood scenic loop, connecting Portland with Hood River and Mount Hood National Forest. It's a beautiful drive along the Columbia River Gorge. Hikers will be thrilled to find nearly one thousand miles of trails in this area. The most popular ones are the Trillium Lake loop trail, 2 miles long with epic views, the Mirror Lake trail, also two miles long and featuring views of the peak, and Lost Lake trail, along the shoreline and through old-growth forest. In the winter time, come to ski! Seven ski lifts are operated at Timberland Lodge and ski area.
Eat and drink and be merry
Aren't we all foodies on vacation? Trying new foods and local delicacies is one of the best things to do when in a new destination! Portland offers great food. Here are some of the best restaurants.
But first, coffee
You can't start the day quite right without a delicious cup of joe. Luckily, Portland has a great coffee culture, and a visit to one of the amazing coffee shops will help you shush away that sleepiness and is the best way to start your morning.
Stumptown Coffee Roasters
Case Study Coffee
Dragonfly Coffee House
Public Domain Coffee
Spella Caffe
Voodoo Doughnuts
You never know what life has in store for you, so the best thing you can do is start your meal with dessert! Voodoo donuts are delicious and have an almost cult-like following, for good reason! Voodoo came up with the gourmet donut category, and they now offer 50 flavor options. 25 of those are vegan, so no matter your diet preferences, Voodoo Donuts will be your happy place. In Portland, you can find them at 1501 NE Davis Street or at 22 SW 3rd Avenue.
Blue Star Donuts
Blue Star Donuts offers donuts for grown ups. Their donuts are infused with liqueur, spices, herbs, and fruits, in combinations you won't find anywhere else. Try the blueberry bourbon basil, the passion fruit cocoa nib, or the vegan orange olive oil donut. Find them at 3325 SE Division St.
Ice Cream
Portland has great options for ice cream. Some come from a not-so-special looking counter, while others are the most fancy ice cream specialty shop you've ever encountered.
Lovely's Fifty Fifty: primarily a pizza place, but their ice cream is nothing to sneeze at! The waffle cones are hand made, and the flavors exquisite! Try rum raison, or meadow foam honey. Find them at 4039 N Mississippi Ave.
Salt & Straw: this place serves the most eccentric flavors you can imagine. Try cold brew coffee cashew praline, or the the strawberry honey balsamic with black pepper. Find them at 838 NW 23rd Ave.
Cool Moon Ice Cream: Portland's finest all natural ice cream can be found at Cool Moon. Flavors such as rosewater infused Kulfi or spicy Thai peanut will knock your socks of. Find them at 1105 NW Johnson St.
Tiny Bubble Room
Before you go out to dinner, stop at Tiny Bubble Room, a great spot for happy hour and a local favorite. Sit in the nice vintage space or the stunning outdoor patio and enjoy craft beer, wine, or cocktails while you decide where to eat. Find them at 2025 N Lombard St.
Portland City Grill
Portland City Grill offers American dishes with a touch of Asian. The food isn't the only thing that's one of a kind here. This restaurant offers sweeping city views, extending to the other side of the river, and beyond the city limits to the Cascade mountains. You are guaranteed to have a great time! Find them at 111 SW 5th Ave on the 30th Floor.
Tin Shed Garden Café
When in Rome! Try local cuisine at Tin Shed Garden Café, which is LGBTQIA+-owned, Veteran-owned, and women-owned! The restaurant is about the size of a tin shed, so make sure to call ahead for reservations if you want to try their hearty breakfast, outstanding lunch, or excellent dinner plates such as the blackened salmon sandwich with the Caesar salad, or the veggie scramble with potato latkes. Those dishes go really well with their local craft beer. This restaurant doesnt' just offer the best food, they are also dog friendly AND they have a puppy menu as well! Find them at 1438 NE Alberta Street.
Cabezon Restaurant
Cabezon Restaurant is famous for its locally sourced food, especially the seafood. Think olive & scallop appetizer, oysters, albacore tuna, or sturgeon . For dessert, try the apple crisp with vanilla ice cream. Find them at 5200 NE Sacramento St.
Jake's Famous Crawfish
Jake's Famous Crawfish restaurant isn't exaggerating when they call themselves famous! In business for well over 100 years, this is one of the best seafood restaurants in the United States, a great option for dinner. Fresh food from the Pacific Northwest is beautifully presented. Crab & shrimp stuffed salmon or horseradish crusted steelhead sounds delicious! Don't miss Jake's Clam Chowder and their incredible sourdough bread. Find them at 401 SW 12th Ave.
Food Trucks
Portland is famous for its food trucks (or food carts, as them call them here). There are more than 500 of them! CNN even declared them the world's best street food! While these are mobile units, they generally stay put in one place, so you will have the chance to sample a few different dishes every time you come about one such cluster. Food cart pod locations are:
5th Avenue
Pioneer Courthouse Square
Portland State University
Third Avenue
The Cart Blocks
Best Places to stay in Portland, Oregon
No matter your budget, Portland will offer you a place to stay.
The Nines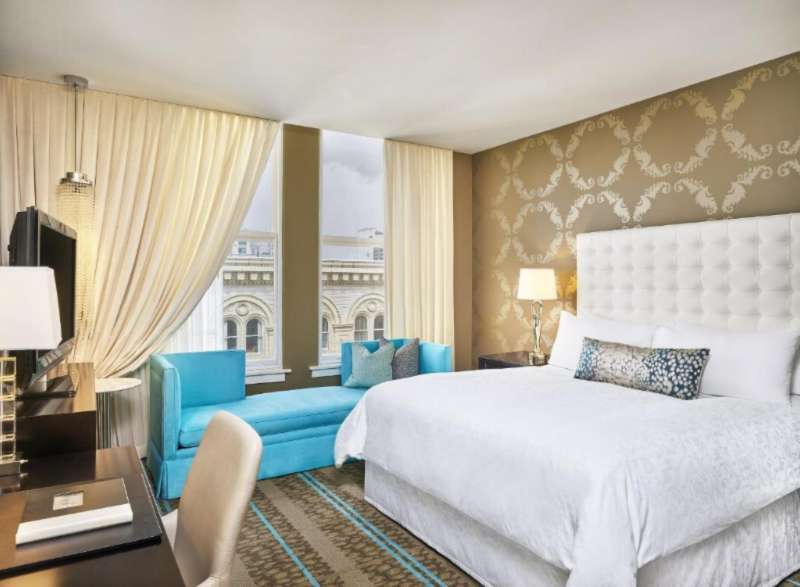 5 star luxury awaits you the The Nines, a luxury hotel close to Pioneer Square. Every room has a large TV, DVD player, and movies. Sleep in a bed that makes you feel like you rested your head on a cloud. The professional and friendly staff will go out of their way to make your stay memorable! On site amenities include a fitness center, a billiards room, and a business center. In-room massages are available as well. The hotel is located just a short walk from dining, shopping, and other attractions such as the Japanese Gardens.
Sentinel, a Provenance Hotel
Another luxury 5 star hotel in a great location is the Sentinel, a Provenance Hotel. The Sentinel is in walking distance of the city center. No need to Uber it everywhere! Get cozy in your large room, crawl into your bed with pillow top mattresses wearing a fluffy robe and feel like you are in hotel heaven! Amenities include 24 hour room service, nightly turndown service (upon request), pet amenities (we give you extra points for that one, Sentinel!), an iPod menu, and a pillow menu. The hotel provides a well & fit kit for your room, including items such as yoga mats, weights, and more. There's a fitness center as well.
Jupiter NEXT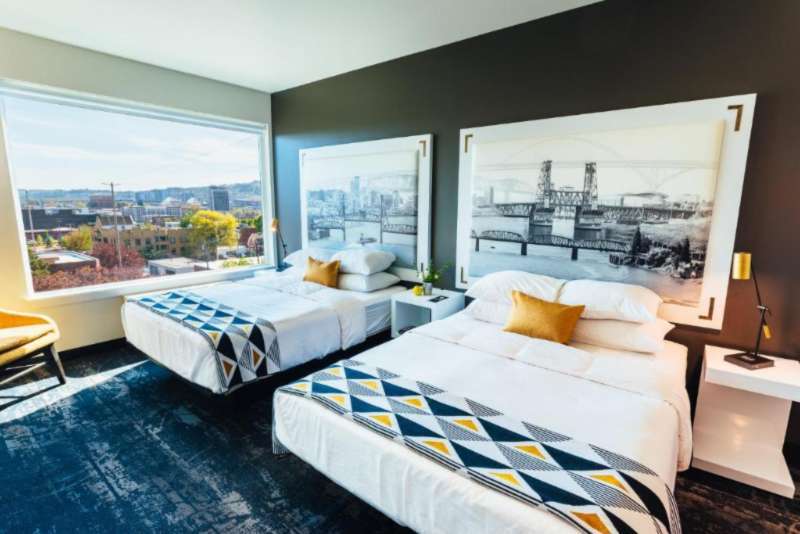 The Jupiter NEXT hotel boasts 4 stars and is located a mere 0.8 mi from the downtown area. Powell's City of Books in the Pearl District is only 1.2 miles away! The view from your room is fantastic (and who doesn't love a good view?)! The accommodations are modern, with each guest room featuring a 60-inch flat-screen TV, a chalkboard door, and a work desk. A bar and restaurant is available on site, and there are other great dining options nearby.
Hotel Eastlund – Best Western Premier Collection
The Hotel Eastlund is a nice, modern, and clean 4 star property which you'll find in close proximity to the Oregon Convention Center. From this location, you can conveniently access the Convention Center MAX Station and Portland Streetcar to do your sightseeing. The rooms feature a 42-inch smart flat-screen HDTV, a gourmet coffee machine, and a refrigerator. Two restaurants on site take care of all your Pacific Northwest cuisine needs.
Hotel Lucia, a Provenance Hotel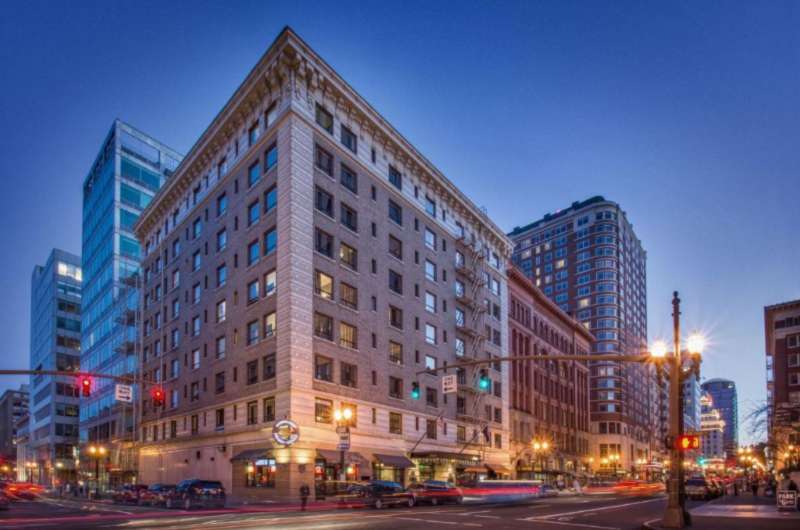 Hotel Lucia's convenient location in in downtown Portland makes it an excellent choice for those who want 4 star accommodations in the heart of the action. This beautifully decorated 4 star property features a 24 hour gym, complimentary fitness class passes, 24 hour room service, and a nightly craft beer hour. The guest rooms include a wellness and fitness kit, a tablet with fitness videos, and a comfortable, modern décor.
The Mark Spencer Hotel
The Mark Spencer Hotel is a very nice 3 star facility in a very convenient location in spitting distance of the Pearl District. Each room has a fully equipped kitchenette, so you don't have to eat out every meal (though that's very tempting!), with a Whole Foods grocery store just minutes away. A 24 hour fitness center is on site.
The Paramount Hotel
The Paramount Hotel is a 3 star facility located in downtown, just steps away from many attractions such as the Portland Art Museum. Your room has a refrigerator and a coffee maker, as well as a flat screen TV. The hotel offers a business center plus a 24 hour fitness facility. Room service is available, but you might just decide to hit Swine Restaurant and Moonshine + Whiskey bar, the on site restaurant offering delicious Pacific Northwest cuisine.
Inn at Northrup Station
Another nice 3 star hotel is the Inn at Northrup Station. You'll find it in the Northwest Portland district, which is very close to the Pearl district. One very nice bonus: this hotel offers free passes for the Portland Street Car to its guests! Each room has a flat screen TV, a coffee maker, and a seating area.
HI Portland – Northwest
Want to stay in the third best hostel in the world? You can do so in Portland! HI Portland – Northwest is centrally located in the Northwest District, walking distance to all the fun stuff. Make new friends in the hostel café while listening to live music, gather around the fire pit in the courtyard and exchange travel stories with your new BFFs, or hang out in the common room.
Lolo Pass
Lolow Pass gets excellent reviews from travelers. You can book a bunk in a common room or get a private room. The hostel offers a bar, a restaurant, a café, and a roof top.
This concludes your 2 day Portland itinerary. If you came here on a road trip, continue on to explore fantastic places in the vicinity: Cannon Beach, Crater Lake National Park to see the deepest lake in the United States, or Eugene. If this was your first time here and you didn't have enough time to see everything on our list, you may have to come back to do all the things and eat all the meals you couldn't squeeze into your epic weekend in Portland Oregon!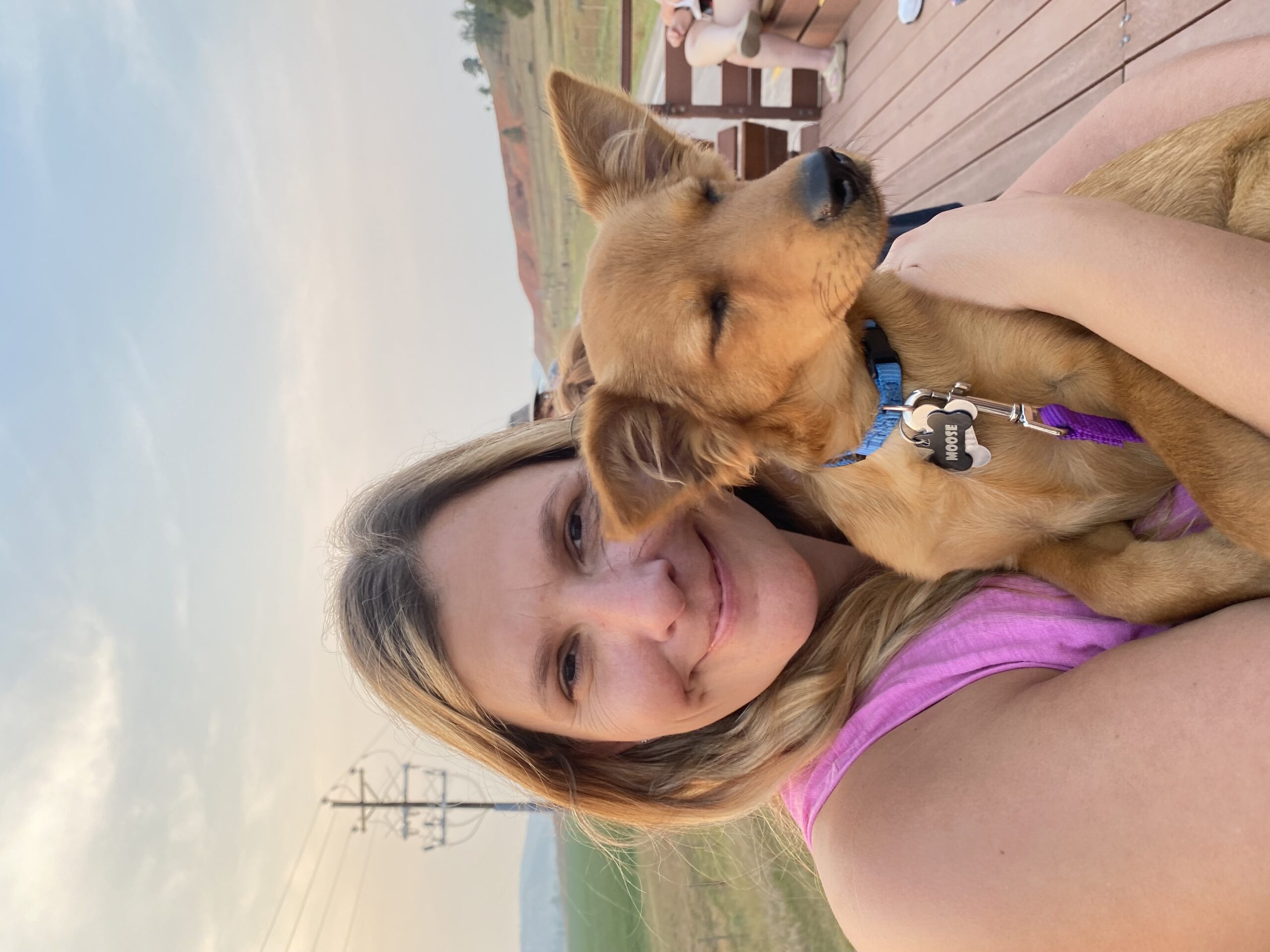 Jenny grew up in Germany. All she ever wanted out of life was to leave and have adventures. Jenny always traveled as much as the budget would allow, and when she met her husband traveling became a full-time thing. You can follow Jenny on her blog and Facebook.