Bridges in the United States – sometimes they are famous landmarks, and people travel just to see them. The Golden Gate Bridge, for example, is a major tourist attraction in California. And sometimes they are small, more hidden, but nevertheless stunning, and tourists just happen to stumble across them while on vacation. To ensure you won't miss any of the most amazing bridges in the United States, we made a list of must-see ones!
Most Spectacular Bridges In The United States
1. Tacoma Narrows Bridge, Washington State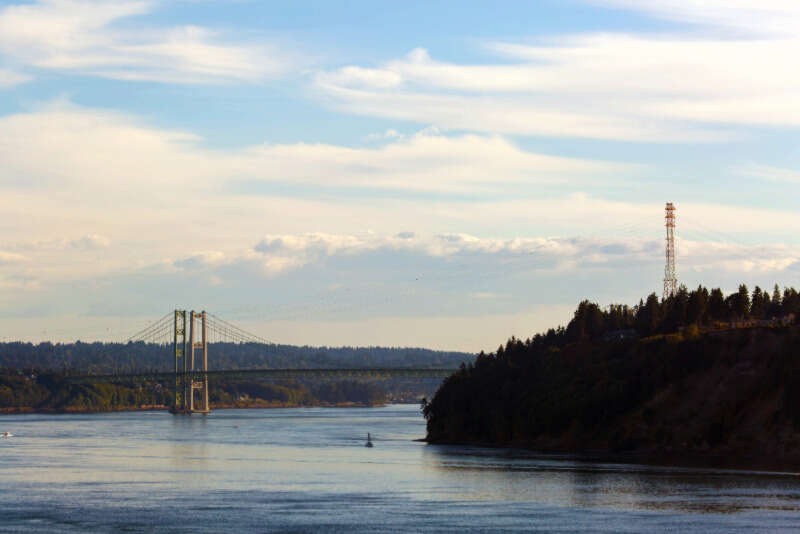 The Tacoma Narrows Bridge spans Puget Sound in Washington State, just about forty miles South of Seattle. Almost a mile long, it was opened on July 1, 1940. But soon disaster struck, and the bridge collapsed during a strong storm in November of the same year. This made "Galloping Gertie" famous in bridge engineering history: as the most dramatic failure ever. Gertie's failure, however, changed the general design of suspension bridges, giving it its rightful place in history. Its remains found their place in the National Register of Historic Places.
In 1950, the Tacoma Narrows Bridge as we know it today opened. With a total length of 5,979 feet it is 40 feet longer than the original, and is it the 5th longest suspension bridge and carries roughly 90,000 cars every day. Nowadays, there's a parallel bridge as well. You'll find it on State Route 16, located between Tacoma and Gig Harbor. It's a toll bridge, and you can pay to cross at a toll booth – no pass required (though you can use the Good To Go! Pass if you have one).
The best place to photograph the bridge is the beach at Titlow Park in Tacoma.
2. Golden Gate Bridge, California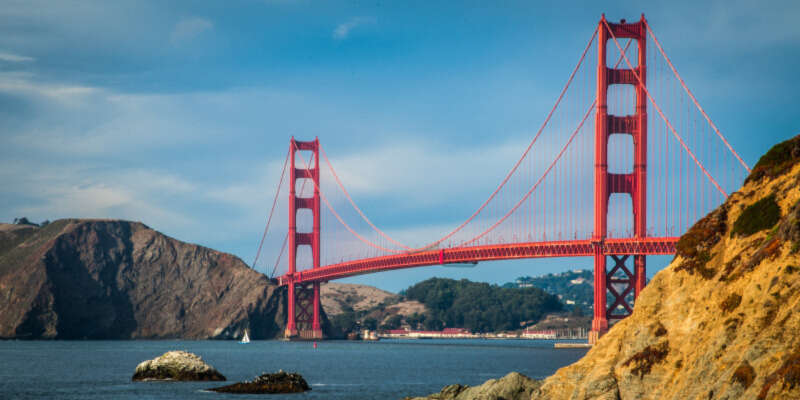 The Golden Gate Bridge is undoubtedly one of America's most famous landmarks, attracting ten million visitors every year. It's a suspension bridge that spans a one mile stretch of straight and connects the San Francisco Peninsula to the Marin Headlands. The name Golden Gate came into being way back in 1848, when U.S. Army Captain John C. Fremont said about the narrow strait that it "it is a golden gate to trade with the Orient." The bridge to cross this strait wasn't built until much later – 1933, to be exact, and finished 4 years later. It's deemed one of the most beautiful bridges in the United States, and rightfully so. It's breathtaking on a sunny day, but when the famous San Francisco fog rolls in it gives the bridge an air of mystery.
The bridge is 1.7 miles long and 90 feet wide. It's open to cars, bicyclists, and foot traffic. if you choose to drive across, be prepared to pay a toll. It will set you back $ 8.80, unless you use FasTrak Toll, then it's $8.40. But just driving will deprive you of the attractions associated with the Golden Gate Bridge. A visit to the welcome center is a must. There you can learn about the bridge's history, see the exhibits, and find souvenirs to bring home. There are even free walking tours! Click here for more information. Walking and cycling across the bridge is toll free. It offers beautiful views, but it is quite loud do to the large amount of traffic.
The best places to photograph the Golden Gate Bridge from are Fort Baker, Baker Beach, Fort Point National Historic Site, Battery East Vista, Crissy Field, Lands End, and the Golden Gate Overlook.
3. Bixby Creek Bridge, California
The 360 feet long Bixby Creek Bridge, located in Big Sur, Southern California, is one of California's most photographed bridges, second only to the Golden Gate Bridge. That is thanks to it's incredibly scenic setting and its beautiful design. The Bixby Creek Bridge, otherwise known as the Bixby Canyon Bridge, is a reinforced concrete open-spandrel arch bridge, built in tan colors to match the surrounding canyon. The bridge opened in 1932, to help out residents of Big Sur, who relied on the Old Coast Highway to get places, which was often impassable in winter. There's no toll, so you can drive across as many times as you like!
You can drive or walk across the bridge, but if you choose walking, be very careful, as there is no side walk.
The best places to take pictures of the Bixby Creek Bridge are its south side, Castle Rock Viewpoint, the Old Coast Road, and Hurricane Point View.
4. London Bridge, Arizona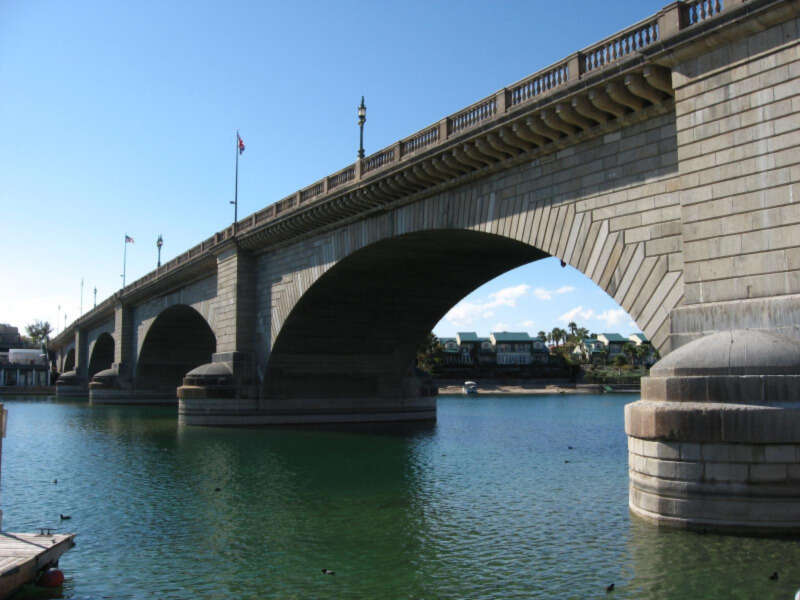 No, this isn't a typo. You do not have to go all the way to London to see London Bridge (okay, not THE London bridge, but A London Bridge). The one we are talking about is located in Laka Havasu City, Arizona. Why is it famous, and why in the world would it be called London Bridge, you wonder? Once upon a time it was indeed a bridge in London, reaching across the river Thames. In Robert P. McCulloch, who had planned the community of Lake Havasu City, purchased it and transported it back to Arizona. The simple reason for that stunt was to attract more people to buy houses in the planned community, and come up with a tourist attraction.
This historic bridge is absolutely beautiful, and (as Mr. McCulloch had planned) a great tourist attraction. It's open to car and pedestrian traffic, but we recommend doing the very interesting (and free!) walking tour to learn everything about it.
5. Mackinac Bridge, Michigan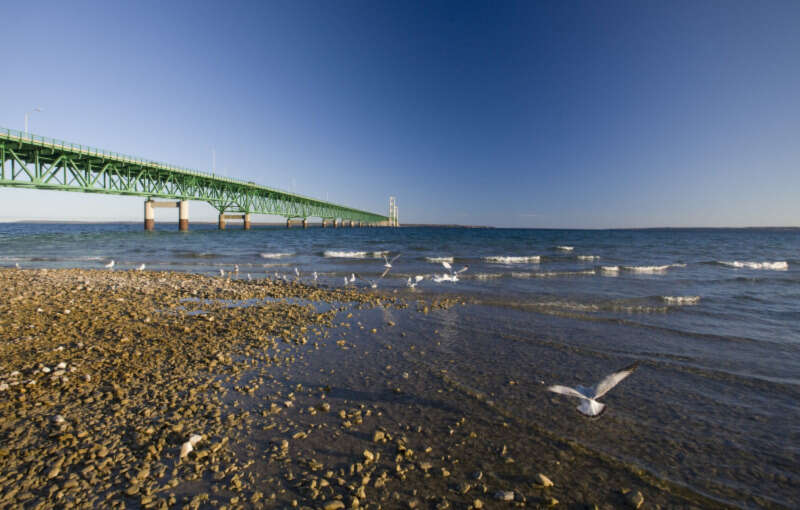 The Mackinac Bridge is a suspension bridge which spans the Straits of Mackinac in Michigan. It connects the lower and the upper peninsula. 'Might Mac' or 'Big Mac' is nearly five miles long, and if you look from the right angle it looks as if it goes on and on into the ocean. The Mackinac Bridge has been in operation since 1957, making life easier for people in St. Ignace on the north side and people in Mackinac City on the south side, who had to solely rely on ferries before.
Driving across will set you back $ 2.00 per axle. Walking across is permitted only once a year: during the annual bridge walk. The bridge is closed for traffic during the event, which allows for a peaceful walk with amazing views. Start early and you can walk both ways!
The best place to snap a shot of the bridge is Bridge View Park, which you'll find on the north side.
6. Royal Gorge Bridge, Colorado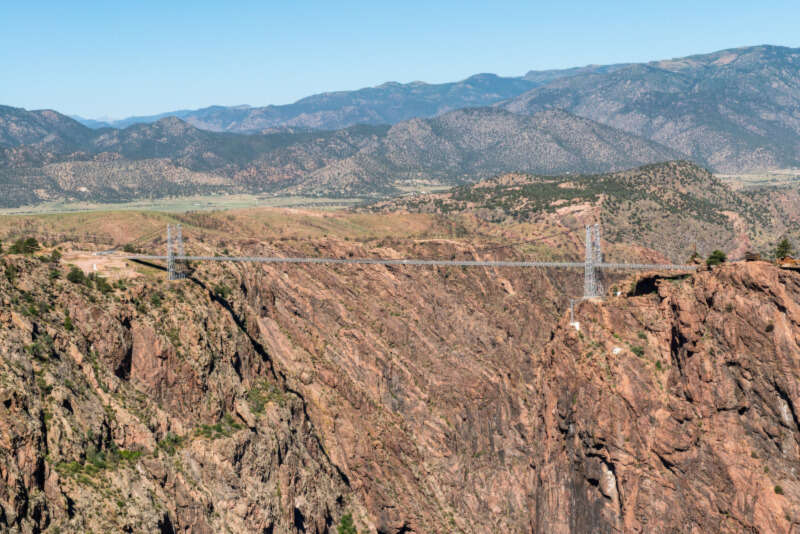 The Royal Gorge Bridge, located near Cañon City, in Fremont County, Colorado, is the highest suspension bridge in the United States, and one of Colorado's top attractions. It even held the record for the world's highest bridge from 1929, when it was completed, until 2001, and the world's highest suspension bridge until 2003, spanning the Arkansas River at a height of 955 feet. The Royal Gorge Bridge is 1,260 feet long, made of wooden planks, and therefore open only for pedestrian traffic.
The location is spectacularly beautiful, and there's an amusement park with tons of stuff to do: the Cloud Scraper zip line, the Royal Rush Skycoaster, aerial gondolas, and so much more!
The park offers several spots to photograph the Royal Gorge Bridge.
7. Manchac Swamp Bridge, Louisiana
Louisiana is proud to have a number of very neat bridges. One of them is the Manchac Swamp Bridge, a twin concrete trestle bridge, which can lay claim to quite a few superlatives. Opened in 1979, it is one of the world's longest bridges over water, over the Manchac Swamp, to be exact, with a total length of 22.80 miles. The Manchac Swamp Bridge is the longest bridge that's part of the interstate highway system in the United States. There's a rumor that it is also the world's longest toll-free road bridge.
You can drive across for free, but be on the lookout: the Manchac Swamp is supposed to be haunted! Rougarou, with the body of a man and the head of wolf, is a beast from Cajun folklore, haunting the swamp, on the lookout for children who misbehave. And then there's Julia Brown, the Voodoo Princess, who cursed the area. Travel at your own risk! (Though the area is safe aside from those mythical beasts.)
Taking pictures is tricky, due to most of it being over the water. If you happen to go out for any kind of boat ride or water sports such as kayaking, that would be your best bet for snapping a good picture.
8. Lake Pontchartrain Causeway, Louisiana
The Lake Pontchartrain Causeway (or just The Causeway), opened in 1956, is composed of two parallel bridges which run across Lake Pontchartrain in the southern part of the state of Louisiana. Until 2011, The Causeway was listed as the world's longest bridge over water, with the longer of the running at 23.83 miles – even longer than the Manchac Swamp Bridge!
Lake Pontchartrain is a fabulous tourist destination, and you will find plenty of things to do there after you've had your fill of driving across the bridge (which is, by the way, a toll bridge). If you happen to be out on the water, take advantage of the great bridge views to snap a few pictures.
9. Bonnet Carré Spillway Bridge, Louisiana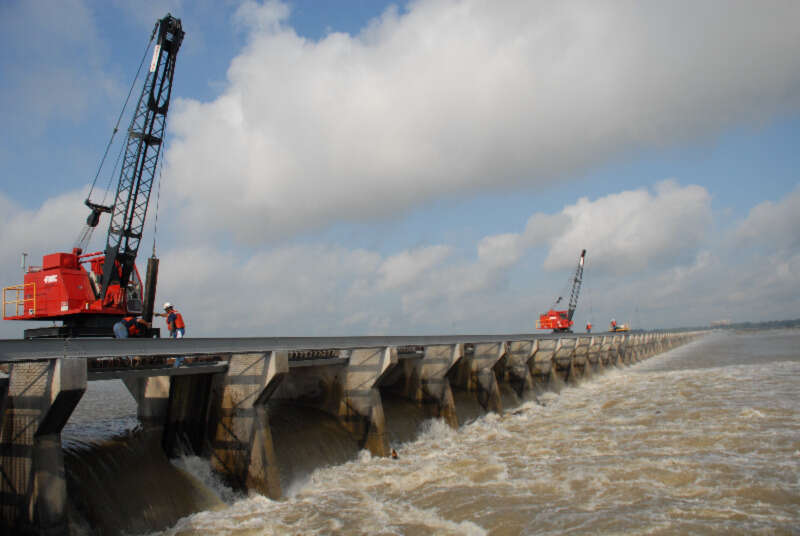 The Bonnet Carré Spillway was built from 1929 until 1931 and serves as flood control for the Mississippi River after the Great Mississippi Flood of 1927. There are two parts to this spillway: a control structure, and a floodway, allowing flood waters to run into Lake Pontchartrain. The American Society of Civil Engineers designated the Bonnet Carré Spillway as a National Historic Civil Engineering Landmark.
Today, the area has developed into a great place for R&R. There's boating, fishing, crawfishing, hunting, camping, and wildlife watching. Take a boat ride and take pictures of the Bonnet Carré Spillway.
10. Atchafalaya Basin Bridge (Louisiana Airborne Memorial Bridge), Louisiana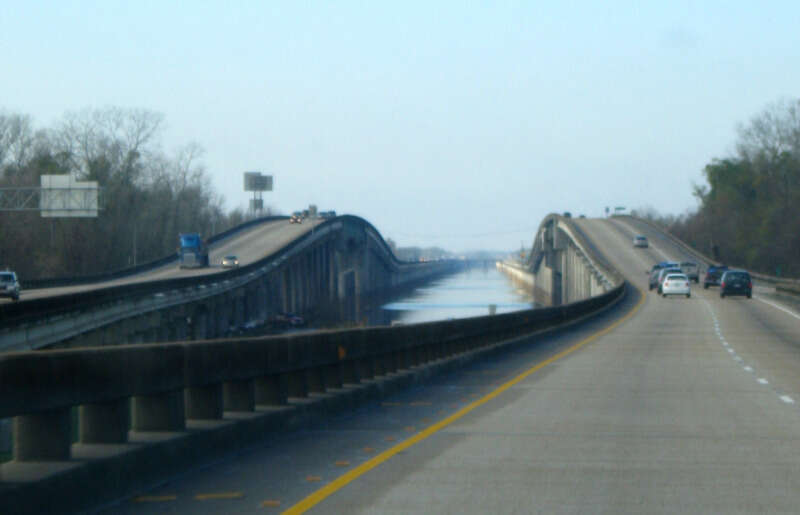 The Atchafalaya Basin Bridge, renamed in 1989 as the Louisiana Airborne Memorial Bridge, is an 18 mile long bridge that spans the Atchafalaya Basin in Louisiana, between Lafayette and Baton Rouge. This pair of parallel bridges is the second longest bridge in the interstate highway system (after the Manchac Swamp Bridge, but you learned that already!), and the third longest in America. Construction on the Louisiana Airborne Memorial Bridge started in 1971, and was opened for traffic in 1973.
It's a toll free bridge, so you can drive back and forth as much as you like to enjoy the views. But be careful, parts of the Louisiana Airborne Memorial Bridge are quite narrow, and lots of accidents happen there. Make sure to stop at the Atchafalaya Welcome Center to learn about the bridge's history, get free coffee (yes please!), and learn of things to do in the area.
11. General W.K. Wilson Jr. Bridge (Dolly Parton Bridge), Alabama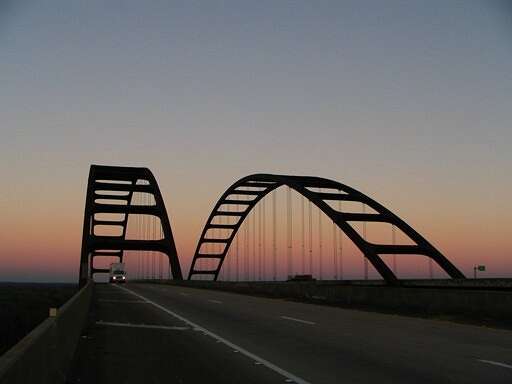 The General W.K. Wilson Jr. Bridge, known by locals as Dolly Parton Bridge, is one continuous span with four lanes, with beam viaducts of concrete and dual parallel tied through arches made of of weathering steel. It was built over the course of two years, finished in 1980, and can be found north of Mobile, Alabama. With a length of of 6.08 miles it is one of the longest bridges in America.
Enjoy the free drive across this engineering marvel!
12. Seven Mile Bridge, Florida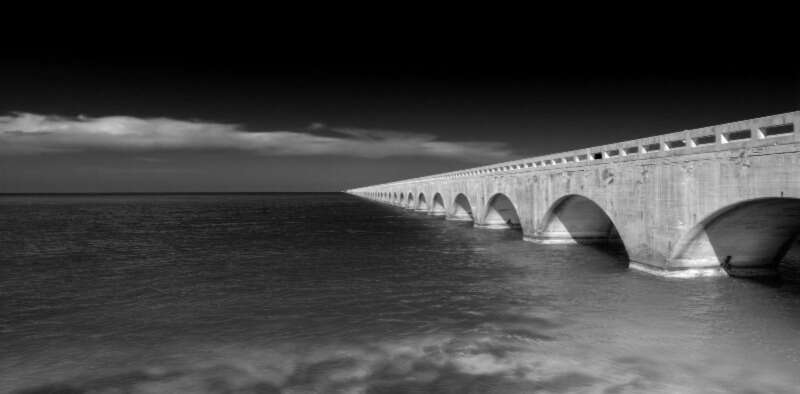 The Florida Key are such an excellent vacation destination! Did you know they can also be one of the most affordable honeymoon destinations in the US? If that's where you are heading, you must visit Seven Mile Bridge. This bridge connects Knight's Key to Little Duck Key. This bridge is technically two bridges. The newer one, finished in 1982, is open to traffic, and the older one, built from 1909 to 1912, is open to pedestrians. The bridge is not quite 7 miles long, but close enough: 6.79 miles. The new bridge is a box-girder structure and has a 65 foot high arch so boats have plenty of clearance to pass underneath.The other parts of it are built quite close to the water, and you'll feel like driving right on top of the ocean!
Drive across this toll free bridge and enjoy spectacular ocean views. Or walk or bike across the old bridge, enjoying the many opportunities for Insta-worthy pictures.
13. Sunshine Skyway Bridge, Florida
The Bob Graham Sunshine Skyway Bridge was the first American cable-stayed bridge a single plane of stays and single pylons. This 4.14 mile long bridge has been in operation since 1987, spanning over the Lower Tampa Bay and connecting Terra Ceia with St. Petersburg. Today, this architectural masterpiece, iconic to the area, is the longest cable-stayed concrete bridge on the planet.
Driving across isn't for those afraid of heights – though the views are definitely worth it! It's a toll bridge, with a very low toll of $1.50 for a passenger car. Sunpasses are accepted. Stop at Fort De Soto Park to snap great pictures of the Sunshine Skyway Bridge.
14. New River Gorge Bridge, West Virginia
You'll find the New River Gorge Bridge near Fayetteville, West Virginia It's a steel arch bridge, constructed in 1977, and one of West Virginia's most photographed places. It's 1,700 feet arch makes it the fifth longest span arch bridge on the planet, and the longest one outside of China. The New River Gorge Bridge runs 876 feet above the New River, which is one of North America's oldest rivers. This fact makes it one of the highest vehicular bridges in the world. The National Park Service listed this bridge in the National Register of Historic Places.
The best day to visit the New River Gorge Bridge is the third Saturday of October – Bridge Day -, when it is closed for car traffic, open to pedestrians, and there's lots and lots of activities going on, plus there are local vendors and excellent food.
Hike the Long Point trail for the best photo opportunities.
15. Chesapeake Bay Bridge-Tunnel, Virginia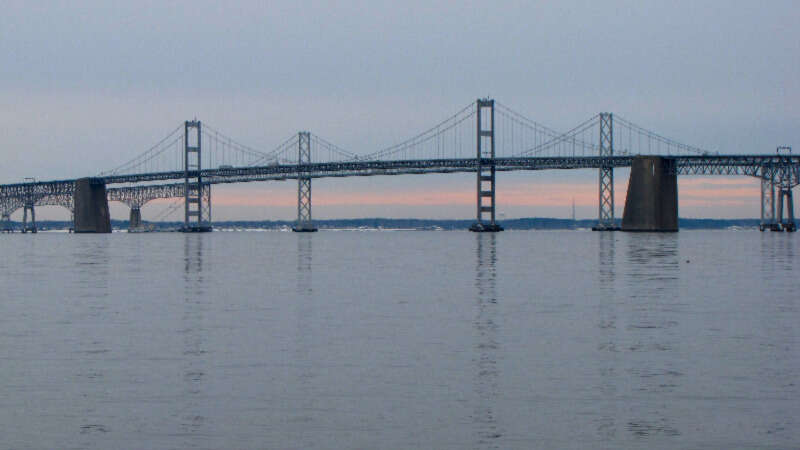 The Lucius J. Kellam Jr. Bridge–Tunnel (nicknamed the Chesapeake Bay Bridge-Tunnel) is 17.6 miles long (from shore to shore) and connects Hampton Roads with Delmarva, both in the state of Virginia. It originally opened to the public in 1964. There are only fourteen bridge-tunnel systems around worldwide, this being one of them. Don't miss your chance to drive through this feat of engineering!
The system contains mostly of low-level trestles, and there are two tunnels, each about one mile long. Which means that most of the time, you'll enjoy a great view across the Chesapeake Bay. A toll is due upon entering. If you have an E-Z Pass you are good to go, otherwise you'll have to pay $14 for your passenger car during off peak times, or $18 during peak times.
For pictures and bird watching, stop at the scenic overlook, which is located on the west side of the roadway at the southern tip of the Eastern Shore.
While in Virginia, check out these 4 top attractions in Virginia's wine country.
16. Rainbow International Bridge, New York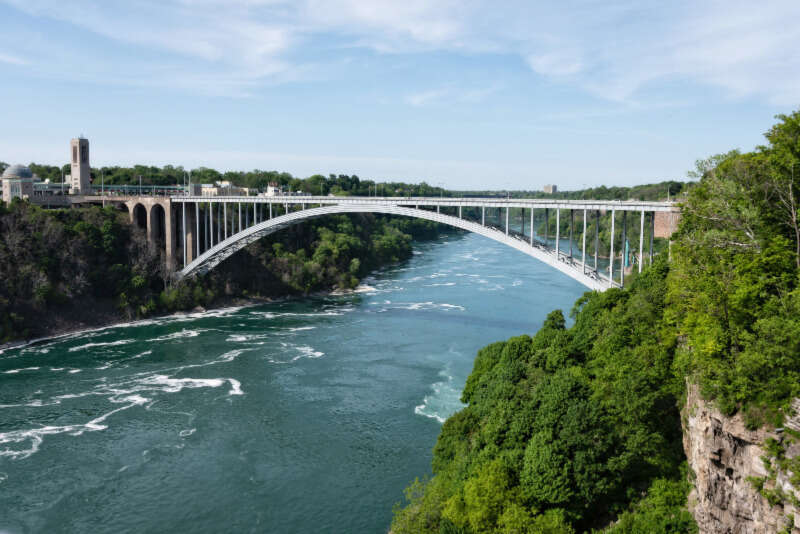 The Rainbow International Bridge is a gateway between the US and Canada, connecting the city of Niagara Falls, New York, USA, with Niagara Falls, Ontario, Canada. The border crossing is halfway across the bridge. The Rainbow Bridge is an arch bridge that has been in operation since 1941, and it's not hard to see why it is one of the most spectacular bridges in the United States. It's location right by Niagara Falls, a major tourist attraction both in the US and Canada, speaks for itself.
You can either drive or walk across, but if you are just going for the day, walk! First of all, you won't have to worry about parking on the Canadian side, and second of all, the views from the bridge are unbeatable, and it's hard to take any decent pictures from your car. The fee to cross is $4 USD per car, or $1 USD per pedestrian. Walking across doesn't take long if you hurry up – just a few minutes – but there is no good reason to do so. Take in the majestic Niagara Falls and take your time. Both sides of the bridge also offer plenty of tourist attractions and entertainment, an on either side you'll find great spots to take a few pictures.
17. Brooklyn Bridge, New York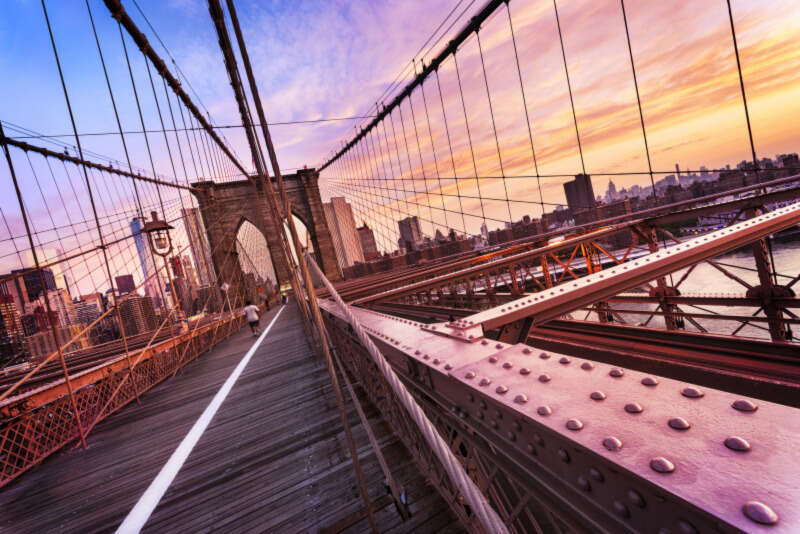 The Brooklyn Bridge is one of the most iconic bridges in the United States, maybe even in the world. It was first opened in 1883 as the world's longest suspension bridge, spans the East River, and connects Brooklyn Heights and Lower Manhattan in the state of New York. It is a hybrid cable-stayed/suspension bridge, with two towers giving it a distinct look.
The Brooklyn Bridge is toll free, and you can drive, walk, or bike across, enjoying spectacular views of the famous Manhattan. For the most iconic photo, head to Pebble Beach in Brooklyn. You'll be able to capture the whole length of the bridge, with Manhattan as the backdrop.
Which of these bridges have you been to? Any you would add to the list? Tell us in the comments!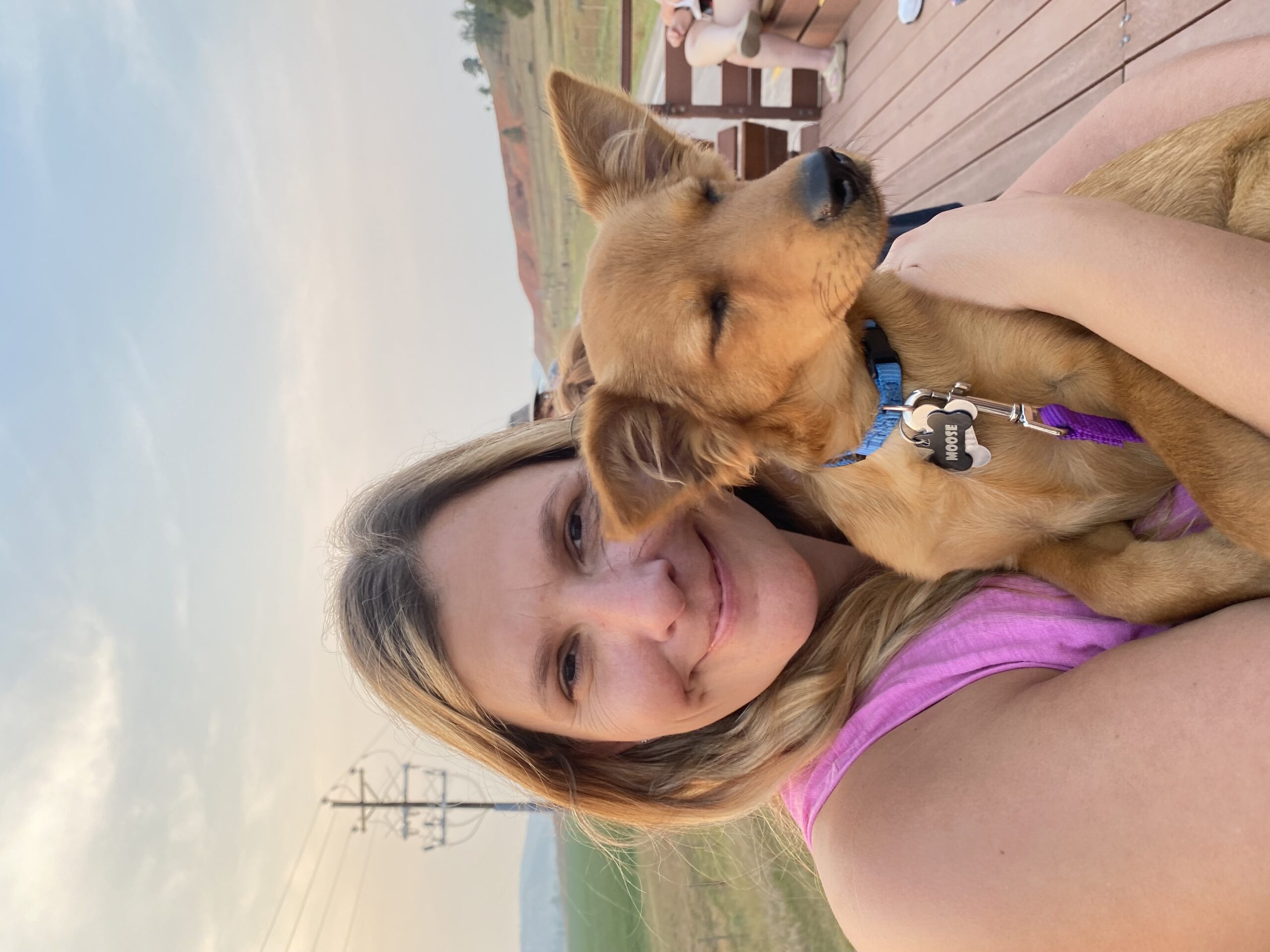 Jenny grew up in Germany. All she ever wanted out of life was to leave and have adventures. Jenny always traveled as much as the budget would allow, and when she met her husband traveling became a full-time thing. You can follow Jenny on her blog and Facebook.