Are you planning a trip to Seoul, the capital of South Korea, but are lost on where to go and what to do? We are here to help! Seoul is a great place, where history merges with a big, cosmopolitan city. Wander through ancient palaces and visit a traditional Korean village. Find the spot for the best views, and explore the many museums. The public transportation system is great, and the subway gets you from Incheon International Airport, one of the busiest and biggest in the world, to wherever you need to go in no time. Sightseeing and getting around are a breeze. This Seoul itinerary contains everything you need to know: the top sights, tours you can not miss, and places to stay for every budget!
This post contains affiliate links. This means we make a small commission at no cost to you if you click through and make a purchase. All prices listed are accurate at time of publication.
Your Ideal Seoul Itinerary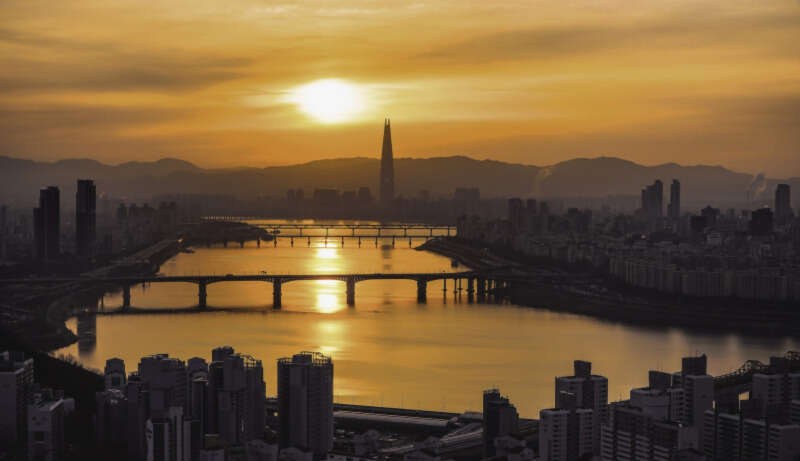 Seoul is so diverse, you have no chance of ever getting bored. The best time to go is between March and May, when the cherry blossoms are in bloom.
Top Sights
N Seoul Tower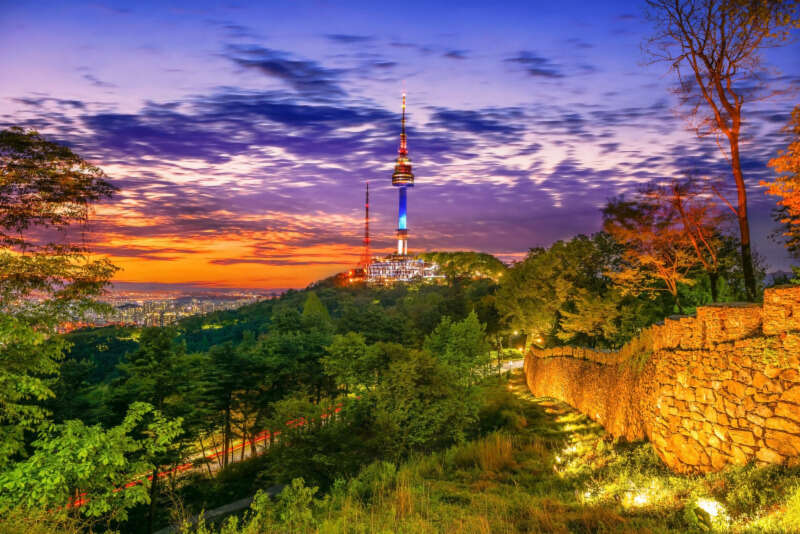 To get the best views of Seoul, head to N Seoul Tower, also known as Namsan Tower or Seoul Tower. This former radio wave tower, put in operation in 1969, is a staggering 777 feet high, and Seoul's number one attraction. It's located in the Yongsan district, and impossible to miss on top of Namsan Mountain, which is 797 feet high, giving you a total elevation for your bird eye's view of 1,574 feet from the observation deck. On a clear day, you will be able to see all the way to North Korea!
There's plenty of things to do at the tower. First and foremost, there's the observatory, the main reason people flock here year round. Views are equally incredible during the day or after dark, when Seoul becomes an ocean of lights. In the lobby of the Seoul Tower Plaza you will find the Hanbok Culture Experience Center. Dress up in traditional Korean clothes and take pictures at the photo zones, take part in the Traditional Wedding Experience or the Hanbok Experience – or both! If you picked South Korea as one of your baecation destinations, you definitely want to hang a love padlock with your names or initials on the fence around the plaza.
If all this made you hungry, do not worry. There are plenty of dining options available: grab a snack and a drink at the Sweet Bar, savor the specialty Korean noodles at Cheiljemyunso, or, if you are really hungry, hit the Korean buffet at Hancook. There's also French, Italian, and good old American food available (but when in Rome…).
Namsan Park
Namsan Park is Seoul's biggest park, offering a nature oasis smack in the middle of the city. Stroll along one of the many walking trails and meet the friendly residents of Namsan Park (aka squirrels and birds). You'll get the chance for panoramic views of downtown, though they are not as great as they are from the top of the tower. Back in the day, Namsam Park was the place where Seoul was defended, and you can still see remnants of those days at the park today. Mongmyeoksan Beacon Hill Site was a lookout of sorts, a smoke signal station from which Seoul could be warned if invaders were spotted. You will spot the ruins of a massive wall that once upon a time connected the four biggest mountains in the area to protect the city. There's a beautiful octagonal pavilion, Palgakjeong, which is a good spot for pictures with Seoul as the backdrop. Don't miss the large fountain, the Namsan library, and the Maritime Aquarium, which is remarkable because it is underground. If you want to get to the top of Namsan mountain, there are three options: walk, take a bus, or ride the cable car.
Gyeongbokgung Palace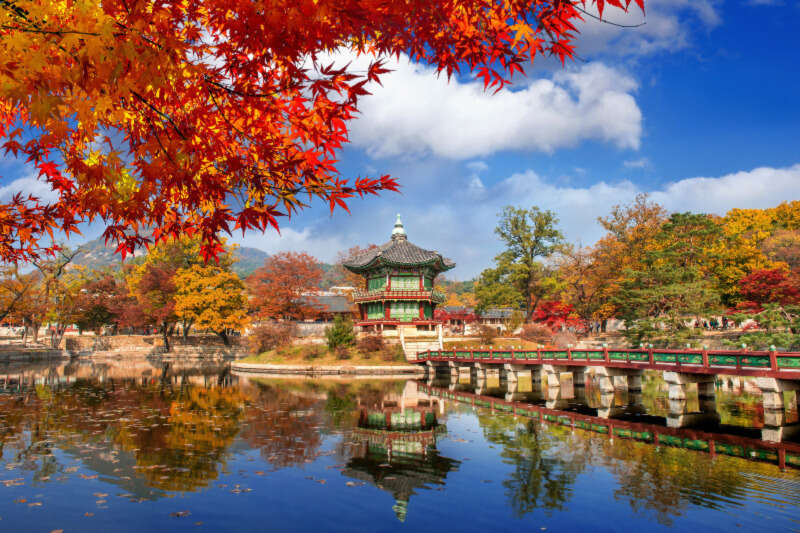 Gyeongbokgung Palace is a must see item for your Seoul itinerary. It was built in 1935 and used as the main of the royal palaces of the Joseon dynasty. If you only have time to see one historical palace, this should be it. Go early to get the most out of your visit, with the least crowds and the best picture opportunities.
So – what is there to do? The first thing you should not miss is the changing of the guards. The changing of the guards happens at 10 am and 2 pm every day but Tuesday and takes about 10 minutes. See the Gyeonghoeru Pavillion, the National Palaces Museum of Korea, and the National Folk Museum of Korea.
Great news! While there's a fee to the enter Gyeongbokgung Palace (3,000 won, approximately $ 2.40 USD for adults and half that for kids, no admission for kids younger than 7 and adults over 65), there is a free guided tour! Groups of 10 or more will have to make a reservation for a tour ahead of time. Everyone else can just show up. Click here for more information.
If you are planning to squeeze more than one palace into your Seoul itinerary, consider buying the integrated palace ticket. It costs 10,000 won, approximately $ 8 USD, and grants you access to Gyeongbokgung, Deoksugung, Changdeokgung and the Huwon Secret Garden, Changgyeonggung, and the Jongmyo Shrine.
Deoksugung Palace
Seoul has no shortage of palaces, and they are all worth visiting. Deoksugung, also known as Gyeongun-gung, is the smallest of Seoul's Five Grand Palaces, and its name means palace of virtue and longevity. South Korea's royal family inhabited this palace until South Korea was annexed by Japan in 1910. Deoksugung consists of two palaces – one Korean style, and one Western style, a unique feature that makes a visit all the more intriguing.
If you got the integrated ticket, you are good to go. Otherwise be prepared to pay admission: 1,000 won for adults ( approximately $0.80 USD), and half of that for kids 7-18. Seniors, kids under the age of 7, people wearing Hanbok (tradiotionak Korean clothing) can visit for free. There's no admission on culture day, which is the last Wednesday of every month.
Changdeokgung Palace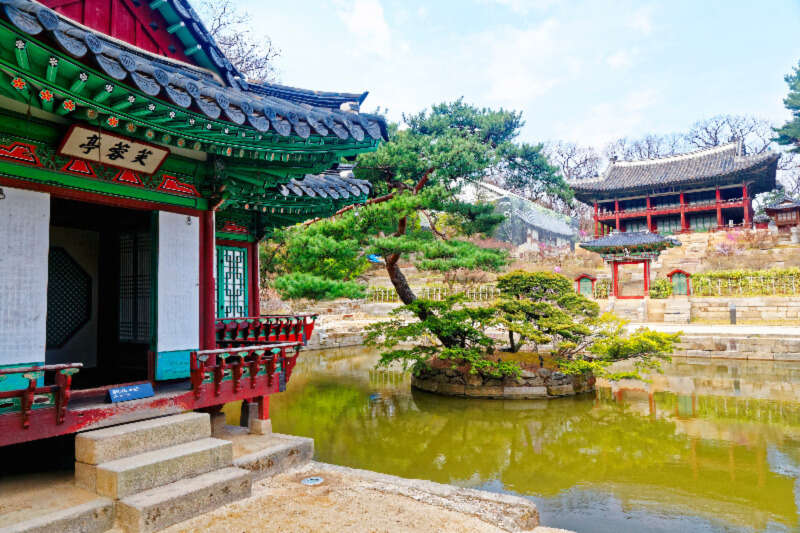 The Changdeokgung Palace (Prospering Virtue Palace) complex is a UNESCO World Heritage Site! In 1997, it was declared as such due to it not just being an outstanding example of Far Eastern palace architecture and garden design, but seamlessly blending in with its setting in a large park in Seoul. It's one of the Five Grand Palaces, built in 1405. Changdeokgung Palace was burned down when the Japanese invaded in in 1592, but rebuilt shortly thereafter.
Gneral admission is 3,000 won for adults, and 1,500 won for kids. As in the other palaces, kids under the age of 7 and seniors over the age of 65 get to go for free. You can take guided tours to learn all about the palace and the grounds. There's the general tour, and the Secret Garden tour, both well worth your time. At this palace it's vital that you reserve a spot for the tour. Click here to do so.
Changgyeonggung Palace
Changgyeonggung Palace is number four on our list of the Five Grand Palaces. This one was built in the mid 15th century, and also damaged during the Japanese Invasion in 1592, and again in the beginning of the 20th century. Visit the palace and see the Honghwamun (main gate), a national treasure, the marvelous Okcheongyo Bridge, the Myeongjeongjeon (main hall), the Munjeongjeon (council hall), Sungmundang Hall, Haminjeong Pavillion, and the other stunning elements of Changgyeonggung Palace.
Admission is 1,000 won for adults, 500 won for children, and, as usual, free for kids under 7 and adults older than 65. Guided tours are free!
Jongmyo Shrine
Jongmyo Shrine is another fascinating part of South Korea's history. It was an important part of the Joseon Dynasty, serving as shrine for the royals. It is the oldest royal Confucian shrine that has been preserved through the centuries (in existence since the 16th century), which led the UNESCO to declare it a Wold Heritage Site in 1995.
If you want to visit the shrine, you must join a tour. That is, unless you visit on a Saturday. The Shrine is closed on Tuesdays. Admission is 1,000 won for adults, 500 for kids, and, you guessed it, kids under 7 and seniors have to pay nada!
Bongeunsa Temple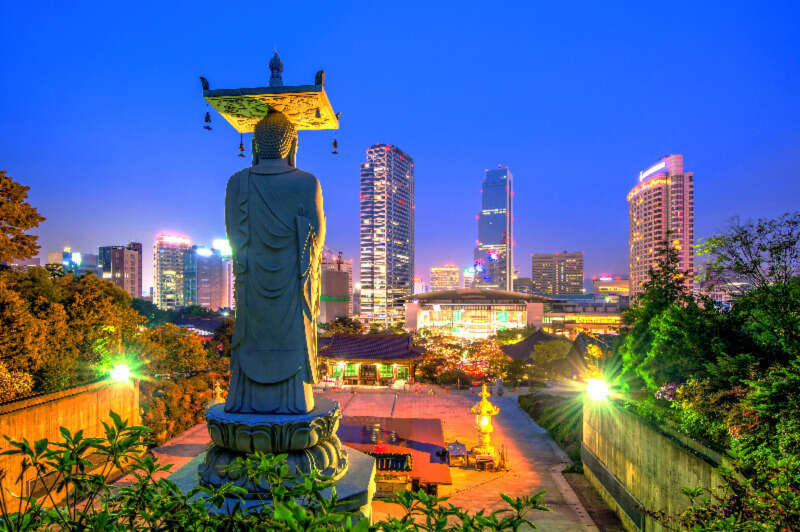 South of the Han River lies a site to behold: the Bongeunsa Temple, a Buddhist temple dating back to 794. It's dominated by the 91 foot high statue of the future Buddha, Maitreya. The temple is an oasis of tranquility in a busy area of Seoul. Visitors can witness or even participate in various Korean Buddhist cultural traditions such as the Korean Zen meditation, Dado, a tea drinking ceremony, or the daily dawn service.
Bukchon Hanok Village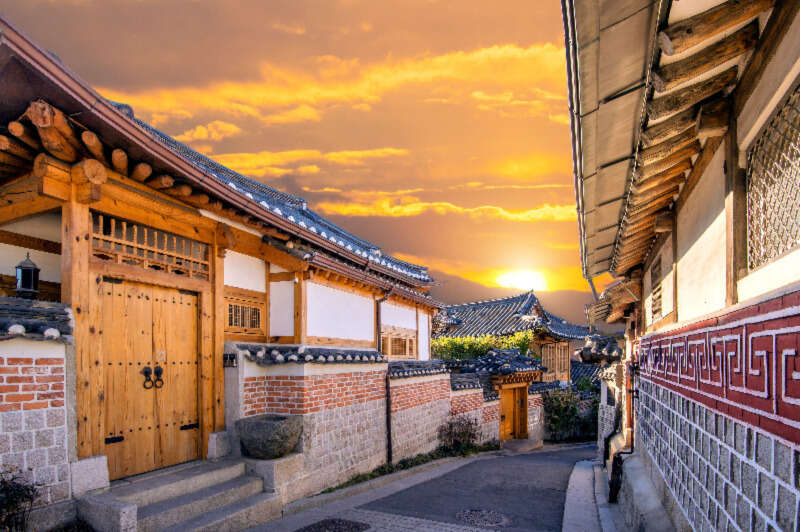 In the middle of Seoul, tucked in between Changdeok Palace, Gyeongbok Palace, and the Jongmyo Royal Shrine, visitors can marvel at a well preserved 600 year old traditional Korean village. During the days of the Joseon Dynasty, the village was home to South Korea's nobility. Today, it is near the top of the list of visitors' favorite tourist attractions. It's got expertly restored traditional Korean houses from that era.
Stop at the Bukchon Traditional Culture Center to educate yourself about traditional arts and crafts. They offer lectures and classes on subjects such as traditional calligraphy, the traditional tea ceremony, and more. Visit the Seoul Intangible Cultural Heritage Center, or one of the great museums in the area: the Gahoe Museum, displaying traditional aspects of the Joseon Dynasty, the Bukchon Asian Art Museum, and the Donglim Knot Museum.
Gwangjang Market
Gwangjang Market is the oldest traditional Korean market in Seoul, and you should not miss it under any circumstances. This is where the locals shop, guaranteeing an authentic experience. While you can buy stuff such as traditional clothes, linens, or bed sheets, the market's main focus is food. It's essential that you go while hungry, because you will want to try everything! It offers the best Korean street foods in Seoul. The market is very busy, and the vendors will try their best to get you to sit down and eat at their stall. The best tactic here is to try and not get derailed, then pick the stall where the most locals eat.
Namdaemun Market
Namdaemun is the largest market in Seoul. There are more than 10,000 shops, and you will not manage to see them all. All kinds of merchandise is on offer here, from clothes to jewelry and accessories, to flowers, ginseng, and delicious street food. The best time to come is before noon. Not all vendors will have opened their stalls, but the crowds are smaller. Make sure to plan enough time to see everything you are interested in.
Shopping
Seoul has several places for shopping enthusiasts. Myeongdong Underground Shopping Center is the place to go for K-Pop fans. You'll find many K-Pop related items here. Clothes and souvenirs are also on offer, often more reasonable priced than in the above ground shop of the Myeongdong area. The Lotte Department Store is a big draw for those looking to buy luxury items.
Starfield COEX Mall has around 300 stores, covering everything from entertainment and electronics to beauty and fashion. In the basement, the COEX Aquarium has more than 650 species of fish and other marine life. Want to devote a whole day to shopping? Head to Dongdaemun. With 26 malls, 50,000 manufacturers, and 30,000 specialty stores, you could spend a week and not see everything. For lunch, head to Mukja Golmok to enjoy Korean street food.
Insa-dong is an area full of book stores, antique shops, and traditional tea houses. But you can get coffee, here, too. It's a good place to buy traditional souvenirs.
Cheonggyecheon River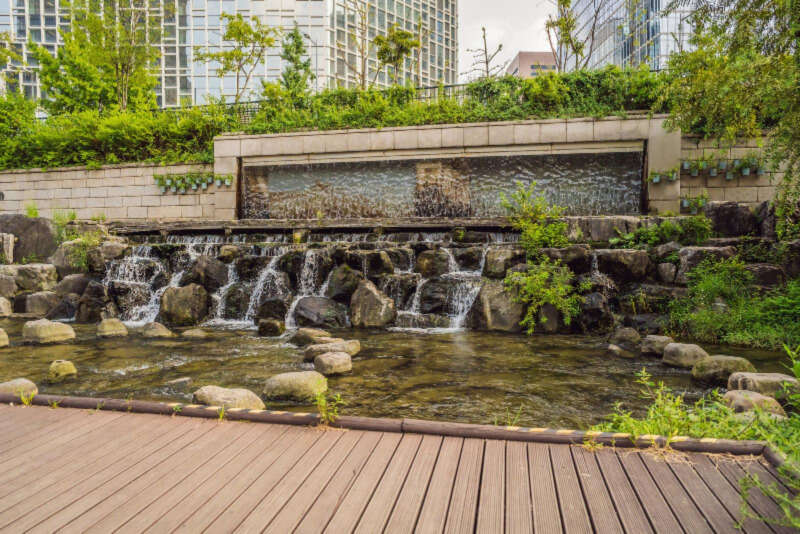 The Cheonggyecheon River is 6.8 miles long and flows right through downtown Seoul. It was covered up in the 1950s, but in 2003, a restoration project went underway to uncover and opened the river as a recreational area to the general public. This was completed in 2005. Numerous events are held by the river each year, so check before you go to make sure you don't miss something amazing. While on your stroll keep your eyes open for the permanent art installations such as the spring sculpture, and the King Jeongjo's Royal Procession Mosaic.
Nami Island
Namiseom, or Nami Island, is a river island, about 33 miles from Seoul. The Naminara Republic is a micro nation, created as a cultural tourism brand. On Nami Island, tourists can enter a whole new world, inhabited by songs and fairy tales, and partake in many activities. Explore Bukhan River on a boat ride, flyfish, ride the banana boat, enjoy the zip wire, get an adrenaline rush on the tree coaster, rent a bike and leisurely ride around the beautiful island, ride the charity train, or educate yourself on the story tour bus.
Demilitarized Zone
Before you go, familiarize yourself with the history of Korea. This will help you understand why there is a demilitarized zone (DMZ). The DMZ was established in 1953, as a buffer zone between the hostile nations of North and South Korea. You get to see the heavily fortified border, the Third Tunnel of Aggression, a secret passageway that was discovered underneath said border, Dorasan Satation, gateway to North Korea, the Bridge of No Return, where many a prisoner exchange took place, Imjingak Resort, a place of remembrance, the Korean Axe Murder Incident Memorial, the Dora Observatory, for views into North Korea, and Heyri Art Valley.
Lotte World Amusement Park
Lotte World is the perfect place for you if you love amusement parks. It offers a large indoor theme park, Magic Island, the outdoor amusement park, shopping sports facilities, shopping malls, a luxury hotel, the Korean Folk Museum, and an artificial island inside a lake. Admission is a bit steeper than what we've seen so far: adults pay 55,000 won (about $43.60 USD), teenagers 48,000 won (about $38 USD), the fee for kids is 44,000 won (about $35 USD), and children under two are charged 14,000 won (about $11 USD).
Top Tours
Seoul City Tour
Start your visit to South Korea with a full day city tour of Seoul. That way you get a good overview and know what to do with the rest of your time!
N Seoul Tower Ticket
For those who love to have everything planned out as much as possible, it's a great idea to buy tickets in advance. Get your N Seoul Tower ticket now so you don't have to worry about it later!
N Seoul Tower Hanbok Rental
What's more memorable than a private photo shoot in traditional Korean clothing with Seoul as the backdrop? It's one of the best ways to get the most Insta-worthy shots! Reserve your Hanbok now! Reserve your Hanbok now!
Demilitarized Zone (DMZ) Tour
Taking a guided tour to the DMZ is a great option to learn about Korean history. You can choose a full day option, or a half day option. Upgrades such as lunch are available. A note of caution: when booking a DMZ tour, make sure it explicitly says NO SHOPPING, unless you want to spent an hour or more in a shop you didn't necessarily want to visit rather than spending your allotted time at the day's destination. Choose the tour we recommend to avoid this!
Trip to Nami Island with Petite France & Italian Village, Garden of Morning Calm
Nami Island is a ways outside of Seoul, and if you don't want to navigate public transportation that far, it's easiest to book a tour. It's a full day tour, lasting between 10 and 12 hours. You get the chance to explore Nami Island, as well as nearby attractions such as Petite France and the Garden of Morning Calm.
Korean Cooking Class with Full-Course Meal & Local Market Tour
if you have a little time, have fun learning how to make Korean food! A Korean cooking class is a great way to bring a little piece of your vacation home with you. A local chef will take you to the market to buy fresh ingredients and have you sample delicious street food, then take you to her home and demonstrate to make authentic Korean dishes. Best of all? You get to eat the delicious food, too!
Private Street Food Tour
Nobody knows where to get the best street food like a local! To make sure you don't miss any of the deliciousness, and one of the best things about Seoul, book a private street food tour (and make sure to show up very hungry!).
Jinhae Cherry Blossom Tour
South Korea is most beautiful in the spring, when the cherry blossoms are in full bloom. But there's no place more stunning than Jinhae. Take a (really long 16-17 hours) cherry blossom day tour to marvel at the beauty of nature.
Discover the Korean Wave in Gangnam
Remember the sing 'Gangnam Style' by Psy? It's been a hot minute, or decade, since Gangnam Style brought K-Pop to the world. The private K-Pop and K-Wave tour of Gangnam is super fun for all Hallyu fans.
Top Travel Tips
Get the t-money card for 2,500 won. It's a card than can be used for lots of different things: to pay bus or subway fares, items in convenience stores, or even in restaurants. It makes life in Seoul easy and convenient. You can purchase your t-money card at retail convenience stores such as Ministop or 7-Eleven. It can be recharged at vending machines inside subway stations, or at the convenience stores you can buy them at.
Get a Korean SIM card from Amazon before you travel. It's much cheaper than using the roaming on your phone.
Don't leave without a travel adapter! Here is our favorite from Amazon.
Don't be shy about using public transportation. Even if you aren't used to it, it's very easy to navigate and a lot less hassle than trying to rent a car.
Traveling late? Take a cab. Download the Kakao Taxi App before you go. Get it from the Google Play Store or the Apple Store.
Download KakaoMap to navigate around the city.Get it from the Google Play Store or the Apple Store.
You will see places renting out traditional Korean dress (hanbok). It's perfectly okay to dress up, and not considered offensive by Koreans (but please remember to show respect when wearing traditional clothing.) Plus, you get free entrance in some places, and your pictures will be that much more fun!
Get the Discover Seoul Pass. It allows access to Seoul's major tourist attractions, among other benefits, and is available for 24, 48, or 72 hours.
Travel safety for female travelers
Seoul is generally considered very safe and one of the best places to go for female travelers. The city has one of the world's lowest crime rates. Koreans have a sense of duty that leads them to be very helpful should you need directions, or any other kind of information. It's a big city, so make sure you take normal safety precautions, such as using a theft-proof bag. Do keep an eye on the political situation with North Korea. But other than that you are all good to go!
Top Places to stay
Lotte Hotel Seoul Executive Tower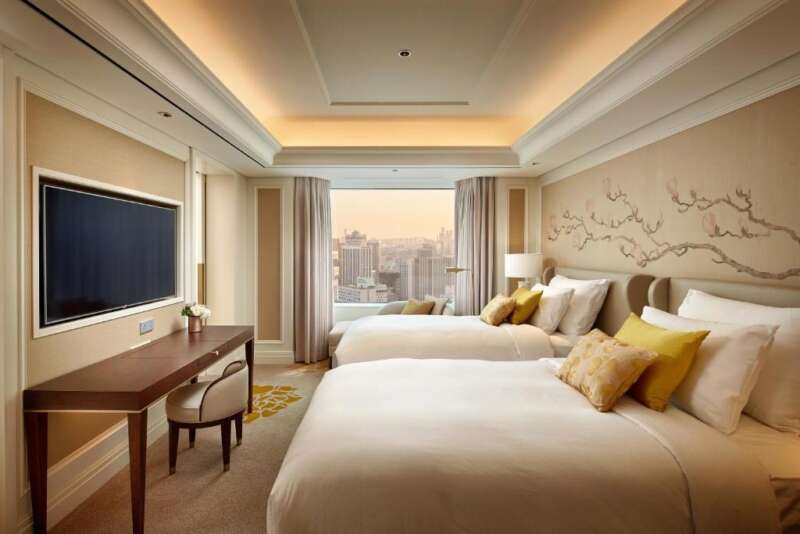 The Lotte Hotel Seoul Executive Tower is a stunning, lavishly furnished, and fairly new, 5 star property. All rooms feature a TV, coffee maker, and mini bar, the bathrooms come with a tub. They offer an excellent breakfast with lots and lots of choices. On site you will find a French 3-star Michelin restaurant (OMG!). There's also a fitness center, indoor pool, and a spa. It is conveniently located in the Myeongdong area.
The Shilla Seoul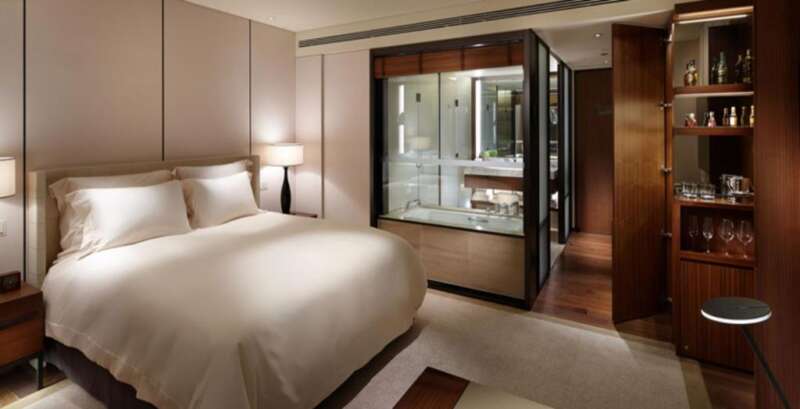 Receive world-class treatment at The Shilla Seoul, a fantastic 5 star hotel. It is located in the central area of Seoul, and has plenty of amenities: a full service spa, six different options for dining, a gym with aerobics and yoga classes, an indoor golf range, a free shuttle to Shilla Duty Free Shop and Dongguk University Station. Each room has a coffee maker, a mini bar, A/C, a TV, and a safety deposit box.
Signiel Seoul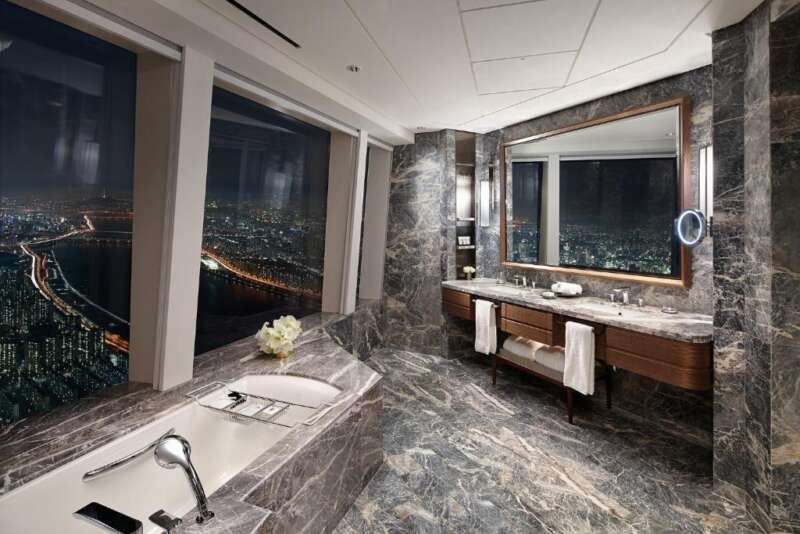 If you are traveling to South Korea and looking for a spectacular place to stay, then you should consider booking the Signiel Seoul. It's a 5 star hotel that will simply blow your mind. Every room features a panoramic view of Seoul. if you can tear yourself away from that view, you will notice a coffee maker, mini bar, TV, fridge, and safety deposit box. The hotel offers Michelin-starred Korean cuisine, a champagne bar, an indoor swimming pool, a fitness center, and an airport shuttle.
Arirang Hill Hotel Dongdaemun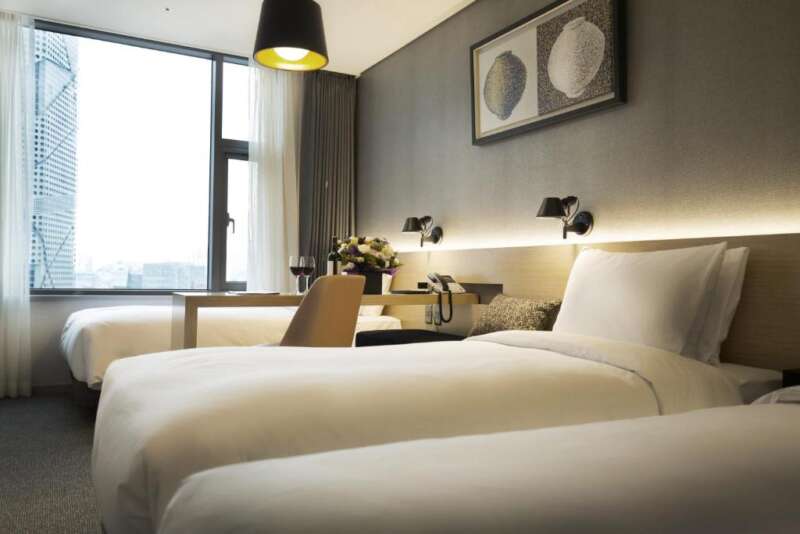 The Arirang Hill Hotel Dongdaemun is a great 4 star hotel in a convenient location, just minutes from a subway station. In case you are renting a car, it offers free parking. Other amenities include a fitness center, laundry on site, and an in house restaurant. Rooms are clean and comfy, and they feature seating areas with a sofa, and a TV.
GLAD Mapo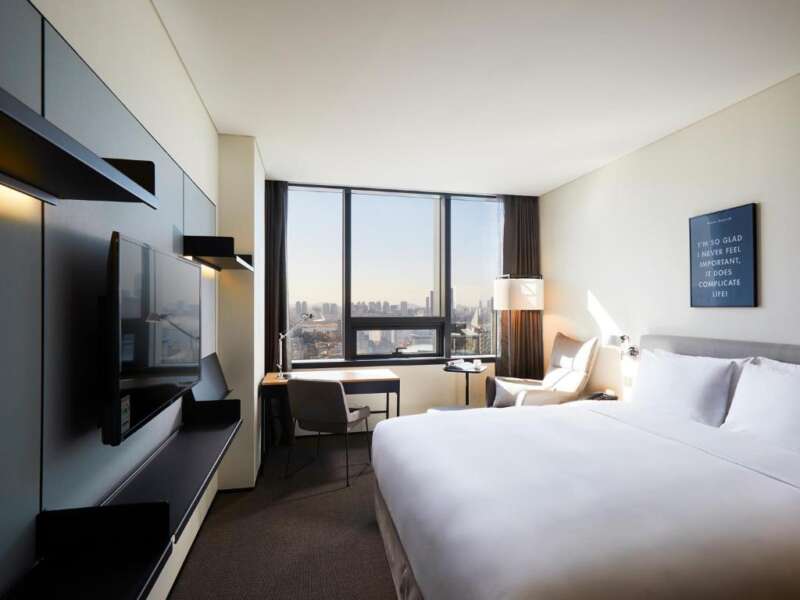 GLAD Mapo is yet another 4 star hotel that'll allow for a very comfy and convenient stay in South Korea. It's right in front of a subway station, making getting around Seoul very quick and easy. There's a in-house restaurant and bar, a fitness center, and parking is available. Some rooms feature city views, and all of them have a TV, fridge, and mini bar. They are small but functional, and exceptionally clean. The area has numerous restaurants, so you won't want for dinner choices.
Mercure Ambassador Seoul Hongdae
The Mercure Ambassador Seoul Hongdae is another 4 star option for your trip to South Korea. What's great about it? It has a terrace with city views, a garden, a fitness center, and a lounge. Every room has A/C, a coffee maker, a fridge, and a TV. Some rooms have city views, while others look out onto the river. The location in the district of Hongdae is excellent, close to the subway and plenty of cafes and restaurants.
Hotel28 Myeongdong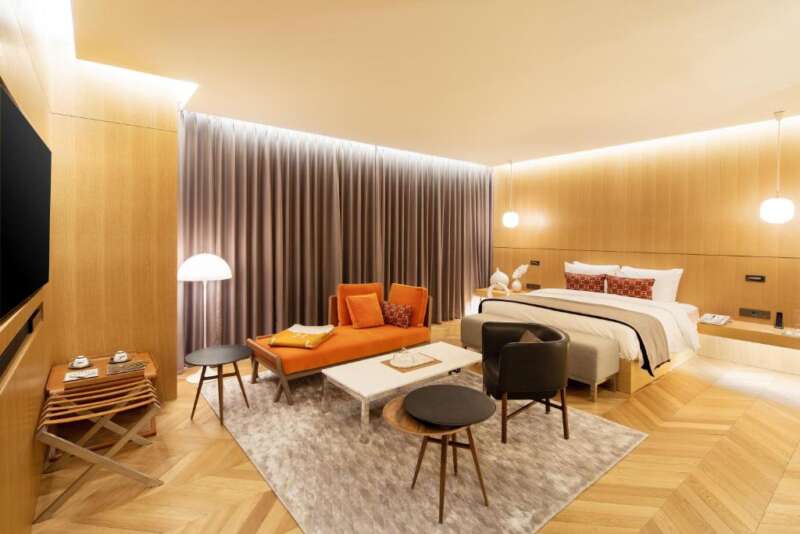 Seoul offers excellent 3 star accommodations, for example the boutique Hotel28 Myeongdong. It features a cinematic theme and is located in Myeongdong. Amenities include a library, a restaurant, a rooftop garden, a fitness center, and a gallery where you can admire work by local artists. The rooms are equipped with air purifiers, and a TV.
Solaria Nishitetsu Hotel Seoul Myeongdong
If you would like to stay in the Myeongdong district, the Solaria Nishitetsu Hotel Seoul Myeongdong is another good 3 star hotel for you. It offers a breakfast buffet, luggage storage, laundry, and even a currency exchange! All rooms have A/C, a TV, a seating area, electric kettles to heat water, and a safety deposit box. Some rooms have a balcony, while others will spoil you with beautiful views of Seoul.
Hanso Presidential Suite Hanok Hotel
If you are looking to book in the three star range, the Hanso Presidential Suite Hanok Hotel could work for you. It's a condo hotel, with rooms decorated in traditional Korean aesthetics. Every room has a seating area with a TV, and A/C. Amenities include a free airport shuttle, free parking, a garden with BBQ, a terrace, and a laundry service (for an additional charge).
NamHyunDang – Hanok Korean Traditional House
For those who don't love hotels, the NamHyunDang – Hanok Korean Traditional House is perfect! This vacation home has three bedrooms, and is just steps away from many attractions, such as Changdeokgung Palace. It has everything you need: WIFI, TV, a kitchen, laundry, a terrace, and garden views.
The Hyu Largo
The Hyu Largo is a nice vacation home for those traveling in a big group. With 5 bedrooms it can accommodate a whole family (or two!). It has a seasonal outdoor pool, A/C, free parking, a balcony, and a kitchen.
Zzzip Guesthouse in Hongdae
Are you looking for a great hostel in Seoul, South Korea? The Zzzip Guesthouse in Hongdae hits the mark! It's location is super convenient, close to nightlife, close to public transportation that'll take you to major attractions in just 15 minutes. Here, you'll feel like family. Enjoy the free breakfast, free tea and coffee, free WIFI, free facial towels, free maps and guidebooks, and free luggage storage upon arrival and departure. Can it get any better?
Time Travelers Relax Guesthouse Seoul
The Time Travelers Relax Guesthouse Seoul is your quiet oasis after a busy day of sightseeing, or the perfect spot to hang, relax, and nurse a hangover after a night out. Located just a short walk away from the trendy Sinchon neighborhood, this is a great, central location.
Are you ready for your epic trip? This Seoul itinerary provides you with everything you need to know and guarantees a great time!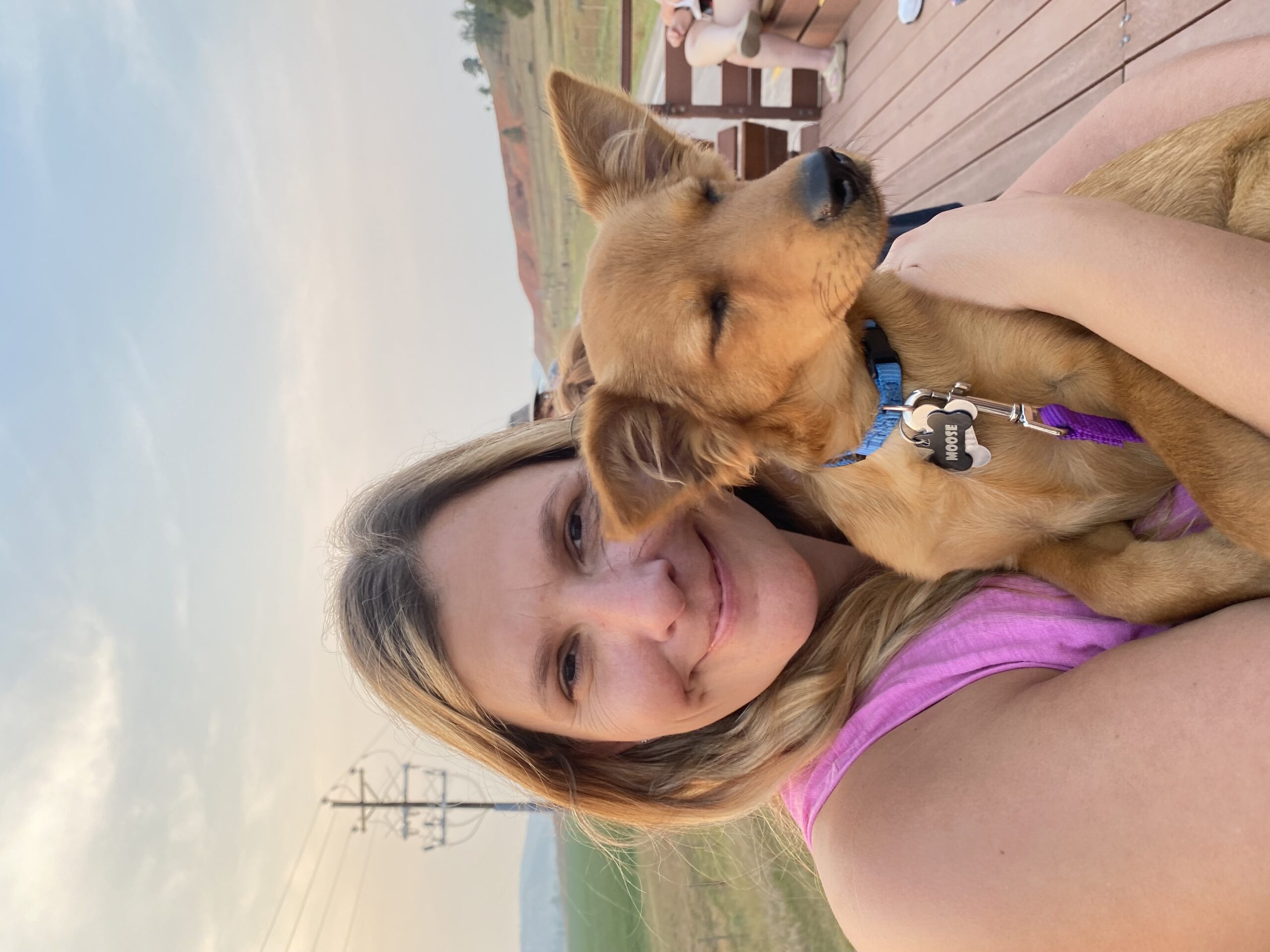 Jenny grew up in Germany. All she ever wanted out of life was to leave and have adventures. Jenny always traveled as much as the budget would allow, and when she met her husband traveling became a full-time thing. You can follow Jenny on her blog and Facebook.