Let's chat about the famous landmarks in Ireland – one of my favorite countries! It was the year 2016. On a very foggy morning, TJ, Tim, and I stood on the deck of Rocket Science, desperately staring at the whiteness ahead. We had just sailed across the Atlantic, and it had been a trying almost nine days. Then, suddenly, the fog lifted the slightest bit and we got a glimpse of green dotted with white. Aaah, Ireland! And how fitting that the first thing we saw was sheep! The Emerald Isle got that nickname for a good reason. It's green, it's beautiful, and there is so much to do and see that every woman should put the Land Of Saints And Scholars on her bucket list! From medieval castles to the Wild Atlantic Way, from the Cliffs of Moher to ancient sites, the rich history of Ireland and the amazing Ireland landmarks are about to blow you away! In this blog post I'll tell you all about famous landmarks in Ireland.
This post contains affiliate links. This means we make a small commission at no cost to you if you click through and make a purchase. All prices listed are accurate at time of publication.
Ireland – A Quick Overview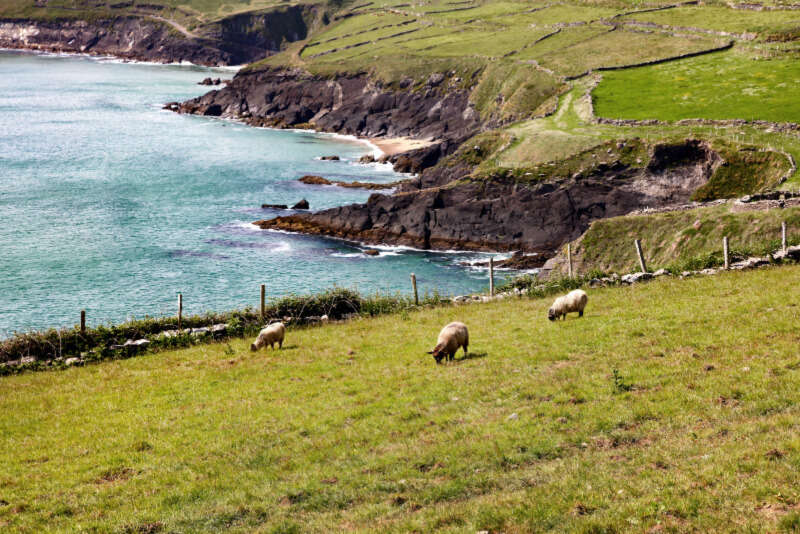 Ireland is an island located in the North Atlantic. There are two Irish countries: the Republic Of Ireland, which consists of 26 of the 32 counties on the island. It's capital is Dublin (where you will find many famous landmarks in Ireland), and it is part of the European Union. And then there is Northern Ireland, which consists of the remaining 6 counties, and is part of the United Kingdom. Its capital is Belfast. The division of the island, which was implemented in 1921, was meant to quell unrest, rebellion, and violence. It was meant to be temporary, but it is still in effect today.
Travelers need to be aware of the infamous Irish weather: one minute the sky is beautiful and blue, the sun is shining, it's simply picture perfect, and next thing you know, you are caught in a downpour. Welcome to Ireland! But don't let that deter you. To quote Alfred Wainwright: "There's no such thing as bad weather, only unsuitable clothing." So pack accordingly!
If you plan to go to both the Republic of Ireland and Northern Ireland, be prepared to deal with two different currencies: GBP and Euros.
It's customary to tip between 10-15%. If you travel in a larger group, take a look at your check. A service charge may have already been added.
If you are renting a car, be prepared to drive on the left side of the road. And as a pedestrian, make sure to look right first, then left, before crossing a street.
Fun fact: there are 72 different languages being spoken in Ireland! But English is the main one.
Famous Landmarks In Ireland
Ready to get into the details? I'll start with the most amazing landmarks in the Republic of Ireland, and then list the can't miss ones in Northern Ireland.
Must-See Landmarks In The Republic Of Ireland
1. Wild Atlantic Way
Driving the whole Wild Atlantic Way, which is over 1500 miles long, would be the ultimate Irish road trip. The Wild Atlantic Way passes through a total of nine counties and three provinces, and it stretches from the Inishowen Peninsula in County Donegal to Kinsale, County Cork. But you don't have to spend your whole vacation in the car to experience Ireland's spectacular coastal route. You will drive part of it on your way to many of the most famous and popular tourist attractions such as the Cliffs of Moher or Slieve League. Don't hesitate to stop, get out of your car (when you find a pullout and it is safe, of course), and take a deep breath of salty Atlantic Ocean air, in awe of the beauty before you.
2. Kilmainham Gaol
Surely your travels in the Republic of Ireland will lead you to Dublin, and you should put at least one museum on your list: Kilmainham Gaol. This isn't your average museum. Kilmainham Gaol was opened in 1796 as a prison for everyone from ordinary criminals to those struggling for Ireland's independence. A visit to this museum allows you to take a trip through Irish history!
3. Dublin Castle
While in Dublin, don't miss out on a trip to Dublin castle! After its construction on the site of a Viking settlement in the 13th century, the castle was the center of Ireland's administration for centuries to come. First it has the headquarters of the English, then the British, and finally, in 1922, it became the seat of the Irish government following Ireland's independence. Today it isn't just the seat of the government, but also one of Dublin's major attractions for tourists.
You can take a guided tour any day of the week, even on holidays, between 9.45 am and 5.45 pm. Tickets can be purchased on location at the ticket desk, and they cost €12.00 for adults, €10.00 for seniors or students, and kids under the age of 12 pay no admission fee.
4. Book of Kells
The Book of Kells is an illuminated religious manuscript, dating back to the medieval period. It is one of the greatest ancient cultural treasures of the Republic of Ireland. It's housed at the library of Trinity College Dublin, Ireland's oldest university, which in itself is a place worth visiting. To avoid the crowds, we recommend booking the fast-track easy access Book of Kells tour with Dublin Castle. This won't just eliminate long wait times (and who's got time for that when there's so much to see!), but a guided tour will provide all the information about medieval Ireland, and the historic significance of the Book of Kells. Win-win!
5. Guinness Storehouse
Guinness is Ireland's most famous and iconic beer. In Dublin you can take a tour of the Guiness Storehouse and hear the story behind the brand. You can book different experiences, every one more fun than the last. There's the Guiness Storehouse experience, the stoutie experience, where you can print a selfie on the head of your Guinness, the Guiness Acadamy, where you learn the legendary six-step ritual and pour your own pint, or the connoisseur experience, a tasting and story telling with a beer specialist. It sounds like so much fun, book your ticket now!
6. Charles Stewart Parnell Statue
When you walk through O'Connell Street in Dublin, you'll inevitable pass the bronze statue of Charles Stewart Parnell. It commemorates an interesting figure in Irish history, the leader and founder of the Irish Parliamentary Party. Read more on Mr. Parnell here.
7. St. Patrick's Cathedral
St. Patrick's Day is when many parts of the world turn just a little bit Irish. But who was this guy who is celebrated far and wide? St Patrick was a Romano-British Christian missionary and bishop who lived in the 5th century. But his way was not easy. Saint Patrick was first brought to Ireland at the tender age of 16 as a slave. He managed to escape and decided to return to Ireland as a free man, and bring Christianity to the Irish. He is the patron saint of Ireland, and St. Patrick's day has been celebrated for over a thousand years!
Fun historical facts aside, when you are in Dublin, you must visit the spectacular cathedral, the largest in the country, devoted to this extraordinary man. St. Patrick's Cathedral is one of Ireland's one of the most important pilgrimage sites, and one of its most important historic sites. And it is one of the most famous Irish landmarks. Opening hours start Monday through Friday at 9.30 am, and the last admission will be at 5 pm. Saturdays the cathedral opens at 9 am and last admission is at 6 pm. On Sundays, mass is observed, so the hours are as follows: 9 am – 10.30 am, 1 pm – 2.30 pm, 4. 30 pm – 6 pm. Admission is €9.00 for adults, €8.00 for students and seniors, €3.50 for kids between the ages of 6 and 12, and free for kids younger than that. There's a special family price of €24.00 for a family of 2 adults and up to 3 children. Free guided walking tours are available Monday – Saturday at 10.30 am, 11.00 am, 11,30 am, 2.30 pm, 3.00 pm, and 3.30 pm.
8. Brú na Bóinne
Just north of Dublin, in County Meath, you'll find one of the most fascinating historical landmarks Ireland has to offer: Brú na Bóinne. It's an area containing prehistoric landscapes dating from the Neolithic period, and it's so significant that it was deemed a UNESCO World Heritage Site. The prehistoric passage tombs of Knowth, Newgrange, and Dowth date back to some time around 3200 BC, and they are among the most important Neolithic sites in the world. On top of that you'll find the largest collection of megalithic art in Western Europe here. Start your trip at the visitor centre. You can learn a lot about the area and the Neolithic period from their interactive displays. From there, shuttle buses take visitors to the sites. It's crucial to book ahead of time, because ticket numbers are limited. That is unless you only want to stop at the visitor centre. There's no need to book a ticket in advance then.
You could also visit with a small group Celtic history tour from Dublin, or book a Bru na Boinne – Pearse Lyons Distillery private shore excursion from Dublin.
9. Carrowmore Megalithic Cemetery
Head further northwest, to County Sligo, to visit Ireland's largest Megalithic cemetery – Carrowmore. It's got a spot on Ireland's Tentative List of World Heritage Sites (together with some other sites in the area), because it is the oldest and the densest concentration of Neolithic tombs in the country. There's a restored cottage house featuring an exhibition that will give you all the information you need for your visit. The 35 graves in the area are more than 6,000 years old!
Admission is €5.00 for adults, €4.00 for people in a group or for seniors, €3.00 for children, or €13.00 per family. Note that the site accepts CASH ONLY!
10. Glendalough (Gleann Dá Loch)
Head south from Dublin to visit the 'Garden of Ireland' – County Wicklow. Glendalough, meaning 'valley of two lakes', is a glacial valley and one of the best places to visit in County Wicklow. The landscape is simply stunning, and there are great hikes for us active lasses. It's also home to monastic ruins dating back to the 6th century.
Start out at the visitor center to get an overview of the area. Next, visit the site of the monastic ruins. Once upon a time the Glendalough Monastery was a very important pilgrimage site, but in 1398 it was destroyed. You can also check out an abandoned miner's village, where lead was mined a hundred years ago.
For the best views, head to the Spinc Loop. There are two options for walks: the Spinc Walk, which is longer (approximately 5.9 miles), and the shorter Spinc Loop (approximately 3.4 miles). Some parts of the trail are very steep, so come prepared with the right shoes! if you aren't yet tired of walking, an easy approximately 1 mile walk to Poulanass Waterfall should be on your list of things to do. Those looking for an easy walk can hit the Green Road Walk, which is a little less than 2 miles long.
It's an easy day trip from Dublin, and if you like you can join a tour!
11. Kilkenny Castle
In County Kilkenny, in the south-east of the country, Kilkenny Castle has been standing tall and proud for over 800 years. It served to control a fording-point of the River Nore, to defend the town of Kilkenny, and is the junction of several route ways. Today, the castle is open to the public, and it's well worth your time.
Pro tip: if you are reading this dreaming of a trip to Ireland, but for whatever reason can't go just yet, check out Kilkenny Castle's online exhibitions!
While in the area, visit the town of Kilkenny. There's lots of fun stuff to do, including a walking tour of historic Kilkenny with a qualified tour guide, a 40 minute boat trip, and a haunted dark tour.
12. Cliffs of Moher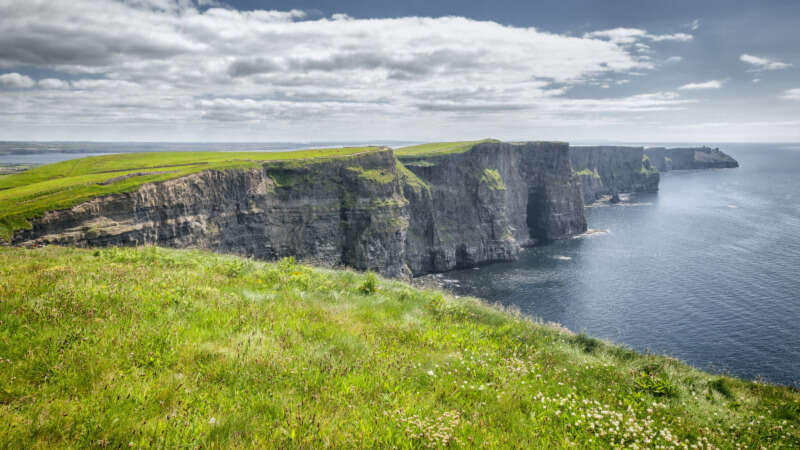 The Cliffs of Moher is one of Ireland's most famous landmarks. They are located in County Clare, on the far west coast of the country. The landscape, with its towering cliffs, caves, and karst limestone, is simply iconic. Along with Burren, the Cliffs are a UNESCO Geopark, protecting its sensitive underwater ways and geology. You can explore the cliffs by land or by sea. A premium tour with boat cruise from Dublin will save you the hassle of planning the trip and driving all the way out there. On this tour you'll also stop at the Caherconnell Stone Fort and experience a sheepdog demonstration! Staying in Galway? Book this Cliffs Of Moher tour from Galway including Doolin Village instead!
13. Aran Islands
The Aran Islands are included in many boat tours of the Cliffs of Moher, but if you got plenty of time to spend, don't let them be nothing but a side note. While it is beautiful to sail by, there's lots to do! Walk around Dún Aonghasa, a prehistoric stone fort with fantastic views of the Atlantic Ocean. Poll na bPeist is a large blow hole, shaped by the elements. It's fantastic to watch this natural feature, but it's extremely dangerous to swim in, so don't plan on that. However, if you want to see a real spectacle, come for the Red Bull Cliff Diving World Series, where the best divers from around the world take on this challenge. See seals at the Inishmore Seal Colony, and rent an e-bike to explore the island. The Seven Churches were once upon a time one of the biggest centers of pilgrimage along the west coast of Ireland. Today you can still see their ruins! You can also visit the smallest church in all of Ireland in the Aran Islands. St. Benan's Church is no bigger than 15ft by 11ft. Have you heard of famous Irish writer J.M. Synge? His books brought the Aran Islands to the attention of the world. Synge's Chair is a lookout on the edge of one of the dramatic limestone cliffs. Last but not least, visit Kilronan Village, which is home to the islands' only grocery store, and don't miss the Aran Sweater Market & Museum while you are there.
14. Bunratty Castle
Bunratty Castle is another popular tourist attraction in County Clare. It isn't just the most complete and authentic castle in the country, dating back to 1250, but it's the perfect place to entertain the whole family! Tour the castle, explore the Village Street, enjoy the woodland walks to the regency walled garden, stroll on the fairy trail, and for those with kids, the Viking playground is a massive highlight! Pa's Pet Farm is more fun than any kid could ever hope for. Later, relax at Mr. O'Regan's Cafe and visit the Shannon Irish Design Gift Store.
15. Kylemore Abbey
Head northwest from the Cliffs of Moher, and you'll reach a noteworthy Benedictine Monastery in County Galway, just over an hour from Galway City – Kylemore Abbey. It was built in the late 1800s by a wealthy businessman, but in 1920 it was used to accommodate nuns fleeing from World War I. It has been owned and run by the Benedictine community ever since. Visitors will learn the Abbey's history through the generations. Take a scenic walk through the woodlands or by the lake, and visit Ireland's largest walled garden! History talks are offered three times daily, and if you are so inclined you can join a tour of the walled garden. Don't miss out on the craft and design shop! It offers everything from pottery to award-winning chocolates handmade by the Benedictine nuns. When you are all tuckered out from exploring, take refreshments in the Café or Garden Tea House in the heart of the Connemara countryside.
16. Blarney Castle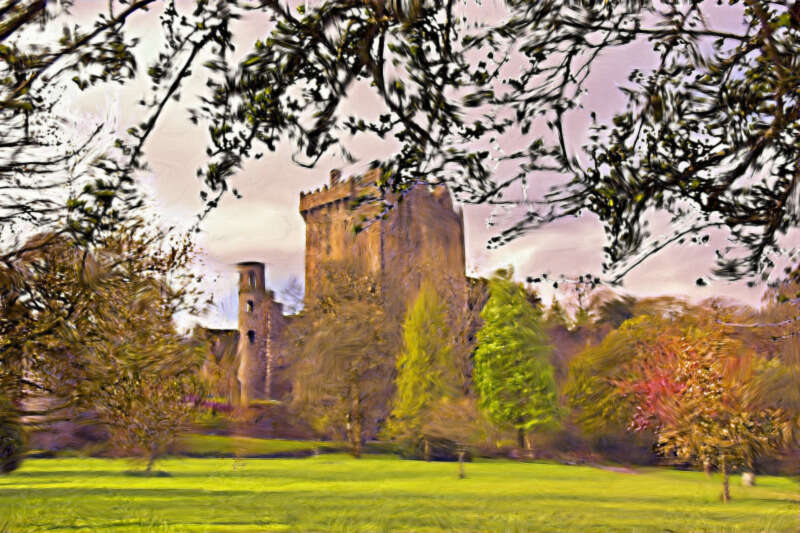 Blarney Castle is a medieval castle located in the southern part of Ireland, about 5 miles northwest from Cork, in County Cork. It was built nearly 600 years ago by Cormac MacCarthy, one of the greatest chieftains back then. But it isn't just the impressive architecture that draws people from all over the world to Blarney Castle. There's also the famous Blarney Stone, which is built into the battlements of the castle. Legend has it that kissing the stone will give the kisser the gift of the gab, aka great eloquence. Why not give it a try! Blarney Castle gets quite busy in the summer months, so do yourself a favor and book a skip the line Blarney Stone & Castle Village guided tour.
17. Rock of Cashel
Continue North from Cork and you'll get to County Tipperary. Here you get a chance to see the famous Rock of Cashel, also known as Cashel of the Kings and St. Patrick's Rock. Now if you think why should I travel all the way to County Tipperary to see some rock, I can assure you, the name is a bit misleading. Rock Cashel is a cluster of medieval buildings, once the seat of the kings of Munster. If you love a good legend, know that St. Patrick himself (you know, the guy who's the reason the whole world turns Irish on March 17 every year) came to Rock of Cashel to convert King Aenghus to Christianity. Explore the round tower, a high cross, a Cormac's Chapel, a Romanesque chapel containing the only surviving Romanesque frescoes in Ireland, a Gothic cathedral, an abbey, the Hall of the Vicars Choral and a fifteenth-century Tower House. Note that Cormac's Chapel can only be visited on a guided tour. To avoid standing in line, book your ticket online ahead of time.
18. Skellig Islands
Just off the southwestern coast of Ireland, about 8 miles west of Bolus Head on the Iveragh Peninsula in County Kerry you"ll find two uninhabited islets in the Atlantic Ocean: the Skellig Islands – Little Skellig and Skellig Michael. Why do I want to send you to uninhabited islands, you ask? For two reasons. One: it's a great place for bird watching. And two: one of them, Skellig Michael, has a UNESCO World Heritage Site! As unbelievable as this sounds, it is, in fact, true. There's an early Christian monastery that was added to the list in 1996.
Fun fact: Skellig Michael has a much more recent claim to fame! It was used as a filming location for two Star Wars movies: The Force Awakens and The Last Jedi.
The best way to see the Skellig Islands is to book a tour. Cruise along the coast and hear the stories about this part of Irish history from a professional guide on the ultimate Skellig coast tour.
19. Ring of Kerry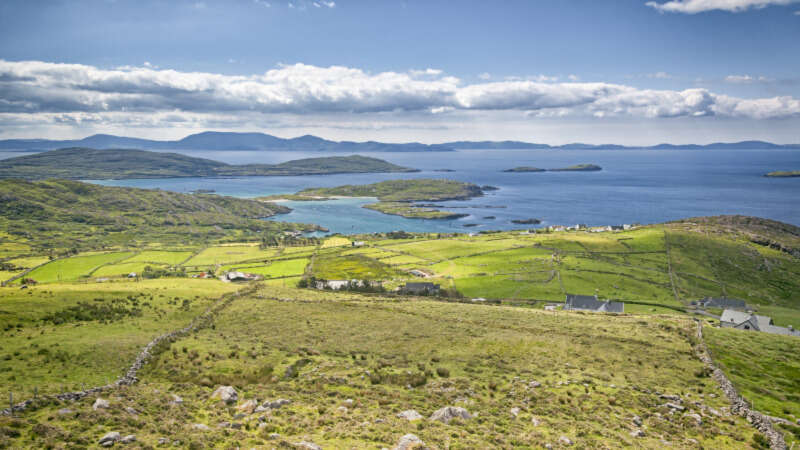 The Ring of Kerry offers stunning landscapes and quintessential Irish views of green, rolling hills and pristine lakes. This 111 mile long road on the southwest coast, in County Kerry, on the around the Iveragh Peninsula, is one of the most famous landmarks in Ireland. It starts and ends in Killarney, a picturesque little town. Here you should strongly consider visiting the beautiful Ross Castle. Here's a pro tip: get an early start for your long day of driving and exploring, and drive clockwise. All tour busses seem to drive counter clockwise, that way you have a good chance to miss the crowds and you won't get stuck behind tour busses driving extra slow on this winding road.
Derrynane House National Historic Park is the ancestral home of Daniel O'Connell, one of the great figures of modern Irish history. Cahersiveen is another small town on your route that's worth having a look at. Close by is Ballycarbery Castle. Cahergal Stone Fort is an ancient ring fort close to Ballycarbery Castle. Looking for a pristine sand beach? Rossbeigh Strand is the place to go! Don't miss the town of Sneem and the ancient Staigue Fort, built between 500 BC and AD 300. The most famous and spectacular view on the Ring of Kerry route is Ladies View. It's one of the best places in all of Ireland to get the perfect selfie! Make sure to tag @girlswhotravel on Instagram so we can live vicariously through you!
If you aren't keen on driving yourself, or on joining one of the big bus tours, consider booking a private tour of Ring of Kerry & Valentia Island.
20. Killarney National Park
Another attraction in County Kerry you should not miss is Ireland's first national park, the Killarney National Park, established in 1932. Rugged mountains and pristine lakes, woodlands and waterfalls await you! Here you get to see the highest mountain range in Ireland, the McGillycuddy's Reeks. This UNESCO Biosphere Reserve is the perfect place for outdoor enthusiasts. Walk the Dundag to Torc Path or the Old Kenmare Road, feel like you've been dropped in a fairy tale when you wander through the Mossy Woods, and don't miss Derricunnihy Church! Hikers can attempt to reach Ireland's highest point: Carrauntoohil, the highest mountain, standing 3,407 feet tall.
Learn about the history, the flora, and the fauna of the park on a guided Killarney National Park walking tour. Or book a very special experience: a private horse and carriage tour through the park!
Can't-Miss Landmarks In Northern Ireland
21. Titanic Quarter
The Titanic Quarter in Belfast is the largest urban waterfront regeneration project in Europe. It is situated on Belfast's Maritime Mile, which is THE place to go for all those interested in the city's maritime and industrial history. If you wonder why it is called the Titanic Quarter, here's a little known piece of history for you: the famous ship RMS Titanic was built by Harland & Wolff, a ship building company in Belfast! You can stay at the Hotel Titanic, explore the restored Harland and Wolff Drawing Offices, see the fully restored SS Nomadic, which was the Titanic's tender, have a look at the Thompson Dry Dock and Pump House, or attend an event at the Titanic Slipways, which regularly hosts big tickets events such as the MTV Music Awards, the BBC Proms in the Park, and the Giro d'Italia..
22. Giant's Causeway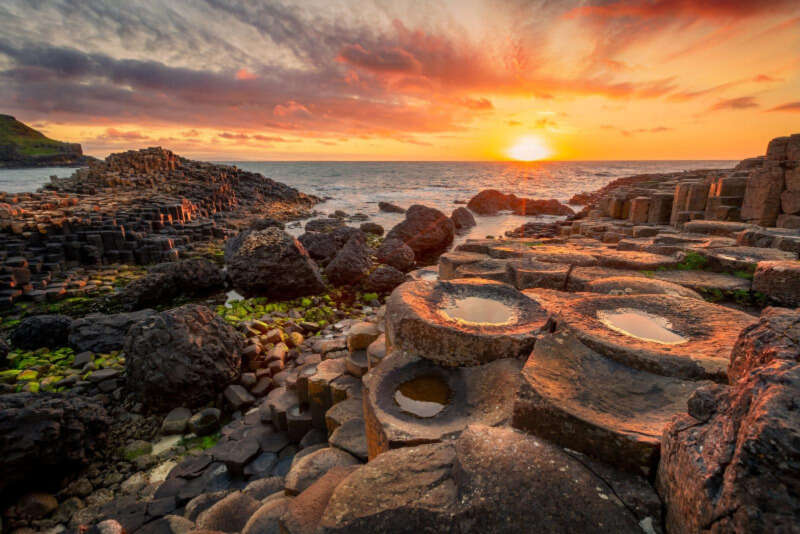 On the northern coast of Northern Ireland, in County Antrim, waits a spectacular natural wonder: Giants Causeway. In this area, a volcanic fissure eruption long ago created approximately 40,000 interlocking basalt columns. Giants Causeway is recognized as a national nature reserve by the government, and as a UNESCO World Heritage Site on top of that! It's conveniently located along the Causeway Coastal Route, which makes it easy to visit by yourself. Or you could book a tour to see it!
23. Donegal Castle
Donegal Castle is a historic landmark in Donegal Town, County Donegal, in the northwest corner of Northern Ireland. It's an almost fully restored Gaelic castle dating back to the 15th century. It was built by Red Hugh O'Donnell, chieftain of the O'Donnells, as his personal fortress. You don't get the chance to see a Gaelic castle in such splendid condition every day, so head over there ASAP! The castle is open to visitors from late March until early November daily between 10 am and 6 pm, and from early November until late March Thursday through Monday from 9.30 am until 4 pm. Admission is €5.00 for adults, €4.00 for groups and seniors, €3.00 for children and students, and €13.00 for a family.
24. Slieve League Cliffs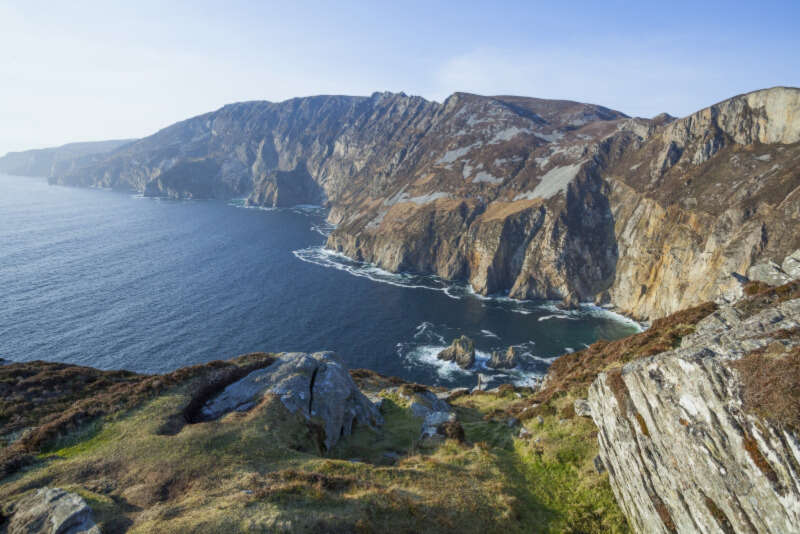 The Slieve League Cliffs are another main attraction for tourists in County Donegal. With nearly three times the height of the Cliffs of Moher, the Slieve League Cliffs are among the highest sea cliffs in all of Europe. First, stop at the Slieve League Cliffs Centre for a whiff of local history and Irish culture, maybe even some traditional Irish live music, and locally made items such as artwork and knitwear. From there, it's a quick drive or a nice walk to the best viewpoints. Looking for a hike? The Pilgrim's Path gets you all the way to the top of the cliffs! This is not for those scared of heights, but everyone else will be in awe of the beauty of Northern Ireland. For some added fun, book a Slieve League cliffs cruise!
25. Dunluce Castle
Dunluce Castle is one of the most picturesque castles not just in Northern Ireland, but on the whole island. Located in County Antrim, its setting right on the Atlantic coast is quite dramatic. It dates back to the first millennium, and while today all we can see ruins of what once was, it's still a stop you shouldn't miss. Take in the incredibly stunning scenery, have a picnic, take the most beautiful pictures that are guaranteed to make everyone back home SO jealous, oh, and of course go see the historical and archaeological exhibits on display. Opening hours are February – November every day from 9.30 am to 5 pm, and December and January every day from 9.30 am to 4 pm. Last admission is 30 minutes before closing.
So much to do, so little time! Unless you have a month or more, you can't visit all the famous landmarks in Ireland. Pick your favorites and have a wonderful time!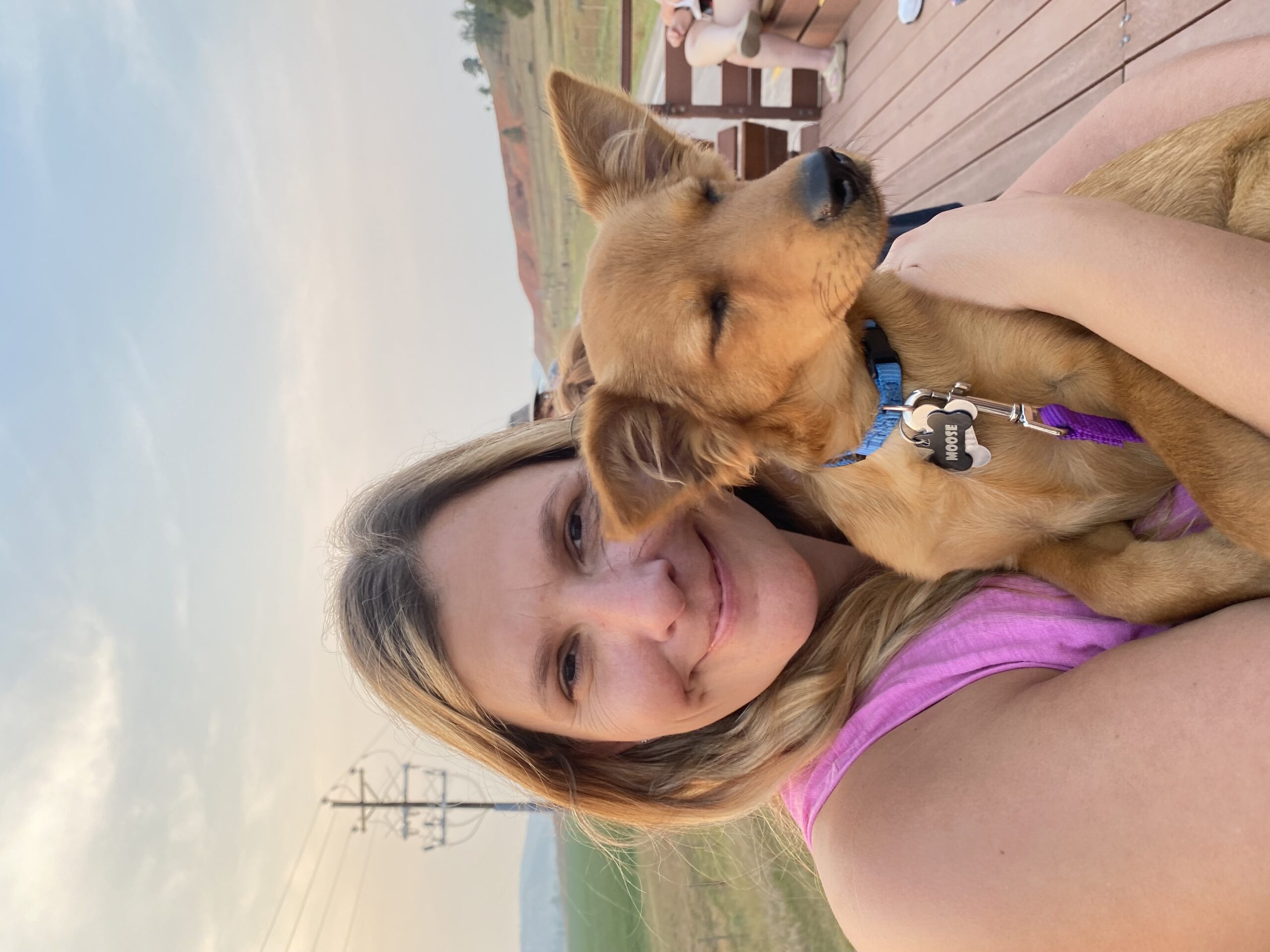 Jenny grew up in Germany. All she ever wanted out of life was to leave and have adventures. Jenny always traveled as much as the budget would allow, and when she met her husband traveling became a full-time thing. You can follow Jenny on her blog and Facebook.