I'll never forget the feeling of seeing Ireland out of the airplane window, a mass of green so peacefully sitting amidst the lapping waves. Not to sound cheesy, but I actually teared up. I knew as soon as I landed, this was going to be one of the craziest adventures of my life. And that was only the beginning. To see how I took on Ireland all by my lonesome, and loved every single second, then read on for my 10 day Irish solo road trip:
My Adventurous 10 Day Irish Solo Road Trip
Day 1: Landing in Dublin and Heading North
I landed in the Dublin airport around 8am, and immediately went to pick up my car rental. I booked through a service named Conn's Ireland Car Rental. He's an American guy who cuts right to the chase and offers a no-hassle service. It was so worth it!
A note about driving: it's not as hard as you think! Go slow, follow everyone else, and understand you WILL miss your turns (a couple times). I got used to it in less than a day.
Another super helpful note: Before you leave, use wifi to download a map of Ireland in Google Maps.  Open the app, and search "Ireland". It will pop up with "Ireland" and the GPS coordinates at the bottom. Click on that. Then you'll get a screen with four options: save, share, label, and download. Click download. Then you'll see the country in a box. You can zoom out to have nearly the whole country saved. After that, choose "download" at the bottom and it will begin to put it on your phone. You'll see though that the map will expire after 30 days. Then, when you're somewhere and you are lost but don't want to use data/don't have WiFi you can just search for the place like you normally would and it will use the offline map you've just downloaded to get you there!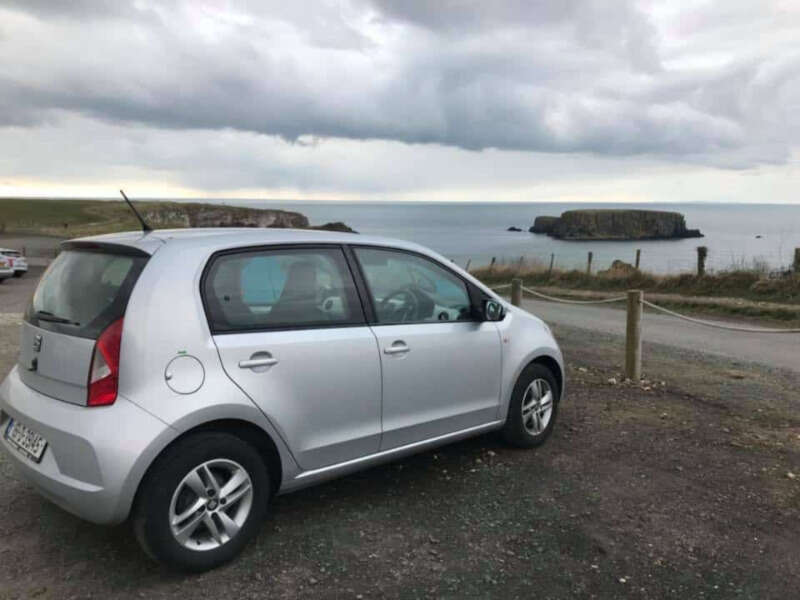 I drove immediately up to my friend's place in Coleraine to spend Easter weekend there. Since I was wiped from flying/driving, I slept and got ready for the next day!
Day 2 & 3: Exploring Northern Ireland and Celebrating Easter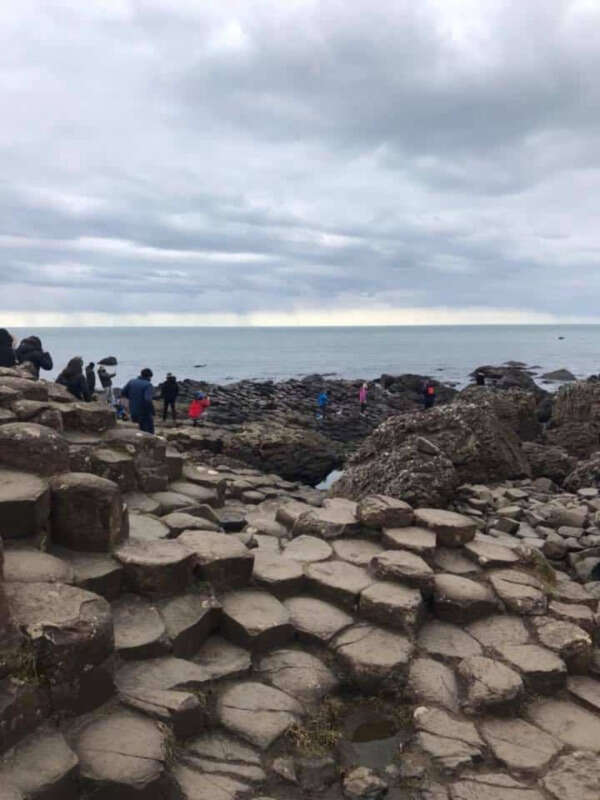 There were two things I knew I couldn't pass up in Northern Ireland: Giant's Causeway and Carrick-a-Rede Rope Bridge.
After spending some time with my friends the morning of Day 2 I took off for Giant's Causeway. I would recommended being nerdy and getting the audio device to follow along, because it has a TON of good material on it. There are also some more intense trails you can take that are past the main stones that you always see, so don't leave too early! Enjoy all of it.
Then I drove 20 minutes to the Rope Bridge. Don't worry, it really isn't too scary.
The views from the little island on the other side are amazing. Drove back to spend more time with my friends, and then Day 3 was a traditional Easter holiday, complete with church (Causeway Coast Vineyard is an amazing place if you're looking for a church) and a big family meal that I was invited to. Smiles and Banoffee Pie all around.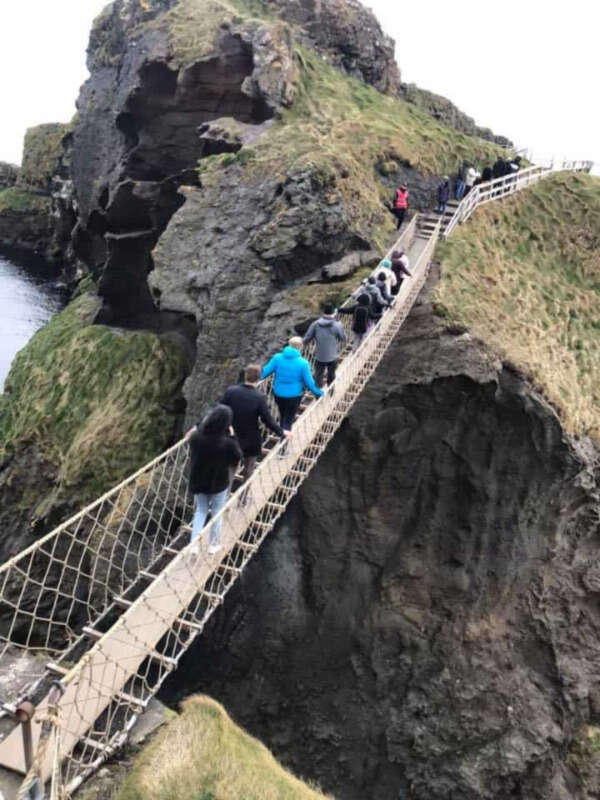 Londonderry and Glenvaugh National Park
Woke up in Coleraine and drove to Londonderry, just to check it out.
I walked some of the walled area and poked around the Guildhall, but there wasn't much to do in the afternoon. I'm sure if I spent more time there I wouldn't have had a problem finding local activities but I was more excited to get to my second stop of the day: Glenvaugh.
I saw pictures beforehand and thought "No way is it actually that beautiful." It was! I took the 40 minute "hike" (very easy walk) to the castle and was stunned the whole way. You could easily spend an entire day here. I toured the castle and took advantage of the little tearoom (delicious), but plan on spending some time here! All the trails, overlooks, and the castle gardens are so worth it. I wrapped up my day by driving to the Slieve League Lodge in preparation for Day 5.
Day 5: Slieve League, Donegal, Sligo, Galway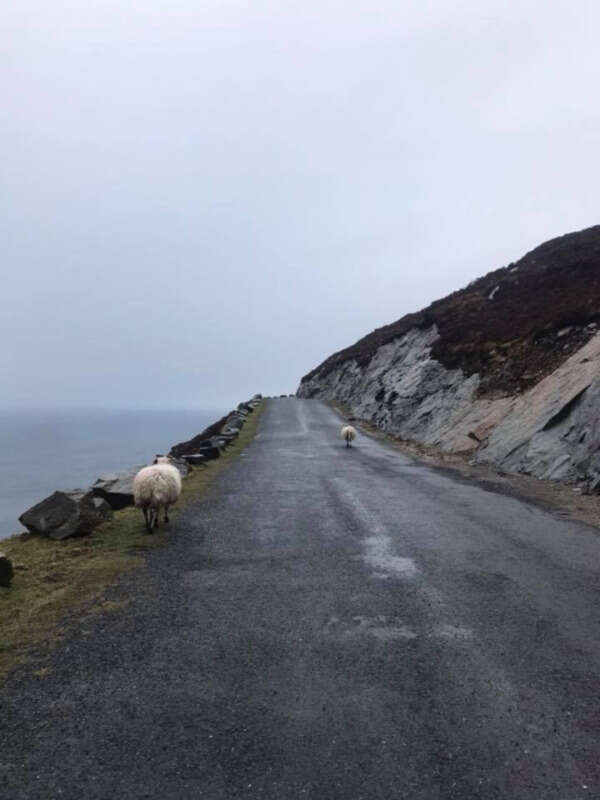 At this point you may be thinking, "Wow this girl is cramming a ton into just a couple of days" and you're right! I looked at this trip as my Ireland sampler platter, with full intention to go back and explore certain areas deeper in the next couple of years.
On the "do not miss" for northwestern Ireland: Slieve League. I journeyed up against wind and rain, but even in the fog the view was tremendous. Definitely would recommend going off the beaten path here (while remaining safe!) to get up to the very top.
That afternoon, I drove down to Donegal for a bit. Walked around and literally bumped into the Donegal castle (it's nestled so nicely in the middle of the shopping/activity.) Then I stopped into some shops and met some local artisans. Super cute, hospitable place. But I wasn't done yet! Continued on to Sligo to walk Strandhill Beach.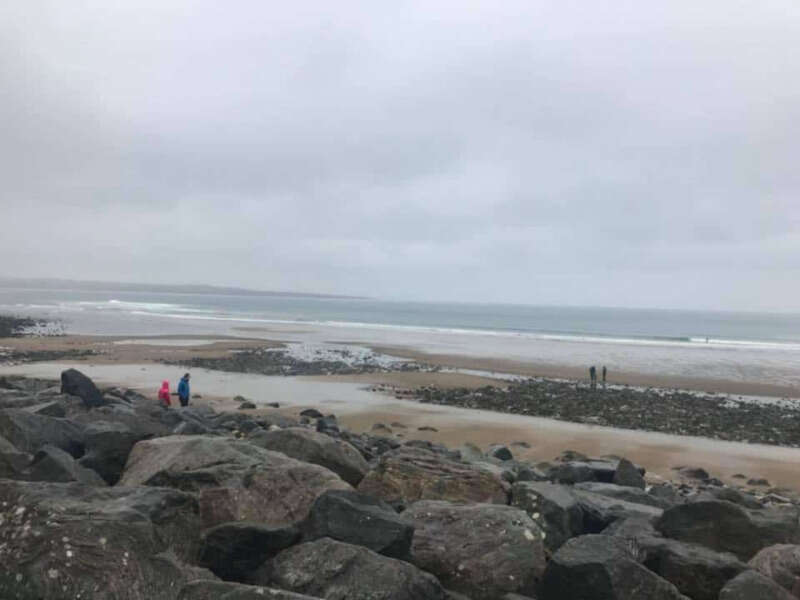 You know that question of "Beach or Mountains?" Yeah, this is both. Knocknarea is a sight to behold as it slopes into Strandhill Beach. When I went it was very peaceful, with hardly anyone else on the beach. Loads of cute shops and cafes along the shore too. I was sad to go but excited for what was to come: Galway! That night I drove into the city, dropped off my stuff at Galway City Hostel, and explored Galway night life. This city is booming! If you're looking for a place bursting with live music and vibrant people, this is it. Every single pub I went into had some sort of musicians playing, and some even had multiple people up dancing and clapping along. This was one of the most fun nightlife experiences I had.
Day 6: Galway and Doolin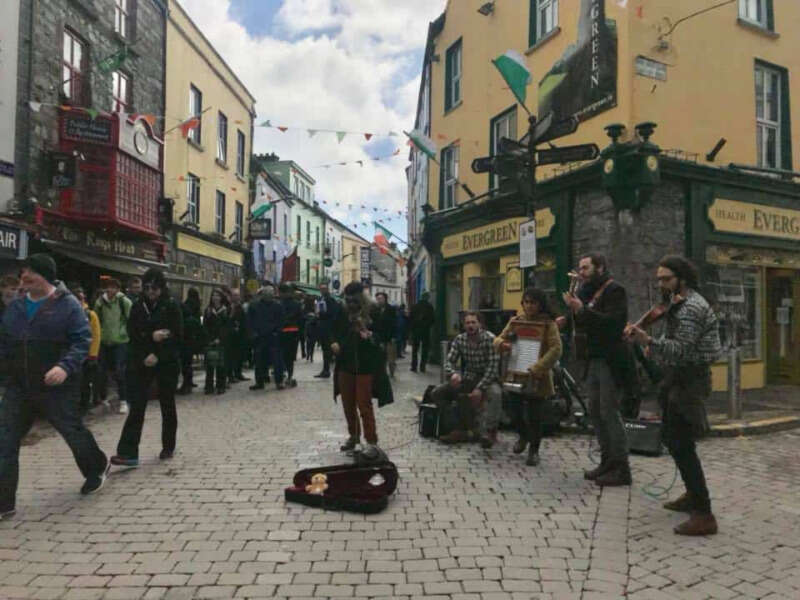 I woke up on Day 6 in Galway, ready to explore more of the history of the city. I thought perhaps that this wouldn't be as exciting as the previous night had been, but man I was wrong. This city holds such a spark and it lights up the daytime just as much as it does the night. I took a bus tour, strolled the Long Walk, toured the museum, walked through the Galway Cathedral, and had a pint at O'Connell's.
In the late afternoon, I was on the road again –this time headed for Doolin. Another thing you might be thinking: "Man that's a lot of driving" and once again, you're right! But driving wasn't just getting from point A to point B. Driving was half the fun, and I pulled over quite often to soak in the sights! This time was no different, traversing through "Corkscrew Hill" on my way!
First stop in Doolin: O'Connor's Pub for dinner and another pint. There was some great trad music going on, and one elderly man even jumped in mid-set to make requests and sing along! The whole place was warm and cozy. I headed back to Aille River Hostel (one of the best hostels I stayed in), to sleep and get ready for Day 7!
Day 7: Cliffs of Moher and Dingle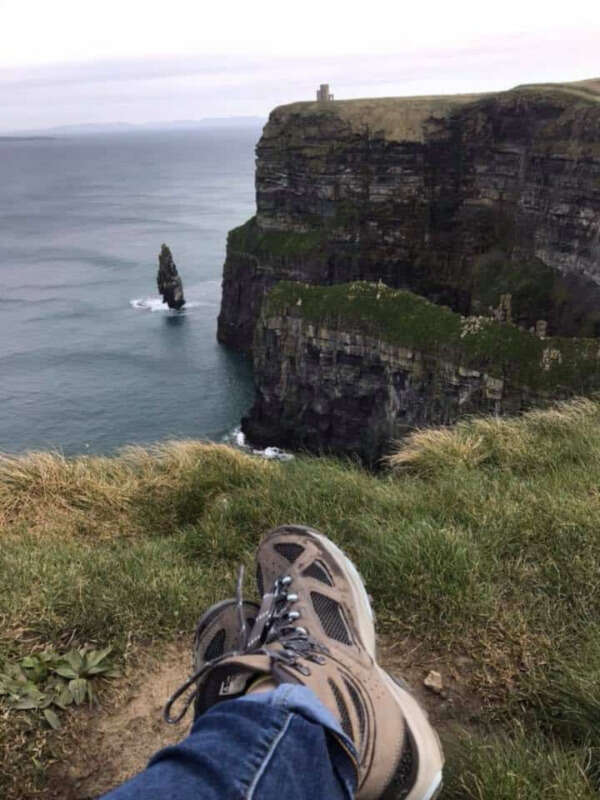 Of course, you cannot miss the Cliffs of Moher. And I would recommend going early in the day. I got there right at 9am and for my stay was one of maybe 3 people visiting.
I started off to the left, heading up to the South Platform. Going this way gave me a great view of Puffin island and of O'Brien's Tower. I crawled through a hole in the fence (shhh) and was able to stand at the very edge. It was and will be forever one of the most exhilarating feelings I've ever felt. After a moment of reflection, I walked back toward the visitor center and headed to the main platform. Another stunning view of course, and getting to walk around O'Brien's Tower was neat. Eventually it was time for me to move on, but I really could have spent another couple hours just soaking it all in. Definitely a must see.
My original plan for this day was to drive next to Portmagee for an Eco Tour around Skellig Michael. However, it was cancelled due to high wind, which meant that I arrived in Dingle earlier than expected. As I was driving, of course I was bummed. But little did I know that Dingle would completely steal my heart! I ended up being so grateful for the extra time I spent there. I pulled into my bed and breakfast (Coill An Rois) and knew immediately this little town would be my favorite.
A quick note –if you're planning on going to Dingle you have to stay at Coill An Rois. Jimmy Bruic, a professional pastry chef and possibly the most welcoming, charismatic person I met in Ireland, runs this gigantic pink house at the foot of Mount Brandon. I came in the door and was greeted with "Coffee or tea?" and then brought a whole tray of goodies. We chatted for a good two hours before I even wanted to leave and grab dinner! He gave tons of good recommendations and eventually I ended up at Neligan's Bar where I got roped into a beginner's lesson of Irish set dancing. Before I knew it, I was dancing and drinking with the locals and feeling right at home.
Day 8:

Dingle and Killarney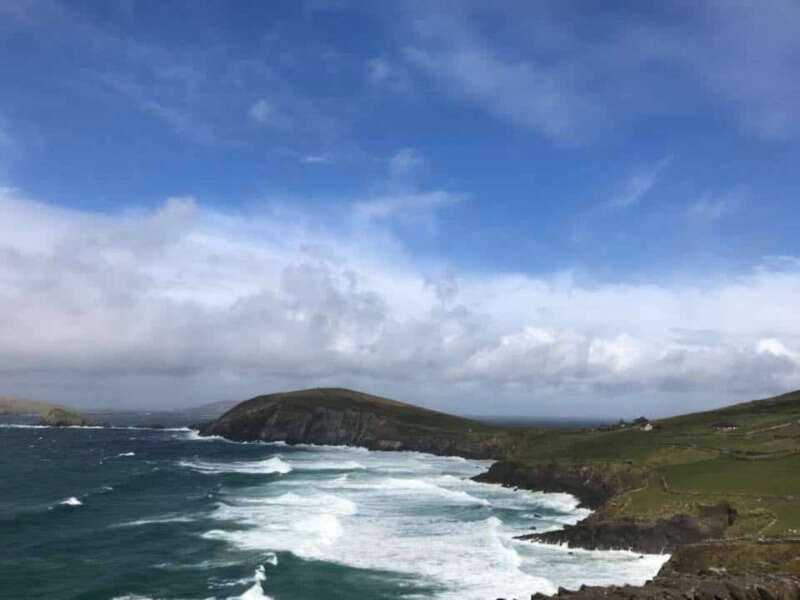 I woke up and was on my way around the Slea Head drive. This was by far the best thing I did during my time in Ireland. I was (almost literally) weeping at the amazing sights on this drive. There were multiple times I pulled over to take pictures.
On the drive I saw Ancient Celtic Stone Settlements from the Iron Age, a museum about the Great Blasket Islands, Gallarus Oratory, and my favorite spot: Ceann Straithe. I got out of the car and couldn't believe it was even real. The bluest sky, greenest hills, and white lapping waves brought me to tears. Eventually I found my way back into the town center and got some Murphey's ice cream (proclaimed the best ice cream in the world –I agree!)
After dragging my feet (I really could have stayed here another week!) I headed off for Killarney. I checked into the Black Sheep Hostel (cool little place) and walked the Killarney National Park. Ross Castle is a great sight, and the weather was perfect for hiking some of the trails. Killarney had some cool night life, but definitely wasn't as cozy as Dingle or as vibrant as Galway. Still, there was a lot to do and I was glad I went. I realized this night, though, that my trip was almost over! I was determined to make the most of it, and went to bed ready to crush Day 9.
Day 9:

Blarney Castle, Rock of Cashel, Dublin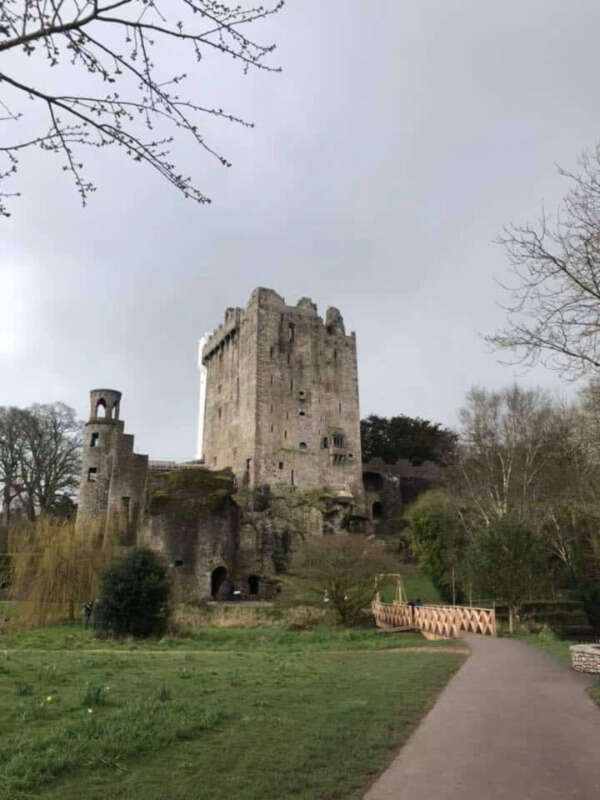 I woke up early to set out for another cannot miss sight: Blarney Castle. Yes, I know it is touristy but you have to kiss the Blarney Stone! You'll be mad at yourself if you don't, I promise. Also, there are enough trails and things to keep you busy there, you could easily spend half a day exploring all the history. I got back in my car and continued on, stopping at the Rock of Cashel. This was one of the coolest historic things I saw during my time here. You could just feel the history soaking into you as you stroll through the amazing structures. I would recommend linking up with one of the free walking tours to hear all the stories about this place.
Moving on, I was on my way to Dublin. I had decided that this would be the last day with my car (no way was I brave enough to drive in Dublin), so I returned it at the airport Hertz center, and took a bus into Dublin city.
I dropped off my stuff at the Generator Hostel, which was a really neat, industrial bar and hostel combination. It was bursting with life, and I'm sure that you could spend a couple hours participating in the activities that the hostel offered. I ventured out on foot to enjoy the city and found myself walking to the Boar's Head. Dating back to 1198, it is the oldest pub in all of Ireland. This was my favorite place in the whole city! Even in a big city like Dublin this pub felt warm and welcoming, and I struck up some great conversation with the bartenders.
Walking the Temple Bar area was another fun experience. The crowds made me miss cozy Dingle, but the people were all pretty friendly nonetheless. I never felt unsafe, even walking back to my hostel at night. That's a huge testament to the friendliness of this city. I returned to my hostel and prepared for my last day in Ireland.
Day 10:

Dublin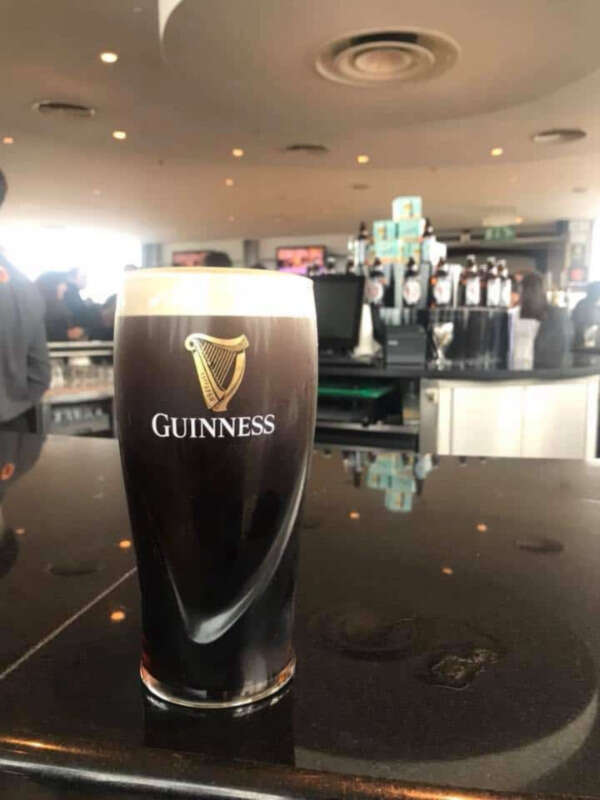 I woke up ready to embrace my last full day in Ireland! I decided to start with a free walking tour (Dublin Free Walking Tour –follow the yellow umbrella). Our guide, Peter, was informative and friendly. I enjoyed hearing about the history of the city and met some new friends along the way. I tried my first Irish coffee (delicious) and then headed off to my first stop of the day: the Guinness Storehouse. Let me tell you upfront, I am not a beer drinker. I don't typically like any beer, but I figured that this was something I couldn't miss. I'm so glad I went! The storehouse tour is so much more than just the free pint you get at the top (even though that was cool). Going through the whole museum was an amazing experience, and it made me feel more connected to Dublin as a whole.
After the storehouse, I wandered around until I eventually found my way to St. Stephen's Green. Such a sweet little spot to sit and read, or even just to people watch! When it was time for dinner, I headed to The Church for fish, chips, and a pint. This bar and restaurant is inside what used to be St. Mary's Cathedral (where Arthur Guinness was married!) and featured live music and dancing amidst the stained glass backdrops.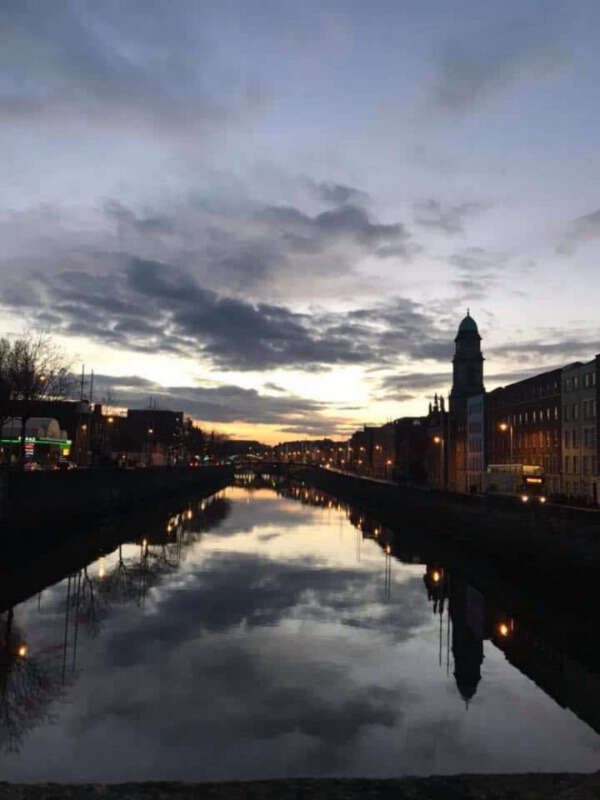 After dinner I enjoyed one more drink at the Quays (across from Temple Bar) and headed back to sleep/be ready for an early flight out the next day. There were lots of things on my list for Dublin that I didn't get to, and could have easily spent another day there. But I'm glad to have seen what I did, and like I said- I plan on going back soon!
There you have it! My 10 day road trip along the Wild Atlantic Way. I drove a total of 1,900 miles and made countless stops. It was all more than worth it, and now I carry the magic of Ireland's coast with me. With some careful planning and a spirit of adventure, you can too!
I'm is a 26 year old Ohio native, who loves hammocks, grilled cheese, and Jesus. I travelled internationally twice: once in college to Germany/Austria/Italy and a second time to Ireland! Currently I'm a Special Ed Teacher and planning trips for my spring and summer breaks! Follow me on Instagram, @kearstinhickey.