Are you looking for the best Andorra luxury hotels? Andorra is a microstate situated between France and Spain, on the Iberian Peninsula, and in the eastern Pyrenees. It's a gorgeous little tax haven, known for duty free shopping, skiing, and summer hiking adventures. Andorra La Vella, the capital, offers shopping galore. From luxury shops to outdoor stores, you can find anything your heart desires. And after a full day of fun and adventures, you want to rest your head somewhere very comfy. These are the best luxury hotels that will make you feel like you fell asleep and woke up in heaven! Available rooms vary from smaller but stylish rooms to gorgeous suites, and everything in between. Any of these lovely hotels comes highly recommended!
This post contains affiliate links. This means we make a small commission at no cost to you if you click through and make a purchase. All prices listed are accurate at time of publication.
Top Andorra Luxury Hotels
Andorra Park Hotel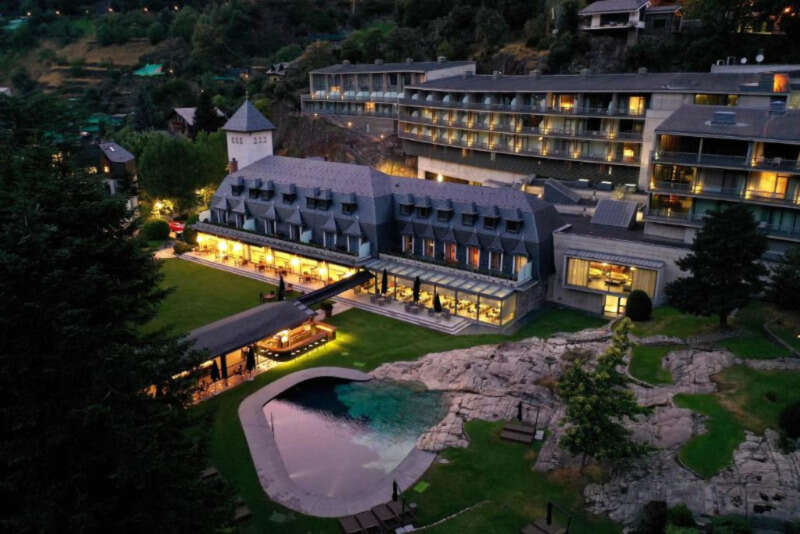 One look at a picture of this castle like property tells you everything you need to know: at the Andorra Park Hotel, you'll be treated like the princess you are! This gorgeous property is located right in Andorra La Vella's city centre, in the heart of Andorra's pedestrian shopping area, yet the beautiful grounds and mountain views make you feel like you are in your own little oasis. There's a seasonal outdoor swimming pool, an indoor swimming pool, a fitness centre, and even a sauna. Free wifi is available throughout the property. Relax at the spa, or enjoy views from your room in this modern hotel. Every room has a tea/coffee maker, and there are two restaurants on site. Are you looking to rent a car? No problem, the hotel can help with that, too! The Andorra Park Hotel offers the ideal setting for rest and relaxation, but its wonderful location gives you the chance to get out and about easily whenever you feel like it.
Grand Plaza Hotel & Wellness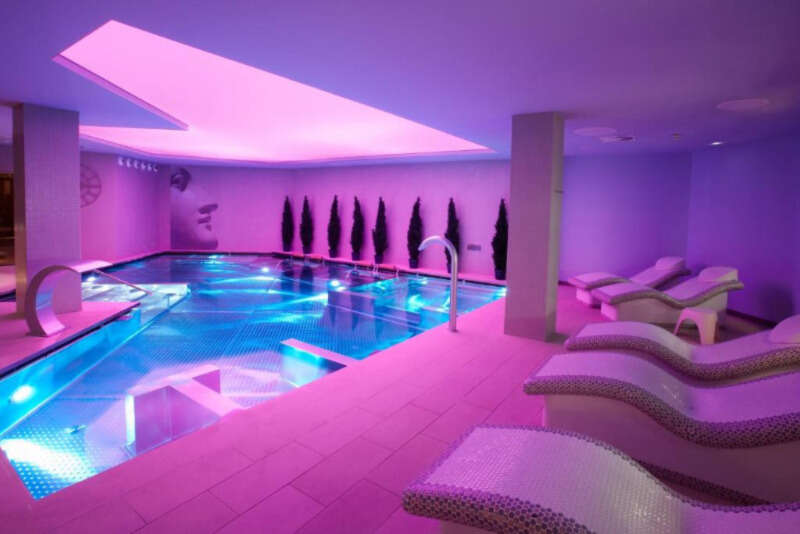 The elegant Grand Plaza hotel & wellness, located in Andorra La Vella, is a fantastic choice for a luxury accommodation in Andorra. It's near the commercial centre of Andorra La Vella and the first choice for many famous actors, as well as politicians and artists. The elegant rooms offer decor in the sophisticated English style, with air conditioning, a tea and coffee maker, free wifi, and a flat-screen TV. The private bathroom is equipped with free toiletries, shower, and hairdryer.
Guests can enjoy a drink in the piano bar or order gourmet dishes at the on-site restaurant. A fitness center rounds out the luxury amenities. This elegant hotel makes all your luxury Andorra dreams come true!
Suites Plaza Hotel & Wellness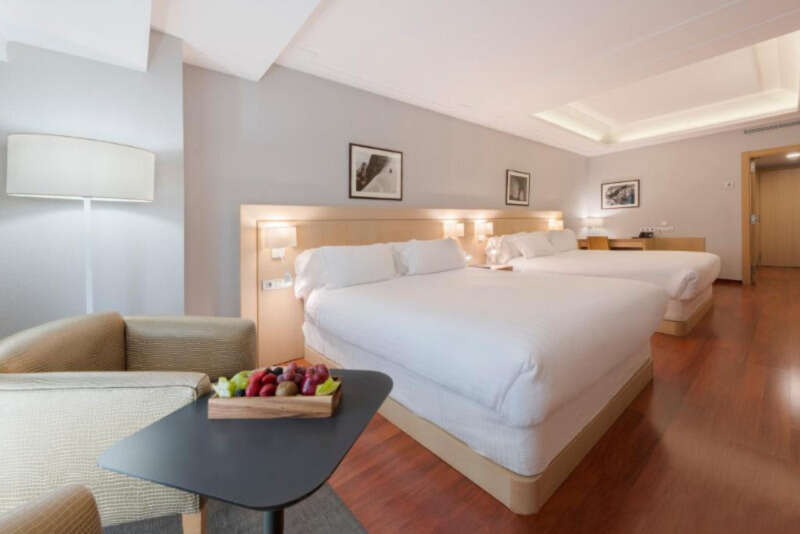 Expecting world class service? Book the Suites Plaza Hotel & Wellness in Andorra La Vella and you won't be disappointed. It's pure elegance with a unique touch – it features tapestries by Salvador Dalí. The air-conditioned rooms are quite spacious, and the family rooms come with adorably decorated bunk beds for the kids. All rooms have a flat-screen TV, a mini bar, and a tea/coffee maker, and the most comfortable beds you can hope for in a hotel setting.
The hotel has a health center with a heated indoor pool, gym, sauna, relax area, and hammam. For an additional charge you can book massage services. Breakfast is available and said to be very good, as is the food at the buffet restaurant, El Gran Café.
The Grandvalira ski resort is less than 6 miles away, and the Vallnord ski runs are 15 minutes away by car. if you brought your own equipment but have other plans for the day, the hotel offers ski storage.
Yomo Centric Hotel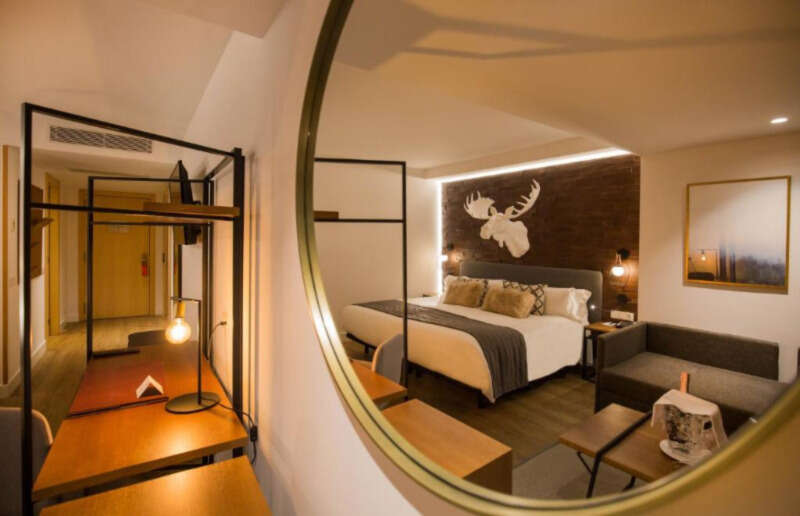 If you are looking for luxurious 4-star hotels right in central Andorra La Vella, the Yomo Centric Hotel is perfect for you. As you may have guessed from its name it is Andorra's most centrally located hotel. The rooms here are quite spacious, include heating, and are equipped with air conditioning, a mini bar, and a flat-screen TV. There's an on-site restaurant and a fitness facility. The lounge offers a stunning fireplace, perfect to lounge and relax after a long day.
Hotel Spa Diana Parc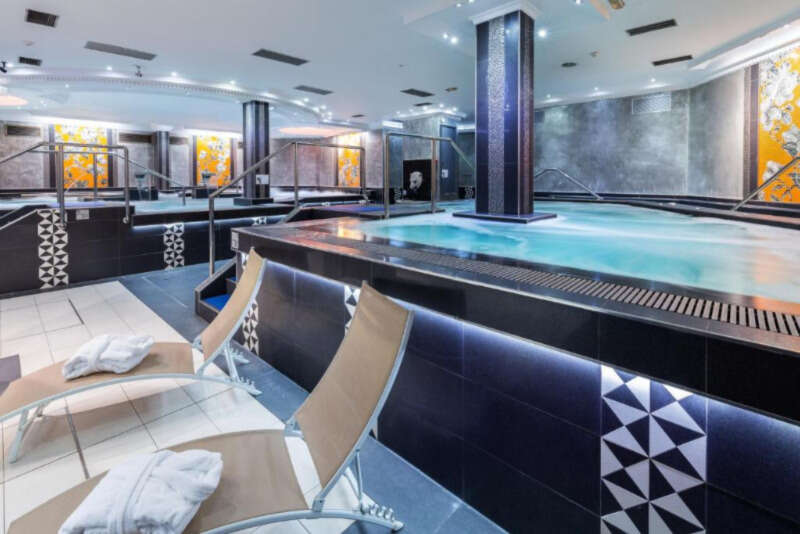 Are you visiting Andorra mostly to go skiing or engage in other winter sports? Or do you love to mountain bike? Then consider booking the Hotel Spa Diana Parc, located in Arinsal. It's located right by the famous Pal-Arinsal ski resort, open 10 months every year, and it is the best bike & ski resort in the Pyrenees! Winters offer prime skiing on a whooping 63 kilometers of slopes, and in the summer, you can enjoy mountain bike circuits that cover more than 40 kilometers.
And when you stay at the Hotel Spa Diana Parc, you won't have to worry about recovering from all that exercise. A wellness area with sauna, a hot tub, and a hammam, as well as a spa, will aid in your recovery and allow you to feel truly pampered and spoiled – as you should be! All rooms feature a stylish modern décor, and aside from the usual amenities such as a tea/coffee maker, flat screen TV, free wifi, free toiletries, slippers, and hairdryers, they offer a private bathroom with a spa bath. Sounds like heaven!
Once you are properly relaxed, you can hit the bar, restaurant, or the in house bowling alley. In the winter time, you have a short three minute walk to the ski elevator, and during the summer season, the hotel offers guided hikes.
Hotel MIM Andorra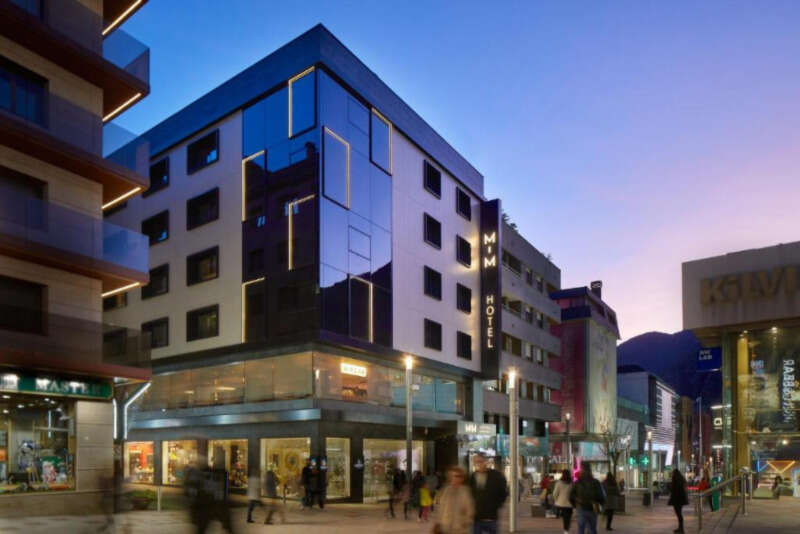 Located in Andorra's parish of Escaldes-Engordany, the modern Hotel MIM Andorra is conveniently located for lots of activities: hiking, biking, skiing, and – drum roll please – a visit to the hot springs. But first, let's explore all the amazing amenities this luxury hotel has to offer: there is, of course, free wifi, a fitness centre, an on-site restaurant, and, for those days when you are just too tired and all you want to do is stay in and relax, room service! What's better than to spend a relaxed evening in your luxury home away from home?
Your elegant room has a desk, in case you do need to get a few hours of work in, a flat-screen TV, air conditioning, and a safety deposit box. You can either have a room with a private terrace, or city views. An airport shuttle is available for those who do not arrive with their private car. Take advantage of the buffet breakfast in the mornings.
There's a spa on site as well, but you should consider visiting the town's famous caldea spa, which is in walking distance of the hotel. There's the Thermoludic, ideal for the whole family, and the the new spa centre inúu, an adult-only spa. Fed by thermal water from the nearby hot springs, you can take your relaxation and recovery to a whole new level! A visit to the Caldea is a true experience you shouldn't miss! If you decide to stay at the Hotel MIM Andorra, you are no more than two minutes away from Caldea Spa in the heart of Escaldes!
Hotel Metropolis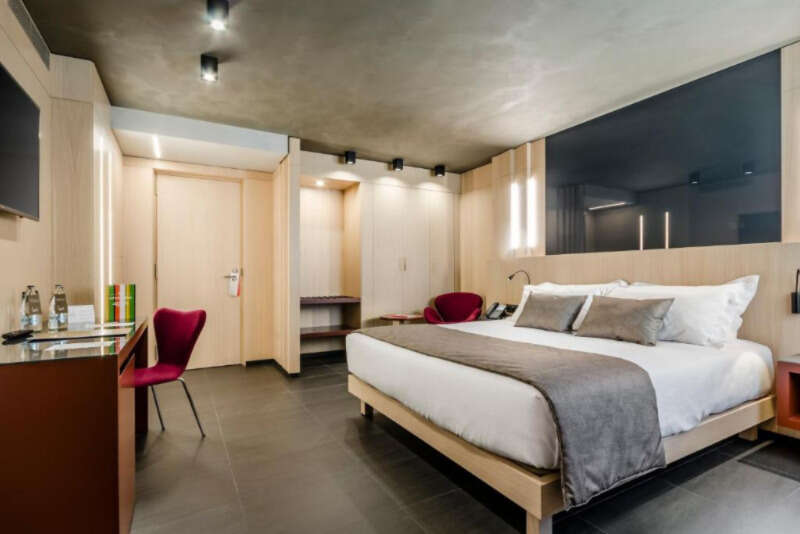 If you would like to stay in the andorran town of escaldes, but the Hotel MIM Andorra doesn't quite cut it for you, consider the Hotel Metropolis instead. The location is hard to beat: just 500 feet from Andorra's pedestrian shopping area with good access to Andorra's ski slopes and close to the aforementioned Caldea thermal spa centre, this location has it all.
Free wifi throughout, and free ski storage at reception are just two of the hotel's amenities. The air-conditioned rooms offer a flat-screen TV, radiant flooring, a USB charger, mini bar with free water bottles, and a safety deposit box. The private bathroom features free toiletries, bath or shower, magnifying mirror and hairdryer.
Start your day with an excellent buffet breakfast at the on-site restaurant, and then head out and enjoy all Andorra has to offer.
Grau Roig Andorra Boutique Hotel & Spa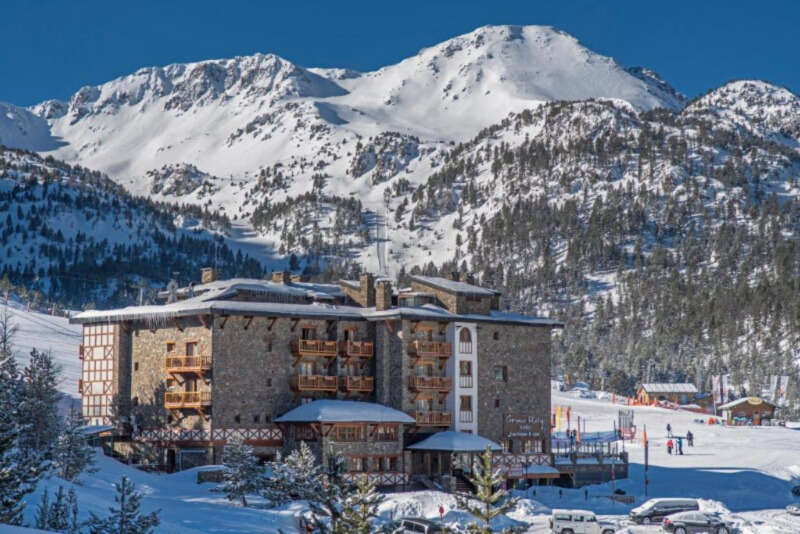 If you are looking for the real home away from home feel, the Grau Roig Andorra Boutique Hotel & Spa is the way to go. Located in Grau Roig, it's close to the famous Grandvalira ski resort. The rooms are so cozy and comfy yet luxurious, you will never want to leave! Each room features satellite TV, a mini bar, and a safety deposit box. The bathroom features Bvlgari amenities, a hairdryer, slippers and a bathrobe. Beautiful views of the surrounding mountains create a tranquil atmosphere. The Grau Roig is not just one of Andorra's best small luxury hotels, it's an award-winning one!
Enjoy your time at this hotel by taking advantage of its mind-blowing amenities: a fitness centre, sauna, hot tub, indoor pool, and even a Turkish bath! Book a massage or beauty treatment to round out this top of the line experience.
But that's not all: there's a playground for kids, a kids club, free ski storage for those winter adventurers, a reading room where you can enjoy a quiet moment, and a Jazz room. A tour desk is there to help you out with planning a guided hike.
Easy access to the mountains guarantees the perfect active vacation. Hit Andorra's ski slopes or go for a challenging summer hike, and in the evening, return with tired feet and an appetite that the three on-site restaurants are sure to satisfy.
Sport Hotel Hermitage & Spa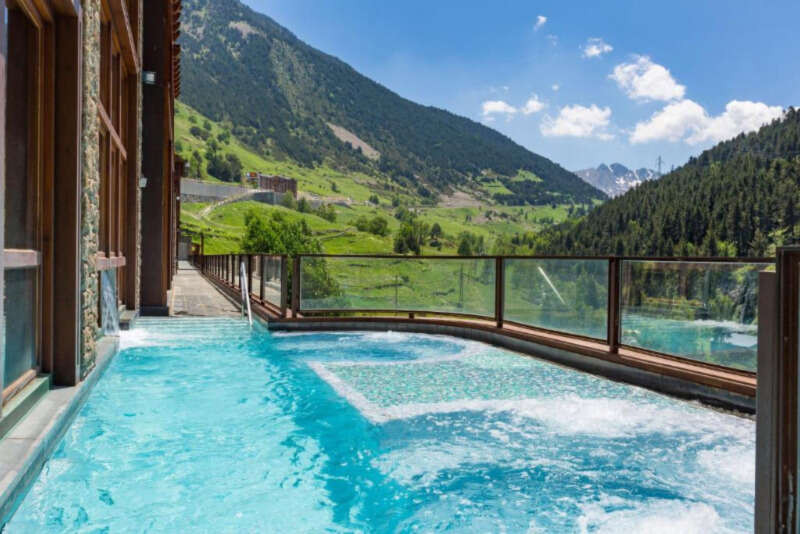 You don't have to pay extra for panoramic views if you book the Sport Hotel Hermitage & Spa. This hotel offers true celebrity treatment to its guests: you can book a room, or a residence with either two or four rooms. All rooms have high quality furniture, as well as Egyptian cotton sheets, tea/coffee maker, and there is free wifi throughout the property. Premium internet is available for an additional cost. The hotel is literally only feet from the Grandvalira Ski Elevators in Soldeu, the ideal place if you come for winter sports.
The hotel can arrange for ski or other mountain activities, and transport service with high-range vehicles or helicopter.
Their Sport Wellness Mountain Spa is top of the line, and guests have free access to it for two hours per day. There are different pools with varying temperatures, one pool with jets, and two outdoor hydrotherapy baths with panoramic views of the ski slopes. Children between the ages of 4 and 12 have free access to the kids club for three hours per day. For younger kids, this service can be arranged for an additional charge. There are two excellent restaurants on site, one which boasts two Michelin stars! The top floor houses the Glassbar, the ideal place to end your evening with a nice cocktail.
Hotel Màgic La Massana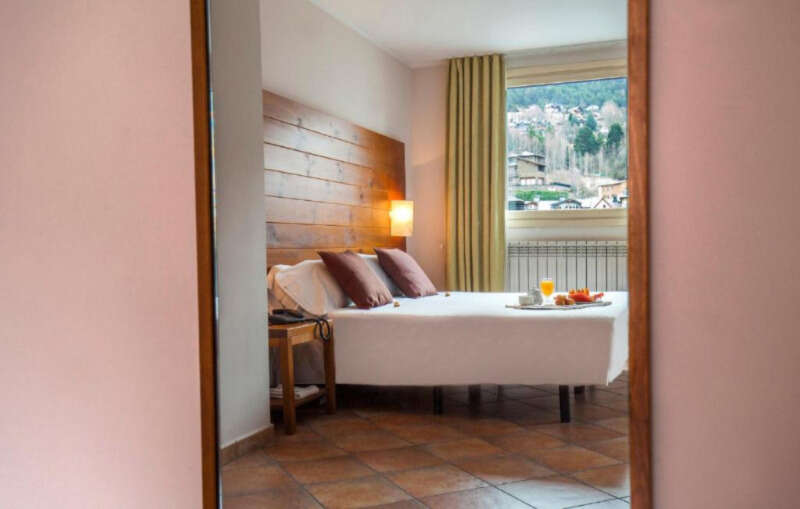 Duting ski season, the Hotel Màgic La Massana, located in La Massana, is where luxury 4 star magic happens! In the mornings you can roll out of bed straight onto the ski elevator – that is how close you are to the ski slopes of your dreams! Get your strength up with the excellent breakfast, do some laps in the indoor swimming pool, upload your beautiful vacation pictures to social media with the free wifi, browse through the channels on your room's satellite TV, or work out at the gym, enjoy the and a wellness area, that is equipped with a Turkish bath and hot tub for an additional fee. The hotel also features an on-site hotel restaurant serving local cuisine, and an on-site Irish pub.
These are the top 10 Andorra luxury hotels, brought to you by your trusty Andorra enthusiasts at Girls Who Travel! No matter if you travel during the summer or the winter season, if you want to relax and enjoy panoramic views, or if you want to be active all day and then rest your weary bones in style, one of these hotels is just right for you. Have fun!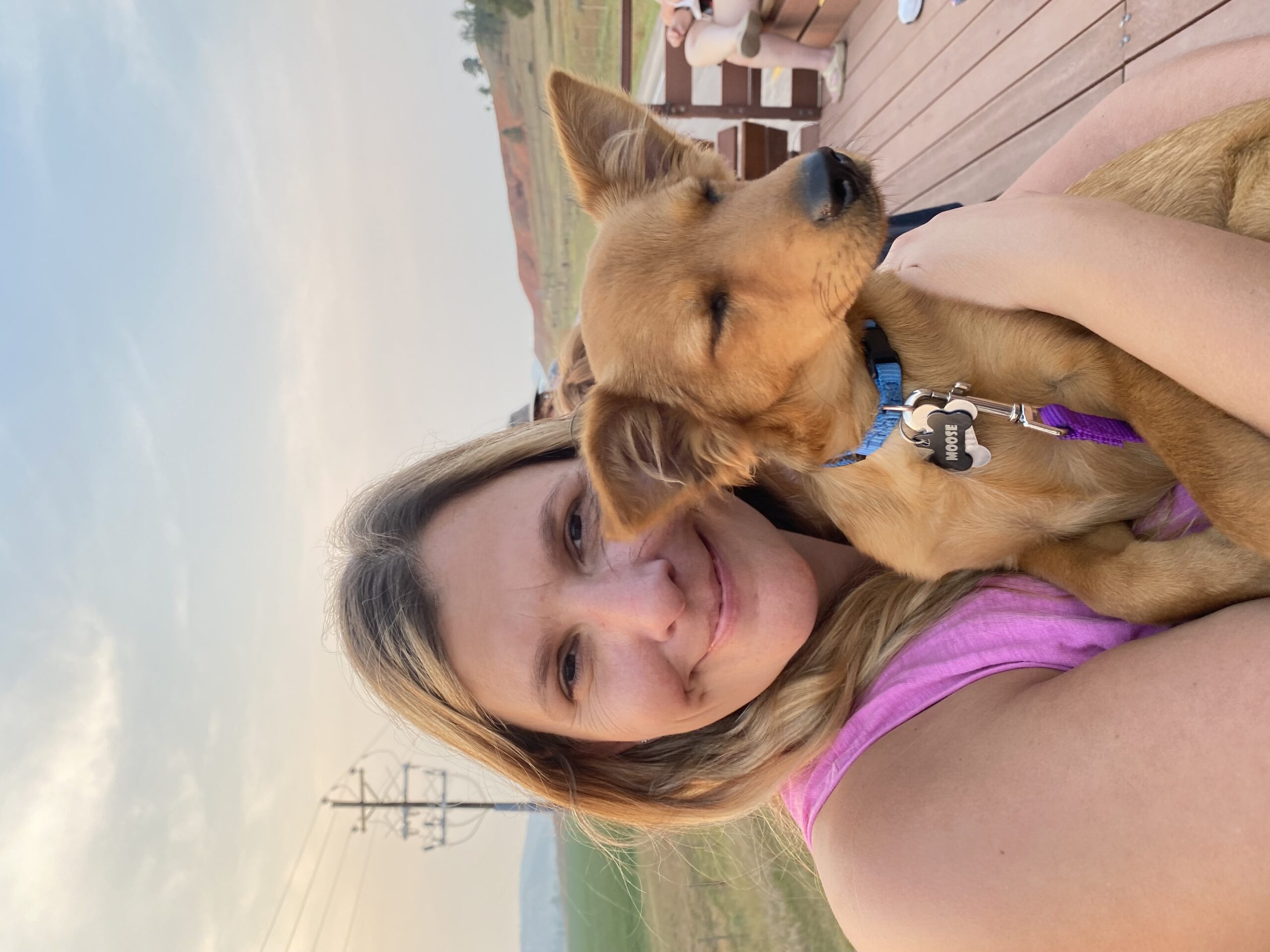 Jenny grew up in Germany. All she ever wanted out of life was to leave and have adventures. Jenny always traveled as much as the budget would allow, and when she met her husband traveling became a full-time thing. You can follow Jenny on her blog and Facebook.