Cook yourself around the world! Cooking is a fine way to spend the extra time we now have on our hands. We can't go to other countries at the moment, but we can bring other countries straight into our kitchen! We asked the members of Girls Who Travel to share some of their favorite recipes from their country and here are 10 of our favorites from around the world.
Cook Yourself Around the World to…
Italy – Lasagna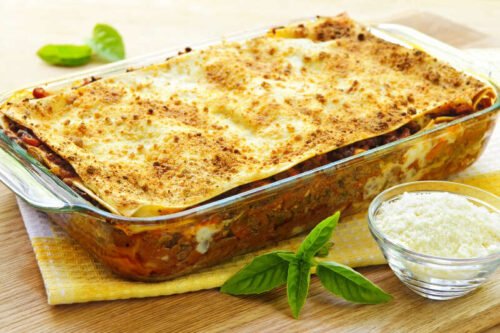 What you need:
9 lasagna noodles
1 tablespoon olive oil
1 pound ground beef
1 onion, diced
salt
black pepper
1 28-ounce can crushed tomatoes
1 tablespoon Italian seasoning
1 15-ounce package whole milk ricotta
3 1/2 cups shredded mozzarella
1 large egg, beaten
1/4 cup freshly grated Parmesan
Preparation:
Preheat your oven to 350 degrees Fahrenheit. Lightly cover a baking dish with olive oil. You can also use nonstick-spray. Bring a large pot of water to a boil, cook noodles according to package instructions. Don't forget to add a hint of salt to the water.
Heat the olive oil in a large pan or skillet over medium high heat. Add the ground beef and onion. Cook the mixture until the beef has browned. That should take about 3-5 minutes. Make sure to crumble the beef as it cooks, season it with salt and pepper to taste. Stir in the tomatoes and the Italian seasoning.
Combine ricotta, 1/2 cup mozzarella and egg in a medium bowl and set it aside.
Spread 1 cup of the tomato mixture onto the bottom of your baking dish. Top it with 3 lasagna noodles, 1/2 of the ricotta cheese mixture and 1 cup mozzarella cheese. Repeat this with a second layer. Top the second layer with the remaining noodles, tomato mixture, 1 cup mozzarella cheese and Parmesan.
Place the baking dish into the oven and bake it for about 35-45 minutes. Bubbling gives you a good indication that your lasagna is done. Then turn to broil for 2-3 minutes, or until the top is starting to brown.
Buon Appetito!
What you need:
For the dough:
2 cups all-purpose flour
1/2 teaspoon salt
1 large egg
1/2 cup sour cream
1/4 cup butter, room temperature
Pierogi can be filled with a variety of ingredients. For this version you need:
1 cup warm mashed potatoes
1 cup shredded sharp cheddar cheese.
To finish it up have:
1/4 cup of butter
2 large shallots, diced, or one medium onion, sliced
Preparation:
First you need to make the dough. Mix the flour with salt. Then add the egg to the mixture and stir it well. Now add the sour cream and soft butter until the dough turns into a slightly rough, sticky ball. Knead and fold the dough without adding additional flour until the dough becomes less sticky. Finally, wrap it in plastic wrap and refrigerate for 30 to 60 minutes, or for a maximum of 48 hours.
Now it is time to prepare the filling. Combine the warm mashed potato with the cheese. Stir and mash the mixture until the cheese is melted and the filling has cooled. Use salt and pepper to taste.
Time to fill your pierogi. Roll the dough about 1/8″ thick. To cut circles of dough Use a 2″ round cutter. Place 1 1/2 teaspoons of filling on each round of dough. Carefully fold the dough over so it forms a pocket around the filling. Pinch the edges of the pierogi, then seal them with a fork.
At this point you have several options. You can freeze the pierogi for up to 4 weeks. Or you can choose to refrigerate them overnight. Or, of course, you can cook them for dinner! For this cook them in a large pot of boiling water. Add some salt. Use a large pot and don't cook too many pierogi at a time. They need room to float to the surface when they are fully cooked. Before serving sauté the shallots or onion in the butter until it begins to brown. Add the drained pierogi to the skillet and cook until they are brown and crisp. Serve them hot with additional sour cream or applesauce.
Canada – Poutine
What you need:
For the gravy:
3 Tbsp of cornstarch
2 Tbsp of water
6 Tbsp of unsalted butter
1/4 cup unbleached all purpose flour
20 oz beef broth
10 oz chicken broth and pepper
For the fries you will need:
2 lbs Russet potatoes
frying oil
Toppings are plentiful for poutine. For this recipe you need 1 1/2 cups white cheddar cheese curds.

Preparation:
First you need to prepare the gravy. Dissolve the cornstarch in the water in a small bowl and set it aside. Melt the butter using a large saucepan. Add the flour to the butter and cook for about 5 minutes, until the mixture turns golden brown. Stir regularly.
After 5 minutes add the beef and chicken broth. Bring the mixture to a boil while stirring. Add half the cornstarch mixture and simmer for about a minute. If you like thicker gravy, add more of the cornstarch mixture to thicken. Season your gravy with pepper. Taste and add salt to taste. Keep it warm until your fries are ready, or warm it up again.
Time to prepare the fries. Cut the potatoes into 1/2-inch thick sticks. Place into a large bowl and cover them with cold water.They should stand at least one hour, or even several hours. When you are ready to cook, heat the oil in a deep fryer or large, heavy cooking pot to 300° F. Then remove the potatoes from the water and place them onto a sheet of paper towel to dry.
Add your fries to the oil and cook for approximately 5-8 minutes, until the potatoes are starting to cook but are not yet browned. At that point remove the potatoes and scatter them on a wire rack. Increase the oil temperature to 375°F and return the potatoes to the fryer. cook until the potatoes are golden brown. Place them in a paper towel-lined bowl.
Add the fries to a large bowl. Season lightly with salt while they are still warm. Add the hot poutine gravy to the bowl and toss the fries in the gravy. The fries should be mostly coated in gravy.
Finally add the cheese curds and toss them with the hot fries and gravy. Serve immediately with freshly ground pepper.
Brazil – Pão de Queijo (Cheese bread)
What you need:
1 large egg
1/3 cup extra virgin olive oil
2/3 cup milk
1 1/2 cups  tapioca flour
1/2 cup grated cheese of your preference (feta is very tasty)
1 teaspoon of salt or more, to taste
mini muffin tins
Preparation:
Preheat oven to 400°F. Use a small amount olive oil to grease the insides of each well of a mini-muffin tin. Add all ingredients to a blender and mix until it is smooth. The dough can be stores in the refrigerator for up to a week. Pour the batter into the mini-muffin tin. Don not fill it all the way as they will rise while baking. Bake for about 15-20 minutes, until they are puffy and brown. Remove them from the oven and let cool on a rack. The Pão de Queijo can be served warm or cool at a later time.
Malaysia – Ayam Kunyit (Turmeric Chicken)
What you need:
8 oz skinless and boneless chicken meat, breast or thigh, cut into strips
1 tsp of turmeric powder
2 tsp oyster sauce
2 tbsp oil
1/2 sliced onion
1 red chili, cut into thick strips and deseeded
2 oz French beans, cut into 2-inch strips
3 tbsp water
1/2 tsp sugar
salt to taste.
rice

Preparation:
Mix the turmeric powder and oyster sauce and marinate the chicken in it for 15 minutes. Heat up a wok, then add the oil. First fry the onion until it stats to brown, then add the chicken. Stir until well mixed. Add the chili and French beans. Stir everything well. Add the water and continue to cook the mixture. Add the sugar and salt. Continue stirring until the chicken is cooked through. Serve immediately with steamed rice of you choice.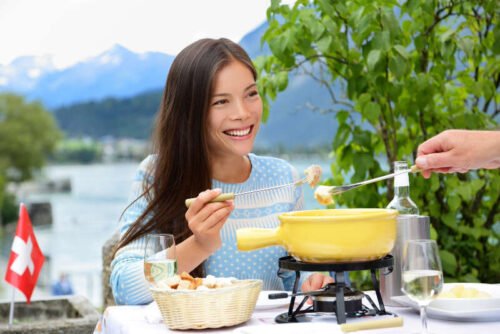 What you need:
1/2 pound shredded Swiss cheese
1/2 pound shredded Gruyere cheese
2 tablespoons cornstarch
1 garlic clove, peeled
1 cup dry white wine
1 tablespoon lemon juice
1 tablespoon cherry brandy
1/2 teaspoon dry mustard
a pinch of nutmeg
Have dipping foods of your liking. These can include but are not limited to different kinds of bread, apples or blanched vegetables.
Preparation:
Use a small bowl to coat the cheeses with cornstarch. Set aside. Peel the clove of garlic and rub the inside of the ceramic fondue pot with it. Add the wine and lemon juice to the fondue pot and bring to a gentle simmer over medium heat. Gradually stir the cheese into the liquid. That way you will have a smooth fondue. Once all the cheese has been added and the mixture is smooth, stir in cherry brandy, mustard and nutmeg.
Arrange an assortment of  dipping foods around the fondue pot.  Spear with fondue forks or wooden skewers, dip and swirl, then enjoy your meal!
Tunisia – Couscous
What you need:
2 lb of lamb stew meat, cut into large pieces
2 lb of couscous fine or medium semolina
2 onions, finely chopped
2 cloves of garlic, pressed
4 tablespoons of tomato paste
2 tablespoons of harissa
2 tablespoons ground caraway
1 tablespoon ground coriander
1 teaspoon chili powder
4 turnips, cut in half
6 medium carrots, peeled
4 zucchini, peeled
6 small potatoes, peeled
10 oz. can of chickpeas
optional: 4 green hot peppers, fried in oil
vegetable oil
salt
pepper
You will also need a Tajine pot.

Preparation:
Add ½ cup of oil to a large pan. Add the onion and cook on medium heat for approx. 2minutes. Then add the garlic, tomato paste and harissa. Cook the mixture for 2 more minutes. Next add the caraway, coriander, and chili powder. Continue to cook the mixture for another 2 minutes. Add the lamb meat and mix well. All the pieces should be covered with sauce. Cook for about 5 minutes. Continue to stir. Cover with water,  add the turnips and carrots, and cook on medium heat for approximately 45 minutes.
While you wait prepare the couscous semolina. Simply follow the instructions on the package. When the mixture is well cooked add the zucchini, potatoes and chickpeas. Cook for another 30 to 40 minutes over medium heat. Monitor the vegetables. If some vegetables are done before the meat is, remove them from the pan and put them aside.  About 10 minutes before the cooking time is completed get a few ladles of broth and wet the couscous semolina. Make sure to add them one at a time and mix the semolina well after each ladle. Stop when you feel it is moist enough.
Put the semolina into a tajine pot. Decorate it  with vegetables and meat. Garnish with fried green hot peppers if you like.
Eastern Europe – Borscht (Beet Soup)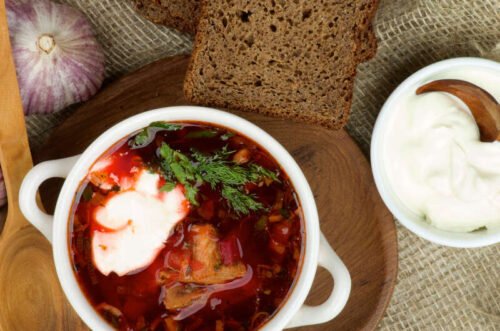 What you need:
Extra virgin olive oil or vegetable oil
1 pound of stew beef, excess fat trimmed
1 large onion, chopped
8 cups beef broth or stock
1 1/2 pounds of beets, peeled and chopped
4 carrots, peeled and chopped
1 large russet potato, peeled and cut into smaller cubes
2 cups of thinly sliced cabbage
3/4 cup of chopped fresh dill
3 tablespoons of red wine vinegar
1 cup of sour cream
salt and black pepper to taste
Preparation:
Heat 2 teaspoons of oil in a large pot on medium to high heat. Add the stew beef. Let the beef brown lightly on one side, then turn over. Next add the chopped onions. Let the them cook until softened , about 5 minutes. Add 4 cups of beef broth to the pot. Bring to a boil. Lower the heat to a simmer, cover and cook for about 1.5 hours. In the meantime preheat the oven to 400°F, then peel and chop the beets, carrots, and potatoes into small pieces. Cover the beets and carrots with a little bit of olive oil and spread them out in a single layer on a foil lined roasting pan. Roast the vegetables and in the oven for about 15 minutes then add the potatoes, roasting everything for an additional 15 minutes.
When the beef is cooked through, remove it from the pot and take the pot off the stove. Cut the meat into bite sized pieces and skim off excess fat from the liquid in the pot. Return the pot to the stove and add the remaining broth, the carrots, beets, and the diced potato,as well as the chopped meat, sliced cabbage and a half cup of the fresh dill. Bring to a simmer and cook for about 15 minutes, or until the cabbage is done. Finally add the vinegar and season to taste with salt and black pepper.
Making this soup a day ahead of time is a good idea. The longer it sits the more it will turn the deep red of the beets. Serve in bowls with a little sour cream and some fresh dill.
New Zealand- Bacon and Egg Pie
What you need:
2
sheets
puff pastry

6 -8
slices cooked bacon (fried or grilled)

8
eggs
(you will need one yolk for brushing the pastry)
4
teaspoons of
milk
or 4 teaspoons of double cream
1 medium sized
onion

parsley
Preparation:
Take the pastry out of the fridge at least 20 minutes before using to stop it from tearing. Cut the rinds of the bacon and chop it. Whisk the eggs, putting one yolk aside. Add the milk or cream. Chop the onion. Lay one sheet of pastry in a casserole dish and make sure it reaches a little over the sides. Prick the base with a fork. Scatter the chopped onion over the base. Chop the parsley, add parsley and bacon to the egg mixture. Pour the mixture into the casserole dish. Cover with the other sheet of pastry and crimp together. Cut of any excess pastry. Decorating the top is optional.
Preheat the oven to 400°F and cook for about 25 minutes.
Philippines – Kare Kare
2
1
⁄
2
lbs pork hocks or 2 1/2 lbs oxtails, cut into 2″ lengths
optional: add
1
⁄
2
lb
stewing beef
to make a meatier dish

1
1
⁄
2
teaspoons
salt

2
tablespoons of cooking oil

2
cloves minced
garlic
1
medium
onion
, sliced
optional:
1
⁄
2
cup
achute water
3
tablespoons
of peanut butter

optional: 2
tablespoons of toasted
powdered rice
or 2 tablespoons toasted mochiko sweet rice flour

1
⁄
2
lb of
green beans

1
medium
eggplant
, cut into pieces
The dish is served with rice.

Preparation:
Put the hocks or oxtail pieces into a large pot and cover them with water. Bring to a boil, then lower the heat and let it simmer for 1.5 hours or until it is tender. If you are using achute water, soak 1 tablespoon of achute seeds in the water for 30 minutes. Then squeeze seeds between your fingers until the water turns red. Strain and set the water aside. Alternatively you can heat 2 tablespoons of oil and saute the achute seeds until the oil turns red. Then discard the seeds. Use the red oil to saute the garlic and onions. Then add the cooked meat and 2 cups of broth. Save the rest of the broth. Add some salt and the achute water. Simmer everything for 15 minutes then stir in peanut butter and toasted rice powder, bring back to simmer and stir for 5 more minutes.
Now add green beans and eggplant and cook for 10 minutes, or until vegetables are tender, stirring occasionally. Add more seasonings if desired. Serve with hot rice and bagoong, plain or sauteed.
Click here to listen to Away She Goes, the Girls Who Travel podcast. In this episode: recreating your favorite meals at home.