If you've never heard of the Camino de Santiago I would not be surprised, but it is one of the world's most popular pilgrimages, which ends in Santiago. There are many routes ranging in difficulties, popularity, and length. My family and I hiked the Camino Frances route for 32 days, although it's recommended to take 35. If you've never heard of the Camino or if you are debating hiking it here is a guide to what to expect on the Camino Frances.
What to Expect on the Camino Frances – The Route
There is a misconception that the Camino Frances is beside a highway; in reality the path varied greatly. The most common path is a small dirt or gravel road through country side, but of course you also have remote hiking trails and the occasional highway crossing. When you enter or leave major cities there is a lot more pavement which is hard on your joints. A lot of people will taxi over these spots.
In terms of navigation, the Camino is almost comically easy. The path is always obvious and marked with a shell, yellow arrows, or crosses. No one carries a map because there are very few places to make a wrong turn (of course I still managed to get lost once). (O.K. fine, twice).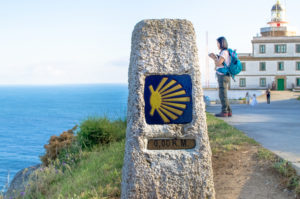 The Landscape
Many say that the Camino Frances route is not a particularly scenic hike and in some ways. I agree, there are not as many awe inspiring panoramas as other hikes. However, the landscape you'll pass through is beautiful and varies greatly, you are walking across an entire country after all!
If you start in France, your first day will be over the breathtaking Pyrenees, followed by the foothills filled with lush farms and beautiful villages. Then comes La Rioja, the wine region, where you'll see vineyards on top of vineyards. This was my favorite region – the fantastic (cheap) wine might have had something to do with that. Next is Burgos, which is a flat, kinda boring region – you can pack in some miles here. Then you come to the spectacular city of Leon, where many people take a rest day. The remainder varies from small mountains, farm land, and forests until you reach Santiago. A common add on is the 3 day hike to the ocean, which is truly spectacular.
One of the unique aspect of the Camino's is the number of historic towns you'll cross (many of these towns are older than entire countries). There is something to be said about kicking your shoes off after a long hike in a bar thats a hundred years old. Urbanization means some these towns are ghosts town, but these are infrequent.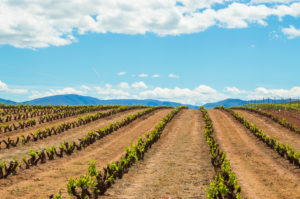 The Difficulty
The Camino de Santiago is more of a country side stroll than an outback adventure. The towns make the Camino very accessible. There are regular buses or taxis between towns, so people send their bags ahead. This makes the Camino particularly appealing to the retiree crowd. There are only a few 'townless' stretches which tend to be more crowded as all of the pilgrims are forced to start / stop at the same towns. There are some more difficult days on the Camino, but for the most part it is a relatively easy trek. A lot of people don't even bring proper hiking boots, as the most difficult part of the hike is the heat, not the terrain!
The People
People from all over the world, different religions, and different ages hike the Camino. This means it's busy, albergues are often booked, and parts are over crowded. There are days which you can see pilgrims marching down the path as far as you can see, but other days where the path is enclosed and you'll only pass a few pilgrims.
The Camino has a way of brining people together through shared dinners, blister tips, or over a glass of wine at the end of the day. It is incredibly easy to meet people and there is a good chance that they will be interesting. Most importantly you'll likely see these people again on your pilgrimage. I found this refreshing after months of solo-backpacking and short-term friendships. This was particularly fun when my family started to develop a little bit of a reputation as the only family. People we'd never met heard of us through the pilgrim rumor mill!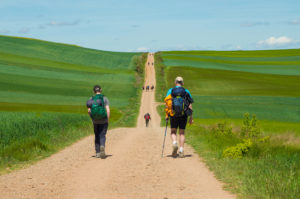 Overall
While the route, landscape, difficulty and people all make up pretty important aspects of the Camino Frances route, the pilgrimage is more than it's components. It is a deeply personal and individual experience. In general I'd say the Camino is not one of the bests hikes in the world, but it is one of the best experiences!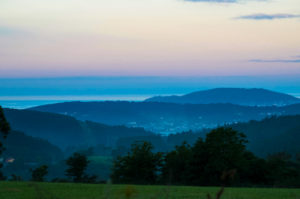 Hi, I'm Kim. An eccentric Toronto gal who spends a large portion of my life (and money) reaching various corners of the world. I've been to over 45 different countries, and love sharing my adventures and connecting with like minded people. See more at myglobalways or on Instagram @myglobalways