Are you looking for the best things to see in Dijon? Look no further! Dijon, France is a lovely little town in the east of the country that charms visitors with tasty treats, a lovely pedestrian center, and world-renowned markets. Dijon's Old Town is lined with majestic French churches and half-timbered houses that date back to the 14th Century. It is a uniquely captivating and lively place! I spent a great afternoon here and have created a list in order to help you figure out where to start to make the most of your day trip to Dijon.
8 Best Things to See in Dijon, France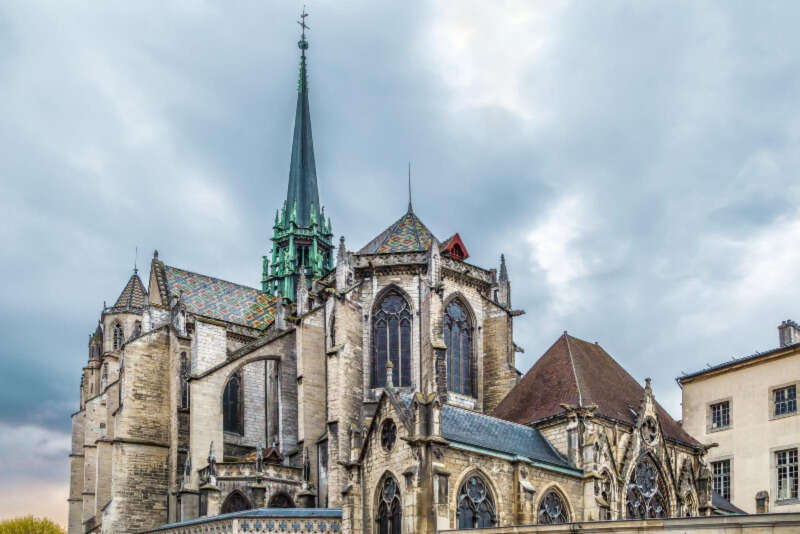 1. Cathédrale Saint-Bénigne de Dijon and L'église Saint-Philibert
The Cathédrale Saint-Bénigne de Dijon, or the Dijon Cathedral, is, in fact,  one of the city's most iconic buildings. Currently the seat of the Archdiocese of Dijon France, this mighty cathedral towers over the entrance to the Old Town and is hence a welcoming sight to locals and tourists alike.
The Church of St. Philibert is Dijon's only Romanesque church and has been rebuilt several times since its original construction. Even so, the current building was completed in the 12th Century, making it one of the oldest buildings in the city.
2. Bareuzei Square and Rues Des Forges
Past the churches, you'll soon run into a lovely fountain in the middle of a small square, where the three main streets of old town meet: Rues des Forges, Rue François Rude, and Rue de la Liberté. The most recognizable building is the white and burgundy half-timbered house, which sits directly behind the statue, The Vendor. Built by Francois Rude, this dreamy sculpture is of a Bareuzei, the person who squashes the grapes for wine. After the Bareuzei finished, their lower half was usually covered in a grapes, so they were known as "le bas rose," or "the rose bottom."
3. Halles de Dijon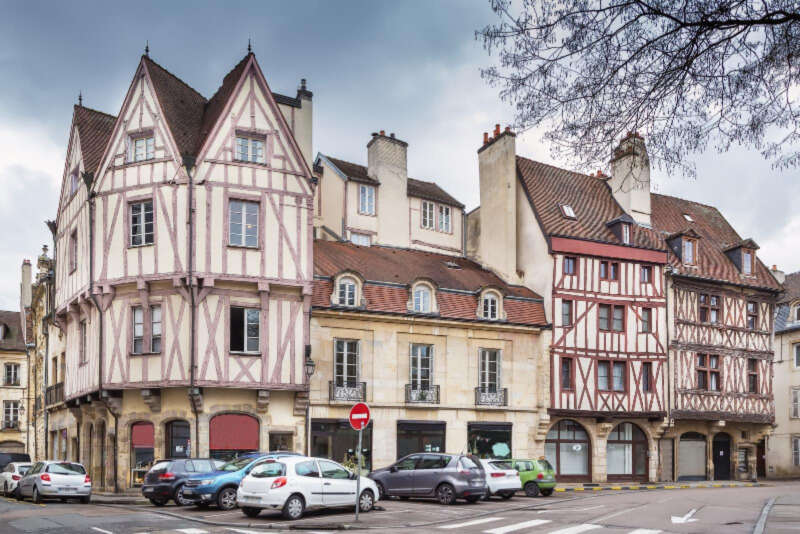 The Halles de Dijon is a grand market that holds hundreds of stands. Locals sell fresh food, eloquently prepared treats, and cooked meals. Tourists can enjoy regional Burgundy wines, gingerbread, creme de cassis (blackcurrant liqueur), and mustard! After an energetic shopping excursion, you'll find a nice area with benches to sit on to rest and eat. Sooner or later this can be a great opportunity to meet the locals or other tourists. So strike up a conversation with your neighbor!
Hot Tip #1: Be mindful of the days you visit, because the market is only open on Tuesday, Thursday, Friday, and Saturday mornings. By 1:30pm, the entire place is almost vacant, so be sure to head over early.
4. Musee des Beaux-Arts
Opened in 1799, Dijon's Museum of Fine Arts is known for its collections from the Dukes of Burgundy. Misty religious art, it has pieces that date from the Egyptians to the 20th century.
Hot Tip #2: Due to current renovations and part of the museum being closed, there is no entrance fee!
5. Follow the Owl's Trail
The Owl's Trail is made up of multiple tiny sidewalk plaques with owls etched into the surface. The Owl's Trail is a $3, self-guided walking tour that tells the city's history. The trail is wrapped up in tourist recommendations, funny stories, and secrets of the Dukes of Burgundy. The tour eventually leads to the Owl of Dijon, a beloved stone carving that serves as the town's mascot and good luck charm (but only if you touch the place where the face used to be!). What a hoot!
6. Boutiques and Tasty Treats
The mustard and cheese shops are filled with delicious goodies and smell amazing. I saw a book store with Jules Verne's novels, bound in red and gold covers. There are colorful posters, lovely alleyways, and a countless number of incredible doorways.
Hot Tip #3: August is the typical French vacation time and many of the shops are closed for the month.
7. Patisseries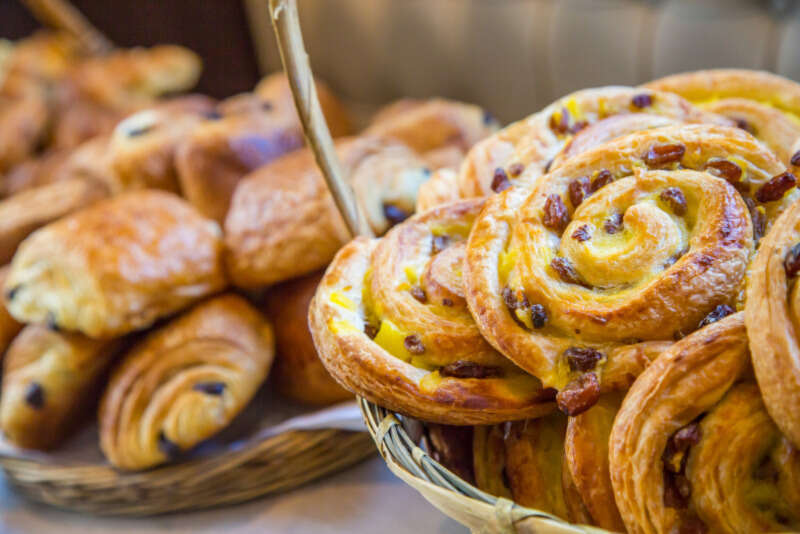 For those of you with a sweet tooth, Dijon's selection of yummies does not disappoint: chocolate shops, ice cream stands, and bakeries that ooze sweet cakes, macarons, and chocolate mousse. There is a patisserie on every corner, offering a variety of beautifully crafted truffles and caramels. I had a white chocolate mousse pastry, flavored with citrus and berries.
8. Porte Guillaume
Built in 1788 to honor the governor of Burgundy, Porte Giullaume is a popular meeting place in Dijon and a mighty force in the middle of an otherwise low-key area of town.
Hot Tip #4: Storing luggage at the Gare de Dijon is surprisingly complicated, because the lines are long, storage costs 5.50EU per small bag, you pick up at a different location, etc. Perhaps they will install lockers in due time? Until then, visit Dijon without a heavy suitcase.
I recommend a day trip to Dijon France, if solely for the purpose of fattening up for the winter months with chocolate, cheese and anything with – of course – mustard!
Kelsey is a travel blogger, a cat mama and an opera singer. She has visited 26 countries (so far!) and fully believes in the famous quote: "Traveling makes you speechless, and then makes you a story teller." Want to see more beautiful places? Follow Kelsey's Travels. @lipsticks.and.backpacks www.lipsticksandbackpacks.wordpress.com