'Tis the season! Visiting a Christmas market is a highlight of the holiday season. Europe is famous for these markets, because they originated in Germany, but many places around the world partake in this tradition. We put together a list of 10 must-see Christmas markets, in Europe and around the world!
10 Christmas Markets Around the World
1. Amsterdam, Netherlands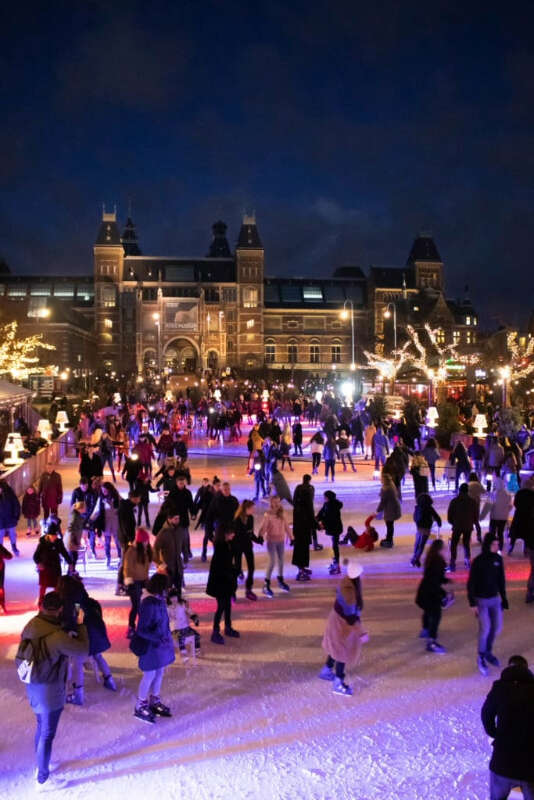 GWT social media manager Amanda visited the Christmas market in Amsterdam.
The ICE Christmas Market in Amsterdam is perfect for the laid-back traveler. Even on December 23rd it wasn't overly crowded, but still had a great lively atmosphere. Entry to the market is free and it has plenty of activities, booths, and decorations. It's particularly beautiful at night with the lights! Like every Christmas market there are food booths galore with so many different options, and a few bars for alcoholic drinks. There is also a skating rink where you can rent skates for a few hours. But my favorite part of this Christmas market was the vibe. There are fires set up everywhere so that you can sit or stand to warm yourself, it's not overly crowded (so you can actually walk around), and it's a great place to meet other travelers!
Light Festival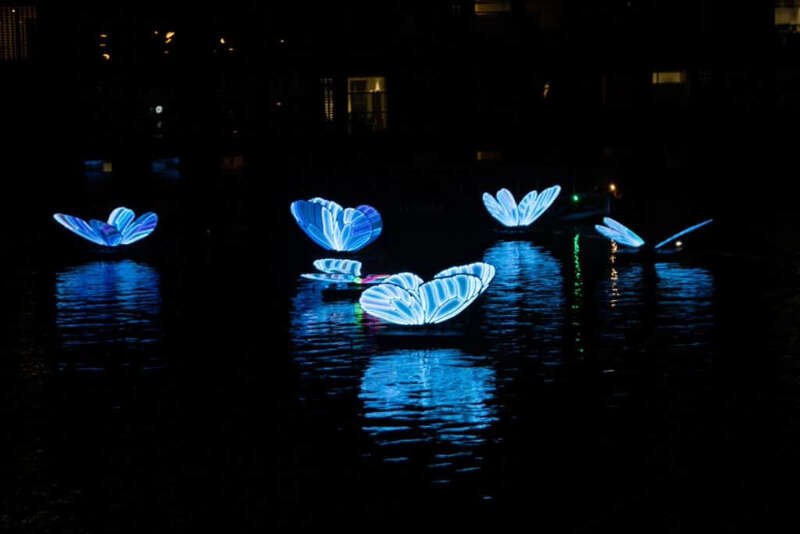 During the same time of year, Amsterdam has a light festival. The Amsterdam Light Festival is an amazing artistic display of light installments around the city. You can take a light festival canal tour which will take you around a specific route to all the installations. Some displays may be better observed from the boat as well as a certain few only being accessible by boat. Walking on the other hand makes it free, allows you to go at your own pace, and certainly offers better photo opportunities. 
2. Mexico City, Mexico
Christmas is a big celebration in Mexico. It's fun-filled and all about family. And what could be a more fun-filled activity than visiting the Christmas market? The capital celebrates Christmas like no other. The Christmas market in Mexico City is held on El Zócalo , officially known as Plaza de la Constitución.
Booths with all the delicious foods and mulled wine fulfill your heart's desire for deliciousness. Immerse yourself in the delicious smells of roasting nuts and the sweetness of the corn stands. There are handmade goodies galore, and, believe it or not, an ice skating rink! Don't forget to admire the enormous Christmas tree.
Take a Stroll
Once you have wandered around the market, head to see the nativity scenes that are set up along Reforma Ave. Stroll through the streets, where stores compete for the most elaborate display of Christmas lights. In Mexico City, your Christmas will be unforgettable.
3. Tallin, Estonia
Are you looking for the most magical atmosphere? Then you should visit the Christmas market in Tallin at the Town Hall Square. Fun fact: the Christmas tree, star of the market, has not only been set up in this exact location since 1441, but it was the first Christmas tree to ever be out on display in all of Europe! Don't miss seeing this important piece of Christmas history.
Food and Shopping
Trying Estonian Christmas cuisine is a must at the market. Delicious dishes such as black pudding, sour cabbage, and gingerbread are just a few of the things available. If you prefer to get out of the cold and eat inside, try the Olde Hansa. It's a medieval restaurant that caters to your sense of adventure!
The high-quality handicrafts are perfect as gifts for yourself, as well as friends and family. From ornaments to dish towels, from hot pads to wool sweaters, at the Tallin Christmas market you will find something for everyone.
4. Chicago, Illinois, USA
Chicago has a big German population, so it comes as no surprise that the city puts on a fantastic Christmas market, aptly named Christkindlmarket. It is, in fact, so amazing, that you will love it, no matter if you are a fan of Christmas or not. Voted the number one Christmas market in the US by the global travel site Big 7 Travel, it is a must-visit for everyone.
Food and Drink
One thing is guaranteed: you won't leave here hungry. From traditional German Bratwurst to filled gourmet pretzels, from Schnitzel to Belgian chocolate, the Chicago Christmas market has everything your heart desires. Don't miss out on some hot, spiced wine to blow the cold out of your bones.
If you prefer to be warm and cozy during your meal, stop for a bite to eat at the Stammtisch inside the heated Timber Haus. It's popular, so you might want to reserve a table.
Shopping
Every year there's a different souvenir mug for sale at the Chicago Christmas market. Such a fun collector's item! In 2021 it's a dark emerald green boot shaped mug, with a logo and the Chicago skyline. Yes please! There's also a Peppermint Penguin mug available in celebration of the market's 25th anniversary.
On top of that you can buy a lot of fun German items. A dirndl, for example, a traditional dress from Bavaria. There are books and ornaments, clothing and accessories, and everything your heart could ever desire.
The Chicago Christmas market is unique in the US and can not be missed!
5. Cologne, Germany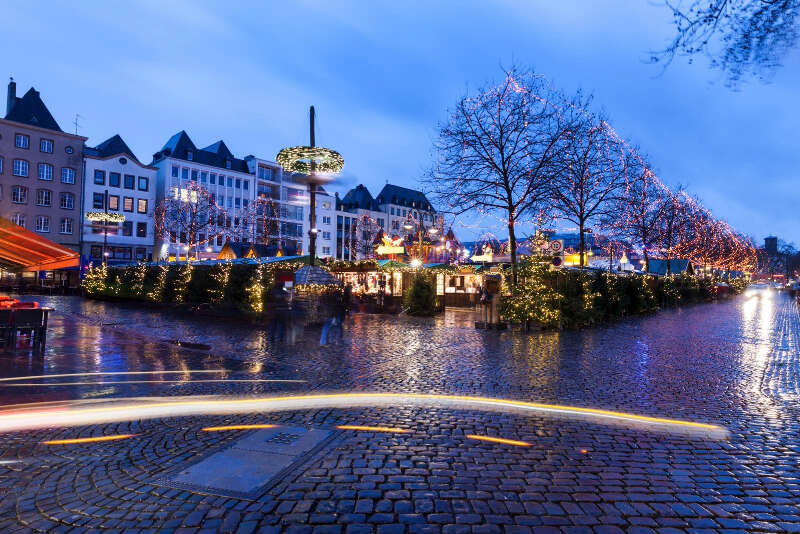 We already learned that Christmas markets originated in Germany, therefore it is only natural that we mention a few of the fabulous German markets here. Cologne, the Cathedral City, is worth a visit any time of year. But at Christmas it is simply magical. The Christmas market, which is, in fact, several markets, each with a different theme, extends throughout the city center. You can spend hours exploring all there is to see.
Arts and crafts from all over Europe are on display here. There's entertainment for all ages. Your taste buds are sure to fully enjoy the many different booths with foods from all over the world (you are about guaranteed to gain a pound or two).
Last but not least, there are several smaller, unique markets in different neighborhoods, outside the city center. Some are put on by local businesses selling their goods, and some specialize in culinary delights. You could spend a whole month in Cologne visiting the Christmas markets and never get bored!
6. Zurich, Switzerland
Are you looking for an expansive Christmas market experience? Then Zurich is the place for you! This beautiful city in Switzerland doesn't just have one Christmas market. No, there are no less than nine of them to entertain locals and visitors alike!
Main Station
This market is a must for its incredible Christmas tree. Every year it is decorated with 7000 sparkling Swarovski crystals. It's located centrally, at the main train station, and, big perk, is indoors!
Old Town
Romance alert! The Christmas market in the Old Town is probably the most romantic. Hold hands with your loved one while sampling mulled wine and getting lost in the many stalls.
Opera House
This is one of the largest Christmas markets in Zurich. The spectacular backdrop of the opera house provides a special atmosphere. Roughly 100 stalls form a Christmas village. One highlight are the local jewelry designers offering out-of-the-ordinary pieces. This is your chance to pick up a unique keepsake! The market is just a stone's throw away from the lake. Take a nice stroll along the shore after you sampled the delicious foods and drinks.
Werdmühleplatz
This one is for music lovers! The singing Christmas tree is just one highlight. Daily unique concerts will have you come back day after day.
Münsterhof
Here's your chance to support local businesses. Immerse yourself in Zurich's culture. Discover Zurich products, from baked goods to writing utensils. The  Fraumünster church and the traditional guild houses provide the perfect backdrop for this modern Christmas market. Take a guided historical tour and visit the culture tent for readings, concerts, and workshops for young and old.
Nearby Christmas markets
Visit the Badener WunderDorf! WunderDorf can be translated to 'magical village', and this is what you can expect. Located at Baden's Theaterplatz, this market is an Eldorado for all ages. Winterthur Old Town's Christmas market will satisfy all your culinary needs. The Christmas market in Einsiedeln is set against the incredible backdrop of a Benedictine monastery. The Christkindlimärt in Rapperswil-Jona features 120 stalls and extends from Fischmarktplatz to the harbor pier, which gives it a very special, romantic touch.
7. Esslingen, Germany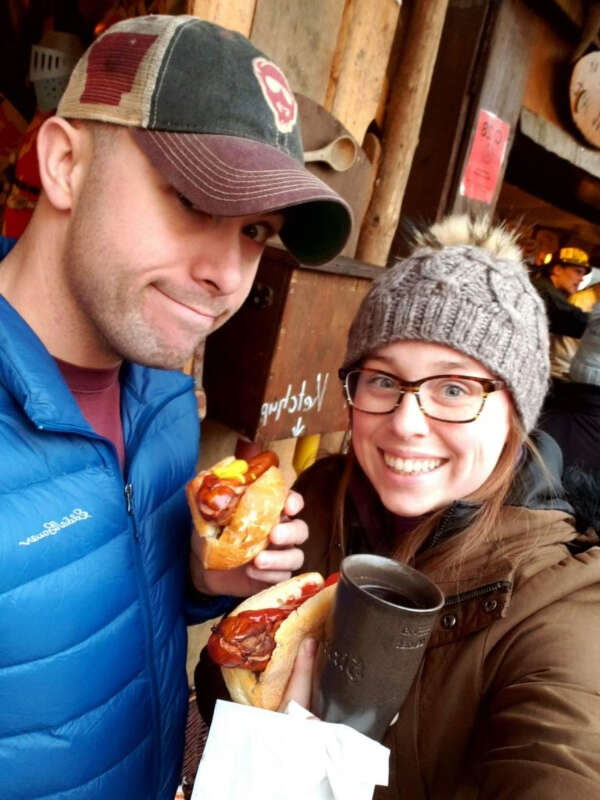 GWT Superstar Annalisa visited the Christmas market in Esslingen.
Esslingen offers two Christmas Markets side by side. The first showcases a more modern take on Christmas markets, where you can purchase present day ornaments, nativity scenes, gnomes, kitchen gadgets, and plenty of delicious local foods and Glühwein (mulled wine).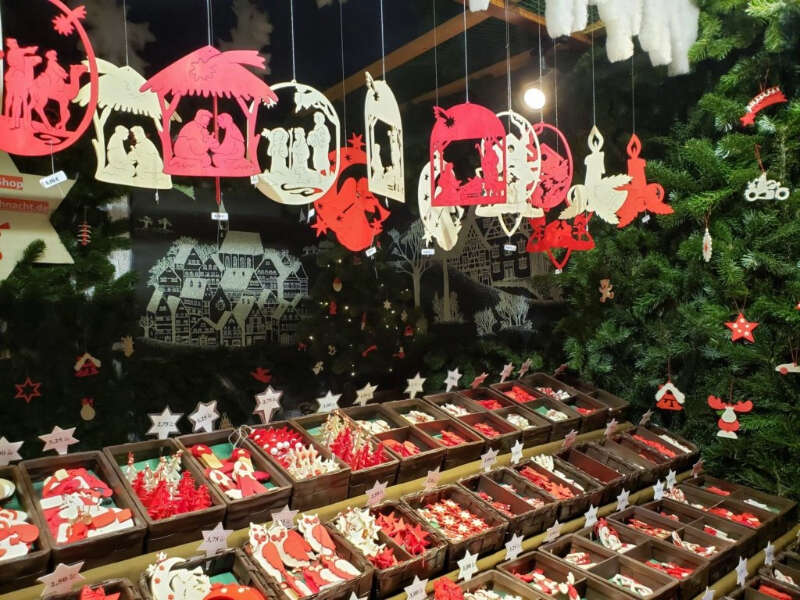 The second takes you on a journey back in time. To the medieval times! Here you can not only purchase handmade goods crafted as if it were medieval times, but you also get the opportunity to watch craftmanship demonstrations. There are plenty of basket makers, glassblowers, blacksmiths, jewelers, chandlers, and woodworkers. Some booth owners will even bargain with you to keep in the spirit of the market. Throughout the market you'll also find jugglers, musicians, and thespians sharing their talents. It's no wonder why people travel from all over the world to visit the Esslingen Christmas Market
8. Moscow, Russia
If you are looking for a snowy white Christmas market, a visit to Moscow is a sure bet. If you are a true fan of these markets, you will enjoy the Red Square Christmas market. It doesn't just go on for a meager 4 weeks, no. Usually it starts in mid November and ends in early February. Two and a half months of Christmas market? Yes please!
Moscow in winter isn't for everyone. It's COLD. Dressing appropriately is a must. So is mulled wine to keep you warm.
The Red Square Christmas market will keep you entertained, no matter the temperatures. There's a huge ice skating rink where you can get the heart pumping and the blood flowing. Did you bring your kids? They won't be bored, because there's an amusement park for children!
Not a typical European Christmas market
This isn't your typical European style Christmas market. You won't hear 'Last Christmas' blasting through the speakers. Instead, listen to Russian New Years music. Make sure to try the honey mead, a Russian specialty! The stalls surrounding the ice rink are a great place to buy traditional Russian souvenirs. And we don't need to talk about how fantastic the backdrop of the Red Square is!
9. Sydney Christmas Fair, Australia
A white Christmas may be the first thing that comes to your mind when you think of this holiday, but Christmas is far from white in many places. Take Australia, for example! The Sydney Christmas Fair is one big party! There are carnival rides, water activities, an outdoor cinema, and also traditional Christmas activities such as Santa photos and a gingerbread party house. Keep the family entertained all day long.
In addition to this there are several Christmas markets around the city that will give you a chance to purchase goods and eat delicious treats!
10. Stuttgart, Germany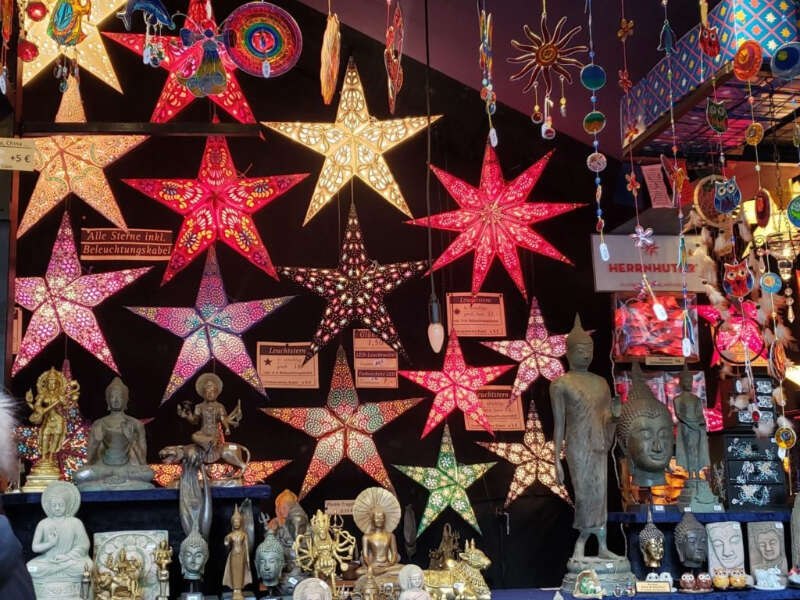 Here is another recommendation from GWT Superstar Annalisa.
Stuttgart's Christmas Market is located in the city center between the Neues Schloss Stuttgart (New Stuttgart Castle) and the Romanesque-Gothic Stiftskirche. To add to the picturesque background, the Rathaus (city hall) transforms into a life-size Advent Calendar. Each window is decorated to represent a day in December.
This market is one of the oldest and largest markets in all of Germany. Its roots trace back to 1692! Stuttgart Market has well over 300 booths which offer a wide variety of modern Christmas decorations, food and drink, and a flea market. While perusing you'll also discover live concerts, a carousel, an ice-skating rink, and a kid fairy tale land filled with a bakery, candle workshop, and a kid-sized steam engine.
While most Christmas markets sell candied almonds, Lebkuchen (ginger bread), bratwurst, and Glühwein (mulled wine), Stuttgart adds in to the mix Maultaschen, fondue, Kaiseschmarrn, truffle currywurst, and baked camembert. If you've already stuffed yourself full of local cuisine, then you can stop by the many other food booths selling delicacies from all of the world, from Spanish patatas bravas to American chili cheese fries. Stuttgart truly embodies the Christmas spirit by having something for everyone!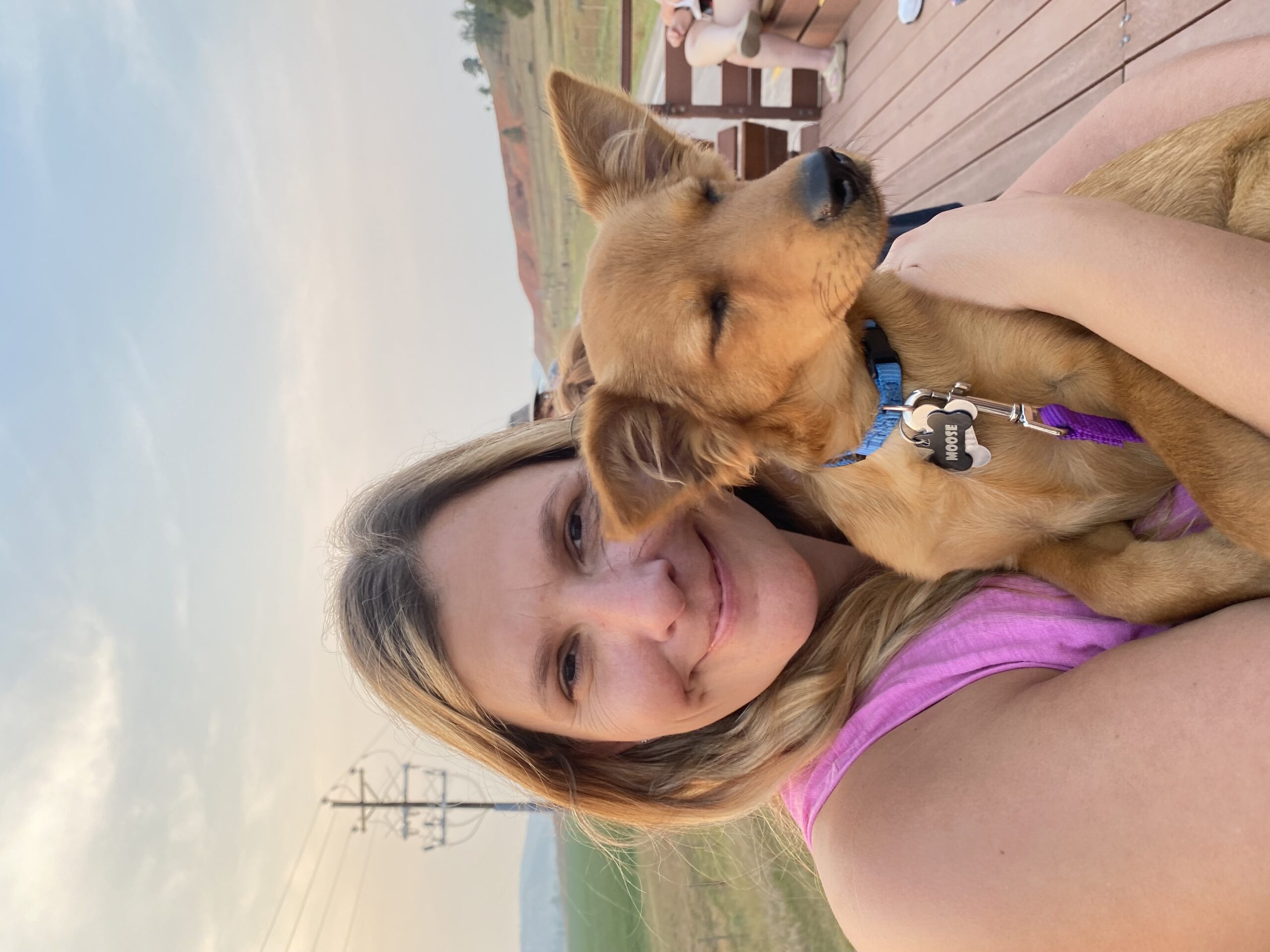 Jenny grew up in Germany. All she ever wanted out of life was to leave and have adventures. Jenny always traveled as much as the budget would allow, and when she met her husband traveling became a full-time thing. You can follow Jenny on her blog and Facebook.