Guernsey is untouched.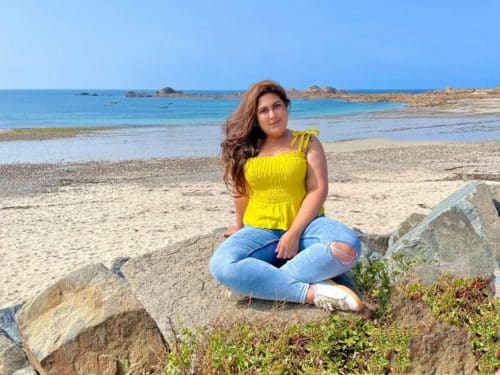 Guernsey and its Untouched Islands
One of the two crown dependents in the Channel Islands, the Bailiwick of Guernsey, is truly an untouched piece of heaven on earth. This nation is cohabited by the locals born on the island, the Brits, and some Frenchmen. It is in the English Channel, off the coast of Normandy, France. Guernsey is also the second largest of the Channel Islands. It has its own legislature and is a nation of its own rights. But some aspects of its international relations are held by the monarch of the United Kingdom. The island has a mixed British-Norman culture, with the British culture being the strongest. People speak English and French. Although there exists a traditional local language known as Guernésiais.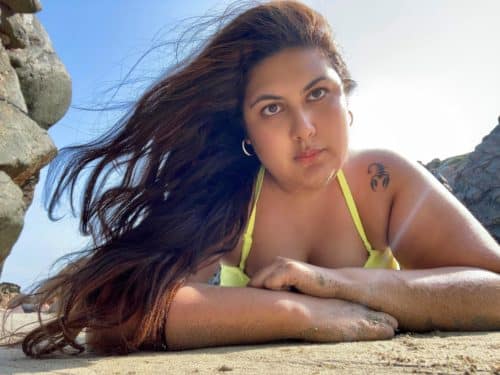 BEACHES
Now, I particularly love beaches. Whether it may be walking by the shore, paddling a kayak on the surface, snorkelling to see the marine life, or scuba diving and co-existing with the underwater creatures we all love. But the thing I like doing the most in beaches, is swimming to my heart's extent! For me, the perfect beach to swim in are those that have clear waters and sandy bays.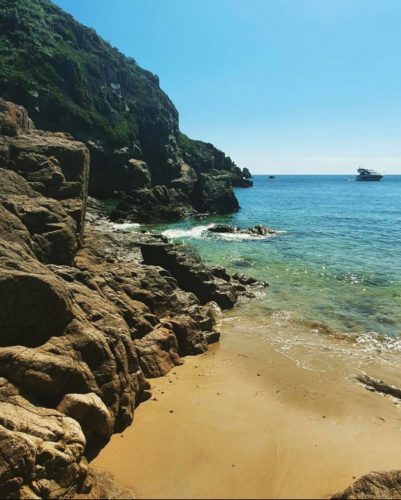 It was a no-brainer for me to have decided to visit Guernsey. I have already visited its sister island, Jersey. Given that it is larger, busier, and more populated, I know I was in for a treat with Guernsey. I know that the beaches in the Channel Islands, as a whole, rivals those in the Caribbean which I love. Guernsey has 40 beaches, including the ones in Herm, Alderney, and Sark. These are small, inhabited islands under the jurisdiction of Guernsey. I've managed to visit quite a few of them which makes me so lucky (and tired!).
A vital thing you must remember is that in Guernsey alone there are 27 beaches to choose from. But they are categorised in two cardinal directions, the South beaches, and the West beaches.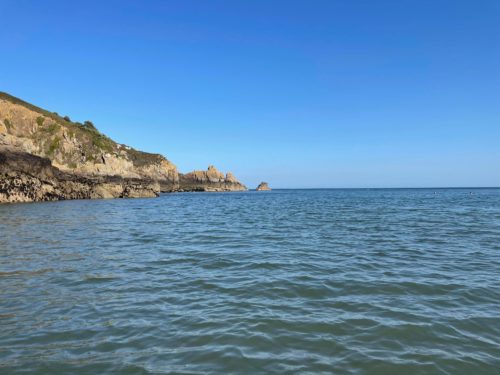 South Beaches
The beaches located in the South are quieter due to it only being accessible by hiking and walking. The paths to these beaches are not accessible by car. Therefore, it would mean you would need to walk downhill to get to the beaches, which isn't exactly an issue, but will have to walk uphill after your swim which, believe me, almost made me give up multiple times. They are very steep and will take time to hike back up. But the view and the beaches are worth it if you ask me. They are so pristine, peaceful, and mesmerizing.
The beaches in the South coast such as Fermain Bay, Petit Bot, and Saint's Bay, all boast a scenic view. What with its low cliffs and dense woodland, these beaches all offer a charismatic charm. I prefer this as it is quite different to its more popular and more visited counterparts on the West coast! Because these beaches are set at the base of wooded valleys and are flanked by high cliffs, you can find spots to hide from the sun. Whether you are skincare-conscious or just generally afraid of the sun's heat, these beaches have got you covered.
Here, you will also find a good amount of rockpools to explore which I found really cool. One evening, it was just me and my son on the whole beach. We ate our dinner quietly on the rocks watching the ocean reach high tide. My son and I stared at each other, completely in awe. Life was good.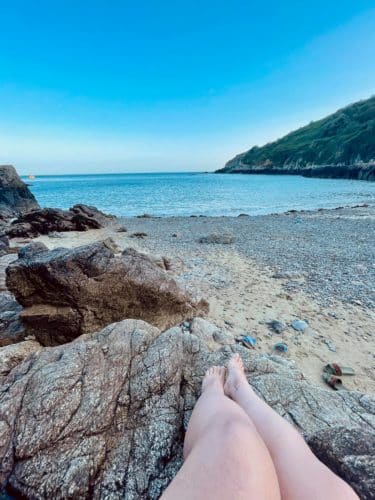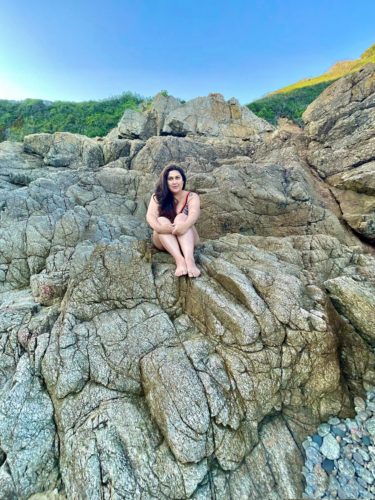 West Beaches
And then we have the beaches in the West coast which include Cobo Bay, Vazon Bay, and Pembroke Bay, among others. Although the beaches here are more frequently visited, I was surprised to see that they are not, in any way, polluted nor crowded. The waters are, inexplicably, crystal clear and very tempting to bathe in. Amazed is an understatement – I've never seen popular beaches this clean and unspoiled even though both the tourists and locals visit it daily. I mean, just, wow. Mother nature at its best.
Here, you will find a good expanse of unbroken stretch of sand which is perfect for children who like to play and whatnot. The turquoise waters in these beaches are ideal for a wide variety of water sports and leisure activities such as kayaking, windsurfing, sailing, surfing, snorkelling and scuba-diving.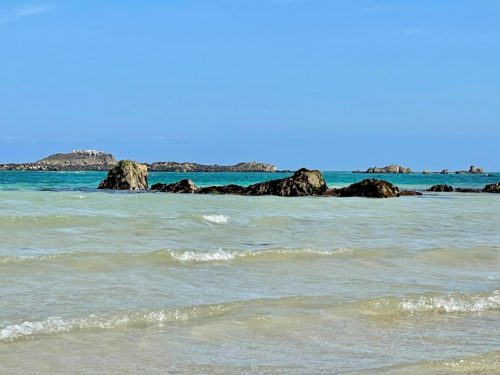 My favourite beach in the West would be Cobo Bay. The sand is just so soft and my favourite restaurant in the nearby Cobo Bay Hotel is located right in front of it. They serve Filipino food like Sinangág and Adobo which made my heart warm and happy. The waters are calm and I enjoyed a spectacular sunset in the beach.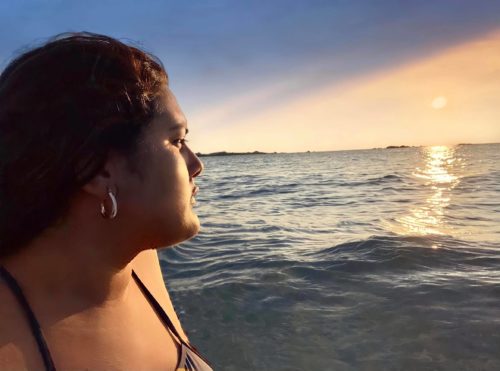 Herm
Herm Island, the most famous of Guernsey's islands, is just a 20-minute boat ride. This is my favourite island to visit. The island has no cars and no crowds. It truly is the perfect exemplary of the island life. The unblemished beaches, natural beauty of the coastlines, the spectacular views of the neighbouring islands and the French coast all contribute to the perfect relaxing holiday for people who just want to get away from it all.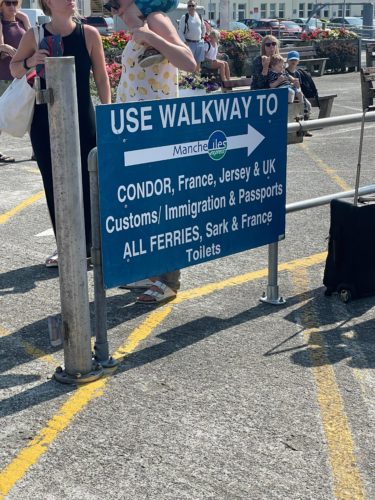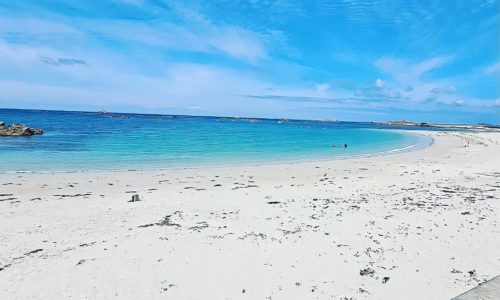 Yes, you need to walk to the beaches and do a bit of hiking. Yes, you may get lost (fear not, the whole island can be rounded up in over 2 hours, so you'll eventually get there and find your way!) but everywhere you look there is a beach that awaits. You can choose to stay in a hotel or at a campsite here.
There are a couple of beaches to visit but I chose Shell Beach where the waters looked like I was in the Bahamas and the sand was soft and clean enough to make me fall asleep. Yes, I really did take a nap while the water from the shore touched my hair. It was immaculate. Never mind the sunburns I got after waking up, though!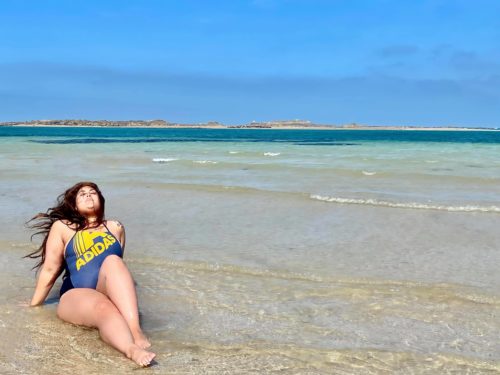 You can hire a kayak and paddle to the edge of the island where you can watch the puffins and see the seals. A little bit of hiking and a salmon & dill sandwich in my hand, I was looking at the astonishing views of the beach. I felt safe and content.
Alderney
Another island that is famous is Alderney. You can stay at a hotel overlooking the beach – straight out of a movie! Here, the sea stills to a pellucid aquamarine. The air is soft, the water is clear, and the sun shines – an idyllic place to lounge on the sand where you can hear the birds chirping, the children laughing, and the distinctive sound of the ice cream van.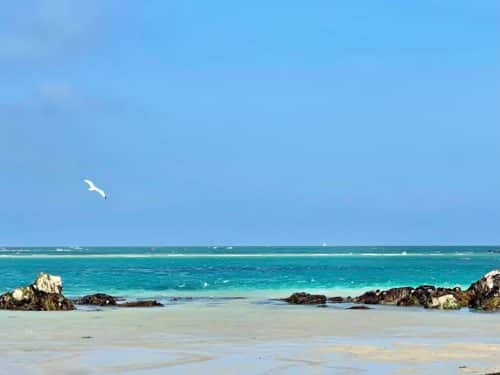 Sark
An alternative island to look out for, is the Isle of Sark. Just like its comrades, Herm and Alderney, it has great beaches. But Alderney offers more than that – its historical and fascinating tours are available for you to learn about the World War II occupation.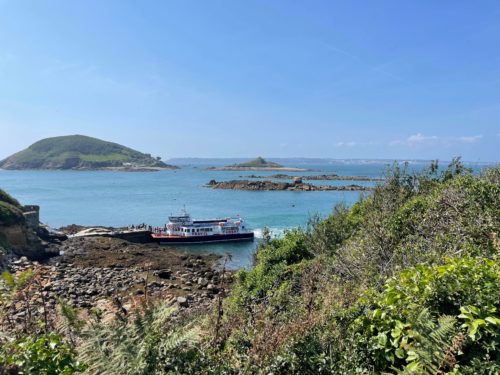 FOOD
Because the island is a mixture of British and Norman culture, the food is simultaneously inspired by both. You can have traditional English food, exotic French food, and of course ample seafood options. But as it is the modern times, you can of course find Indian and Chinese takeaway everywhere! There is even this Italian restaurant that my son loves. In general, the food is great and fresh.
Guernsey has a traditional fruit bread called gâche mêlaïe that I ended up taking home so that the family could try! I would best describe it as a Christmas fruit bread but people just eat this regularly in Guernsey. There are one or two restaurants here that have been awarded Michelin stars. And that says something given how small the island is. There are big countries with a million restaurants, and none of them have a Michelin star! I can definitely say come to Guernsey with an empty stomach and enjoy the variety of food the island has to offer. I promise it's worth it.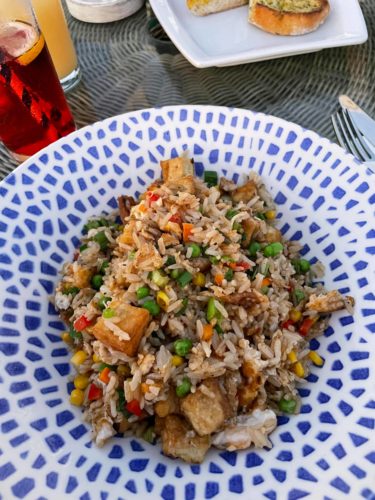 Overall, we thoroughly enjoyed our trip to Guernsey. It was unexpected, beautiful, and inspiring. It really felt like an entire world away.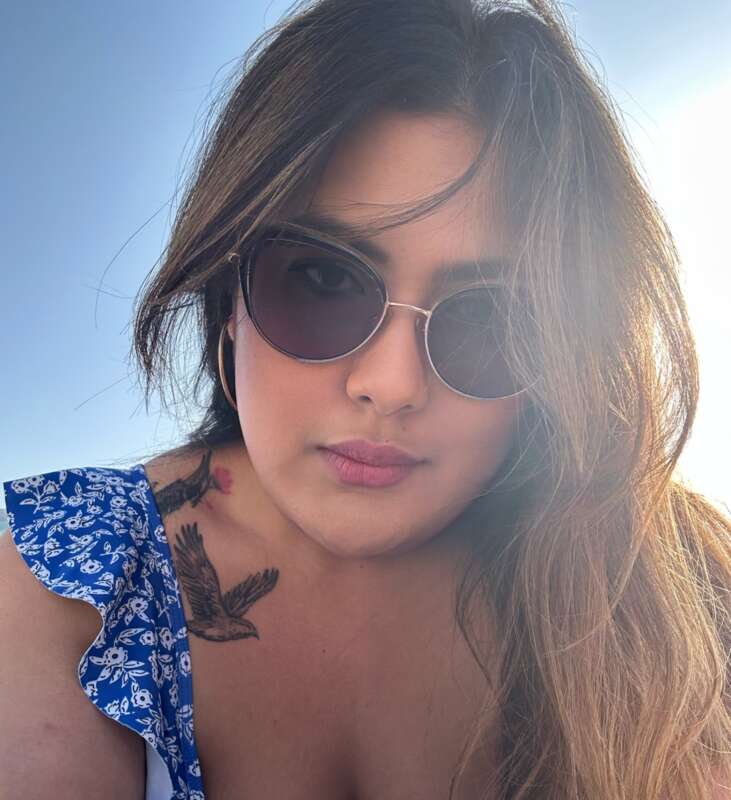 Rachel is an intrepid world traveller, lifestyle connoisseuse, and Girls Who Travel's resident beauty advisor. She is a lover of the ocean, flowers, movies, journalism, and has a penchant for medium-sized tattoos. When she is not busy with life, she writes stories of her globetrots as well as tips & tricks on how to make the best out of travelling.