Austria, a small, landlocked country in Central Europe, is famous for its castles and palaces, its natural beauty, and its stunning capital, Vienna. While Vienna, this incredible city by the Danube River, is the main draw for many, (and rightfully so!), its worth taking some time to see other cities, like Salzburg and Innsbruck, and their Austria landmarks that are equally worth visiting! In this article we'll give you an idea of all the attractions you have to see in Vienna and beyond so you can put together the perfect itinerary for Austria, one of the perfect solo trip destinations for women!
This post contains affiliate links. This means we make a small commission at no cost to you if you click through and make a purchase. All prices listed are accurate at time of publication.
26 Austria Landmarks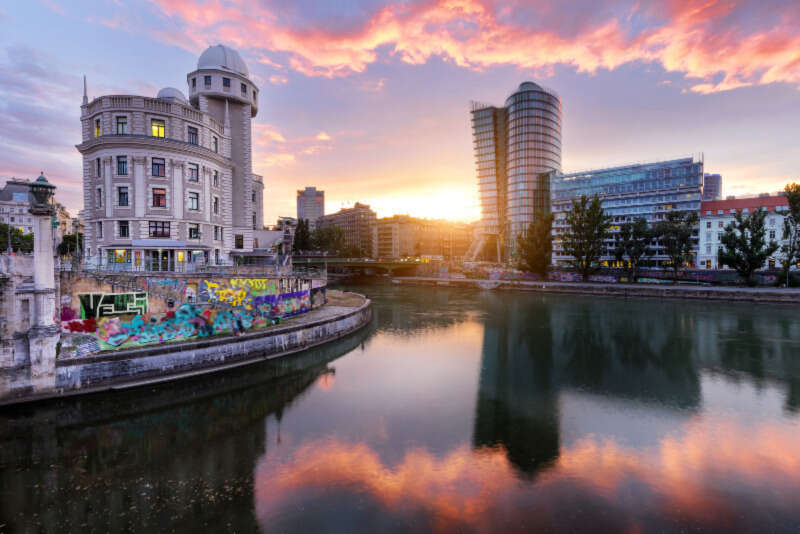 For those planning to spend a lot of time in Vienna, consider buying the Vienna City Card. It covers all public transportation, which is great in this city, and gets you discounts to many attractions. Additionally you can upgrade it to include the hop on hop off busses, and airport transfer. Click here to learn more.
Focusing your time on Salzburg? The Salzburg card gives you free access to museums and tourist attractions, and free access to public transportation, as well as many other discounts. Click here to learn more.
There's also the Innsbruck Card: on top of free access to attractions and museums (a whooping 22 total!), as well as free use of public transportation, it allows for one upward and one downward journey on selected lifts and cable cars in the region. But that's not all! The hop on hop off sightseeing bus is also free with the Innsbruck card! Click here to learn more.
1. Hofburg Palace, Vienna
The Hofburg, or Hofburg Palace, is one of the biggest palace complexes in the world and located in Vienna. It was built in the 13th century as the main imperial palace of the Austrian branch of the Habsburg dynasty, and was used as the winter residence. The Hofburg Imperial Palace was expanded throughout the following centuries, and has served as the seat of Austria's president since 1946 – making it a place where past and present mesh seamlessly.
There are three museums within the palace complex: the Sisi Museum, where you can admire more than 300 objects related to the beloved 19th century Empress Elizabeth of Austria, the Imperial Apartments, so elaborately decorated in Rococo and Baroque style your inner princess wants to consult an interior designer to redecorate your home immediately, and the Imperial Silver Collection, which is currently closed until 2026. Once it reopens it will provide you with an impression of court dining culture.
Music enthusiasts should not miss the chance to attend a Vienna Hofburg Orchestra performance of Mozart and Strauss!
2. Imperial Treasury, Vienna
At the Imperial Treasury, you get to see exhibits covering a millennium of Europe's history. It's located at the Hofburg Palace, so once you took your tour there, head right over to the Imperial Treasury! Exhibits include things such as coronation robes, scepters, crowns, orbs, and lots more. Visit the secular treasury and the ecclesiastical treasury and marvel at the riches within.
You can buy a regular ticket, or a combination ticket for the Kunsthistorisches Museum and the Imperial treasury, which is valid for one year and costs € 27. Learn more here.
3. Schönbrunn Palace, Vienna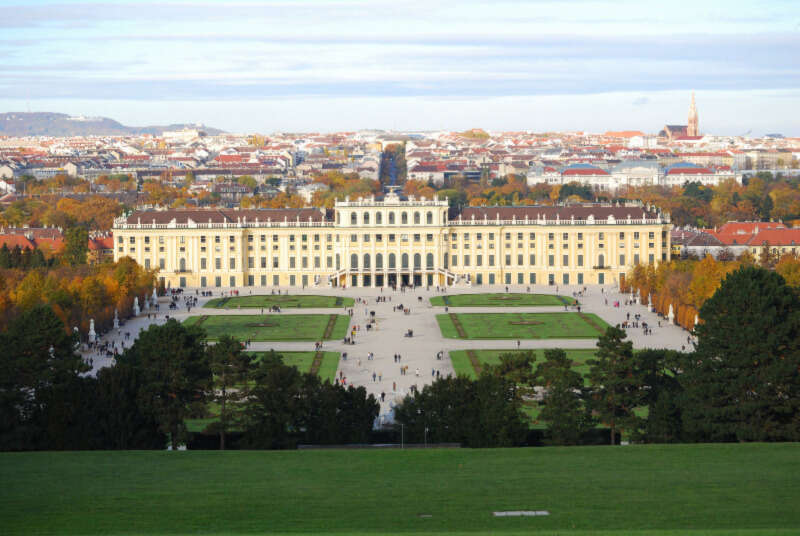 From the Habsburg's winter residence we move on to their summer residence in Vienna: Schönbrunn Palace. It is without a doubt not just one of Austria's, but one of Europe's most beautiful Baroque complexes and can not be missed on a trip to Vienna. Taking the grand tour of the palace will simply leave you in awe of the beauty and the craftsmanship on display. Don't miss seeing the gardens! They are a masterpiece of ornamental flowerbeds. The palm house is a must-see. Stop by the Schonbrunn Palace Chapel, and make sure to catch a concert of the Hoch und Deutschmeister Kapelle in front of the palace.
Book a skip the line Schönbrunn Palace & Gardens guided tour, or even a small group Schönbrunn Palace half day tour with a historian guide.
4. Upper and Lower Belvedere Palaces, Vienna
The Belvedere is a historic building complex that consists of the Upper and the Lower Belvedere palace, the Orangery, and the Palace Stables. This complex, built in the baroque style, was built in the early 18th century and used by Prince Eugene of Savoy. Today, they make up the Belvedere Museum of Vienna. The Upper Belvedere is a baroque palace which houses works by such famous artists as van Gogh, Messerschmidt, Funke, Schiele, and Klimt – including my very favorite painting in the world, The Kiss. Click here for tickets.

The Lower Belvedere Palace features art exhibitions of all periods at the former residential palace of Prince Eugene and at the Orangery. While the Upper Belvedere is way more popular, venture off the beaten path and give the Lower Belvedere Palace a chance as well, it's worth it. Click here for opening hours and tickets.
5. Spanish Riding School, Vienna
Back when I was a little horse-obsessed girl, going to Vienna to see the magnificent steeds of the Spanish Riding School was my number two dream (after getting my own pony, of course). The Spanish Riding School is one of Austria's most famous landmarks, a world famous institution which has been dedicated to the training of Lipizzaner horses and the preservation of classical dressage for 450 years. This isn't just an activity for horse-obsessed little girls and adult horse lovers. The training, breeding, and riding of the Lippizaner horses has made the Representative List of the Intangible Cultural Heritage of Humanity of the UNESCO, and the ballet of these white horses is a true marvel.
Take a guided tour of the Spanish Riding School, buy a training ticket and watch the morning exercises, or get a ticket to watch an official performance.
6. Vienna State Opera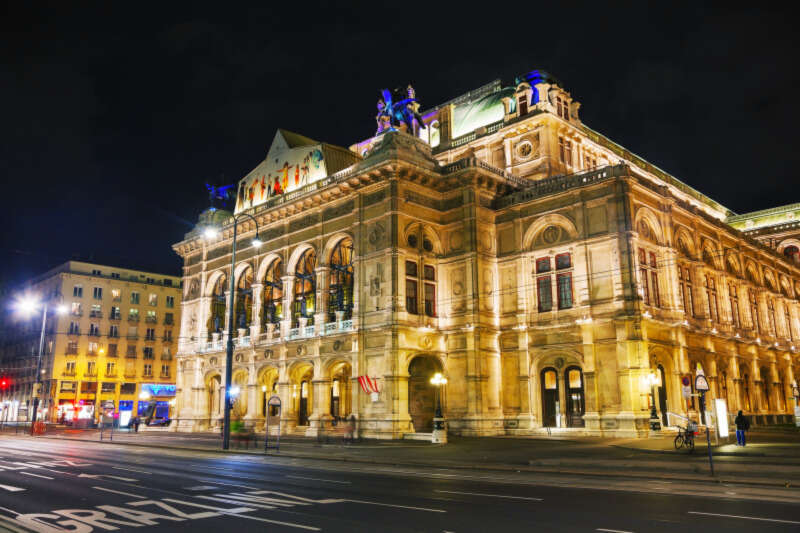 The Vienna state opera house (Wiener Staatsoper) is a 1,709 seat Renaissance Revival concert hall that's a feast for the eyes, but even more so for all other senses – if you buy a ticket to one of the performances! But first things first: you can and should take a guided tour of this beauty, one of Europe's leading opera houses. Those are available in English, French, German, Italian, and Japanese, and tickets can be bought online here. If you spend a few days in Vienna, consider spending an evening at one of the operas or ballets, or listen to the Vienna Philharmonic Orchestra play. The Vienna State Opera House is one of the best places to enjoy such a performance. It's truly an experience you won't forget. Catch The Magic Flute, La Clemenza Di Tito, or Don Pasquale and immerse yourself in the music. Check the event schedule and buy tickets here.
7. Prince Eugene Monument, Vienna
Prince Eugene of Savoy was a military genius and one of the most successful military commanders who lived in the 17th and 18th century. He served three emperors of the Habsburg dynasty, and was honored with this monument in 1865 by the emperor Franz Josef. Today he guards the entrance to the Austrian National Library.
8. Austrian National Library, Vienna
Book lovers as well as architecture enthusiasts need to put the Austrian National Library on their list of places to visit in Vienna. The architectural style is baroque, and it stands out as one of Europe's largest baroque libraries, housing over 200,000 historic books. On top of that it has a claim to fame for the Grand Hall, which is widely known to be one of the most beautiful library rooms in the world. Guided tours are available, and making a reservation is a good idea. Click here to do so! Tours are available in German, English, French, and Spanish.
9. St. Stephen's Cathedral, Vienna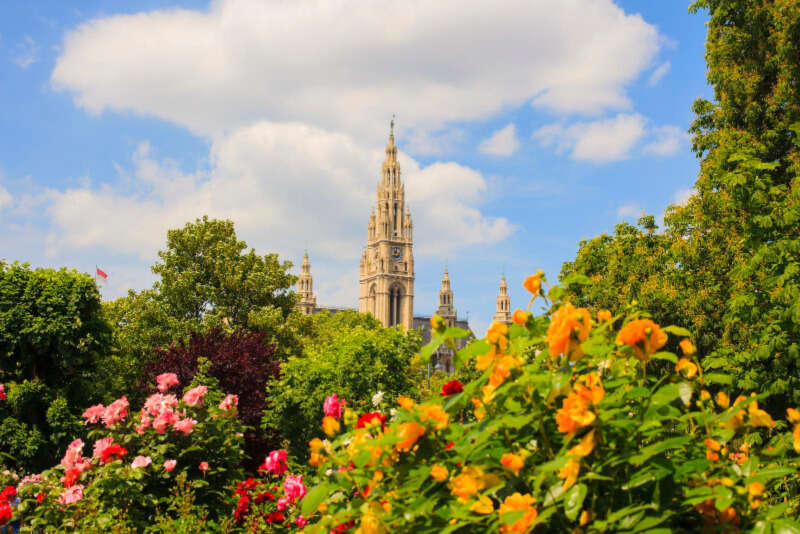 Take a look at Vienna's most important religious building, the seat of Vienna's archbishop and the mother church of the Roman Catholic Archdiocese of Vienna: the St. Stephen's Cathedral. The current church was built in Romanesque and Gothic style on the ruins of two other churches between 1368 and 1433. Guided tours of this house of worship, one of Vienna's most popular tourist attractions, are available in German and English, with audio guides available in many other languages. See the inside of the cathedral, the catacombs, the south tower, as well as the north tower. You can even book a special tour of the attic if you are inclined to do so. Book your ticket now! If you are looking for an extra atmospheric experience, attend a classical concert at St. Stephen's Cathedral.
10. Danube Tower, Vienna
For the perfect bird's eye view, visit the Danube Tower, which was built in 1964 as a highlight of the Vienna International Garden Show. It is located in one Vienna's most beautiful parks, the Danube Park. An express lift takes you nearly 500 feet up to the viewing platform. On a beautiful day you can enjoy a 360 degree view of the city. It's one of the most popular destinations for all tourists, therefore we recommend you get a skip-the-line entrance ticket.
11. City Hall, Vienna
City Hall is another monumental building in Austria's capital. Dating back to the late 19th century, it's architectural style is not Baroque. but Gothic. It's most notable feature is the 322 feet high central tower. These days this town hall serves as the head office of Vienna's municipal administration, but visitors still have the chance to take a tour and marvel at the stunning inside. Click here for more information on guided tours.
12. Kunsthistorisches Museum, Vienna
For those who are interested in art history, the Kunsthistorisches Museum is the place to go. It's collections in the exhibition hall are notable, among them the world's most extensive collection of works by Pieter Bruegel the Elder. Permanent collections include the Egyptian and Near Eastern collection, the collection of Greek and Roman antiquities, and many other interesting ones such as the collection of historic musical instruments. You can buy your ticket ahead of time here.
13. Austrian Parliament Building, Vienna
The Austrian Parliament building was built between 1874 and 1883, and is the seat of the two houses of parliament. Wander by and admire the impressive structure built in the Greek Revival style, or take a guided tour. It's one of the most beautiful buildings in all of Austria! There's a visitor center where you can learn a lot about the parliament, a library, a cafe, and even a rooftop restaurant! For those who have their heart set on seeing the inside, make sure to register in advance here. It's a great place to learn about modern day Austria.
14. Giant Ferris Wheel, Vienna
The Giant Ferris Wheel is an integral part of Vienna's skyline, a fun way to spend a little time, a great place to take pictures, and one of the city's major tourist attractions. Reserve your ticket now!
Fun fact: you can book a whole wagon, including a gourmet meal, for one of those major events in your life! (You have to have a group between 6 and 15 people though).
15. Kreuzenstein Castle, Leobendorf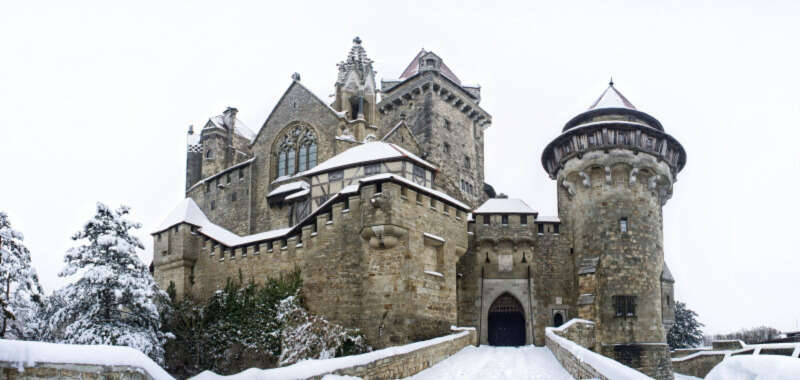 Burg Kreuzenstein is a medieval castle dating back to the 12th century, located in the small town of Leobendorf, lower Austria which is roughly a 30 minute drive from Vienna. It's one of the most stunning historical sites, and should definitely be included in a list of the most beautiful medieval castles around the world. Once you see it you'll feel like you fell asleep and woke up in a Disney movie! The most interesting fact about Kreuzenstein castle is that it was built on the foundation of another castle which had fallen into disrepair using sections of other medieval castles and structures that were brought in from all over Europe. The castle is closed during the winter months, but open from April 1st to November 1st. Call to make a reservation for a guided tour. Find more information here.
If you want to see this medieval castle but aren't keen on touring it, consider booking a 30 minute helicopter tour from Vienna and seeing it from the air!
16. Golden Roof, Innsbruck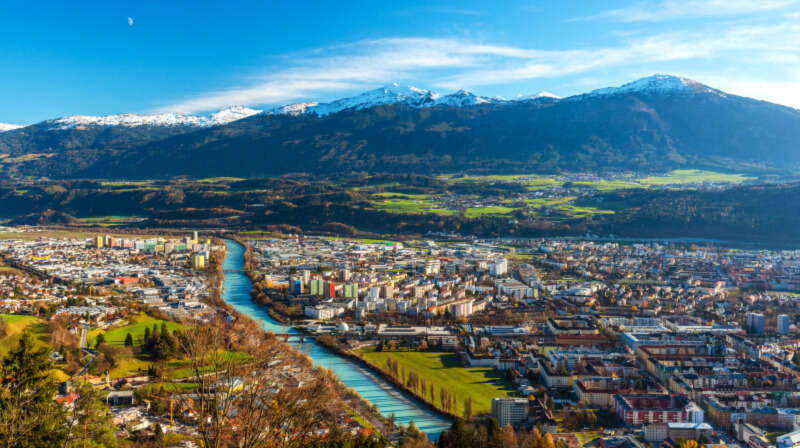 In Innsbruck you'll find a special landmark: the Golden Roof, located in the Old Town. It was built between 1497 and 1500, in honor of Emperor Maximilian I's wedding to Bianca Maria Sforza, and was decorated with 2,657 fire-gilded copper tiles. The balcony was used to observe events in the city square below by the couple. It stands out as an Austria landmark because it is considered Innsbruck's most famous symbol.
You can simply stroll by and admire the Golden Roof from the outside, but there's also a Golden Roof Museum, displaying the history of Maximilian I, just waiting to be explored.
17. Salzburg Cathedral, Salzburg
The Salzburg Cathedral is a gorgeous example of 17th century Baroque style churches. It was originally founded in 774, then rebuilt in 1181 after a fire, and finally underwent a complete rebuilt in the 17th century. To learn more about the history of and the art inside the cathedral, join a guided tour, available daily at 2 pm. Tickets are available for 9 Euros and can be bought at the entrance.
You could also learn about the cathedral, as well as many other fascinating sights in Salzburg, such as the Old Town, a UNESCO World Heritage Site, bu taking a Salzburg Old Town walking tour.
18. Mirabell Palace, Salzburg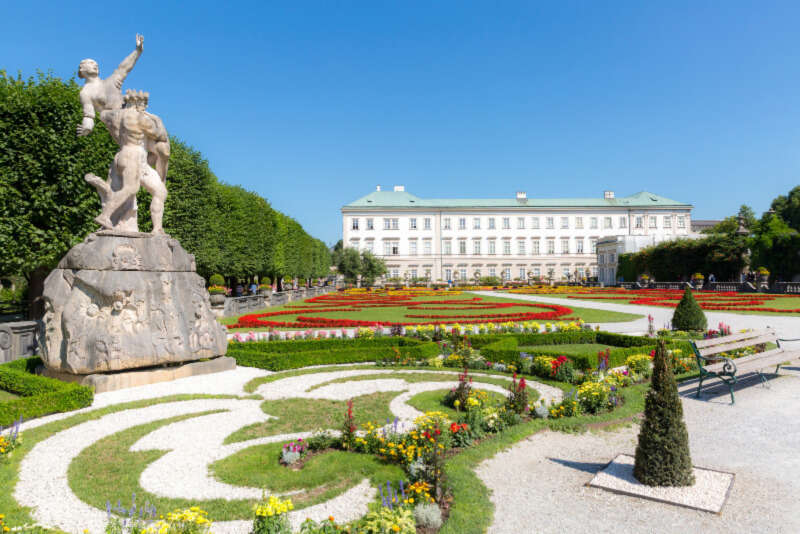 The Mirabell Palace and Gardens are considered part of the Historic Centre of the City of Salzburg UNESCO World Heritage Site, and you know that UNESCO doesn't award this designation to something that's not spectacular! Prince-archbishop Wolf Dietrich had this beautiful palace built in 1606 for Salome Alt. Today it's not just a spectacular sight to see in beautiful Salzburg, but it serves as a bucket list wedding venue! What could be more romantic than getting married in a palace, not to mention a UNESCO World Heritage Site?
But even if you are not in the business of getting married, Mirabel Palace should be on your list of landmarks to see. Make sure to check opening times to avoid arriving during an event and being denied entrance. There's no admission fee, but arriving early will allow you to stroll through the palace and the beautiful gardens without the hassle of large crowds, which unfailingly gather there later in the day. Want an unforgettable experience? Book a seat at the Palace Concert at the Marble Hall of Mirabell Palace.
Are you staying in Vienna, but don't want to forgo seeing Mirabell Palace? Book a Salzburg Day Trip from Vienna.
19. Hohensalzburg Castle, Salzburg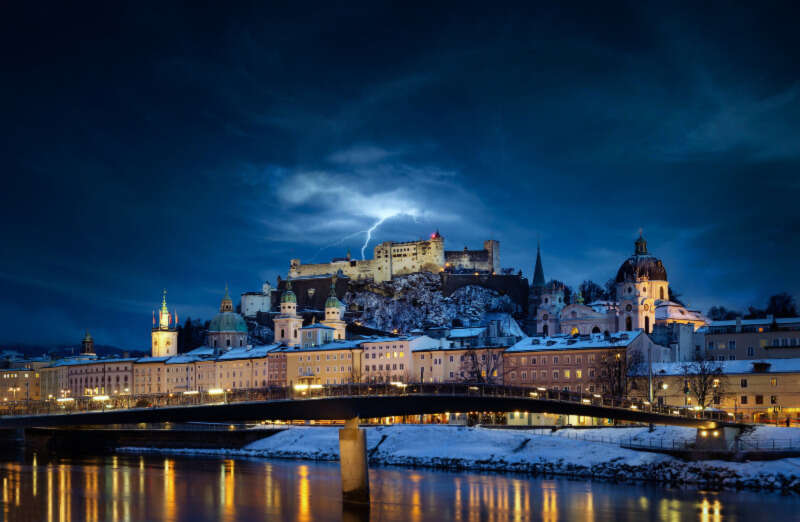 Hohensalzburg Castle, or Hohensalzburg Castle, is a historic landmark in Salzburg and the biggest fully preserved castle in Central Europe. Mozart's City is worth a stop in any case, but Hohensalzburg is a must! You will see the 11th century castle complex, one of Austria's most famous tourist attractions, towering above Salzburg's skyline as soon as you arrive. The quickest and easiest way to get there is by riding the oldest funicular railway in Austria – an added fun bonus! Book your ticket online before you go by clicking here.
Highlights of the fortress include the stunning views over Salzburg, the prince's chambers, and the magic theater. Quick tours of the fortress are free of charge and take around 30 minutes. You could also opt for a Mozart concert and dinner or VIP dinner at Fortress Salzburg including a river cruise, or the concert and dinner without the cruise.
20. World Of Ice Giants, Werfen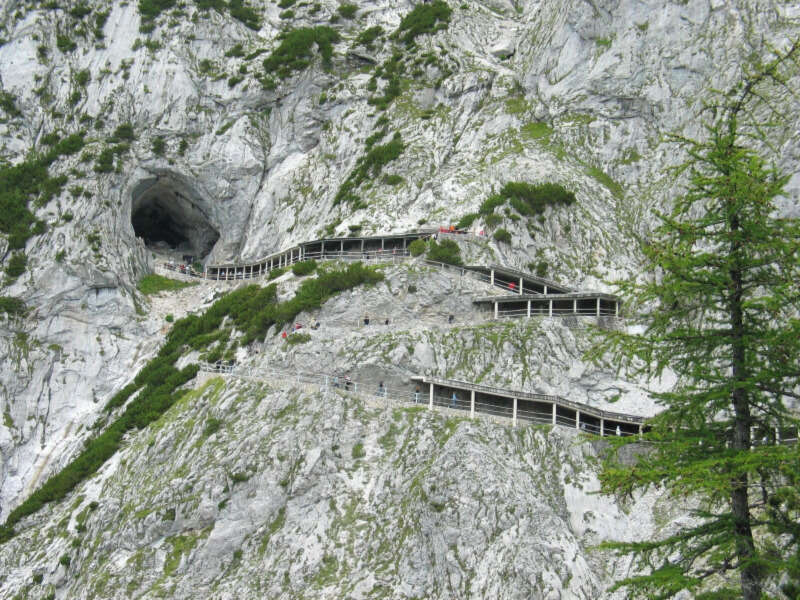 The world's largest ice cave, a system that reaches 26 miles into the mountain, is a popular destination for tourists in Werfen, near Salzburg. Only the first 0.6 miles are open to visitors, but those are filled with striking ice formations. Once you get there, you have the choice to hike up to the caves from the visitor center, or take a ride in Austria's steepest gondola lift. You can buy your ticket ahead of time here or at the visitor center once you get there. You also have the option to book an ice caves, waterfalls, and salt mines private tour from Salzburg, or a Werfen world's largest ice caves and Golling Waterfalls tour, if you'd rather not deal with renting a car or using public transportation to get there.
21. Krimml Waterfalls
Are you ready for a break from cities and culture? Head out into nature and hike to not just Austria's, but Europe's highest waterfalls, the Krimml Waterfalls. These falls are located near the village of Krimml, in the High Tauern National Park in the state of Salzburg, a good two hour drive from the city of Salzburg. It's a tiered waterfall that comes down in three stages, dropping a total of 1,246 feet (380 meters). It's quite the spectacle, and absolutely worth visiting in between all your visits to castles, churches, and museums. You can hike the 2.5 mile waterfall trail, which offers many view points from which you can admire the falls and take the perfect Insta-shot (and don't forget to tag @girlswhotravel for a chance to be featured on the GWT Insta!). If you aren't up for a hike, you can walk to the lowest waterfall in 10-15 minutes from the parking lot. There's a small fee for your visit, which will be used to maintain and refurbish the trail. Find more information here.
You also have the option to book a Krimml Waterfalls full day private tour from Salzburg.
22. Grossglockner High Alpine Road
Leading into the High Tauern National Park is the Grossglockner High Alpine Road. This mountain pass is nearly 30 miles long and leads through serene alpine scenery all the way up to the Edelweissspitze, at 8,200 feet the highest point on this route, and down into the national park. Did you know that the Grossglockner is Austria's highest mountain? His majesty, the 'Black Mountain,' rises 12,460 feet up in the air. Quite the sight to see! On the Grossglockner High Alpine Road, the journey is your reward. Gaze out at the Austrian Alps, stop for photos, and take a deep breath of mountain air!
23. Melk Abbey, Melk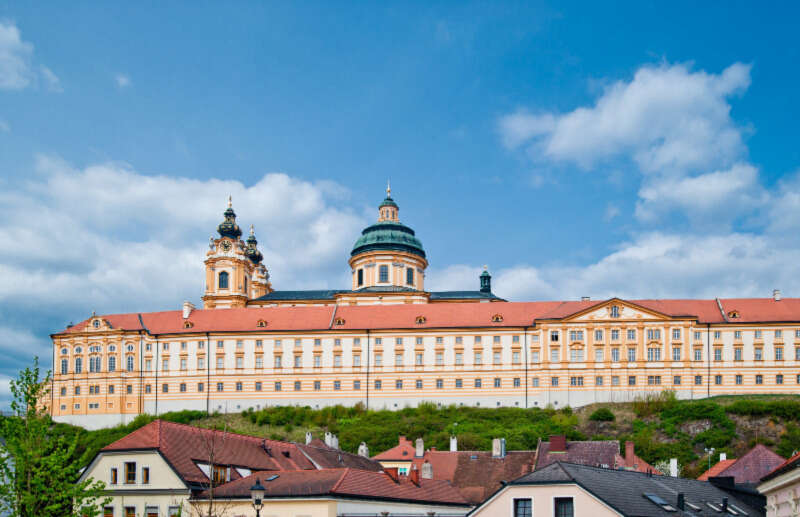 Above the town of Melk overlooking the Danube River sits a Benedictine Abbey that's quite notable: Melk Abbey. By now you are probably expecting this, but the abbey is one of the biggest and most beautiful Baroque ensembles in Europe and a UNESCO World Heritage Site! Its long history dates all the way back to 1089, when it was founded. Melk Abbey is also the oldest continuously operating school in Austria, with many notable alumni.
Visit the Abbey church, the museum, Abbey Park, and the gift shop. Check here for their opening hours, prices, and make a reservation if you are interested in a group tour. If you are basing yourself in Vienna, opt for a Melk Abbey and Danube Valley day trip. Or, for some extra fun, book a Wachau Valley small group tour and wine tasting from Vienna!
24. Wachau Valley
Between Melk and Krems lies the Wachau Valley, a UNESCO Cultural Landscape. It's famous for the production of grapes and apricots, which in turn are used to produce specialty wines. So why not engage in a little wine tourism? When in Rome and all that! Go on your own and visit some of the amazing wineries, book a Wachau Valley wine tasting bike tour from Vienna, or a Wachau Valley small group tour and wine tasting from Vienna.
25. Hallstatt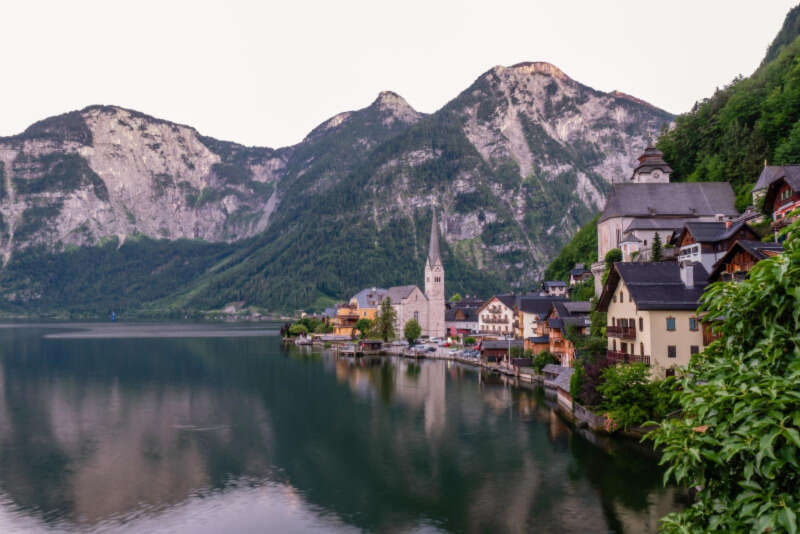 Located in the district of Gmunden, in Upper Austria, you'll find the most picture-perfect Austrian town: Hallstatt. On the shores of the Hallstatter Lake, with a dramatic backdrop of the Austrian Alps, there's no prettier small village to visit in Austria. The region around Lake Hallstatt is a UNESCO World Heritage Site, which greatly increased tourism in the area. Hallstatt Old Town is rumored to have been the inspiration for the Disney movie 'Frozen' – so you can imagine just how picturesque it is.
There are great tours to take in Hallstatt: The best of Hallstatt walking tour, Love Stories of Hallstatt – a special tour for romantics, guided E-Bike tours with a local guide, a Sound of Music / Hallstatt Tour, a Hallstatt and salt mine full day tour with pickup from Salzburg, or a Hallstatt and Alps day trip from Vienna with skywalk. Or opt to take a boat ride.
26. Graz
Last but not least, make your way to Graz. Wandering through Old Town, you will feel as if you stepped back into medieval times. Make sure you see the Graz Clock Tower! Admire the Renaissance and Baroque architecture, explore the Schlossberg, Graz' city mountain, take a private walking tour with a professional guide, buy an all-access pass to the 12 museums in Graz, including the famous Kunsthaus, stroll by the city wall, and spend the evening at the Murinsel (Mur island), where you can enjoy a drink in a floating, conch-shaped construction in the water.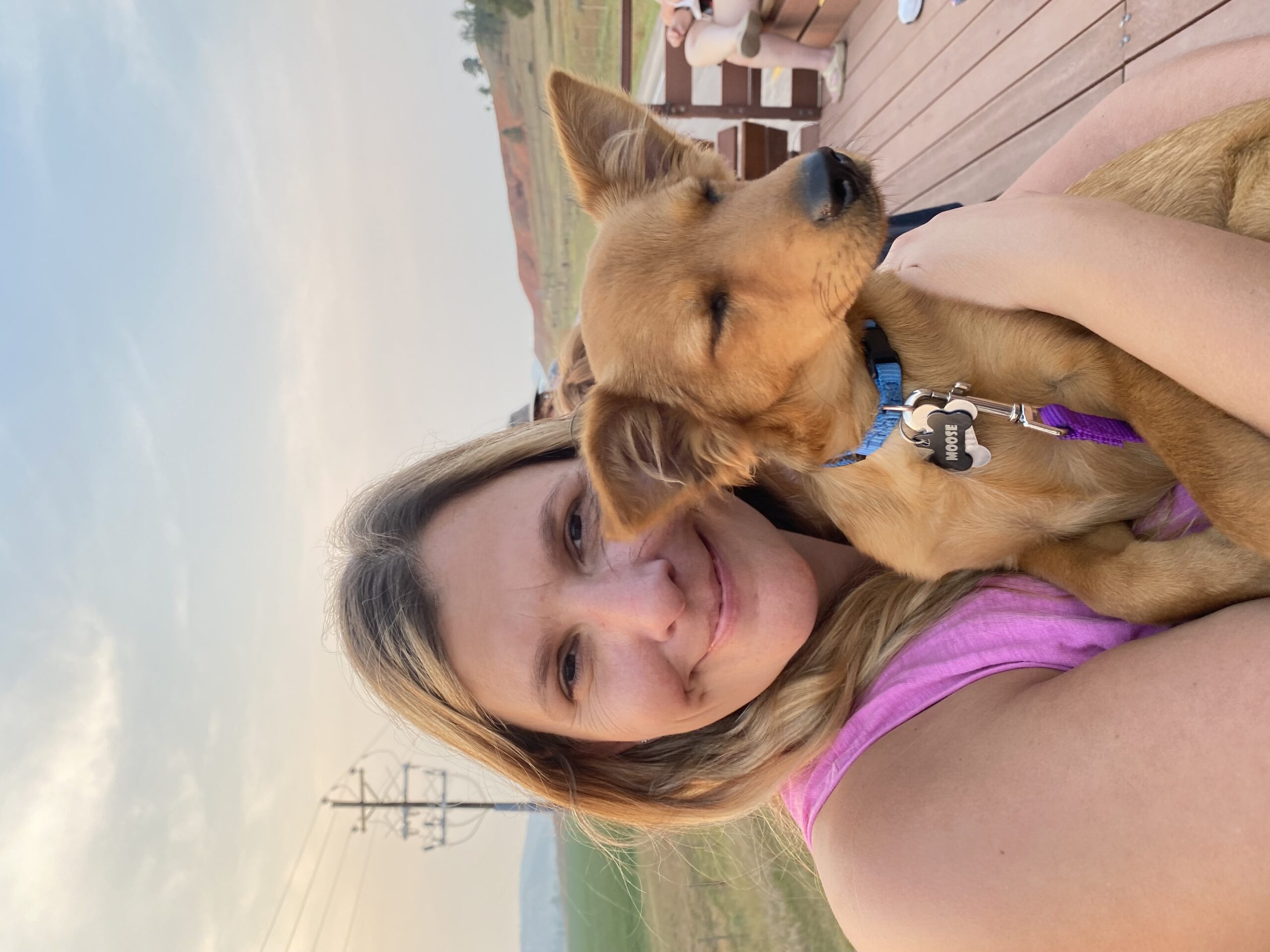 Jenny grew up in Germany. All she ever wanted out of life was to leave and have adventures. Jenny always traveled as much as the budget would allow, and when she met her husband traveling became a full-time thing. You can follow Jenny on her blog and Facebook.