Do you want an adventure that showcases spectacular mountains, gorgeous lakes, and some of the most impressive wildlife that North America has to offer? Then Grand Teton National Park, found in Wyoming, is the place for you! The first time I visited Grand Teton was on my honeymoon in June and July of 2019, but I quickly returned in September of 2019 for a mother-daughter trip. Honestly, I think I could return to this park every year for the rest of my life and never get bored! It's also one of the most affordable honeymoon destinations in the US!
Grand Teton, meaning "big breast", was originally named by French-Canadian trappers for the centermost mountain which reaches 13,770 feet. The first Anglo-American to explore Grand Teton was John Colter. He was a lesser-known member of the Lewis and Clark Exploration. Grand Teton in all of its 310,000 acres of glory became a National Park in February 1929.
Travel and Lodging
Travel
For my second visit to the Tetons, I decided my mom and I would use the Jackson Hole Airport (JAC). It is the only airport completely inside of a National Park! I was not prepared to fly parallel to the Tetons! If you take this mode of travel, definitely splurge for a window seat and have that camera ready.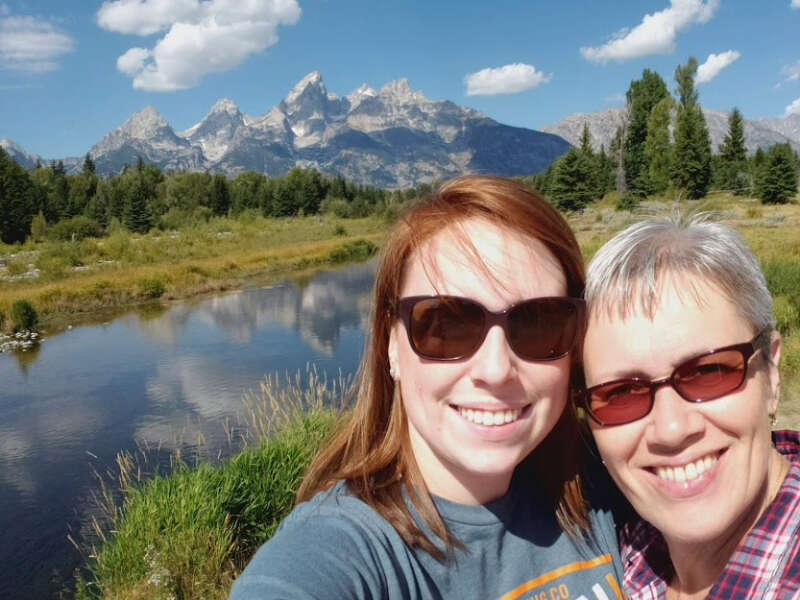 A Tip

A big tip for visiting National Parks would be to purchase the GyPSy Guide app associated with the park you're visiting. I have used them a couple of times and honestly, it makes a world of difference. The app uses your GPS location to give you information and suggestions while driving through the park. Have no fear. This is hands-free! The narrator will speak to you through your device or car speakers so you can focus on the beauty that surrounds you. There are so many facts that I wouldn't have learned without this guide. As a bonus you can get the "Yellowstone Teton Combo" for a cheaper price if you plan to visit both parks. They also have content for the John D Rockefeller Jr Memorial Parkway stretch between parks.  
Lodging
As for lodging, for both trips, I stayed at Airbnbs in Victor, Idaho. I never minded the 1-1.5 hour drive to reach the park. Victor is an adorable little town with some of the friendliest people. Shout out to Victor Valley Market and Moonshine Liquor, Beer & Wine for always keeping us fed and supplying the best local wine and beer!
Let's go exploring!
Moose Wilson Road
Due to our location for lodging, we took Moose Wilson Road every day to get in and out of the park. Now it's not called Moose Wilson Road because a moose named Wilson lives there. That would make for a great story though. But instead, the partial dirt road connects the towns of Moose and Wilson. This is a back road that I highly suggest you take if you want to come across wildlife. Plenty of moose live in this area as well as bears. There are several turn-offs on this road. Those give you the chance to stop and enjoy wildlife. Or you have the choice to turn around and get a second look at that moose standing in the water snacking away
The Bear Cub
During my mother-daughter trip we rented a jeep. My mom always said she'd like to ride around with the roof off. Her wish was my command. Only I chose the day that we were in standstill traffic with a bear cub just feet from our jeep to be the day we didn't have a roof! The panic really set in once we realized mama bear was probably just in the tree line. But thankfully that didn't click for us until after we drove off.
Views and Hiking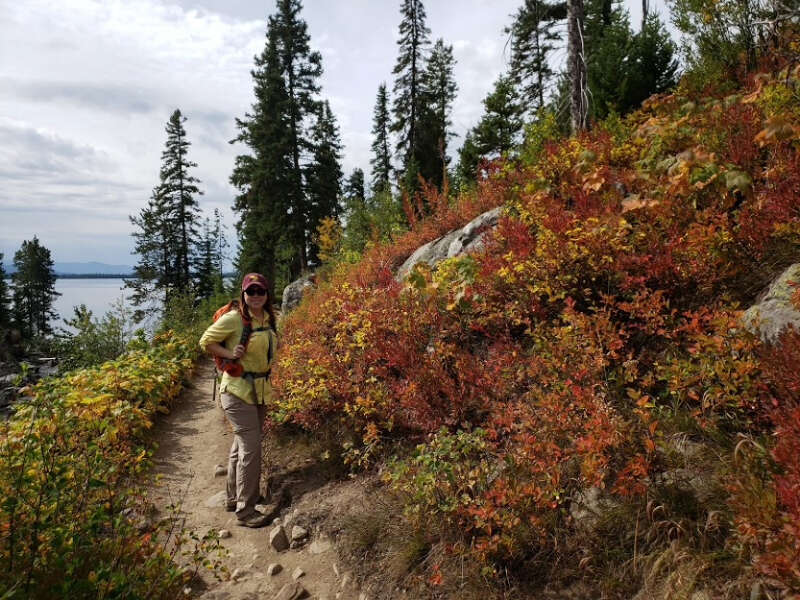 I came to Grand Teton for the views and the hiking. I can say I left with both of those boxes checked off. There are plenty of hikes to go on throughout the park, but these are a few of my favorites. Taggart Lake Trail to Bradley Lake, around Jenny Lake, String Lake and Leigh Lake (you will get the best views of Mount Moran), Cascade Canyon (you will always find a moose out here), and Two Ocean Lake. When you're out in back country locations, such as Cascade Canyon and Two Ocean Lake, having bear spray is always recommended by Park Rangers. I didn't come across any bears while hiking, but there were plenty of sightings by others.
Photo Opportunities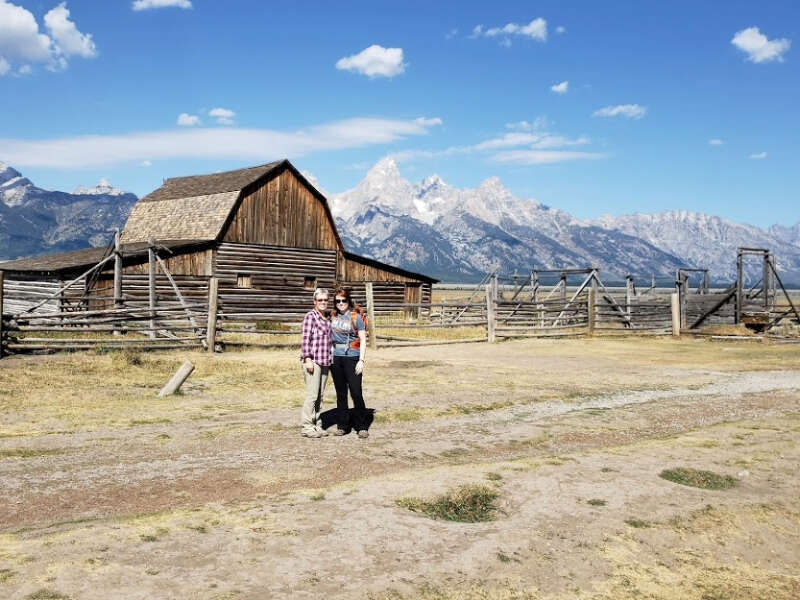 Often times Grand Teton National Park is recognized for gorgeous sunrise photos. Well, I can tell you exactly where to get those magazine worthy pictures. Go to Schwabacher Landing, Snake River Overlook, and Mormon Row (the epic barn pictures). But like anything in this world worth something, you'll have to work for it. I'm talking 3am wake-up times. There was not a single morning that I slept in during my trips to this park, because the sunrise was always worth waking up early for. So, get up, pack warm clothes, grab a blanket, and snag that front and center spot before someone else beats you to it! I promise you won't regret it.
Signal Mountain
Signal Mountain is a great little drive that gives you a spectacular view of the park and the Tetons. However, this road is off-limits if you have a trailer or are driving an RV. The road is just too narrow and windy.
Are you a History Buff?
If you are a history buff, then The Menors Ferry Historic District, Cunningham Cabin, Triangle X Ranch, and Mormon Row are perfect stops for you. Visitor Centers have pamphlets available, so you can learn all about some of the first families who settled in the valley. You'll quickly understand why these 22 families decided to settle down with a view like that!
Food and Gas
As for food options inside the park, your choices are pretty slim. The visitor centers all have snack-type items for purchase. You can always pack a lunch, but for a sit down meal you'll have to head north to the Jackson Lake Lodge. I personally recommend The Blue Heron Lounge for a delicious bratwurst and a Huckleberry drink. It's truly worth it! Even if you don't want a sit down meal, I recommend you visit just to get another perfect view of the Tetons through the grand windows of the lodge. Make sure you have a full tank of gas before entering the park. There are a couple of gas stations, but you can hit "Empty" pretty fast while exploring.
Jackson Hole
Just to the south of Grand Teton, you will find Jackson Hole. We had one extremely rainy day with nothing magical planned. So we decided to check out the Fall Arts Festival being held in the Jackson Town Square. The square is known for its gorgeous elk-antler arches at each corner, collected from the nearby National Elk Refuge. There were well over 50 different artists showcasing their talent, plenty of food and wine, and all the local shops were open.
Bison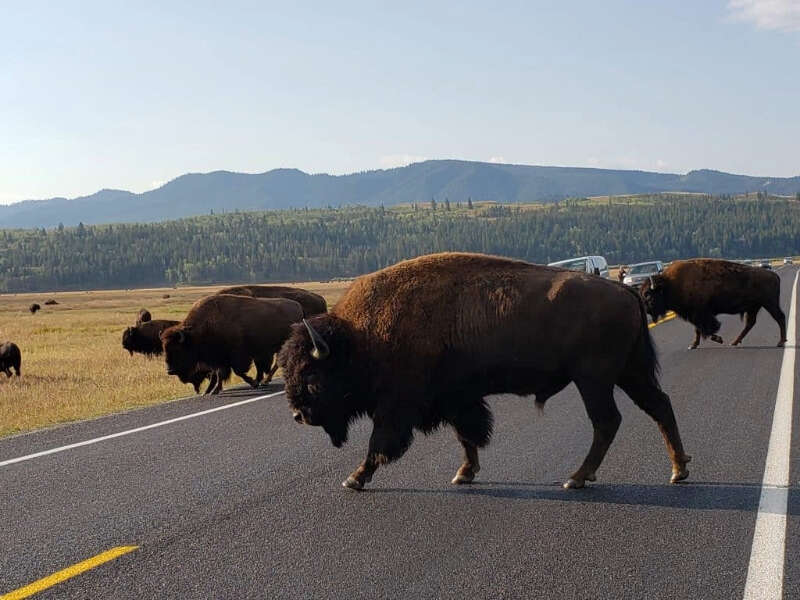 And last, but definitely far from least, the bison! Grand Teton has approximately 1000 bison that roam the park, which we found between Cunningham Cabin and Moran Entrance Station. Watching them huff and puff while they crossed the road at their leisure and rolling around in the valley was spectacular. But don't let these creatures fool you. Because they can go from what seems to be fast asleep to rampaging to protect their space in seconds. Park the car, snap some pictures from a safe distance, and then move along so the next traveler can enjoy nature. The National Park Service indeed says it best: "Let nature be nature."
I hope you'll enjoy your travels to Grand Teton National Park!
Junior Ranger Annalisa Bone
Annalisa is a lover of all things travel and books. She is currently on a three year adventure in Germany with her hottie husband and two perfect pups. Just have a peak in her purse for recent adventure receipts and her current read.