Penguins have always held a special place in the heart of wildlife enthusiasts, but thanks to movies like Happy Feet, these adorable little creatures have become ever more popular! If you are wondering where to see penguins in Argentina, you have come to the right place! The southern hemisphere is the penguin's natural habitat. The only penguin to be found in the northern hemisphere are the Galápagos penguins. Penguins are a special kind of flightless bird. They have wings which are adapted to swimming rather than flying. There's a total of 18 species of penguins, 10 of which are listed as endangered species. Argentina is home to five different kinds of these charming little birds. Here we'll introduce you to Argentina's penguin population, tell you the best places to see each species, and share the best tours.
This post contains affiliate links. This means we make a small commission at no cost to you if you click through and make a purchase. All prices listed are accurate at time of publication.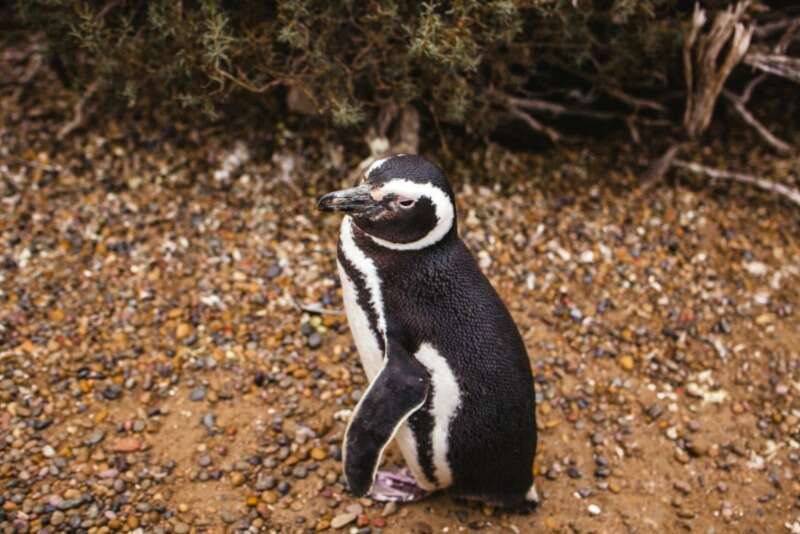 Argentina is one of the best places in South America to see penguins in their natural habitat. Five of the eighteen species of penguin call Argentina home: Magellanic penguins, Southern Rockhopper penguins, King penguins, Gentoo penguins, and Humboldt penguins.
Argentina's Types of Penguins
The Magellanic Penguin is found in South America, from Argentina to Chile, from the Falkland Islands to sometimes Brazil and Uruguay. Close relatives are the African Penguin, the Humboldt Penguin, and the Galápagos penguin. They have distinct markings that differentiate them from related species: across their white bellies run two black bands. Their face is mostly black, lined with a symmetrical white band. Named after Portuguese explorer Ferdinand Magellan, this species is medium sized, between 24 and 30 inches in height, and weighs between 6 and 14 pounds. It is the most common type of penguin in Argentina.
The Southern Rockhopper Penguin it lives in subarctic waters, in the Pacific and Indian Ocean, as well as on the coast of South America. The largest penguin colony lives on the Falkland islands. Rockhopper penguins are small, between 18 and 23 inches in height, and weigh in anywhere between 4.4 and 7.5 pounds. Rockhopper penguins looks very similar to Macaroni penguins.
The King Penguin is the second largest of all penguin species, right after the Emperor Penguins. This species is between 28 and 39 inches tall and weighs between 21 and 40 pounds. There are two subspecies, one which is found in the South Indian Ocean. and one in the South Atlantic Ocean. They breed on the subantarctic islands, South Georgia, and other islands in the region that are a bit more temperate.
The Gentoo Penguin is closely related to the Adelie Penguin. Gentoo penguins grow to be between 20 and 35 inches tall, and can weigh anywhere from 11 to 19 pounds. While they venture to Argentina the rest of the year, their breeding grounds are located on many of the remote islands of the subantarctic.
The Humboldt Penguin is a rare and endangered species. Today, less than 10,000 of these cute birds exist in the wild, and the numbers may even be much lower. It lives mainly in coastal Peru, and it's closest relatives are the African Penguin, the Magellanic Penguin, and the Galapagos Penguin. Named after German explorer Alexander von Humboldt, this species is medium sized, its height ranging between 22 and 28 inches, and weighing between 6.4 and 13.2 pounds.
Where To See Penguins In Argentina
In September, penguins start to arrive at the Patagonian coast, but the summer months of December and January (winter months for those in the northern hemisphere) are the best time of year to visit and see the breeding sites and cute little penguin chicks! Here we cover the best places to see them in their natural environment, and the best tours to take to learn as much as you can about these cute animals. A dream for all wildlife lovers!
Isla Martillo, Tierra del Fuego
Tierra del Fuego, located in southern Patagonia, belongs in part to Argentina, and in part to Chile. It is a very special place to visit, with its dramatic landscapes and a chance to see wildlife ethically. It's capital, Ushuaia, is nicknamed 'the end of the world'. Definitely a destination off the beaten path, but it is so worth the trip!
On Martillo Island (Hammer Island), located in the Beagle Channel, you can expect to see Magellanic and Gentoo penguin colonies. If you get lucky, you may even see the odd King penguin.
Start your full day guided tour at Estancia Harberton. Bring some cash, Estancia Haberton charges a small entrance fee, but you can get coffee and sweets there! Explore the historic center, then head to Martillo Island, enjoying a fun 15 minute ride on small boat. Spend one hour walking among penguins and visit the Penguin Rookery. Remember, these are wild animals, so don't get too close. After your return, check out the Marine Mammals and Sea Birds Museum. Enjoy beautiful Tierra del Fuego island, a great destination for ecotourism activities!
Bahia Inutil, Tierra Del Fuego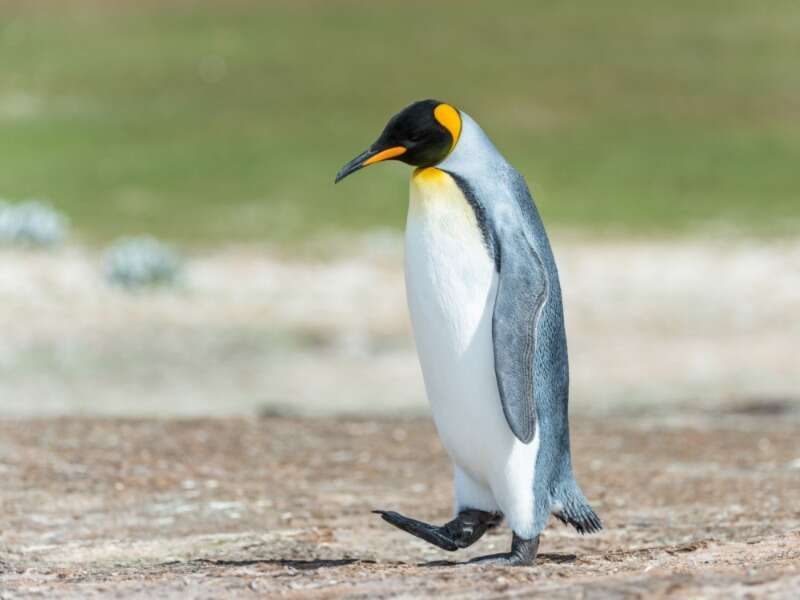 At Bahia Inutil you have the very unique chance to see King penguins. This species is usually only found in the sub-Antarctic islands, which can only be explored on an Antarctic cruise, and at Bahia Inutil you will find the only King penguin colony in the world. Penguins start arriving at their breeding grounds in Patagonia as early as September, and they stay as late as April. But if you want to have a chance to look at their fuzzy little baby penguins, come in the summer months – December or January. Gentoo penguins also call Bahia Inutil home. There's a very small colony with a few breeding couples. Lately, you can also see another species of penguin at Bahia Inutil: the Rockhopper, usually found in great numbers in the Falkland islands.
Parque Pingüino Rey was established here to conserve and protect these beautiful birds. There's a hide that is a perfect place to allow visitors to observe the penguins up close, but without the animals being disturbed.
Book a day trip from Punta Arenas to make the most out of your experience. The trip starts at Estancia San Gregorio, where you'll learn about its importance and history from your guide. Stop at the town of Cerro Sombrero before you make it to Parque Pingüino Rey. If time allows, there will also be a stop in Porvenir. This is a great opportunity to not just see penguins, but explore a little of Tierra Del Fuego.
Punta Tombo nature reserve, Peninsula Valdes
Located in Northern Patagonia, the Punta Tombo Nature Reserve on the Valdes Peninsula is one of the best places in all of Argentina to see penguins, sea lions and elephant seals. It is the dwelling of the largest Magellanic penguin colony (and the largest colony of Magellanic penguins outside the Antarctic peninsula) on our beautiful planet, with over one million animals present. Because there are so many, it's also one of the easiest places in Argentina where you can see penguins while walking just a few feet away from them. They don't mind close proximity, so don't be surprised if one walks right up to you! It's a good idea to try and keep a safe distance if you can, these are wild animals, after all. Their conservation status is near threatened. Climate change and oil pollution puts pressure on their natural habitat and their food sources.
The best way to see these magnificent animals is to take a cruise to the nature reserve from the city of Puerto Madryn, which is located roughly 110 miles North of Punta Tombo. Puerto Madryn has its own airport, El Tehuelche airport, making it easy to get there from major cities such as Buenos Aires. On the boat trip, you may even spot southern right whales, a species that can only be found in the oceans south of the equator.
On this trip, you get the chance to visit the Punta Tombo Rookery with your small group, where you can walk among thousands of penguins and visit their museum. The best time to go is between September and April, when the Magellanic penguins flock to the area to breed. The national reserve of Punta Tombo is a protected area, and the whole Valdes Peninsula is a UNESCO World Heritage Site!
Puerto Deseado, Santa Cruz Province, Argentine Patagonia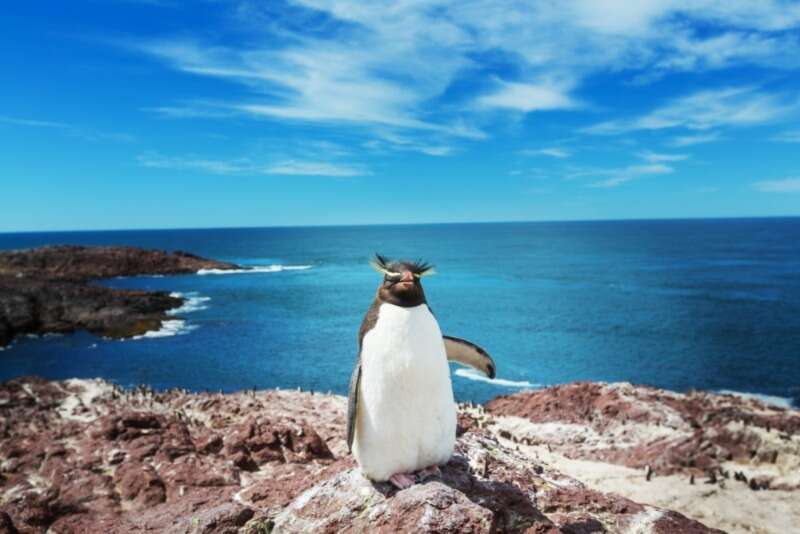 The quirky looking Rockhopper penguin can be found at Penguin Island (Isla Yecapasela), near Puerto Deseado. There's a colony of about 30,000 penguins, arriving in October and staying in this area until March every year. Magellan penguins also call this place home. Puerto Deseado and Penguin Island are a destination that's quite off the beaten path. The best option to get there from Buenos Aires is to fly to Ezeiza Airport in El Calafate, from there to Comodoro Rivadavia, and take a bus for the last leg.
Finally, book a day tour to Isla Pingüino. Most tours start very early in the morning, when the winds are less strong, making for a nicer boat ride. After an hour, you will arrive at the Penguin Island Marine Park, which is one of the best places to witness Patagonia's incredible biodiversity. A knowledgeable guide will give you the tour of the island, explain about the Rockhopper and Magellanic penguins, show you the abandoned lighthouse and ruins of an old sea lion factory. Enjoy the scenic view from the highest point of the island.
That's it! You are ready and prepared to plan an epic trip to South America, now that you know where to see penguins in Argentina. From there, it's just a small hop to nearby places in Chile that are home to massive colonies of penguins. From Puerto Montt, you can take a trip to Chiloe Island, visiting the penguins in Puñihuil. Or take a Isla Magdalena Penguin Tour. There are lots and lots of options!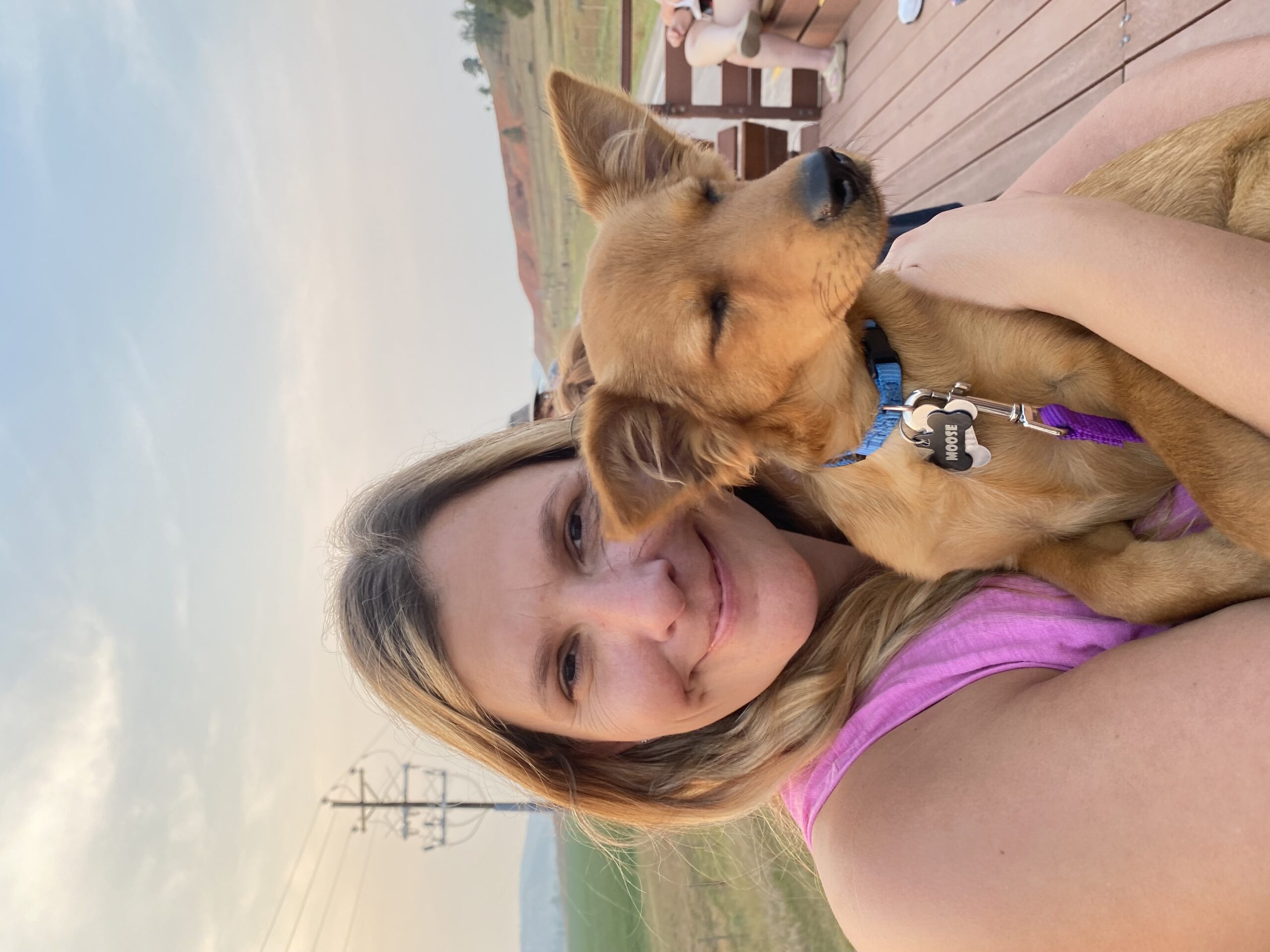 Jenny grew up in Germany. All she ever wanted out of life was to leave and have adventures. Jenny always traveled as much as the budget would allow, and when she met her husband traveling became a full-time thing. You can follow Jenny on her blog and Facebook.