Arkansas might not be on your bucket list, but there are plenty of reasons to visit The Natural State! From its capital city of Little Rock to the Ozark mountains, Arkansas has a lot to offer for all travelers. It is nicknamed The Natural State for a reason. There are seven Arkansas national parks, and fifty two state parks that are ideal vacation destinations for those looking to enjoy the great outdoors. Take a trip to this off the beaten path destination – you will not be disappointed!
7 Arkansas national parks & Historic Sites you should not miss
The National Park Service manages seven national park sites in the state of Arkansas, and there's something for everyone.
Hot Springs National Park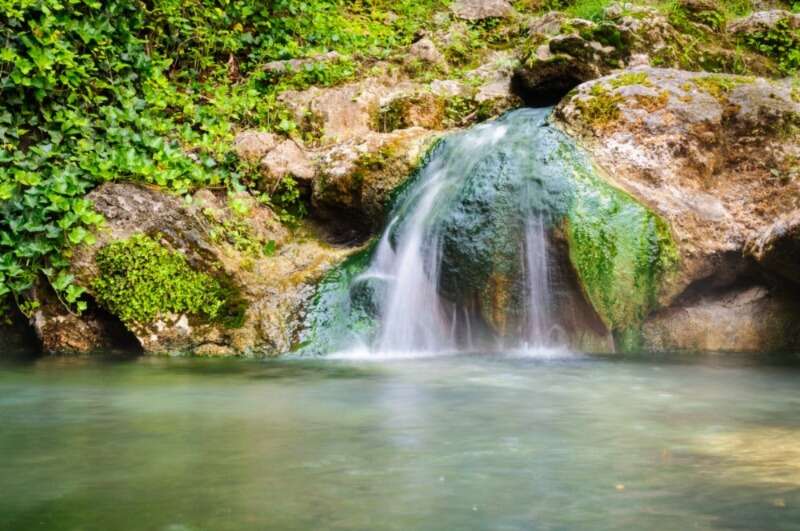 Hot Springs National Park is the most well known park in Arkansas. There's plenty of nature to explore, but let's first talk about what gave the park its name: the hot springs. Hot springs are known for their health and wellness benefits, and you will have the chance to experience those at Hot Springs National Park and the nearby town of Hot Springs. Visit one of the nine historic bathhouses. While you can not bathe in any of the outdoor hot springs, you can do so at either Buckstaff Bathhouse or Quapaw Bathhouse. The Buckstaff Bathhouse has been open since 1912, and offers a traditional bathing experience in ancient thermal springs for everyone 10 years of age or older, while you can enjoy modern spa services at the Quapaw Bathhouse.
The park has three main areas for hiking: Hot Springs and North Mountain trails, with hiking trails for every skill level and fantastic mountain views, West Mountain trails, the trails less traveled, and Sunset Trail, the longest trail in the park. You can enjoy scenic bike rides in the park, and it's a great location for bird watching.
Love hot springs? Visit these best hot springs in California North!
Arkansas Post National Memorial
This one is for history lovers! The Arkansas Post National Memorial was the first European settlement in this state. Start your visit at the visitors center and watch a short movie about the park. After you've learned about the park's history, take a walk through the historic town site. The trail is about 3 miles long and will also lead you through beautiful forest. During the busiest times, there are historic weapons demonstrations. Check the event calendar if you don't want to miss this spectacle. You can go fishing as well, but anyone 16 or older requires a license from the state of Arkansas.
Fort Smith National Historic Site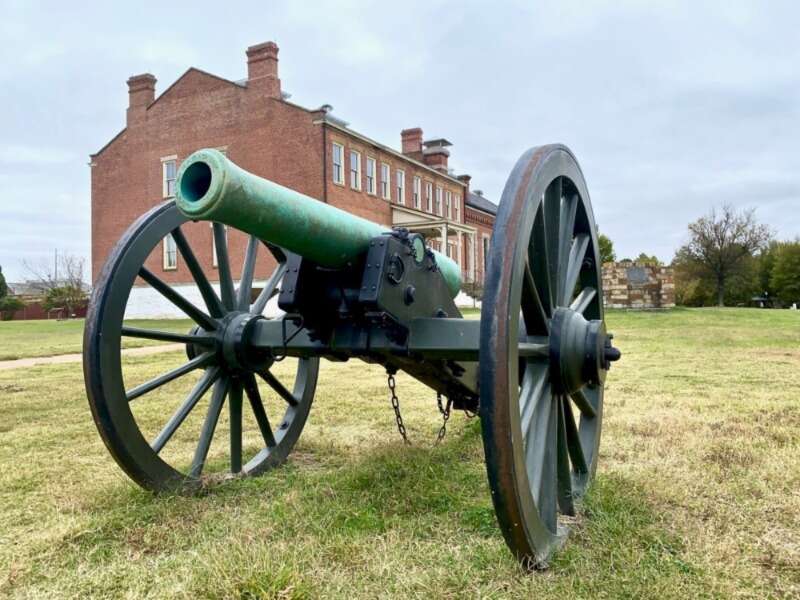 Fort Smith was established on December 25, 1817. The original fort was replaced by a second fort and operated until 1871. Start your visit to Fort Smith National Historic Site by strolling through the exhibit at the visitor center. Learn about Fort Smith's military history, western expansion, the federal court's impact on the Indian Territory, Federal Indian policy, and the removal of Indians. Explore the historic buildings and walk along the Arkansas River, and see the exhibits along the trail. Kids of all ages can become a junior park ranger!
Buffalo National River
Located in northern Arkansas, the Buffalo River was the first river in the United States to be designated as a national river. It is one of the last undammed rivers in the lower 48 states Its 153 miles of stunning natural beauty offer plenty of recreational opportunities. Water activities are a great way to spend some time. Canoe, kayak, or tube down the river. Be aware of your abilities though. In the spring time, when the river has more water, the kayaking is much more challenging. Before you go, check in with the Tyler Bend Visitor Center. They can give you detailed information about which section will be best for paddling.
The trails in this 95,000 acre park are broken into three sections: the Upper District, Tyler Bend, and the Buffalo Point Area. All areas contain trails for all abilities. The trails at Tyler Bend are great for horseback riding as well. If you prefer to hike and learn about your environment, take a guided tour. Buffalo National River is also a great place for hunting, fishing, bird watching, and soaking in some history at the historical sites. If you love this first national river area and want to stay, you can do so at one of the many campgrounds around the park.
Pea Ridge National Military Park
Located in northwest Arkansas, Pea Ridge Military Park is the site of a historic battle in 1862: The Battle That Saved Missouri For The Union. The park honors those who fought and died in this important battle of the war in the West. To learn about the battle, start your visit at the visitor center, where you'll see a half hour long orientation film called Thunder in the Ozarks. This national historic site has a museum and a fabulous book store where you'll find a great selection of Civil War related books. Both the book store and the museum are located inside the visitor center and thus easy to find.
This national park provides an app so visitors can take a guided tour. It's a great place for biking, and the Williams Hollow Loop Hike is perfect to spend some time in nature.
Little Rock Central High School National Historic Site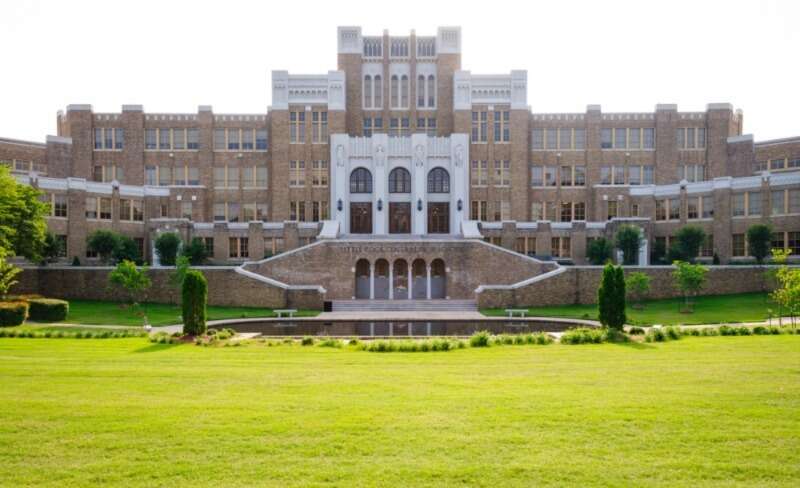 Little Rock Central High School was the site of an epic test in a major milestone of the civil rights movement in 1957: Brown v Board of Education. In short, Brown v Board of Education was a case in which the US Supreme Court ruled that racial segregation in public schools was unconstitutional. A group of African American students, calling themselves The Little Rock Nine, enrolled in the high school. At the beginning of the school year, on September 4, the then governor of Arkansas called on the National Guard to help block these Black students from attending school. Later in September, President Eisenhower sent in federal troops to ensure these students would get access to the building and classes.
Today, Little Rock Central High School National Historic Site is one of the historical sites you should definitely visit. Don't miss the Brown v Board of Education National Historic Site in Kansas. It's one of the least visited national monuments in the US – so let's change that!
The best way to explore the grounds is to book a park ranger led tour. Tours aren't available every day, so make sure to call ahead and plan accordingly. If you can't make it on a day where tours are scheduled, you can still embark on a self-guided tour, check out the visitor center and its exhibits, and stroll on the grounds. Little Rock Central High School is one of the best Arkansas national parks for history nerds.
President William Jefferson Clinton Birthplace Home National Historic Site
The 42nd President of the United States, Bill Clinton, hailed from Arkansas, and you can visit his birthplace home in Hope, which is now a national historic site. The best way to visit is to take a guided tour. There is no need to make a reservation. Tours start every 45 minutes starting at 9 am, and leave from the visitor center. The final tour starts at 3.45 pm on all days the site is open.
Trail Of Tears national Historic Trail
At the end of the 1830s, the federal government forced nearly 125,000 Cherokee to leave their homes and their land in Georgia, Florida, North Carolina, Tennessee, and Kentucky so white people could grow cotton there. They made them walk hundreds of miles to a so-called 'Indian Territory', across the Mississippi River. Along the way, many Cherokee died and it was named the Trail of Tears.
You can walk in these Cherokees' footsteps when you hike along the Trail of Tears. In Arkansas, you can walk along this national historic trail at Fort Smith National Historic Site, at Pea Ridge National Park, and Village Creek State Park.
Best Arkansas State Parks
The Natural state boasts a total of 52 state parks! You can't possibly see them all (or even half of them!) in one visit, so we picked the four best ones for you.
Petit Jean State Park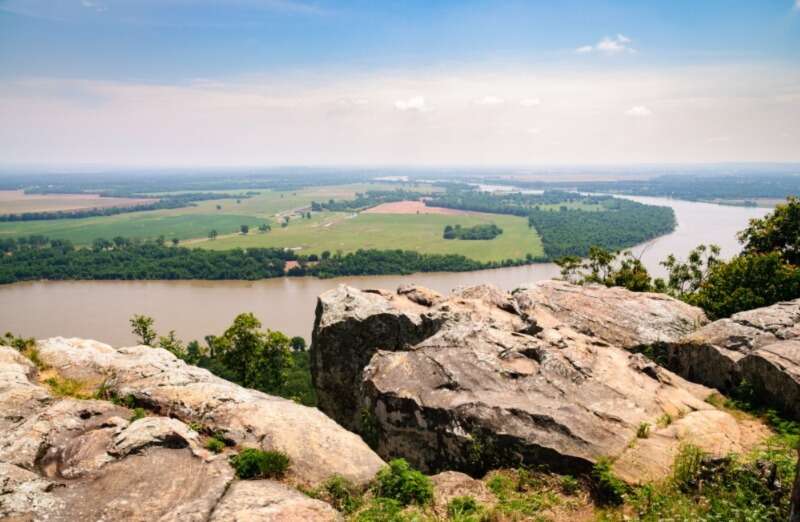 Petit Jean State Park, taking its name from the legendary Petit Jean Mountain, was Arkansas's first state park. It's a rugged and beautiful place, with roads, bridges, trails, cabins, and, the focal point of this state park, Maher Lodge. This historic lodge overlooks Cedar Creek Canyon and features a gift shop, meeting rooms, and a restaurant. Nothing better than a meal with a view after a day of hiking! Lake Bailey is a great place for fishing, kayaking, and other water sports. But that's not all: inside the park you will find picnic sites, playgrounds, swimming pools, a basketball court, tennis courts, and even an amphitheater! It's not just a place that outdoor enthusiasts will enjoy, but one of the perfect state parks of Arkansas to bring the whole family!
Crater of Diamonds State Park
At Crater of Diamonds State Park you can have the experience of a lifetime. It's one of very few places in the world where everyone can go searching for diamonds! On a 37-acre eroded surface of a volcanic crater you can look for diamonds, or any other minerals or neat rocks you may find. You are allowed to bring any hand-operated mining tools that don't use a battery, or rent such tools from the park. More than 35,000 diamonds have already been found here, but who knows, there may be one left for you! Don't miss out on the visitor center and the Diamond Discovery Center, where you can take a deep dive into geology.
Mount Magazine State Park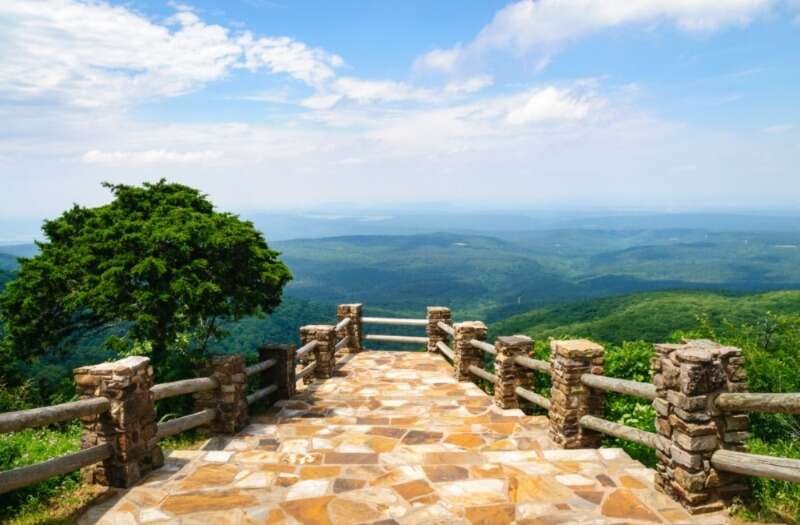 Mount Magazine, standing at 2,753 feet, is the highest point in Arkansas. It's the place to come for scenic drives and sweeping views. Located in the Ozark National Forest, it's great for hikers, mountain bikers, the ideal place to go for an ATV ride, backpacking, or horseback riding. But there's more! If you are so inclined you can do technical rock climbing and, for those seeking an adrenaline boost, hang gliding! Amenities include picnic sites, hiking trails, scenic view points, a lodge with a fitness center, restaurant, a conference center, business center, game room, and heated indoor swimming pool.
Devil's Den State Park
Devil's Den State Park, located in the scenic Lee Creek Valley, is an Arkansas icon. Designated as a state park in the 1930, the park and its structures have an entirely rustic character. Lake Devil is a large lake, perfect for fishing, kayaking, and boating. Pedal boats are available for rent. This state park is surrounded by the Ozark National Forest, opening up great opportunities to hike, backpack, mountain bike, or explore on horseback.
As you now know, a trip to see Arkansas national parks and state parks is 100% worth it! Skip the crowds in the bigger and more well-known national parks and take a trip off the beaten path!
Up for more national and state parks? Consider visiting these 8 astonishing Delaware national parks & state parks!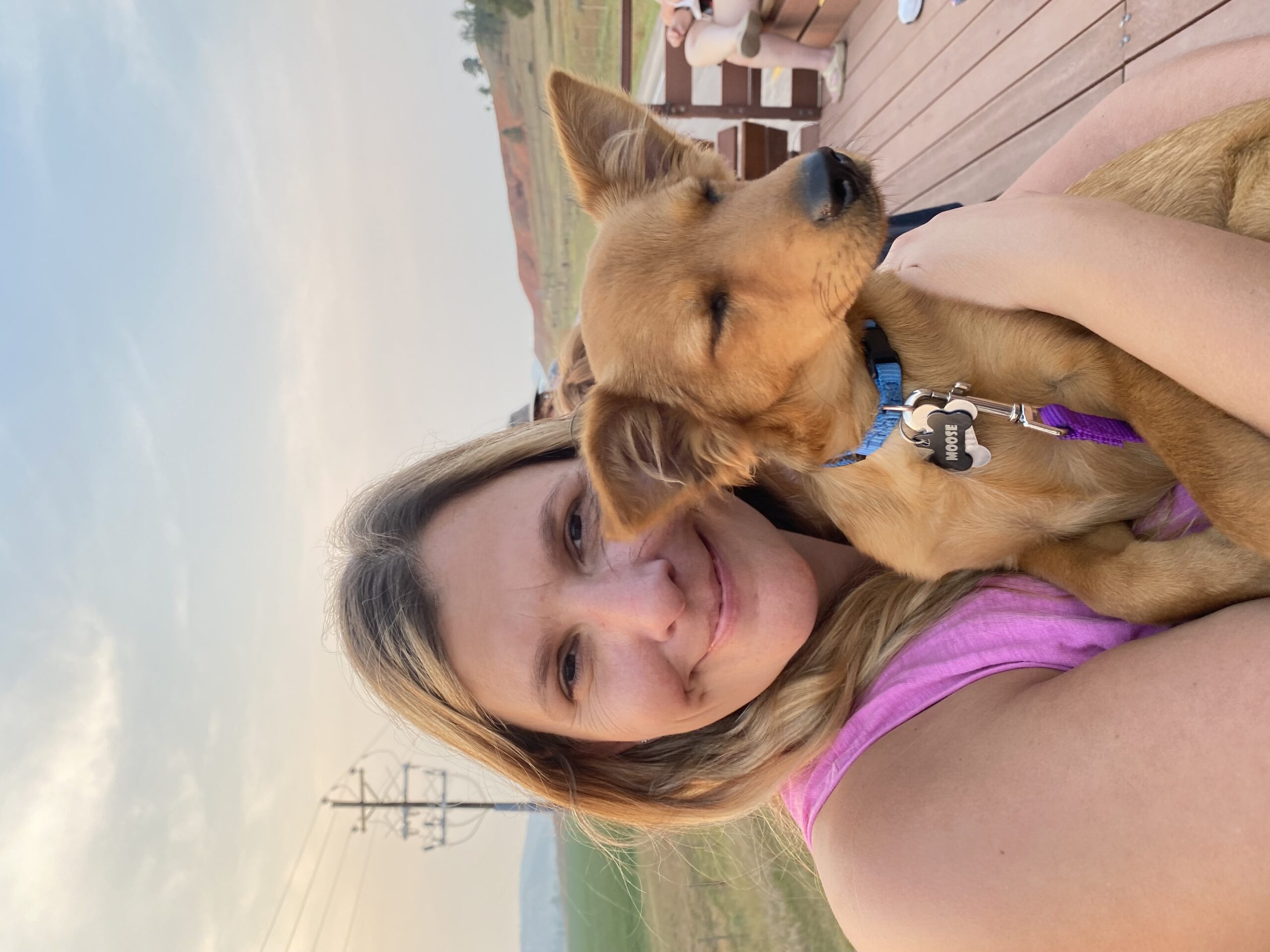 Jenny grew up in Germany. All she ever wanted out of life was to leave and have adventures. Jenny always traveled as much as the budget would allow, and when she met her husband traveling became a full-time thing. You can follow Jenny on her blog and Facebook.