Dubai is such an amazing and vibrant destination. You just can't get enough of it. So if you have only three days in this city, it may not be easy for you to sample all this wonderful place has to offer. That's why we have come up with this post. It will help you to create your perfect three days in Dubai itinerary.
This post contains affiliate links. This means we make a small commission at no cost to you if you click through and make a purchase. All prices listed are accurate at time of publication.
How to Spend Three Days in Dubai
Day 1: Dubai City Tour, Palm Fountain Show And Dhow Cruise
City Tour
There is no better way to kick off your three days in Dubai than with a city sightseeing tour. You can sign up for a Big Bus Tour. Or you can book a fully personalized city tour that is compact with all your favorites. If it's your first time visit, make sure that you don't forego these must-sees. There are the iconic sail-shaped Burj Al Arab, Jumeirah Mosque, Madinat Jumeirah, Sheikh Zayed Road, and the history and culture drenched Al Bastakiya Quarter (Al Fahidi Historical Neighborhood).
Palm Jumeirah
Starting from early morning, half day is more than enough to journey through these attractions. You can choose to spend rest of the day at Palm Jumeirah. It is famous all over for its hip leisure choices and mostly the legendary palm-tree-like design. Head to its main attractions such as Atlantis, The Palm, Aquaventure Park, Dolphin Bay etc. Take time to check out its recently unveiled attractions, such as Palm Fountain and the View at the Palm Jumeirah.
Palm Fountain Show
The exquisitely choreographed Palm Fountain show is the region's first colored fountain performance. And it is the world's largest fountain. As for the View, this observation deck on the 52nd level of Palm Tower is probably the safest way to get the full view or display of this island, without ever boarding a helicopter or jumping out of an aircraft (on an extreme sky diving session). 
Dubai Marina
After you catch up with the fantastic views and admire the fountain show, make your way to Dubai Creek. More ideally, head to Dubai Marina to embark on a leisurely two-hour dhow cruise. Get the fantastic views over the cityscape as you sit back in the air-conditioned lower deck or partially open upper deck. Relish buffet dining plus refreshing live traditional shows like Tanura onboard. All these promise you a perfect wrap up to your first day.
Day 2: Visit A Theme Park And Spend Rest Of The Time At Downtown Dubai
Theme Parks
It doesn't matter you are passionate about theme parks or not. You can't leave Dubai without spending some time at one of its theme parks. From the snow-themed Ski Dubai and the largest of its kind IMG Worlds of Adventure to the massive Dubai Parks and Resorts with four parks under its roof, you have plenty of options to choose from. Simply pick one that goes with your preferences.
Burj Khalifa
Once you have had your fill of theme park fun and thrill, set out straight to Downtown Dubai. It's the region's most stylish neighborhood which holds some of the city's main claims to fame. Most popular among them is the towering Burj Khalifa. It's the world's tallest man-made structure at an altitude of over 828 meters. Among its star highlights are its observation decks on 124th and 148th levels. Once you enter here, pass through the multimedia exhibits that shed light on the region's antiquated past and then board one of the fastest elevators. As its door open, walk into At the Top deck and treat yourself to the most comprehensive and panoramic 360 degree views of the city skyline.
Dubai Mall
Be it before or after Burj Khalifa experience, make sure that you set aside enough (ample) time to make the most of the attractions and experiences at the Dubai Mall. Located next to Burj Khalifa, it is one of the largest malls in the world. Aside from over 1200 outlets and some 200 plus choices, there is Dubai Aquarium and Underwater Zoo, Dubai Mall Ice Rink, Ekart Zabeel, and the largest of its kind VR Park Dubai, among many others.
Souk Al Bahar
You can further wander through Souk Al Bahar. Click some cool pictures against the backdrop of palatial style Palace Downtown Resort. And most of all, watch the Dubai Fountain show. For those who don't know, Dubai Fountain was the world's largest fountain till the launch of Palm Fountain in 2020. That said, it still continues to be the Dubaiites' favorite. And you can admire it from some exclusive standpoints such as on an abra ride along Burj Lake or by heading to the dedicated Dubai Fountain Boardwalk. Or choose to dine at one of the many restaurants that overlook the fountain and end day two of your three days in Dubai in a leisurely way.
Day 3: Catch A Show, Visit A Museum, And Go On A Desert Safari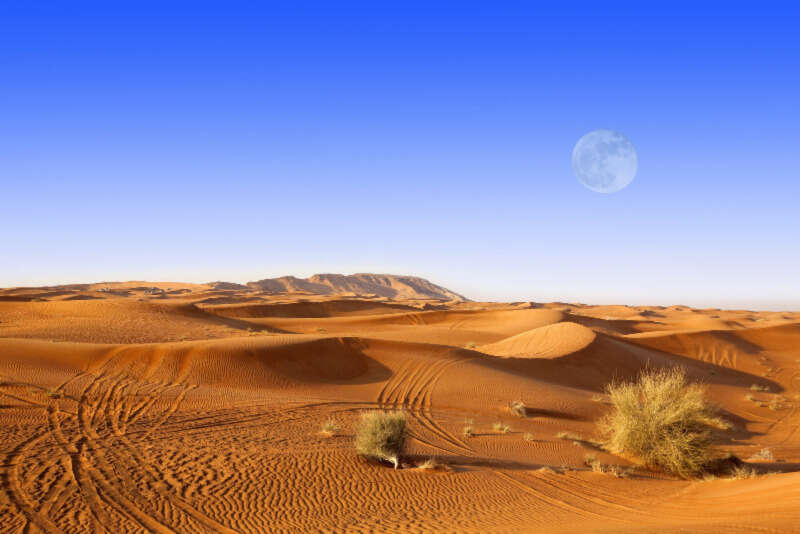 Museums
Without any packed agenda, start your third day in Dubai at a relaxed pace. Dubai has some amazing museums that are absolutely worth a trip. Culture buffs can visit Dubai Museum, Camel Museum, Coin Museum etc, while those fascinated about science and innovation will soon get to visit the aptly called Museum of the Future which is instantly recognizable for its distinct oblong ring kind of structure.
Events and Entertainment
Dubai is equally remarkable for its events and entertainment scene. Experience it for yourself by watching one of the live shows. Joined by little ones and family? Don't miss the scintillating Dolphin and Seal Show at Dubai Dolphinarium. For the most fantastic and creative live art performance, don't miss the shows that are held throughout the year within the magnificent Dubai Opera.
Souks
Looking for more exciting ways to while away your time till desert safari? Get an invigorating spa treatment or do some bargain shopping at souks. Finally, in the evening as your desert safari provider comes to pick you up from your desired location, get ready for the most inspiring off-road fun and adventure.
Desert Safari
Dune bash in a 4X4 vehicle is one of the main highlights of your desert trip. Follow it up with some cool activities that enlighten you on the region's authentic Bedouin culture and traditional past. This ranges from camel ride and falconry to Shisha smoking and henna tattooing. Your last evening in Dubai gets even livelier as you sit down you to savor a scrumptious BBQ dinner and also watch traditional performances such as Belly Dance and Tanura.
Important Things To Know
Pre-plan every aspect of your three days in Dubai, mainly accommodations, transfers, airline tickets etc.
When it comes to sightseeing tours, desert safari, dhow cruise etc, be sure to book ahead of time.
If you are not eligible for visa-free entry or visa on arrival, you will have to apply for your Dubai visa online before your travel.
Dubai may be a modern city, but it greatly values its culture and traditions deeply rooted in Islamic beliefs. So make sure that you don't involve any act that is disrespectful towards its beliefs.
Put on modest dresses, avoid any kind of PDAs, and don't hesitate to get permission before you capture pictures of government buildings and local Emiratis.
Being a desert city, you can expect Dubai to be humid with intense sunlight throughout the year. So take care to stay hydrated and use staples such as sunglasses, sunblock cream, and hats for your outdoor expedition.
Conclusion
Three days in Dubai may not allow you to cover everything that this wonderful place has to offer. But it definitely is enough to take in the region's top attractions and of course feel the real essence of this Arabian city. So whether you are looking to make the most of your weekend or simply want to escape from all, a mini getaway to Dubai will never disappoint you.
Neha is a travel blogger who enjoys traveling, meeting new people and learning about the local culture and food. She is always looking forward to visiting new places and likes to play tennis in her spare time.