With the tallest architecture, city-sized malls, multicultural festivals, desert safaris, heritage museums, and thrilling amusement parks, Dubai checks all the boxes of a perfect holiday destination. It likes to do things big and bold. It is the most ambitious and innovative city in the world that wows travellers with its abundance of attractions suitable for all ages. What you'll love about the city is how you can find some of the most expensive hotels and even spend a vacation with free and budget friendly things to do.
It's very easy to get around, since Dubai has an extensive network of public transportation. Dubai metro is quick, easy to use, and gets you everywhere in a heartbeat. No need to drive, just sit back, relax, and enjoy all that Dubai has to offer.
Fun Things To Do In Dubai For Every Budget
Burj Khalifa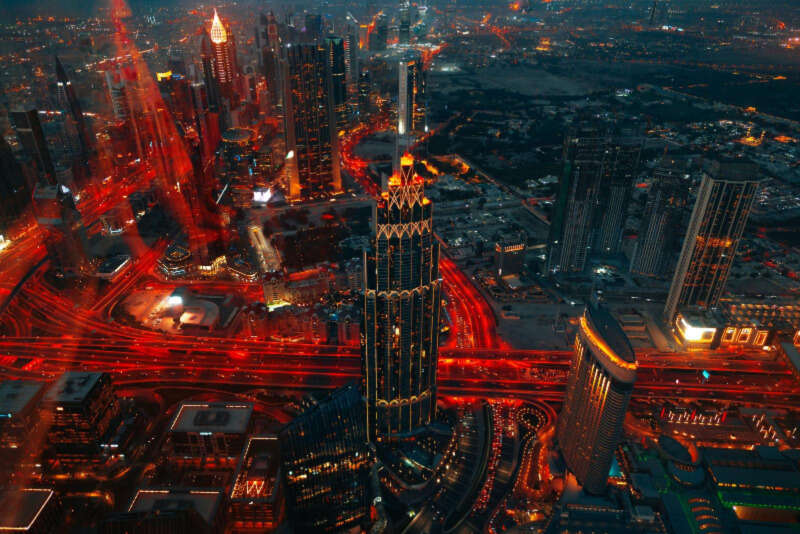 An architectural marvel, landmark attraction, and imposing structure, Burj Khalifa is the tallest building in the world. Not just that, it holds quite a few records, such as tallest freestanding structure, tallest skyscraper, building with most floors, world's longest travel distance elevators, and many more! It is the epicentre of Dubai's glamour that brings the most remarkable fireworks on New Year's Eve. A fantastic light show runs every 30 minutes on Friday, Saturday and Sunday, the last one being at 10.45 pm.
On weekdays, the light show runs every hour, starting at 7.45 pm. When you are here, be sure to visit its 124th and 125th floors that are home to a public outdoor observation terrace, virtual reality experience, and glass floor. Do not miss its highest observation deck on the 148th floor that offers an unmatchable bird-eye view of the cityscape. Take an Instagram-worthy shot during the sunset. The Burj Khalifa is not one of the most budget friendly activities in Dubai – it'll cost a whooping $ 125 USD at prime time, and $ 98 USD during non-prime time.
Burj Al Arab
Another architecture dominating Dubai's skyline, Burj Al Arab, is the UAE's most iconic hotel. It is the trademark structure of Arabian prosperity that rises 321 metres from the artificial island. Here you are welcomed with warm hospitality and top-notch facilities. From the private beach to a world-class spa, the hotel redefines the meaning of luxury. Travellers wanting to exploring its gold-detailed interior without splurging on the suites can reserve a table at one of its premium restaurants.
Jumeirah Mosque
A visit to the Jumeirah Mosque is one of Dubai's most popular tourist activities. It is open to non-Muslims, and no bookings are required to tour it. If you want to learn about it, booking a tour is a good idea though. It's a great, budget friendly activity.

Dubai Mall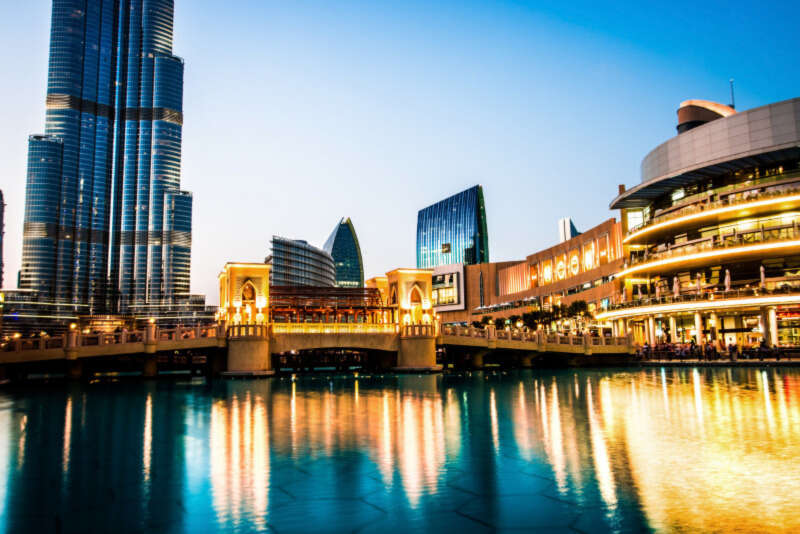 The largest destination for the ultimate shopping, Dubai Mall stores a whopping collection of covetable brands. Featuring over 1,200 stores and 2 major department outlets, and conveniently located in Downtown Dubai, it is one of the biggest shopping malls in the world. Shopping is therapy here. Besides a seamless shopping experience, you can indulge in a range of family-friendly attractions like Dubai Aquarium, Dubai Ice Rink, Reel Cinemas, VR Parks, Soft Play and more. It is a great place to hang out, window shop, watch the dinosaur or just read a book. Once you get hungry, you can choose from over 200 international restaurants. You do not run the risk of an awful food court experience at Dubai Mall.
Dubai Museum
Located in the Al Fahidi Fort, the Dubai Museum is the oldest building in the city. If you want to get an idea of what Dubai was like before the glitz and glam moved in, this is a must-see stop. The entrance fee is less than $ 1 USD – another great, budget friendly option!
Dubai Creek
Dubai Creek is located in the Al Fahidi neighborhood. It's the perfect area to stroll around in after you got a taste of the old Dubai at the Dubai Museum. Dubai Creek is a natural saltwater creek, and it was the United Arab Emirate's first major port. Evenings are especially atmospheric. Walk along the creek and explore the many souks, shops, and restaurants.

Dubai Fountain
One of the world's tallest choreographed fountains, Dubai Fountain sits in the foothill of Burj Khalifa. It is one of the free tourist attractions in Dubai, It displays a marvellous spectacle of water, music and light using 6,600 WET Superlights and 25 colour projectors. And, the fountain performs to world-class songs and stuns the audience with 1000 water expressions. One can witness this miracle from Boardwalk at no cost or set sail on the boat ride for front-row observation.

Mall of the Emirates
Brimming with the latest brands, the Mall of the Emirates is the region's first shopping resort and flagship luxury destination. Visitors can browse over 560 shops and boutiques, eat delicious food at umpteen restaurants, and watch your favourite flick at VOX Cinemas. And, the mall also hosts an array of thrill and entertainment. The highest-rated of all, Ski Dubai is a major attraction here that gives you a chance to ski, snowboard, toboggan, zip line or take a chairlift ride.

Wild Wadi Water Park
If you're looking for fun things to do in Dubai, don't miss the Wild Wadi Water Park! Located facing the elegant Burj Al Arab, Wild Wadi Water Park is the most-visited destination of its kind. It has over 30 rides and slides, from the fastest free-fall water slide in the Middle East to breathtaking group rides. The theme of the park is based on the tale of Juha, a known character of Arabian folklore. While it is an ideal getaway for all ages, it is especially great for kids with an interactive play zone. While you are there, catch your breath over a healthy meal, kick back in cabanas, and stay afloat in a lazy river.
Global Village Dubai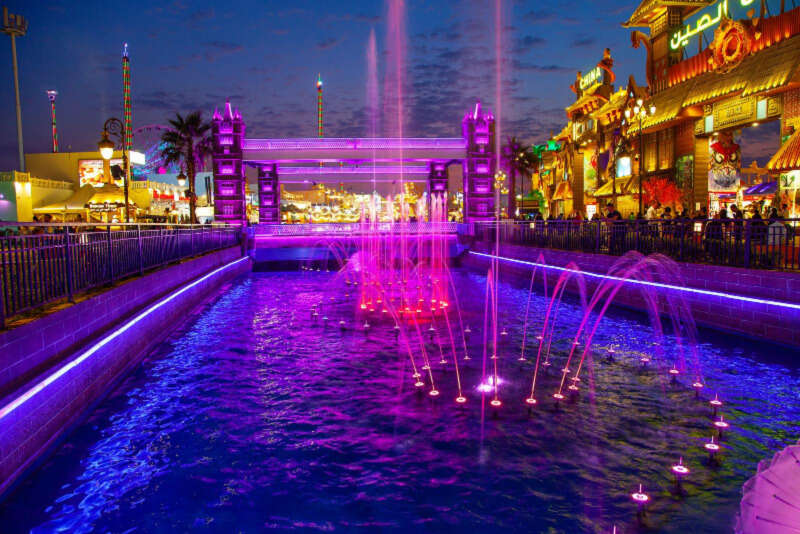 A large-scale event that combines cultures of 90 countries from around the world in one place, Global Village Dubai is a seasonal attraction in Dubai. It is wonderful how you can observe unique cultures and their specialties in one day. Set up in pavilions, the countries bring their traditions, souvenirs and even landmark replicas together. You can come here for spectacular fireworks, stunt shows, live performances, beautiful galleries, and endless fun. Whatever you choose, you will have a line-up of exciting activities to revel in an action-packed night

Al Fahidi Historical Neighbourhood
To get a glimpse of what Dubai looked like before its jaw-dropping development, head towards the Al Fahidi Historical Neighbourhood in Old Dubai. It is one of the oldest residential neighbourhoods in Dubai from the 19th century. In fact, much of the architecture remains intact, and you can see the brown doors, wind chimneys and courtyards. After the last revamping, the buildings have transformed into galleries, museums, and cafes. Also, there are several cultural activities to engross the visitors. Some of the major highlights include Coins Museums, Symposium House and Events House.
IMG Worlds of Adventure
Indulge in high-octane action at IMG Worlds of Adventure, which is the world's largest indoor theme and amusement park in Dubai. Across the 4 themed zones, there are challenging activities that will raise your adrenaline. Hop on the state-of-the-art rides that bring the Cartoon characters, Marvel superheroes, and dangerous dinosaurs to life. There is also a spooky, haunted hotel that will run chills to your spine. Finally, refuel yourselves for more heart-pumping actions by eating in the restaurants or take a break as you go shopping in Boulevard.

Dubai Frame
Replicating a photo frame, this lofty skyscraper is a metaphorical bridge between Old and New Dubai. Dubai Frame is tucked in Zabeel Park at a staggering height of 150 metres. When you visit, ascend the building to its 93-meter-long viewing bridge which offers full-height views to the modern and heritage side of the city in North and South directions respectively. You can dare to walk on glass-floored walkways. After that, move from the panoramic view of the present, and witness the past through exhibits and the future in a neon vortex tunnel.
Dubai Marina
Dubai Marina is one of Dubai's most exclusive neighborhoods, and one of its most popular destinations for tourists. It's an artificial canal city, with luxury skyscrapers, offering the waterfront lifestyle for those who seek it, and plenty of entertainment and dining options. Dubai marina is home to another of Dubai's famous shopping malls. Dubai marina mall is jam-packed with anything from chain brands to the most luxuries fashion brands. The Dubai Mall is connected to The Address Dubai Marina Mall, a five star hotel that'll make all your luxury living dreams come true.
Public Beaches
When at the ocean, go to the beach! Dubai has many public beaches, and they are magnificent! Al Mamzar Beach is excellent for families. It has lifeguards on duty and features swimming pools, play areas for the kids, and lagoons. The Beach Dubai offers 41 restaurants and 25 retail outlets, as well as play areas for the kids, a train people can ride up and down the beach, lots and lots of outdoor activities, and even fitness facilities. La Mer Dubai consists of three areas full of cafés and restaurants, and plenty of beach activities are available. Other excellent beaches are: Al Sufouh Beach, Jumeirah Public Beach, Al Seef, Sunset Beach, Kite Beach, and Jebel Ali Open Beach.
Conclusion
There is a wealth of fun things to do in Dubai. While some are budget friendly, others are definitely high priced. The city is ready to welcome you with loads of surprises. Choose the right time, plan well, and take decent clothes. With just a little planning, it is a holiday that you will remember your lifetime.
Pranitaa is passionate about traveling and photography. She is always curious about new culture, history and traditions.