Are you putting together a travel kit for women? A lot of thought goes into packing and planning a vacation. Any travel kit for women should contain the most important basics. We have put together a list of must-haves that are not just essential, but also eco-friendly. Pack all these green items and you will be well prepared for your next trip!
This post contains affiliate links. This means we make a small commission at no cost to you if you click through and make a purchase. All prices listed are accurate at time of publication. 
Not sure what the necessary green essentials are for your kit? Don't worry, we got you covered!

How to put together the perfect travel kit for women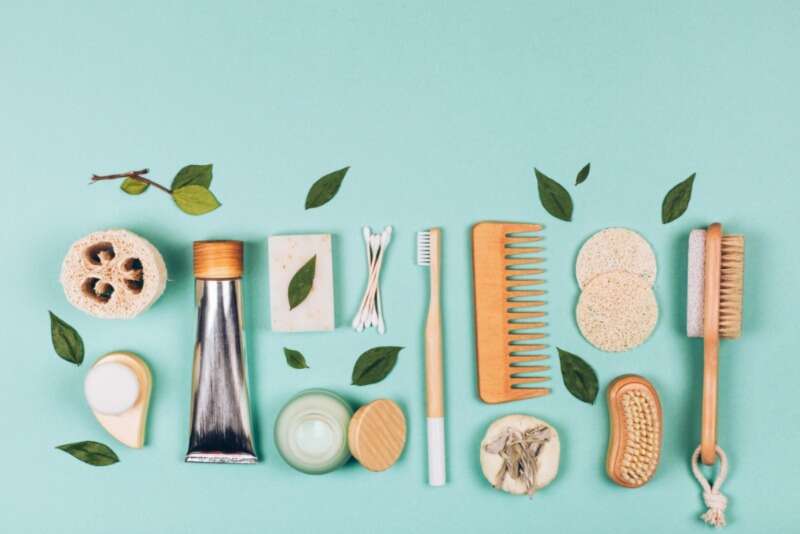 Toothbrush, Toothpaste & Floss
This one should be obvious. However, oftentimes the toothbrush is the last thing you pack before heading out the door, which makes it very easy to forget. Therefore having a designated travel toothbrush to put into the travel kit for women is a fine idea. One very good, green choice would be the a bamboo toothbrush with travel case.
Kick the plastic toothpaste tube to the curb! Choose this natural toothpaste, which is not just made from natural and organic ingredients, but is also free of fluoride, artificial sweeteners, preservatives, and sodium lauryl sulfate, and comes in plastic-free packaging! Nervous about packages breaking in your luggage and liquid spilling everywhere? Get these toothpaste tablets instead!
Last but not least, pack your floss. Try to stay away from floss picks. Using those wastes a lot of plastic. Instead, opt for this vegan and natural floss in a glass jar.
If you pack these oral hygiene items in your travel kit for women, you are off to a good start!

Shampoo & Conditioner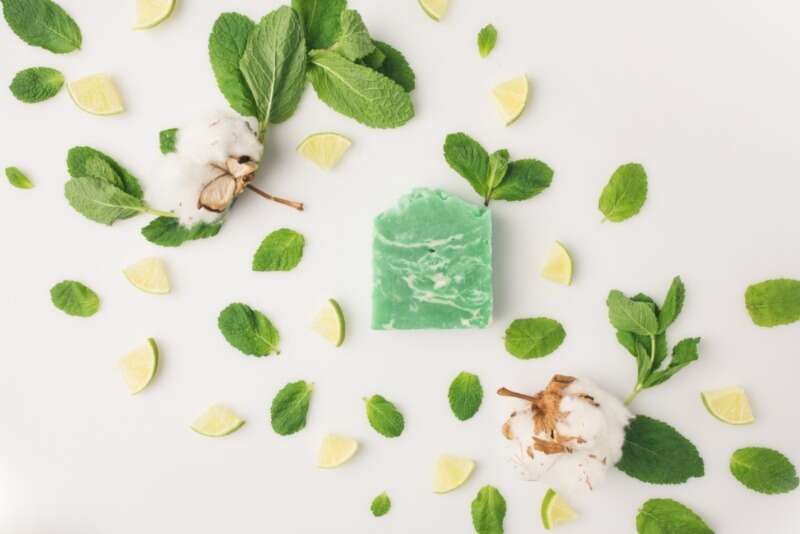 These are items you can pack in advance, unless you wash your hair every day. You may have all time favorites in this category, but great new products enter the market all the time, and this is a chance to revisit your choices and think green. Eco-friendly products often contain a lot less chemicals than regular ones, which isn't just good for the environment, but ultimately healthier for your hair.
ECO Amenities Conditioning Shampoo in travel sizes are is great place to start. The product is free of harmful chemicals like parabens, it is cruelty-free, natural, and sustainably packed. You can feel good and look good if you choose this product.
If you prefer the solid variety, worry not. The Right to Shower Joy Shampoo Bar is full of goodness AND is vegan. It's sulfate free, paraben free, alcohol free, and nourishes your skin. No harmful chemicals at all!
If you prefer a 2 in 1 shampoo and conditioner bar, /liv/ Nature has you covered. This bar is everything we want in a green product: vegan, cruelty-free, organic, plastic-free packaging, dye free, petroleum free, Phthalate free, silicone free, and paraben free.
Any of these items is a fabulous addition to your travel kit for women.

Body wash & Soap
You may or may not travel with your own body wash or soap, since that's an item readily found in every hotel. But if you do, take a moment and make sure your choice is as green as possible. This Native Body Wash is 100% vegan, and also paraben- and phthalate-free. It's available in ten different scents, so you are sure to find one that suits you.
If you prefer soap bars, consider Mrs. Meyer's Daily Bar Soap. You can get it in intriguing scents such as rain water, and it is paraben-free, cruelty-free, and made from 98-percent naturally derived ingredients, including a 100-percent pure vegetable base.
Tip: if you travel with bar soap, consider adding this 100% cotton soap bag to your travel kit for women

Period Products
Period products create enormous amounts of waste every year, and yet they must be part of every travel kit for women. To help our mother earth, let's take a look at adding these more sustainable options to our travel kit for women. Organic cotton tampons aren't just better for the environment, they are better for your body, too. They don't contain toxic ingredients like pesticides, herbicides, bleaches, and disinfectants that are standard tampons often contain. Cotton tampons are available in different sizes, and with or without applicators, just like regular tampons. You won't even know the difference, but our planet will! Another option is a menstrual cup. It's reusable and thus very sustainable!
Period underwear is a great green choice. It works just like absorbent pads, but instead of throwing out your pad, you can wash it after use, then reuse again!

Makeup & Skincare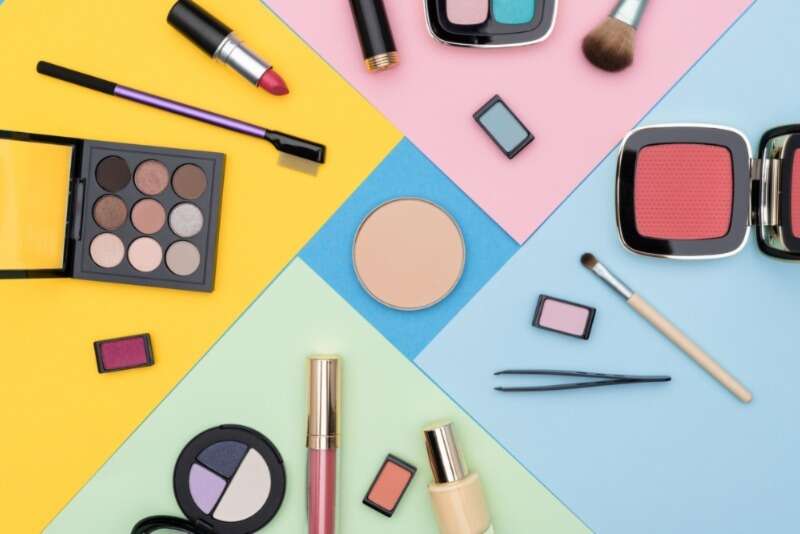 We do want to look pretty on our amazing trip, and every day. Our travel kit for women therefore needs to include skincare and makeup items. But it's important to make good choices for our makeup and skincare! Bare Minerals is a great option here.
All their products are 100% free of parabens, phthalates, formaldehyde, chemical sunscreens, triclosan, triclocarban, propylene glycol, mineral oil, coal tar, and micro-beads (these microscopic plastic particles that are an environmental nightmare). On top of that, all products are 100% cruelty-free.
If you are looking for 100% vegan items, check out Aveda! They have wonderful options for skincare, as well as makeup. You'll love their mission, which is to care for our world, not just with their products, but also by giving back to society. They strive to set an example for environmental leadership and responsibility – just like all of us!

Ready to go!
Now you are ready to pack your own travel kit for women with all the amazing sustainable items we have presented to you. Start packing for your next amazing trip!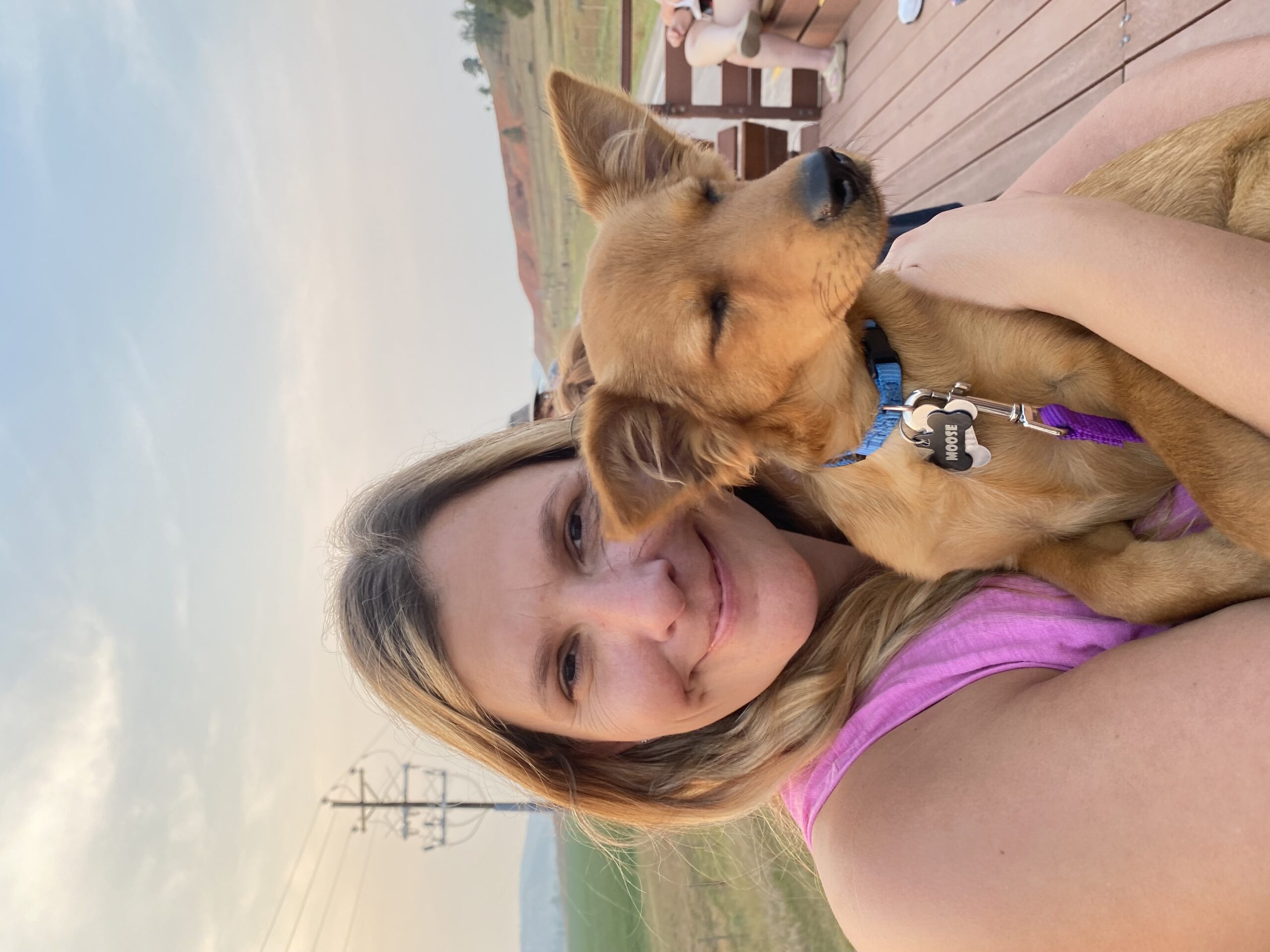 Jenny grew up in Germany. All she ever wanted out of life was to leave and have adventures. Jenny always traveled as much as the budget would allow, and when she met her husband traveling became a full-time thing. You can follow Jenny on her blog and Facebook.