Are you wondering which of the US Virgin Islands is best to visit? Welcome to St. Thomas, gateway to the US Virgin Islands! In early April the hubby and I flew to St. Thomas. Together with St. John, Water Island, Hassel Island and St. Croix it forms the US Virgin Islands. In 1917 the US purchased these islands (minus Water Island) as part of a defensive strategy for maintaining control over the Caribbean and the Panama Canal during World War I. Tourism started to rise after the war, and these islands are a fabulous getaway and a main stop for many cruise ships.
St. Thomas – Gateway to the US Virgin Islands
April to the beginning June is the best time to visit. There is very little rainfall and the temperatures are mild. It didn't feel all that mild to us, coming from still chilly Washington State. The 40 degree Fahrenheit increase in temperature took some getting used to, but it is generally breezy in those islands, and that made the weather quite pleasant.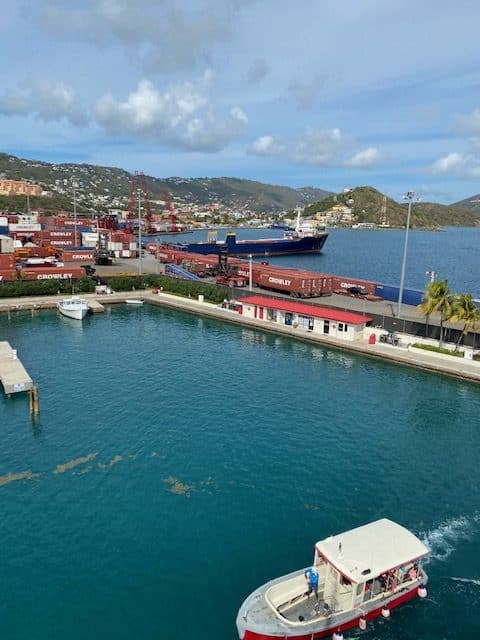 Water Island
We went to St. Thomas for the purpose of loading our sailboat onto a ship, but more about that later. St. Thomas, gateway to the US Virgin Islands, has much to offer, but the beaches are definitely a highlight. I'm not a beachy person. I find them rather impractical, and I don't enjoy just hanging out on the beach, but one day we did the touristy thing and took a little ferry over to Water Island. It's a short ride, only about 10 minutes each way, but Honeymoon beach is fabulous. White sand and crystal clear water make it everyone's Caribbean dream beach.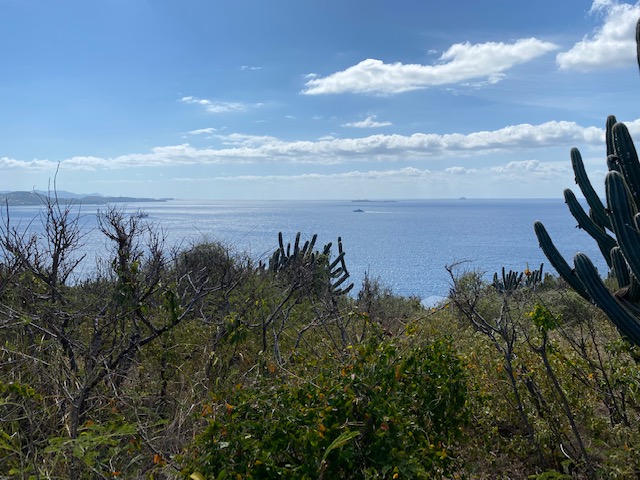 Honeymoon Beach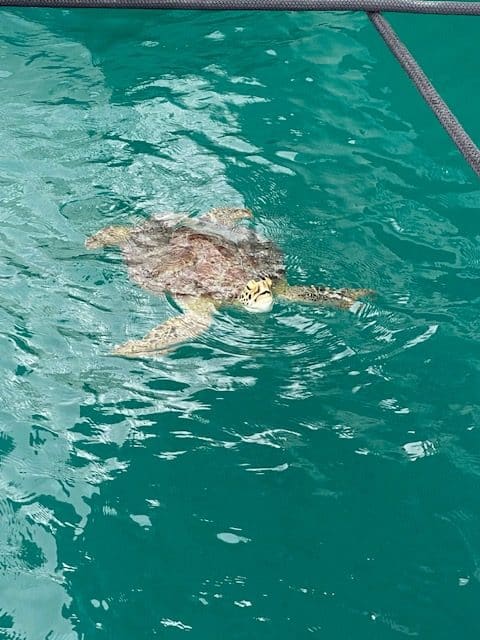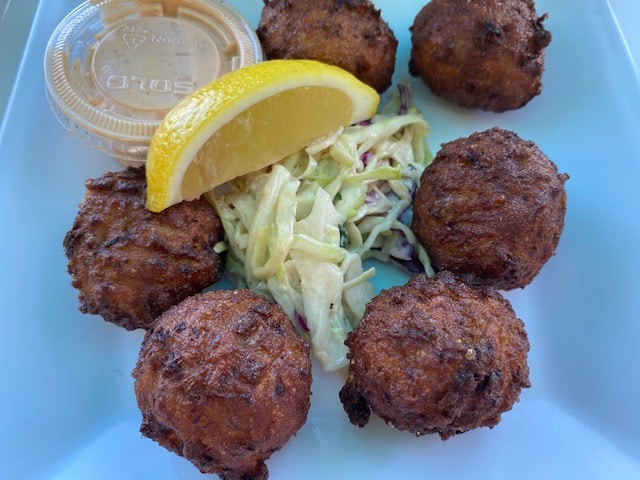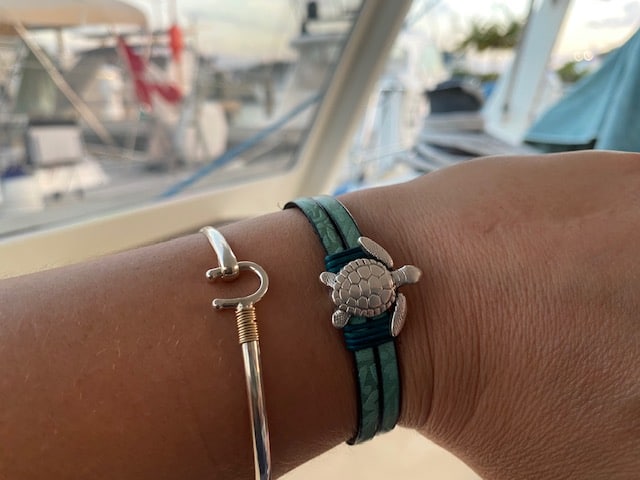 Shopping
St. Thomas offers discounted, duty-free shopping. In 1724 it was one of the Caribbean's first duty free ports, in fact. Get ready to be overwhelmed by the sheer amount of fine jewelry stores in downtown Charlotte Amalie. You will find other luxury goods like perfumes, leather products, watches or cameras. But if you venture out in the side streets you can also find more unique items.
We found a small shop with a variety of cookbooks, as well as teas and spices and other, more unusual souvenirs. I bought some lovely salad tongs there. Another small shop had a great selection of paintings. I love buying art when I'm on vacation, but oftentimes it is so hard to get things home in one piece. Luckily, since we were shipping our boat, this was not a problem on this trip. We bought a bigger painting depicting a beautiful Caribbean sunset.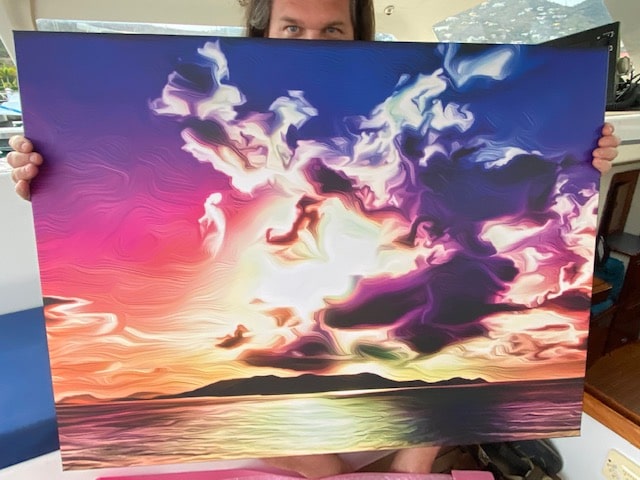 One very nice souvenir you could get (and which I did get) is a Caribbean hook bracelet. Those bracelets first became popular on St. Croix, and they were meant to celebrate love and good fortune. They have been adopted by other islands as their signature bracelets. There are two ways to wear it – with the opening of the clasp towards your body, which means you are unavailable, or with the opening pointing away, which means you are available.
Adventures on the Water
Of course when the weather is fine and the water is warm you want to get out and play. There are a variety of things available, from sailing charters to luxury charters, from diving to snorkeling. Since we own a boat we rarely ever take part in these activities, but they are there for you to enjoy. Most every day we took our dinghy out, anchored it at a remote beach on Hassel Island and went for a swim. The beach there was rocky, therefore I highly recommend getting some reef shoes and make sure to learn the stingray shuffle! Be careful when collecting shells – I believe it is illegal to bring those home.
Adventures on Land
There are a few hiking trails on the island of St. Thomas. If you are really into hiking you may not find them satisfactory since they are rather short. But then, it is quite warm and you may not want to overexert yourself. If you enjoyed the trails of Saint Thomas and are looking into more hiking, take a day trip to St. John. There is a ferry that runs hourly, and the trip only takes about 20 minutes.
Another fun thing to do with a guaranteed view is a sky ride to Paradise Point. And while we are talking about the view, I have one last tip for you.
Accommodations
We stayed on our boat in the Crown Bay marina for almost our entire two weeks in St. Thomas. But since we loaded her onto the ship on the last day we needed some place to stay for the last night. We ended up at Pirates Pension at Bluebeards Castle, mostly because it was one of the few hotels that were available last minute. The room was nice, not super spectacular, but it had a little kitchen and a washer and a dryer! That would be very handy when going on vacation I thought. However, one thing that made this place stand out was the view. I was absolutely blown away. After a long, hot day on the water loading the boat sitting at the pool bar, enjoying a nice dinner with a spectacular view was simply breathtaking and a perfect end to this trip to St. Thomas, gateway to the US Virgin Islands.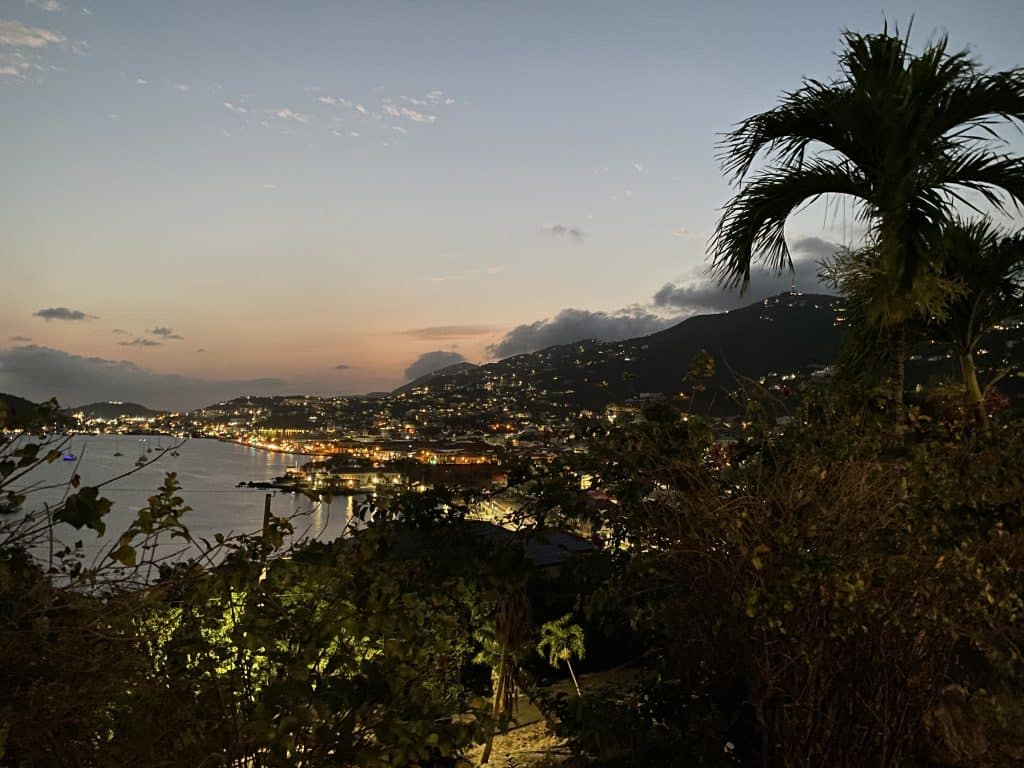 Ship Shipping
This is just a side note, in case you are interested. We decided to ship our boat back to Washington State, US, which is home for us. The reason was that it would take more time than we have to sail her back, and the 2,000 or so miles up the Pacific coast are all against the wind (upwind), which can be rather unpleasant. Putting her on a ship is much easier. She gets lifted by crane, and put on the deck with a cradle that they build around here. Now we are home, eagerly awaiting her arrival.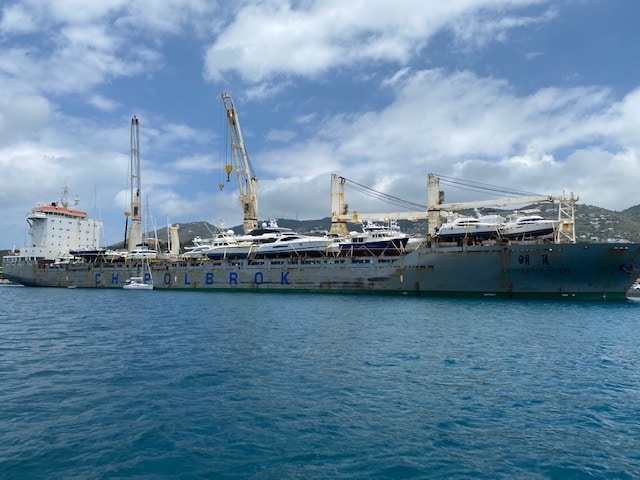 St. Thomas is simply a fabulous destination. If you are interested in checking out other Caribbean islands, consider visiting Aruba in November!