Brazil is by far the largest country in Latin America, and it's one of the world's 18 megadiverse countries, meaning that is is home to between 15 and 20% of the world's biological diversity. It features beautiful beaches, and incredible rainforests but also large cities with lots of history and culture. Brazil Landmarks are as diverse as this amazing country itself. Some are world-famous, such as the Christ the Redeemer statue in Rio de Janeiro, others are natural wonders, such as Escadaria Selaron, and others, such as the Escadaria Selaron, you might have never heard of. Today, we'll explore Brazil's most famous landmarks, as well as must-visit off the beaten path ones!
This post contains affiliate links. This means we make a small commission at no cost to you if you click through and make a purchase. All prices listed are accurate at time of publication.
Iconic Brazil Landmarks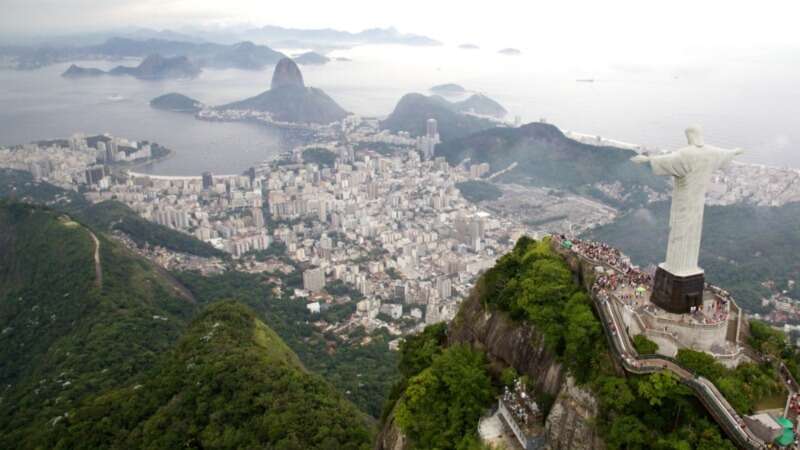 1. Christ The Redeemer – Rio de Janeiro
The statue of Christ the Redeemer (Cristo Redentor, in Portuguese) is without a doubt the most iconic Brazilian landmark. If you conjure up a picture of Rio de Janeiro in your mind, this landmark will certainly be in the picture. It looks down on Rio de Janeiro from it's high vantage point on top of the 2,300 ft Corcovado mountain, inside Tijuca National Park. Built between 1922 and 1931, the statue of Jesus Christ is 98 feet high (plus the pedestal is 26 feet). The arms stretch 92 feet wide. It is one of the seven new wonders of the world, and part of a UNESCO World Heritage Site.

How to visit
The easiest way to get to the base is to Uber it. A more budget-friendly option is to take a bus or the subway to Cosme Velho, which is at the foothill of Corcovado Mountain. From there, take the cog train up to the top, take a van, or hike.
Your best bet is to book a tour. The Christ Redeemer and Sugar Loaf Mountain small group tour leaves early so you can beat the crowds. Feel like splurging and having an extraordinary experience? Book the Best Helicopter Flight – Sugar Loaf and Christ the Redeemer!
Where to stay
Rio de Janeiro is a big city, and accommodations are available for every budget. Click here to find out if Rio de Janeiro is safe for a solo female traveler! Enjoy 5 stars at Vila Santa Teresa, Windsor Marapendi Hotel, or Copacabana Palace. Looking for highly recommended 4 star hotels? Pick the Américas Granada Hotel, the Windsor Tower Hotel, or the Casa Nova Hotel. More affordable options with 3 stars are the Saionara Hotel, the Copa Sul Hotel, the More Só Condo Hotel, or the Elegance Praia Hotel. Plenty of vacation homes and home stays are available. Rio boasts lots of hostels, a great super budget alternative to hotels. The Hostel Estação Maracanã, the Hostel Recanto de Alegrias, and the Graja Hostel are all highly rated and in great locations.
2. Sugarloaf Mountain – Rio de Janeiro
The second of Rio's most famous landmarks is Sugarloaf Mountain. As soon as you lay your eyes on it, you will understand how it got its name: it's shaped like a traditional refined, well, sugarloaf. It's located on a peninsula and stands out at 1,283 feet. From the top, visitors have a great panoramic view over Rio de Janeiro and the Atlantic Ocean.

How to visit
Sugarloaf Mountain (Portuguese: Pao de Açúcar) gained world fame when a cable car was installed way back in 1912. It still runs today, and is the best way to visit this landmark. You can either hike part way up and then hop on the cable car, or get a cable car ticket at the bottom and ride all the way up. Pro tip: if you want to skip the line, get a fast pass ticket. Up your game and book a guided half day tour to Sugarloaf Mountain!
3. Guanabara Bay – Rio de Janeiro
Rio de Janeiro sure if full of amazing sights to see, and Guanabara Bay with its sandy beaches is one of them! It is the deepest natural bay on the planet, making it one of the 7 natural wonders of the world. Here's you'll be able to enjoy the famous golden sand of Copacabana beach and Ipanema beach. The Serra do Mar mountain chain and the more than 130 islands make Guanabara Bay so beautiful and unique.
How to visit
There are a million things to do in Guanabara Bay – but swimming shouldn't be one of them. The waters are quite polluted. The exception is the Copacabana beach, right at the mouth of Guanabara Bay. Watersports such as standup paddleboarding are available here. A sea kayaking tour in this bay, surrounded by the incredible natural beauty, is an unforgettable experience. Fly high above the waters on a parasailing trip.
Another great thing to do is a boat trip: Guanabara Bay Cruise half day tour, a sunset speedboat tour, a private boat tour with professional photography, or a boat party by night.
There are plenty of opportunities to hike such as the Castelos do Morin hiking trail, and walks on the beach do not get more picturesque.
4. Jardim Botânico (Botanical Gardens) – Rio de Janeiro
A great place to marvel at Brazil's incredible flora are the botanical gardens in Rio. They are simply massive! On 130 acres you can see 6500 species of Brazilian and foreign flora, some of them endangered. It's a can't miss attraction in Rio de Janeiro!
How to visit
The botanical gardens are located in the Jardim Botânico district, at the foot of Corcovado Mountain. There's much to see, and you can take all day to visit the themed collections, see the various greenhouses, and stop at the visitor center. Watch all kinds of bird species along the way. You can even rent an electric car to get around! Opening Hours of these beautiful gardens are Monday from noon until 5 pm, and all other days from 8 am until 5 pm.
One can learn a lot by spending a few hours strolling around and reading signs, but if you feel like going more in-depth, book a botanical gardens tour.
5. Octavio Frias De Oliveira Bridge – São Paulo
The Octavio Frias de Oliveira bridge (Ponte Estaiada) spans the Pinheiros River in Sao Paulo and with a height of 453 feet its quite the sight to see. What's so special about this bridge? The bridge deck forms an X, which is an unusual form for bridges, and it's the only bridge worldwide that has two curved tracks, which are supported by only one single mast made out of concrete. It's especially spectacular looking during Christmas time.
How to visit
While the bridge is not too close to other tourist attractions, it's still worth seeing. You can drive across, or you can walk along the river all the way to the bridge and get some Insta-worth photo opportunities! Don't worry about carrying around a big camera, you can ace the traveler photos game using a smartphone! Get a bird's eye view of Ponte Estaiada on a 20 minute helicopter flight over São Paulo City.
Where to stay
In a city of over 12 million, you can expect to find tons of accommodations. This is certainly true for São Paulo. Enjoy a luxury stay at a 5 star hotel such as the Hotel Fasano São Paulo, the Hotel Unique, or the Hotel Bourbon Ibirapuera Suite 5 estrelas Moema. Do you want comfort with out the price tag of a luxury hotel? Choose one of these 4 star properties instead: the Laghetto Stilo São Paulo, the Intercity São Paulo Anhembi, or the George V Alto De Pinheiros. The city offer many, many nice 3 star hotels. Some highly recommendable ones are the Bê Hotel, the Leques Brasil Hotel Escola, or the Hotel Pousada Pacaembu. There's a number of nice vacation homes and a couple of hostels.
6. ibirapuera park – São Paulo
Ibirapuera Park is a great place to visit for Brazilian people who are urban dwellers and tourists who need a break from the big city of São Paulo. With nearly 400 acres of green space it's not just quite large, but it holds the title of most visited park in South America!
How to visit
It can be found between Av. República do Líbano, Av. Pedro Alvares Cabral, and Av. IV Centenário. While São Paulo is huge and some of the bus, subway, and railway stations are too, it's quite easy to navigate, thanks to many signs being displayed in English. Finding your way to the park is therefore easy.
Once you reached this green oasis, take advantage of the many walking trails, or rent a bike from one of the many vendors you'll see in the area. On Sunday mornings there is often free music to listen to at Praça da Paz. Ibirapuera Park is also home to a few museums: the Oca, a modern art museum, the Museu Afro Brasi, dedicated to showcasing the is history, art, and ethnography of black people in Brazil, the São Paulo Museum of Modern Art, and the Museo de Arte Contemporáneo de la Universidad de São Paulo, one of Brazil's largest art museums.
The urban park is open from 5 am until midnight.
7. Iguazu Falls, Parana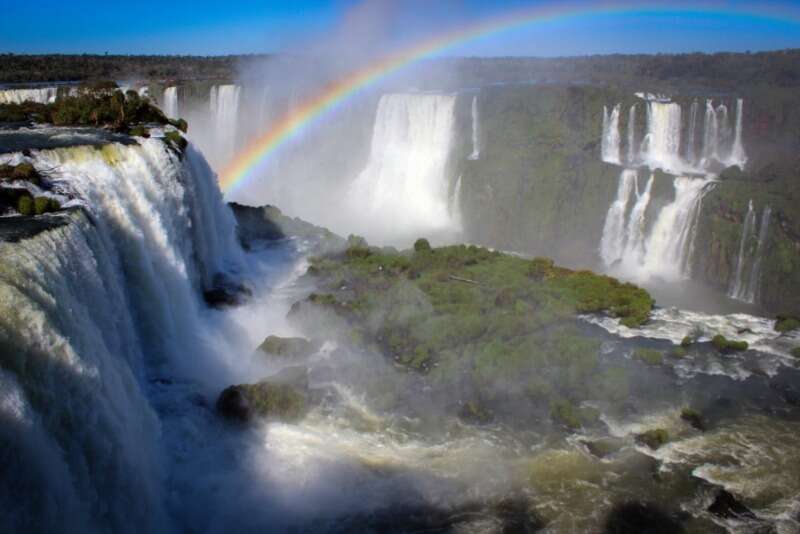 The Iguazu Falls are located at the border of Brazil and Argentina, and they are simply spectacular! But beauty isn't their whole claim to fame. Together, they are, in fact, the largest waterfall system on the planet! The water falls down from heights of 640 feet, giving it more than twice the height of Niagara Falls and the longest drop of any waterfall anywhere on the planet! It's one of Brazil's most famous landmarks, and a great place for nature lovers.

How to visit
The closest airport on the Brazilian side is Foz do Iguacu International Airport. From there is a mere 20 or so minutes by car to reach Iguazu Falls. You can hire a taxi at the airport, or take the bus, which is cheaper. It is possible to visit both sides of the falls, but be advised that the border crossing could be a lengthy procedure. If you have a car, you can drive across the bridge spanning the Iguazu river, and if traffic is light, it'll take about an hour, which is still a good chunk of time if you are only here for a day trip. You can also cross the border by bus, or book a full day tour to the Argentinian side.
But don't worry, there's plenty to do on the Brazilian side (plus that side has the best panoramic view!). You can explore by yourself, or book a sightseeing tour from Foz do Iguaçu. You can motorboat under the waterfalls. Bird lovers must take some time to explore Parque das Aves, a bird sanctuary. Take a tour of Itaipu hydroelectric dam! Marvel at subtropical rainforest on the Brazilian side of Iguazu National Park. For an extraordinary highlight, book a panoramic helicopter flight.

Where to stay
If you want a very special, one of a kind experience, book a room in the only hotel inside the national park on the Argentinian side of the falls: the Gran Meliá Iguazú. The Brazlian side also boasts one hotel inside the park: the Hotel das Cataratas. Both hotels are great options is budget isn't an issue for you.
The closest city to the falls on the Brazilian side is Foz do Iguaçu, with plenty of accommodations for every budget!
8. Ouro Preto – Minas Gerais
Ouro Preto (Black Gold) is a historic town in eastern Brazil. The backdrop of the Serra do Espinhaço mountains provides a beautiful contrast to this small colonial town, one of the best-preserved in the whole country, with incredible baroque architecture, once a main player in Brazil's gold rush. At Ouro Preto, you can learn about a part of Brazil's history in the 17th century, visit breathtakingly beautiful churches and museums, be impressed by the colonial architecture, and visit a real gold mine! It's a UNESCO World Heritage Site for a reason (or two).

How to visit
The nearest airport is in Belo Horizonte. from there, it's easy to get to Ouro Preto by car or bus. Once you are there, it's easy to get most everywhere on foot, and the steep hills provide an excellent workout! Take a walking tour with a knowledgeable guide to learn all about Ouro Preto's fascinating history. Alternatively, book a Ouro Preto and Mariana day trip from Belo Horizonte.

Where to stay
The most luxurious option for a stay in Ouro Preto is the 5 star Hotel Solar do Rosário. The town boasts some excellent 4 star hotels, such as the Pousada Solar da Ópera, the Hotel Recanto da Serra, and the Hotel Pousada do Arcanjo. For good 3 star hotels, have a look at the Abigail Condé, the Grande Hotel de Ouro Preto, and the Boroni Palace Hotel. The town offers a wide variety of vacation homes, and several home stays. Highly recommended hostels for those on a budget are Varanda Hostel E Galeria De Arte, the Buena Vista Hostel, and É Hostel.
9. Amazon Rainforest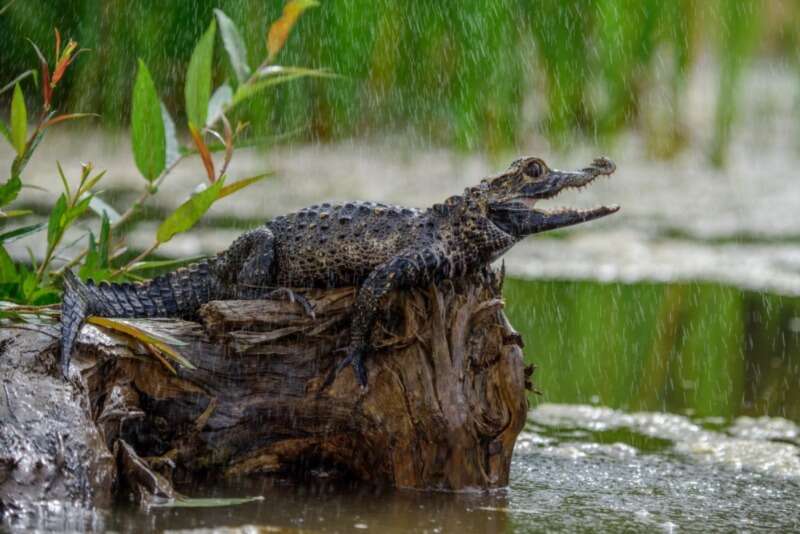 60% of the Amazon rainforest are located in Brazil. This beautiful landscape is the world's largest tropical rainforest, with an incredible biodiversity, and one of South America's most famous landmarks. Before you go, it is important to know that the rainforest is under threat. Deforestation is threatening endangered species, whole habitats, and the climate. While there are a million amazing things to do, please do your research ahead of time to ensure you are booking tours with ethical tour operators.
How to visit
A visit to this truly unique place in the world is one many people's bucket lists. How could it not be! You can walk through the jungle and encounter spider monkeys and anacondas (yikes!). You can visit a local community and meet indigenous people. Take an Amazon river cruise, swim with pink river dolphins, go standup paddle boarding or kayaking, go piranha fishing (and eat them, too!) learn about medical plants, explore the Anavilhanas Archipelago, and so much more.

Where to stay
Unless you opt to do an Amazon river cruise, you'll need a place to stay on your adventure visiting the Brazil landmarks. Eco-lodges are a great way to go. Rest your head at the Amazon Arowana Lodge, or at the Juma Amazon Lodge.
10. Teatro Amazonas – Manaus
You may not expect to find an opera house at the heart of the Amazon rainforest, but the Amazon Theatre is an unmistakable Brazil landmark! Located in Manaus, the departure point for most Amazon rainforest adventures, the largest city of the state of Amazonas, with a population of over 2 million, the Teatro Amazonas is one spectacular Brazil landmark. It's more than 120 years old and hosts not just the annual Amazonas Opera Festival, but regular performances of the Amazonas Philharmonic Orchestra.

How to visit
To be able to see the inside, you have to book a tour or attend one of the performances. The entire city is worth a visit, so be sure to book a historical city tour!
Where to stay
Manaus offers a variety of accommodations. 5 star luxury options are the Hotel Villa Amazônia, the Juma Ópera, and the Uiara Amazon Resort. The Manaus Hotéis Millennium, the Hotel Adrianópolis All Suites, and the TRYP by Wyndham are great 4 star options. Looking for a 3 star hotel? Check out the Hotel Saint Paul, or the Ramada by Wyndham Manaus Torres Center. Vacation homes and home stays are available. Looking for a budget option? Stay at the Hostel Manaus, the Aldeia Hostel II, or the Local Hostel Manaus.
11. Lençóis Maranhenses National Park – Maranhão state
Lençóis Maranhenses National Park is one of Brazil's most iconic natural landmarks, even though it is lesser known than say the Amazon rainforest. The park is dominated by the largest field of sand dunes in South America. What's even more remarkable is that the valleys between those dunes fill up with rain water during the rainy season, creating a natural landscape to marvel at.
How to visit
To get to Lençóis Maranhenses National Park, the best way is to fly into São Luís International Airport. From there, you can hire a car, or take a bus to the small towns of Barreirinhas or Santo Amaro do Maranhão. The best time to visit is right after the rainy season, from May to October, when you aren't in danger of getting soaked in an instant by tropical rains, but the fresh water lagoons have not yet subsided. It's a beautiful place worth visiting, and the perfect place to take Insta-worthy shots! The best and easiest way to visit is to book a beautiful lagoon circuit tour. It's a 5 hour tour by 4×4 that'll show you everything noteworthy.

Where to stay
Barreirinhas offers all kinds of accommodations. There are no 5 star hotels, but several nice 4 star ones: the Gran Lençóis Flat Barreirinhas Condo Hotel, the Vila das Águas, or the Conforto e Aventura Flat Lençois Barreirinhas Condo Hotel. Make sure to check out the 3 star hotels, and the hostels, B&Bs, and lodges. Prefer a vacation home? Stay at Casa dos Paiva, Casa do Sino, or Casa dos Ventos Barreirinhas.
Brazil is, without a doubt, one of the best places to visit in the southern hemisphere. There are more Brazil landmarks than you could possibly pack into one visit! From Brazilian culture to unforgettable natural landmarks, you will not be disappointed when exploring this South American country!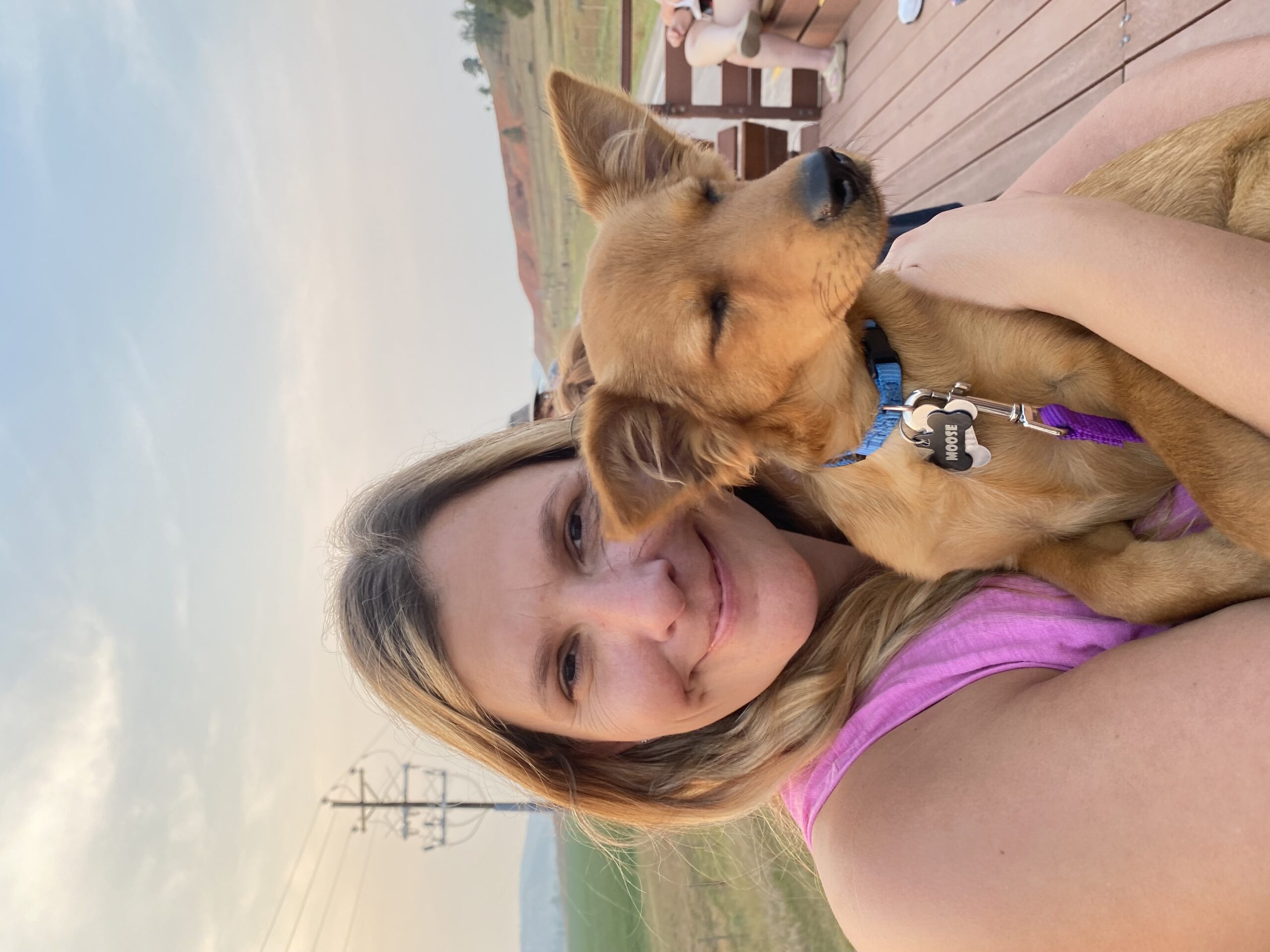 Jenny grew up in Germany. All she ever wanted out of life was to leave and have adventures. Jenny always traveled as much as the budget would allow, and when she met her husband traveling became a full-time thing. You can follow Jenny on her blog and Facebook.