I was absolutely enthralled by Rio's vibrant culture, beautiful people, zest for life, colorful architecture, and openness, even though I was initially hesitant to visit. In short, the answer is yes, Rio de Janeiro is safe for a solo female traveler, but all places are more complicated than that. You can enjoy this energetic city while taking the necessary precautions.
Is Rio De Janeiro Safe For A Solo Female Traveler?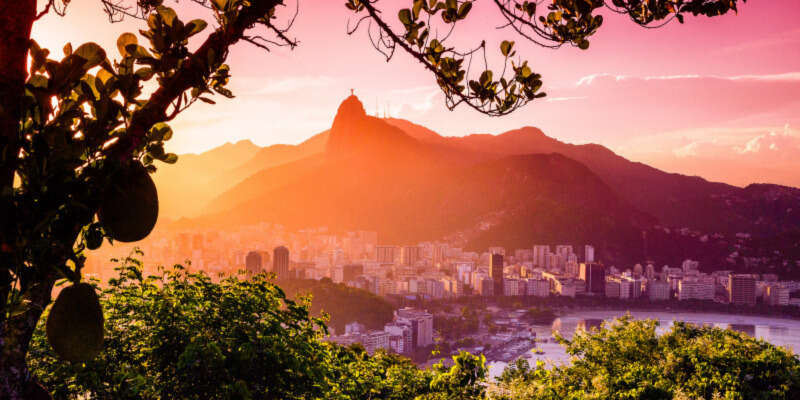 I was sad to leave Rio de Janeiro as I had just connected with other travelers and locals. There was much left to see, including bloco (street) parties, the Carnival festival, and many more neighborhoods, museums, art pieces to explore, and caipirinhas to be had. Every visit to a new country makes my travel list exponentially longer!
Touristy Things To Do In Rio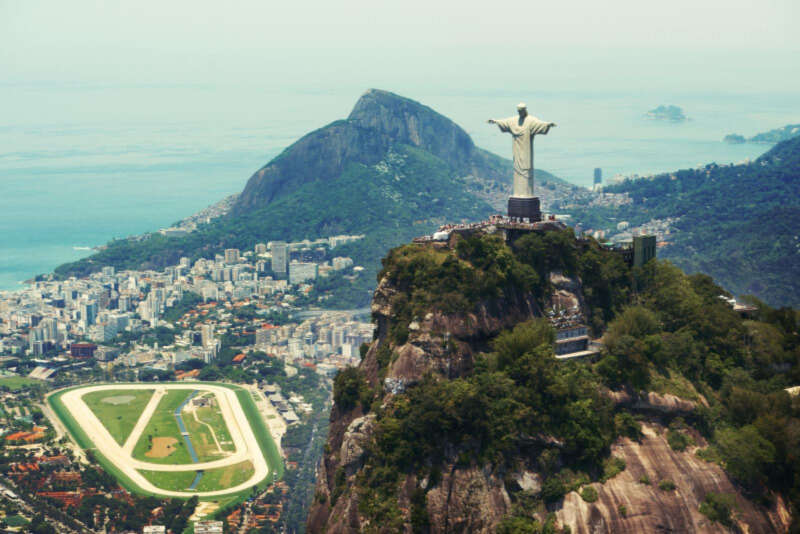 Copacabana Beach was a short walk away, so I spent my time balancing being a beach bum, discovering Rio's gems, and working remotely. I had to do all the touristy things:
The trip up to the Christ the Redeemer statue was crowded and cloudy. Then, the sky opened up to the views I had heard about. The Christ, which is the most famous of the Brazil landmarks, was built to promote Christianity and commemorate Brazil's 100 years of independence from Portuguese rule, and it is a meaningful symbol to Brazilians. You can see it from anywhere in Rio.
On an exciting cable car ride to Sugarloaf Mountain, you are awarded breathtaking views of Rio and the South Atlantic Ocean.
The Selaron Steps were Chilean-born artist Jorge Selaron's tribute to the Brazilian people. He saw gray, dilapidated steps outside his apartment, covered them in brightly colored tiles, and turned them into a work of art.
Non-Touristy Things To Do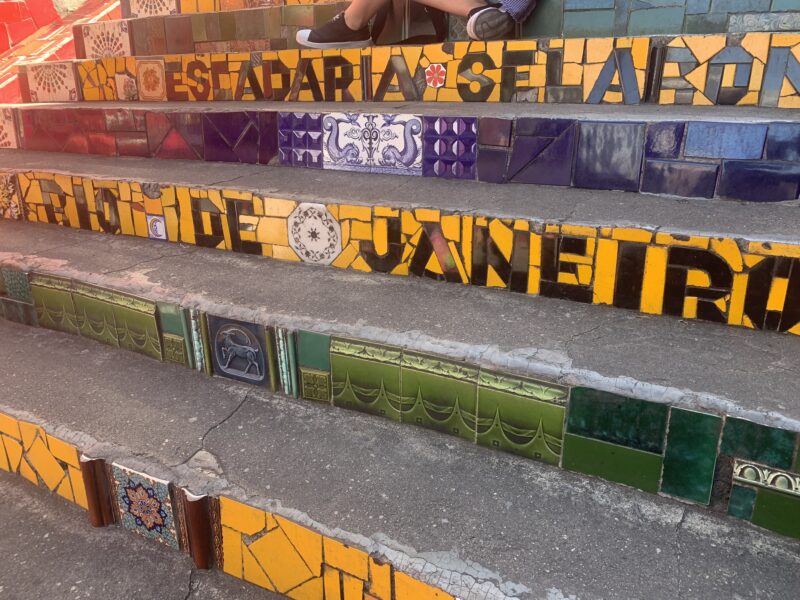 It's always the non-touristy elements that are my favorites, though. With a group of women I met on a travel group, we toasted nighttime craft beers on a rooftop and later attended one of their samba rehearsals for Carnival. I had heard of samba before but did not realize how deeply the drumming and movements reach the soul. We watched Vila Isabel's community samba school parade up the street, singing and dancing. Vila Isabel is a musical neighborhood of famous musicians. The main street has musical notes on the sidewalk, so one can look to the side to read music while walking and playing the guitar! When the parade finished, we danced behind the speaker truck and paraded right into the samba school, where the partying continued late into the night.
Watching this samba jam session was an unforgettable experience; it was almost spiritual—musicians entranced by the drumbeats, joyful, rhythmic, concentrated; dancers swinging their hips, the audience, dreamlike, watching them and each other with fascination. The steps are so simple, yet so complicatedly fast. It seemed the whole group was in a surreal connection with each other, some deeply understood fellowship.
Samba is rooted in Africa via the forced voyage of enslaved West Africans and African religious traditions. The musical genre was initially looked down upon but grew in popularity and is a sacred cultural expression of Brazilians today.
Safety in Rio de Janeiro
Safety is a concern in all big cities. As a female solo traveler, you must always be aware. I heard about experiences of a rough and tumble, desolate place where you should not walk alone. These experiences were so vastly different from my own that I could not believe this was the same city. I count myself lucky, but I am also cautious in general (read: anxious). Here are some things I noticed and learned that could also be applied to other big cities:
Research the area you are staying in very carefully.
Meet people who can guide you in safe activities that are local.
Locals wore backpacks in front, or a hip bag.
People sometimes walked in the middle of the street (away from doorways).
Cars do not stop at red lights at night.
Never leave your possessions out of your sight.
Always use Uber or the Metro, not the bus or taxis.
Do not tell anyone where you are staying. Lie. You are always meeting friends or your boyfriend and are not single.
Carry a minimal amount of things, i.e., if you do not need your credit card, do not bring it.
Have identification on you—ideally, just a paper copy of your passport.
Rio taught me that people could have an electric love of life. When people do something they love, like singing a nostalgic song, dancing to familiar samba music, or celebrating a Carnival parade as a community, the emotion and exuberance are contagious. Celebrate those fiery cultural experiences whenever you can—it's what life is about.
I'm off to the land with an eclectic mix of street art, wine, stunning Andean landscapes, hiking marvels, and an emerging microbrewery scene!
Did you know that more than 60% of women say fears about their safety keep them from traveling? Do you want to learn more about staying safe while traveling? Girls Who Travel has created the most in-depth female travel safety course out there. Whether you're a first time traveler or an experienced globetrotter, this course is designed to help you quickly get the tools you need to feel safe and be safe. Get it HERE!