The summer months are the best time to visit Iceland, this beautiful Nordic island nation defined by dramatic natural landscapes. Iceland in August is a delight. Mild days and the midnight sun guarantee the perfect vacation in the Land Of Fire And Ice! Explore the capital city of Reykjavik and this stunning island's natural beauty. Drive the Ring Road, and discover all attractions of the Golden Circle. You are guaranteed to have a good time on your Iceland trip! In this blog post we will give you an oversight of things to do and recommend amazing tours in this country just south of the arctic circle.
This post contains affiliate links. This means we make a small commission at no cost to you if you click through and make a purchase. All prices listed are accurate at time of publication.
Iceland in August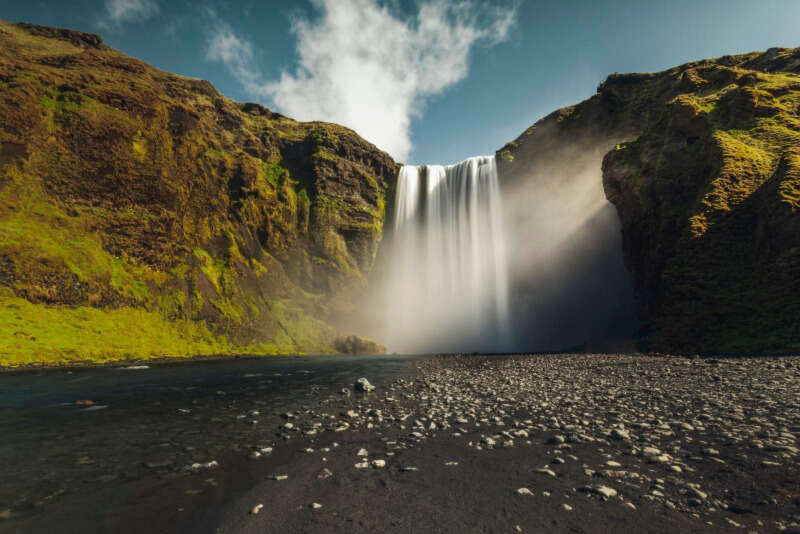 The best time to visit
The best time to visit Iceland and make the most of your time there is undoubtedly the summer. July and August are the warmest months of the year, with an average temperature of 50 Fahrenheit (10 Celsius), but it can get as warm as a balmy 77 Fahrenheit (25 Celsius). While July is truly the month of the midnight sun, with an average of 21 hours of sunlight, August offers a reprieve from endless days with an average of 16 to 17 hours of daylight, but there's an average of 23 rainy days. That doesn't mean it will rain all day long, but pack your rain gear to be on the safe side! You can't always trust the weather forecast, but hopefully you get lucky and have nothing but sunny days.
If you are set on seeing the Northern Lights, you should visit during the winter months, some time between late September and the end of March. That's peak season for Northern Lights viewing, with short days, long nights, and clear skies that allow them to shine. While the Aurora Borealis can occasionally make an appearance during the summer months, it's not a good time to see them due to the lack of dark night hours.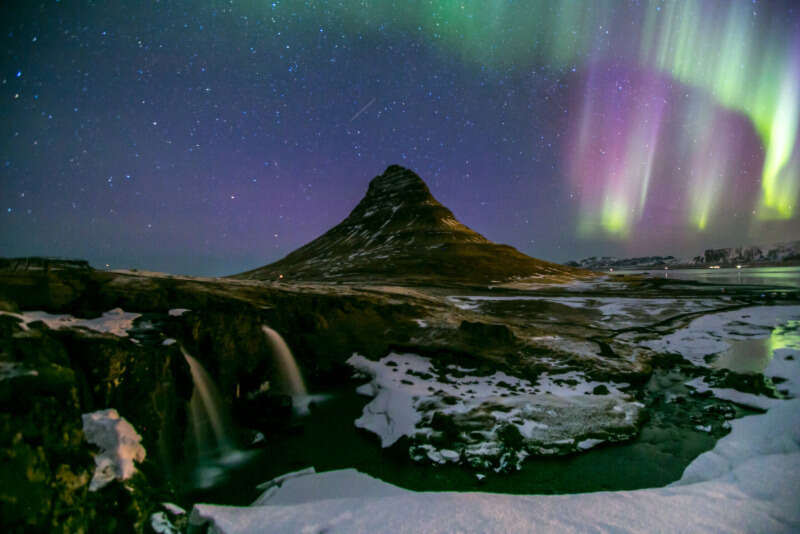 Things To Do In Iceland In August
July and August are the best months to take advantage of the great weather and spend 4 magical days in Iceland – or more! Explore Iceland's national parks, and enjoy many cultural events while enjoying its capital city, Reykjavik.
Road Trip The Ring Road
The Ring Road is a major road that loops the island. Along the Ring Road, you'll find a lot of major attractions. While you can choose to book some tours to see all there is to see (and don't worry, we will recommend some great tours for you later on), you may prefer the flexibility of renting a car and doing a few self-drive tours instead.
So let's take a second and talk about renting a car in Iceland. First, if you decide to visit in August, you are most likely safe from any challenging weather conditions, and a smaller vehicle with 2WD should be sufficient, unless you are traveling with a larger group of people. If you visit in the winter, be sure you have a driver who is very familiar driving in snowy and icy road conditions and bad weather, because you are guaranteed to encounter those. Renting a larger, heavier vehicle with 4WD is a good idea. Be sure to purchase comprehensive car insurance, especially for a trip during the winter months. But even the summer months hold some interesting challenges to rental cars, such as volcanic ash and sand being carried by the wind, potentially causing damage to paint and windows. You may encounter gravel roads, and pebbles can also cause damage to your rental car.
To rent a car, in most cases all you need is a drivers license from your home country. The exception is if that license isn't in Roman script. In that case, get an international license that is. The person renting the car must be at least 20 years of age.
The best place to pick up your rental car is at Keflavik Airport, where you'll find plenty of rental companies to choose from. However, car rentals (like most everything in Iceland) can be pricey, so you are better off to book ahead of time to get a good deal and the exact vehicle that fits your needs. Be prepared for high gas prices. Note that there is not an abundance of gas stations once you leave Reykjavik. So even if you still have half a tank of gas, fill up if you see a gas station. Parking is free in most places, unless you are in Reykjavik, central Akureyri, or at the Seljalandsfoss waterfall.
Main things to know while driving are:
Always keep the headlights on, no matter what time a day or the weather. Also, monitor the weather
Drive on the right side of the road
Seat belts must be worn at all times
Obey the speed limit at all times. There are speed cameras around, and you don't want to ruin your vacation by getting an expensive ticket
Watch out for livestock, which generally roams free
Would you prefer to not go on your own of the Ring Road? Consider this 7 day guided Ring Road tour!
The Blue Lagoon
The world famous Blue Lagoon is one of Iceland's main attractions. It is a geothermal spa, located in southwestern Iceland, no more than a 30 minute drive from Reykjavik. The Blue Lagoon can be found right in a lava field near Grindavík on the Reykjanes Peninsula. If you are looking for the ultimate geothermal spa and hot springs experience, take some time to visit the Blue Lagoon! Get the full world-class spa experience at the in-water mask bar where you can apply a silica mud face mask, enjoy the sauna, steam cave, and steam room, have a drink at the in-water bar, get a back massage at the lagoon waterfall, and take some epic pics from the viewing deck. Note that it is a very popular place, so expect crowds.
Go Volcano Hiking
Iceland got its nickname 'The Land Of Fire And Ice' for a reason. The country doesn't just boast one active volcano, but 32 active volcanic systems! Yikes, but also, wow! We recommend a hike to Fagradalsfjall volcano. It erupted in 2021 and 2022, but is currently deemed inactive, so you should be plenty safe in the vicinity, and it's only an hour from Reykjavik by car. The eruption site offers no services, so come prepared with food and drink, and everything else you will need. The hike itself is just under 9 miles, with an elevation gain of nearly 1000 feet. Get a map before you go, there are three routes you can take. And make sure you do not walk on the lava. The lava from the most recent eruptions is still hot, and also fragile, and walking on it can be dangerous.
National Parks
One of the best things to do in Iceland in August is to visit the national parks. Iceland's nature is breathtaking, full of natural wonders, so you should take full advantage of the great summer weather and try to see as much of it as you can!
Thingvellir National Park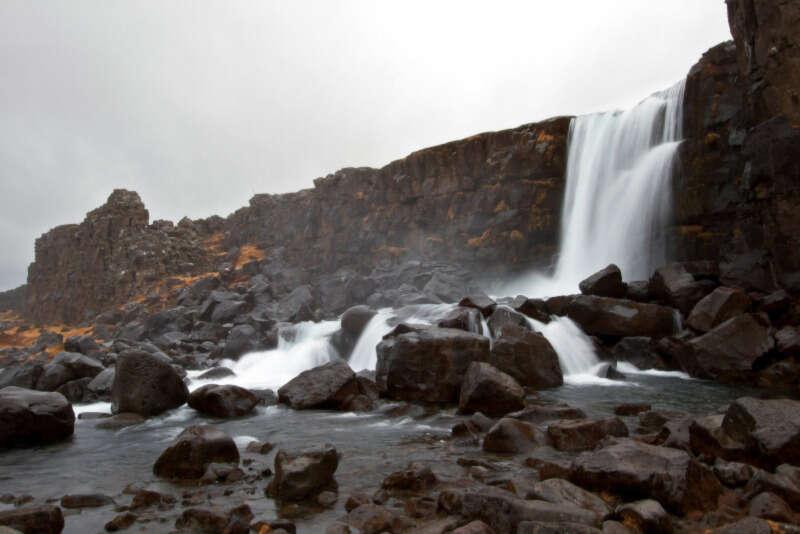 Thingvellir is not just a national park, and a historic site (it was the location of the Icelandic parliament from the 10th to the 18th century), but also Iceland's one and only UNESCO World Heritage Site! Naturally it's a good idea to make good use of the long daylight hours and head out to see it. Entrance is free, but expect to pay a small fee for parking.
This park is part of the Golden Circle, which consists of three locations in the southern part of the country: Thingvellir National Park, the Gullfoss Waterfall, and the geothermal area in Haukadalur, home to many geysers.
What is there to do at Thingvellir National Park? First, stop at the Hakid Visitor Center. You can see an interactive exhibition and learn about the park's history and current nature. The visitor center is right next to the Hakin viewing platform. The most unique activity is a walk between tectonic plates at the Almannagja gorge. Here the Eurasian and North American tectonic plates meet and form the Mid-Atlantic Rift. Take a walk at a place where you can truly imagine what Mother Earth looks like beneath the surface. The Oxarafoss Waterfall is a must-see, it's one of the most popular attractions in all of Iceland! Take a hike by Lake Thingvallavatn. History lovers should stop to see Althing, the site of the world's very first parliament, and the Thingvellir church. Adventurers should go snorkeling or horseback riding.
Vatnajökull National Park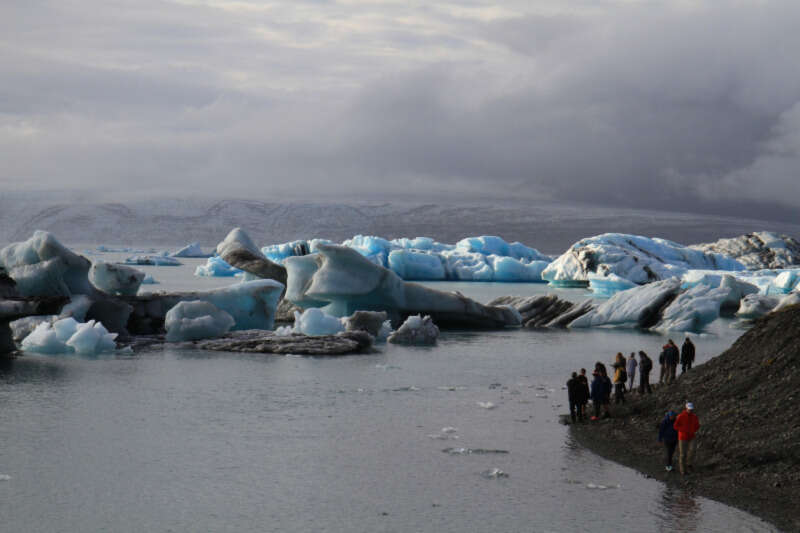 For a truly otherworldly glacier experience, and to see a stunningly diverse landscape, plan on visiting Vatnajökull National Park on the south coast. Vatnajökull is Europe's largest glacier, covering 8% of Iceland, and this national park is one of Europe's largest national parks, covering a total of 13% of Iceland.
The most amazing thing to do here is a glacier hike. But unless you are experienced in ice climbing and hiking, please do not attempt to do this without a guide. Check the 'best tours' section in this article for recommendations. But not all hikes at the park require serious expertise. Check out the national park website for a comprehensive summary of all hiking trails in the area. For an alternative glacier experience, consider going snowmobiling!
At the Jökulsárlón Glacier Lagoon you can get close to these magical ice formations on a kayak expedition or a boat ride. And talking about ice: at Vatnajökull National Park you'll find fantastic ice caves to check out!
Snæfellsjökull National Park
Snæfellsjökull National Park is located on the Snaefellsnes peninsula on the west coast of Iceland. It's famous for the Gerðuberg basalt cliffs, gigantic hexagonal columns that were shaped in this particular way by lava flows long ago. Watch seals at the golden sand beach of Ytri Tunga beach. Head to Búðakirkja black church. It's not just a picturesque destination, but you can take a hike across lava fields there. Head to Rauðfeldsgjá Gorge for a hike (but make sure to wear appropriate footwear!). Close by you'll also find the singing cave, Sönghellir Cave, famous for its incredible acoustics.
At the end of the day, head to Lýsuhólslaug geothermal bath and soak your tired bones in the rich mineral water of the natural hot springs. A great time should include some much deserved R&R, and the long days of late August allow for plenty of time to do just that.
Cultural Events in August
Did you know that Reykjavik is one of the world's top LGBTQ friendly travel destinations? Don't miss Reykjavik pride on the second weekend in August! Its pride parade will blow you away.
Culture Night is the beginning of Reykjavik's cultural year, and it's a lot of fun! On that day, museums and other cultural institutions present their program for the cultural year, and the time from 1 pm until 11 pm is packed with great events, all free of charge. On top of that, the day ends with a magnificent firework at the harbor. This event happens more toward the end of the month, during the weekend of the night that includes August 18th.
A very fun event happens on the first weekend of August: the annual European championship in swamp soccer. It's held in Ísafjörður, and it's basically soccer, but you get very, very dirty. August is a good month for this activity, because it's fairly warm, making the swamp bath a lot of fun!
Travel to Iceland's Best Kept Secret Location
The Westman Islands (Vestmannaeyjar), an archipelago off Iceland's south coast, with 15 islands and twice as many rock stacks. They are a place that's definitely off the beaten path, but they can be visited on a day trip from Reykjavik. And if you have enough time to spend in Iceland in August, you should definitely put them on your list! This is especially true if you are a bird enthusiast, because this archipelago is home to the world's largest colony of Puffins! And if you've never seen a Puffin before, it's so worth it. These cute little things are just astonishing. The same holds true if you enjoy playing golf. The islands offer an 18 hole championship golf course. Take a boat tour around the archipelago, or explore the islands by ATV. Learn about Belugas and Puffins at the world's first Beluga and Puffin Sanctuary.
Best Tours
The month of August a good time to take advantage of all the tours on offer in Iceland.
Now you know everything there is to know about going to Iceland in August. While the end of summer is a fine time to go, mainly for the warm weather, the warmer temperatures, and the longer daylight hours, you can find a good reason to visit the Land Of Fire and Ice any time of the year! Whenever you decide to travel, we hope you have a perfect trip! Make the most of your upcoming vacation!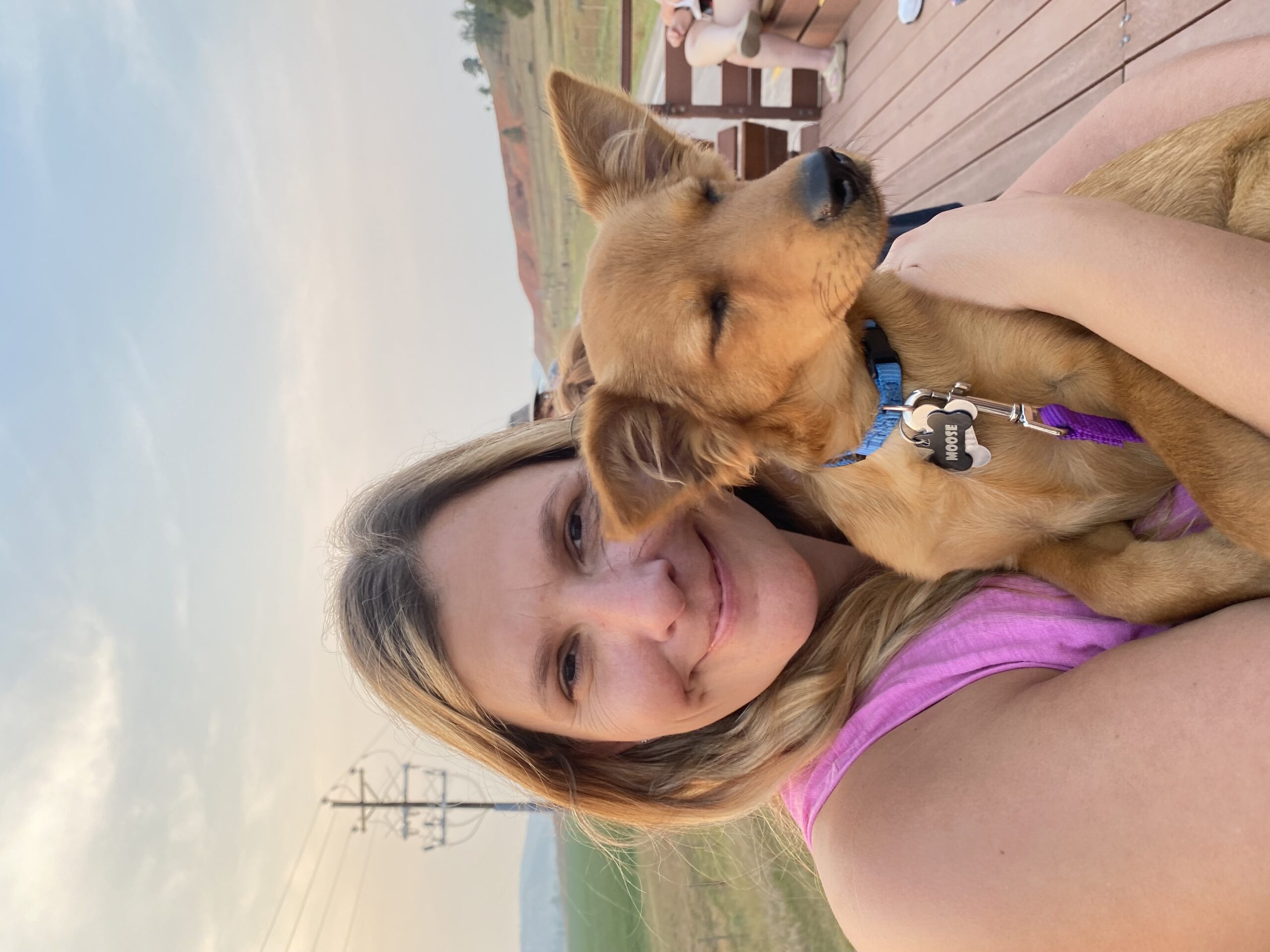 Jenny grew up in Germany. All she ever wanted out of life was to leave and have adventures. Jenny always traveled as much as the budget would allow, and when she met her husband traveling became a full-time thing. You can follow Jenny on her blog and Facebook.