Peru is a truly magical place and an incredible country. It is the third largest country in South America, and stunningly beautiful, full of history, nature, and culture. Every year, millions of tourists pack their bags and head to Peru to enjoy its diverse landscapes and remnants of ancient civilizations. Peru is one of the best countries to explore the history of the Incas. From bustling cities to UNESCO World Heritage Sites, and from Machu Pichhu to the Amazon rain forest, there's lots and lots to see. A trip to see Peru landmarks should be on everyone's bucket list! I have traveled a lot, and this was my second favorite trip ever (right after a 10 day vacation in Japan). I'm going to share my tips of the best Peru Landmarks!
Peru Landmarks
This post contains affiliate links. This means we make a small commission at no cost to you if you click through and make a purchase. All prices listed are accurate at time of publication.
1. Machu Picchu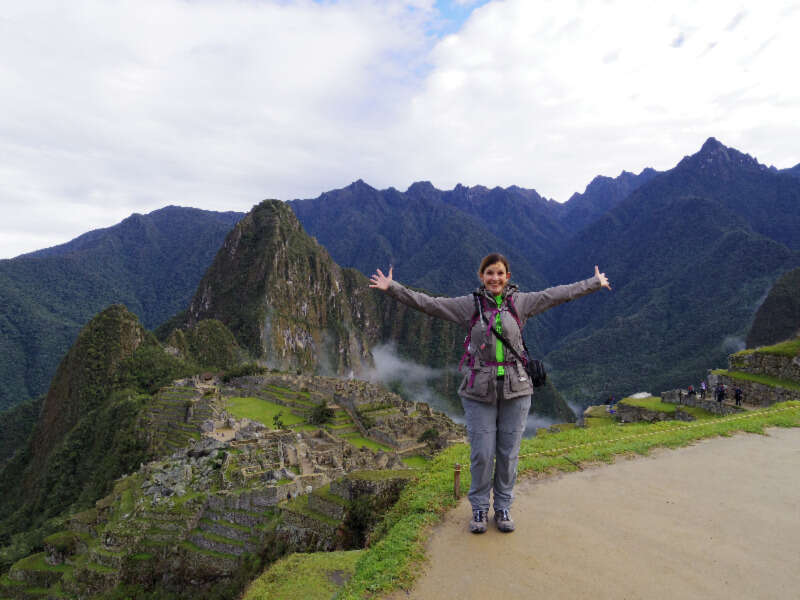 The ancient Inca city of Machu Picchu is one of the most famous historical sites not just in Peru, but in the world. It is an Inca citadel, built in the 15th century, and a symbol of the empire of the Incas. What's so magical about it you wonder? This archaeological site is, undoubtedly the most awe-inspiring in all of South America, located in southern Peru, at an altitude of nearly 8,000 feet. It is a large estate, consisting of three main structures, and built with huge polished dry-stone walls. The stones were so well cut that no mortar was necessary to fit them together – a miracle in itself when you consider the lack of modern tools back then. It is so well done, you wouldn't even be able to fit something as slim as a piece of paper between them! As far as it is known, the Incas did not use wheels to transport these large rocks to their building site – another incredible feat, since some of these stones weigh 50 tons.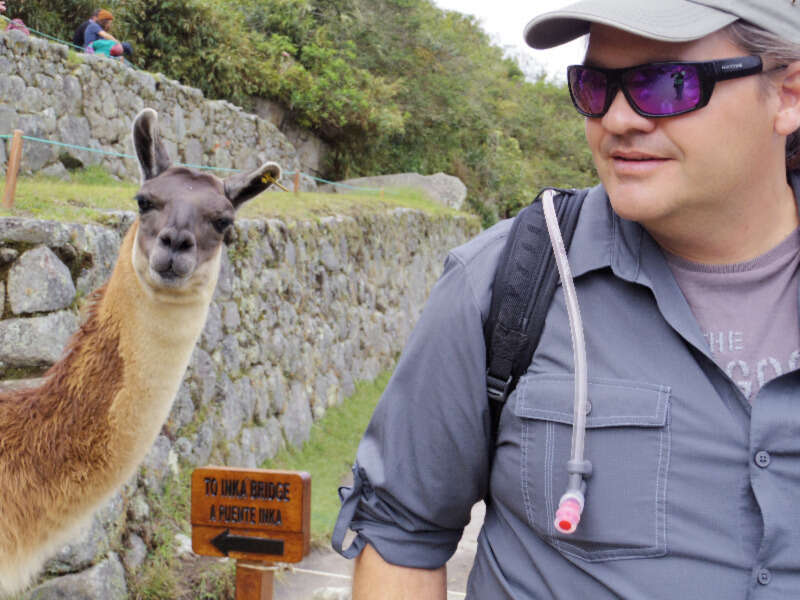 Machu Picchu is referred to as 'The Lost City of the Incas'. It was so thoroughly tucked away in the mountains that it survived the Spanish Conquistadors, which wiped out most other Inca cities. It is so well preserved that it was declared a UNESCO World Heritage Site in 1983, and one of the New Seven Wonders Of The World in 2007.
There are two ways to visit: take a train from Cusco or Ollantaytambo, or trek there. The ride from Cusco takes about 4 hours, from Ollantaytambo it's only 2 hours. The easiest thing to do is to book an all-inclusive day trip from Cusco so you don't have to worry about the logistics. Want to spoil yourself? Book the Hiram Bingham round trip luxury train to Machu Picchu instead!
While you are there you can buy an extra ticket to Huayna Picchu, the peak towering about Machu Picchu. The number of daily visitors allowed on this peak is only 400, so make sure to reserve your tickets immediately after booking your trip to this historical landmark! With 2,500 people visiting this site of ancient civilization every day, those tickets can go fast.
Trekking to Machu Picchu
Are you up for an adventure? There are three treks you can choose that end at Machu Picchu: the famous Inca trail, the Lares trek, and the Salkantay trail. You don't have to be super fit or an experienced mountaineer to do any of these treks. But it is important that you are at the very least fairly fit, have some experience hiking, and are in good health. All of these treks are at an altitude that should not be taken lightly.
Inca Trail
The Inca trail is the most popular and therefore the busiest route to take. The classic Inca trail route is 40 kilometers long (that's roughly 25 miles), and it is done over the course of 3 days. Most tours offer a 4 day trek, with the fourth day being reserved for the visit to Machu Picchu. On the Inca trail, you hike on the old Inca road, arriving at the famous Sun Gate to Machu Picchu. The downside is that is is busy. And I mean VERY busy. 500 people hike this trail every day. Not exactly a serene experience.
Lares Trek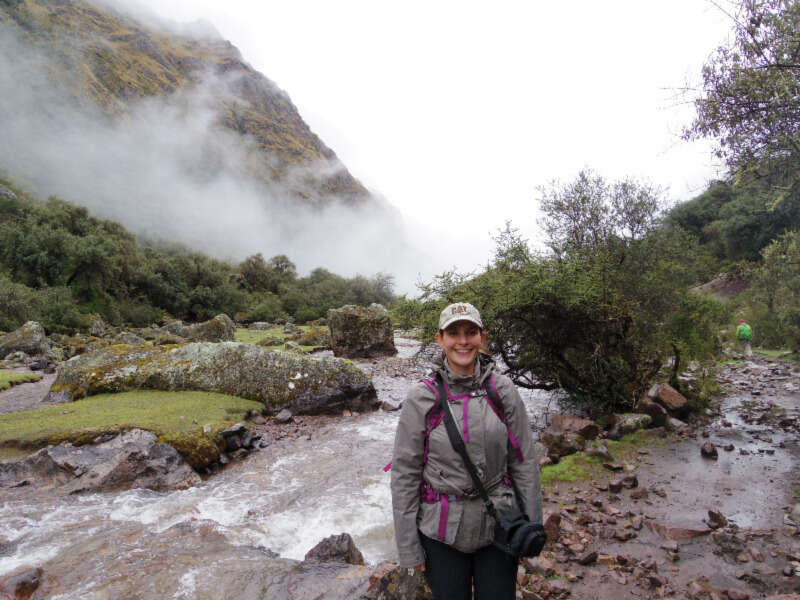 I am most certainly biased, because when I went to Peru, I opted to hike the Lares trek instead. I dislike crowds, so the choice to not hike the Inca trail was an easy one. The Lares trek is less challenging than the Inca trail, but guarantees a much more authentic experience. Read the full story of my experience of hiking the Lares trek to Machu Picchu if you are interested! My hubby and I did the trek of 33 kilometers (about 20 miles) in 3 days. It's important to know that the Lares trek goes to a much higher altitude than the Inca trail. Our highest point was at about 15,503 feet. If you have never been at altitude before, this might not be the option for you. But – this is your chance to truly experience authentic Peruvian culture. Along the way we met many locals, were even invited to their houses! That's one of the things that made this trip extra special for me. We went with Alpaca Expeditions, and I can not say enough good things about their services!
Salkantay Trail
Last but not least, there is the Salkantay trail. With a total length of 72 kilometers (about 45 miles) it's much longer than the other two trails, and you should not attempt it if you have little hiking experience. But if you do, you are in for a treat. The fact that it is a strenuous hike keeps the crowds away, and you have all that beautiful nature to yourself!
2. Sacred Valley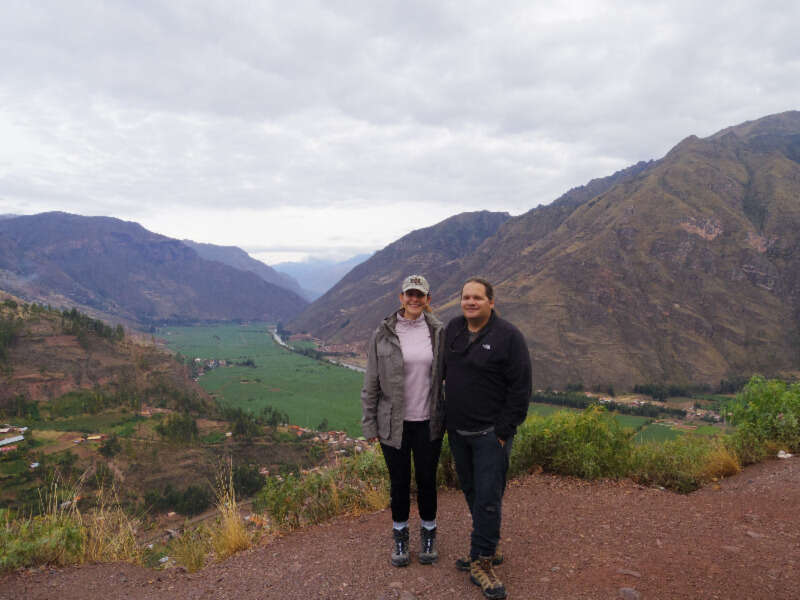 On the way to start the Lares Trek we stopped at a view point to see the Sacred Valley., located less than 10 miles from Cusco. Back in the day, this was a main agricultural area for the Incas, who mostly produced maize there. While we only got to have a quick stop along the way, the Sacred Valley is absolutely worth visiting. Within this stretch of 60 miles, you'll find lots of things to do.
Ollantaytambo
Ollantaytambo is a beautiful cobble-stoned village by the river Patacancha, framed by the Peruvian Andes. It is best known for its ancient ruins, which once were a very large Inca temple and fortress, and you can even still see the large stone terraces built into the side of the hill. Explore the terraces at the Sun Real House, visit the solic Chocana, a small fortress that possibly dates back to the time before the Incas, see the Kuychipunku (Square of Petitions), and, of course, do not miss the Sun Temple, which is the best place to enjoy spectacular views across the Sacred Valley. If that did not yet fill your day, stop at the souvenir market, discover the Temple of the 10 Niches, admire the Cachicata stone quarry, or go to Quellorakay Park.
Pisac Town
Once an Inca settlement, Pisac town was founded in its current state by a Spanish Conquistador: Viceroy Toledo. From the nearby city of Cusco, lots of visitors come to experience the Inca ruins and buy amazing goods from local people at the market.
Salineras de Maras (Maras Salt Mines)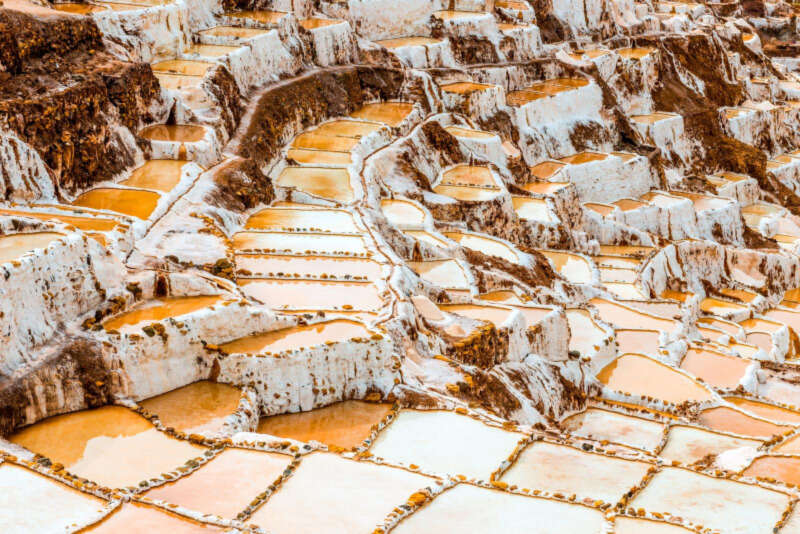 The ancient salt mines of Maras are quite fascinating. There are thousands upon thousands of shallow pools which have been dug into the mountainside. They are filled with salt water, which is channeled into them from natural springs, made salty by salt deposits from prehistoric salt lakes. Once the water evaporates, beautiful pink salt can be mined. The easiest way to visit is to book a tour from Cusco (it's only 30 miles from the city), but you can also make your way there by public transportation.
3. Rainbow Mountain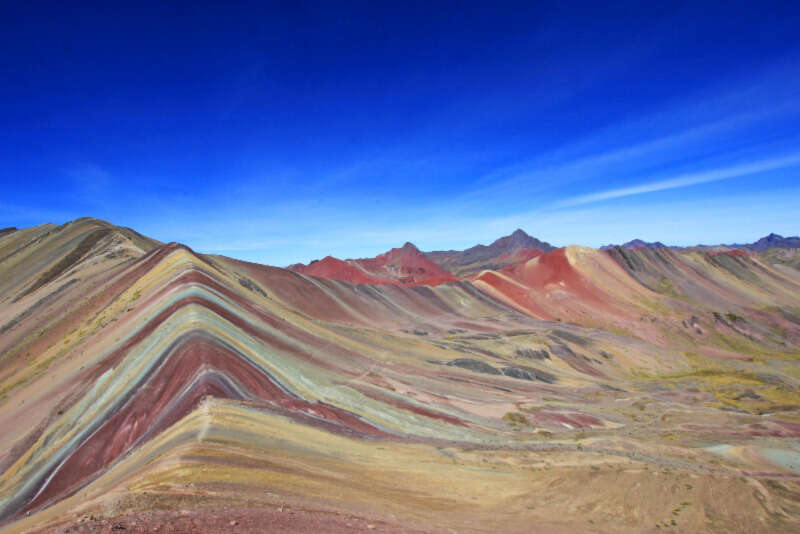 When you first see a picture of Rainbow Mountain (also known as Vinicunca) you might get the feeling that this can not be real. Can this array of colors really exist in the natural world? Yes, it can, and it does, about three hours from the city of Cusco. Rainbow Mountain is the second most popular destination in Peru after Machu Picchu, and it is a sacred place in the Peruvian Andes. With a height of just over 17,000 feet and its magical array of colors, caused by sediment of minerals, its quite the sight to behold. National Geographic named it as one of its 'Top 100 Places To Visit Before You Die', so obviously this is one main reason not to miss it.
How can you experience Rainbow Mountain? You can book the Rainbow Mountain in One Day from Cusco tour. It's a long day trip, about 12 hours, that includes an attempt on the summit and is physically challenging. Or, you can opt for the Short Trek to the Rainbow Mountain, which is about a 6 hour tour, with only a 1.5 hour hike up to the top. Or, you can do it on horseback!
4. Colca Canyon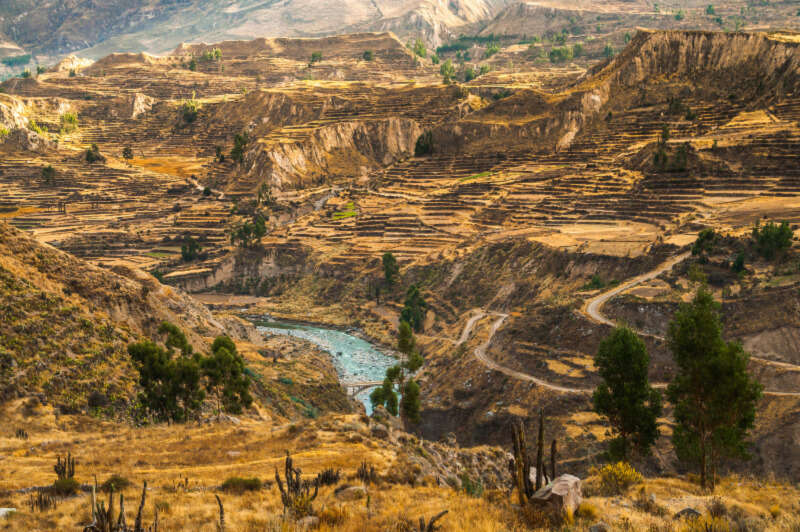 Colca Canyon is our planet's second deepest canyon, with the Colca River winding its way through the landscape. At it's deepest point, it reaches down 11,150 feet – 3,400 meters. (Fun fact: Colca Canyon is almost twice as deep as the Grand Canyon in the United States! The Yarlung Zangbo River Grand Canyon in Tibet takes the crown of the deepest canyons in the world.) For 60 plus miles it winds its way through the Andes in southern Peru. Most tourists visiting Peru go straight to its most famous attraction, Machu Picchu, but Colca Canyon is a beautiful place to explore, especially if you like to hike!
It is located about 100 miles from Arequipa, Peru's second largest city, and its easy to get to from there. The easiest and quickest thing to do is to book a full day guided tour from Arequipa. You'll head out very early in the morning, stop at the hot springs Chacapi for a dip, and have a short stop at Salinas y Aguada Blanca National Reserve. This way you get a general idea of what this place is like. However, it is highly recommended you don't just skim through this incredible area. But if you have the time, book yourself a Colca Canyon sightseeing tour of 2 days and 1 night instead. As I mentioned before, one of the best things to do here is to go hiking. You can opt for a short 2 day 1 night trek, or a 3 day trekking tour. But if you would rather go off on your own, you can! Just make sure you are well prepared and have already spent a few days at altitude before you go.
5. Lake Titicaca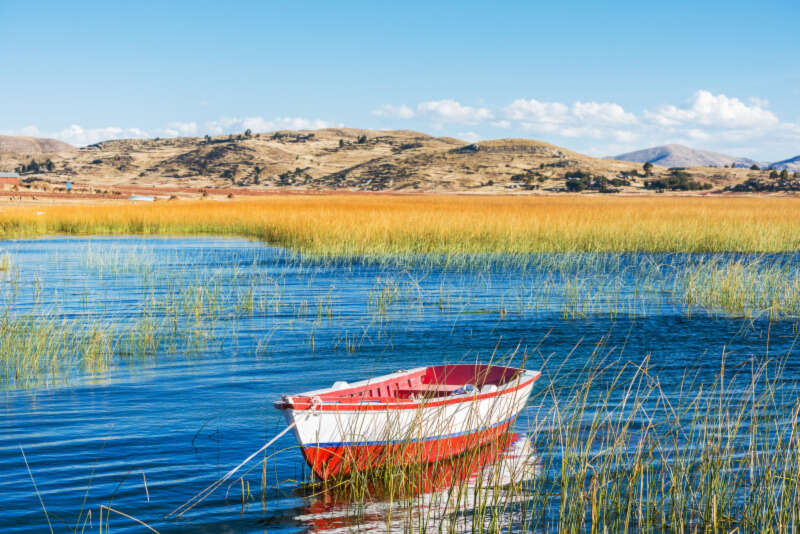 Lake Titicaca is South America's largest lakes, straddling the borders of Bolivia and Peru. It's also one of the prettiest lakes in the world, which is why it is such a popular tourist destination and the perfect place to get some R&R. The Uros Floating Islands are the main reason people visit this most famous of Peru's natural landmarks. They consist of dried totora reeds and are unlike anything you've ever seen before. Visit Taquile Island, renowned for its textile art, which granted it a place on the UNESCO Cultural Heritage of Humanity list. Treat yourself to a stay in an eco-lodge, the Isla Suari Hotel, at Isla Suasi, a private island. Panoramic lake views from all rooms, terraced gardens, and all-inclusive guarantee a perfect stay!
6. Nazca Lines
A great place to explore ancient ruins is located in southern Peru, in the Nazca Desert: the Nazca Lines. These are a series of ancient geoglyphs dating back to between 500 BCE and 500 CE. What are geoglyphs, you may wonder? If you have heard of petroglyphs, you may already have an inkling. While petroglyphs are rock carvings, geoglyphs are designs on the ground. They are generally rather large, 10 feet or much, much more, and were built using natural materials such as stones. The Nazca Lines are among the most famous geoglyphs in the world. They were created by the Nazca people, and the purpose of them is not quite clear. They may have been made to get the attention of the gods, as a kind of observatory, or to represent constellations in the sky. Maybe we will never know, but the fact of the matter is that these Nazca Lines are awe-inspiring. Creating these without having the ability to get the full aerial view and still have them look absolutely perfect is mind-blowing. Therefore they have been declared a UNESCO World Heritage Site in 1994. The best way to see them is, of course, from the air. We recommend an amazing Nazca Lines, Huacachina Oasis & dune buggy in the desert full day trip to see them.
7. Huascarán National Park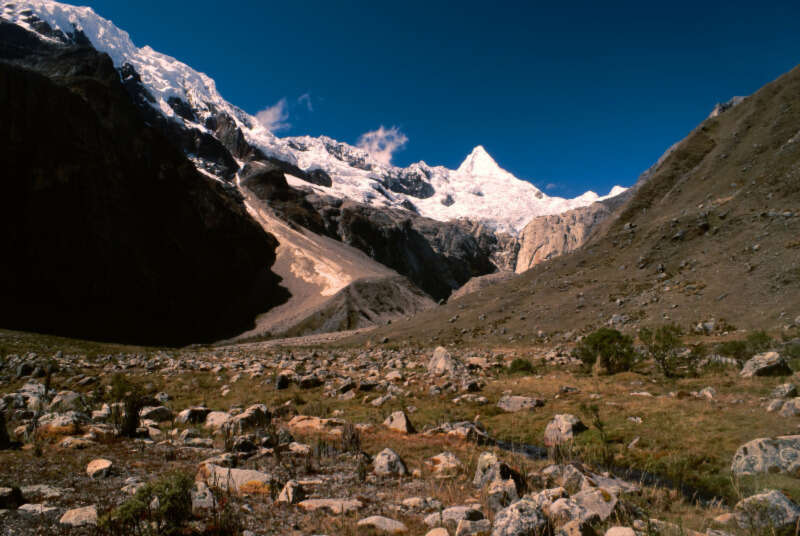 The Cordillera Blanca, the highest tropical mountain range, in the world, is a popular destination for the outdoorsy traveler. Trekking, climbing, mountain biking, and 4×4 adventures are the best way to take in all the beautiful sights in this mountain range. Within these snow-capped Andes mountains visitors will find the Huascarán National Park, home to Peru's highest peak, Nevado Huascaran (Mount Huascaran), and a UNESCO World Heritage Site since 1985. The scenery is simply stunning, with hundreds of glaciers and blue lagoons, all towered over by Mount Huascaran. There are a ton of exciting excursions to Huascaran National Park on offer. These are our favorites:
8. Paracas National Reserve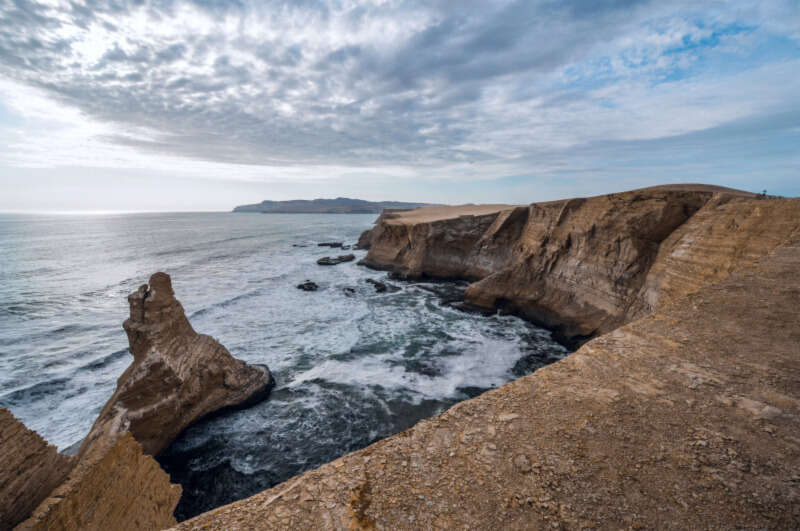 Located about 155 miles south of Lima, Peru's capital city, and just a few miles from the city of Pisco, lies the Paracas National Reserve. It's a protected area famous for its diversity of marine wildlife. What can you hope to spot when you go there to see wildlife ethically? There's the Andean condor, the Chilean flamingo, the Humboldt penguin, and many other species of birds. Mammals include the common bottlenose dolphin, the South American fur seal, and man species of whales such as the sei whale, the humpback whale, and even the killer whale! That's just a selection of the animals you can see here. The best way to visit is to book a Ballestas Islands and Paracas Reserve tour from San Martin Port.
9. Amazon Rainforest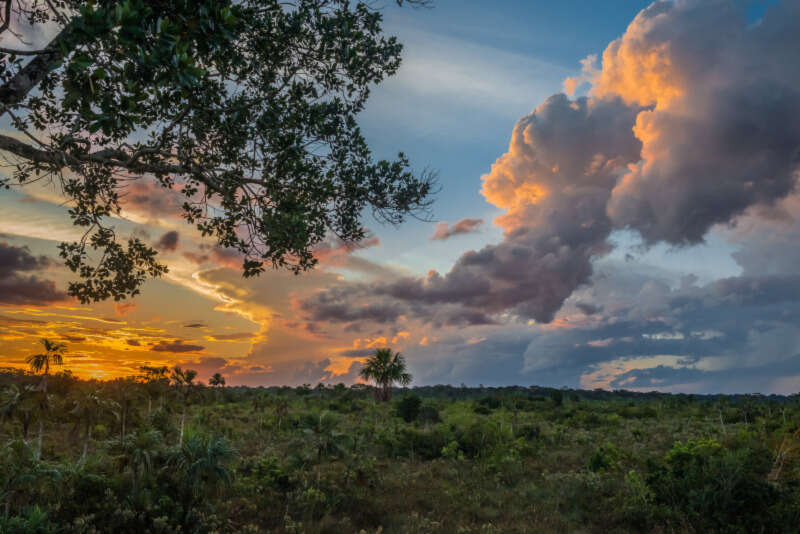 The Amazon rainforest, which is the largest rainforest in the world, is one of the best places to go for nature lovers, and one of the natural wonders in this world. Abundant wildlife and plant life will leave you in awe of mother nature. The rainforest covers 60% of Peru's territory and is home to more than 12,000 different species. There are two kinds of jungle here: highland and lowland jungle, and you guessed right that this refers to the altitude. Lowland jungle altitude ranges from nearly 300 to about 1,300 feet above sea level, and highland jungle altitude starts at 1,300 feet and reaches up to nearly 3,300 feet. The difference in altitude makes for a different climate and thus a difference in flora and fauna. Take a few days to explore this stunning wilderness, see cloud forests, observe birds, sloths, pink dolphins in the Amazon river on a boat ride, and all the other animals you won't get to see elsewhere. You can book a 2 day all-inclusive guided jungle tour from Iquitos, a 3 day tour from Cusco or from Puerto Maldanado, or even a 4 day adventure from Iquitos.
10. Chan Chan
Located in northern Peru, between the Pacific Ocean and the city of Trujillo visitors have the chance to see another popular tourist attraction off the beaten path: Chan Chan, the impressive site of what was once the biggest city of the pre-Colombian era. It first served as the capital for the ancient Chimú civilization, but was then taken over by the Inca empire. This is historic site is massive, covering an area of nearly 8 square miles. Chan Chan was designated as a UNESCO World Heritage Site in 1986. Today, the Chan Chan Museum displays artifacts explaining life as it was back in the day. Stroll through the main plaza, the audience rooms, the Gran Hachaque Ceremonial Reservoir, the warehouses, and the king's mausoleum. If you want detailed information, it's best to join a guided tour from Trujillo.
Peru is more than just Machu Picchu and Rainbow Mountain, its most famous sites! Take plenty of time to explore all of these Peru landmarks, you are guaranteed to have the trip of a lifetime!
If you would like to spend more time in the area, consider visiting Bolivia! I've put together a guide of 14 famous landmarks in Bolivia you can't miss.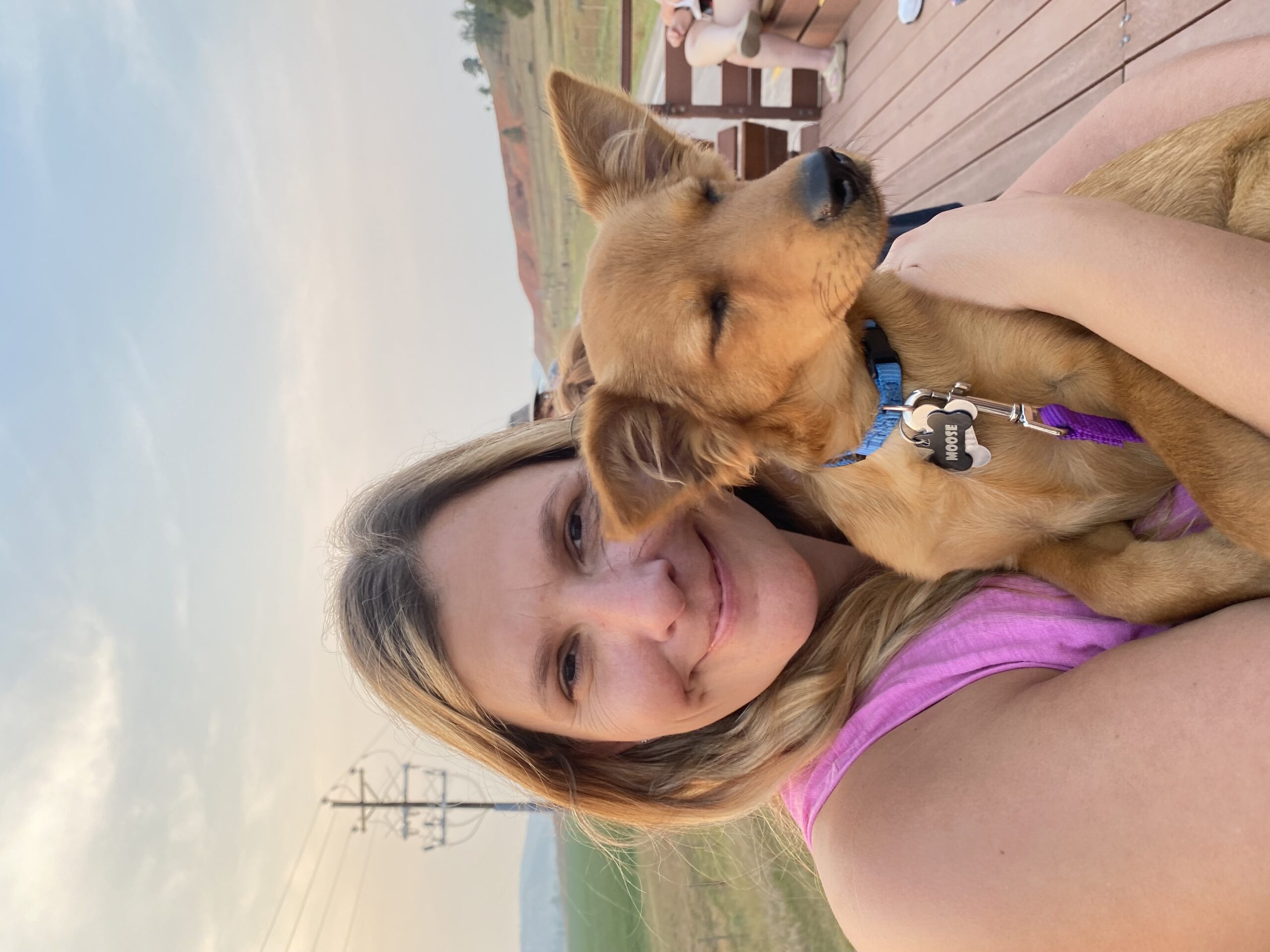 Jenny grew up in Germany. All she ever wanted out of life was to leave and have adventures. Jenny always traveled as much as the budget would allow, and when she met her husband traveling became a full-time thing. You can follow Jenny on her blog and Facebook.