Bolivia is a travel destination that often gets overlooked in favor of its neighbors and their famous landmarks, such as Peru with its famous Inca Trail and Machu Picchu, or Chile and Patagonia. However, Bolivia is an incredibly diverse landlocked country with lots to offer and can lay claim to many superlatives. Read on and find out which famous landmarks in Bolivia you can't miss!
This post contains affiliate links. This means we make a small commission at no cost to you if you click through and make a purchase. All prices listed are accurate at time of publication.
Famous Landmarks In Bolivia
1. Tiwanaku
Back in 110 AD, Tiwanaku was a thriving ancient city, the highest in the world, set at around 12,500 feet. It is located in the Andes mountains in western Bolivia, near Lake Titicaca. At the height of its success, between 500 and 900 AD it was estimated to have a population of between 10,000 and 20,000. The site was first discovered in the 16th century by a Spanish conquistador. Tiwanaku is believed to have been the capital of an important and distinct pre-Hispanic empire. It wasn't just the political, but the spiritual capital of the Tiwanaku Empire, and one of Bolivia's most sacred sites.
Today, visitors can take tours to the archaeological site, which was declared a UNESCO World Heritage Site for its outstanding universal value in 2000. The best way to visit is on a day trip from La Paz. You can expect to see the Gateway of the Sun, museums of ancient treasures, the Akapana Pyramids, the Temple of Kalasasaya, and the Pumapunku Stone complex.
2. Lake Titicaca
Lake Titicaca, located at an altitude of 12,507 feet in the Andes mountains, at the border of Peru and Bolivia, is the world's highest lake that large vessels can navigate. With its crystal clear waters, beautiful islands, and the backdrop of the Andes, it's one of the prettiest lakes in the world (read more about that here!), and a must-see destination in Bolivia. It's South America's largest lake containing fresh water, and believed to be as old as sixty millions years.
A great way to visit is on a two day trip from La Paz. On this tour, you can expect to visit the artisan town of Copacabana, Sun Island (Isla del Sol) and the Temple of Pilcocaina, and ride the ferry across the lake.
3. Salar de Uyuni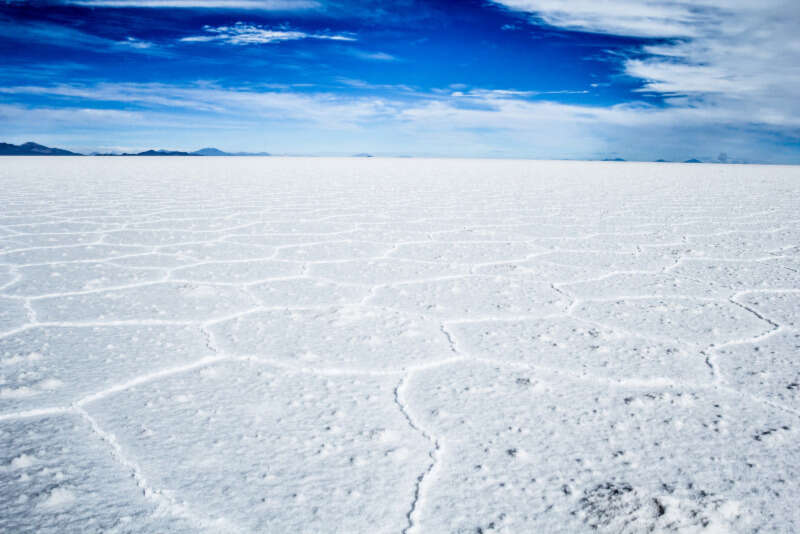 In the southwestern part of Bolivia, which connects with the Atacama Desert in Chile's northern parts, you will find the most amazing natural wonder, and one of Bolivia's most popular tourist attractions. The Salar de Uyini is the largest salt flat in the world with a size of 3,900 square miles. It's located in the southwest of the country at an elevation of 11,995 feet above sea level. The salt flat is the result of prehistoric lakes which dried out, leaving behind an extraordinary large and flat expanse, covered by a crust of salt. It's truly a sight to behold, but for the real spectacle, make sure you visit in November. At that time, it started to rain, turning the the Uyuni salt flats in to a huge mirror and the breeding grounds for three species of flamingos.
Again, this is a place beautiful that can easily be explored on a day tour from La Paz. Stop at the Train Cemetery, see locals harvest salt at Colchani, visit Isla Incahuasi, an island full of cacti, and, of course, stop to take pictures of the breathtaking landscape.
4. Amazon Rainforest
Bolivia is one of the countries sharing the Amazon Basin, and thus the Amazon rainforest. A trip to the Amazon is a truly unforgettable experience, with diverse flora and fauna you won't find elsewhere on the planet, and the rich indigenous culture you can experience there. The best time to visit in during the dry season, which lasts from October to May. If your sole purpose is to visit the Amazon, Bolivia is one of the best places to do so, since it is a lot cheaper than some of the neighboring countries such as Brazil.
A very fun way to go is a boat trip. Book a river cruise! Spend four days on your boat ride cruising the Mamore River, go hiking, tubing, piranha fishing, and swim with pink dolphins!
5. Madidi National Park
Madidi National Park, is located in the upper Amazon River Basin, in northeastern Bolivia, and was established in 1995. Protected areas in the vicinity are Manuripi-Heath, Apolobamba, and the Manu Biosphere Reserve, and together with the national park they form one of the largest protected areas on the planet. It is one of the planet's most biologically diverse ecoregions, and a great stop after your river cruise, and a must see for every nature lover.
Tap into your inner adventurer and sign up for a four day adventure trekking and camping trip.
6. Cable Car in La Paz
When you visit Bolivia, you will most likely spend some time in its capital, La Paz. While there you need to take advantage of one of Bolivia's great landmarks to catch a bird's eye view of the city: the cable car! You will find that there are numerous cable car lines, all going different places. You could spend days riding them all, but if you have little time, we recommend you ride the red cable car. It is, without a doubt, the most spectacular one. The best days for a ride are Thursday or Sunday, when you will not only cross the enormous cemetery and the neighborhood of Chualluma on your way up, but also glimpse a view of the huge El Alto market.
7. Death Road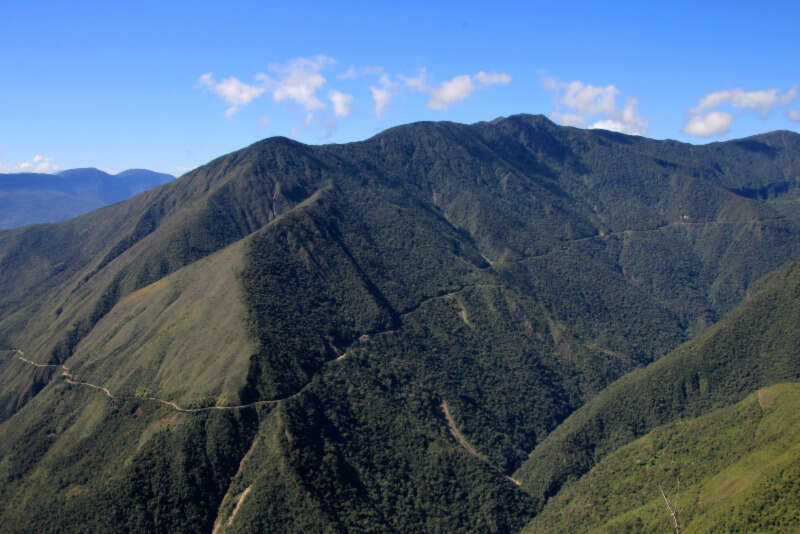 The Road of Death – doesn't that sound like the most fun of adventures? As a matter of fact, it is! The Yungas Road, also called the death road, is a major tourist attraction in La Paz for all bicyclists. One look at a picture of Yungas Road answers the question of how it got its nickname. It's a slender road cut into the side of the Cordillera Oriental Mountain Chain, lacking guard rails that would stop a person from plunging to their death into the 1,500 foot abyss that lays below. Now with that said, there are a few people each year who die in this road. But thousands more ride the forty miles safely and happily every year, in awe of the natural beauty this route provides – and so can you! The best way to guarantee your safety on this bike ride is to join a tour with a professional local guide. Enjoy the ride without worries, marvel at the incredible scenery and the wild animals you may encounter along the way, and enjoy a carb heavy lunch (because you will need it) on this mountain bike tour on the world's most dangerous road.
8. Santa Cruz De La Sierra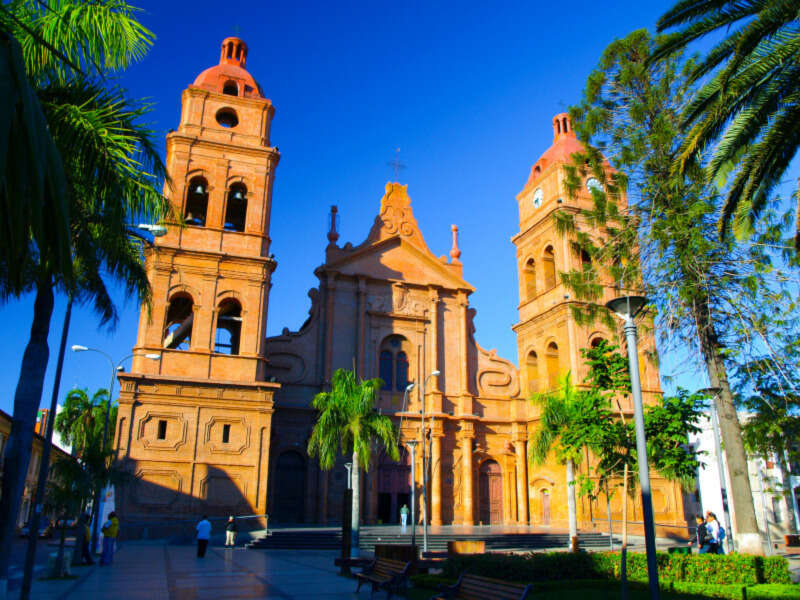 Santa Cruz de la Sierra, or Santa Cruz, is Bolivia's biggest city, located in the east-central part of the country, with a population of approximately 2.4 million people. It is located in the foothills of the Andes, at an altitude on 1,365 feet, right by the Pirai River. Visitors can enjoy a tropical climate in this beautiful city, which is surrounded by the lush greenery of the Amazon rainforest. Santa Cruz was founded in 1561, and today tourists can enjoy the modern amenities of a big, modern city alongside beautiful colonial architecture in the industrial, commercial, and agricultural center of Bolivia. There are plenty of things to do. Here are our top tips:
Visit the cathedral Catedral de Santa Cruz), one of the most beautiful religious buildings in Bolivia. You can even get up to the bell tower and enjoy Santa Cruz from a whole new perspective!
Plaza Metropolitana 24 de Septiembre is where you will find the cathedral. It's the city's main square, surrounded by shops, government museums, and museums.
The Guembe Gardens are 24 hectares of natural beauty. These botanical gardens feature many tropical plants, a butterfly sanctuary, pools for you to swim in, and you can even go kayaking!
Ventura Mall is the place to spend an afternoon shopping.
Parque Lomas de Arena is a small natural wonder, no more than a 45 minute drive from Santa Cruz. It's a regional park of 3000 hectares, with a natural desert and massive sand dunes.
9. Samaipata
Samaipata, Bolivia's Little Switzerland, is a small town about 75 miles from Santa Cruz, and the gateway to Amboró National Park (more on that later). Because it is at a higher altitude than Santa Cruz (approximately 5,250 feet), it's climate is cooler but still very pleasant. Colorful houses mix with cozy cafes and nice restaurants. The most popular spot. and one of the most famous landmarks in Bolivia, is El Fuerte, a pre-Colombian archeological site more than 2,000 years old. This UNESCO World Heritage site is a perfect place to learn about ancient culture, most notable of the Incas, who arrived in the area in the 15th century.
Visitors won't find any remaining buildings, but the ongoing excavations have uncovered the remains of 500 Inca ruins. Wander around this fascinating site, and climb one of the two observation tower to get a good overview.
10. Amboró National Park
Amboró National Park is home to more than 900 species of birds, and nearly 180 species of mammals, including ocelots, pumas, giant anteaters, cougars, and the spectacled bear, which is rare. To get the full experience, book a tour with a knowledgeable guide from Santa Cruz.
11. Casa Nacional de la Moneda
Located in the city of Potosí is the Casa Nacional de la Moneda, one of the greatest museums in all of South America. The building was erected from 1753 to 1773 for the purpose of minting of colonial coins, overseen by the Spanish conquistadors. Nearby is the silver mine of Cerro Rico, which supplied the national mint. The building has gone through its share of transformations: from mint to prison, from prison to headquarters for the Bolivian army, and from headquarters to museum.
Today, visitors can admire the beauty of the building, along with famous religious paintings and machinery used to produce coins. It's an incredible historical monument.
12. Laguna Colorada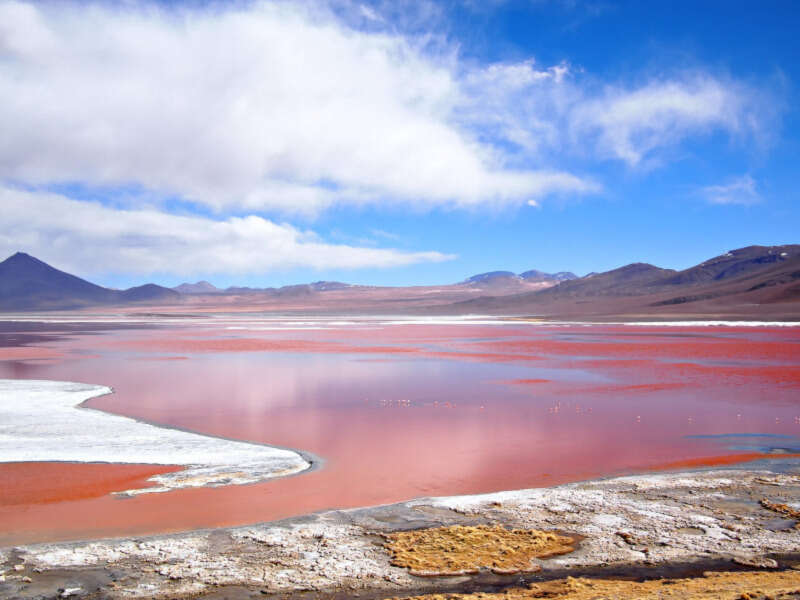 The Laguna Colorada is a sight to behold. It's rusty red-pink color is otherworldly, on par with the Pink Sea of Colombia. It's a very shallow salt lake, located at an altitude of 14,100 feet, located in the Eduardo Avaroa Andean Fauna National Reserve in the southwest of the altiplano of Bolivia. White borax islands are sprinkled around the lagoon. Just as in the salt flats, flamingos come here to gorge themselves on the abundant supply of plankton.
A great way to visit is to book a multi-day tour to the salt flats and the Laguna Colorada.
13. Laguna Verde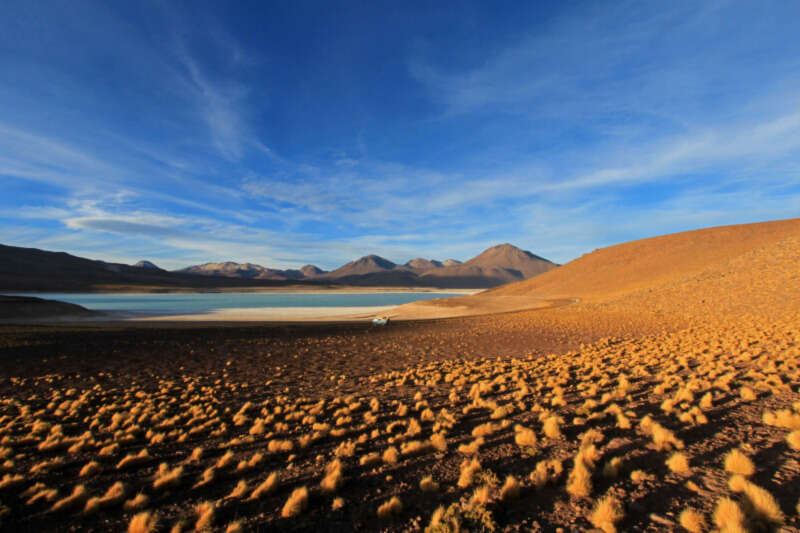 Laguna Verde is another spectacular salt lake, and, along with the salt flats and Laguna Colorada, one of the most popular tourist attractions in Bolivia. Its setting is simply spectacular. Framed by two volcanoes this emerald green lake will take your breath away. It's set withing the Eduardo Avaroa National Reserve, where you will find hot springs. You won't encounter flamingos here, since the water is toxic at times, with high concentrations of lead, sulfur, arsenic and calcium carbonates.
Ready to visit? Book a three day tour to the salt flats and both colored lagoons!
14. Noel Kempff Mercado National Park
The Noel Kempff Mercado National Park is located in the Amazon Basin, at the border with Brazil, but as far from Rio de Janeiro as it gets. It is the ideal place to have a unique experience in nature. Here, the Amazon rainforest meets the Chiquitano forest. There are black water bays, lagoons, forests, and savannas, a greatly diverse habitat. Visitors have the chance to see a few breathtaking waterfalls, such as the Arcoiris Falls, the Encanto Falls, or the Frederico Ahlfeld Falls. Such a diversity in habitats leads to a great diversity in fauna. Giant armadillo, pumas, howler monkeys, tapirs, river dolphins, and many more call this national park home.
Bolivia tourist attractions are as diverse as the country you are planning to visit. Enjoy the historic sites, big city amenities, and natural attractions that comprise the famous landmarks in Bolivia.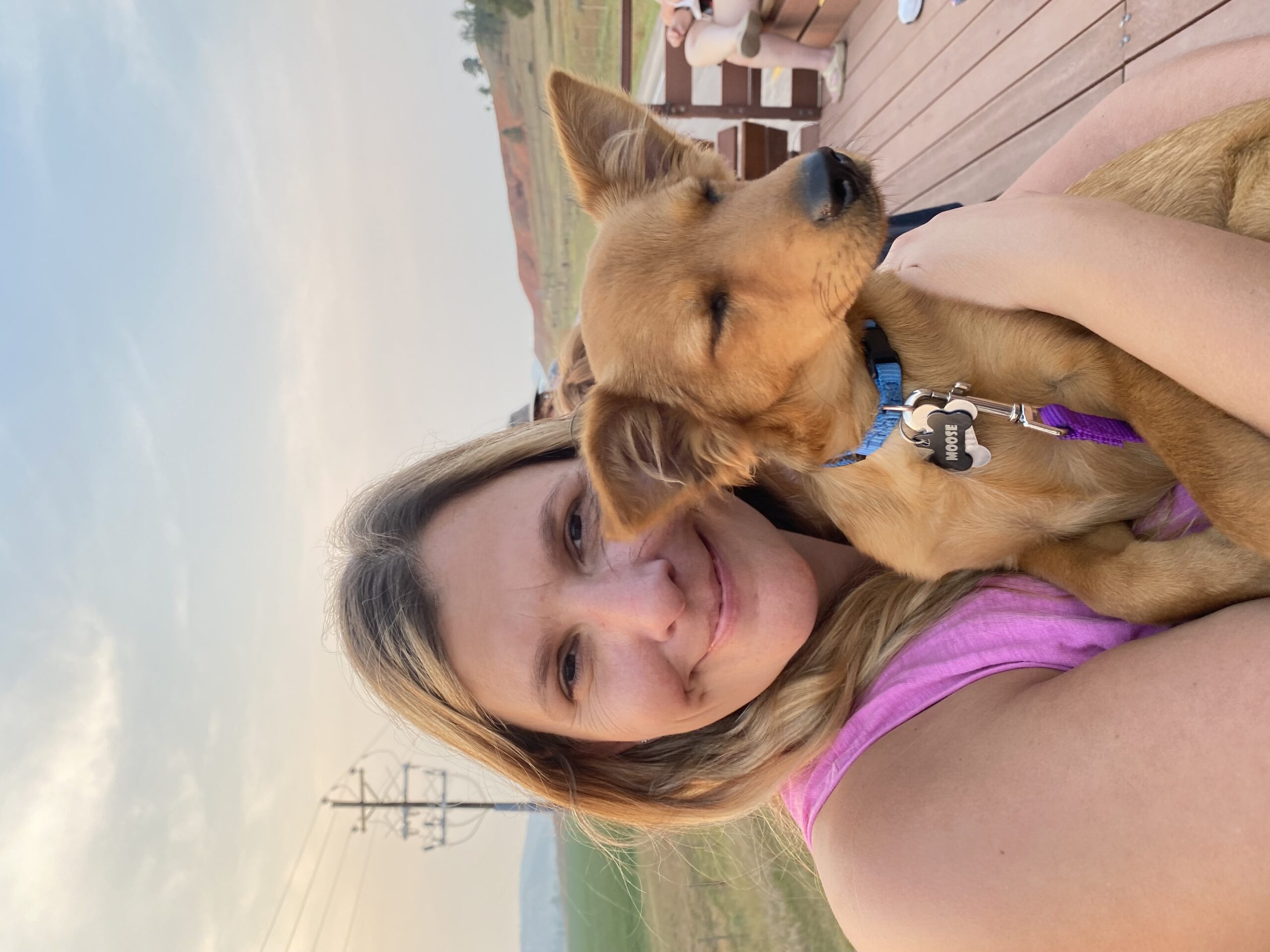 Jenny grew up in Germany. All she ever wanted out of life was to leave and have adventures. Jenny always traveled as much as the budget would allow, and when she met her husband traveling became a full-time thing. You can follow Jenny on her blog and Facebook.