I stopped at Zion National Park on my way to San Diego, but I will be planning a trip exclusively for Zion in the future! I can admit that my time at the national park was shorter than I would have liked, but that is not because I couldn't make it to every hike. I did most of it, loved every single piece of it, and I'm so excited to share this experience with the world!
Zion National Park in Less Than 3 Days!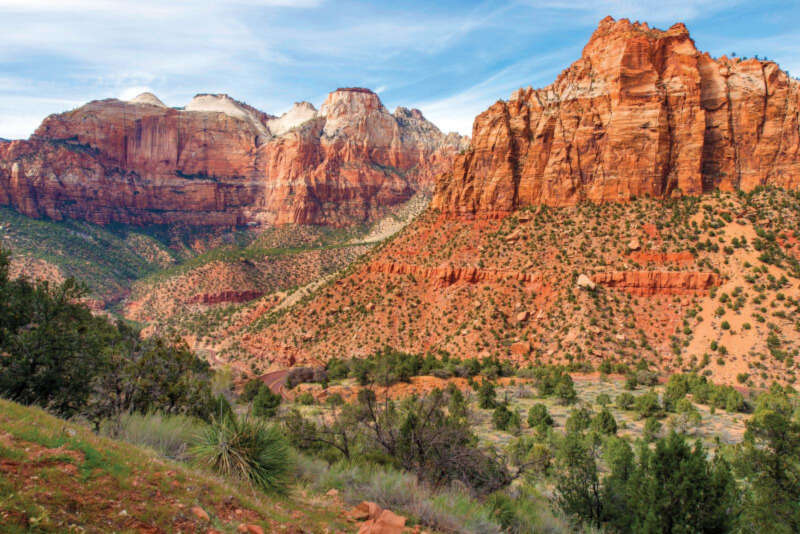 I visited in the beginning of March, and while this is my only experience visiting the park, it felt like the perfect time to be there! The sun kept me warm, with views of snow on the mountain tops, and there were virtually NO crowds! While I started each day with gloves and a beanie, they were soon shed as the hiking began and the day went on. The locals said the crowds get crazy come April, and as a southern girl, I can't imagine the park would be as enjoyable in the winter months. The closest airport for the best price is Las Vegas. I rented a car and drove 2.5 hours to the park in Springdale, which made for a beautiful and very enjoyable drive through the Beaver Dam Mountains in Utah. It felt completely uphill the entire time, so make sure you prepare your car. (Maybe stop at a Del Taco along the way!)
Day 1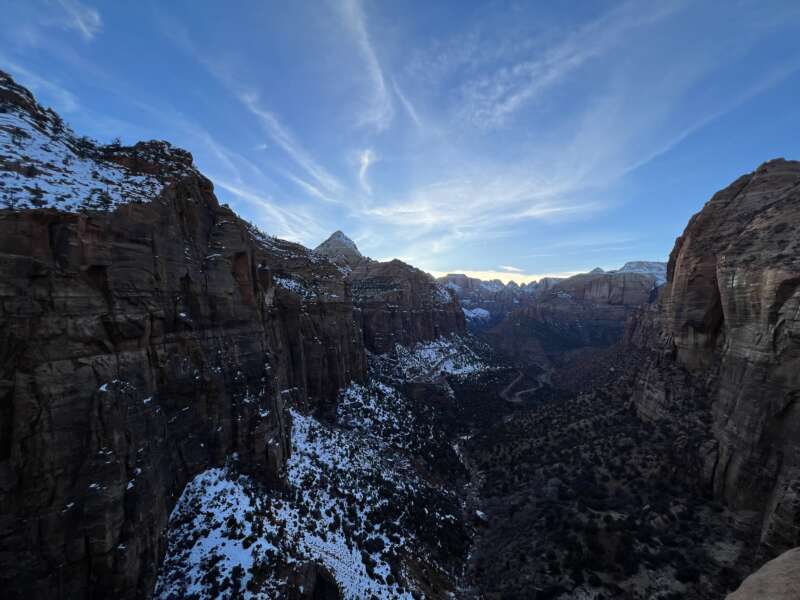 My first day (Tuesday) was a half day as I didn't arrive to the park until around 3 pm. However, I was able to drive right up to the south entrance gate window without having to wait in any lines. I first drove through the Zion Mt Carmel Tunnel. That was absolutely the most perfect way to feel welcomed by the park, and it continued to be my favorite drive for the duration of my stay.
Canyon Junction was closed due to the parking lot being full, which is very common between 9am and 4pm. I parked along Zion Mt Carmel Hwy (the state road that runs through the park) and walked up to Court of the Patriarchs. That was about as much walking as I could take after a big day of travel. I walked some of Sand Bench Trail before heading back to town around 5 pm for dinner at Spotted Dog Cafe. This is a more upscale restaurant with a very friendly staff. The elk and bison meatloaf was delicious!
I stayed in the town of Virgin, which is about 10 minutes from the south entrance gate of the park, and felt just far enough away from the more touristy areas.
Day 2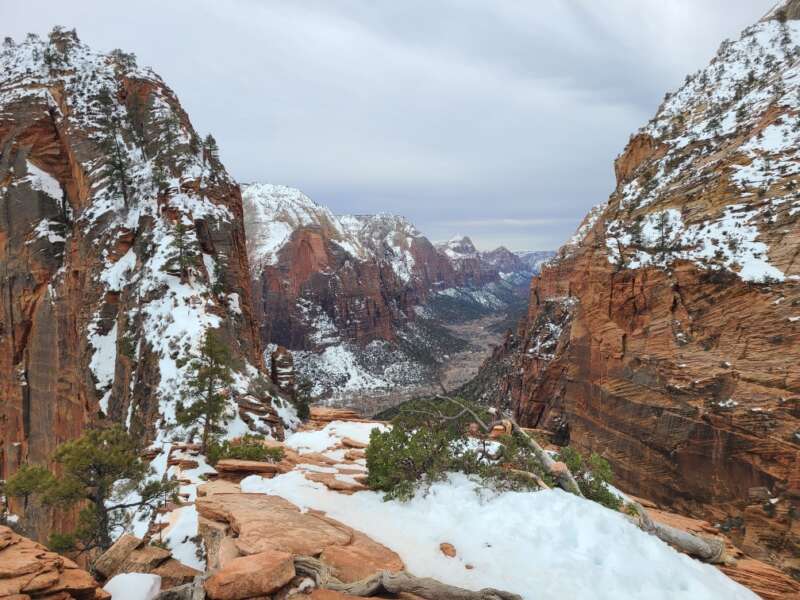 On day 2 I arrived at the park at about 8:30 am with a very minimal line of cars at the south entrance gate. I started with The Narrows Riverside Walk, an easy, slight uphill climb. Round trip took about an hour. Unfortunately, I did not go into The Narrows as I did not have the proper clothing. This sounds like something I would prefer to do in the summer time.
Next up was the Lower, Middle, and Upper Emerald Pools trail. The lower trail was muddy and moderately easy. The middle trail was relatively easy but rocky. The upper trail was rocky, desert terrain. The pools were pretty, but, much like the Virgin River that runs through the park and surrounding towns, they were very low due to a recent lack of rain.
Next up, I hit the Kayenta trail, which is easy with flat terrain, and partially under construction. This led me to the West rim trail that is difficult, steep, and uphill the ENTIRE way. (Most of the trails are uphill since they're in the mountains, but this one is at an angle far more extreme than the rest.) This trail popped me out at Scout Lookout, which wasn't much of a view compared to the rest. I then started Angels Landing, but had to eventually turn around due to the snowy, icy, slippery, and very steep cliff side conditions of the trail. If you will be attempting Angels Landing before the snow is melted, bring micro spikes for your shoes! I will be trying this again next time! Before turning around, I didn't forget to enjoy the view for as long as possible. It was then that I realized I was starving and all of my Cliff bars were gone. Talk about timing! I then slid, entirely and almost uncontrollably, back to Scout Lookout before the trek to town for an early dinner at Porter's around 2:30 pm. A large hoagie and fries were exactly what I needed after a long day of hiking, and it was delicious.
Day 3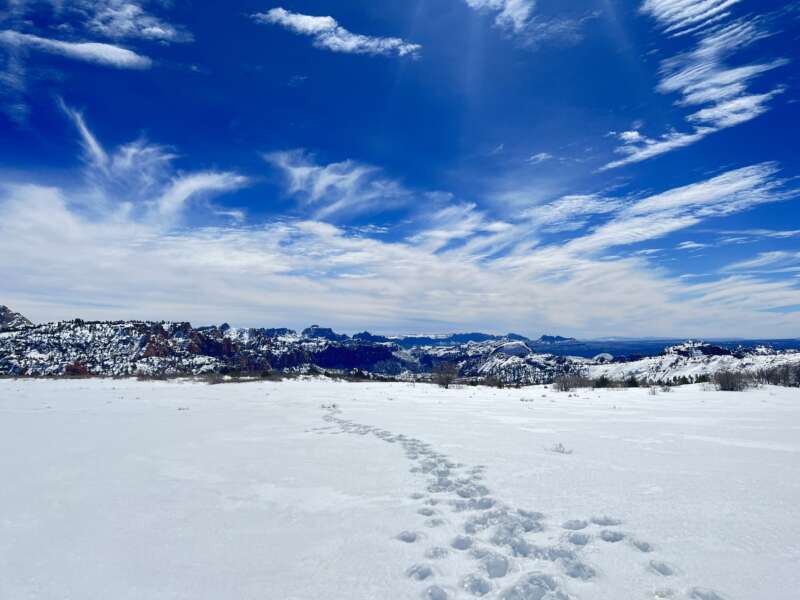 On day 3, I arrived to the gate around 9 am and still did not hit any massive entry lines. Canyon Junction was closed due to the parking lot being full, so this day looked a little different than the rest.
I drove to the west side of Zion, where Kolob Terrace is located, for more trails. The snow was far too high for hiking, and, as mentioned in the map, it was not plowed past a certain point of the road. This did not stop me from exploring! This part of the park, while less famous, is also gorgeous! I got out and walked around as much as I could in the 3 feet of snow. I took in the sites, attempted a few trails, but ultimately, the snow won this battle. I explored for about 2 hours before deciding I couldn't go much further.
I got back to the south entrance at 4:30 pm and, low and behold, Canyon Junction was back open! My first stop? Weeping Rock! This steep and very brief trail takes you right underneath a beautiful, misty waterfall. I then went through Mt. Carmel Tunnel again for Canyon Overlook Trail. This rocky, cliff side venture led me through a cave and up to one of my favorite views of the park. It's only 30-40 minutes round trip, so squeeze this one into your itinerary if you can. Dinner that night was at Zion Pizza & Noodle Company. The pasta tasted low quality, but the bartenders were very friendly. I did not try the pizzas, but they looked delicious.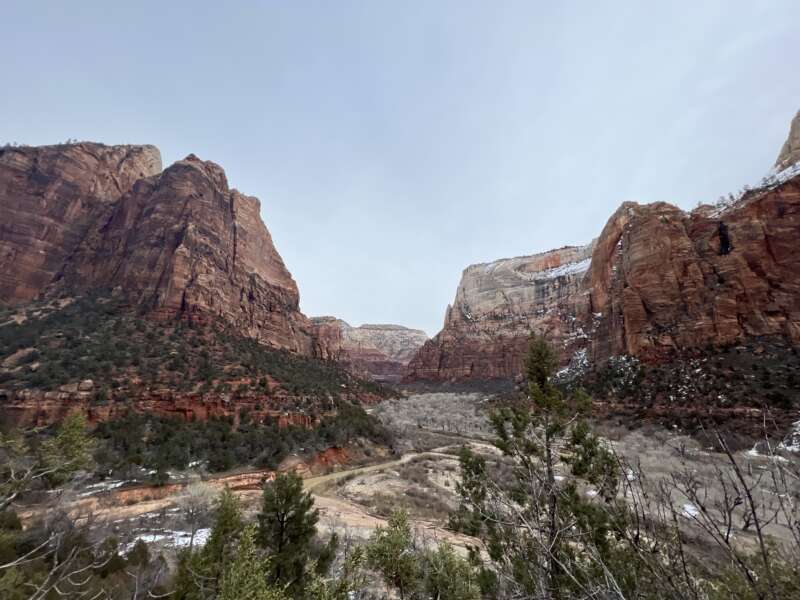 I know I will be back to finish The Narrows, complete Angels Landing, and breathe in that mountain air. This is a trip I will remember forever and never stop dreaming about. If you haven't experienced Zion Nation Park for yourself, plan a trip and pack your bags! This is one you don't want to miss.