What do you see when you envision a beautiful body of water? Crystal clear, or deep blue, or maybe even turquoise colors. However, there is an interesting phenomenon you may not have heard about. It's pink water! Best illustrated in the Pink Sea of Colombia, this effect is quite spectacular. Read on and find out which pink bodies of water are a must-see.
The Pink Sea of Colombia & Lakes Around the World
This post contains affiliate links. This means we make a small commission at no cost to you if you click through and make a purchase. All prices listed are accurate at time of publication.
Lake Hillier, Australia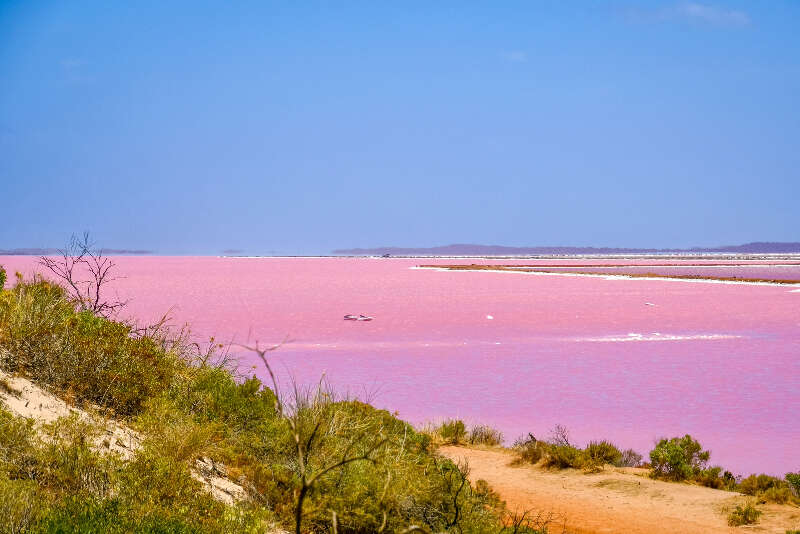 This pink lake is located on the edge of Australia's Middle Island, off the South coast. It is a saline lake which appears bubblegum pink year round. The water even appears pink when you remove it from the lake. Red algae produce a dye in combination with the salt in the water. The salt content is comparable to that in the Dead Sea. It is safe for swimming, but you must seek approval from Australia's Department of Environment Conservation to do so.
The best way to visit Lake Hillier is either to take a scenic flight or a cruise. The flight leaves from Cape Le Grand National Park. On top of seeing the lake you will be able to enjoy sight of the beautiful white beaches along Esperance Bay, and the stunning turquoise waters of Lucky Bay. Lake Hillier is about 70 miles from Esperance, and due to that fact the cruises don't operate on a regular basis. A scenic flight may be your best option.
The Pink Sea of Colombia
 El Salar de Galerazamba, the Pink Sea of Colombia, is located about an hour to the Northeast of Cartagena. If you are visiting Colombia and are planning a stop at the Pink Sea of Colombia, it is important to know that it only appears pink for two months out of the year. During February and March water levels are low and cause a high concentration of microbes, which use the salt to create a pigmented protein that absorbs the sun.
The Pink Sea of Colombia is a salt mine and therefore the water has a very high concentration of salt. It's safe to swim in, but it's a good idea to wear water shoes in order to prevent the sharp crystals from injuring your feet.
You can visit the Pink Sea of Colombia during a day trip from Cartagena. Most day trip offerings also include a visit to the mud volcano.
Lac Rose, Senegal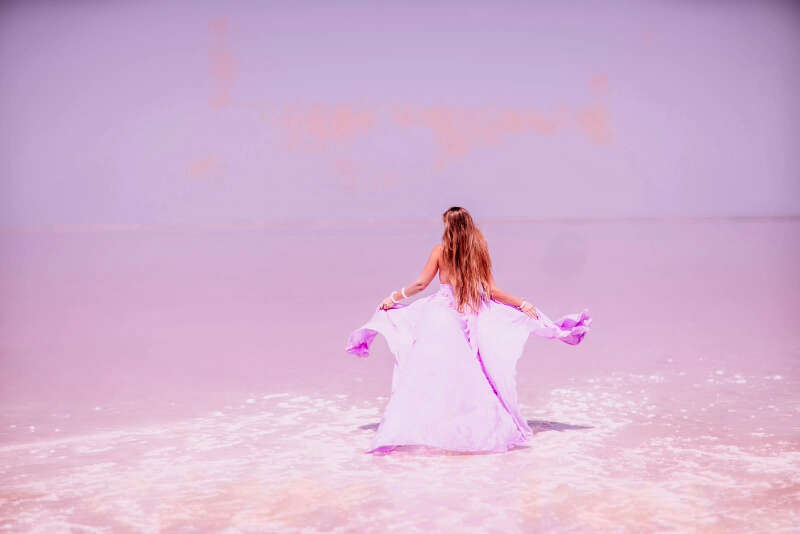 Lac Rose, or Lake Retba, is located about 18 miles Northeast of Dakar, Senegal's capital city, and North of the Cap Vert peninsula. It is one of Senegal's biggest tourist attractions. A narrow corridor of sand dunes separate the lake from the Atlantic Ocean. Just like the Pink Sea of Colombia, Lac Rose has a high salinity, about 40% in some areas. As in Lake Hillier, the pink color is caused by algae absorbing sunlight.
The best time to visit is dry season, from November until June, when the salt concentration is higher and the water appears more pink. You can stay at the Hôtel Palal Lac Rose. Or you can book yourself a fabulous two day excursion from Dakar, including a visit to the lake. and the Lompoul Desert. Take a walk along the coastline, watch the lake change color with changes of the sun's position and cross this one off your bucket list!
Great Salt Lake, Utah, USA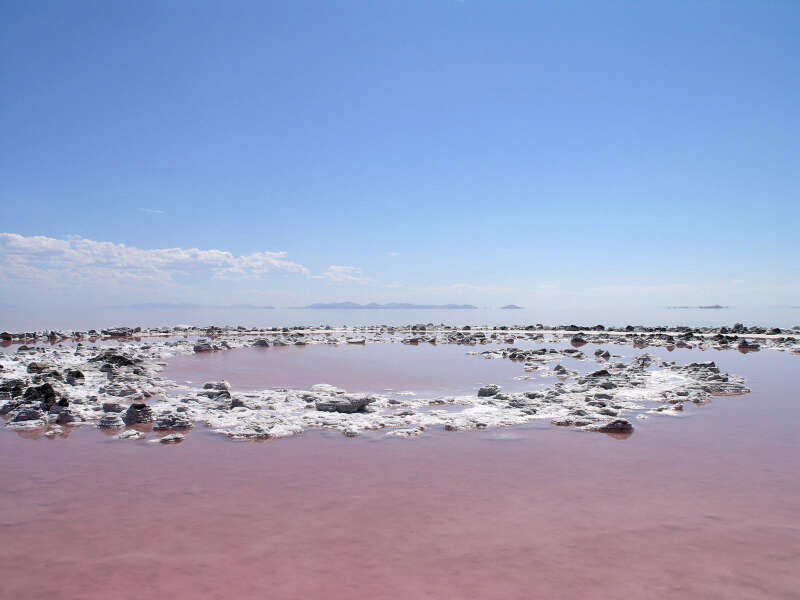 Great Salt Lake is the largest saltwater lake in the Western Hemisphere. It is located in the northern part of Utah and measures approximately 1,700 square miles (4,400 km2) in an average year. It has, you guessed it, high salinity. It's also home to a large colony of brine shrimp.
If you want to visit 'America's Dead Sea', you could start at Antelope Island State Park. It features clean, white beaches and is perfect for sunbathing and floating in the salty water. With an average salinity of 12% Great Salt Lake is less salty than Lac Rose, but as in the Pink Sea of Colombia and the other pink lakes, you will still float around comfortably. Visit Great Salt Lake State Park other recreational activities, like hiking, skiing and ziplining. Or take a boat tour of the lake. Guided tours are available from Salt Lake City.
Laguna Colorada, Bolivia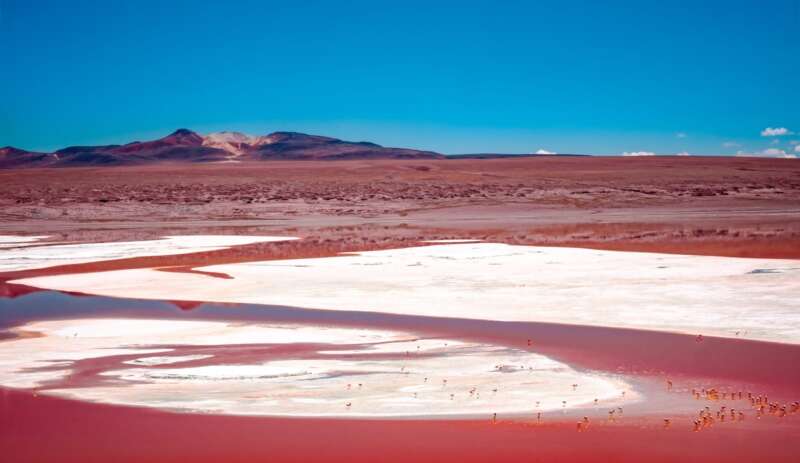 If Bolivia hasn't yet made it on your bucket list for its spectacular salt flat, the Salar de Uyuni, then the Laguna Colorada will certainly do the trick. While this hypersaline lagoon usually has more of a rusty color than pink, it is so spectacular that we did not want to keep it off this list. Located at 14100 feet (approx 4300 meters) above sea level, this salt lake is very shallow. Despite the lack of depth the Laguna Colorada spans 6000 hectares and is peppered with white borax islands. Unlike the pink sea in Colombia, the Laguna appears deep red year round.
Bird lover alert! Laguna Colorada's is home to flocks of flamingos. Because plankton is so abundant, three of the world's six species of flamingo can be observed in the area. If you are lucky you may even see the largest population of the incredibly rare James' Flamingo.
Available tours will take you not only to the Laguna, but you will also stop at the salt flats. Win-win!
Lake Masazir, Azerbaijan
With Lake Masazir an area of about 3.9 square miles this magenta lake is fairly large. Just like the pink sea and several of the pink lakes it is a site for salt mining. It is located only a few miles outside of Baku, which is the cultural and economic hub of Azerbaijan. This makes it an easy day trip destination. Your best way to experience lake Masazir is to either rent a car in Baku and drive out, or take the city bus into the suburbs and walk the last mile or two. Note that the lake is at it's brightest in warm weather and plan accordingly.
The Pink Sea of Colombia and its pink counterparts around the world are spectacular and absolutely worth a trip. Where will you go first?