After returning from my trip, I am still struck with how diverse Peru is with its cities, desert, mountains, ruins, history and jungle. But Peru also offers fantastic food and generous people. It is a trip of a lifetime that I will not forget anytime soon.
The Wonders Of Peru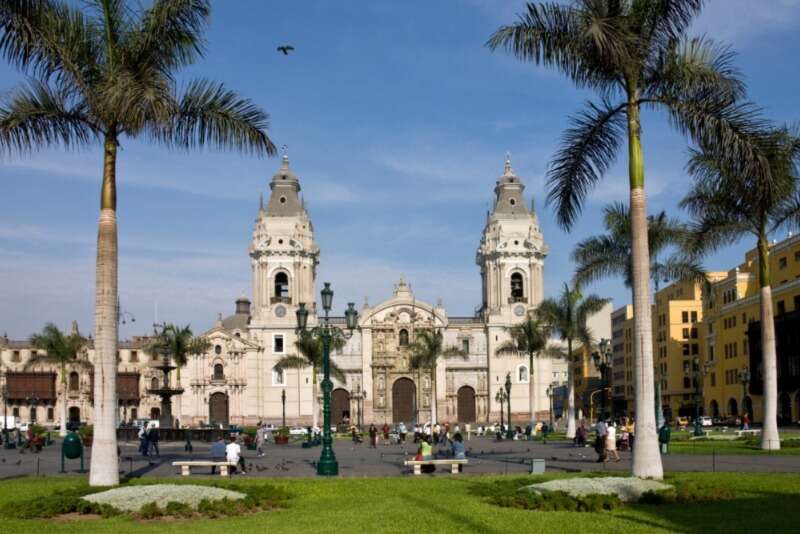 I landed in Lima at 5:30 a.m. local time, and once I arrived at the hotel I dropped my bags and just walked. Diving right in is the best way I have found to overcome jet lag and capitalize on the newness of my destination. I was staying in Miraflores which is a safe, upscale part of Lima. The streets are clean, teaming with walkers and fortified with singing birds and beautiful gardens. I also walked in Barranco, which is considered an artsy neighborhood, right next door to Miraflores. The weather was perfect at 70 degrees and I got to reinvigorate my Spanish!
Nazca
The next morning at 4 a.m. my taxi arrived to take me to the bus station so that I could head south to Ica, Nazca, Paracas and Huacachina. It was a four hour bus ride south to take me to the desert and coast. When I arrived, I was immediately driven to a tiny airport to view the Nazca lines. 17 mysterious etchings in the ground can be viewed best by plane. It is about a 30 minute plane ride with then 30 minutes of viewing the various drawings. It was fascinating, although the plane ride was a nail biter in a tiny four-seater!
After the Nazca lines I headed to a Pisco distillery that has been in three generations of one family. I walked the vineyards, learned the process for making Pisco, tasted several Piscos and then had lunch in their dining room. I ate the most amazing lima bean salad with minced onions and avocado…it was so simple yet incredibly tasty.
Huacachina
I then transported to Huacachina for a dune buggy ride on the desert sand dunes. I have to admit I was not thrilled about this activity until I DID IT! Oh my gosh it was fun and similar to being on a roller coaster. The Venezuelan driver was a dare devil and certainly wanted to get as many screams out of the passengers as possible.
During the dune buggy ride, we of course stopped to take pictures and then do some sand boarding. This was another activity that I was not excited about. The dunes were so tall and I imagined eating a bunch of sand. But, once again, I did it and LOVED it. It was so much fun. I then headed to another simple, clean, friendly hotel for the evening.
Paracas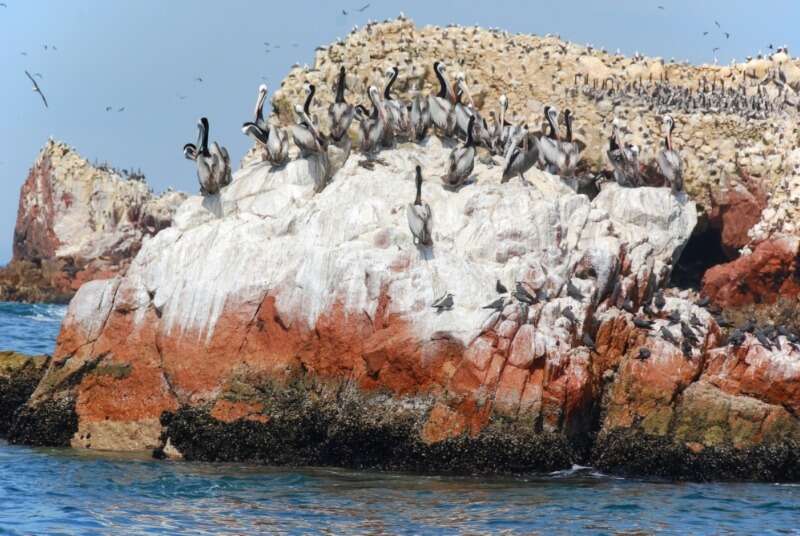 The next morning I had an hour bus ride to Paracas. Paracas is the gateway to a 40 minute boat ride out to Ballestas Island, a natural protected area for wildlife and fauna. We stopped to look at the Candelabra, another unexplained etching in the side of a mountain on the way to the island. I saw plenty of birds, sea lions and Humboldt penguins. It was truly beautiful.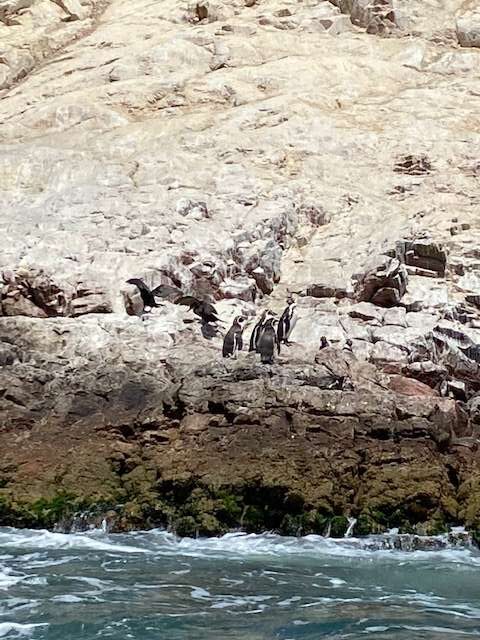 After the boat ride we headed to the Paracas Reserve. This is a huge desert butting up to the ocean. Our first stop was fogged in so we went to another viewpoint, the Red Beach, which was stunning. Then lunch and another stop at Playa La Mina. After this stop and walk along the beach we stopped again at the first stop, which was no longer fogged in. What a gorgeous viewpoint! It was a day filled with beauty, variety, wildlife and then a bus ride back to Lima late at night. I was beginning to realize the beauty and magnificent variety of Peru. The most amazing thing was I was in an enormous desert but also the agricultural heartland of the country. This region grew every fruit, vegetable and nut you could imagine with seeming wasteland. The hard work and ingenuity displayed was mind boggling!
Cusco
After an overnight in Lima, I headed to the airport to fly to Cusco. I have to admit that I was worried about the altitude at 11,000 feet and how I would react. When I landed I immediately got a headache but proceeded with my itinerary. I visited Sacsayhuaman, Quenqo, Puca Pucara and Tambomachay, as well as the cathedral. This meant going to an even higher elevation and walking about five miles. I was feeling relatively fine…until that evening when my head felt like it would explode and I was throwing up. I frankly could barely move and ended up being hooked to an oxygen tank overnight. It was brutal and scary. I missed my tour the next morning and my visit to Machu Picchu was at risk with the timed entry system I needed to make my day/time or not get in. At noon I decided to catch a taxi for the hour and a half journey to the train station that would take me to the Machu Picchu Pueblo. I definitely was at "half mast" but was also motivated to see Machu Picchu.
Machu Picchu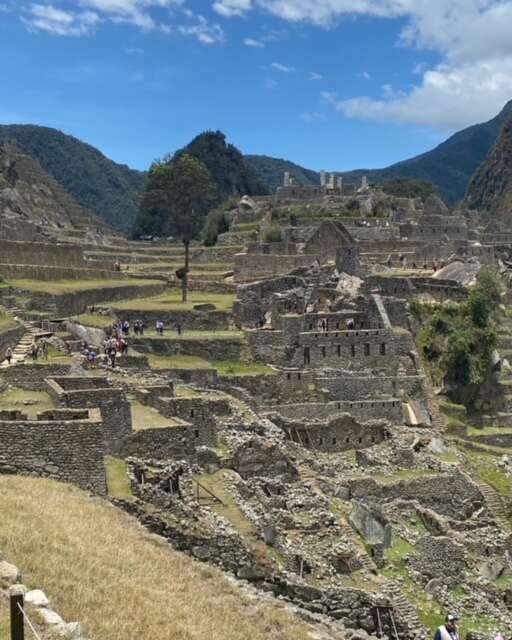 My initial impressions of Cusco made me want to learn more. There was plenty of history, but also a vibrant, energetic feel. Once I returned from Machu Picchu and the Sacred Valley I would explore Cusco more thoroughly, even with the daunting altitude. The train ride from Ollantaytambo was easy; the train is clean, modern and efficient and an hour and a half later I arrived in Machu Picchu Pueblo (also referred to as Agua Calientes). My entry time to MP was 7-8 a.m. and the 30 minute bus ride up to the entrance was organized and gave me a glimpse of the splendor to come!
Everywhere in Peru, it seems, there are stairs, and Machu Picchu is no exception. Just getting to the entrance and the initial lookout was challenging, especially with the altitude. We then headed to La Montana to do a hike up the mountain that that looks down on MP cuidad. This is also a timed entry and required an additional fee. Again, the steepness coupled with the altitude made this very challenging, even with me being an experienced hiker. The stone steps were various sizes and heights. In places the path is quite narrow but there were some fabulous viewpoints.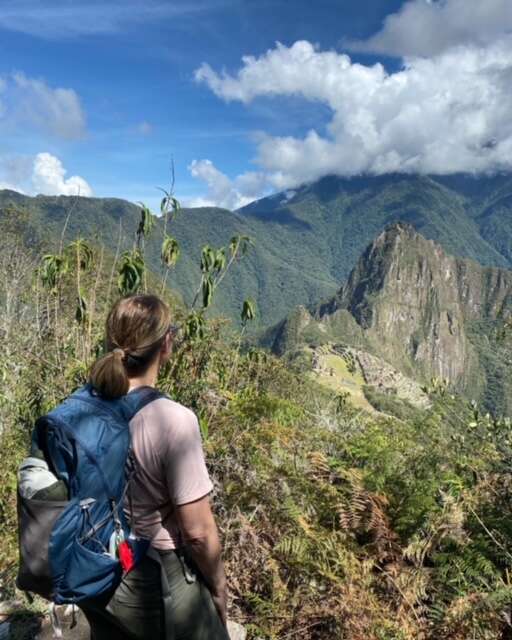 Once down the mountain, one must go up again to reach MP cuidad. But honestly, MP is indescribable. The magnitude of the surrounding mountains and the architectural feat of what the Incas built (and at that altitude and steepness) is just mesmerizing. The Incas were amazingly smart and forward-thinking. The way they captured water, positioned their buildings and storage, and determined their crops is like nothing else I have ever seen (and I have seen lots of ruins in multiple countries like Italy, Turkey and Greece).
Ollantaytambo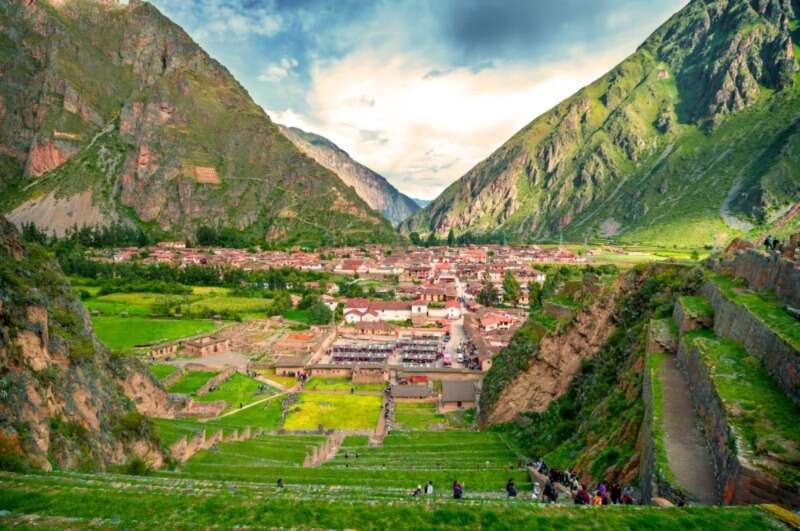 After the amazing revelation of Machu Picchu, you would think it's time to go home…what could top that after all??!! In reality probably not much, but I actually had another week in Peru! Because I missed my tour earlier in the week due to altitude sickness (which I was still fighting), I hired a guide to take me through the Sacred Valley…and Sacred it is! It is stunningly beautiful, with the variations of soil colors, the surrounding mountains, and overall lushness.
I first visited Ollantaytambo and wandered the tiny stone streets that existed since pre-Incan days. I got to see a typical original home where dirt floors, no electricity or plumbing, and lots of guinea pigs existed as pets until it was time to eat them! Ollantaytambo is another spectacular Incan site. Again it was perched on the side of a mountain, which the Incans made accommodations for as they determined where their crops should be grown.
Moray & Maras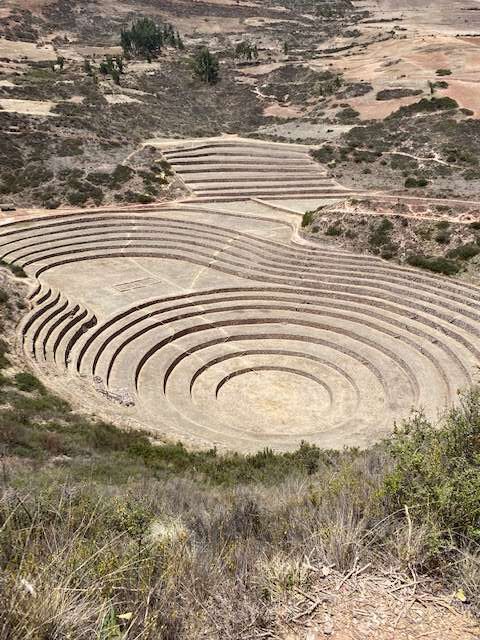 I then headed to Moray. This was a very interesting agricultural testing ground, and the concentric circle design was very cool. Then onto Maras. The town of Maras is similar to being in Italy or Portugal…quaint stone homes on clean streets, and it actually had lots of character. I learned that 500 families own the salt flats, and they work it like a cooperative. They work the salt flats six months of the year, and then farm the remaining six months of the year.
Chinchero
We then trekked to Chinchero for a preplanned lunch. I think being vegetarian is perplexing for the guides and restaurants. I was given a salad and a sweet potato puree and a very sweet chocolate cake. It was fine, but my guides licked their meat-laden plates clean!
This day was supposed to include a waterfall hike, but my head just couldn't imagine doing anything strenuous, so instead I asked the taxi to head back to Cusco, an hour and a half scenic drive. It was a great day overall.
A few more days in Cusco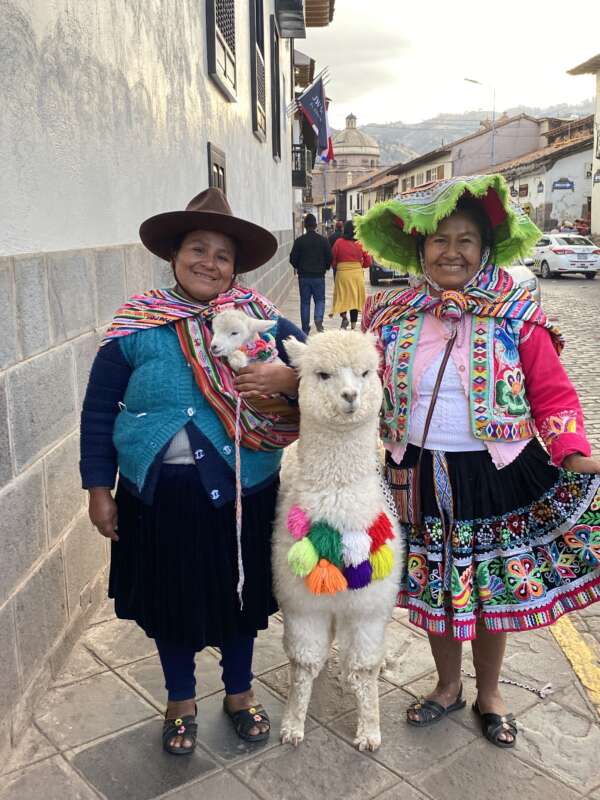 I got to spend a few extra days in Cusco rather than hiking, due to my altitude sickness. Cusco is a vibrant, historical, proud city, and I wandered around. I visited the Qorikancha Temple (Temple of the Sun), which was built on top of a Christian church. The earthquake of 1953 uncovered this beauty when the church came down.
I also visited the street market filled with local vendors. I was told locals shop there every morning. The market had a little bit of everything including dogs, of course. I have been fascinated with the rampant loose dogs that run around the city. Apparently they roam free all day and eventually return home in the evenings. Dogs are literally everywhere, mainly sleeping but also playing and rummaging through garbage. Thank goodness they are not viscous and really are uninterested in pedestrians.
I also continued to have some great meals. Food in Peru appears to be celebrated and not only it is delicious but always presented very artfully. My favorite meal was Canelones Andinos. I am inspired to incorporate some Peruvian-style cooking into my own repertoire!
The Amazon
The last major stop on my two week trip was the Amazon. I honestly did not know what to expect, but I will admit I was a little nervous. I was primarily scared about the animals, insects, and heat. I hopped on a quick 45 minute flight from Cusco to Puerto Maldonado. When I landed I was immediately hit by the heat and humidity. A taxi collected me and took be to a dock about 20 minutes away. The boat I was traveling an hour and half up the Madre de Dios River on was surprisingly (scarily!!!!) small and simple.
I arrived at the lodge without incident (whew) and had lunch. The chef focused on Amazonian fare and it was simple but tasty. I was concerned to learn that we had no electricity, hot water, or internet…okay maybe we really were in the jungle. My "hut" was clean and ample with no windows (just screens), and lots of mosquitos. I will admit it was quaint, but I did question what exactly I had signed up for. After lunch we did a jungle walk. There were tons of interesting plants and trees, lots of birds singing and screeching and, of course, plenty of tarantulas.
After dark, we got back into the boat to do a night tour of the shores of the river. We saw several Caiman (alligator family), which were black and white. I have to say I am glad we did not see anything else! At night the jungle is even louder than during the day. And the jungle "talks" all night long with so many different sounds. Also the fauna drops leaves (or ?) all night long, as I heard it on my thatched roof throughout the night. Not having windows means you are truly in the middle of the jungle as an active participant. I truly cannot describe it, and wish I had recorded it. It was also pitch black.
The next morning after a delicious breakfast, we took the boat an hour downriver to the Tambopata National Reserve. After entering the reserve we walked a path about 45 minutes to the entry point of Lake Sandoval, where we got into a paddle boat. The lake is quite large and lush, with trees and palm trees. We saw tons of birds, bugs, squirrel monkeys, and more Caiman. As beautiful as it was, I was nervous. There were five of us in this paddle boat and one wrong move and we would be dumped into the lake which was full of fish and more importantly, piranha. After two hours in the boat, it started pouring…it is the rainy season in the jungle, after all, and we were pretty lucky that it didn't rain at all the previous day.
The rain was relentless and so we pulled to the shore where there were some random steps. After an uphill climb, we landed at a home/bar/restaurant where we were going to eat our lunch. And then about another hour and half of pouring rain, which we decided to wait out. The paddle boat was filled with rainwater when we got back to it. Nine hours on this adventure was plenty and a cold shower when finally getting back to the lodge was pretty welcomed!
The entire evening and next morning it poured, thundered and lightning lit up the sky and it was a long boat ride back to the dock in Puerto Maldonado. But I made it and had a quick hour and half plane ride back to my last night in Lima.
The wonders of Peru are truly stunning, and worth the trip!
Looking for a comprehensive itinerary to 10 Peru landmarks? We got you covered!
Seniye Groff, MEd, has never been interested in the word, "no" and because of this, she has been able to move in many circles. Seniye grew up moving a lot which inspired the wanderlust that stays with her today. She lived in the Middle East, Central America, the Caribbean and throughout the United States. She loves change and can pretty much find talking points with just about anyone that she meets. Seniye has a natural curiosity, an insane passion to make a difference and is not afraid to speak her mind. She currently takes on freelance projects in human resources, diversity, equity and inclusion, training, management coaching and organizational development initiatives.