In 2018 we sailed to the Canary Islands. While TJ flew to work, the boat, Baxter and I were exploring  Lanzarote.
Exploring Lanzarote – Volcanoes and Beaches
Neither one of us had been to Lanzarote before. It is the second oldest and the northernmost and easternmost island in the Canary archipelago. While sailing down the coast TJ said: 'it looks like St. Paul, Alaska, only warmer.' Lanzarote is a desert island due to the comparatively low elevation (671 meters or 2201 feet). The clouds zoom right by it. They often get stuck and then it rains on some of the other islands, some of which have a much higher elevation.
I was skeptical of staying there for 3 months, because I prefer greenery to desert, but I spent a lot of time exploring Lanzarote and came to love the island.
Puerto Calero
We kept our boat at the marina in Puerto Calero. While I found the spot rather touristy, it also has its perks. First of all, it is dog friendly. Most restaurants have outside seating and Baxter was welcome. Our favorite place, Azure (try the ribs if you go there!) loved him so much, the waitresses fussed over him every time they saw him, and if we didn't show up for too long they complained about not seeing their little friend. As a dedicated dog mom that was a huge plus.
You will find the usual tourist attractions in Puerto Calero. glass bottom boats, sailing charters, dune buggies, a dive center. But what stood out to me was the submarine tours. You can actually go for a ride in a submarine. I've been around the block, but I haven't seen this anywhere.
If you are based in Puerto Calero, you can go for a really nice walk along the coast to Puerto del Carmen. I did this a lot with Baxter, and the view is amazing. The deep blue Atlantic Ocean on one side, in stark contrast to the volcanic wastelands on the other side.

Timanfaya National Park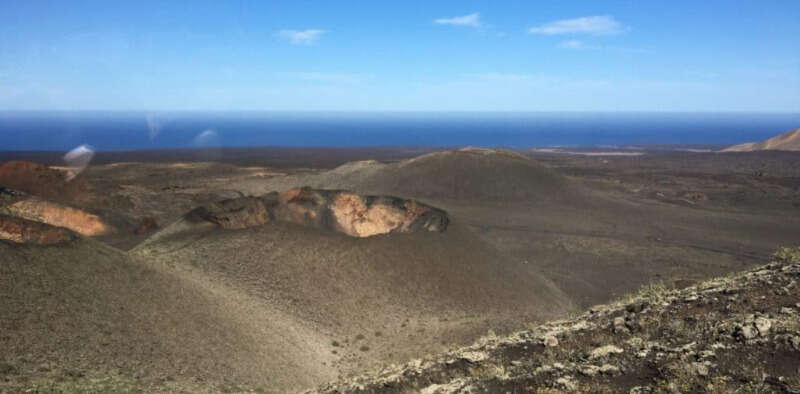 We decided we better go see some volcanoes while exploring Lanzarote. Since we were on a volcanic island and all that. We rented a car and visited Timanfaya. Unfortunately I was a bit disappointed by the experience. It is beautiful, no question about that. However, you are not allowed to explore on your own. At the visitor center you will be packed into a bus and go on a half hour tour of the park. While an automated voice recording tells you a good bit about the history of the park there aren't even any stops for photo opportunities. I took some pictures through the window.
Back at the visitor center you will find one spot to take pictures.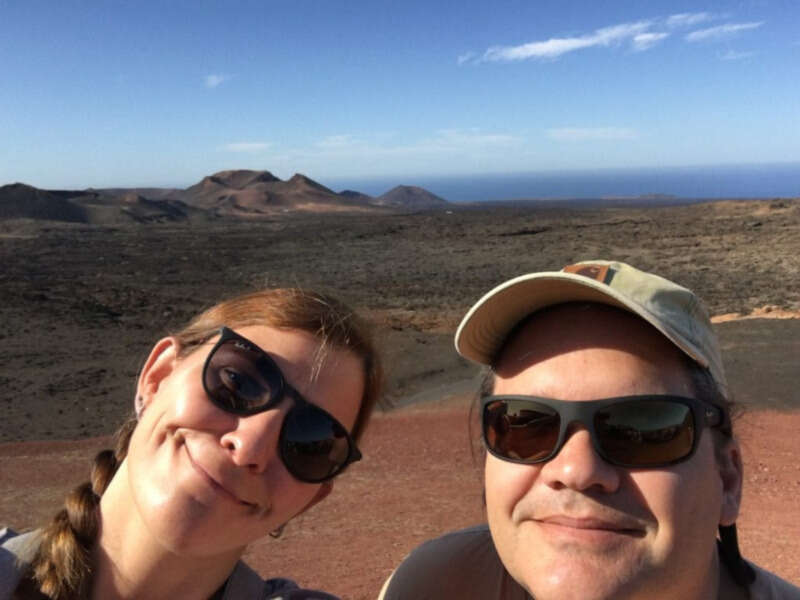 There is a pretty cool geothermal demonstration. I did not expect what happened and gave out a loud scream, much to the amusement of those around me.
One other option to explore on foot is a guided tour of the Tremensana Route. However, we found a better way to explore the area and learn a whole lot about volcanoes.
Visit the Natural Park
We don't often do tours, but we had friends visit and decided to be good tourists. We booked the 3 volcano guided walking tour with Eco Insiders.  I can highly recommend this company. I emailed them ahead of time to ask if Baxter was allowed to come along. They said yes! We ultimately decided to leave him home, because it was going to be a long day, and we were not sure that he could manage this at his advanced age. I did not foresee how disappointed the tour guides were going to be. Because they had not just prepared lunches for us.
As the name of the tour indicates we visited three different volcanoes. We were with a driver and a geologist and I definitely learned a lot that day.
You can also visit the Natural Park by yourself. Car rentals aren't terribly expensive, and insurance is always included. There are plenty of trails, and you will often find signs indicating and explaining what you are looking at. Though some of them are very faded by the sun and hardly legible.
Exploring Lanzarote
We visited the cactus garden. Jardin de Cactus was the last intervention César Manrique (a Spanish artist, sculptor, architect and activist from Lanzarote) performed there. We saw that the garden is surrounded by the largest cactus plantation on the island. It has around 4,500 specimens of 450 different species, of 13 different families of cactus from the five continents.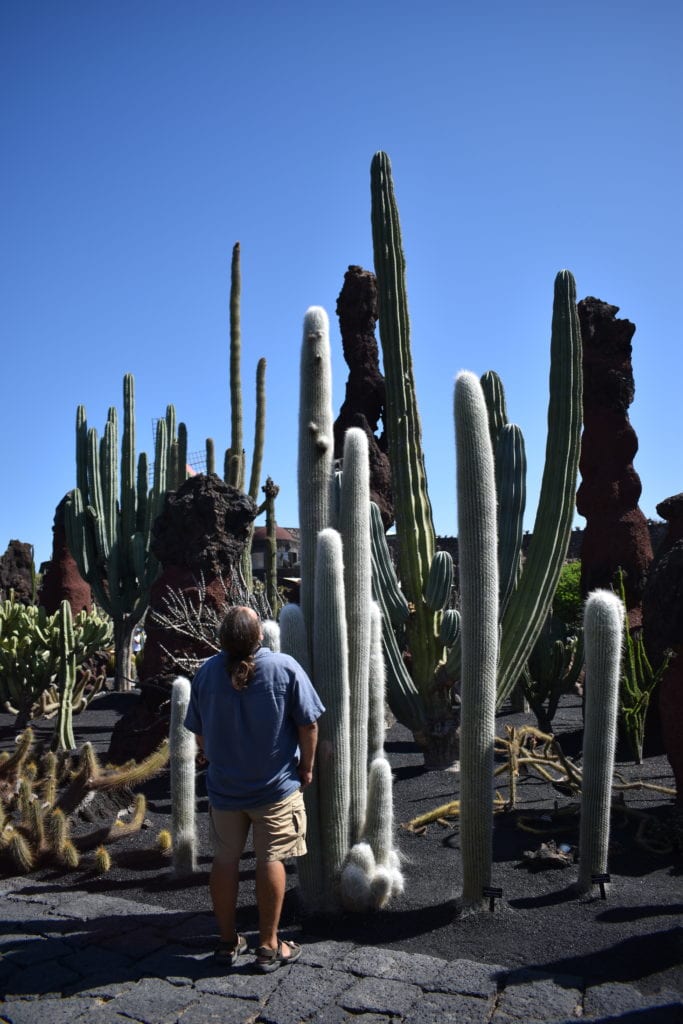 Visit the Cueva de los Verdes. It's a lava tube located in the Northern part of the island. The cave was created around 3,000 years ago by lava flows erupted from the nearby volcano Monte Corona. No dogs allowed – so we let our friends do this tour by themselves and opted for a walk on the beach with Baxter.
Explore Arrecife. Did you know that the Canary Islands do not have VAT (sales tax)? There's plenty of shopping to do in Arrecife.
What we didn't do on Lanzarote
You will find places that offer camel rides or rides on horseback. Ethical animal tourism is a tricky topic, and since I did not know how these animals were being treated I decided to opt out of going for a ride.
Overall I surprised myself with how intensely I came to love Lanzarote. There is a certain wild beauty in this landscape. There are lots of things to do, I promise you won't get bored while exploring Lanzarote.