Honolulu is the capital city of Hawaii. It is located on the south shore of the island of Oahu and serves as the gateway to the U.S. island state. The city's airport is easily accessible via flights from various regions across the world and the Unites States, such as Los Angeles. Additionally, Honolulu is world-renowned for its year-round tropical climate, white sand beaches, historic attractions, and several other points of interest. For all these reasons, Honolulu is a major tourist destination, number one of many people's bucket list.
This post is sponsored Bounce
Honolulu in a Weekend
It is also a popular choice for a weekend getaway. While Honolulu has more than enough places to see and things to do to keep you occupied for days, a weekend is enough time to explore the best of the Hawaiian capital. Are you planning for the perfect weekend trip to Honolulu? We've put together a list of the must-try activities to add to your itinerary. (Pro tip: If you need temporary storage for shopping bags and backpacks, look for a luggage locker around the city and deposit your things there.)
If you're looking for the perfect weekend in Honolulu, don't miss out on trying the following activities:
1. Learn about an important piece of world history at Pearl Harbor.
Perhaps the most recognizable historic landmark in all of Hawaii is the Pearl Harbor National Memorial. It is one location that you should definitely visit while in Honolulu. Pearl Harbor is the biggest natural harbor in the state. It functioned as a U.S. naval base and was the site of the infamous Japanese bombing that marked the official entry of the United States into World War II.
Within the UNESCO World Heritage-listed site are some of the city's must-see attractions. There is the USS Arizona Memorial, the USS Bowfin Submarine Museum & Park, the Battleship Missouri, and the Pacific Aviation Museum. Each attraction requires individual entrance tickets. Those you can buy online or on-site. Another option would be to take this 4.5-hour Pearl Harbor Tour from Honolulu, covering all the highlights and led by a professional guide.
2. Get your tan on at the city's best beaches.
If there is one thing that Honolulu is known best for, it would have to be its array of beautiful and pristine beaches. The Hawaiian capital boasts white sandy shorelines and crystal-clear waters. Coupled with its year-round warm weather, this makes it the ultimate summer holiday destination. Are you're looking to swim, relax, or just sunbathe while sipping a Mai Tai? These are some of the top Honolulu beaches to visit on the island of Oahu.
Note: If surfing in Hawaii is on your bucket list and you are looking to catch the best waves, opt for the beaches located on the north shore.
Waikiki Beach
Undoubtedly the most prominent beach in Honolulu. There's no way that you can miss visiting Waikiki Beach. This world-famous beach boasts fine white sand. The surrounding area is also filled with restaurants, bars, and shops.
Kailua Beach
Located on the Windward Coast, Kailua Beach is an impressive beach frequented by those who like to windsurf and kitesurf. The shoreline extends up to 3 miles and the area is slightly more peaceful than Waikiki Beach.
Lanikai Beach
Located about 15 miles northeast of downtown Honolulu, just some walking distance away from Kailua Beach, is another lovely and peaceful beach known as Lanikai. Characterized by miles of white sand, calm waters, and tranquil surroundings, Lanikai Beach is extremely family-friendly and has plenty of opportunities for water sports such as surfing and kayaking.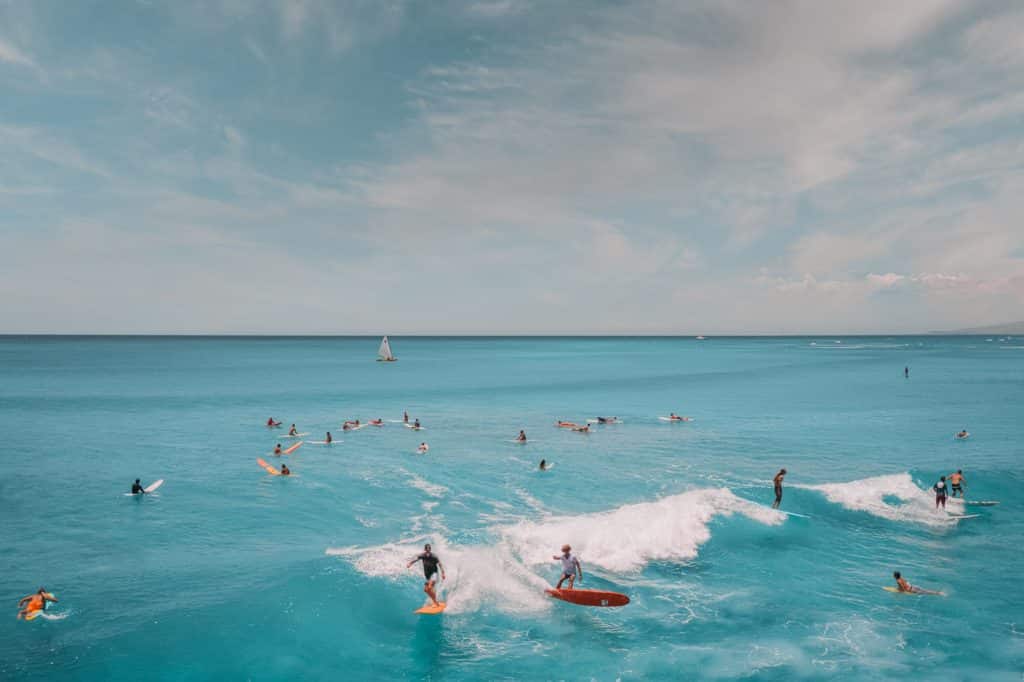 Sandy Beach
This vast, curving beach 40 minutes outside of downtown Honolulu is one of the best spots in the city for surfing. However, note that waves here can get really big so it's best if you have prior knowledge of surfing before trying it out here. Aside from surfing, locals and tourists flock here due to the numerous food trucks in the area as well as the lovely picnic spots on site.
Magic Island Beach
Part of the popular Ala Moana Beach Park, Magic Island is a man-made peninsula with a curving beach and a protected man-made reef. The waves here are small and calm, which makes it a great spot for kayaking and standup paddleboarding. Aside from the beach, there is also a large park in the area where visitors can hike and barbecue.
Black Sand Beach
Unfortunately, there isn't a black sand beach on the island of Oahu. Hop over to the big island and visit Punaluu Black Sand Beach, Hawaii's most famous black sand beach instead!
3. Check out Honolulu's top hiking spots.
Honolulu is not just about the beaches. The city also has a number of hiking trails that will make you feel at one with nature and where you can get some spectacular views. These are some of the top hiking spots in Honolulu.
Diamond Head State Monument
Absolutely one of the main things to do in the Hawaiian capital, the Diamond Head State Monument has a summit trail that is just under a mile long but with an elevation of 560 feet. The trail is worth it, however, as you can get a panoramic view of the city and the beautiful coastline.
Koko Crater Trail
This trail is 1.8 miles long and features the Koko Crater Botanical Garden at the summit, where you can see some incredible greenery and get picturesque views.
Makapu'u Point Lighthouse Trail
This is a relatively easy trail that rewards hikers with stunning views of Honolulu's coastline.
Manoa Falls Trail
Hit two birds with one stone in this trail; keep in shape by trekking this 2-mile long trail, which will lead you to the famous Manoa Falls, a 150-foot waterfall, and one Honolulu's most prominent natural attractions.
4. Go snorkeling with some incredible marine creatures.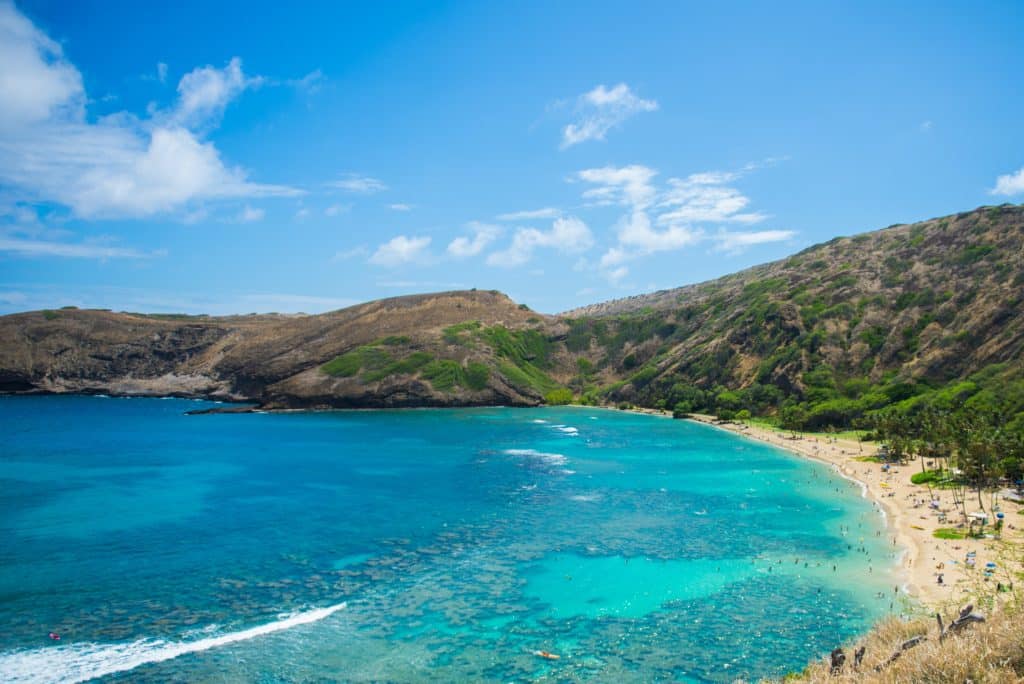 It feels like thousands of miles away from the city. But the Hanauma Bay Preserve is only about a 30-minute drive from the city center. It is one that you shouldn't miss while in Honolulu. This incredible natural bay is located in the crater of an ancient volcano and has since become a protected site with a thriving ecosystem. It is also the most popular snorkeling destination in the city where guests can see an abundance of marine life, including whales, sea turtles, sharks, and more. Apart from the famous snorkeling tours, the state park offers several other tours that guests can book through their official website.
5. Go Whale Watching
Whale watching is a must-do activity on the island of Oahu! Several tour companies offer trips. Note that the best time for whale watching is between December 15 and the end of April. If you book a tour during the months on February and March you are almost guaranteed to see those majestic creatures!
6. Go Shopping
The Ala Moana Center is not just a large open-air shopping mall, it is the 11th largest mall in the United States! With over 350 stores and restaurants, shopping at the Ala Moana Center is a bucket list item for many.
7. Discover the best of downtown Honolulu.
Considered as the city's historic center, downtown Honolulu is one of the areas to explore with its range of attractions and opportunities for fun and activities. Some of the places worth stopping for downtown include the Iolani Palace, the Aloha Tower, the Honolulu Hale, the Foster Botanical Gardens, and the Hawaii Art Museum (HISAM). Stop at Koko Head Café for their famous all day brunch!
8. Sleep in comfort
The Royal Hawaiian in Waikiki is one of the most luxurious places to stay on the island of Oahu. Your 5 star experience at the Royal Hawaiian includes excellent service, refined accommodations, and unprecedented amenities.
Sources:
https://www.cntraveler.com/stories/2015-09-30/the-perfect-weekend-in-honolulu
https://www.tripping.com/explore/10-things-to-do-on-a-weekend-in-honolulu
https://migrationology.com/11-things-to-do-in-honolulu/
https://www.planetware.com/tourist-attractions-/honolulu-us-hi-oh.htm
Her Adventures is an education and empowerment community dedicated to helping women explore beyond their boundaries. We welcome all people who identify as non-masculine/non-male to connect, educate and inspire each other with their stories, fears, knowledge, questions, and ideas. Because together we make each other strong. We hope you will join us and see the world.