If you are a member of the Her Adventures community, you know Izaura Demari. This 79 year style icon, fashion influencer, model, and artist from Brazil is so beloved in our community that she has been nicknamed HERA Grandma because everyone (literally all of us) wants to be adopted by her. Since adopting tens of thousands of women is a bit much to ask, we asked Izaura if we could sit down with her to learn more about her life, her style, and her travels!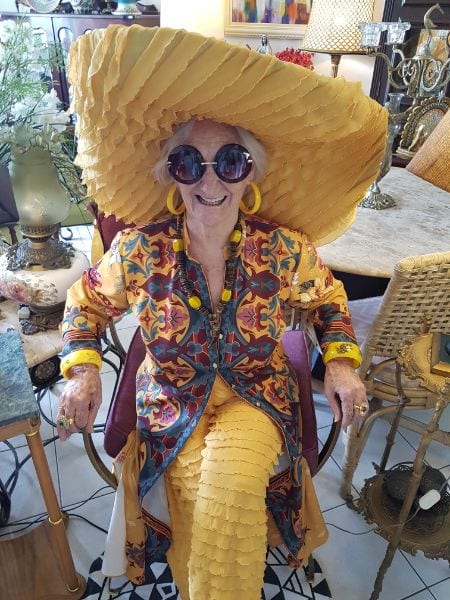 HERA:  There was one question on everyone's mind: your clothes! Can you share what inspires your fashion? Where do you shop? We especially want to know about your hats: how many do you have and where do you store them all at home and while traveling?
Izaura Demari: I am one of the biggest influencers of the elderly, in the world, with more than 62 thousand followers and fans in my social networks, and, as my trademark, the use of hats in looks and compositions of my daily life. At 79 years old, I set the trend, researching and mining different pieces for my collection, which currently reaches 720 hats. They are spread out, in my room and in the closet. Some hats were bought on trips around the world, mined at thrift stores that work with renowned brands and, many times, places that nobody cares about; other hats were made and decorated by my son, Marcio Demari.
There is no need to dress like everyone else. It is much more fun to create my look.
Much of my clothes, I have them made, others I buy on trips or earn from big brands and my son. We love to dig to find different fabrics with vibrant colors and different accessories.
HERA:  Can you tell us a little bit about your story? How did you come to be a traveling fashion icon?
Izaura Demari: I am the seventh daughter of a nine-siblings family. I was born and raised in a farm in rural Londrina, Paraná, where I took care of pigs, collected firewood and cooked. At 17, I moved with my parents to the city. I got married, gave birth to three children, I have five grandchildren and three great-grandchildren. Thus, I describe my marriage: "I lived 42 years in a jail. My husband was so jealous that he wouldn't even let me go to the gate." After the death of my husband, 17 years ago, I started to travel with my son Marcio Demari and he started taking photos and showing me on social networks.
I am considered the most famous Brazilian grandma of the current social networks and I have discovered my passion for fashion with the help of my youngest son, Marcio Demari. Together, we traveled the world panning, with perfect clothes and hats to sign my posts and rehearsals, one more iconic than the other and that make me one of the greatest fashion influencers in the world, making me a role model for many ladies.
However, it was on Instagram, with more than 63 thousand followers, with stunning looks and my sturdy hats that I continued working with more than 25 brands, among them 2Rios, Comfortflex, Döhler, Joulik and Reinaldo Lourenço, I participated in several TV shows, I was featured in more than 300 national and 80 international magazines and portals, among them, I made news in Italy, France, China, and the USA, and paraded in SPFW by the Free Free Institute.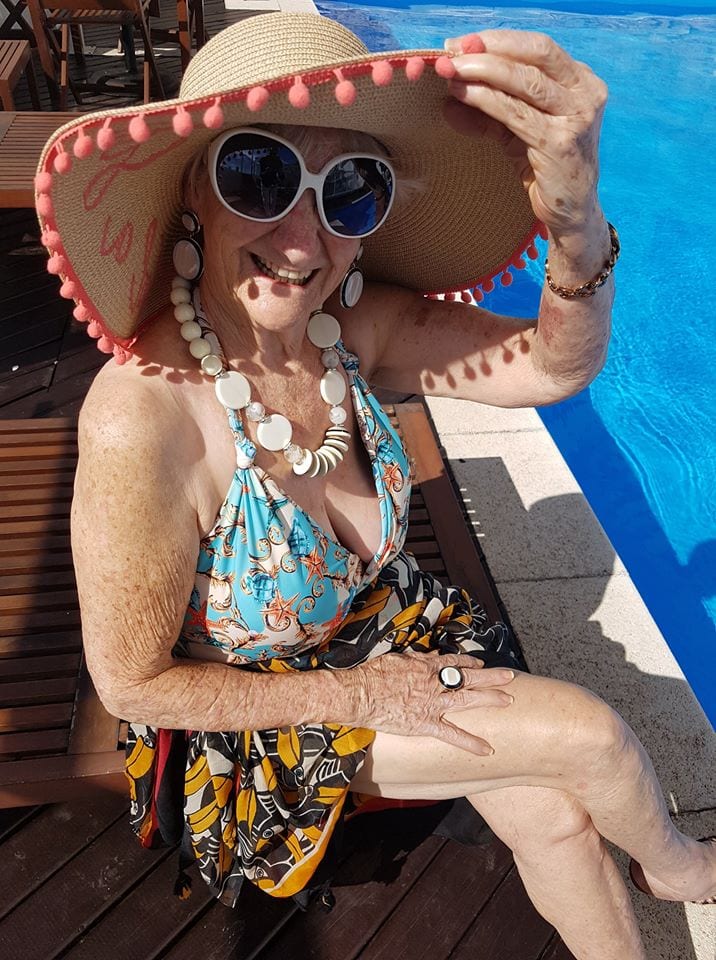 HERA: Everyone is so inspired by your positivity and joy. What is your secret to being so happy and fabulous?  
Izaura Demari: I think the main component for feeling good is being well: health, balanced diet, daily physical activities, being with people who make me feel good, and not worrying about tomorrow, living now. And, not forgetting the main thing:  Traveling makes me happy! It makes your life exceptional. Stop whining. Live now, stop worrying about tomorrow, or regret yesterday. Make friends, adopt an animal, donate kindness, smile more, take more trips, more walks, go shopping and say yes to life!
HERA: What is one of your favorite travel experiences and why?  
Izaura Demari: I loved visiting Chile, especially Santiago, what a charming place, hospitable people, delicious food, and what about the wineries?! My God, what wonderful, paradisiacal and charming places! Place of the best wines in the world, not forgetting the architecture. I loved the churches! I would definitely go back!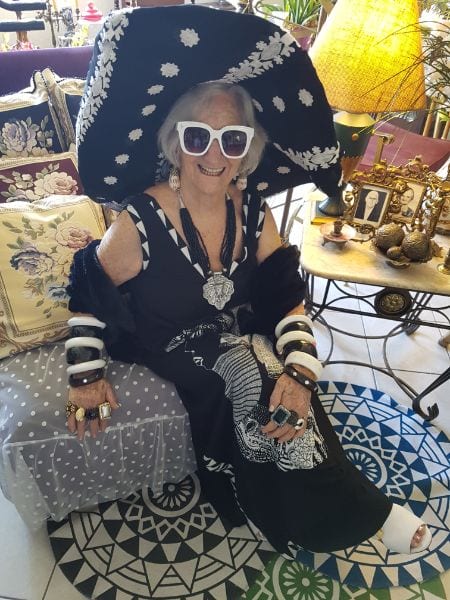 HERA: What is one tip for looking fashionable while traveling  
Izaura Demari: Use and abuse YOUR STYLE in accessories, necklaces, scarves, hats, earrings, rings, bracelets, glasses! You do your fashion!
HERA: Window or aisle?  
Izaura Demari: I love to travel in the Window! I can dream through them!
HERA: Where would you recommend everyone visit at least once?  
Izaura Demari: In Brazil, there is a city called Gramado. The city looks like it came out of a fairy tale, with lakes, waterfalls, lots of green, spectacular food, lots of chocolate, it is a European style city, worth visiting.
The temperature in Gramado is very reminiscent of Europe, but in the middle of Brazil. This is due to the geographic characteristics of the municipality, such as altitude and location in a subtropical area of the Earth. There are times of the year when snow can even occur!
With enchanting landscapes, the black lake became a postcard of Gramado. It is great for walks and picnics. Another must-see attraction of the place are the pedal boats! The Church of São Pedro, the imposing stone construction, with a 44-meter-high tower, is located at Av. Borges de Medeiros, in the heart of Gramado. The big celebrations take place during the end-of-year parties. The church is all lit up and serves as a strategic point to observe the New Year's Eve fireworks. Very close to the Mother Church the street Madre Verônica is located, better known as Rua Coberta. The street has a roof structure to protect pedestrians from the sun and rain. No car traffic, so visitors can move around as if they were in a square. Rua Coberta de Gramado has shops and restaurants, in addition to hosting shows during festive seasons.
 The Gramado Film Festival is one of the most important awards for seventh art in Brazil. Competitive shows take place at the Palácio dos Festivais, which also functions as a cinema hall for the rest of the year. The building also houses a museum that tells the story of the event.
Everything in this beautiful city is worth it!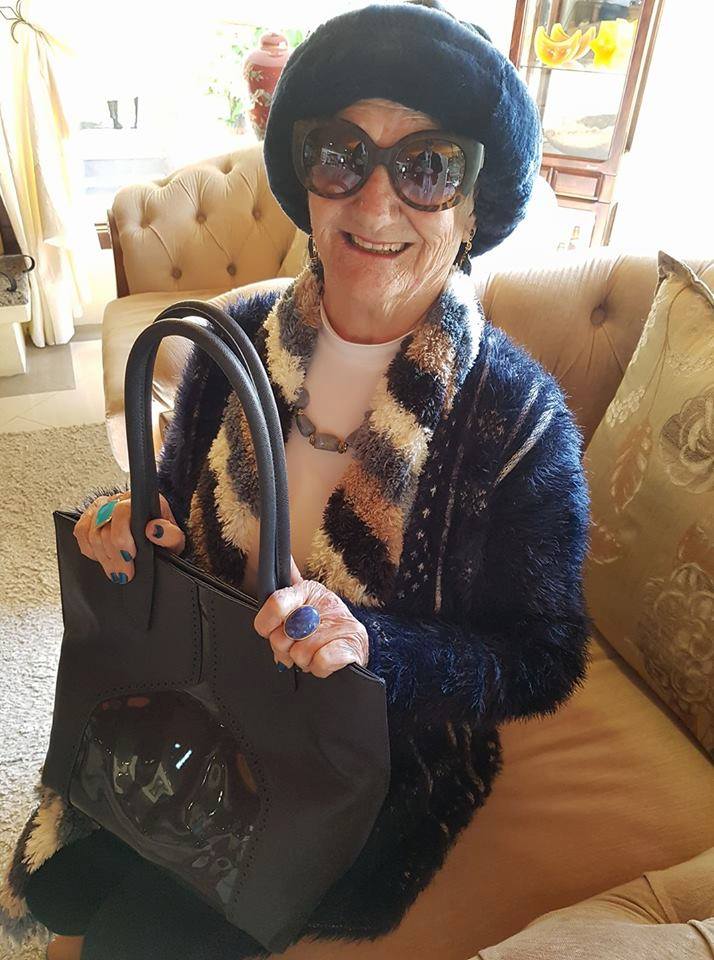 Thank you HERA Grandma for sharing your indomitable spirit and inspirational fashion! We can't wait to see what's next!
Founder of Girls Who Travel. Penchant for travel, yoga, writing, marketing, high heels and words like penchant.