2020 has been the strangest and scariest year in my life so far. I, like so many others, love to travel. Being stuck at home for so long has been a challenge. And even now that restrictions are being relaxed I ask myself? Is it safe to travel? And if it is, is it wise? I'm not ready to venture out quite yet. But as it so happens I live on Whidbey Island, the pearl of the Pacific NW and an amazingly beautiful place.
About Whidbey Island, the Pearl of the Pacific NW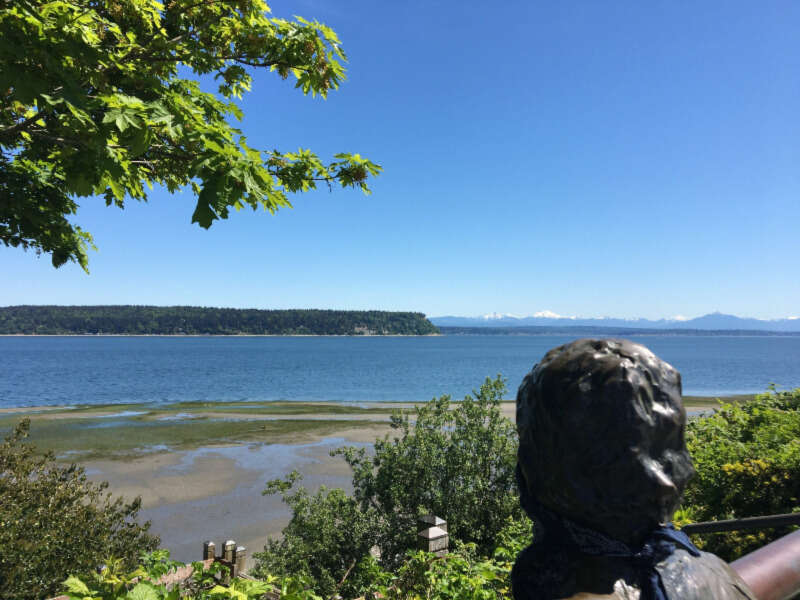 Whidbey Island lies about 30 miles North of Seattle, which makes it a popular weekend destination for the city people. It is about 55 miles long, between 1.5 and 10 miles wide and home to approximately 67,000 residents. 29,000 of these residents live in rural locations – like me! Agriculture is the heart of Whidbey Island. You won't find any chain restaurants outside of Oak Harbor, the biggest town on the island, and no chain hotels at all. That's one thing that makes this pearl of the Pacific NW so charming.
The North End Scenery
At the North end the island is accessible by a bridge over Deception Pass. There are a few scenic pullouts, where you must stop because the scenery is simply breathtaking. There are plenty of opportunities to go for a walk or a hike. Note that in most state parks on Whidbey Island the parking fee is $10 per day. But if you stay longer, consider buying a Discovery Pass. It is valid for one year, 2 vehicles and costs $30.
If you feel like going for an easy walk take the Deception Pass Bridge and Beach Trail. It will, as the name promises, lead you to a 1 mile walk on the beach. If you like trees, a walk at Deception Pass is very rewarding, too. Once you see this stunning scenery, you will truly understand why Whidbey is the pearl of the Pacific NW.
If you feel like going a little further, stop at Bowman Bay. The Lighthouse Point via Bowman Bay trail is rated as moderate, but if you are even somewhat fit you can easily manage these 2.4 miles. You will be rewarded with spectacular views.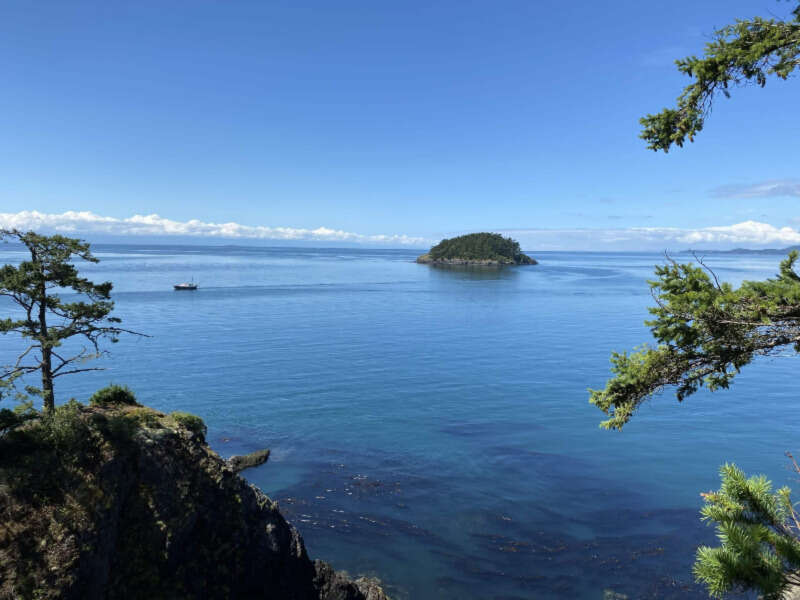 Things to do on the North End
Did you, like me, just madly fall in love with Deception Pass and want to see all of it? Take a tour by boat! There are several options, like a scenic tour or even whale watching!
Leaving Deception Pass and driving South you will get to Oak Harbor in just a few minutes. Hungry? There are plenty of options to grab a bite to eat. You will find several fast food chain restaurants, but also some locally owned places like Orlando's or the Oak Harbor Cafe & Lounge. I prefer the local spots – the food is better and it's always great to support a small business.
After lunch you could visit the Pacific Northwest Naval Air Museum. Unless you prefer to take in more of the scenery of this pearl of the Pacific NW, which you could do at one of several parks, for example at Windjammer Park. Oak Harbor also hosts on of the 330 drive-in theaters that still exist in the US. A fine idea while social distancing. Leaving Oak Harbor stop at the 3 Sisters Market. They have produce, the best eggs on the island if you ask me, knickknacks and amazing pie and candy!
The South End Scenery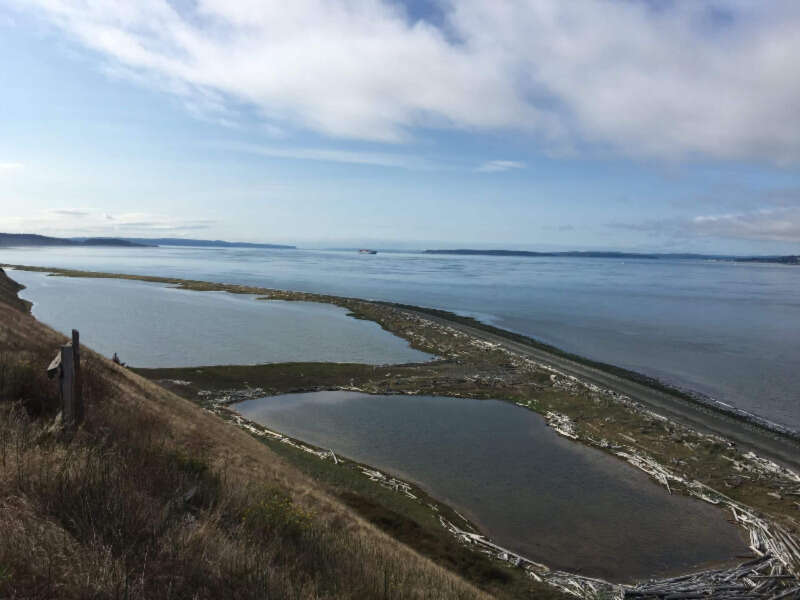 Driving South you will find that the towns get smaller and the scenery more rural. One of my favorite spots to go for a little hike is Ebey's Landing in Coupeville. It's about a 4 mile round trip, but you can make it shorter if you wish. You can choose to walk up on a cliff, with spectacular views over the water, or walk on the beach. In the early morning this is one good spot to see eagles.
Another good spot for eagle watching is Robinson Beach in Freeland. Watch them hunt in the afternoons.
If you feel like going for another walk or hike, check out the Saratoga Woods in Langley, or visit Possession Point in Clinton.
Things to do on the South End
If you like farms, farm stores and farmer's markets make sure to visit during the summer months. Greenbank Farm in Greenbank is a fabulous spot to spend some time. The Whidbey Pies Cafe has the best pie I've ever had in my life. There are several small, fun stores. You can buy everything from art to cheese. Did you bring your dog? I love bringing my dog Baxter here, as there's a large off-leash area on the farm.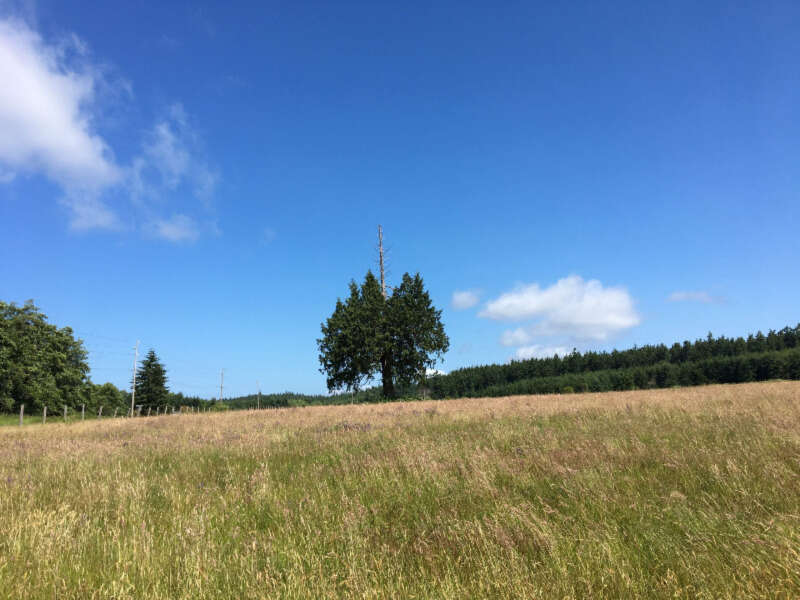 Looking for more farm products? The Bayview farmer's market is open every Saturday in the summer months.
Langley is one of my favorite places to visit. It has plenty of fun shops, everything from art galleries over thrift stores and book stores. It is also home to some of my favorite restaurants, like the Ultra House, if you like ramen. The Braeburn is my favorite breakfast spot, but they are also open for lunch.
Important Things to Know
There are more fun things to do on Whidbey Island, but these are my favorites. I promise you won't get bored visiting this beautiful island!
Whidbey Island gets very busy in the summer. If you want to stay on the island, make sure you book your accommodations well ahead of time. If you are coming from the South you will most likely take the ferry to Whidbey. Summer weekends are insanely busy. If you can, plan your visit during the week. One good tip: if you are traveling by motorcycle you will always get on the ferry and never have to wait in line. The same goes as a walk-on, though public transportation is not great on the island. You could also walk on with your bicycle – it is a beautiful place for a ride, and most people are very respectful and give cyclists plenty of room.
The most important thing to bring is your camera, or your phone, so you can take plenty of pictures. It's not just the scenery – there is plenty of wildlife. From eagles to deer and bunnies, you will see it all on Whidbey!