Pay a visit to Aachen! Lots of people travel to Germany, visit Berlin, Munich, and the Black Forest. But there are many other cool destinations that are definitely overlooked. When Covid started, I hoped that it wouldn't get all that bad. Maybe it would be like a flu season, and we would be able to travel again in the summer. It was a hope that didn't last long. Not being able to travel for me has admittedly been the worst part of all the limitations the virus gave us. Travelling means much more to me than just going abroad or spending a vacation elsewhere.
A Visit To Aachen – A Staycation Report
Bitten by the Travel Bug
Compared to others the travel bug bit me late. I had already turned 30 when I took my first trip lasting longer than two days, after a challenging time in my life. The plan was to free my head for a few days. Little did I know how fast I was falling for… well, for what exactly? The feeling of freedom? To learn about new cultures? Seeing incredibly beautiful places or becoming more self-confident when it comes to interaction with strangers? Maybe it was and still is a mix of all of that. So when it became clear that we wouldn't be able to have this privilege this year, it left me sad and imbalanced.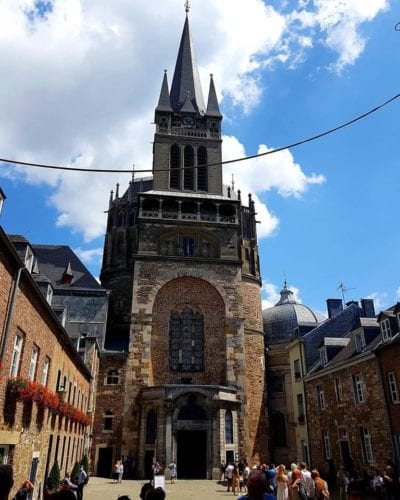 But you can always have a Staycation!
Through Girls Who Travel I learned about "staycations". The idea filled me with excitement right away. Sometimes we're so caught up in the desire to explore new places that abroad that we forget how many of them wait to be discovered in our own wider neighborhood.
Aachen Cathedral and Treasury
During my vacation I decided to finally pay a visit to Aachen, Germany. The city is located close to the Belgian and Dutch border. There's a famous spot called 'Dreiländereck' (three country corner) where Germany, Belgium and the Netherlands meet. You can be in three countries at the same time!
Aachen has been on my list for quite a while already, because I only heard the best. Excited I took an hour of train ride from Cologne – with all Covid based precautionary measures – to hit a place I fell in love with right away. The Aachen Cathedral is one of the oldest cathedrals in Europe. Construction was ordered by the emperor Charlemagne, who is also buried there. In my opinion it is the most impressive cathedral I have seen in Germany so far.
You should not miss the cathedral treasury, which houses one of the most important collections of medieval church artworks in Europe. The cathedral, as well as the treasury became UNESCO world heritage sites in 1978.
Lots of History
Throughout the city you will see a lot of buildings that display architecture popular in the Flemish part of Belgium. Walking around the city center you will find a lot of historical places. The town hall, for example, was built in the Gothic style in 1350. There's the Katschhof, which was the Carolingian palace courtyard, and is now a cozy place where you can enjoy a coffee or ice cream in one of the cafes. The market place itself also offers many cafes, which makes it the perfect place to hang out and people watch. You can also see one of the many fountains in Aachen here. Charlemagne fountain shows the emperor Charlemagne, holding his crown and scepter, orb and knight's armor.
If you're into history and old architecture this place is worth a visit.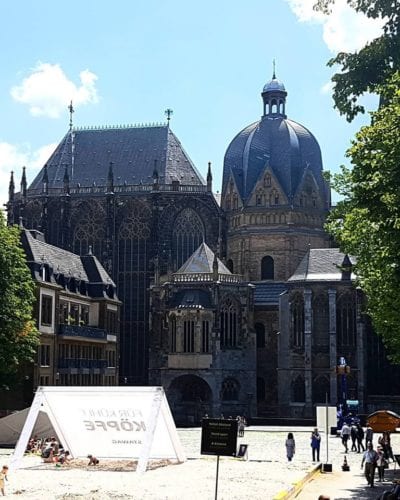 Other favorite Spots
When you pay a visit to Aachen, you will find that this city holds a favorite spot for everyone. No matter if cultural attractions, as mentioned above, devoured little streets, great market places with lots of cafes and pubs and unique little stores. A big shopping area leads up to the famous Elisenbrunnen, a monument which represents the well-developed bathing and spa culture in Aachen. There are several hot springs, heated by the nearby volcanoes. Aachen was popular for this reason even in Roman times, and it is said that Charlemagne finally established residency here for the beneficial effects of bathing in the hot springs. A little warning .- if you visit the Elisenbrunnen and are repulsed by the smell, that's the natural sulfur in the water. Right next to the Elisenbrunnen is the beautiful Elisenpark, where you can take a rest from walking around.
Also you have the possibility to easily go to the Netherlands or Belgium within 30-40 minutes by bus or train.
The Beauty Nearby
As much as I love going abroad, the paying a visit to Aachen, even just for a day, made me realize that beautiful places can also be discovered in ones own neighborhood. For the future I will definitely put more of these staycation trips on my list. While looking through the photos, I think everything else would be a pity.