Berlin – the German capital, a site of world history, a city that's as open and cosmopolitan as it gets. It's one of the best LGBTQ travel destinations, and world-famous for its Christopher Street Day. It's a dream destination for history buffs, a bucket list item for art lovers, and a can't miss for those who devour street food. Public transportation is excellent, which makes getting around a breeze. It's without a doubt on of the best European cities to visit. You could spend a lifetime here and never get bored, but if you have only 2 days in Berlin, we have the top tips for you, along with the best tours you can't miss and excellent places to stay!
This post contains affiliate links. This means we make a small commission at no cost to you if you click through and make a purchase. All prices listed are accurate at time of publication.
2 Days in Berlin
DAY 1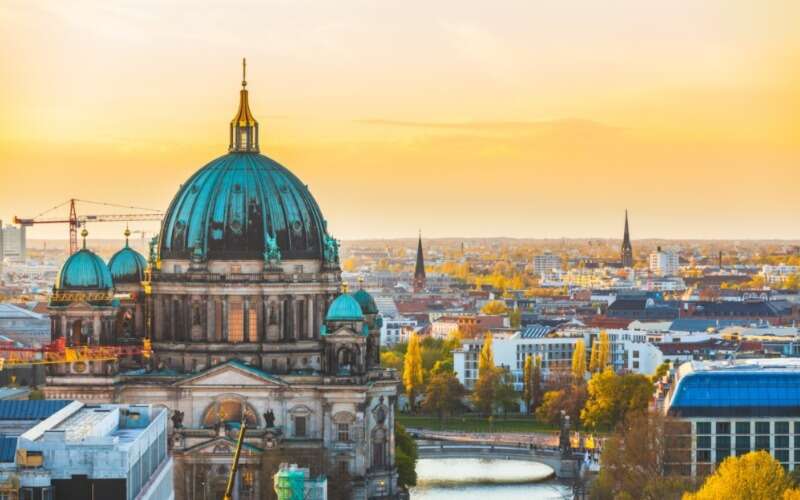 No matter if this is your first time in Berlin or not, how you decide to spend your 2 days in Berlin is entirely dependent on where your interests lie. This German city is so versatile, there's lots to do, no matter what you love best. I've put together some suggestions for how to plan your day but you can mix and match with what works best for you!
1 . Reichstag
Since Berlin is Germany's capital, it is also the seat of the German government. The Reichstag is a historic building, and the current seat of the Bundestag. It was built in 1894, was set on fire in 1933, and suffered extensive damage in WW II. It fell into disrepair, as the government of West Germany was housed in Bonn, and wasn't even partially restored until 1960. After East Germany and West Germany reunited on October 3, 1990, it was fully restored and has been the seat of the German parliament since 1999. You can take a short walk by the Reichstag building and admire its beauty, but I highly recommend booking a tour that will lead you to the roof terrace and the spectacular glass dome. It's free and starts every 15 minutes, but it's necessary to register in advance.
2. Brandenburger Tor
Just a short walk (about 400 meters) from the Reichstag, at the end of the avenue Unter den Linden, you will find another of Berlin's most famous landmarks: the Brandenburger Tor. It is the only historical city gate still standing today, but it is more than that. The Brandenburger Tor represents Germany's division into East and West during the Cold war, and today, the unity that was achieved after the fall of the Berlin wall in 1990. It faces Pariser Platz, widely regarded as one of Berlin's most beautiful squares. The south wing of the Brandenburger Tor houses a great tourist information center.
3. Memorial to the Murdered Jews of Europe
Close to the Brandenburger Tor you will also find a holocaust memorial, the Memorial to the Murdered Jews of Europe. It's a large site, about 200,000 sqft. There are 2,711 concrete slabs, arranged on a sloping field in a grid pattern. Underground is a place of information, displaying around 3 million names of the Jewish victims of the holocaust. It's a somber place, dedicated to remembrance, and to contemplation, and a warning to never let anything like this happen again.
4. Unter den Linden Boulevard
Unter den Linden is a magnificent boulevard, leading from the Brandenburger Tor to the Berlin Cathedral. It got its name from the trees lining it – Linden, or lime trees. The buildings along the boulevard were reduced to rubble in World War II, but they were lovingly and beautifully restored, giving Unter den Linden the grandeur it holds today. Along the boulevard, you will find many attractions such as the Zeughaus, Neue Wache, Museum Island, Humboldt Forum, and the Staatsoper.
5. Zeughaus
The Zeughaus is the oldest building among the structures of Unter den Linden boulevard. Today, it houses the Deutsches Historisches Museum (German historical museum), a worthwhile stop on your 2 day Berlin itinerary! While the historic Zeughaus is closed for renovations until 2025, the the Pei-Bau, which is a newer exhibition hall, remains open.
6. Neue Wache
The Neue Wache was originally constructed in 1818 as a Prussian guard house, but today, it serves as a memorial dedicated to the victims of war and tyranny – not just German victims, and victims of Germans, but all victims, It is a place most people don't visit intentionally, but rather stumble upon while strolling along Unter den Linden on their first day sightseeing.
7. Museum Island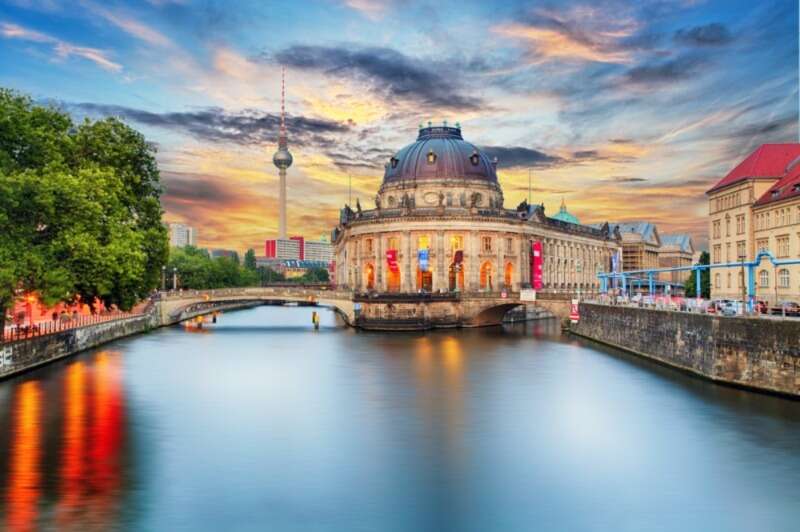 One of the best things to do in Berlin is to visit a museum. Museum Island, located on the northern part of the Spree Island, is one of Berlin's most visited attractions. The city features many excellent museums, and if you don't know where to start, Museum Island is one of the best places to do so. Here, you will find five large museums:
Altes Museum (old museum), which is located right by the Lustgarten, opposite the new Humboldt Forum and the cathedral (Berlin Dom)
Neues Museum (new museum), formerly the Royal Prussian Museum
Pergamon Museum, which is the most visited museum in Berlin
the Bode Museum, showcasing a unique collection of sculptures from as far back as the Middle Ages
Alte Nationalgalerie, resembling an ancient Greek temple, and rising high above the Museum Island, it is home to sculptures and painting from many eras
In 1999, Museum Island was designated a UNESCO World Heritage Site.
8. Fernsehturm (TV Tower)
Phew, day one has been busy! But don't miss out on a visit to the TV Tower, Berlin's tallest structure, located at Alexanderplatz. You can take the elevator up and enjoy a 360 degree view of the city from the observation deck, AND there's a revolving restaurant sphere. Enjoy your first day dinner in style!
Day 2
1. Potsdamer Platz
If you're feeling up for it, you can including Potsdamer Platz into Day 1, but that's a lot. So my recommendation is to start your second day here! Take the fastest elevator in Europe up the Kollhof Tower, check out Legoland Discovery Centre, or shop 'til you drop at the Potsdamer Platz Arkaden.
2. Jewish Museum
Opened in 2001, the Jewish Museum is the largest of its kind in all of Europe. It showcases the history of the German Jews from the Middle Ages to the present day, always presents interesting current exhibitions, and events.
3. Checkpoint Charlie
Checkpoint Charlie was the most well-known border crossing point between east Berlin and west Berlin during the Cold War. It was also the site of many escape attempts from people in east Germany. Visit the Wall Museum to learn more about the stories of those who tried to escape, as well as the history of the Berlin Wall.
4. Berlin Wall Memorial
The Berlin wall memorial is the central site reminding visitors of the division of the two Germanys during the Cold War. Here, a part of the wall is preserved in the exact way it looked in the 1980s. There's an excellent visitor center with lots of opportunities to educate yourself. The memorial offers free entry, and guided tours can be had for a small fee.
5. Trabi Museum And Trabi World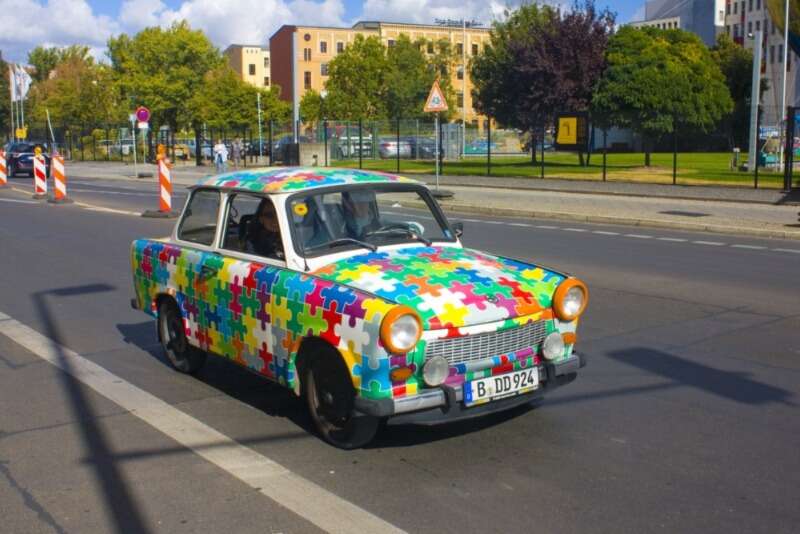 The Trabant was and still is iconic. Trabis haven't been built since 1991, but the East German cars still have a large fan base around the world. The museum is close to Checkpoint Charlie and displays all kinds of models, even some rally Trabis. (Yes, that was a thing! Nothing better than driving a rally in a cardboard box, no?) The Trabi Museum is a really cool place you shouldn't miss!
6. East Side Gallery
The East Side Gallery is an absolutely incredible open air gallery! A must see on your second day in the city. It's not a gallery in the classic sense – instead, it's a 1316 meter long section of the Berlin Wall that has been transformed into an open air exhibition. How amazing is that? It's not just for art lovers. This piece of the wall is the longest one still standing today. So much history in one place, and you'll love how artists commemorated political changes around the time when the wall came down. It's art, history, politics, and the perfect Insta-worthy photo opportunity, all in one place.
7. Charlottenburg Palace (Schloss Charlottenburg)
Located in Charlottenburg-Wilmersdorf and built in the late 1700s, the Charlottenburg Palace is a gorgeous baroque palace you should definitely add to your 2 day Berlin itinerary. Wander through the opulent halls, staterooms, and the rococo ballroom that was once upon a time constructed for Sophie Charlotte of Hanover. It is absolutely stunning, a highlight for everyone visiting Berlin and Germany.
8. Hackescher Markt
End day 2 with a one-of-a-kind shopping experience at Hackescher Markt. At this square in the city center you have the chance to greatly update your wardrobe. Young up-and-coming designers offer their creations in small shops. It's a great way to return home looking like a million bucks without spending said million!
The Best time to go to Berlin
The best time to visit Germany and Berlin is between May and September, when the weather is nice, the temperatures are mild or warm, and you can take advantage of the many beautiful cafés with outdoor seating, perfect to people watch. These months are also when lots of outdoor festivals happen, always a fun reason to travel to a new destination!
10 Best Tours in Berlin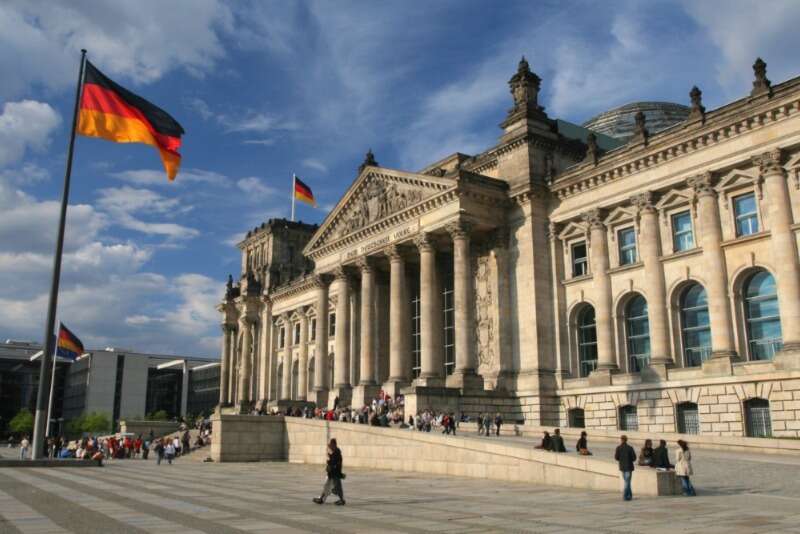 If planning your own 2 day tour is feeling a little daunting, there's fantastic tours you can take advantage of. It's just as great to get the skinny from a knowledgeable local. Here are our favorite tours to take in Berlin:
1. Big Bus Berlin Hop on Hop off tour with optional Walking Tour
Hop on hop off buses are a great way to explore any city. They stop at the main sights, and you can take as much time as you want before jumping on the next bus and heading on. On the Big Bus Berlin hop on hop off tour you can opt for a 24 hour ticket, or the deluxe 48 hour ticket which includes a river cruise on the river Spree.
2. Discover Berlin Half-Day Walking Tour
Walking tours are the next best thing. On the Discover Berlin half day walking tour, you'll visit Berlin Mitte. Your knowledgeable guide will show you landmarks from several historic eras, World War II, the Cold War, and many more.
3. Two Hour Berlin Small Group Segway Tour
Don't feel like walking to discover the history of Berlin? No problem! Discover the city on a 2 hour small group Segway tour! See the Brandenburg Gate, the Holocaust Memorial, the Pariser Platz and Potsdamer Platz, the Reichstag Building, and the Victory Column in style.
4. Cold War Walking Tour
The Cold War walking tour is an excellent historical walking tour. Discover the years after World War II. See the Berlin Wall, the Palace of Tears, the Death Strip, and other landmarks important to that era.
5. Third Reich Walking Tour
For those who want to learn all about the history of the city during the time of Nazi Germany and World War II, a Third Reich walking tour is ideal. It's a half day tour leading you through the final days of WW II, showing you the historic landmarks related to these events, and teaching you about the resistance to Hitler and his regime. Super history nerds can book a private Third Reich walking tour.
6. Sachsenhausen Concentration Camp Memorial Tour
Touring a concentration camp is a somber activity. But to truly grasp the horrors that happened in Germany during the Third Reich era, and to honor murdered Jews of Europe, it's a necessity. The Sachsenhausen Concentration Camp Memorial Tour takes you to Sachsenhausen, one of the first concentration camps in Germany. The tour is lead by a special guide, trained by the memorial authority. Read this article for tips for a concentration camp visit.
7. Street Art Tour – Off The Grid
Discover Berlin's quirky side with a street art tour. Your guide, specialized in urban art, will lead you to the city's off-the-grid enclaves to see illegal graffiti, vibrant murals, and quirky artistic sights. This is a really fun, off the beaten path tour for art lovers.
8. Berlin walking tasting tour with Secret Food Tours
Ah the food! Don't miss the food! Discover Berlin's top ethnic eats, lots of street food, along with German sausages, and German boutique bakeries on this walking tasting tour. Enjoy a vibrant mix of different foods and history.
9. Berlin Icebar Experience
At the end of a long day of tours and sightseeing, you are most likely ready for a drink. Book the Berlin Icebar Experience, available year-round, and head to a special winter wonderland. Going in the summer? No worries, you'll be provided with a polar jacket and gloves, so you stay toasty warm at this special bar, where literally everything is crafted from ice. The tour includes 3 drinks.
10. Berlin Wall Self Drive Trabant Tour
This tour is simply ICONIC. No matter where you are from, you have certainly seen pictures of the Trabant, or Trabbi, as us Germans lovingly called it. Spending 2 hours and 15 minutes driving around in this little car that honestly feels like you are sitting in a cardboard box is SO much fun! (Not so much fun if that's your daily vehicle, let me tell you.) The Berlin Wall Self Drive Trabant Tour providers you with a guide to cover all of Berlin's iconic sites AND you get a souvenir Trabant driver's license at the end, no matter if you were the driver or the passenger. Note: you MUST be able to drive a stick shift.
Best Places to stay in Berlin
The capital of Germany offers accommodations for every budget, and lots of them!
Telegraphenamt
The Telegraphenamt is a 5 star hotel in a prime location. It's located in the city center, close to the TV Tower, the German Historical Museum, and the Natural History Museum. All rooms are airconditioned, not a given in Germany! The kitchenette and minibar are also nice features. And the hotel is pet friendly!
Mondrian Suites Berlin am Checkpoint Charlie
The Mondrian Suites Berlin am Checkpoint Charlie offers modern studios and apartments in different sizes, all including a balcony or terrace. All apartments include a refrigerator, a microwave oven, a dishwasher, and a Nespresso coffee machine. This 4 star hotel is, you guessed it, right at Checkpoint Charlie. It's also close to the Jewish Museum and Friedrichstraße shopping street.
Schulz Hotel Berlin Wall at the East Side Gallery
The Schulz Hotel Berlin Wall at the East Side Gallery is a 3 star property in a great location, as the name implies. It's a newer hotel, opened in 2018, is located right at the Berlin Wall, and even offers a beer garden!
Three Little Pigs Hostel – Your Berlin Castle
Rest well in your own castle! The Three Little Pigs Hostel (just how adorable is that name?) is housed inside a former 19th-century convent and located in Friedrichshain-Kreuzberg, a mere 10 minutes from Checkpoint Charlie. This hostel offers an all-you-can-eat breakfast buffet for an extra charge, you can get a tasty lunch pack so you don't have to eat at a restaurant, and you can make friends at the bar.
There are also tons of homestays and vacation homes available, if you prefer a little more privacy.
Berlin is such a great place, with SO many things to do. 2 days is simply not enough time to spend here! Last but not least, we recommend to get the Berlin Welcome Card, offering discounts at more than 180 attractions! We hope you enjoy your 2 days in Berlin with our help!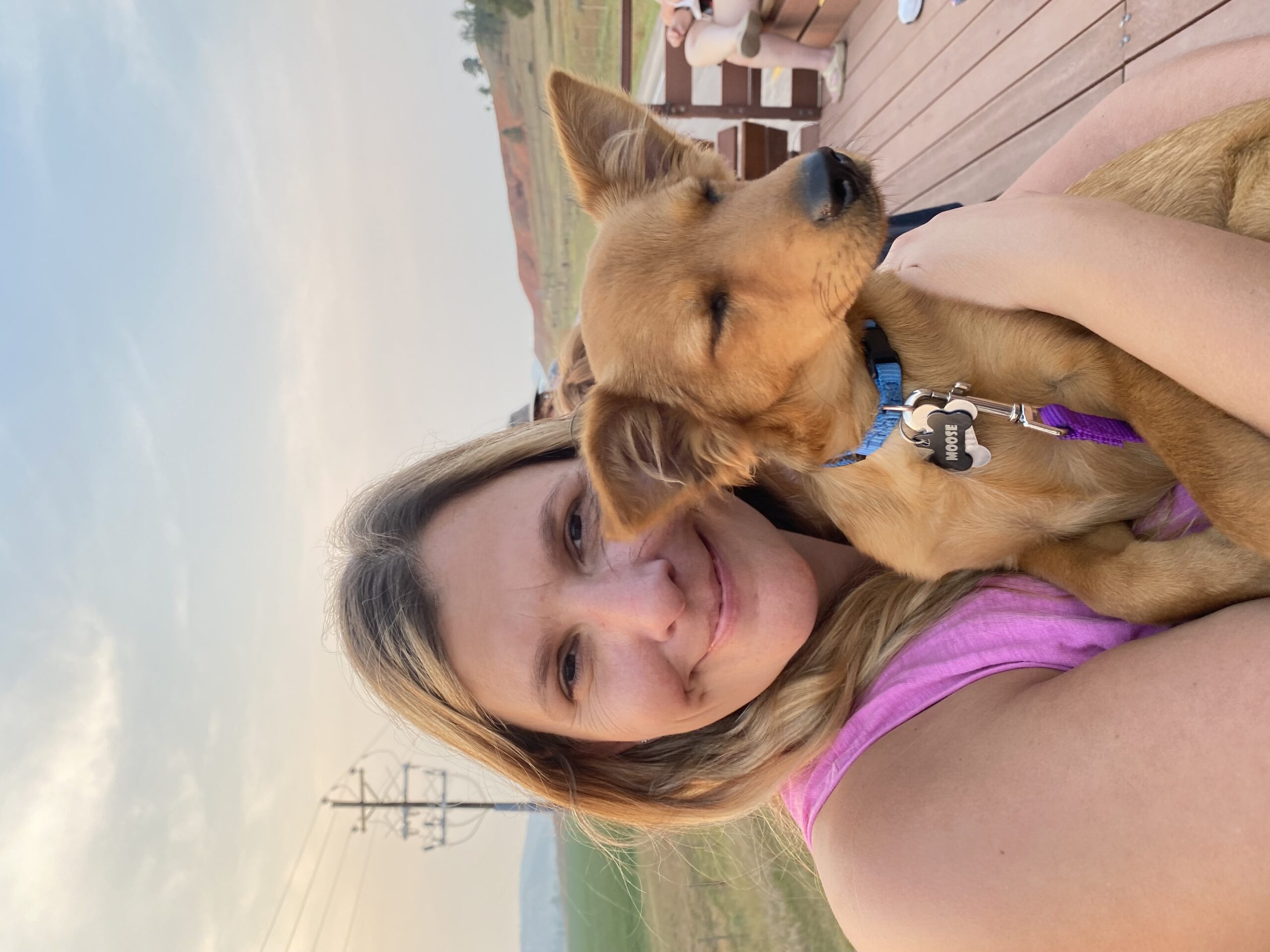 Jenny grew up in Germany. All she ever wanted out of life was to leave and have adventures. Jenny always traveled as much as the budget would allow, and when she met her husband traveling became a full-time thing. You can follow Jenny on her blog and Facebook.