The United States is famous for their spectacular national parks. National parks aren't just a great draw from visitors from all over the world, they are also popular for domestic tourism. While most tourists flock to the most famous parks such as the Grand Canyon, Zion, or Yellowstone, there are other parks worth visiting. Mount Rainier National Park in Washington State is one of them. Read on to find out what makes this park in the Pacific Northwest so special, and enjoy our list of best day hikes in Mt Rainier National Park.
This post contains affiliate links. This means we make a small commission at no cost to you if you click through and make a purchase. All prices listed are accurate at time of publication.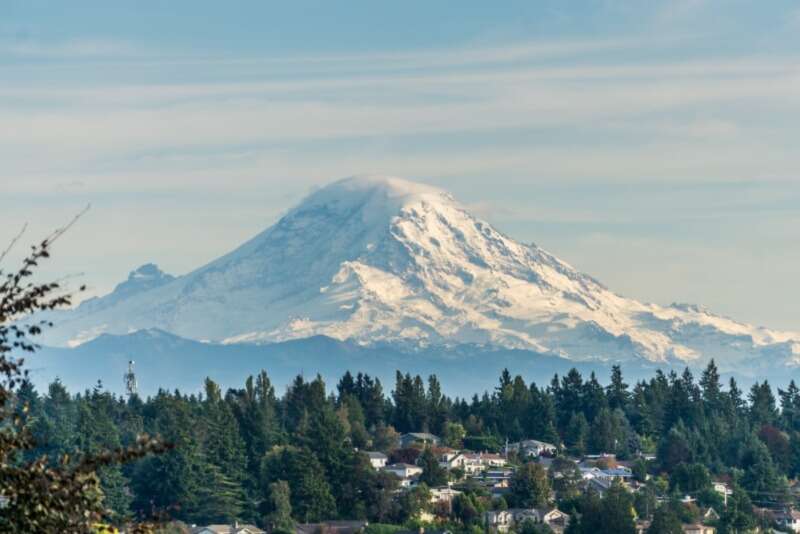 Why you should visit Mt Rainier National Park
If you ever visited western Washington state, you've seen majestic Rainier towering prominently over the city on a clear day. It's an impressive sight you won't soon forget, and it will most certainly invoke the desire to spend a day at the national park. Its location only 60 miles outside of Seattle makes it convenient for a day trip. From wildflower meadows to waterfalls, and from old-growth forest to mountain goats, be ready to be blown away!
It's a great place for spring hikes in Washington state, but expect snow in higher elevations. The very best time to go is late July or early August, when the wildflowers are in bloom. By then, most if not all hiking trails will be open and you'll be able to enjoy a day hike in this beautiful national park. On a clear day, you will have the most spectacular views.
Note: As is the case in many of the national parks in the US, dogs are unfortunately not allowed on the trails.
Best Day Hikes in Mt Rainier National park
No matter if you are looking for a short walk, an easy hike, a moderate hike, or something a bit more challenging, one of the best things about this national park is that its got it all!
1. Skyline Trail
The Skyline trail can be done the easy way, or the hard way. The easy hike is the part to Myrtle Falls. This part of the trail makes for an easy walk and it ideal for ladies who love waterfalls. The total distance out and back is only 0.8 miles, and the trail is paved. The elevation gain is 150 feet, so it's a bit steep, but worth it! It is considered wheelchair friendly, but keep in mind that it will take a lot of effort due to the steepness of the trail.
For those women who are experienced hikers and are looking for a challenge, the complete Skyline trail is one of the best hikes. It's a 6.2 mile loop and considered challenging. The best views along the way can be had from the panorama points, and you may even see a black bear or mountain goat!
The best time to visit is from June through October. Go in late September or early October to see the fall foliage. The trail is quite busy, because duh, waterfall.
2. Hot Springs Nature Trail
The Ohanapecosh area of Mt Rainier National Park offers a very special treat: natural hot springs! This half mile easy trail begins right behind the visitor center, at the Ohanapecosh campground. The hot springs are pretty small, but it's still worth seeing. It's a short distance that requires minimal effort. You can combine this trail with longer ones. The best time to visit the trails in this area is from May through October.
FYI: you love hot springs, check out our article about the best hot springs in California North!
3. Grove of the Patriarchs Nature Trail
The Grove of the Patriarchs Nature Trail is ideal for for all ages and abilities, even for young kids. It's a short hike, only 1.1 miles out and back with a negligible 52 feet in elevation gain. It is perhaps one of the easiest hikes in Mt. Rainier National Park, but it'll make you feel as if you are entering a magical world. The trail leads through an old-growth forest, with Douglas Fir, Western Cedar, and Western Hemlock, some of which are more than a thousand years old, dominating the scene. Walk across a suspension bridge onto an island in the middle of the Ohanapecosh River.
4. Frozen Lake via Sourdough Ridge Trail
It's a great hike to Frozen Lake, the main source of drinking water for the Sunrise and White River area of Mt. Rainier National Park. It's an 2.9 mile out and back trail with an elevation gain of 557 feet. Park in the sunrise parking lot and start your easy hike through varied terrain and eco zones right by the ranger station. The Sourdough Ridge trail offers sweeping views of Mount Rainier and Sourdough Ridge. On your way back, walk down the Wonderland Trail back to the Sunrise Visitors Center, which is the highest point you can drive to in Mount Rainier National Park!
5. Nisqually Vista Trail
The Nisqually Vista Trail is located in the same area as the Skyline Trail – Paradise. Yes, it's actually called Paradise – and for good reasons, as you will find out. This 1.2 mile loop is an easy hike with spectacular Mount Rainier and Nisqually glacier views, and a good chance to encounter deer. It's one of the best places to come with a stroller, though note that there's a 180 feet elevation gain, so you'll get an extra workout pushing uphill! It starts at the west end of the lower Paradise parking lot.
6. Naches Peak Loop Trail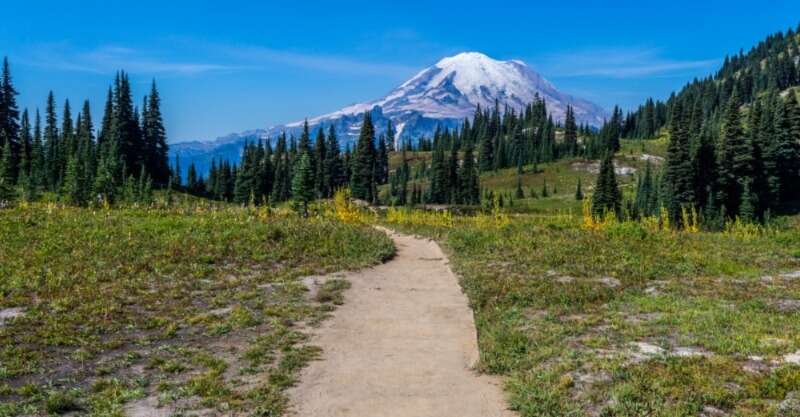 Naches Peak loop trail is one of the best hiking trails for views of Mt Rainier. It's a 3.3 mile loop with an elevation gain of 636 feet and is considered an easy hike. Walk clockwise for the best views and enjoy . On a clear day you will be able to see Mount Hood in the distance. It can get busy on weekends.
7. Bench & Snow Lakes Trail
If you like to stretch your legs a little more AND get a good thigh workout, consider this moderate 2.5 mile out and back trail. There's a lot of up and down, and your total elevation gain is 446 feet. You can expect the best views of the two lakes, with spectacular reflections of the mountains in the clear lake water. This moderate hike is located in the Paradise area. All trails in this area are best visited between June and October.
8. Reflection Lake to Narada Falls
The Reflections Lakes routes are the favorite hikes of all photographers. They offer iconic views in every season. Reflection Lake to Narada Falls is a 3.6 mile out and back trail that's considered moderately challenging and has an elevation gain of 931 feet. This moderate hike leads you along the river in large parts, and you get to see many waterfalls along the way. Narada Falls is a popular tourist attraction.
9. Reflection Lakes via Mazama Ridge Loop
Amazingly beautiful alpine meadows full of wildflowers await all women who decide to hike the Reflection Lakes vis Mazama Ridge loop in late July or early August. The panoramic views and waterfalls along the way are truly stunning, and there's a chance for encounters with black bears. Its a moderate hike, 6.5 miles, with an elevation gain of 1706 feet. This hike encompasses some the best the Pacific Northwest has to offer.
10. Mountain Meadows to Mowich Lake
Are you looking for one of the most perfectly serene Rainier hikes? Then pick Mountain Meadows to Mowich Lake. It's moderately challenging, a 6.9 mile out and back trail with an elevation gain of 1345 feet on which you won't encounter too many other hikers. In the winter, it's open for snowshoeing. It's an excellent route for sunset watching, Mowich Lake is the largest and deepest lake in Mount Rainier National Park. It's surrounded by alpine wildflower meadows.
11. Tolmie Peak Trail
Hike out and back on this moderate trail that's 5.6 miles long and has you gain 1541 feet in elevation. If you only want to do one day hike at Mt. Rainier National Park, let this be it. You'll see alpine meadows, gorgeous views of Mt. Rainier, lakes, and even sites of lava columns! Expect a steep climb to Eunice Lake. It definitely requires a little more than minimal effort and can be considered to be on the more challenging end of moderate. This trail leads to the Tolmie Peak fire lookout tower, which offers incredible views of Mount Rainier on a clear day.
12. Spray Park Trail to Mount Pleasant
If Spray Park makes you think of water parks, you are not entirely wrong – just not the kind with water slides and places to buy ice cream! Enjoy this moderate 6.9 mile out and back trail with an elevation gain of 2198 feet. When you arrive at Spray Park and Falls, you'll see why the name is accurate. The cascading waters break up into spray. The way up to Mt. Pleasant is a steep climb, but you'll be rewarded with panoramic views!
13. Tahoma Creek Suspension Bridge
For those women who are experienced hikers, sure-footed, fit, and looking for a challenge, the Tahoma Creek Suspension Bridge trail is just right. The nice thing about the more challenging trails is the lack of traffic. On this 6.3 mile out and back trail, you are unlikely to encounter many other hikers. The trail is not well maintained. sometimes hard to find, and washed out in places, so be careful and make sure you have navigational aids with you. This trail eventually connects to the Wonderland Trail, where you will find the very neat suspension bridge. You'll be rewarded with panoramic views.
14. Burroughs Mountain Trail
Burroughs Mountain Trail is one of the best day hikes in Mt Rainier National Park for experienced ladies. Its a great hike that's quite popular, so expect to bump into others on this 9.4 mile loop trail with a total elevation gain of 2562 feet. (You don't have to do the loop – turn around at the Second Burroughs for a 7 mile hike with an elevation gain of only 900 feet.) This trail is considered challenging, and there's no water source nearby in late summer, so make sure you carry plenty of liquids. Burroughs Mountain Trails offers great chances to see wildlife such as black bears and mountain goats.
The National Park Services advises that this trail may be hazardous in the early hiking season, which starts in May, due to steep snow-covered slopes.
Things to bring along on your day hike at Mount Rainier National Park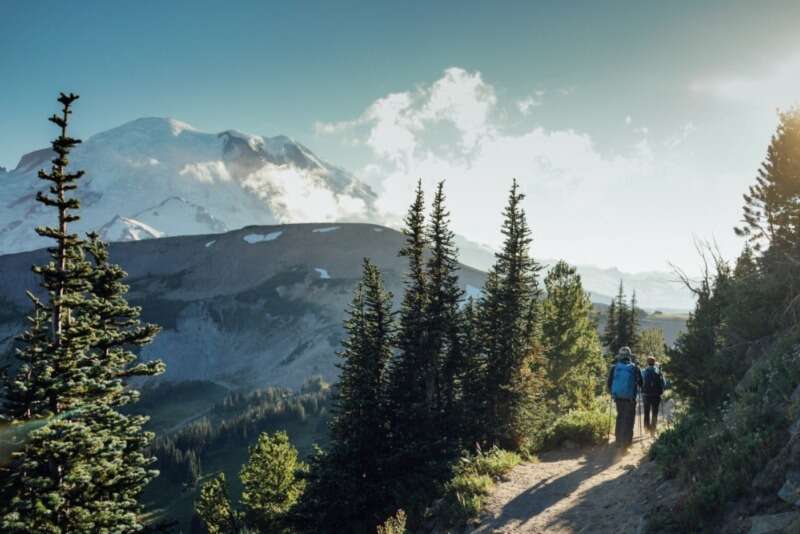 You picked a trail, laced up your boots, and are ready to GO! But wait a minute. Here's something you need to know: day hikers are much more vulnerable in survival situations than backpackers are. Why, you ask? That's because a backpacker carries everything they need to survive in the wild, and don't be fooled, a national park is still quite wild. Therefore it's vitally important that you carry more than water and a few granola bars when you hit the hiking trails for a day. Luckily, we have a list of items every woman should carry on a day hike.
A map. You know, the paper kind. It's helpful to have a digital map on your phone, but if it runs out of juice, you need a backup! Here's our favorite from Amazon:
On that note, get another navigational device. The Garmin eTrex 22x, Rugged Handheld GPS Navigator is great, but we give extra points to the Garmin Montana 700i for it's added safety features: two-way messaging via the 100% global Iridium satellite network that allows you to send an emergency signal should you run into trouble of any kind. This is especially important if you are a woman hiking solo.
One large water bottle. You'll find refill stations throughout the national park facilities (yay for the environment – sales of bottled water are banned here!)
If you go in the summer and plan on doing a moderate hike, get a water bottle with a filter and refill it from lakes or streams along the way.
A day pack with a bladder makes taking a sip of water extra easy.
This is our collection of best day hikes in Mt Rainier National Park for women. If you love these and are interested in spending more time, check out the wonderland trail, a 93 mile trail encircling Mount Rainier which is quite strenuous, but so worth it. Note that a wilderness permit is required for all overnight camping inside the national park.
Want even more info about hiking Mt. Rainier National Park? Be sure to pick up this hiking guide!
HAPPY HIKING!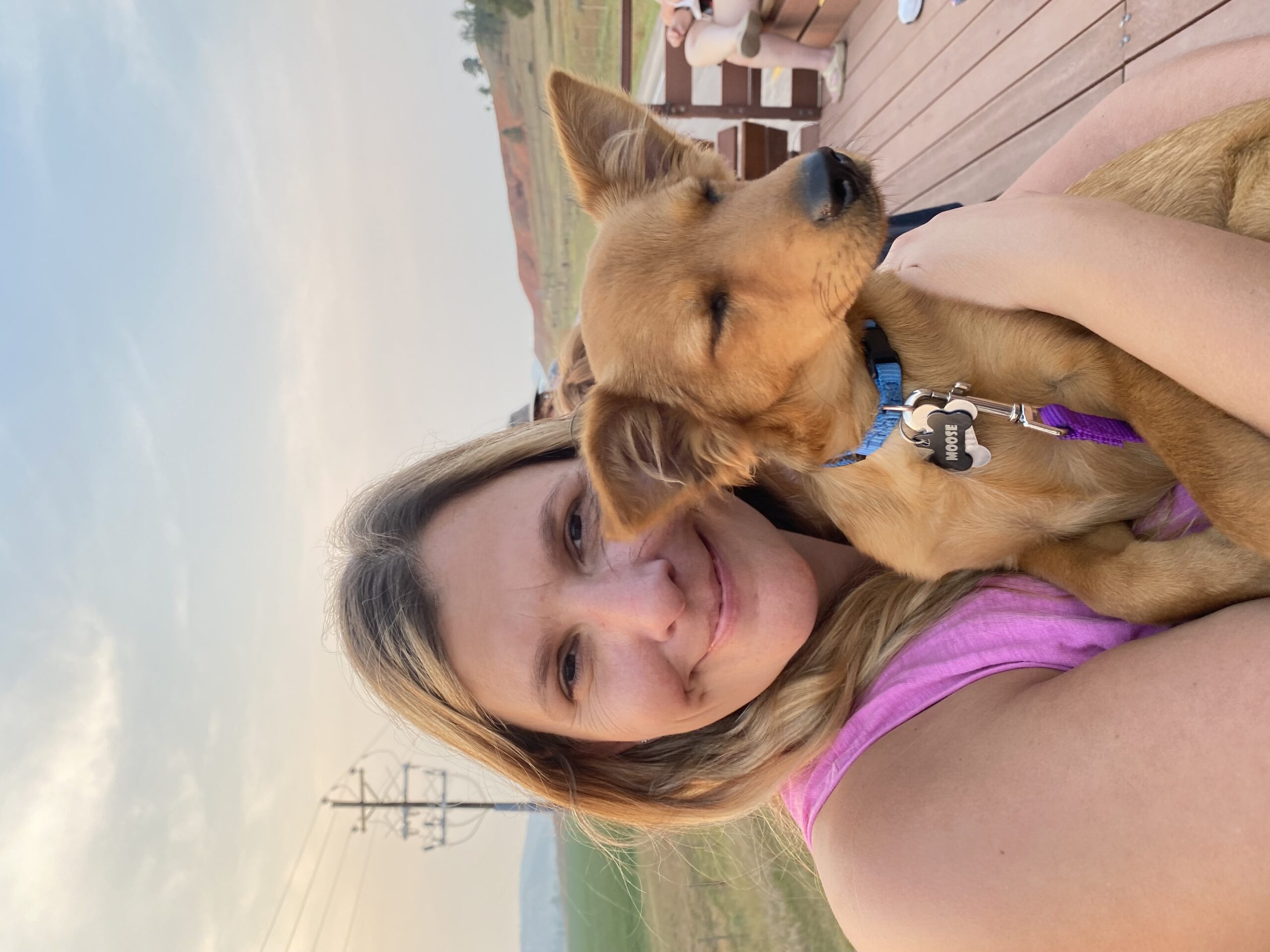 Jenny grew up in Germany. All she ever wanted out of life was to leave and have adventures. Jenny always traveled as much as the budget would allow, and when she met her husband traveling became a full-time thing. You can follow Jenny on her blog and Facebook.