San Diego, this bustling city on the West Coast, is a great place for solo female travelers for many reasons. The low crime rate and the friendly locals are major reasons why you, dear solo traveler, will feel more than comfortable in San Diego. Many nonstop flights from places such as New York or Mexico City to the San Diego International Airport, which is just a short drive from the city, provide easy access to this vibrant coastal town. If you live in or are already visiting other places in the United States, it's also a great place to take a road trip to.
The food scene is amazing, vibrant nightlife can be found in many neighborhoods, there are live music venues everywhere, and the art scene is out of this world! San Diego offers a little bit of everything. The beautiful weather invites you to try one of the many outdoor activities, and should you encounter a cooler day, or showers, there's plenty to do indoors as well. You have zero chance to get bored, and making new friends or even new travel buddies will be a breeze. In this article, we'll tell you about the best things to do, tours you will enjoy, and the best places to stay in this lively city and the surrounding area. No matter if you want to spend a week or just a long weekend, you'll find plenty to do.
This post contains affiliate links. This means we make a small commission at no cost to you if you click through and make a purchase. All prices listed are accurate at time of publication.
Epic Solo Trip To San Diego For Women
San Diego is a great city to visit at any time of the year. On average, 344 days are warmer than 60 degrees Fahrenheit. Late summer is typically the hottest time, while the coldest month is December. The shoulder seasons, mid spring and late fall, are the best time for a solo trip to San Diego. The temperatures are balmy, and it is more affordable than it is during high season.
The city offers great and affordable public transportation. There's no need to get a rental car and worry about traffic and parking.
With that said, let's jump right in and learn all there is to know about America's finest city!
Is this your first solo trip? Take a look at the Girls Who Travel website, which is brimming with tips for traveling solo.
Best Things To Do In San Diego
Balboa Park
Balboa Park is the first place you should explore. Whenever I visit a big city, I make sure I find a place to have a nature break. Balboa Park is the place to go for that, but with its 17 museums, it's also a cultural hub in San Diego. Performing arts venues and cultural attractions round up this special place. Start by stopping by the visitor center to get your bearings and information about happenings at Balboa Park.
Gardens and Trails
Plenty of gardens and trails await you in this 1,200 acre park. There's Palm Canyon with its 58 different species of palm trees, Zoro Garden, which used to be a nudist colony, but was turned into a butterfly garden, and the Veterans Memorial Garden, honoring the men and women who served the United States in the Armed Forces, the Wartime Merchant Marine, and the Coastguard. Visit the Trees for Health Garden and learn about medicinal plants. The Kate O. Sessions Garden contains a large collection of cacti and succulents. Don't miss the Inez Grant Parker Memorial Rose Garden. With its 130 different species of roses its a true stunner. The Florida Canyon Native Plant Preserve is home to native wildlife. Rare medicinal and edible plants which hold a special cultural significance can be found at the Healing Peace Garden. And if you aren't quite gardened out yet, visit the Desert Garden to see plants from all around the world which share a special feature: they are drought resistant, the Casa del Rey Moro (the Moorish King) Garden, the California Native Plant Garden, the Botanical Building and Lily Pond, the Australian Garden, the Japanese Friendship Garden, or the Alcazar Garden. Balboa Park is a true garden oasis!
Are you on a road trip with your dog? Balboa Park offers three different dog parks for pups to play to their heart's content.
5 trail gateways lead to many trails, short and long, for beginners and hiking enthusiasts alike.
Museums & Performing Arts
But Balboa Park has even more to offer! Interested in arts and culture? Visit one or more of the museums on site. Chicano, Latin, and Indigenous art is displayed at the Centro Cultural de la Raza. At the House of International Relations Cottages you can learn about cultures from around the world. Science lovers can't miss the Fleet Science Center. The Comic-Con Museum, Institute of Contemporary Art, and the Japanese Friendship Garden and Museum are worth a stop as well. Marston House is a fine example of California's architecture. The Mingei International Museum displays folk art, craft, and design. There's also the Museum of Photographic Arts at the San Diego Museum of Art, the Museum of Us, which explores the human experience, and a special treat for those looking for the best air museums USA has to offer: the San Diego Air and Space Museum. But that's not all. The San Diego Automotive Museum, the San Diego History Center, the San Diego Natural History Museum, the San Diego Mineral and Gem Society, the San Diego Railroad Museum, the San Diego Museum of Art, the Timken Museum of Art, the Veterans Museum, the World Beat Center, and the Women's Museum of California are there for you to explore.
On top of all that, Balboa Park offers several venues for performing arts. Click here and see what's on!
Attractions
Oh the attractions you'll see! The Cabrillo Bridge, built in 1915, is the most scenic way to get into the park. The California Tower, built the same year as the Cabrilo Bridge and located at the San Diego Museum of Us, is an icon of this city. Go for a ride on the beautiful original menagerie carousel. If you enjoyed that, opt for a tour on the antique miniature train next. Marvel at the statue of the 11th century hero El Cid. Stroll over to a very special landmark: the Moreton Bay Fig, a Ficus macrophylla tree that's more than a hundred years old. With a height of 78 feet and a width of 123 feet it's a magnificent example of its species. Photographers stream to Balboa Park to capture its beauty. If you are one of them, make sure to stop by the Photographic Arts Building, too!
The San Diego Zoo and the San Diego Safari Park are also located at Balboa Park. You can visit without guilt: they 'integrate wildlife health and care, science, and education to develop sustainable conservation solutions'. It is absolutely ginormous and features 3,700 rare and endangered animals.
At the Spanish Village Art Center you can buy art, watch art being made, and try your hand at doing it yourself. 200 local artisans include photographers, basket makers, clay artists, jewelry designers and many more. Last but not least, wander to Sefton Plaza for an encounter with people who played pivotal roles in the history of this fantastic park.
If you are interested in getting a great overview of Balboa Park without spending much time there, consider booking a private Balboa Park Segway tour.
One More Noteworthy Museum
If you have already visited a bunch of the amazing museums located in Balboa Park you may feel like skipping this section. San Diego certainly has an abundance of museums, and if you love culture, take a look at the USS Midway Museum: a historical naval aircraft carrier museum located at the Navy Pier in downtown.
Ocean Beach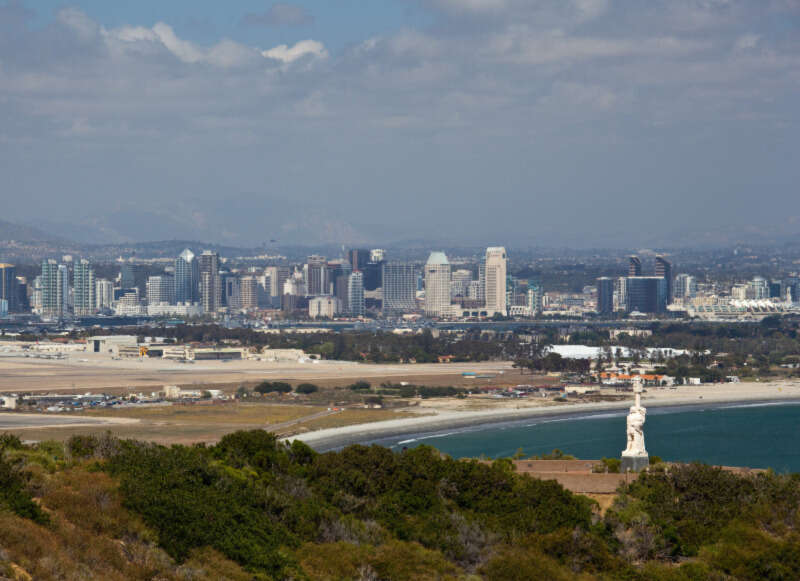 One of the best things to do in southern California is to spend time at Ocean beach, a lively neighborhood that offers everything from farmers markets to shopping to events. Take a walk on the pier and see the tidepools. Fun annual events in this area include Oktoberfest, St. Paddy's O'Beach Party, a Kite Festival, and the Ocean Beach Street Fair & Chili Cook-Off Festival. You can take a self-guided mural walk, or a self-guided historic walk, or visit Point Loma Lighthouse.
Stroll through one of the many parks in the area: Saratoga Park, Robb Athletic Field, which has lots of opportunities to burn a few calories, Dusty Rhodes Park, ideal for families, Sunset Cliffs Natural Park, where you can enjoy ocean views paired with dramatic caves and cliffs, and my absolute favorite: Cabrillo National Monument, dedicated to Juan Rodriguez Cabrillo, who stepped ashore here in 1542, making him the first European to set foot on what is today the United States' West Coast.
Pro Tip: You are no more than a hop, skip, and a jump from the border to Mexico, so before you use your phone for anything more than capturing the dramatic scenery, make sure you are still logged into the US cellphone network you use, and not a Mexican one to avoid roaming charges.

Ocean Beach offers a number of beaches: Saratoga Avenue beach, popular with families, body surfers, and boogie boarders, Dog Beach, which was one of the first off-leash dog beaches in the United States, Newport Avenue Beach, the most popular hangout for surfers, Voltaire Street Beach, very popular with all beach-goers and lined with bars and restaurants, Santa Monica Avenue Beach, offering lots of amenities such as bathrooms, showers, and a picnic area, Niagara Avenue Beach, the best spot to see the tide pools and marine life, Cape May Avenue Beach, which should be your choice if you are trying to stay away from large crowds, Brighton Avenue, especially popular for playing volleyball, and Long Branch Avenue Beach, also a popular spot for volleyball.
Little Italy
Once upon a time Little Italy, another neighborhood in San Diego, was famous for being home to the local tuna fishing industry. But those days are long gone, and today, it's a great place to stroll around, visit upscale boutiques and people watch in one of the many nice cafes. If you are a foodie, you have come to the right place. The variety of best restaurants will blow your mind: choose from traditional Italian places to celebrity chef establishments and everything in between. If the choices are simply too overwhelming and you can't make a decision of where to go and what to eat, you can spend a couple of hours on a guided food tour Taste of Little Italy.
Pacific Beach
Ready to party? Pacific Beach is your best bet! It's a favorite hangout for young adults, with plenty of bars, restaurants, and clubs where you can dance the night away. During the day, work on your tan at Pacific Beach, which offers bathrooms, or rent a bike there to explore the area. For a calmer beach, make your way to North Pacific Beach. The Tourmaline Surfing Park is great for those who are looking to ride the waves, and those who love to watch the action.
Coronado Island
There's no doubt you'll want to spend some time at the beach, and the best spot is Coronado Island, which is located on a peninsula in San Diego Bay. Here's an overview of the best beaches:
Coronado Central Beach: it's 1.5 mile long, wide and sandy, ideal for surfing and swimming, with the backdrop of the iconic Hotel Coronado
North Beach is the place to go if you are traveling with your dog
Glorietta Bay is a small beach which offers many amenities such as a large, grassy park, restrooms, playground equipment, and a great view of the San Diego-Coronado Bridge
Silver Strand State Beach offers 2.5 miles of sandy coastline sparkling with the silver shells it was named for
Ferry Landing Marketplace offers only a small sandy area, but it is the best place to snap pictures of Downtown San Diego
La Jolla Cove
La Jolla Cove is part of a marine reserve, the La Jolla Underwater Park. Imagine how amazing it is to go snorkeling or scuba diving here, coming face to face with a sea lion and other water creatures. Do an open water swim, go kayaking, or standup paddleboarding. Rent a bike and explore, and enjoy a meal at some of the best restaurants in the area.
Downtown San Diego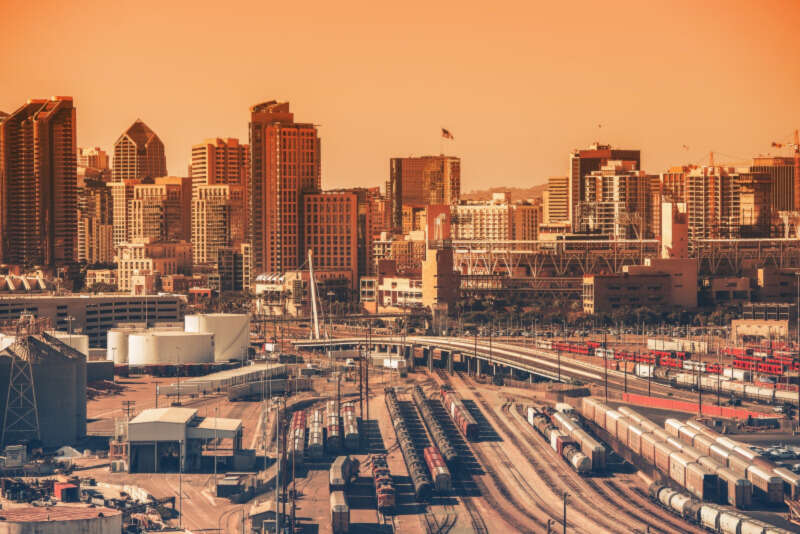 San Diego's cultural hub is located in the city center. Head downtown for fresh seafood, craft beer, and nightlife.. It's pedestrian-friendly, and you can spend a whole day (or more!) walking around to explore. Take a short walk through the Gaslamp Quarter, where you can admire a mix of old, Victorian-era houses mixed in with modern buildings of all kinds. It's a great place to buy San Diego souvenirs, but you'll also find cute boutiques and other retail shops in this area. Hungry? Have lunch or dinner at one of the many restaurants, and don't forget to try a pint of San Diego craft beer at Alpine Beer Co., Kona Big Wave Patio, Cutwater Spirits Rum Bar, or one of the other fab places you'll find here. If the choices are too overwhelming, book a Gaslamp Quarter Downtown San Diego Food Tour to ensure you get the best of the best!
At night, this neighborhood offers vibrant nightlife. Have cocktails at one of the rooftop bars, hit one of the clubs, or catch a performance at Balboa Theatre.
Baseball enthusiasts can catch a game at Petco Park in downtown.
North Park & South Park
The North Park and South Park neighborhoods are close to Balboa Park. North Park calls itself the 'the best beer neighborhood in the nation' and is the ideal area for bar hopping and meeting new people. Don't worry, beer isn't all that's on tap. Try a craft cocktail instead! During the day, hang out in a cute coffee shop, try one of several restaurants offering brunch, and discover the Ray Street Art district.
South Park is for shoppers: you'll find many neat indie shops in this area, as well as an independent book shop, and a record store. Coffee lovers can count on sipping a nice brew from local roasters. Grab some grub from one of the restaurants or food truck, many of which are focused on sustainable meats and seafood, as well as seasonal organics.
Old Town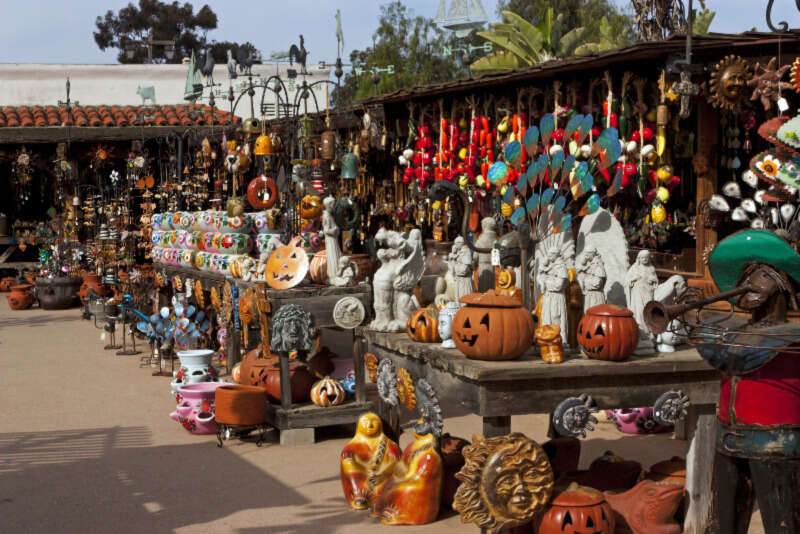 Old Town San Diego is a place bursting with history. Did you know that it was the first European settlement in what is today the state of California? There are 32 historic sites located in Old Town that'll tell you the story. There are several annual events that make visiting Old Town even more special: the Cinco de Mayo Festival, the Day of the Dead Festival, the Old Town Art Festival, and the Fiesta Navidad Christmas Festival.
But fun things to do are available any day of the year! These are the can't miss sites in Old Town:
Step back in time at Old Town San Diego State Historic Park and learn about the history of early San Diego
Iipay-Tipai Kumeyaay Mut Niihepok (Land of the First People) at Old Town San Diego State Historic Park honors the culture of the Kumeyaay Nation
At Heritage County Park & Victorian Village you get to admire the well-preserved Victorian style buildings, visit an authentic tea room, and take all the Insta-worthy pictures
Learn about the Latter-day Saint voluntary army regiment of 1846 at the Mormon Battalion Historic Site
Love Greek Revival architecture? Visit Whaley House!
Cygnet Theatre is one of San Diego's leading theater companies
The Church of the Immaculate Conception is the site of the very first mass celebrated in the state of California on July 2, 1769
El Campo Santo is the burial ground for several people who played important roles in San Diego's early history
The best views of Old Town and its surroundings can be found at Presidio Park
Learn about the earliest history of San Diego at the Junípero Serra Museum
Find information about Africa's rich heritage, and the impact it has on our world, at the African Diaspora Museum
Hit the green and play a round of golf to relax after all that sightseeing at the Presidio Hills golf course
Torrey Pines State Natural Reserve
Only a 20 minute drive from the city you'll find a tranquil nature oasis: Torrey Pines State Reserve. It's rare to find such a wilderness close to urban areas, which is why it gets very busy. Early morning is a good time to visit and have some peace and quiet before the crowds file in. The late afternoon, when people start heading out to get ready for dinner, is a great time to take beautiful pictures of the best views to post on your social media.
There are many excellent hiking opportunities for nature lovers, with the trails ranging from shorter, easy ones such as the Razor Point Trail to moderates and slightly longer ones such as the Torrey Pines State Beach and Broken Hill Trail Loop. Torrey Pines State Beach is a nice place to swim and surf. One of the best activities is a guided tour of the slot canyons. Watch the para and hang gliders, or become one!
Best Tours in San Diego
Organized tours are one of the best ways to catch a glimpse of the major attractions, as well as the special things that interest you. There are many options for boat tours, and many more tours on land. We already mentioned a few fun tours that are worth spending money on, but there's more. Here are our favorites:
Best Places To Stay
No matter what your budget is, you can easily find a suitable place to stay in this great city in California. Boutique hotels and hostels with modern amenities, 5 star resorts and vacations homes are available throughout the year.
5 Star Hotels
4 Star Hotels
3 Star Hotels
Vacation Homes
Hostels
I hope you have enjoyed my suggestions for a solo trip to San Diego, one of my favorite places in the entire world!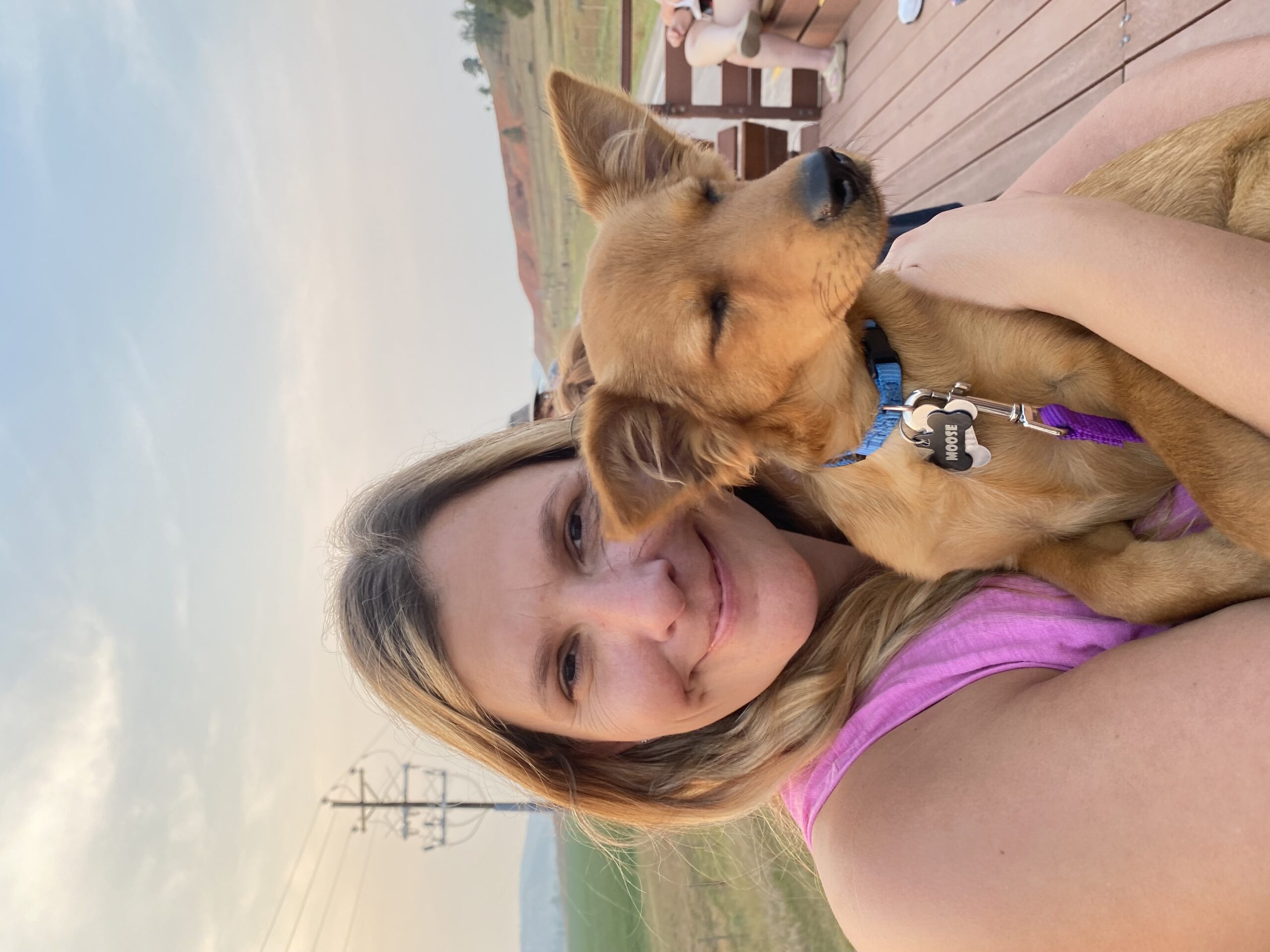 Jenny grew up in Germany. All she ever wanted out of life was to leave and have adventures. Jenny always traveled as much as the budget would allow, and when she met her husband traveling became a full-time thing. You can follow Jenny on her blog and Facebook.