Every year in September, Munich hosts the famous Oktoberfest, the world's largest beer festival. It's a highlight for every tourist visiting Germany who is looking to have a great time. If this is on your radar for the first time, you should read this guide to find out what to wear to Oktoberfest Munich Germany. Because you know, when in Rome, and dressing up in Oktoberfest clothes is one of the best things about the experience and so much fun!
This post contains affiliate links. This means we make a small commission at no cost to you if you click through and make a purchase. All prices listed are accurate at time of publication. 
What To Wear To Oktoberfest Munich Germany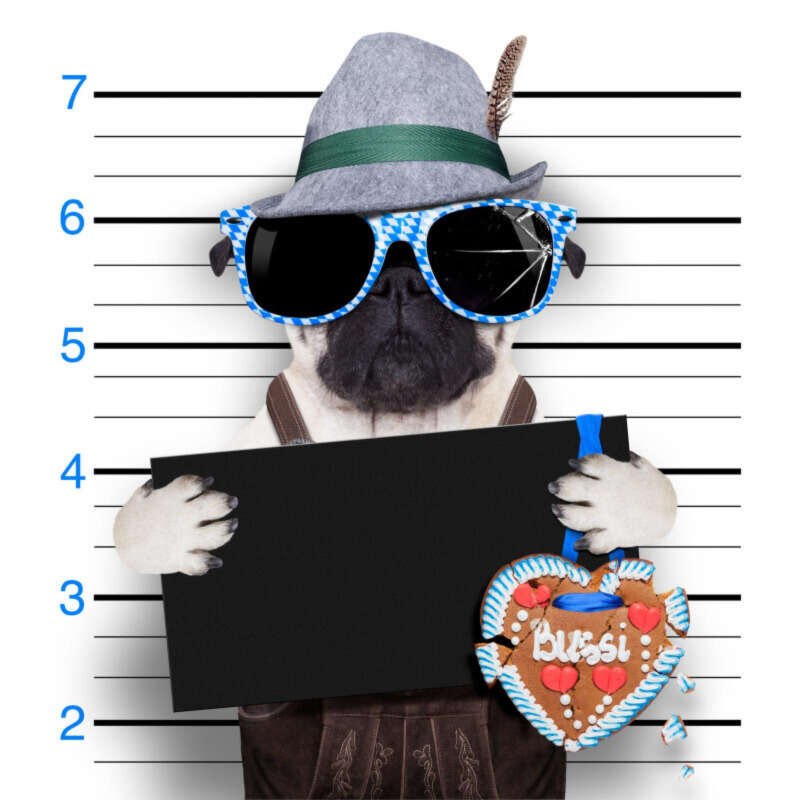 Are you preparing for your first Oktoberfest and are wondering how to look proper for every event there? While cultural appropriation is something that travelers need to consider when wearing clothing from outside their own culture, that doesn't apply here for many reasons and, for added assurance, as a German I can assure you that it's perfectly fine for non-Germans to wear traditional clothes. If you don't know where to start when putting together a traditional outfit, don't worry, I've got you covered, and my picks guarantee you'll look beautiful in authentic Bavarian attire, so you can have a good time!
Traditional Bavarian attire for women
At Oktoberfest, women generally wear traditional dirndls, which is the most important thing to have when dressing up for the occasion. A dirndl is a dress with a low neckline and close fitting bodice. Dirndl blouses are worn underneath the bodice. A white blouse compliments most dirndls and doesn't clash with any other colors. The dirndl skirt is high waisted and it is worn with an apron. Now there's something crucial in regards to the apron you need to know. The apron knot with which you tie it represents your relationship status. Tied in the front and towards the left side the knot will signal that you are single. Tied to the right side it means that you are married or in a committed relationship. And finally, tied in the front and middle means that your relationship is nobody's business.
The history of the dirndl goes way back to some time between the 16th and 18th century, when dirndls were first mentioned as the clothing of choice of Alpine peasants. Today, it is simply a traditional dress in Munich and southern Germany, as well as in other German speaking regions of the Alps.
Traditional dirndls come in many different designs in different regions. They can be plain or very intricate, there are short dirndls and loner ones, and the price point varies accordingly. One can easily spend a small fortune on a dirndl! Assuming that you, dear reader, are a short-term visitor and have not marked the Munich Oktoberfest as an annual event in your calendar, we recommend buying a dirndl on the lower end of the price range. Though you can spend a bit more and still wear it for special occasions. Of course it is really fun to arrive early and go to one of the traditional Bavarian outfitters to get fitted for your perfect dress. But it's much easier to come prepared with complete sets of his and hers Oktoberfest clothing. Oftentimes, dirndls can be found mixed in with Halloween costumes. Or, you can buy one online.
Alright – you got the most important part of your traditional costume. Now let's talk about the details. First, shoes. Traditionally, a dirndl is paired with simple shoes with a Cuban heel. However, you can really wear whatever shoes you like. High heels or even motorcycle boots look extra cute and give the outfit a different twist. However, a day at Oktoberfest can mean being on your feet a lot, so I recommend you opt for comfortable shoes. Flip flops may not be the right choice in the packed beer halls and the traditional beer tents, but they don't have to be traditional shoes either. Ballet flats are also a good option that won't make your feet hurt too bad by the end of the day.
OUR PICK:
Dress – check. Shoes – check. But what about accessories? A ribbon choker or Weiss necklace are a must. If possible, get earrings that match your necklace to complete the look.
OUR PICK:
While a necklace is a must, a bracelet is optional, but there are very cute options that really stand out.
OUR PICK:
Last but not least, we need to talk hairstyles. For long hair, pigtails or braids are great. There are lots of elaborate braided styles that will look nothing short of adorable with your dirndl. Click here for an easy tutorial for an easy crown Dutch braid. Do you have shorter hair? Try these super cute milkmaid braids! Top off your elaborate hairstyle with a flower crown et voila – you have turned into the perfect Bavarian!
OUR PICK:
Oktoberfest costumes for men
If you are traveling with your husband, boyfriend, or male friend, they, of course, also need to dress according to local culture. What does that look like? One word: Lederhosen. Leather pants are the way to go here, but not just any – they have to be the special Bavarian kind. They are leather breeches, usually knee length, sometimes shorter. Once upon a time leather shorts were considered normal work wear across Central Europe, because they are much more durable than fabric clothing. But nowadays they are only worn as leisurewear, or traditional 'Trachten". While you can buy just the Lederhosen, to be real proper you should get the ones with suspenders.
OUR PICK:
Next question: what are the appropriate shoes to wear with these nice leather pants? There can only be one answer: Haferl shoes! These are classic working shoes, and the traditional footwear of Bavaria. Luckily for the guys, they are also comfy and great for wearign all day!
OUR PICK:
Of course shoes require socks, and men are not allowed to wear their ugly white tennis socks with their traditional Bavarian outfits. Special knee socks are required to match, a German tradition!
OUR PICK:
What else do the men need to complete the traditional clothing? A shirt, of course. The shirt needs to be the button up kind, and it can be a plain color or checkered. If plain, a white shirt is the best choice. If your guy goes for checkered, blue and white is very classy because those are the colors of the Bavarian flag.
OUR PICK:
And last but not least a hat is needed to round up the traditional Bavarian attire. Nope, no baseball caps allowed! An alpine hat is the way to go.
OUR PICK:
You are now ready for the start of Oktoberfest!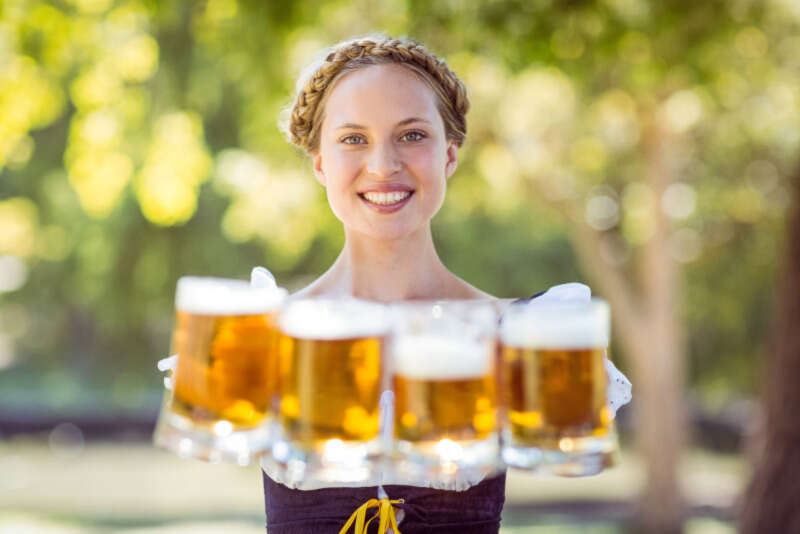 It is, of course, perfectly acceptable to wear normal clothes in the beer gardens and on the festival grounds. There are plenty of people who don't go through the trouble of buying traditional Bavarian dress. But if you do want to adhere to Bavarian culture, you know now what to get for the perfect outfit! Wearing traditional Bavarian clothing is a great way to add to an Oktoberfest experience. There is only one thing left to do: have German beer, enjoy traditional food, and have fun!
Wait – what? You can't travel to Germany Oktoberfest during the festival days? That's so sad, but there is good news: there are a whole bunch of great places to celebrate Oktoberfest outside of Germany, in the United States and abroad!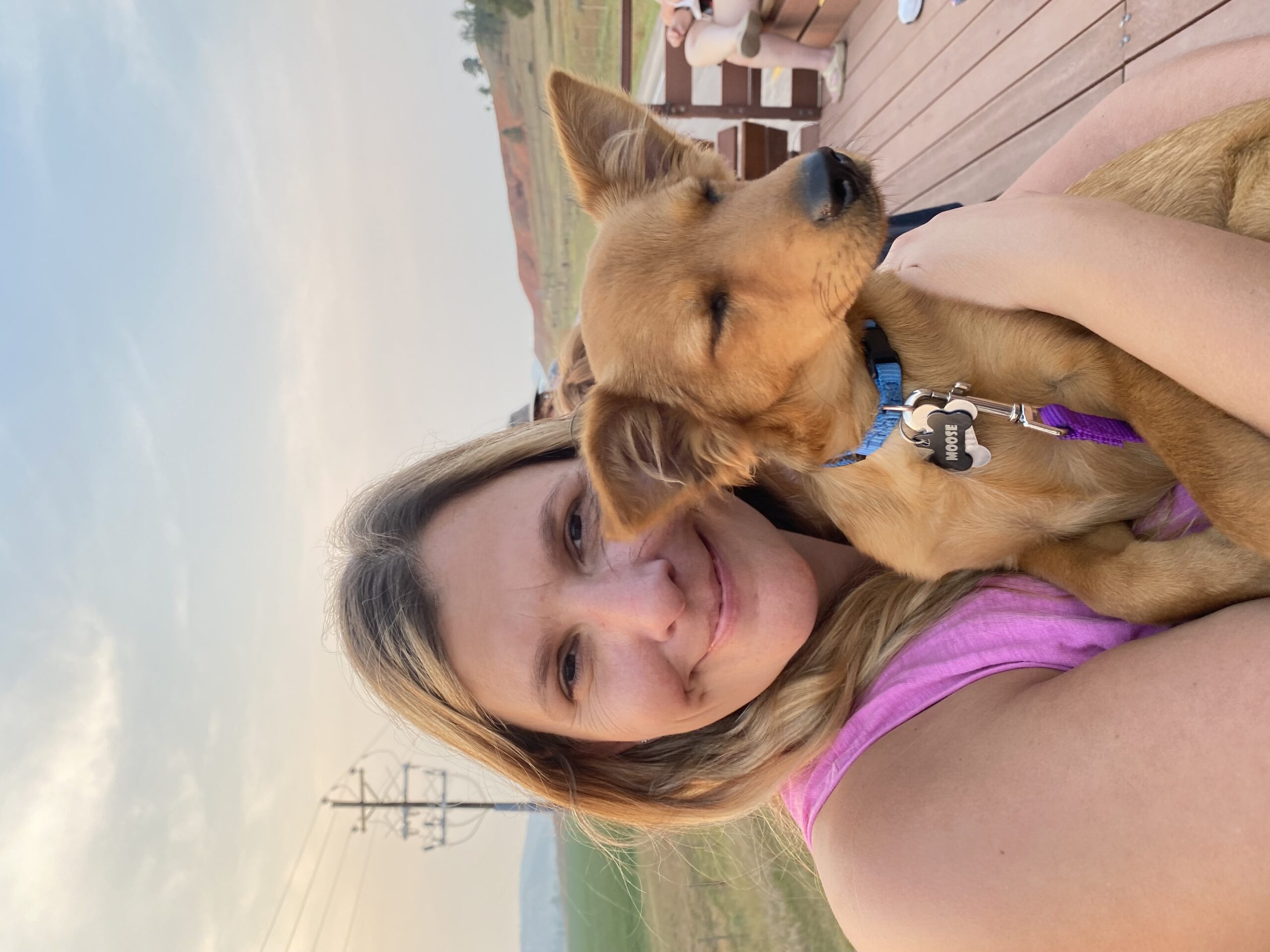 Jenny grew up in Germany. All she ever wanted out of life was to leave and have adventures. Jenny always traveled as much as the budget would allow, and when she met her husband traveling became a full-time thing. You can follow Jenny on her blog and Facebook.