A visit to Niagara Falls is a bucket list item for many. This impressive group of three waterfalls is not the biggest waterfalls in the world, but nevertheless a sight to behold. Our Niagara Falls itinerary will give you the skinny on all the things you can't miss!
This post contains affiliate links. This means we make a small commission at no cost to you if you click through and make a purchase. All prices listed are accurate at time of publication.

Niagara Falls itinerary
Niagara Falls is perfect for a one day trip. However, if you travel from a bit further away and want to spend a weekend, there are still plenty of things to keep you occupied.

Day 1
How you start day 1 of your Niagara Falls itinerary entirely depends on which side you are coming from. The Falls, located at the Southern end of the Niagara Gorge, span the border between the Canadian Province of Ontario, and Upstate New York, USA. While you can opt to explore one side only, it's worth crossing a border to get a different view.

Crossing the border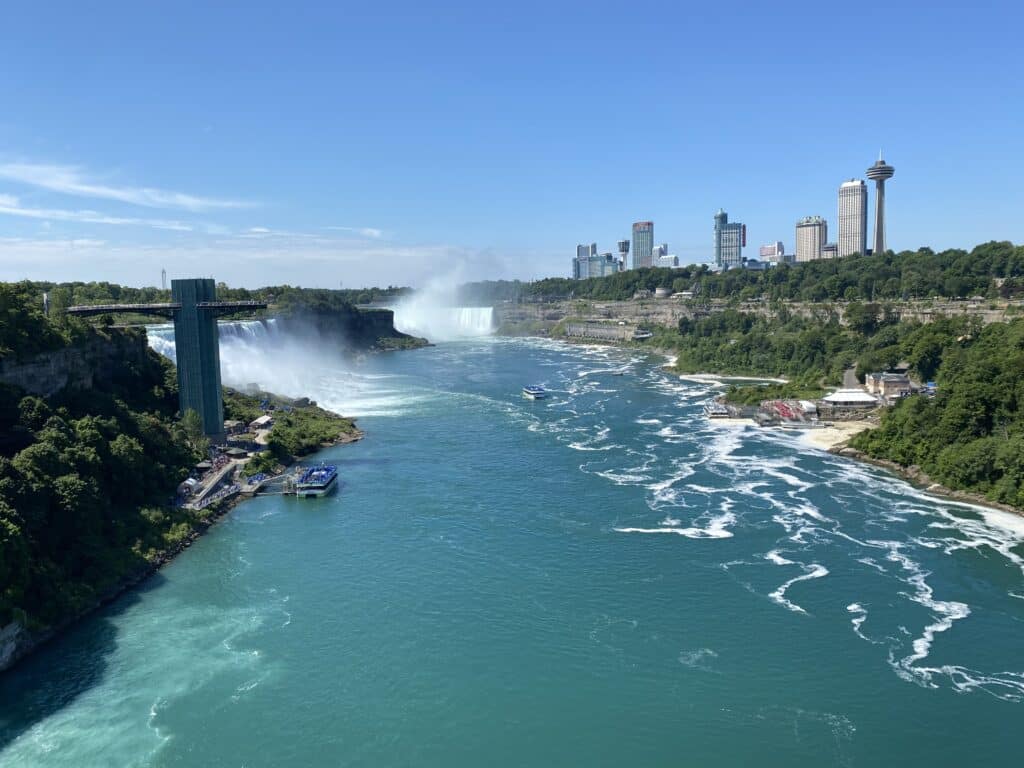 For our Team Girls Who Travel meetup in July 2022 we started out on the US side. The easiest thing to do is to drive to the Rainbow Bridge, the gateway between the cities of Niagara Falls on the US side and Niagara Falls on the Canadian side, and walk across into Canada. The Rainbow Bridge is one of the most spectacular bridges in the United States!There's public parking available in the New York State Park parking lot, at the cost of $15 USD per day.
For the entry into Canada, every person is required to carry proof of identity and citizenship. Depending on your citizenship, you may have to acquire a visa. Bringing your passport is the safest way to ensure you meet these requirements. For fully vaccinated travelers, it's required to use ArriveCan before you enter Canada. It's a free app that you can easily download onto your smartphone. You'll need to provide your travel information and upload your vaccine card. You will receive a receipt that the border control officer may check upon entry.
Rainbow Bridge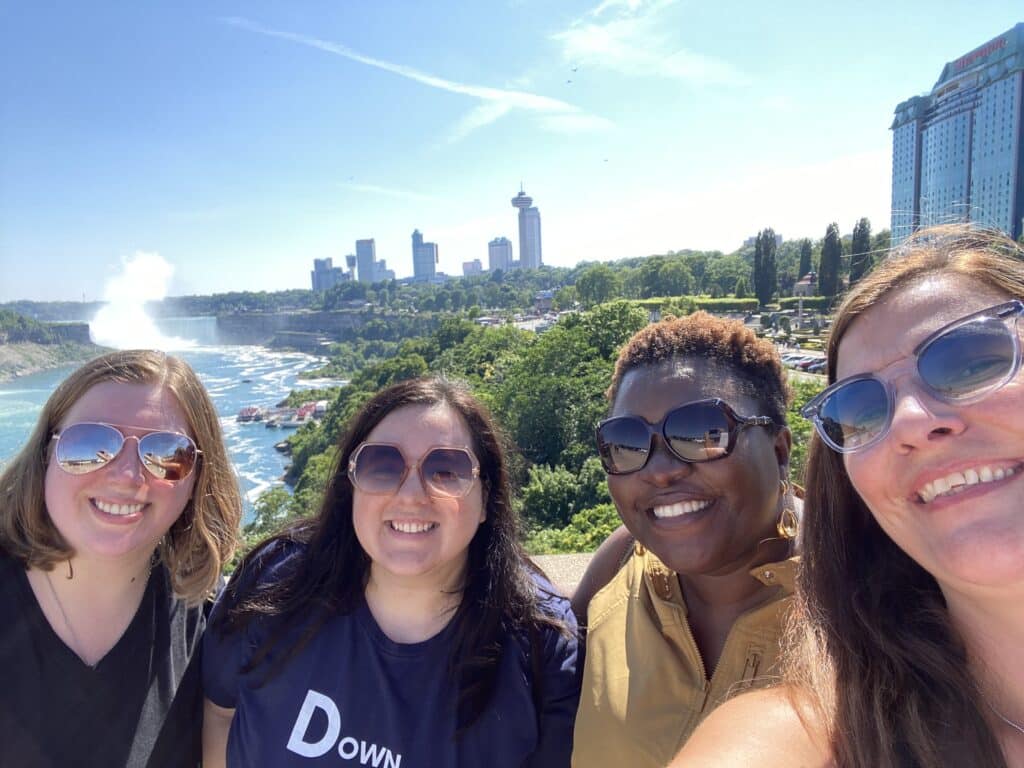 You can drive across the Rainbow Bridge into Canada, and if you plan to spend some time over there, it's great to have a car. However, it's really fun to walk across. The view is incredible, and you can take loads and loads of pictures. Last but not least, you can be in two countries at the same time, since the border between the US and Canada is in the middle of the bridge.
Take a stroll through the city of Niagara Falls
As you'd expect at a major tourist destination, there are plenty of touristy shops to check out. The Canadian Trading Company and the Canadian Gifts & Marketplace are ideal for stocking up on any fun souvenir you can think of. Hit Hershey's Chocolate World for amazing treats! You can't leave the Fudge Factory without gaining half a pound, just by breathing in the yumminess. If you, like me, are a collector of Starbucks cups, add that as a stop to your Niagara Falls itinerary. Pro Tip: Not only does Niagara Falls have its own You Are Here collection cup, no, you can also buy the Canada, Toronto, and Ontario cups here!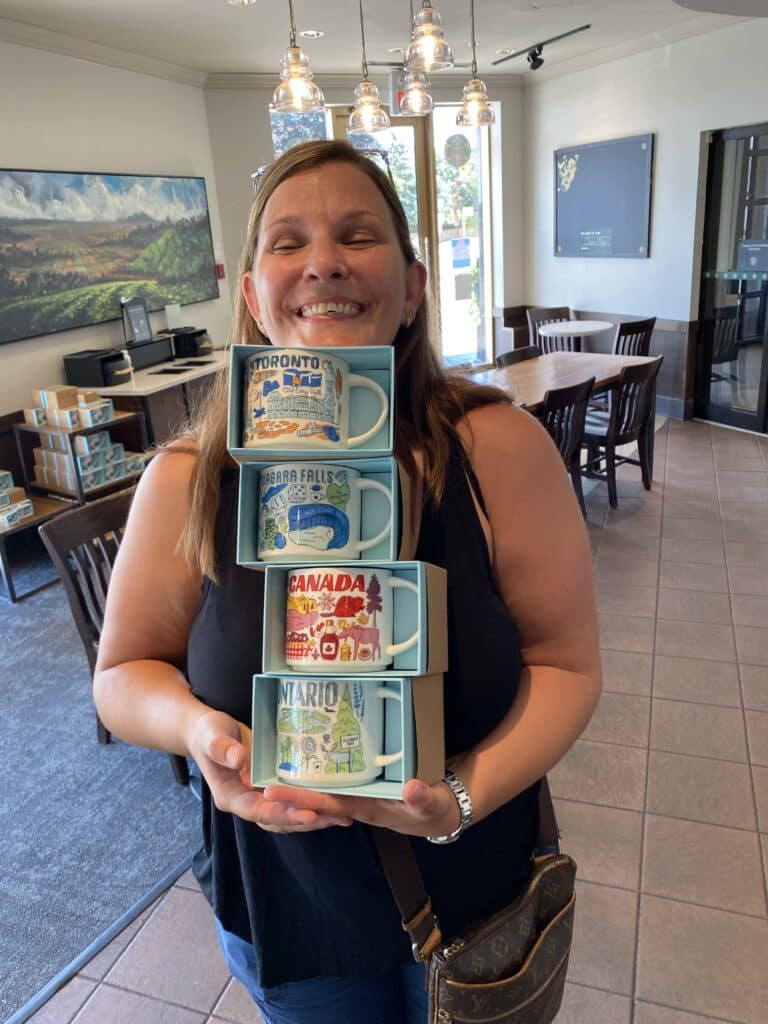 Enjoy Canadian specialties for lunch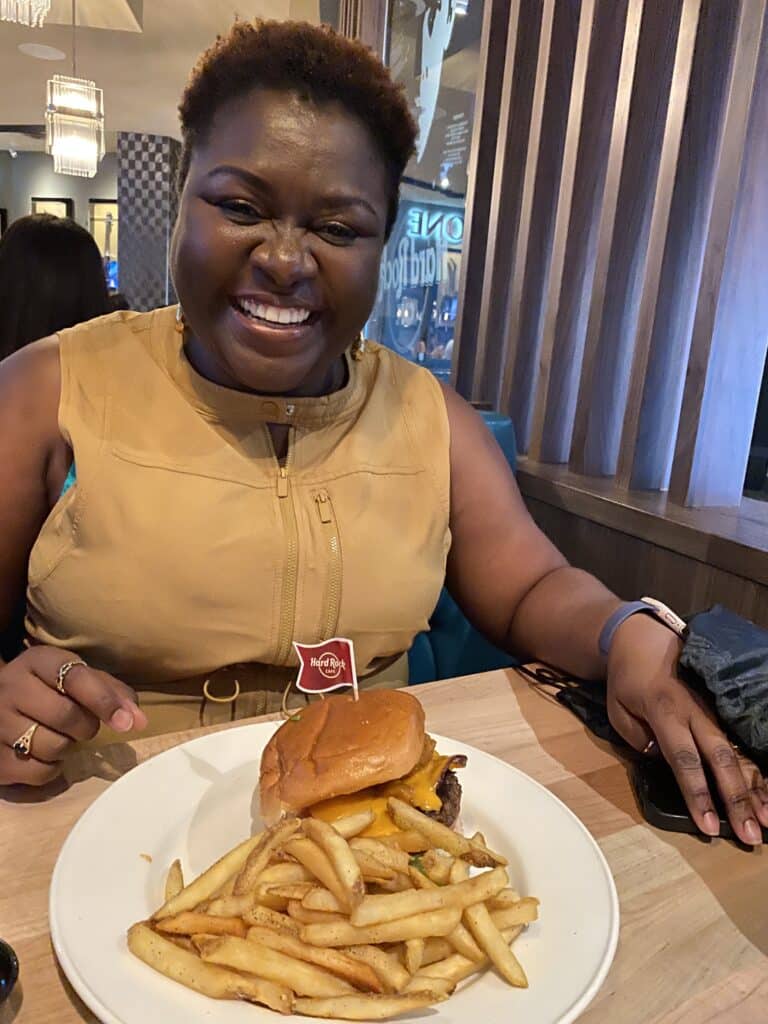 There are plenty of restaurants to choose from, but we opted to eat at the Hardrock Café, which is also a fine place to buy souvenirs. We ate burgers, a delicious Caesar salad, and… Poutine! If you've never tried Poutine, do it now. Classic Poutine is French fries and cheese curds, topped with a yummy brown gravy, but Poutine comes in many forms, and they are all worth the calories. Poutine should be a part of your Niagara Falls itinerary.
Go for a walk
After lunch, take a walk. You can't get super close to the Falls, but you can still wander, enjoy the scenery, and take some nice pictures.
Take a Tour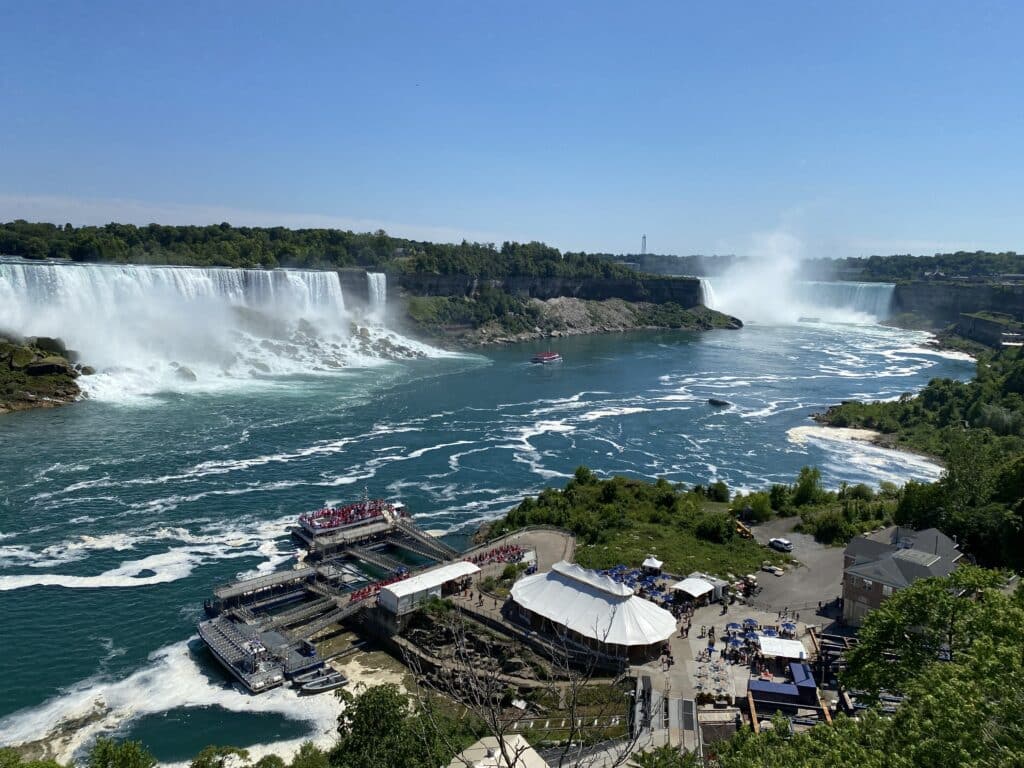 There are many fun things to add to your Niagara Falls itinerary you can book ahead of time.
Maid of the Mist
Maid of the Mist is very popular. It is a guided tour that allows you to experience the Falls by boat. And by experience I mean be prepared to get wet! The boat will take you right into the heart of Horseshoe Falls. That's the best way to see the Falls close up and feel the mist on your face. Make sure to get your ticket ahead of time, or you might miss it!
Jet Boat Tour
If getting misty at Horseshoe Falls wasn't quite exciting enough for you, get a real adrenaline rush on a jet boat tour next! While you will learn interesting fact about the Niagara River, you'll also get to cross a class-5 whitewater rapid, Devil's Hole, and get an extra kick at Niagara Whirlpool!
Skylon Tower Observatory
The view from the top of the Skylon Tower Observatory is the real deal, and you should definitely add a stop at the Tower to your Niagara Falls itinerary. There's no better place to see the skyline of Buffalo and Toronto, the Great Gorge, and the Niagara Wine District from a bird's perspective. Ride up in a glass-enclosed elevator and see the Niagara Falls from an elevation of 775 feet!
Kick it up a notch
If you want add the ultimate experience to your Niagara Falls itinerary, book a Niagara Falls helicopter tour. Experience the incredible sight of the American, Bridal Veil, and Canadian Horseshoe Falls. Marvel at the Niagara River and the Whirlpool Rapids, all the while having the time of your life.
Day 2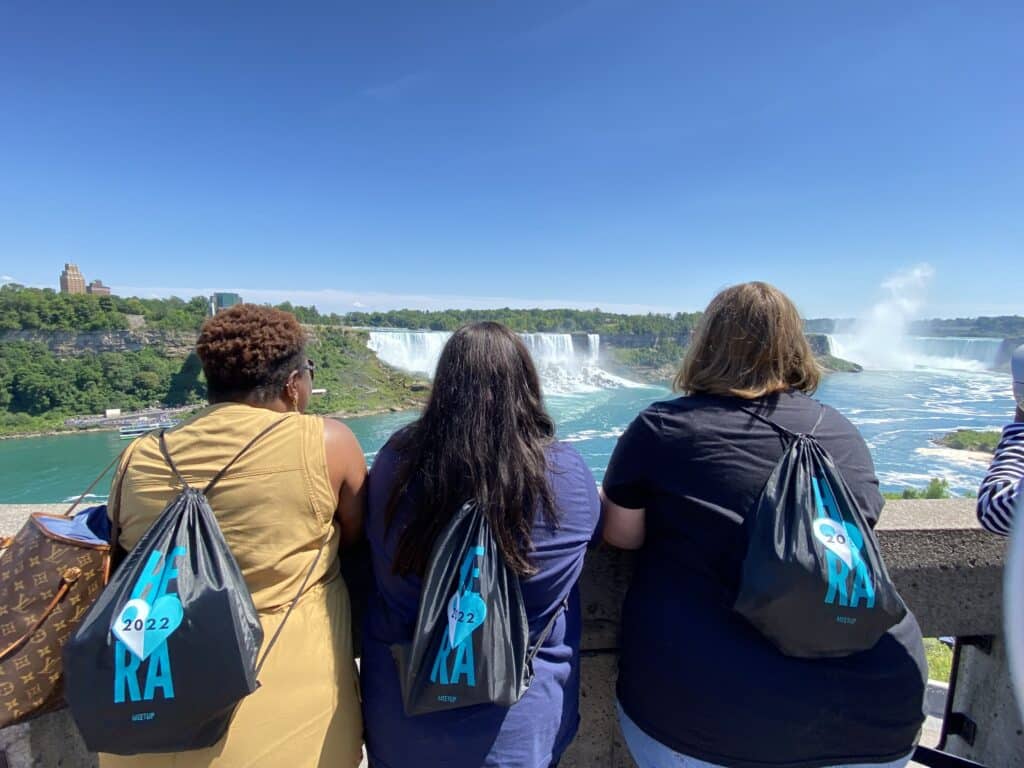 Your day 1 Niagara Falls itinerary was jam-packed. Maybe you didn't manage to go everywhere and do everything you wanted to do. If that's the case, head out early, because we have another full day planned for you!
Niagara-on-the-Lake
Head out to this beautiful little town located at the mouth of the Niagara River and on the shores of Lake Ontario. Niagara-on-the-Lake is one of Canada's best kept secrets, and therefore had to be added to this Niagara Falls itinerary. From the Falls it's only a 20 minute drive to this historic Ontario town.
Wander through historic downtown
Take a stroll through what's rumored to be Canada's most beautiful historic downtown! Find the picturesque memorial clock tower, and start from there. All around the tower you will find shops, restaurants, pubs, and more. Don't miss the Niagara Apothecary. It's an authentic Confederation-era pharmacy from 1869 which has been turned into a museum.
Eat ice cream
COWS Ice Cream is a must on a hot summer day, or a cool fall day, or an icy winter day, or at any point on your Niagara Falls itinerary. Try Cownadian Maple, Black Angus Forest, Nanaimo Bar, or any other of their spectacular creations. If you love, love, love it and are sad you can't have it every day, do not despair! They have a shop that offers many fun and even a bunch of yummy items (we are looking at you, cow pies!) for you to take home.
Visit a historic site… or two
Fort George National Historic Site is a great place to learn about Canadian history and a must-add to your Niagara Falls itinerary. The Fort was built in 1700, and it played an important role in the War of 1812. Today you can explore the museum, walk the grounds, and admire people in period costumes re-enacting life as it used to be.
The barracks at Butler's Barracks National Historic Site were built after that war to replace the ones who were destroyed. Wander the grounds and get a glimpse into military life back in the day. If military history is your cup of tea, the Niagara-on-the-Lake Museum is a must on your Niagara Falls itinerary. Its thousands of objects illustrate Canadian/British military history.
Wine, wine, wine, and maybe some beer or whiskey?
Wine lovers may just have to clear a whole day of their Niagara Falls itinerary and devote it a trip on the Niagara Wine Trail. There are a number of iconic wineries, offering everything your heart desires. You could even make life easy and book a full day wine tour. If that's too much, you could also book a half day wine and cheese tour.
Niagara Falls at Night
End your Niagara Falls itinerary with a bang! At night the Falls are beautifully illuminated, a spectacle you won't want to miss. Go by yourself, or book a tour!
If you do all the things on this Niagara Falls itinerary it will truly be a weekend well spent!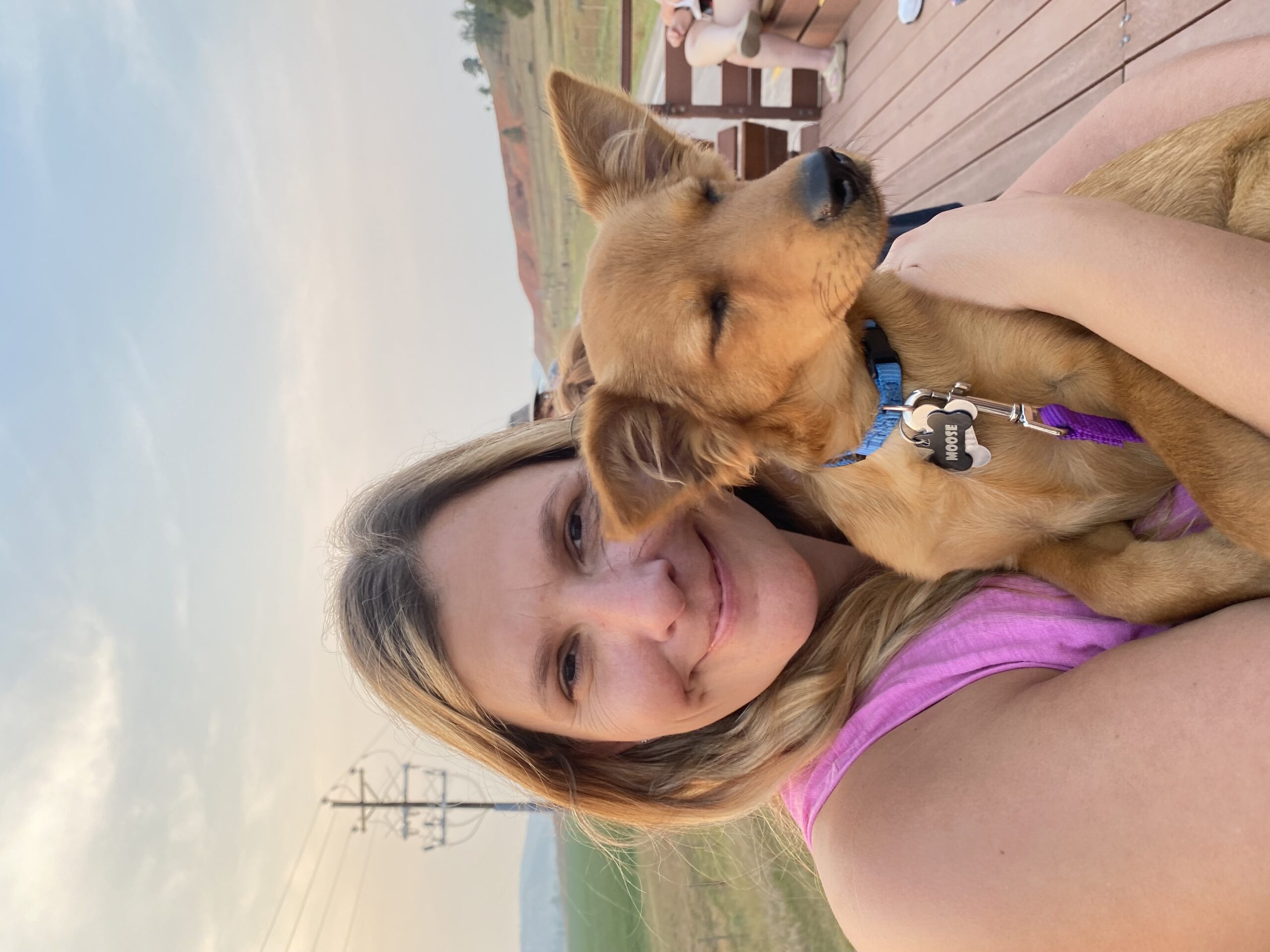 Jenny grew up in Germany. All she ever wanted out of life was to leave and have adventures. Jenny always traveled as much as the budget would allow, and when she met her husband traveling became a full-time thing. You can follow Jenny on her blog and Facebook.