What's the ultimate staycation adventure? Visit an Alpaca farm! It was a cold and rainy Saturday out here in Langley, BC, Canada. My sister and I wanted to go on an adventure. But the dreary forecast was making our plans difficult. Then my sister had a thought.
Visit an Alpaca Farm in Beautiful Langley, BC, Canada
What better way to spend a rainy day than to go on a scenic drive and see some cute alpacas? And that's exactly what we did! Kensington Prairie Farm was only a 25 minute drive from our house, so it was an easy drive for us.
Langley
When you think of Langley, an alpaca farm doesn't really come to mind at first. However, this is one of those experiences that you can call a little gem if you ever find yourself here in this part of Langley, about an hour away from downtown Vancouver.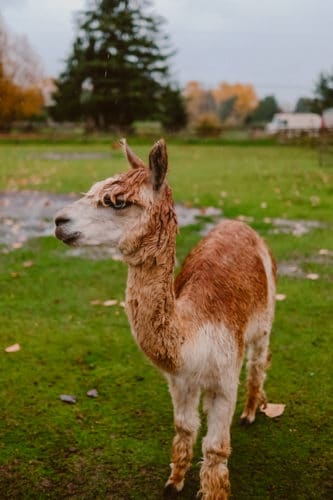 Alpaca Facts
Here are some facts you should know before you visit an Alpaca Farm.
They played a central role
Alpacas played a central role in Incan culture. They were cherished as treasure on the high Andean Plateau and mountains of South America in the countries of Peru, Chile, and Bolivia. Among the people of the Andes, the woven fabric from the fleece of the Alpaca was used as currency. Alpacas are members of the camelid family. They were domesticated 10,000 years ago.
The two breeds of Alpaca
There are two breeds of alpacas, the Huacaya (wah-KI'-ya) and the Suri ("surrey"). The difference between these two is the way their fiber grows.
Huacayas look like fluffy teddy bears. They are the more common of the two types, and account for about 90% of all alpacas. Their fiber grows outward from their bodies and is crimpy and thick, which gives them that "cuddly" appearance.
A suri in full fleece is breathtaking, with the locks blowing in the breeze. Suri fiber brings a premium price on the world market because of its unique characteristics and its scarcity. Suris are the rarer of the two types of alpacas.
They are smart herd animals
Alpacas are very smart animals, not only gentle, but easy to handle. They each have their own personality. Alpacas are herd animals and should not be raised in isolation. Their relationships develop based on their position in the group. They learn by observing the other herd members.
They are clean
Alpacas are naturally clean animals, generally using only one area of their pasture as a communal "dung pile". Alpacas have minimal aroma and tend to attract less flies in the summertime than other forms of livestock. Their manure makes great fertilizer, requiring no composting and gardeners love it! Your visit to an Alpaca Farm will be a pleasant experience.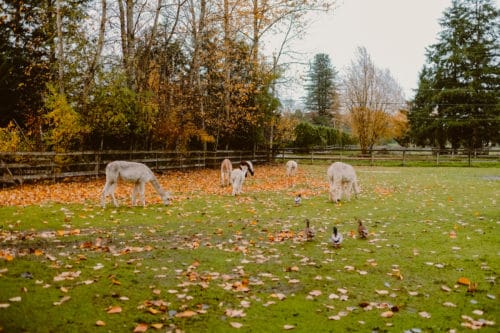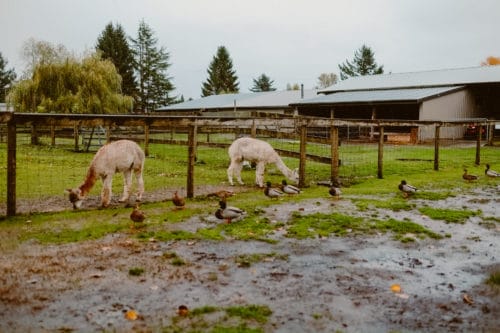 Kensington Prairie Farm
Kensington Prairie Farm was established in 2000 on 5 acres of land in Surrey, BC and is still run by the same family who built it back then. In 2006, they relocated to Langley where they expanded the farm from 5 to 45 acres of land. The farm is a dedicated family farming operation, committed to supporting the local community. It is home to 78 Huacaya Alpacas. Catherine Simpson and Jim Dales have been breeding, raising, and showing them to visitors since 2000. Alpacas aren't just good looking and noble, they are hard working animals too!
Admission & hours
General admission to visit the farm is $5 per person (free for children 5 years old and under) which goes towards charity, or a $5 credit towards a purchase at their on-farm boutique. The farm is open for visits on Fridays from 12:00pm – 5:00pm, Saturdays from 10:00am – 4:00pm, and Sundays from 12:00pm – 4:00pm. Reservations are not required.
Guided Tours
You can pre-book guided tours on Fridays and Saturdays in advance for $15/person (free for children 5 years old and under). Private tours are available to book Monday-Thursday for an additional fee. We didn't have time to book a tour when we visited, so we opted to see the alpacas from the fences, and we were perfectly happy to see them from a distance!
The advantage of booking a tour
However, booking a tour allows you to go onto the fields to feed the alpacas out of sanitized buckets with a tour guide. The tour guide will also talk about the origin of Camelids with a specific focus on alpacas. You will learn about their temperament,  behaviour and nutrition, and other cool alpaca facts. What's awesome is that proceeds from all their tours are donated to Quechua Benefit, a children's charity in Peru. Visit their website for more information about their tours!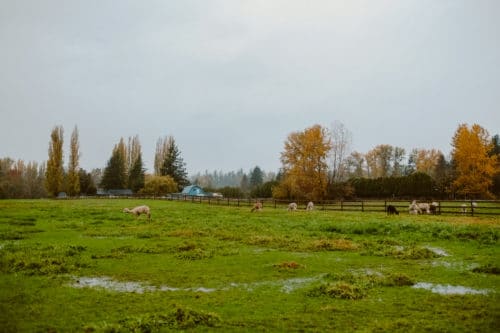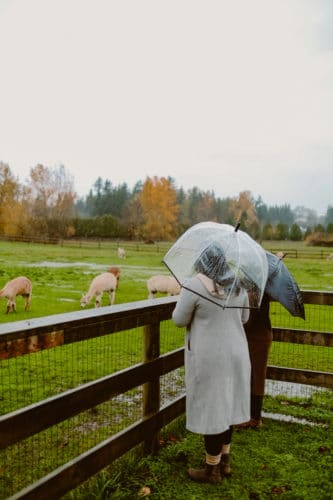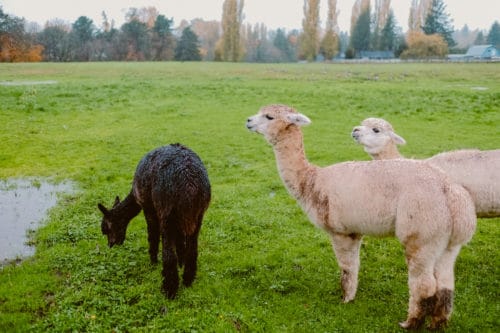 On-farm boutique
Their little on-farm boutique features high-quality Canadian made and imported alpaca products, as well as naturally raised, hormone-free beef and alpaca meat. I got one of their adorable alpaca keychains and a gorgeous coffee spoon made of olive wood with a bone handle. It's a perfect addition to my home coffee bar!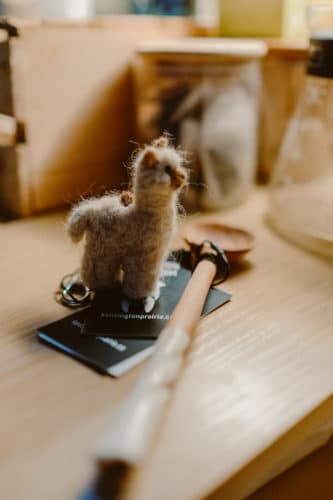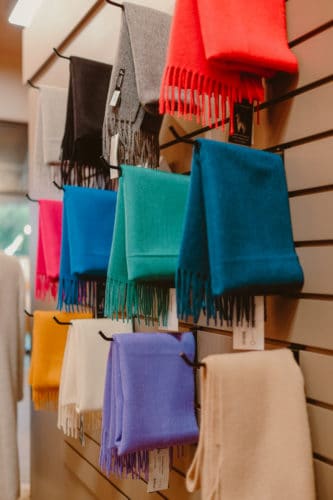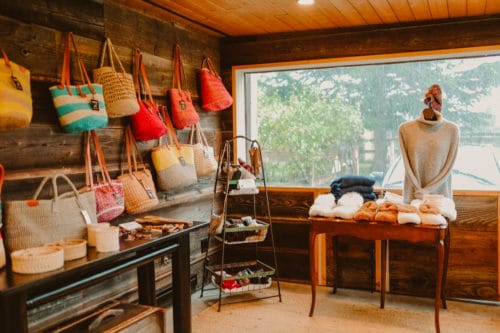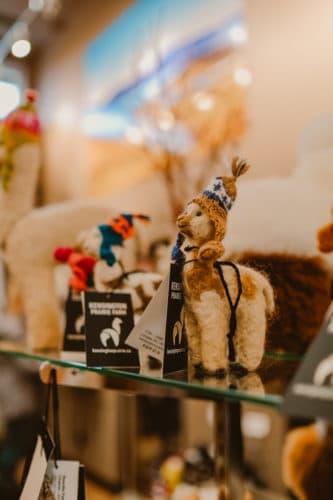 Their boutique sells an assortment of goods like alpaca yarn, blankets and throws, socks, scarves, shawls, slippers, floofy alpaca keychains and more! Just look at all that floof!
We didn't stay too long at the farm, but it was so much fun. Next time, I'll definitely have to book a tour to get up close to the alpacas and learn more about them. Overall, it wasn't a bad way to spend a rainy day.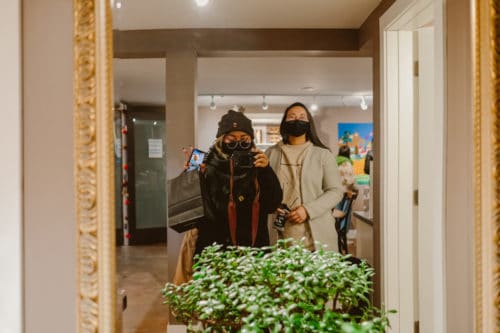 Documenting stories everywhere and anywhere. Lover of all things nature, architecture and food. Seeking to learn something new every day because the more you know, the more you realize how much you don't know.