If you are looking for cheap hotels in Santa Barbara, you have come to the right place!
Santa Barbara, the beautiful city on the central Californian coast, is knows as the 'American Riviera'. Downtown shows off the city's Spanish colonial heritage with its white Mediterranean -style stucco buildings and red-tile roofs. This charming town with the Santa Ynez mountains as an incredibly scenic backdrop has something to offer for everyone.
While the general area is home to many of the rich and famous, Santa Barbara itself can absolutely be experienced on a budget. It's even one of the best and most affordable honeymoon destinations in the US! We've scooped out five cheap hotels in Santa Barbara, California for you.
But let's take a moment and talk about what 'cheap' means. The actual price for the room isn't the only thing to consider when booking. You should also check which amenities are included. For example, a complimentary breakfast can save a lot of money, especially in a city that's on the pricier side. The same is true for complimentary WIFI. You also need to consider the location. Are you on a road trip and have your own car? Then it makes sense to stay at a hotel that's not in the city center (unless parking at the city center is expensive). But if you don't have transportation, paying a few extra bucks for you room will actually save you money. Make sure you read reviews before you book. If they talk about unclean rooms, possible even bed bugs or the likes, spend the extra money for a cleaner hotel instead of risking needing to see a doctor for whatever you caught from unclean linens.
But now, without further ado, here are our top 5 picks for cheap hotels in Santa Barbara, California!
5 Cheap Hotels in Santa Barbara, California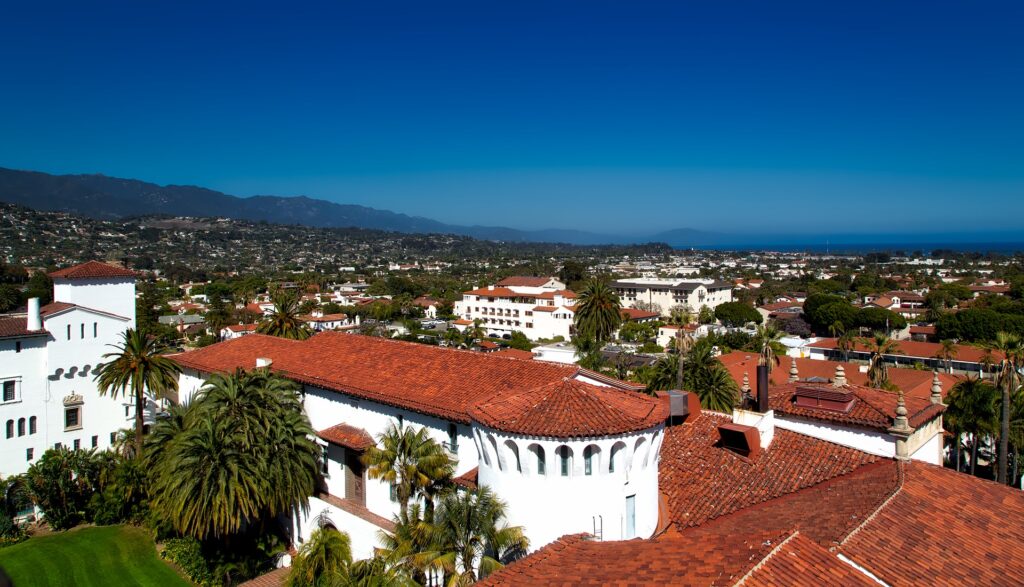 This post contains affiliate links. This means we make a small commission at no cost to you if you click through and make a purchase. All prices listed are accurate at time of publication.
Cabrillo Inn at The Beach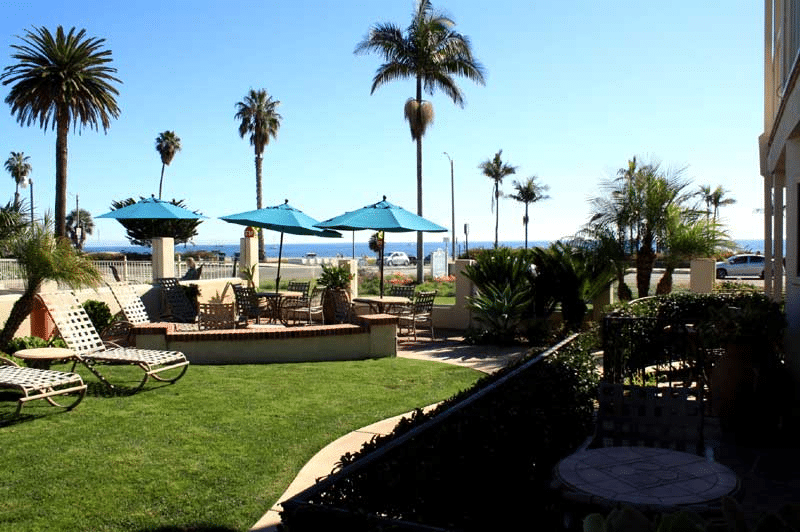 The Cabrillo Inn is the perfect location for beach lovers! The property is located right across the street from East Beach. The hotel offers free parking, which comes in especially handy, since parking at the nearby beach comes in at $ 1.00 USD per hour. Parking isn't the only thing that's free at the Cabrillo Inn. There's free breakfast (which is currently suspended, due to the Covid-19 pandemic), and free WIFI!
Even if you arrive without a car, you'll be just fine. There are eleven restaurants within walking distance! If you don't feel like spending the day at the beach, or need a break to avoid getting a sunburn, walk to the Santa Barbara Zoo, the Cabrillo Ballpark, or the Santa Barbara Rustys Lighthouse.
The hotel offers a heated pool, which makes swimming possible even on a chilly morning. Best of all, if you are looking for a longer stay, you can rent on of their Spanish vacation cottages! They feature two bedrooms and two bathrooms each, and are adjacent to the Cabrillo Inn, which means you have access to all their amenities.
Guests report that the staff is especially conscious of their Covid-19 safety protocol, but still manages to make the guests feel welcome and at ease. The whole crew is very friendly and relaxed and will ensure that you have an enjoyable stay. If you are looking for cheap hotels in Santa Barbara, this is a good option.
Best Western Plus Pepper Tree Inn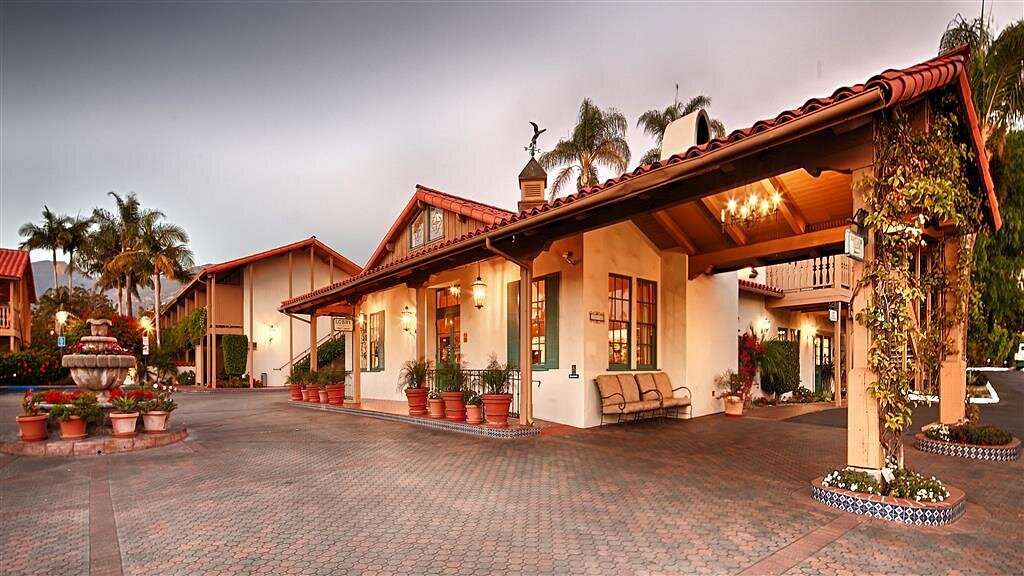 If you are looking to spend some time in a beautiful, relaxing setting, the Best Western Plus Pepper Tree Inn is just what you need. This Spanish-inspired resort hotel is surrounded by five acres of beautiful tropical gardens. Everything you need to wind down is on hand: two heated tile pools, two whirlpools, an exercise room and massage facilities. If you need to get some work done, take advantage of their conference facilities and free high-speed WIFI. parking is complimentary. Rooms with private balconies or decks the gardens and pool courtyards are available.
But if you are looking to visit the city and its beaches, this location is just as perfect. It is not just minutes from downtown Santa Barbara, but also close to world-class golf courses, award-winning wineries, and the famous California beaches. Hungry? There are no less than twenty four restaurants within 0.3 miles of the hotel!
This hotel is a great value for the price and should be considered by anyone looking for cheap hotels in Santa Barbara.
Sandpiper Lodge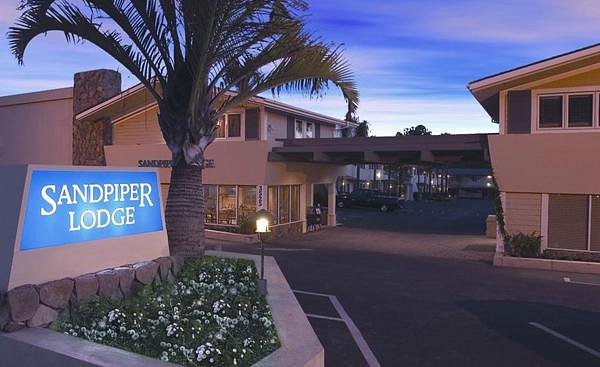 Source: https://www.sandpiperlodge.com/en
Cheap hotels in Santa Barbara are a rarity, but the Sandpiper Lodge very affordable. While the hotel is a little further away from attractions than the aforementioned options, you can still reach downtown in a few minutes by car, and parking at the Sandpiper Lodger is free. However, you will not be disappointed by the restaurant selection. There are twenty five restaurants in walking distance!
Due to the Covid-19 pandemic the breakfast selection is currently limited, but the hotel continues to provide a complimentary breakfast nevertheless. Other amenities include a coffee maker, fridge and a microwave in the rooms, a business center, complimentary high-speed WIFI, a pool, Jacuzzi and fitness center. The rooms are very clean, and will enjoy a good night's sleep in the comfortable beds. A great option for cheap hotels in Santa Barbara.
Agave Inn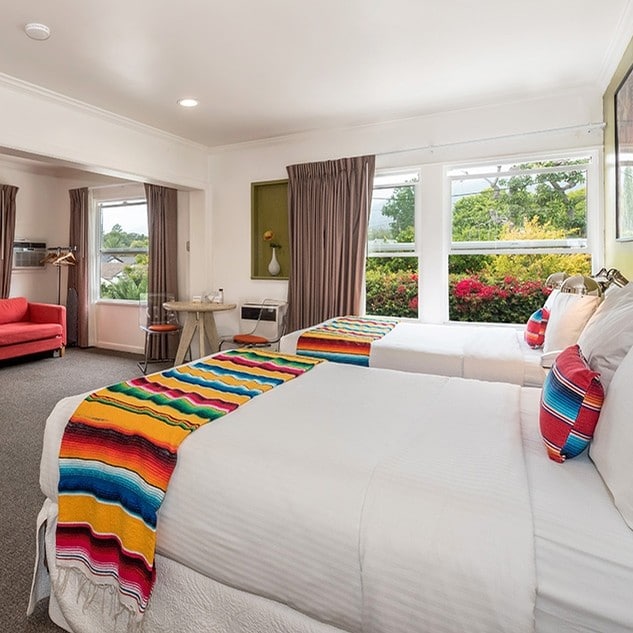 If you have a car at your disposal, the Agave Inn is a fine option for you. This cute, quaint motel is a great option for those in need of cheap hotels in Santa Barbara. The property features 13 rooms, each uniquely decorated to honor Santa Barbara's Spanish and Mexican history.
While getting to downtown Santa Barbara requires a short car ride, there are several restaurants in walking distance. A big plus is the Trader Joe's nearby. This is especially handy if you book one of their rooms that includes a kitchenette. All of their rooms include flat screen TVs, cable, WIFI, mini refrigerators, microwaves, air-conditioning/heating, hairdryers, irons and ironing boards. It's like a little home away from home! Parking is complimentary. Note: they have a parking agreement with the pet hospital next door, so if it seems like there are no open spaces, check in and park next door.
The staff is friendly and welcoming, and always happy to give you a restaurant recommendation.
Ramada by Wyndham Santa Barbara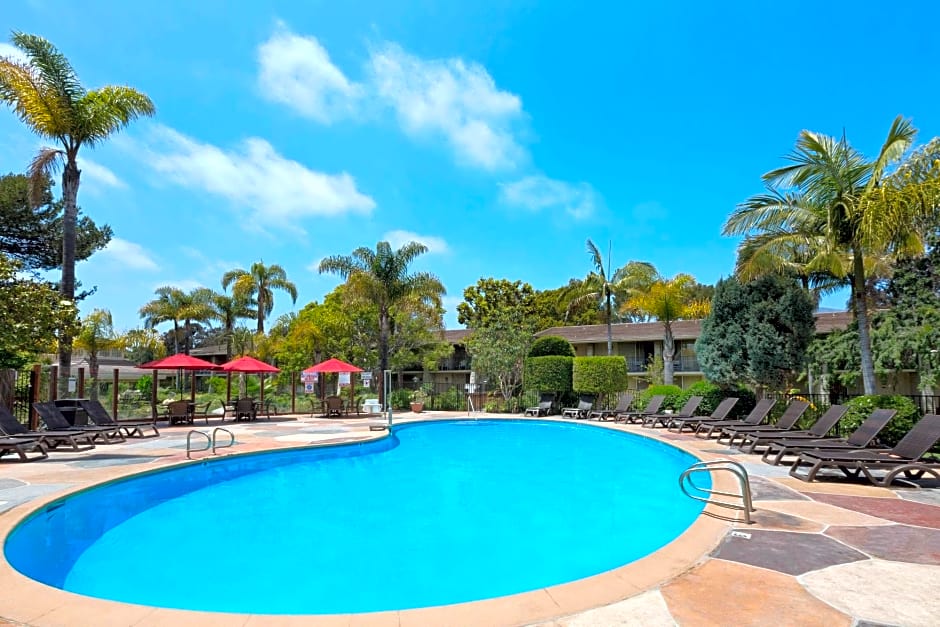 Source: www.booking.com
Ramada by Wyndham Santa Barbara was awarded the Top Ramada Hotel in all of North America in September 2016 by Ramada Worldwide. However, that's not reflected in an exorbitant price. This hotel presents a great value, which is why it made it on our list of cheap hotels in Santa Barbara, California.
A big plus is the free shuttle to and from SBA, Amtrak, and SB Airbus. If you arrive in your own car, enjoy not just complimentary parking, but also three electric car charging stations! And the stream of amenities doesn't end there. Every single room boasts a refrigerator, a microwave, a coffee maker, premium cable and free (!!!) HBO, a personal safe, perfect for those of us who love to solo travel, comfortable high quality bed, iron & ironing board, hairdryer, work desk, free local calls, and private patio or balcony. And it that's not enough for you, there's a business center, as well as a solar heated pool and whirlpool. We very much love the efforts the Ramada outs out to be green.
If you are a breakfast person, you will delight in the free deluxe continental breakfast with made to order waffles.
Now looking at all these amenities you may decide you never want to leave this hotel. However, should you choose to do so, you will be excited to learn that this property is only minutes away from everything in the Santa Barbara/Goleta area. 
Pro Tip: The Ramada Santa Barbara Value Pass can save you up to $650.00 when you take advantage of all the discounts it offers on local attractions. There are offers such as a 2 for 1 wine tasting, 2 for 1 tickets to the Santa Barbara Zoo & Maritime Museum, Discounts to ATV mountain rides, Santa Barbara helicopter, museums, attractions, a beach horseback ride, the Chumash Casino, several restaurants, and more.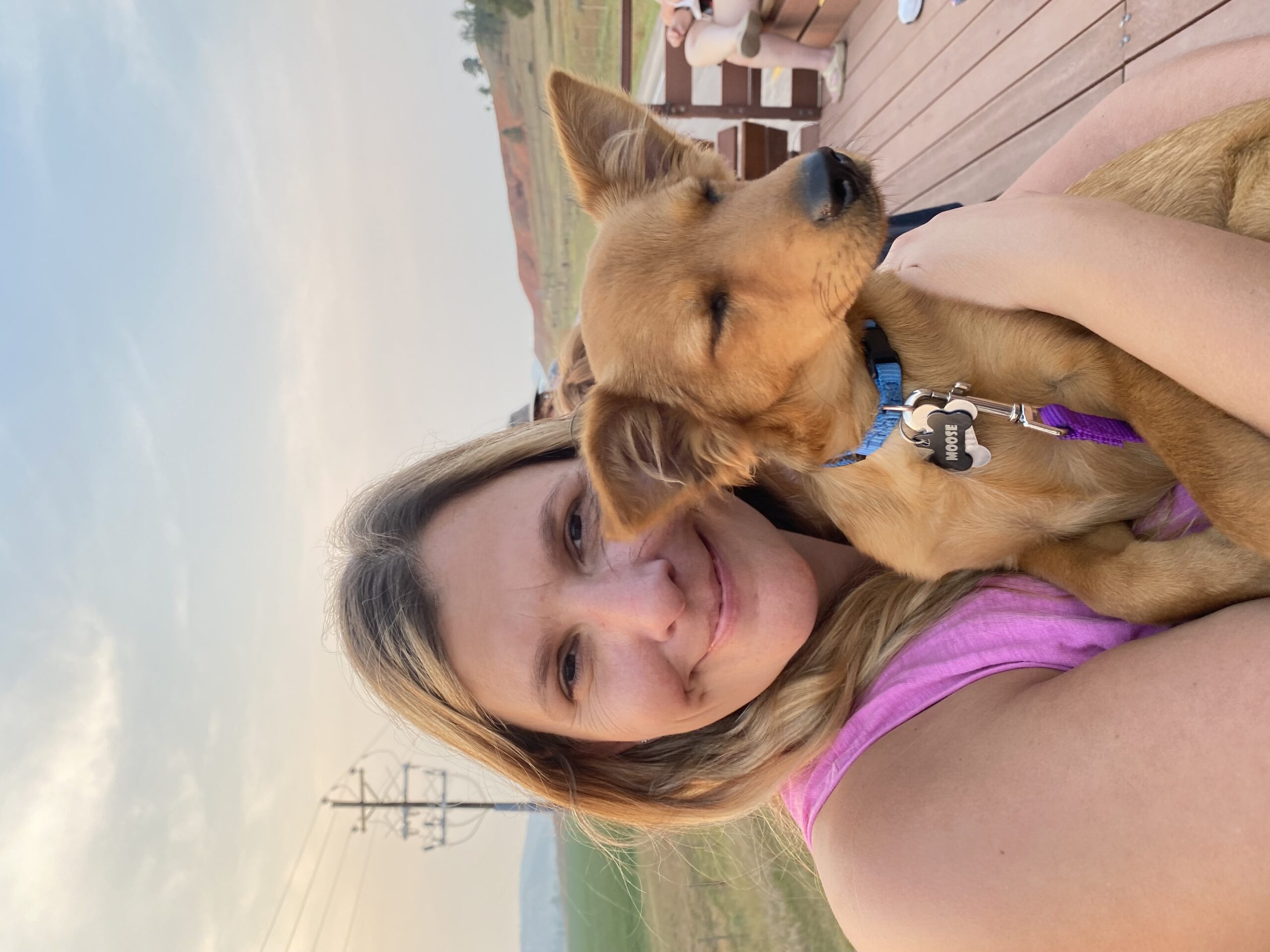 Jenny grew up in Germany. All she ever wanted out of life was to leave and have adventures. Jenny always traveled as much as the budget would allow, and when she met her husband traveling became a full-time thing. You can follow Jenny on her blog and Facebook.