The Galápagos Islands are a dream destination on the bucket list of the solo traveller. This volcanic archipelago, located about 600 miles off the coast of Ecuador, is without question the world's premier destination for wildlife viewing. The Galápagos were the source for Darwin's theory of evolution, and they are a great destination for the solo traveller. Because of the fact that the  Galápagos National Park, and the Galápagos Marine Reserve are protected, one is unable to explore much of it alone. Therefore, the solo traveller can make plenty of new wildlife enthusiast friends on one of the many exploration tours. These islands are, without a doubt, one of the premier destinations for ecotourism activities around the world!
This post contains affiliate links. This means we make a small commission at no cost to you if you click through and make a purchase. All prices listed are accurate at time of publication. 
3 Best Ways for the Solo Traveller to visit the Galápagos
Visit without booking a tour
The unquestionably best way to see all there is to see in the Galápagos is to go on a cruise. However, these cruises are pricey, and they are not the only way to enjoy everything these islands have to offer. There are four islands you can visit without booking a tour. The only way to get there is by plane. Flights are available from Guayaquil, or from Quito.
Side note: you can also go on your private boat, however, it requires permits from Ecuador, and once you are there you are not allowed to move between islands without a naturalist. They charge a few per day that's not cheap, distances between islands are great in terms of sailing, and it's not worth it.
Santa Cruz
Santa Cruz offers several options for accommodations, from hostels to hotels, and for every budget. And there are plenty of things to do, some even free or for a small fee.
One of the main wildlife attractions of the Galápagos are the giant tortoises. On Santa Cruz, you can see them at El Chato Tortoise Reserve. The reserve is one of the few places where you can observe these ancient looking creatures in their natural habitat. You can rent a bicycle to get there, or take a taxi for a small fee. On that note, the Charles Darwin research station is a must-see for tortoise lovers! Here giant tortoises are being bred to support the conservation efforts on the island.
Since you are in the area, don't miss exploring the lava tunnels (El Mirador de los Tuneles). You already knew that the islands were created by lava, but did you know that this lava created underground caves? You don't need to book a tour, so you are free to spend as much time as you like in this underground wonder, for just a small entry fee, whether you do it as a solo traveller, or together with the new wildlife enthusiast friends you will surely meet.
Next visit Las Grietas (the Grottos). It's a bit of a walk to get there, but it's worth it. Swim in the pristine water, enjoy the solitude every solo traveller craves, and hire some snorkel gear and get familiar with the local underwater world.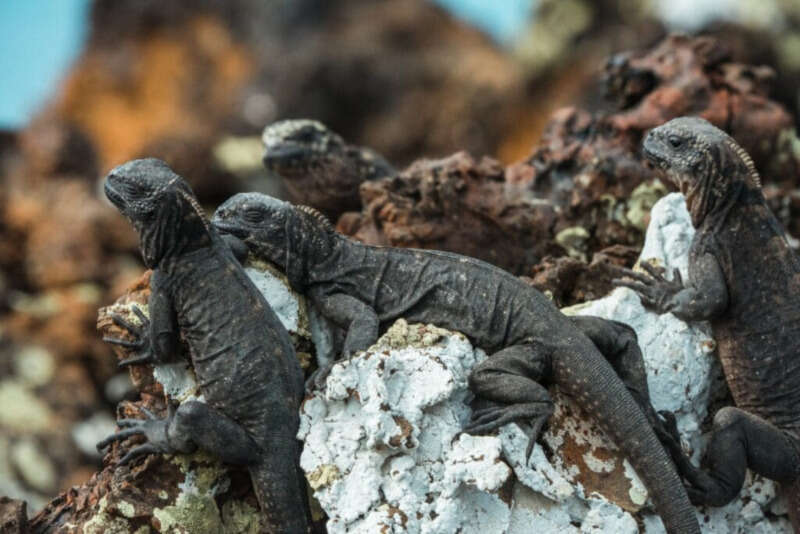 Explore the beaches on Santa Cruz! The white sand at Tortuga Bay offers a great contrast to the many black marine iguanas that can be found there. Visit Playa des las Alemanes for some serene beach time. Garrapetero beach is somewhat secluded and not that easy to get to, but if you are the sort of solo traveller who prefers time away from the hustle and bustle of other humans, this is the spot for you!
San Cristobal
San Cristobal offers ample accommodations for every kind of solo traveller. If you want to make new friends, stay at a hostel! For more quiet time, book a hotel or home stay.
There's no chance at all to get bored on San Cristobal. Start your exploration of the island with a 2 mile or so walk to Mann Beach and Frigate Bird Hill, which is popular with frigate birds. Go snorkeling at the beach for a chance to see sea lions, but beware: the waters aren't always calm, so make sure you pick a day when it's not too choppy for comfort.
On the way you will see the San Cristobal Interpretation Center. If you want to learn more details about the fascinating history of the Galápagos, you must stop here.
Isabela
Isabela is the second largest island of the Galápagos and is sparsely inhabited. There isn't a whole lot to do if you are a solo traveller who isn't not part of a tour, but you can take a ferry to this island, stay overnight, and check it out nevertheless. The two things you should definitely see are the Wall of Tears and the Sierra Negro crater. The Wall of Tears has historic significance. For fourteen years the end World War II, prisoners were held in a penal colony on this island and were required to build this wall. The Wall of Tears is 300 feet long and 65 feet high, and now stands as a marker to the many people who died during its construction. The Sierra Negro crater is the world's second largest volcanic crater. This hike isn't for beginners or couch potatoes, but your efforts will be rewarded with spectacular views from the top.
Floreana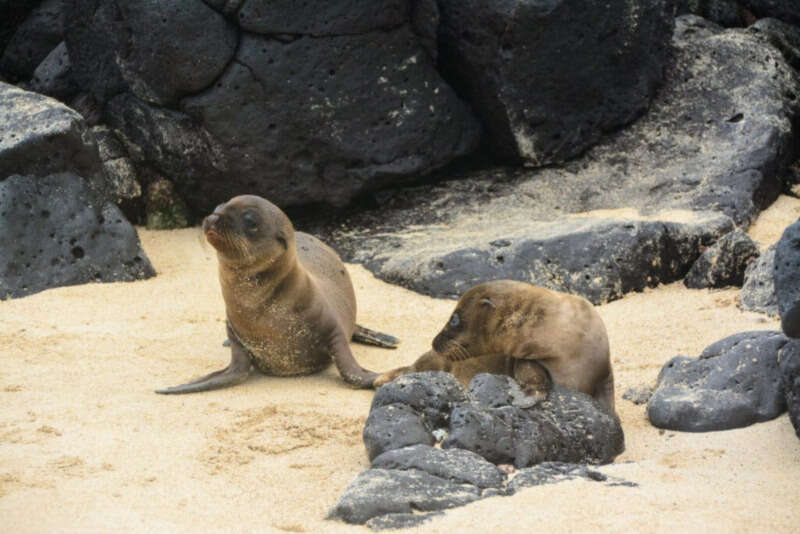 Floreana is the least visited of the islands that are accessible for the solo traveller who hasn't booked a tour. Yet there's a handful of things to do. Puerto Velasco Ibarra, the main town, offers two hotels for the weary traveller.
Once rested up, head out to explore the island. Discover a neat piece of history at Post Office Bay. Many centuries ago, the Galápagos were a natural stops for many whaling ships. Communication with their families back home wasn't as easy as it certainly is nowadays. So they left their letters to their loved ones in barrels in what is now knows as Post Office Bay. When other ships stopped here en route to places all over the world, they would check the barrels, and if there was any mail intended to go to their destination, they would take it along on their journey.
Head to Cormorant Point for a chance to spot flamingoes in the flamingo lagoon. There's also the green sand beach, and flour beach. Visit La Loberia beach for the chance to see a variety of wildlife, such as iguanas, sea lions, and sea turtles. At this beach you can rent snorkeling gear or a kayak for some extra fun.
Cerro Alieri and Asilo de la Paz are definitely worth a visit, but getting to the highlands requires a taxi ride. Cerro Alieri is a special place for all plant loving solo travellers. You will find no less than 48 different species of plants here! Asilo de la Paz is home to the cave of the pirates, from back in the day when pirates actually inhabited the island.
So there you go, dear solo traveller on a budget! These are all the fabulous things you can do without spending an arm and a leg. If you, however, are ready to take it up a notch, please read on.
Economy cruises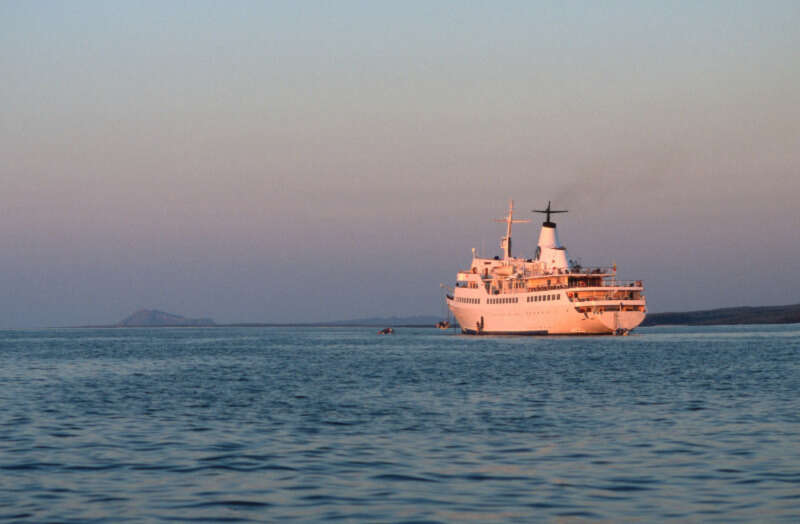 As I have mentioned before, going on a cruise is the best way to see all the Galápagos have to offer. You will be accompanied by a naturalist, which gives you permission to venture into areas that are protected.
The islands are truly a destination that's great to visit year round, and no matter if you go with family or friends or as a solo traveller, a cruise will be fun, educational, and leave you in awe of the beauty of these islands.
If you are a solo traveller on a budget, your best option will be to book a cruise on a smaller boat, such as a catamaran or a smaller monohull. The best and most economic way to book these are last-minute, either from mainland Ecuador, or after your arrival in the Galápagos. There are advantages to these kinds of cruises. There will be a small number of passengers. If you are a solo traveller who doesn't like big groups, this is the way to go. The itinerary may be more flexible, giving the solo traveller and her new friends a chance for an extra snorkel or kayak outing. The chance to make connections with the fellow passengers is much greater than on a vessel with 50 or more passengers. On the other hand, if one really doesn't like the other guests, one is still stuck with them. And not just that – you are stuck in a very small space. That's another one of the cons of small boats. The amenities will be few, and the quarters will be cramped.
Luxury Cruises
While the number of guests on these luxury cruises is much larger than on the smaller boats, the groups sizes for excursions are not. These bigger boats attract better naturalists than the smaller ones do, which will provide you with a better experience on your excursions. There are more areas for recreational purposes, such as a library. Oftentimes there are guides who speak several languages. On the Santa Cruz II we had three groups: the English speakers, the Spanish speakers, and the German speakers, each with a guide who spoke their language.
In addition to that most of these larger boats have a doctor on board. The food is fabulous, and if you are willing to pay for it, you can even get a butler! If that's not traveling in style, then I don't know what is.
The only true downside to luxury cruises is the price. It's very steep. But – if you have the money to invest into this once in a lifetime trip, it's most certainly worth the expense, for the solo traveller as well as for families or friends. There are still big differences in price and amenities. I went on the Santa Cruz II with Metropolitan Tours and had a fabulous time.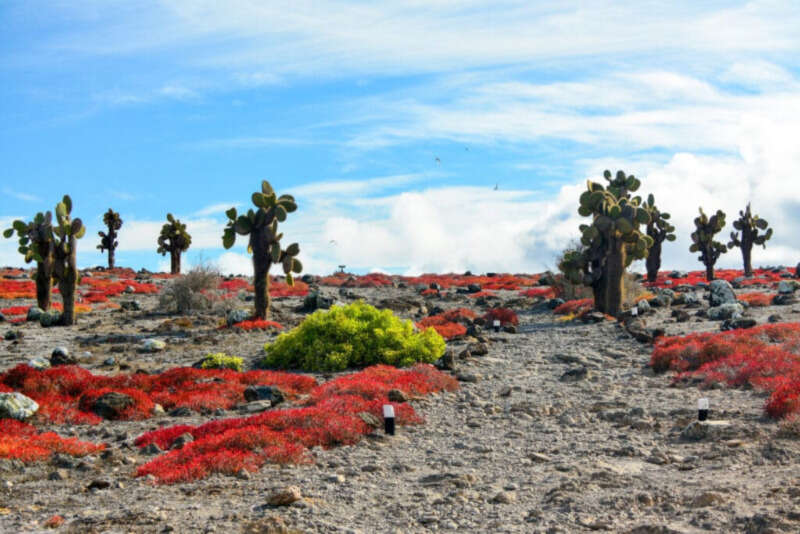 These, dear solo traveller, are your best options to visit the Galápagos islands and have the trip of a lifetime!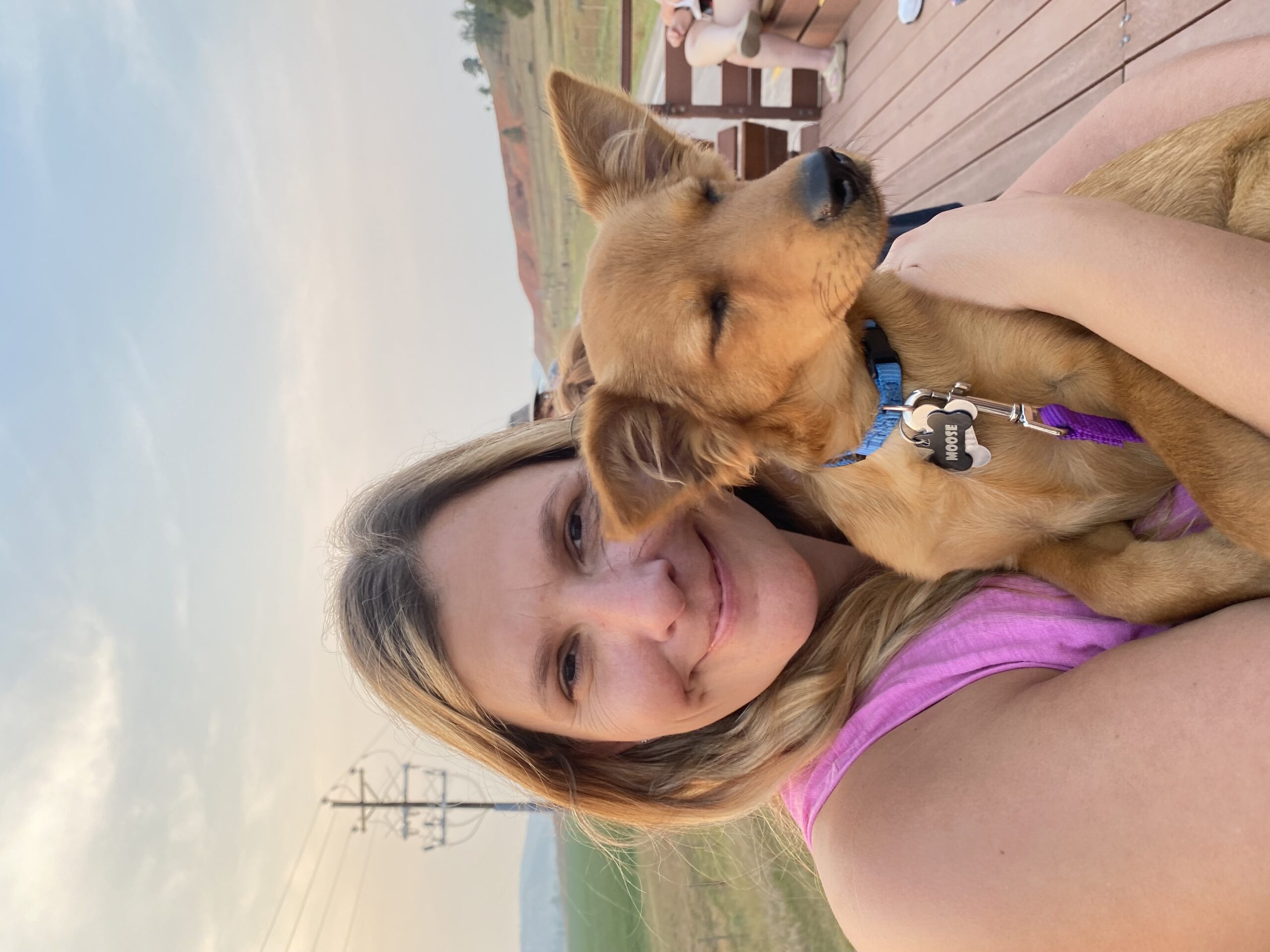 Jenny grew up in Germany. All she ever wanted out of life was to leave and have adventures. Jenny always traveled as much as the budget would allow, and when she met her husband traveling became a full-time thing. You can follow Jenny on her blog and Facebook.