How to Pack Makeup for Travel
Plan Ahead
Just like planning ahead for your outfit, it's best to also plan for what kind of makeup you'll be needing to use and what kind of look you want to go for when you travel. Say, you're going on a city break, will you be attending a formal dinner? Or if you're going on a cruise, will there be a special occasion – like a ballroom dance? Or are you booked for a beach holiday and plan to swim a lot?
Different events call for different kinds of makeup! So make note of the events you have on schedule or plan to attend. This will give you an idea on what to bring for which event and ultimately, how to pack makeup for travel.
Be Bold
For instance, if you plan on attending a red carpet event, go bold. There are two ways to be bold with makeup: the eyes or the lips. If you go for the eyes, bring a dark/midnight-coloured palette to create a smokey eye-makeup. This will draw attention to your tantalising eyes and is guaranteed to be a hit.
But, this means you need to wear a nude lip stick so that the lips stay in the background. You will want to let the eyes do the talking. If you decide to be bold on the lips, wear any shade of red to bring attention to your luscious lips! Make sure to keep your eye makeup to a minimum so all eyes are on your lips.
If you are going to the beach, you will want to keep your makeup to a minimum. Less is more, and you will want to stay natural. Think of 'no makeup look', where you look like you're not donning any beauty products, but actually, you are! The ultimate tip? Wear waterproof makeup products. That way, you don't only look good on the sand but also while swimming. Beauty products shouldn't hinder us from our favourite outdoor activities like swimming and other water sports!
Bring A Travel Makeup Bag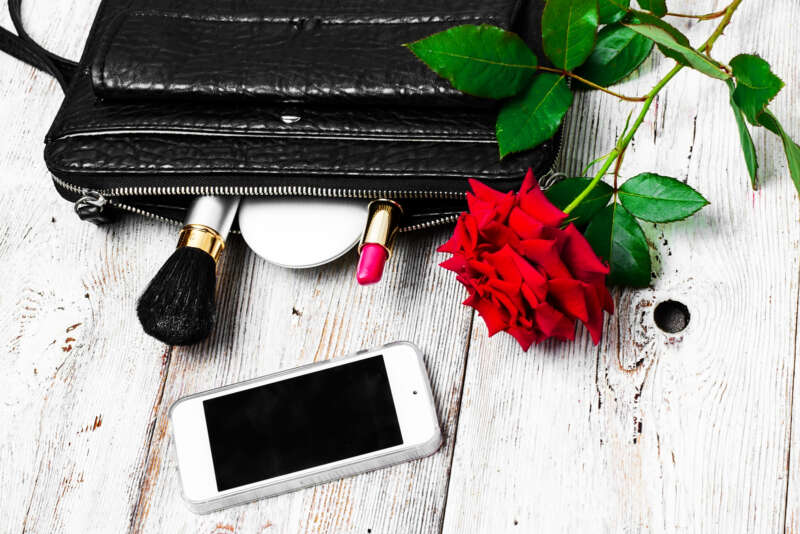 Compartments are the key. Technically, you could use any bag. But, why would you? There are hundreds, if not thousands, of multi-compartment travel beauty bag where you can organise your items in the best way possible. I like to keep my eye products together, face products together, and lip products together.
That way, I'll know where to look for products X and Y, and they're not all mixed together. When travelling, you'll want to be quicker than normal because you don't have the liberty of free time like you would at home. Every minute counts, so you'll want to be as organised and as tidy as possible.
I like my beauty bag convertible – one that can be hung or placed on a counter top. Get a bag that you can easily hang on most shower bars or towel racks in hotel/hostel accommodations. Also, plus points if your bag is water-repellant, one that has a waterproof fabric lining that will keep your kit dry, and even if you have leaks from the inside, you don't have to worry about making a mess in your luggage. This is probably the most obvious tip on how to pack makeup for travel.
Use Packable Travel-Sized Containers
Airline requirements can be a pain, especially if you're a lover of liquid stuff! Before I became a 'pro' at travelling with beauty products, I have had to bin numerous beauty stuff because they didn't meet the size requirements. What a waste! And the problem is, we can't always score a travel-sized version of our favourite items. So, what do we do?
We get packable and refillable travel-sized containers. With these in hand, you don't need to spend your money buying a smaller version of what you already have and contribute to more environmental pollution. The standard rule is, everything should be 100 ml (3 ounces) or under, and it's all got to go in a single transparent, sealable plastic bag.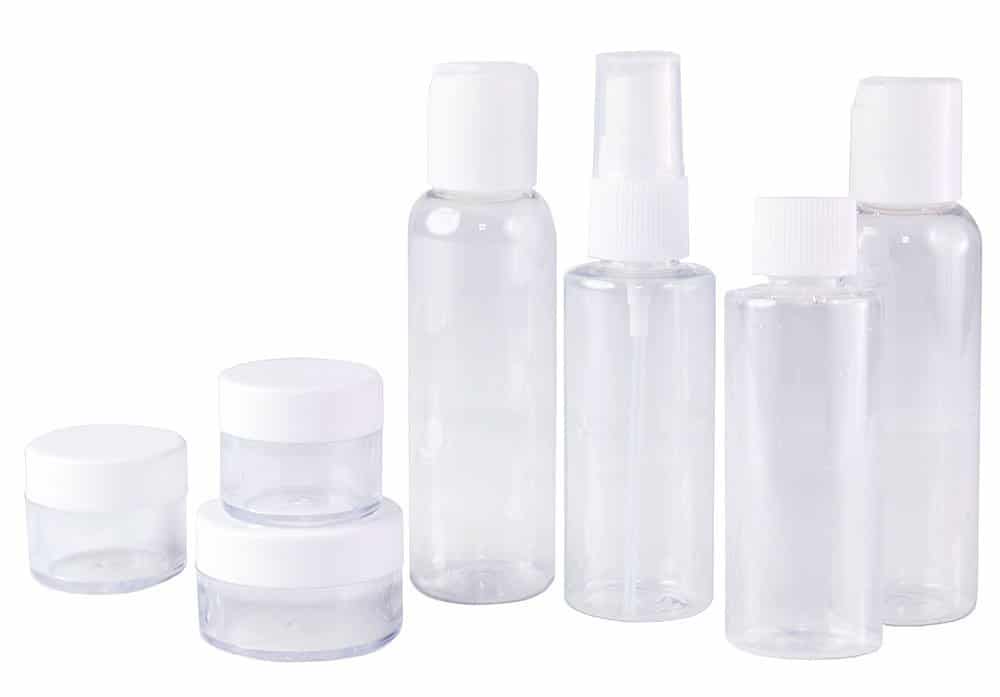 These reusable containers adhere to the strict airline restrictions and are very affordable. You only need to purchase a set of them once and you can use them for a lifetime. Make sure to buy ones that are specific for air travel – they should be leak-proof and have the container volume written on them, as this can be a requirement at airport security. Definitely a great hack on how to pack makeup for travel.
Pack Multipurpose Products
You might have not heard of multipurpose beauty products yet, and that's okay. The concept is simple, one product for multi-usage. This way, you get to save money and space. Get a lip & cheek tint – which is a small pot of tinted product that you can use for both your cheeks and your lips (you can even use them as an eyeshadow, the sky is the limit, really!). The tint acts as a natural blush and also a natural-looking tint on your lips.
Meanwhile, the tinted sunscreen is by far my favourite product yet. I hate building up more layers on my skin, especially when it's ultra-hot! But we need to put on our sunscreen no matter what. So, I've found the perfect solution, I wear a tinted sunscreen that works both as my UV ray protector and my foundation. Easy job, done!
There are also liners that can be used as an eyeliner, an eyebrow pencil, and as an eyeshadow. It's a multi-use pencil on one side and a pointy sponge on the other. Try to get a deeper shade, because it'll give you more functionality. Once you've applied your liner, you can smoke it out with a sponge to create your smoky eyeshadow look.
Then, fill in the gaps and shape out your eyebrow. Lastly, pop on a defining eyeliner on your waterline to really make your eyes go bold! You know what's the best part yet? With a steady hand, you can even utilise these and get a decent contour to define your cheeks, nose, and your lips. Make sure to get a waterproof formula because you can literally use these anywhere on your face. You're welcome!
1:1 Ratio
My golden rule: only pack one of each. This means one foundation, one mascara, one eyeshadow palette, one lipstick, one blusher, one bronzer, one eyeliner – literally one of everything. This will keep your baggage at a minimum. When I think about how to pack makeup for travel, like I said above, I plan ahead. You should, too. This way, you'll know what exactly to bring for which event/s you'll need to go to.
If you're not sure which event or events you're attending or have no set plans yet, then do what I like to do – bring nudes. Nudes are perfect for every skin tone and for every event. They're very versatile and you can definitely mix and match them. Going to a formal event? Check! Going to a casual lunch? No problem. Going to the beach? Sure! Going hiking with a crush and want to look cute? You got it!
Stay Minimal
Over the years, I've developed a minimal makeup products list which contains absolutely everything I need. When I do a quick backpacking travel, I like to pack light. I make sure I don't have any huge unnecessary luggage and weight.
As a general rule for myself, I bring a 6-piece makeup kit. I begin with a tinted sunscreen which is perfect for protecting my skin and covering my discolourations & blemishes. Then I have a matte powder that I use to set my sunscreen/foundation so that I am not oily, tacky, and sticky.
Thirdly, I have a mini nude eyeshadow palette that I can use both for daylight and evening looks. Fourth, a waterproof mascara – a must! I sweat a lot when hiking and walking, plus I stub my toe here and there so there are some occasional tears. Next, a cheek & lip tint. Lastly, a multi-purpose liner for my eyes and eyebrows (even for my contour!).
Wrap Liquid Makeup
There is nothing more I hate than liquid makeup spilling on everything. What's worse is that I've invested in waterproof makeup, so when they spill all over my clothes and stuff, that's it for me. A little trick I like doing is wrapping individual liquid makeup with cling film. This way, even if they do spill, the mess is contained and nothing else will be contaminated. No mess, no fuss! A guaranteed trick to add when you pack makeup for travel.
This post contains affiliate links. This means we make a small commission at no cost to you if you click through and make a purchase.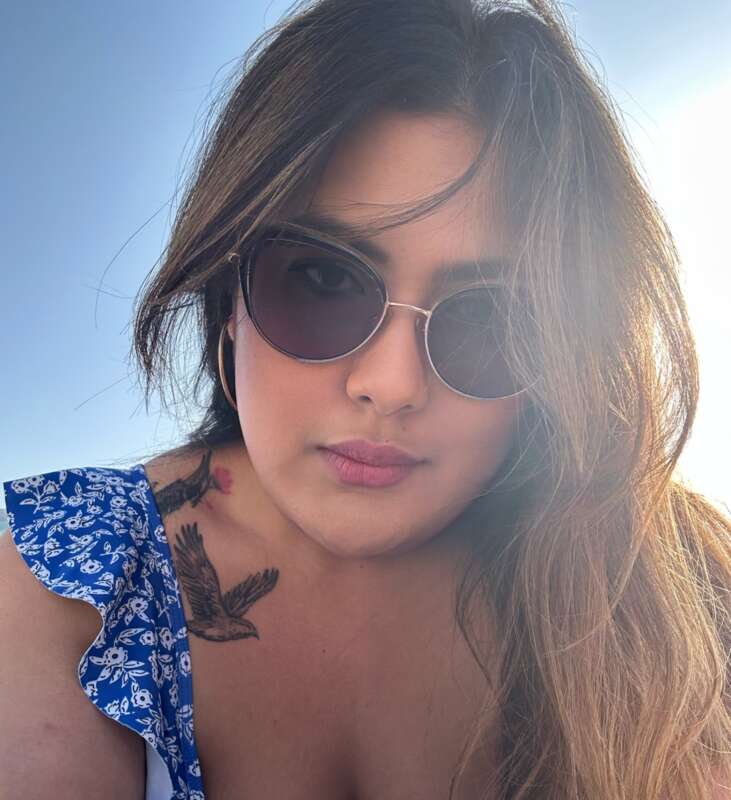 Rachel is an intrepid world traveller, lifestyle connoisseuse, and Girls Who Travel's resident beauty advisor. She is a lover of the ocean, flowers, movies, journalism, and has a penchant for medium-sized tattoos. When she is not busy with life, she writes stories of her globetrots as well as tips & tricks on how to make the best out of travelling.