Finding the right carry-on isn't an easy feat. There are many, many options in all price ranges. To make your life easier, we have picked four carry-on luggage options for you, which come highly recommended by HERA members and don't break the bank!
This post contains affiliate links. This means we make a small commission at no cost to you if you click through and make a purchase. All prices listed are accurate at time of publication.
Samsonite Freeform Carry-On Spinner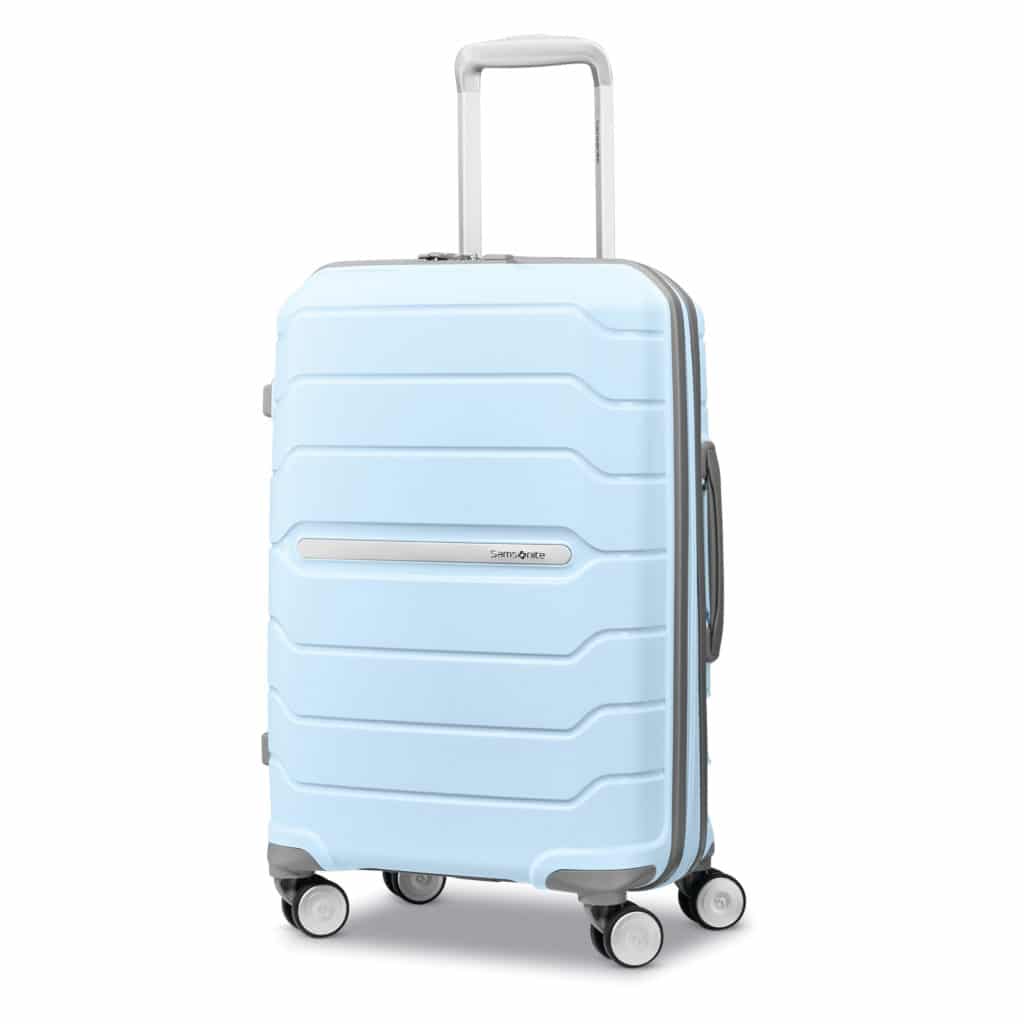 Samsonite is a household name in the world of luggage. While the Freeform Carry-On Spinner is a little higher in price, the investment is well worth it, because this suitcase will last you until the end of times! Durability is an important consideration, not just in regards to the contents of your wallet, but to our environment as well. Rather than buying a cheapo carry-on every other year, invest in one that lasts.
The unique and ultra-modern design of the Freeform Carry-On Spinner is only topped by its extremely light weight. On top of double wheels that guarantee the best maneuverability, it has a cross ribbon and divider for easy packing, and multi-pockets for managing everything you need during your travels. The TSA 3-dial combination recessed lock provides added security for your belongings, and the wider handle offers comfort, no matter your hand size.
With this fancy Samsonite, the world is your oyster! From $ 151.99 USD.
Supra DLX Carry-On Spinner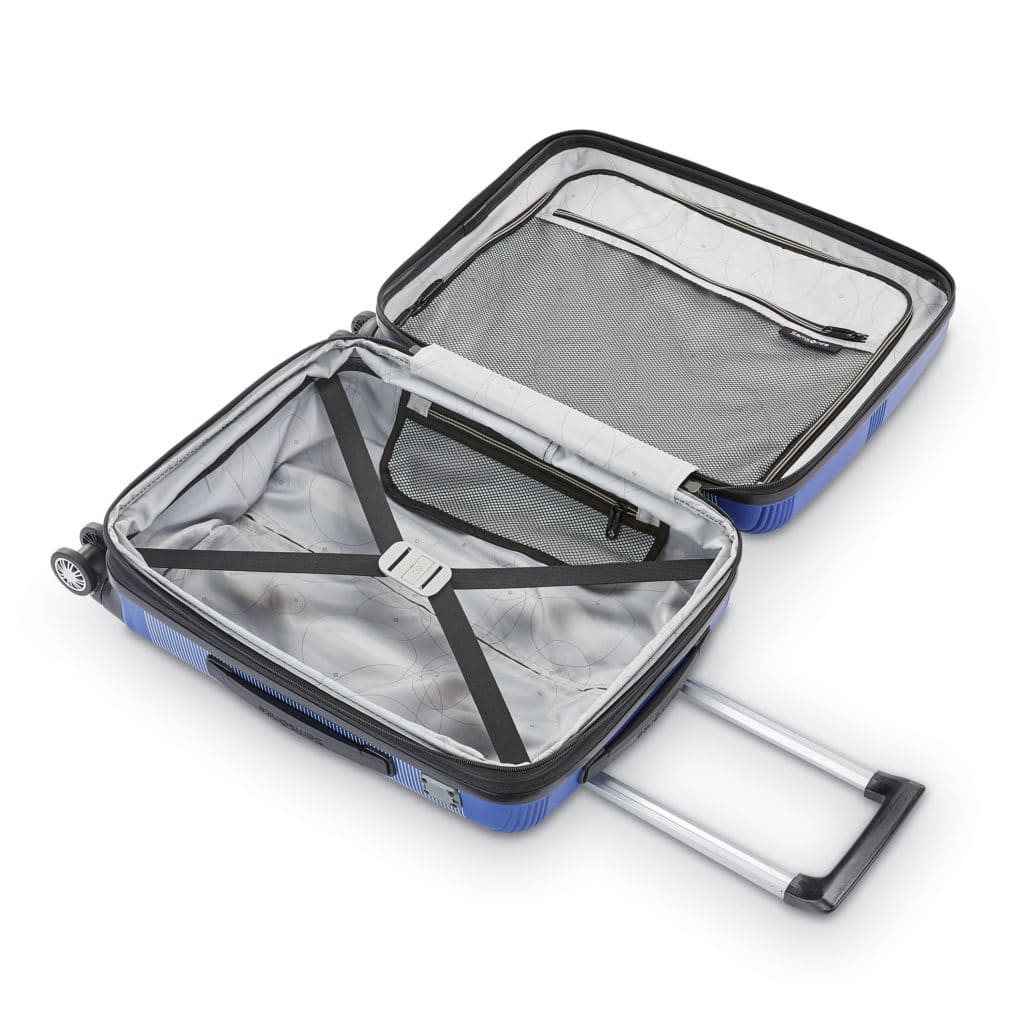 The Supra DLX Carry-On Spinner is the Porsche in the carry-on luggage world. This roller bag is the correct size for a carry-on, but at the upper limit for added storage space. It will keep all your belongings neatly organized and is easy to maneuver, with sturdy handles. Inside you will find elastic straps to tie everything down when you are on the go, a side mesh pocket to store all your small items, and a divider with a large mesh pockets for added storage. The one thing that makes this carry-on luggage item unique is the extremely practical USB port on the inside, perfect for on-the-go power-ups.
This roller bag isn't ultra light, but it is sturdy and will keep your belongings absolutely safe. It is available in attractive blue and black, and the limited 10 year warranty is valid globally. It's the perfect piece for international travel! From $ 119.99 USD.
Hardshell Spinner Suitcase With TSA Lock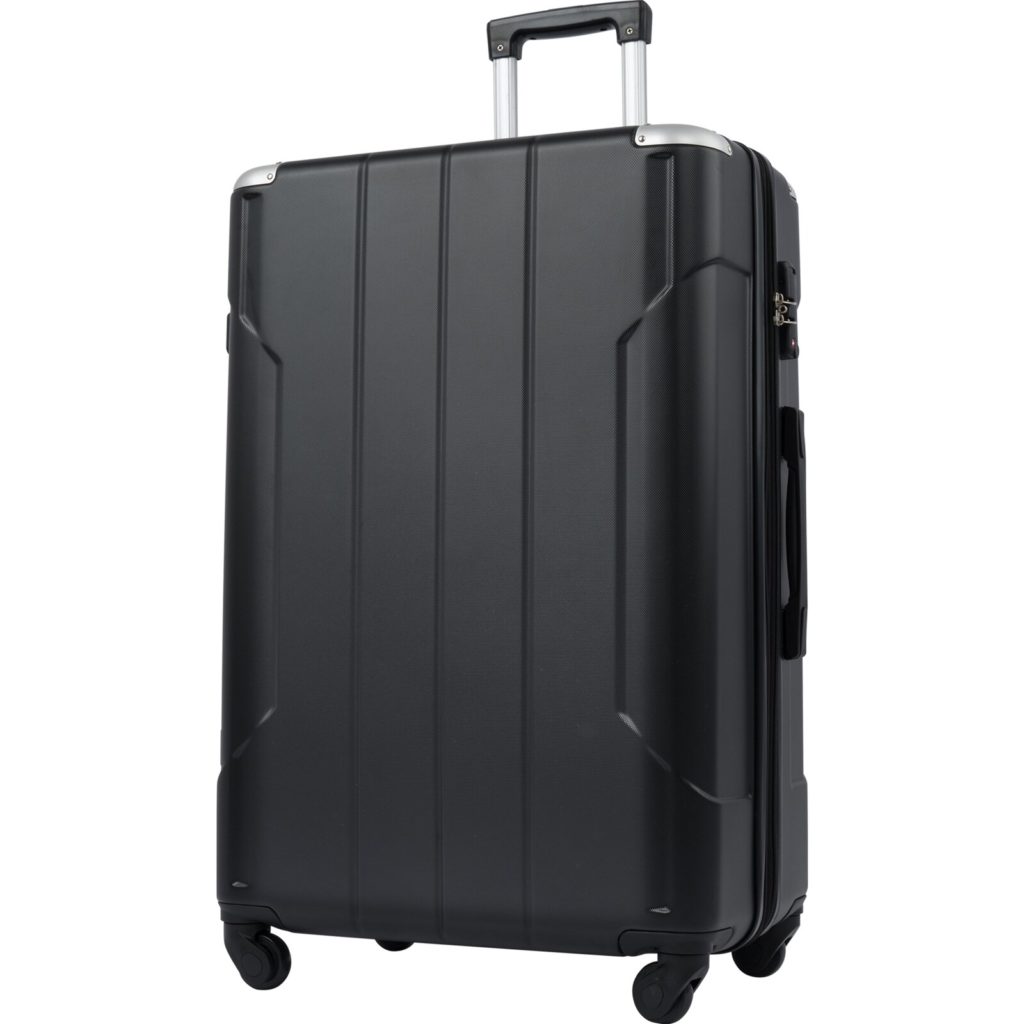 We've all been there: you are at the airport. The lines are crazy long. They changed your gate last minute. You wanted to get that latte, but it took forever to get it. And now you are running late, so your are running! And there is nothing worse than uncooperative luggage.
There is a simple answer: the Hardshell Spinner Suitcase with TSA Lock. It is a fabulous carry-on luggage option, due to the fact that it has multi-directional spinner wheels, which not only guarantee superior maneuverability, but are also really quiet, so you won't cause a ruckus while racing to your gate. Your precious belongings will be kept secure by the 3-Digit TSA combination lock. The handle is adjustable to your height. No worries about a stooped back and pain!
Depending on which size you choose, the weight varies between 6 and 10 pounds. This suitcase is not on the lighter side, but it's sturdy and dependable, and comes with a 90 day warranty.
The built-in UV-radiation protection will keep your ABS Suitcase with TSA Lock looking pretty for years to come. It is available in black, blue, gold, green, red, and silver. From $ 132.99 USD.
Mother Lode Jr Travel Backpack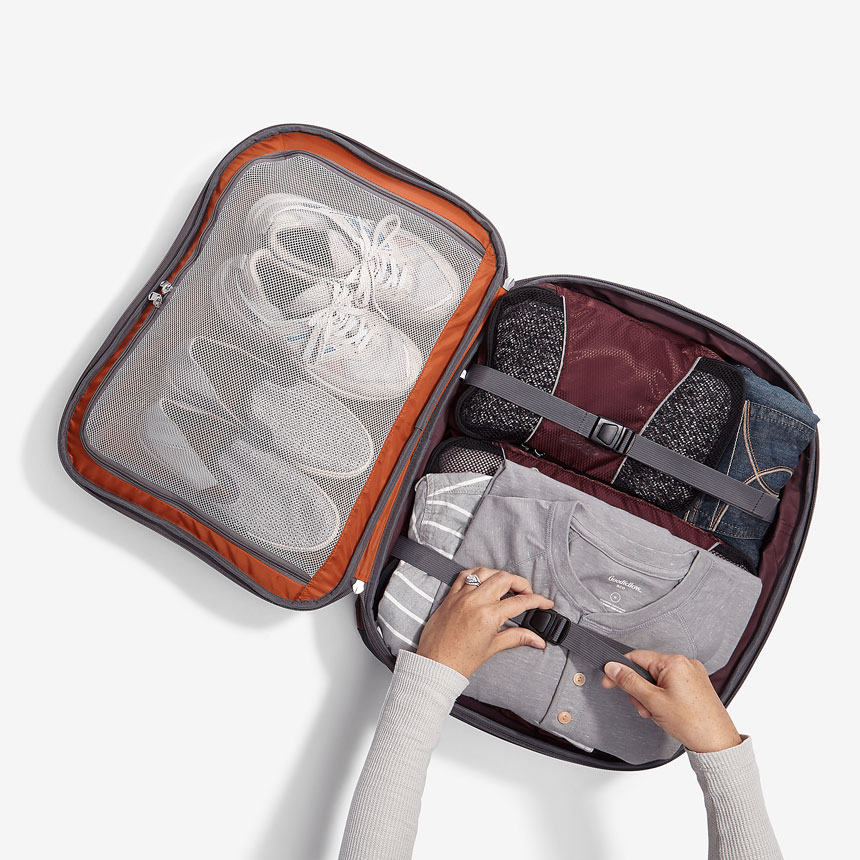 At times a roller bag isn't ideal. If that's the case for you, check out the Mother Lode Jr Travel Backpack. The updated version of this beloved backpack fits most airline requirements. It's more light weight than previous version and comes in at only 3 pounds!
But this isn't your ordinary backpack. The inside is divided for more economic and safe packing. There's no stuffing all your things into the pack and creating total chaos. Order is the word with the Mother Lode Jr Travel Backpack.
It will keep your laptop safe in its padded sleeve. In front of the pack you will find a quick-grab pocket. You can store items you use a lot (or the ones you have to get out at the airport) in this pocket, and never have to dig through your whole bag to find them. Inside there's a zip up mesh pocket that'll keep all your items nice, tidy, and in place. The rest of the main compartment features compression straps and a very clever and handy fold-down shelf.
A side pocket is solely dedicated to carrying a water bottle. The four exterior compression straps make it easy to get your pack to fit in that overhead compartment, in case you were a little generous when packing. It has a breathable back panel, top, bottom and side carry handles, and comes in several not so boring colors, such as garnet, eggplant, or army green. A simple black, as well as heathered graphite and brushed indigo are also available and make this a fine carry-on luggage option. From $ 109.99 USD.
Osprey Fairview Travel Pack Carry On 40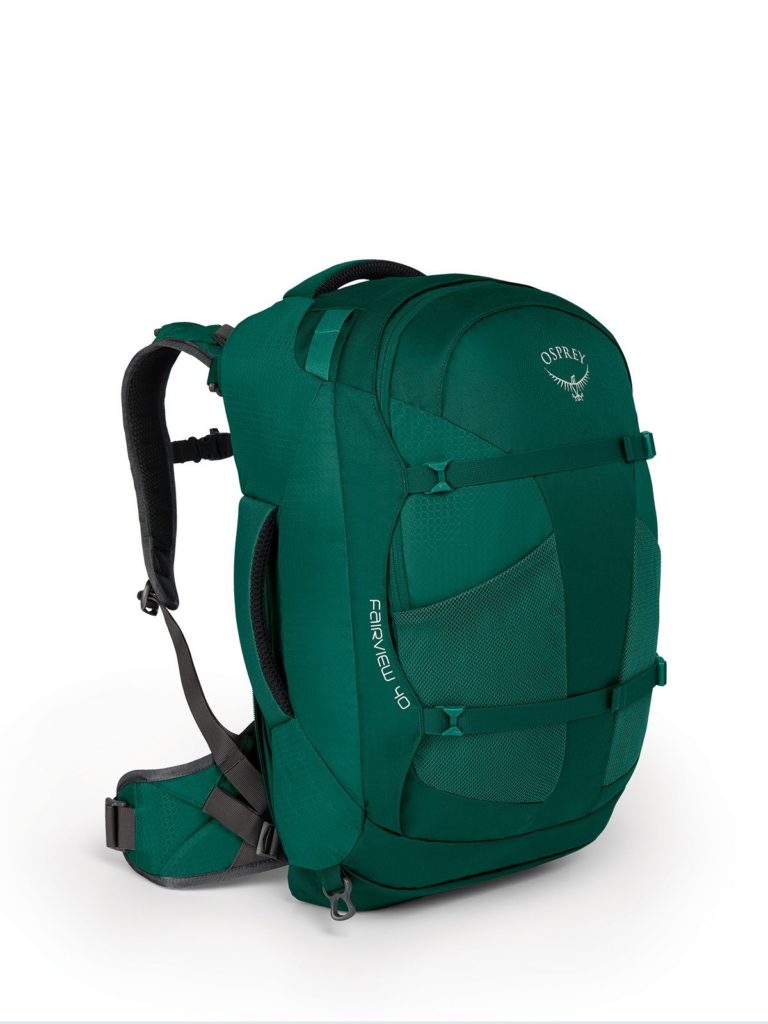 Osprey backpacks are very popular, and for good reason. They combine style with practicality. But it's not just hikers who favor them. Osprey offers great carry-on luggage options! The Fairview series of backpacks was designed with the globetrotting traveler in mind. Lightweight and streamlined, it gives you that barely there feeling that will make all the difference in your travel comfort.
Cleverly designed for travel safety, this light weight pack is a great option for the female traveler. There is a stowaway harness and a hip belt, both which will disappear for safe keeping when you check the pack. The fabrics used for this pack are durable and therefore offer added protection.
You can easily access the main compartment through a large panel zip. The sliders are lockable, which is an excellent safety feature. It has a dedicated, padded laptop sleeve, and the compression straps size your pack conveniently, depending on the fill level. One more feature dedicated to your safety is the adjustable sternum strap with a rescue whistle, in case of emergency. The pack is available in a beautiful rainforest green and a more neutral misty grey. From $ 160 USD.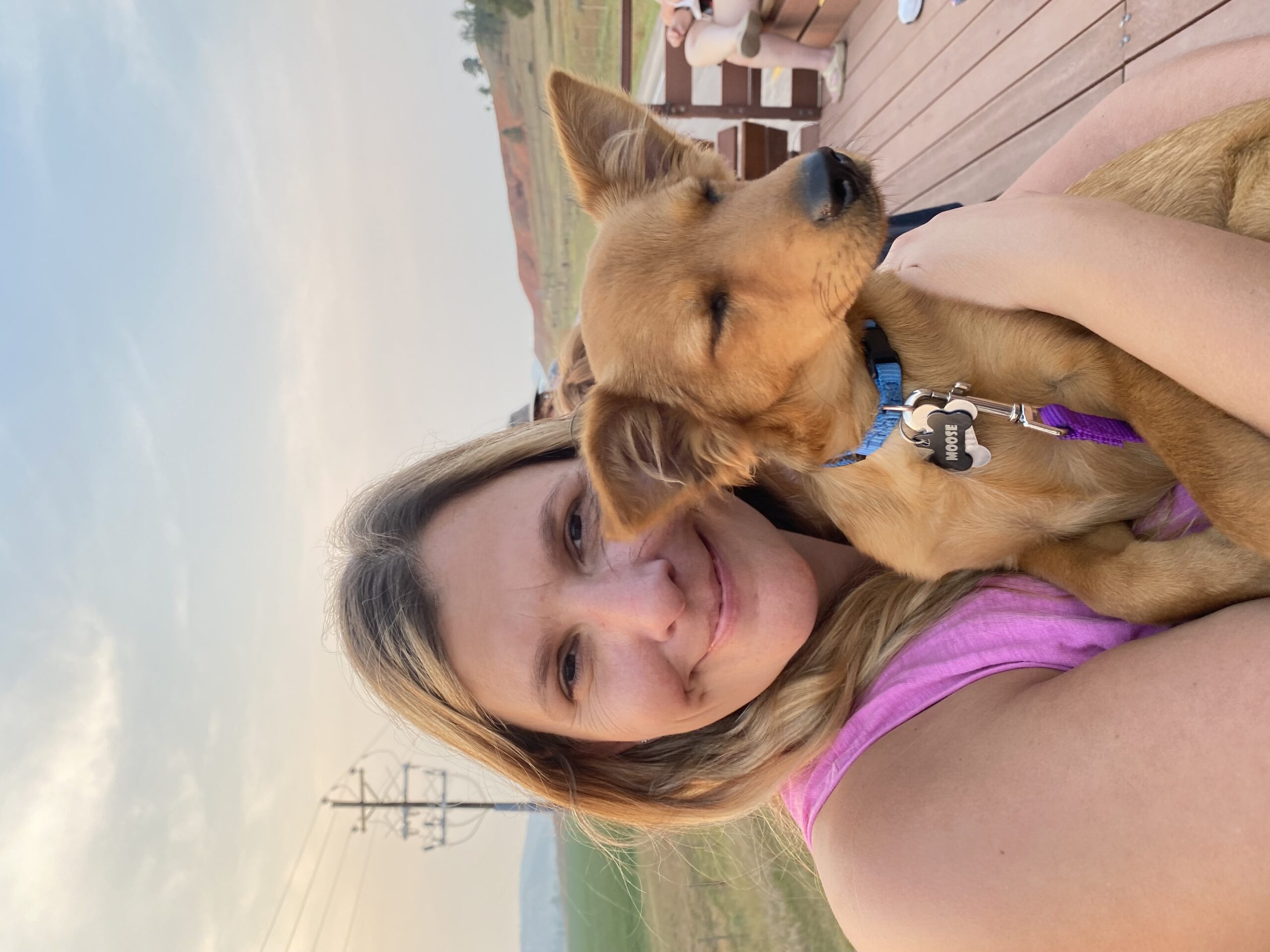 Jenny grew up in Germany. All she ever wanted out of life was to leave and have adventures. Jenny always traveled as much as the budget would allow, and when she met her husband traveling became a full-time thing. You can follow Jenny on her blog and Facebook.