Yellowstone National Park is not just a destination, it's an experience! It's one of America's most famous national park, and there is good reason for it. On a territory of an impressive 3,472 square miles you can see geothermal features and wildlife galore, if you are in the right place at the right time. That's a larger area than Rhode Island and Delaware combined, to give you an idea of the impressive size. But did you know that Yellowstone was also America's first national park? That's a pretty massive claim to fame!
You can spend a little time and just explore Yellowstone's gems, the geothermal wonders that make it so extraordinary. But ideally, you take at least three, or, even better, four days to discover the magic of this national park. After all, this may be the only time you visit, so make the most of it! With this Yellowstone itinerary 4 days can be spent exploring the wonders of this park, located in the western part of the United States. Most of the park's territory is tucked into the northwestern corner of Wyoming, but extending a bit into Idaho and Montana, and it's close to Grand Teton National Park. We'll tell you what to see, when to go, and where to stay! Full days are ahead! No matter if this is your first visit or you've been here many times, Yellowstone is always worth it.
Yellowstone National Park: Need To Know
This post contains affiliate links. This means we make a small commission at no cost to you if you click through and make a purchase. All prices listed are accurate at time of publication.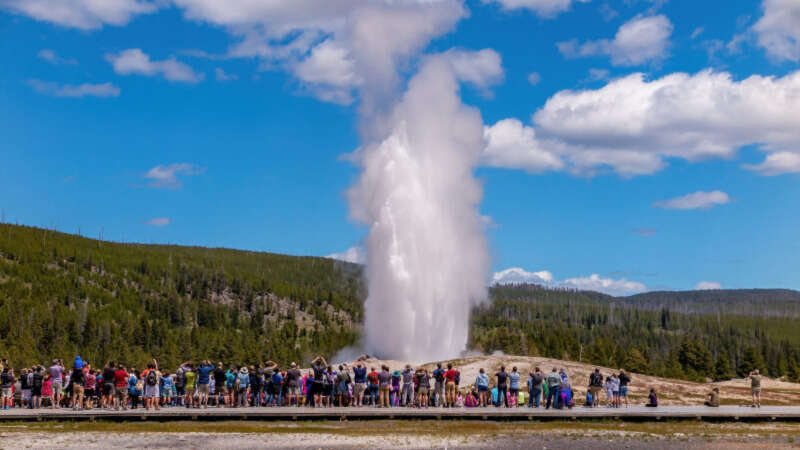 The Best Time To Go To Yellowstone National Park
When you decide to visit a national park, you are most likely looking forward to enjoying the beautiful scenery, and you hope to catch a few glimpses of wildlife. So what is the best time to go? There are a lot of different factors to consider.
The summer months are peak season because, well, summer. But the warmth also brings in the crowds. And yes, even with 2 million acres, a crowd can still imapct your experience.
One of the best times to go to Yellowstone is during the shoulder seasons. These periods that "shoulder" the peak season let you enjoy that beautiful scenery and wildlife while also avoiding the hassle of lots of tourists!
From late April to May, as well as from September through early October you can enjoy quieter times at Yellowstone. Your visit will be a lot more fun if you don't have to elbow your way through the crowds to be able to see that amazing bison, or the eruption of Old Faithful!
Keep in mind that April weather is still cool and can be snowy as well. That means you can expect daytime temperatures to rarely hit 50 degrees Fahrenheit, and nights are well below freezing. For some people, that might be the ideal temperature. But if chilly isn't your thing, look to go a little later in the year instead. While October temperatures are quite similar to those in April, September is comparatively balmy. With average daytime temperatures of 62 degrees Fahrenheit, dropping to around 31 at night, September is a really nice shoulder season month to visit Yellowstone.
Entrance Fees
Great news! You do not need to make any kind of reservation when visiting Yellowstone National Park. There are fees though – which at the time of writing this article are as follows:
Seven day entrance pass. Private vehicle: $35 USD for unlimited entrances for the vehicle and all passengers. Private buses or vans: $20 USD per person. Single motorcycle or snowmobile: $30 USD. Individual person (on foot, bike, etc): $20 USD.
Annual passes. Yellowstone annual pass: $70 USD for unlimited entrances into the park for the pass holder and all passengers in one vehicle, or pass holder and up to three persons where per person fees are charged. America The Beautiful Pass: $ 80 USD, valid for entrance fees for ALL national parks in the United States for one year, entrance, the pass covers standard amenity fees and day use fees for a driver and all passengers in a personal vehicle. This pass is available with discounts for seniors and member of the military.
Lifetime passes are available for seniors for a fee of $80 USD, free for disabled Americans and permanent residents of the United States, and military veterans and Gold Star families can also get a free lifetime pass.
What To Pack
Even though you're just a car ride away from civilization, it's important to remember that Yellowstone is an extremely large, and very wild place. You need to pack like you're heading into the wildness becuase you are! Whenever you go out for a wilderness adventure, pack at least the essentials:
How to get there
The closest international airport is in Salt Lake City, Utah. That's still 320 miles away though, so if you choose to fly into Salt Lake City, you get two trips in one! Not just your flight but also you get to rent a car and go on a road trip! Woo hoo! (Pssst. We've got you covered with 10 USA rental car tips and tricks.)
If you don't want to add 320 miles to your trip, there are some other options. Keep in mind, smaller airports likely mean layovers so in many cases you'll be trading driving time for airport time. Some smaller airports closer to the park are:
Bozeman Yellowstone International Airport in Montana is close to the north entrance (about 1.5 hours away)
Yellowstone Airport near West Yellowstone, Montana, is closest to (you have guessed it!) the west entrance, no more than 10 minutes away
Cody, Wyoming, has the Yellowstone Regional Airport. It is closest airport to the east entrance, less than an hour's drive from the park
The Jackson Hole airport is literally inside Grand Teton National Park, and from there it's about an hour to Yellowstone's south entrance
Where to stay
The very best options for lodging are right inside the national park. Nine lodges with 2,000 rooms are operated by Yellowstone National Park Lodges. If you want to go that route, make sure to book well ahead of time, these rooms sell like hotcakes!
Canyon Lodge and Cabins
Grant Village Lodge
Lake Hotel and Cabins
Lake Lodge Cabins
Mammoth Hot Springs Hotel and Cabins
Old Faithful Inn
Old Faithful Lodge
Old Faithful Snow Lodge
Roosevelt Lodge
Click here to make your reservation!
If you can't get a reservation or prefer to stay in town, you've got lots of options. Nearby towns also offer plenty of options for accommodations. In Wyoming, Cody and Jackson Hole are both great options, and they are also both fabulous towns to spend a little time being tourist-y. In Montana, you could stay at Big Sky, Gardiner, Bozeman, or West Yellowstone.
National park etiquette
The great outdoors are becoming ever more popular, especially since the COVID-19 pandemic. But just because you're surrounded by wild animals doesn't mean that you get to act like one. There are rules, not only to protect the environment you're visiting, not only to be respectful to the people who are also visiting the park, but also to keep you safe. As we've mentioned, Yellowstone (and national parks in general) is still the wilderness, meaning you can put yourself – and others – in danger if you don't follow the rules.
Always stay on the trail. National parks are protected habitats, and if you leave the trail, you could destroy rare plants, destroy an animal's den, and potentially kill small animals. Oh and also you could get lost.
Leave no trace. Carry out anything you brought in. A national park (or any place, really) is not a place where it's okay to carelessly leave your garbage behind. Why? Because it endangers animals and the environment, and whatever you leave behind someone else needs to clean up.
Do not move rocks, sticks, or anything, really. What looks like nothing special to you may be some creature's habitat.
On that note, don't take anything out of the park! Most people think "It's just one rock (branch, flower etc), what does it matter?" But do the math. If every of the 3 million annual visitor removes just "one," pretty soon there won't be any left. Enjoy the beauty, don't take it home with you.
Be aware of your surroundings. This is important anytime you are out in nature, but especially in a place with lots of wildlife. You do not want to startle a bear, so listen, observe, and use common sense. If you are on a road trip and driving through the park to simply hit all the main attractions quickly, observe the speed limit. If a bear or deer suddenly jumps into the road, you need to be able to stop in time. And while it is tempting to look around a lot on this scenic drive and take in your stunning surroundings, please make sure you keep plenty of attention on the road.
Do not under any circumstances disturb wildlife. It's for their safety, and yours! A momma black bear with cubs is certainly cute to look at, but it's not worth trying to get close to take a selfie with the adorable little ones, because momma may decide you are a threat and attack.
Watch your pet at all times. While dogs and other pets aren't allowed on the trails, you could encounter wildlife in a parking lot just as well. Keep your doggy on a leash, and if you see wildlife, put them back in the car so neither black bears nor puppies have to get agitated.
Use designated pullouts. National park roads are super highways for wildlife, and of course there are lots of things to see and observe, and of course you want to take tons of pictures. It's good form to use the designated pullouts to do so in order to not hold up other traffic that may be coming up behind you.
Watch for signs. At this national parks, you'll see lots of signs. They advise on everything from the speed limit to places where you shouldn't get too close to an edge. There's a good reason for every single sign, and it's all for your protection, as well as the protection of the park. Make sure to follow the rules of the park.
Silence your phone. Yes, we all do have very close relationships with our smartphones these days. But turn it off, or silence it if you use it to take photos, and immerse yourself in nature. This is for your own good and that of your fellow travelers. There's nothing more annoying than being in a gorgeous place and constantly hear the ringing and dinging of a cellphone. Plus, it scares away the wildlife. Time for some digital detox!
Yellowstone Itinerary 4 Days in America's Most Beautiful National Park
Ok so now that you know the basics, we can get down to the exciting part: planning your itinerary! Four days is a great amount of time to spend at Yellowstone. With four days at the park, you can see not just the highlights, but all the best places! Our four day itinerary lets you venture off the beaten path and do some hikes and other fun activities. By the way, are you planning to bring your kids? Before you go, make sure that you sign them up to become a Junior Park Rangers!
Day 1
Yellowstone National Park's most famous attraction is Old Faithful, and that's reason enough to make your way there on your first day. It is located in the southwestern part of the national park, and it is best to use the west entrance to get there.
Old Faithful geyser is one of the most famous geysers in the world, and its eruptions are quite predictable (hence the name). For those of you who love statistics, Old Faithful has some to offer: it erupts roughly every 94 minutes, give or take 10 minutes. The average eruption is 130 feet (or 40 meters) high, lasts anywhere from 1.5 to 5 minutes, and and expels between 3,700 and 8,400 gallons (that's between 14,000– and 31,800 liters) of water. Pretty impressive, isn't it? Oh, and the water temperature is around 203° Fahrenheit (95.6°Celsius), which is above boiling point since Old Faithful sits at an altitude of 7,349 feet (that's 2,240 meters).
The visitor center in this are is also worth a stop. At the Old Faithful Visitor Education Center, you can learn all about geothermal features, the volcano that's powering this park, and life in these conditions. There's lots of scientific research still being conducted, and you can get all the details about that here as well. If you brought the kids, make sure to visit the Young Scientist exhibit room, where they can get hands on. It also offers a view of the eruption.
Once you've seen the eruption and spent some time at the visitor center, stay in the Old Faithful area. There are multiple other hydrothermal features to see in the Upper Geyser Basin – more than 150 geysers, to be exact! Don't miss the spectacular Castle Geyser, as well as Grand Geyser, which can erupt up to 200 feet! You can also see hot springs when you walk along the boardwalk and trail in this area that's no more than one square mile.
Now is a good time time to go for a hike. There are several hiking trails in the area so take your pick!

The Grand Prismatic Hot Spring Trail is the shortest, but it's still well worth taking this path. The 1.5 mile trail gradually rises, but you gain no more than 200 feet in elevation. This easy out and back route takes you to a spectacular viewpoint from which you will be able to enjoy the best views of the Grand Prismatic Spring, a Yellowstone staple you most likely have seen pictures of when you did your trip research.
The Yellowstone Observation Point trail is also 1.5 miles long, and the elevation gain is 262 feet. Once on top you get to enjoy sweeping views of the Upper Geyser Basin.
The Sentinel Meadows to Queen's Laundry trail is a 4.2 mile long loop that has you gain 157 feet in elevation. You follow the Firehole River, then turn onto the meadows, and end up at an incomplete bathhouse. See hot springs along the way.
The Fairy Falls trail is a 4.8 mile out and back trail with an elevation gain of 170 feet. Follow it to experience one of this national park's most impressive waterfall!
The Mystic Falls rail is a 2.4 mile out and back trail with an elevation gain of only 147 feet through mixed conifer forest. At the turnaround point you'll be rewarded with views of the the 70 foot high Mystic Falls waterfall.
The Mallard Lake trail is more challenging than some of the others in the area. It's a 7.3 mile out and back trail with an elevation gain of 892 feet. It's less frequented, and you'll likely have a nice, quiet hike with the chance to see wildlife.
The Howard Eaton trail is for fit hikers. It's a 13.4 mile point to point trail with an elevation gain of 1,069 feet. While it's quite long, it's not super hard, and you have the chance to watch birds and other wildlife along the way. Walk through spruce-fir forest to Lone Star Geyser.
There's an easier way to see Lone Star Geyser: the Lone Star Geyser trail, which is a 5.3 mile out and back trail with just 127 feet of elevation gained. The trail is partially paved, so cyclists can use it as well. They just have to walk the last, unpaved bit.
Day 2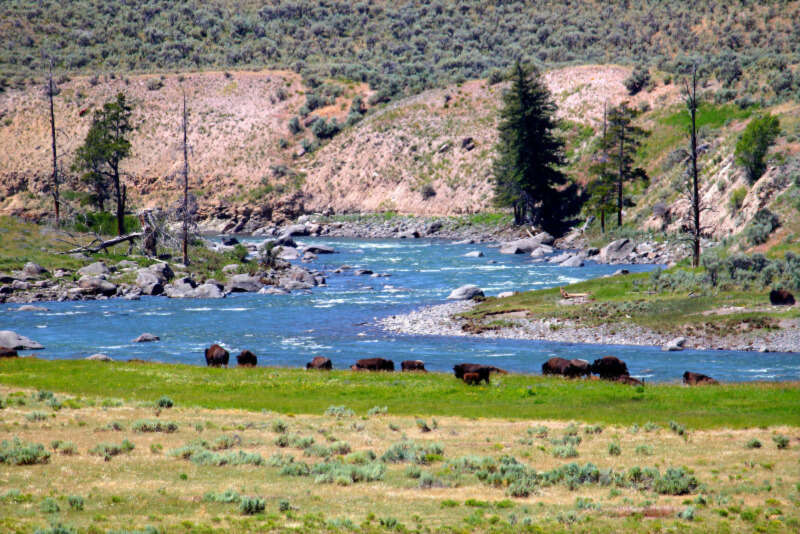 Today, head to Lamar Valley and Hayden Valley. These are two of the absolute best places to watch wildlife.
Lamar Valley is located in the northeastern corner of Yellowstone National Park. The northeast entrance, close to Cooke City, Montana, is closest, but it is not open year round. However, the north entrance is open all year, so if you choose to plan your 4 day itinerary for Yellowstone for the off season, you can enter through the north entrance and get to Lamar Valley from there.
Yellowstone's wide, open valleys are the ideal habitat for all kinds of wildlife. In Lamar Valley, also known as the 'American Serengeti, you have the chance to see some of the largest wild herds of elk and bison in North America, as well as deer, and pronghorn. Coyotes, and even some cougars, bobcats, and red fox live in this area. Winter is a great time to come here. The area is open year round, and elusive animals such as Grizzly bears and wolves. Other animals you may encounter are bighorn sheep, bald eagles, and ospreys.
Hayden Valley is another great wildlife viewing area. It's about 20 miles away from Lamar Valley, more centrally located inside the national park. What's true for Lamar Valley is also true for Hayden Valley: dawn and dusk are the best times to spot the animals. If you are a bird nerd, Hayden Valley offers you the best chance to see a lot of them. That is unless it is nesting season, then you may have a slightly better chance to see more birds at Lamar Valley. The area was once filled by Yellowstone Lake, making it marshy and an ideal place for birds. Water fowl, such as pelicans, ducks, Canada geese, and Sandhill cranes, as well as birds of prey such as the Golden eagle, and hawks, are prevalent here. The Yellowstone River lazily meanders through the bottom of the valley, and the open meadow offers prime views of the animals that come for a drink, or to hang out.
If you've got extra time on your hands, go and see the mud volcano. It's located north of Yellowstone Lake, on the way to Hayden Valley. We've all heard of volcanoes, but what in the world are mud volcanoes? Mud volcanoes are formed by tectonic activities which pressurize areas of mud, silt, or clay. At Yellowstone, you can do the short hike along the mud volcano trail. It's an easy 0.8 mile loop trail, with an elevation gain of only 118 feet. The mud volcano itself is a cone, looking similar to a volcano, 30 feet high and 30 feet wide, with one side blown out, creating a crater. Every so often it erupts and spits mud. Walking in the area you can also see mud pots, small, acidic hot springs that have only a limited supply of water but are bubbling merrily. If you go, just be prepared for the smell! Yikes! These mud pots are home to microorganisms which convert hydrogen sulfide to sulfuric acid, creating that famous rotten egg smell.
Bonus: Tips for spotting wildlife
Since today is wildlife day, here are some things to keep in mind:
The best thing you can do is to get an early start. Early morning and late afternoon or evenings, when there are a lot less tourists around, are the best time to see wildlife. The quieter it is, the less likely the animals are to take cover from the photo hunters. If you show up later, there's a good chance to will end up spending much time and likely see some, but not a lot of animals.
The best area to observe wildlife is from Slough Creek to the northeast park entrance.
Make sure you come prepared! Bring your binoculars and camera along.
Leave any food items in the car, you don't want to attract the animals.
Turn off your phone so unexpected ringing won't scare the wildlife away.
Unless you encounter a bison or other large animal blocking your way on the road, do not stop. There are plenty of pullouts to observe.
Day 3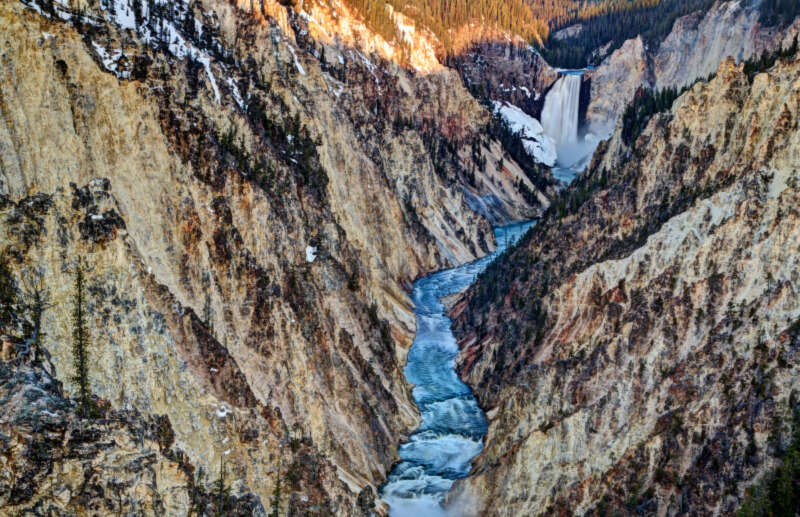 Day 3 is is the perfect time to visit the Grand Canyon! Before you think we've gotten mildly confused, we will tell you that the Grand Canyon of The Yellowstone is actually one of this national park's main attractions – much like its name sake located in Arizona. But much like its famous cousin, the Grand Canyon of the Yellowstone is an impressive geological feature. It is about 20 miles long, and located south of Canyon Village.
There are trails on both rims, and you can drive them as well. The North Rim drives starts just south of Canyon Junction, and it is a one way road featuring four different view points. You can see the Lower Falls and Upper Falls. The spur road to Brink of Upper Falls offers breathtaking views of the Yellowstone River as plunges over Upper Falls. The south rim drive is just a little further south on Canyon Junction, 2.3 miles to be exact. This road only offers two view points, but the one at Artist Point is especially spectacular, as you can see in the photo above. Look for ospreys while visiting this area!
There are a couple of hikes in the area. Note that these hikes are steep and challenging, and if you have any physical impairments such as a heart condition, it is advisable to skip them.
North Rim trail: currently closed due to damage. Please check the website of the National Park Service if you head that way and want to hike it. If it's open, expect a 3.6 mile out and back trail with an elevation gain of 387 feet. It goes along Red Rock Point, Lookout Point, and Grand View.
Canyon Rim South trail to Artist Point: a 2.5 mile out and back trail with an elevation gain of 278 feet, considered an easy hike. The turnaround point is at Artist Point, where you'll have amazing views of the canyon.
Brink of the Lower Falls Trail: a 0.7 mile out and back trail with an elevation gain of 265 feet – a short walk, but quite steep!
Red Rock Points Trail: this beautiful 0.7 mile trail with an elevation gain of 259 feet is currently closed due to damage. Please check the NPS website for details if you are heading that way.
Do you have extra time? Head to West Thumb Geyser Basin, about an hour's drive from the Grand Canyon. Together with the Potts Basin, located just to the north, it is the largest geyser basin on the shores of Yellowstone Lake. If you are itching to get out on the water, this is the right place. This area is very popular for kayaking and canoeing, but be aware that the lake's water is very, very cold, so come prepared (and try not to fall in). There are geothermal features under the surface of the lake as well as on shore, and it is well worth exploring. You can also go for a short hike. The West Thumb Geyser Basin trail is only a mile long loop with a meager elevation gain of 59 feet. Enjoy beautiful views of the lake, and bring your binoculars! It's a great place for bird watching!
Next stop: the Lower Geyser Basin. With an area covering 18 square miles it is the largest of Yellowstone's geyser basins, and it's worth a quick stop (or a longer one!). The Firehole River flows through its central area. This flat plain, interspersed with stands of pine and meadows, displays astonishing amounts of geothermal activity. Its geysers disperse about 15,300 gallons per minute! To see the most active areas, head to Firehole Lake or Fountain Paint Pot area. The Fountain Paint Pots are mud pots in shades of white, pink, orange, brown, and red, caused by iron oxidation, which is how they earned their name. Do the Firehole Lake Drive, a 3.3 mile point-to-point trail, to discover the geothermal features in this area. This hike is considered easy, with an elevation gain of 154 feet.
Day 4
It's already the last day of your 4 days itinerary of Yellowstone National Park! But you know what they say, time flies when you are having fun, and we are sure that so far you've had a blast! Today, head out to explore more of the geothermal features that are so prevalent in this national park: geysers, one of the best things about this national park!
Make your way to the Norris Geyser Basin. It is located behind the Upper Geyser Basin and the Midway Geyser Basin. Here you get to see the world's tallest active geyser: Steamboat Geyser. First though, a note of warning: if you are there for an eruption, your car may not be safe in the parking area. Know that there's the potential for damage to the paint of your vehicle from dissolved minerals in the spray. You are parking at your own risk!
Nevertheless an eruption is a sight to behold. There are major and minor eruptions. A major eruption has hot water surging from two vents of different heights up to 300 feet into the air! The eruptions can carry lots of debris such as sand and mud, and that's when your car can be in harms way. These major events can last anywhere between 3 and 40 minutes – lucky you if you get to see one! If you do, allow plenty of time. This is truly a once in a lifetime experience! Even minor eruptions are worth the trek there. They can last between 1 and 4 minutes, but sometimes intervals are as short as 2 to 5 minutes. Even minor eruptions can reach between 6 and 40 feet!
After you've had your fill of this spectacular sight, take a stroll though the Norris Geyser Basin. It is Yellowstone's most dynamic, oldest, and hottest geothermal area. You can learn a lot about this area at the Norris Geyser Basin Museum.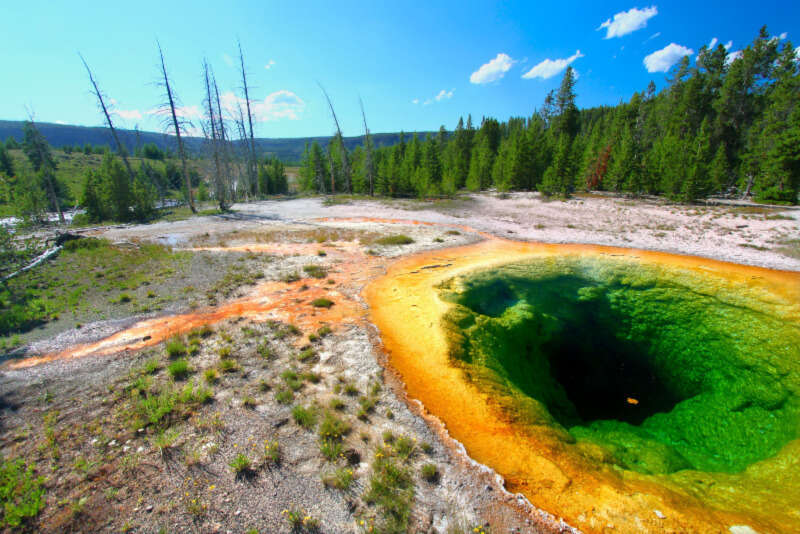 One last thing that shouldn't be missing on your Yellowstone National Park itinerary is the Morning Glory Pool. It's one of the major attractions, a feature you see on postcards and all over the internet. It's a hot spring, which is the most common hydrothermal feature at this national park, named after the flower it resembles. Its distinct coloring is caused by bacteria living in its waters.
Unfortunately the Morning Glory Pool has been subject to vandalism over the years, with people throwing all sorts of things into the springs, from logs to coins to rocks. This debris became embedded into the sides of the Morning Glory Pool, which affected the circulation of the hot water and thus the thermal energy. But it is still a gorgeous sight to see, and you should stop there in any case!
If you splurged on accommodations and are staying at the Old Faithful Inn, you can easily hike to the pool. It's a 2 mile trip, and you can see other geysers along the way.
This concludes your 4 day Yellowstone itinerary!
We hope you have enough time to follow this Yellowstone itinerary for 4 days and see all the wonders Yellowstone National Park has to offer. if you only have time for a day trip, make sure you drive the Grand Loop Road. It's the best way do ensure you see all the important sights. All main attractions are located along this route and it takes only about 4 – 7 hours to complete – depending, of course, how often you stop for wildlife viewing and picture taking along the way!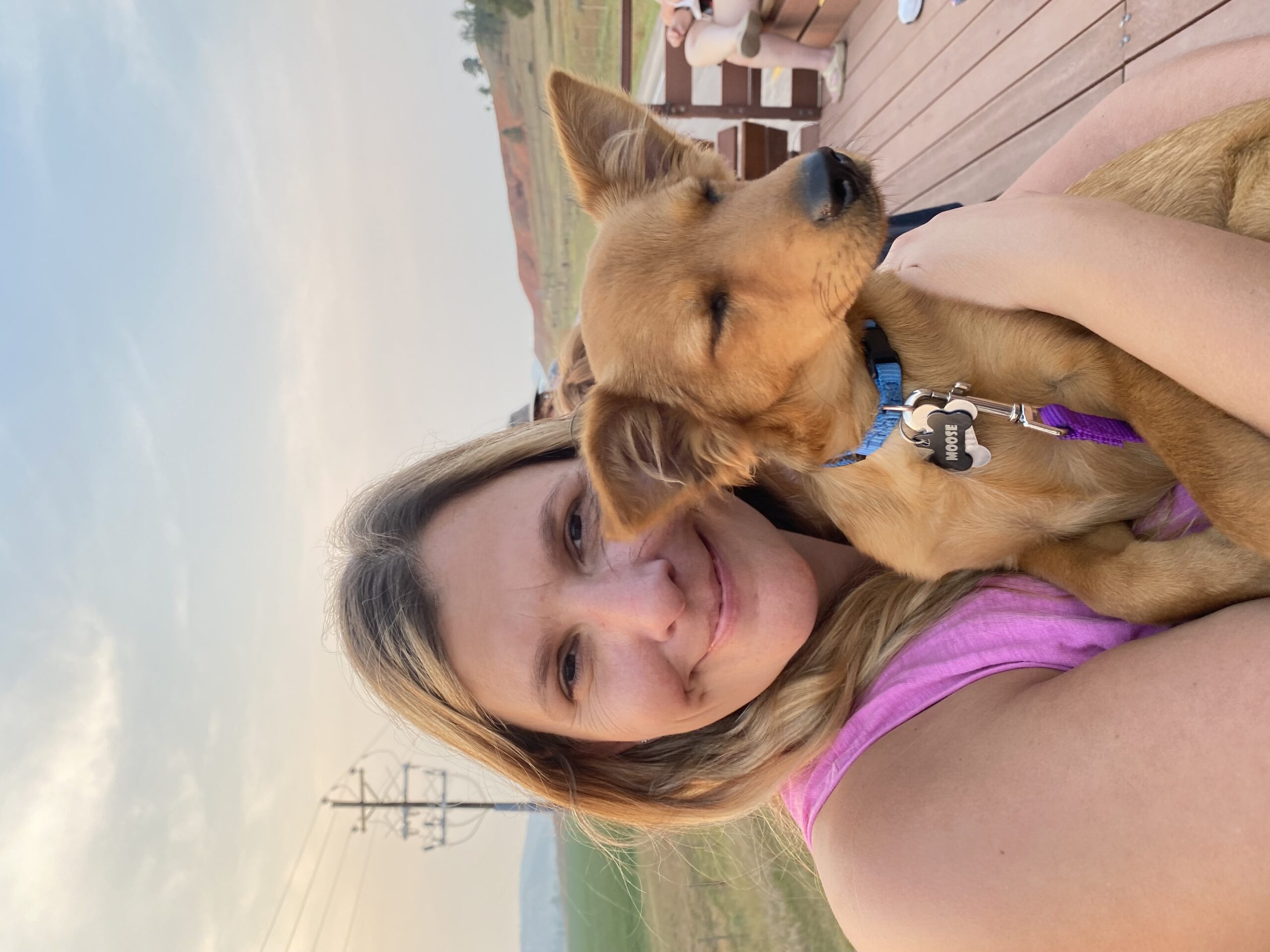 Jenny grew up in Germany. All she ever wanted out of life was to leave and have adventures. Jenny always traveled as much as the budget would allow, and when she met her husband traveling became a full-time thing. You can follow Jenny on her blog and Facebook.