I had dreamed of visiting Angkor Wat, a temple in Siem Reap, for quite a while. Angkor Wat is a UNESCO World Heritage Site, and one of the most important archaeological and religious sites in Southeast Asia. Finally I got the chance to do some Cambodia travel and spend 4 days there, and I was so happy. I researched everything to the smallest detail, especially the Angkor Wat dress code.
Angkor Wat put a strict dress code in place several years ago. Everyone visiting this religious site should follow certain rules about which clothes to wear. If you aren't dressed appropriately, you may not be able to even buy a ticket for this world heritage site. The guards at the entrances to the temples may indicate if you are dressed improperly.
This post contains affiliate links. This means we make a small commission at no cost to you if you click through and make a purchase. All prices listed are accurate at time of publication.
The Appropriate Angkor Wat Dress Code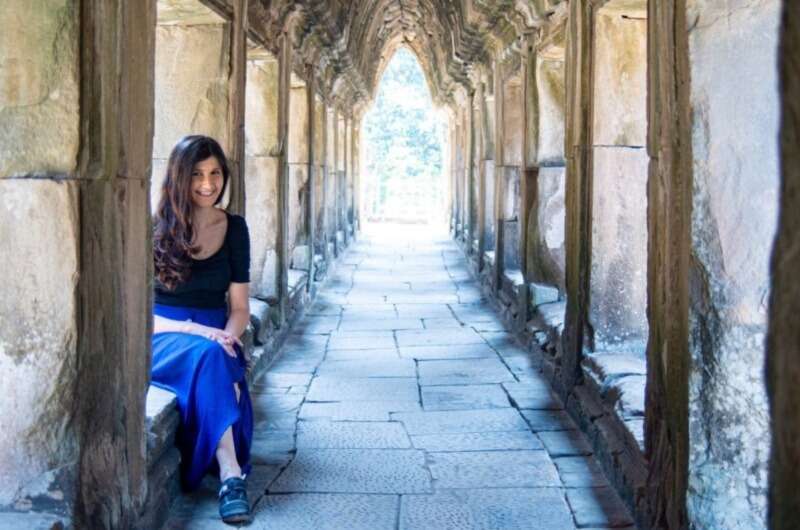 We witnessed a guard asking people to cover their knees or their shoulders several times. Wearing revealing clothing is unacceptable, and you will be denied entry to the temple if you do. Sometimes simply using a scarf can rectify the situation, so make sure you carry one around if you are unsure about whether your clothing is acceptable or not. Know what to wear to Angkor Wat and be prepared before you go. Clothes are being sold near the temples, but they tend to get very expensive for the tourists who need to buy them on the spot.
The following rules apply for men and women, but especially for women (as they do in so many places, right?)
Shorts, skirts, or pants?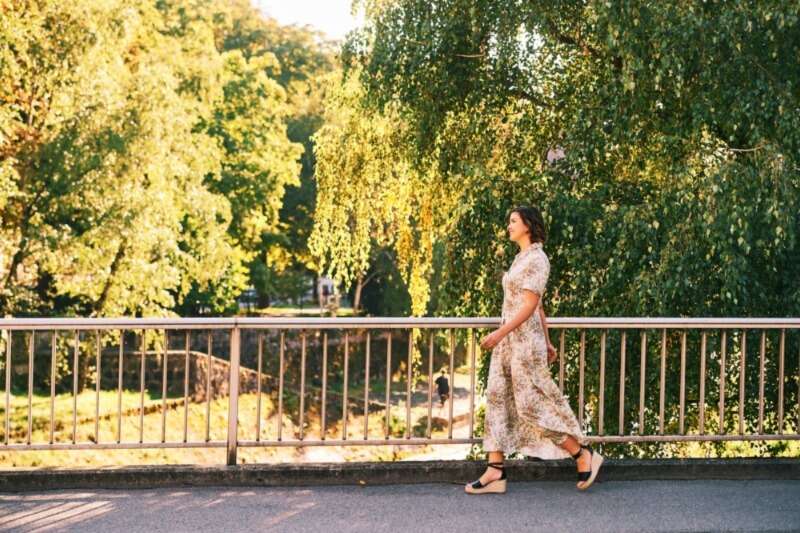 No shorts, short dresses, or anything that doesn't cover the knee are allowed. Trousers, long skirts, or long shorts covering at least the knee are the acceptable attire to wear to Angkor Wat. Be on the safe side and wear pants or skirts that have ankle length. Try to wear cotton or, even better, linen, as they breathe and you won't be suffocating in the heat. I found that skirts were more comfortable.
Of course there's one more thing to consider when visiting these sacred sites: the climbing, and lots of walking. This was slightly complicated with the skirts I was wearing. I would pull the skirt up to make it easier. Trousers were far more comfortable, though they were still quite hot even though they were made of thin material.
Tops
Any top that is worn to Angkor Wat should cover the shoulders. There are no rules about cleavage as far as I know, but I do believe it would be flagged if it's deemed "too revealing." Any simple t-shirt will work fine. Another option is to wear a tank top and just throw a scarf on. If you want to be super safe, wear long sleeved tops. They also protect you from the sun!
That brings me to the major item that can help you with what to wear to Angkor Wat – a scarf. The scarves are very useful when visiting religious sites and you can make them work with many outfits. I did wear a sleeveless top one day and put a scarf around me. It looked quite cute and very much acceptable. But make sure that it doesn't slip off your shoulders.
Another thing – if you are going up the highest spot at Angkor Wat, you have to have something more than just a scarf covering you. A thin jacket can save you from this in such places, where scarves are not appropriate, or anything long sleeved.
Footwear
There are no rules about shoes, but I suggest to wear well covered shoes with support. You will be doing lots of walking in very dusty places and will be climbing stairs and stones a lot. This would be quite difficult in sandals, unless you wear hiking sandals! But so many people did wear slippers and sandals since they keep your feet cooler in the heat.
Fashion Advice
You can't be wearing revealing clothing, but you can wear bright colors. They will look much better in photos. One day I wore a bright blue skirt and it looked great with the backgrounds. Another day I had a black and white striped skirt on and it looked far duller. See the photos and decide for yourself.
The skirts you wear at Angkor Wat can have slits. There are no rules against them, and they are comfy clothes to wear. That's great, as they look much better. I personally hate long skirts. To me they are not only uncomfortable, but not very cute too, as I am short. So the slits are the best thing.
A scarf can also be a fashion accessory, it may lighten up your outfit.
Maxi dresses or midi dresses are also a good idea. or midi dresses can be a great idea. You can find thin, colourful ones at local markets in the region. Those are the best option for clothes to wear.
We didn't have time for shopping and I hate browsing markets, so I just brought pants and skirts I already owned. For the next time, I will definitely find a colourful maxi dress online.
Items we recommend to bring for your visit to Angkor Wat
Hopefully these tips will help you plan what to wear to Angkor Wat!
Despite having a full time job, I always try to make time to hit the road and visit as many places, as I can. Travel is not just my passion, but a necessity for my mental health 🙂 Having lived in 3 cities and visited 50 countries so far, I want to share my experiences and travel tips with the fellow travel junkies.
Follow my journeys on my blog hittheroadket.com and on Instagram @hittheroadket