I arrived in Cappadocia, planning to stay for 5 days. Instead, I ended up staying 5 month, and then finally settled down there. I was born and raised in France and used to travel from a very young age. Turkey has always been my favourite destination, not that I have already discovered the whole world, but this country kept calling me. There are many things that are special about this place, especially the Cappadocia hot air balloons.
Visit Turkey and Ride The Amazing Cappadocia Hot Air Balloons
Turkey, a country of 82 millions inhabitants, has so many places to be discovered. They are all different in their landscapes, climate, history, culture, gastronomy and people. Cappadocia is where I finally fell in love and settled down.
You may want to see the Cappadocia Hot air balloons, but there is so much more
A horse rider since childhood, I fınally became a horse riding guide, taking tourists on tour. This has been one of the best and richest experience of my life. I have learned a lot by meeting, talking, sharing with these people from all over the world. I immediately immersed myself in the local life. Sharing the same way of life, sometimes partying till dawn and then starting another day at the ranch, sharing a 10 person menemen directly from the pan with all the workers, like a big family. They would say it's the tourism worker's way of life!
Winter time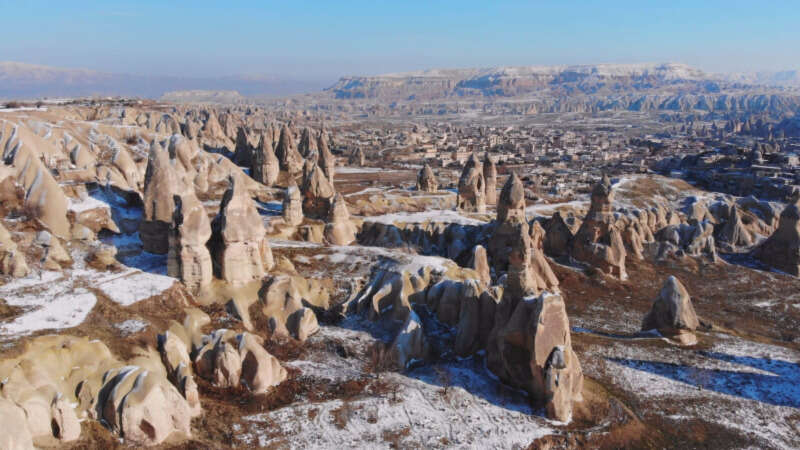 Then the days gets shorter, the weather starts to feel colder and everyone says " winter is coming". The last grapes have been harvested, and in the gardens the last tomatoes were harvested. Families starts preparing winter food, reuniting with the neighbors (mostly women) during days, in their Bağ (gardens in the valleys) or directly front of the houses in town to produce the Pekmez (grape molasses), Salça (tomatoe paste), turşu (pickles) and other products, to share with friends and family. Hard works that take lot of time, but home made products taste like no other here.
During winter, our town of 2,000 inhabitants sees its hotels mostly empty. We wait patiently for the winter to end, spending days around the soba (stove) where the çay is brewing, enjoying sohbet (chats), watching our landscape covered by white immaculate snow and waiting for another season to come.
Cappadocia hot air balloons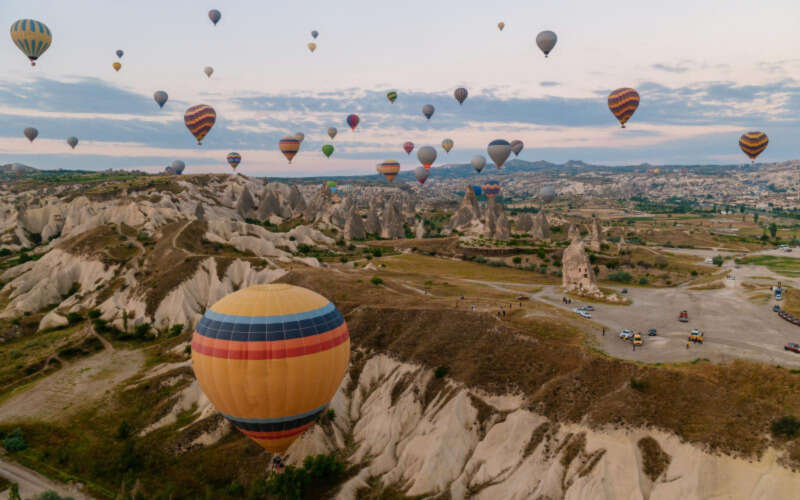 The pictures of Cappadocia hot air balloons surrounded by fairy chimneys shared on social medias all around the world are probably what made Cappadocia famous. But this region of Central Anatolia, with its dreamy valleys landscapes formed 60 million years ago by volcanic eruptions, has much more to offer more than just places to take an Insta-worthy picture and the Cappadocia hot air balloons.
History, nature, gastronomy, local culture, and the hospitably of the locals will definitely make you fall in love with Turkey.
When to Visit?
You can visit Cappadocia any time of the year. Most of the hotels stay open, with the Cappadocia hot air balloons and other activities taking place almost 365 days a year. But I would say that the best periods to visit and take a ride in the Cappadocia hot air balloons are spring (May or June) and autumn (September or October). Expect temperatures around 25-30 degrees Celsius (77 – 86 Fahrenheit) during this time.
Summer is very hot there, 35-40 degrees Celsius (95 – 104 Fahrenheit), and sometimes even hotter than that. Winter can be freezing cold, with temperatures plummeting as low as minus 20 degrees Celsius (- 4 Fahrenheit). Still, if you don't mind the cold weather, the landscapes are beautiful when all covered in snow.
Best way to get here & places to stay
Situated in Central Anatolia, Cappadocia is a large region spreading out over an area covering the provinces of Nevsehir, Kirsehir, Nigde, Aksaray and Kayseri. The town of Göreme is the heart of Cappadocia. You should definitely stay here if you're wanting to see the Cappadocia hot air balloons every morning from the terrace of your hotel, or experience to stay in a cave room.

By plane
There are at least 5 flights a day from and to the 2 airports in Istanbul. There is Sabiha Gokcen, and Istanbul new airport, and flights go to Nevşehir Airport or Kayseri Airport, which are the 2 main airports in Cappadocia. It's about an 1 hour flight. Not too long to come and experience the Cappadocia hot air balloons!

By car
With your own car or with a rental car, Göreme is approximately a 7 hour ride from Istanbul. The condition of the roads in Turkey is pretty good.

By bus
From Istanbul you can catch an overnight bus every evening. It arrives in Cappadocia in the morning, and the ride takes approximately 12 hours. Mornings are also great to ride the Cappadocia hot air balloons. The busses in Turkey are very comfortable and well equipped. You'll find a place to plug in your electronic device, screens like on an international flight, and you will also be served drinks and little snacks.
There are many bus companies, but I would recommend Kamılkoç for its comfort and quality.
Hotels in Göreme
Göreme has more than 100 hotels. Options range from very simple hostels (but with dorms in a cave!) for 10 euros/night to very luxurious hotel suites with a bathtub for 300 Euros a night. Whatever your budget is, you will be able to find accommodations that suit you. Some hotels are very famous on social media, sharing pictures of terrace with cushions and carpet surrounded by Cappadocia hot air balloons at sunrise, but a lot of other hotels in Göreme have the same view, sometimes even better.
What to see? What to do?
Cappadocia Hot air balloons
Naturally, a trip wouldn't be complete without getting a ride in the Cappadocia hot air balloons.
Scheduling
Of course it's not an obligation, but I have to say that it is really worth it. The view is just amazing from up there! For those who are afraid of heights, believe me you can get over your fear! The Cappadocia hot air balloons are very steady, not scary at all and also very safe! A bit of wind and it will immediately be cancelled. That's why I would recommend you to book your balloon flight as soon as you get there. Should it get cancelled it will automatically be postponed to the next day. Keep in mind that it can be cancelled for few days in a row, even if that's a rare occurrence. Book it for the first morning to be safe!
Your flight
There are plenty of companies, offering more or less the same service. It's a 60 minutes flight, plus pick up from and drop off to the hotel. Prices range from 80 to 250/300 Euros, depending on the size of the crowd and the season. It can change a lot from a day to another, and also be fully booked very quickly. So the best approach would be not to wait until the last minute!
A tour on horseback
As a horse riding guide, my fırst recommendation would be to go on a horseback riding tour to discover the valleys in the area. There are many ranches around town, offering all the same kind of tours. 2, 3 ,4 hours, or a full day tour, or even multi days tours for the most experienced! I recommend you join a tour for the sunset or, even more beautiful, for the sunrise! It is magical with the Cappadocia hot air balloons all around!
ATV tours
They also offer ATV tours, for those who prefer adrenaline! Depending on the tour you choose, it will take you to Love Valley, Red and Rose valley, Sword valley and Cavuşin vıllage and its beautiful castle in ruins, so it's definitely worth it!
Hiking
If you are a good hiker you can also totally walk all the valleys around by yourself!
Turkish Bath
Treat yourself with a nice turkish bath, the hamam. Enjoy the (sometimes very strong) peelings, or relax with a foam massage. It's a nice thing to do after a day out and about.
Sunset Point
Get on the "Sunset Point" in Göreme. A few minutes walk from the center Aydın Kıraği (Aşıklar tepesi), it is the highest point in Göreme to see the sunset! Highly frequented at this time it can be hard to get the perfect place to get a nice picture. Be there early enough.
Wine tasting
Taste the Capadocian wine! I have to admit that before coming to Cappadocia I had my ideas about Turkish wine. But I can say that they can make wine as good as the French (or maybe even better?).
Kocabağ and Turasan are 2 famous brand in Kapadokya. I prefer Kocaba Try "Leo's" or "Gravite". These wineries can be visited, with wine tasting at the end of the visit, of course.
Some locals make their own homemade wine. Don't hesitate to try it if you are being offered a glass!
Anatolian Cuisine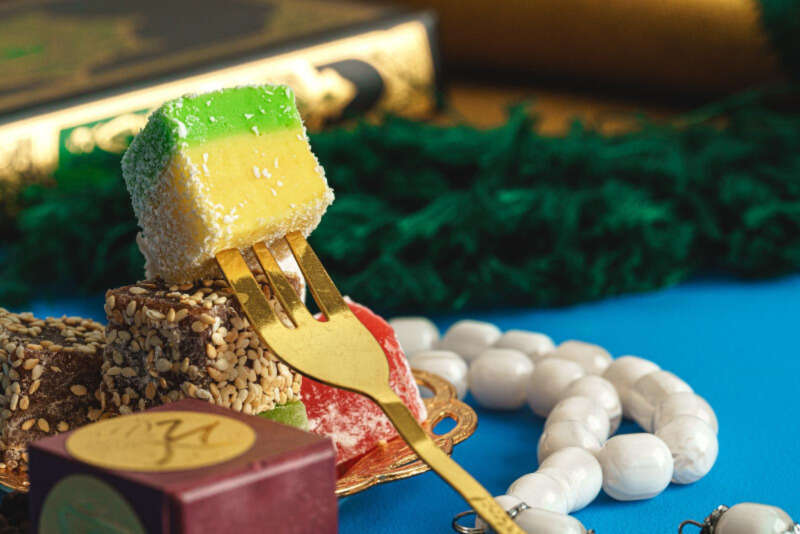 Discover Traditional Antolian cuisine. Each region of Turkey has his own signature plates, but also common plates which are sometimes cooked in a different way. You should definitely try a Menemen, a Traditional Turkish breakfast. Don't expect to finish the whole plate, it's loaded with food!
Turkish soups! It can sound boring, but I won't stop talking about it. Soups are definitely a highlight of the Turkish cuisine. Merçimek çorbası (red lentil soup) or Yayla çorbası (mint yogurt and rice) are my favorite, but there are plenty of others. Don't hesitate to give a try, they are on the menu in all restaurants.
A Restaurant recommendation
Pumpkin restaurant, a hidden gem in the back alleys, is away from the crowds of the main streets. The restaurant is smaller than the others in Göreme, quality over quantity! You'll dine under the pumpkin carved lamps.
It is quiet and nice for a dinner with a bit of privacy.
Have a glass of one of their recommended wine, it goes perfectly with the pottery kebab or the lambs shank! You're gonna literally lick your fingers!
Also try the Kabak tatlısı. Sweet pumpkin slices with a tahini (sesam paste) sauce, these are perfect to round up your meal in combination with a Turkish tea.
Cappadocian food is so plentiful, I can't name all the things you must try when you visit. Just be curious and never hesitate to try.
Get your self a present
Buy yourself a nice piece of jewelry with a zultanite stone, an Anatolian stone that changes color, from yellowish green, to light gold and purplish depending on the light.
Zultanite is named in honor of the Ottoman Empire's (now Turkey) original 36 sultans.
Göreme open air Museum
The museum is about a 10 min walk from the town, on the road to Urgup. It has been part of UNESCO World Heritage list since 1984. Any traveler coming to Cappadocia should visit this museum. It resembles many churches and chapels of the 10th, 11th, and 12th centuries, carved in the rocks, with original wall paintings. I do recommend to get the audio guide for the explanations. Your visit will make more sense that way, because there aren't many signs explaining what you see.
Uchisar Village and its Castle
Uchisar is situated 5 km from Göreme. Dolmuş (a minibus) departs from the bus station every half hour or every hour, depending on the day and the season. You can also walk to Uchisar from Göreme through the Pigeon valley. On your 2 hour walk you'll enjoy a beautiful view. You'll see little holes on the rocks which were used as a place to collect pigeon droppings, a precious fertilizer for vineyards and gardens!
The castle is the highest point in the area. Once on the top you'll have an amazing view of the region. If the weather is clear you'll be able to see Mount Erciyes (Kayseri) with maybe some snow on the top. It's the biggest mountain and ski station in Cappadocia.
You'll like walking around the village, full of little souvenir shop offering handmade products, like traditional pottery. They are also many little cafes. Enjoy a tea or a fresh fruit juice.
Avanos
Visit Avanos. It is about 5 km from Göreme, and you can take a direct dolmuş from the bus station.
Situated along the Kizilirmak (Red river), the longest river in Turkey, Avanos is a bigger town than Göreme. Some people may prefer to stay there. Near the center and up the hill, you can walk around in the old village and see the beautiful old stone houses, some of them left in ruins. Avanos is very famous for its pottery, crafted for centuries with techniques from the Hittites times. In some places you can also make your own "Chef d'oeuvre".
If you can manage, go on a Friday. It's the weekly market day, so you'll see many choices of fresh fruit, vegetables, fresh yogurt and cheese directly from the farm, but also furniture for your home, clothes etc.
Derinkuyu Underground City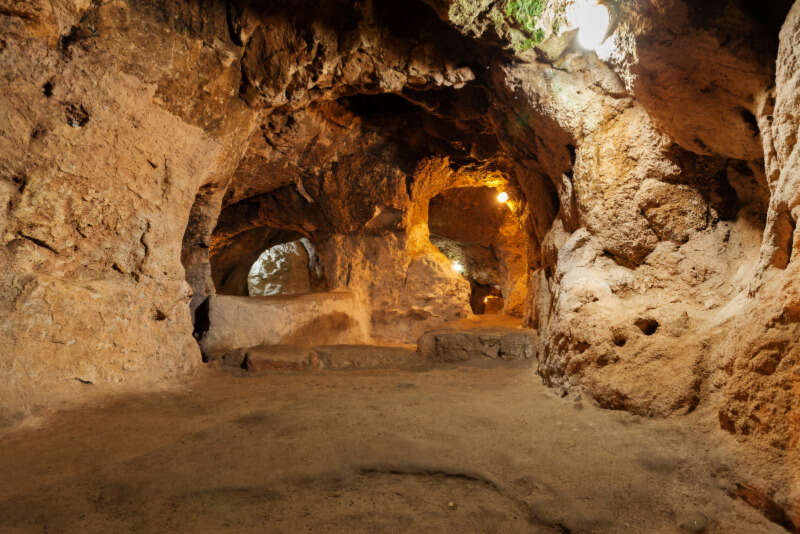 There are actually 36 underground cities in Cappadocia. Derinkuyu is the biggest and deepest one. Imagine about 600 outside doors, and the last floor is 85 meter below ground! It is absolutely stunning. I would say that its a must-see if you want to learn and understand Cappadocian history, from the time of the Hittites until now.
Ihlara Valley and Selime Monastery
Ilhara valley is a canyon that is 14 kilometers long, formed by the Melendiz river. It's a beautiful and peaceful walk. Along the path you'll be able to visit hidden cave churches. There are 4 entrances, so no need to do the 14 km walk if you don't feel like it. You can get in at the second entrance and take the 4km walk to Bellisirma village, have lunch in one of the restaurant, and your feet will almost touch the water!
If you walk to the end of the canyon, you'll find Selime monastery, dating back to the 8th or 9th century BC. Situated on the silk road, it would later be used as a Caravanserai. This monastery is the biggest religious building in Capapdocia.
Zelve open air museum
One of my favorite sites, not as crowded as the open air museum of Göreme can be, but not less beautiful or interesting. It may even be more interesting! Situated 10 km from Göreme on the road to Avanos, Zelve is a cave town. Muslims and Christians used to live here together until 1924. Later Muslims left to settle in a modern village, as it became dangerous to live there, due to the erosion of the rocks.
If you take the road from Göreme to the open air museum, you'll also find Paşabağ, and its unique mushroom-shape fairy chimney, where the hermits used to cloister.
All these recommendations surely make you want to experience Turkey and ride the Cappadocia hot air balloons!