Selamat datang to my post about my experience with sustainability and animal tourism in Bali! I was so lucky to have been given the chance to study in Bali, Indonesia. I was there five months, thanks to my university in the Netherlands. During my trip, I learned so much about Bali animals, their welfare and sustainability. I am happy to share this with you today!
The first few weeks
During my first few weeks in Bali, I was extremely overwhelmed. There was a lot I was not used to in my daily life in Europe. Especially since I got the real "local" experience since I wasn't living in a touristy area. My accommodation (living that hotel life for five months, oh yes) was located in the heart of Denpasar. This is basically at the busiest street on Bali. Thousands of scooters and cars passed by day and night. It was quite an experience to live like a local.
The 'Perfect' Side
Most travelers to Bali only know the "perfect side" with its clean beaches, the famous Bali swings, and wandering around the market in Ubud. Little do so many people know what happens outside those tourist attractions and the reasons behind it. I completely agree with the Girls Who Travel idea that travel is so much more than pulling out your passport. It is also about contributing to a positive change to the world. My interest and passion for sustainability and animal welfare has grown so much during these five months. I'm hoping to educate you all about how we can create positive change through this post.
Plastic is a problem
Plastic is a tremendous problem in Indonesia. How do I know? The garden of our hotel was basically the new dump for the area. Whenever I would have a drink on my balcony I could see people stopping their cars and vans down the road to dump crazy amounts of plastic. They do not know how to dispose it properly. Besides that, when it is getting dark around 6 PM every evening, the Indonesians burn their plastic of the day in ditches or even their gardens. Clouds of plastic fumes cover the streets of Denpasar. This is extremely unhealthy.
Garbage on the beaches
I arrived in January when it was still rainy season. And let me tell you, the beaches were awful. Piles of garbage lining up on the beaches. I even left those with high ratings immediately after seeing the waves consisting of plastic, plastic and again, plastic. Therefore I really encourage each and every one reading this to minimize their plastic consummation as much as they can, especially when visiting less developed countries. The majority of this plastic ends up in the ocean, killing thousands of animals and in the end us humans, too.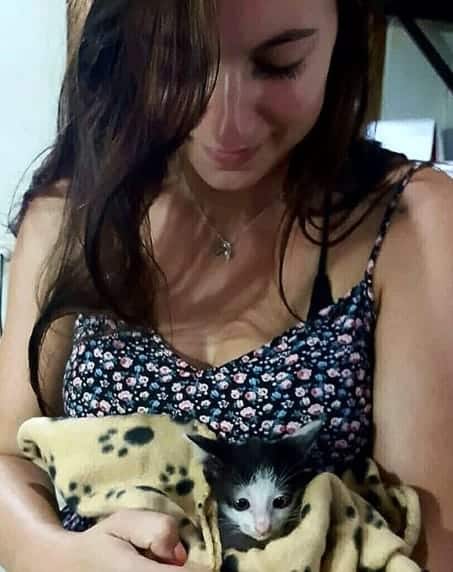 Bali Animals and their Welfare
Moving on to another topic near and dear to me: animal welfare.
Stray animals
I cannot explain how shocked and saddened I was each and every day by the amount of stray animals, especially in the heart of Denpasar. I would have ended up with hundreds of dogs and cats if I would have brought them all home. The animals are roaming freely on the streets and the majority is not spayed. This means that the population is increasing daily. My boyfriend and I were fortunate enough to at least save one kitten we found crying behind plastic bottles in front of the supermarket down our street.
Animal Rescue
If you have the capability to rescue an animal, please do so. There are quite a few animal rescues, especially in Ubud. And not only do you save a life, it is extremely rewarding and an eye-opener. We drove for around an hour by scooter to Villa Kitty with our little boy in a box between our legs to save him. The animal shelters are full and help of any kind is so much appreciated, from cuddling to cats to walking the dogs for a bit since there are not enough people. I can highly recommend spending a day at one of the shelters! Besides this issue it is extremely important to look into the animal attractions in Bali. Namely the dolphin watching tours in northern Lovina and the Bali Elephant Park. Both are unethical due to chasing the dolphins with many boats and letting tourists ride the elephants. Spending time here even made me write my bachelor thesis about unethical wildlife attractions in Bali.
Sustainability and animal welfare
Sustainability and animal welfare are topics of great importance and travelers can make a huge difference! Look into the places you are visiting, research if attractions are ethical, and try to travel as sustainable as possible. Definitely don't forget to enjoy Bali's beautiful nature and locals! Selamat tinggal for now since I am on my next adventure: seven months in Austria!
Rianne is a student from The Netherlands who lived in Bali for 5 months. She is currently completing an internship in Austria, which is perfect since Rianne loves the mountains. You can follow her adventures on Instagram.