Welcome! 
As a member of the Her Adventures Member Directory, you have access to a global community and support network. It's easy to get started!
Member Directory Search
A Language Exchange Partner
A Travel Buddy
Local connection and assistance
Professional networking and career advice
Member Profile
After searching for a key word or phrase, you will be able to see members that match your search. Click on their profile to read and learn more, including how to contact them.
Language Exchange
Speak Japanese and dreaming of learning Italian? Make a new friend and improve your learning skills with the Her Adventures Language Exchange! Directory members can enter their
Spoken Languages and Proficiency Level
Desired Language
Preferred Learning Formats
Other information
Travel Buddy
Looking for someone to join you on an upcoming adventure? Travel Buddies can enter their Travel Dates
Travel Locations
Other Information
Search by date or location to find your next Her Adventures travel buddy!

Local Connection
Sometimes you're traveling and just want to connect with someone local, whether that's for a cup of coffee, a tour, or help. Local Connection is the best way to find someone in the city you're visiting. Members can share their
Location
and whether they are available for
Meetup
Sister Support (help in an emergency)
Local Guide
Job Connections
Interested in learning more about a job that will help you travel? Want to network with other people in your field? The Job Connections directory will put you in touch with just the right people! Members can indicate their
Profession
and whether they are available for
Networking
Informational Interviews
Creating Your Profile
Your profile is what other members will search and find when they are using the Member Directory.
To create your profile, click on arrow next to the profile icon in the upper right hand corner and select "Edit Profile."
The home page of your profile is your basic information, such as your name, pronouns, and social media.
Please note: Your e-mail field will never be visible in the member directory. That is for administrative purposes only. There is a separate field for "contact information" where you can choose which contact information to provide.
Once you have completed your basic information, choose which directories you would like to join and click the checkbox to active them.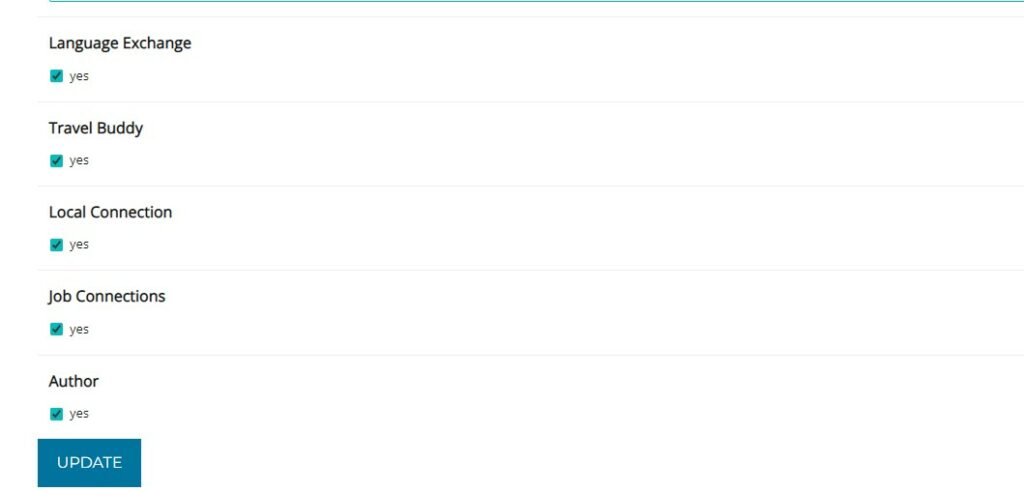 Select update, and the tabs at the top of your profile will populate.

Select the tab and complete the information you would like to make available. Scroll down to the bottom and hit update.
Any information you include in your profile will be visible to all members of the directory.