Have you heard about rogan art? A couple of years ago, we ticked off a destination that had been on my wish list forever– a trip to the Salt Desert of the Great Rann of Kutch, India. On the way, we stopped at the artisan village of Nirona.
How I Came to Own a Piece of Rogan Art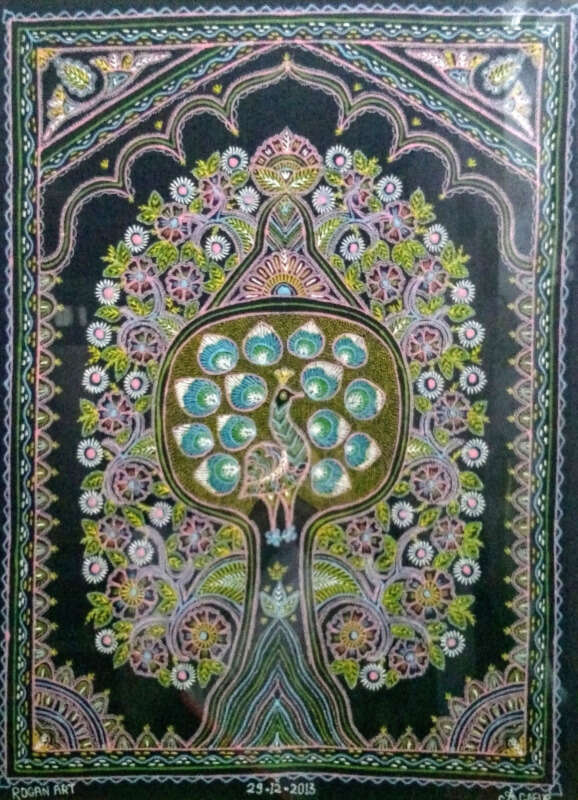 I understood from our driver that the artisans here made small metal artifacts. He stopped the car outside a narrow alley. Then he told us we would find the craftsman he had told us about down that lane. Sure enough, we saw a house with a board indicating it belonged to a national award-winning artisan. Naturally we knocked.
Rogan Art in Nirona
The door never opened, but a man mysteriously appeared beside us a few minutes later. He asked us if we would be interested in looking at their work. We followed him into the house across the street. The house belonged to Khatri Ghafoor Bhai and his brood. This is the only family practicing the little-known art of rogan painting.
The only family in the world
The master painter grabbed us chairs. He sat down on the floor to demonstrate his art. He educated us about this 300-year-old art form while he worked. It had nothing to do with metal work.
The word rogan is derived from the Persian word for oil based. The paints are prepared in advance by heating castor oil for days, continuously stirring it, till it reaches flash point. It is then mixed with appropriate amounts of natural dyes as it cools, and it thickens into a sticky elastic residue. The paints are stored in water so they don't dry out and harden.
A demonstration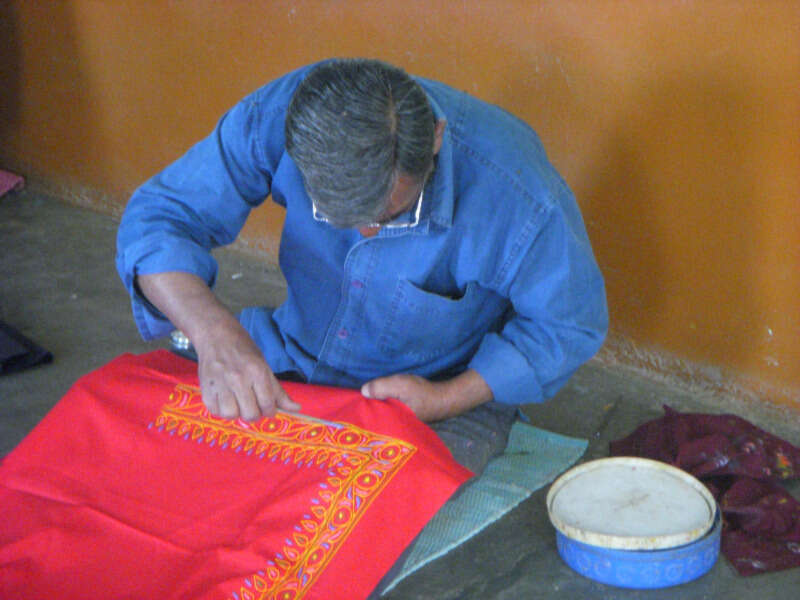 We watched as the soft-spoken artist used a thin metal rod to scope up some paint and smudged it on to the side of his palm at the base of his thumb. This was to be his palette. He then used the same metal stylus to deftly draw a small flower on a piece of cloth. "Rogan painting is always done free hand. We never use a sketch or a template.", he explained. To ensure symmetry, the design is created on one half of the cloth and then folded and pressed to create an inkblot style mirror image on the opposite side. The catch is the colors won't transfer once they dry, so the painter needs to be precise and fast.
Rogan
Rogan borrows more than just its name from Persian. While geometric prints and floral patterns are popular motifs for stoles, table cloths, wall hangings, curtains, kurtas, saris, dress material, and skirts, the Persian Tree of Life is the Khatris' most intricate design. In more minute and detailed work like the Tree of Life, the inkblot style proves troublesome as the colors tend to overlap and smudge. When such designs are created, only the outline is folded for symmetry. The colors are filled in later. A rogan painter needs to be more than just creative and skilled. Patience is the key to the trade.
Offers of beautiful art
In addition to being skilled artisans, the Khatris are also shrewd business folk. After demonstrating how Rogan art is created, we were shown a few samples of the various articles on which it was done. Once we expressed interest in buying, we were first shown traditional clothing with rogan art. I ruefully shook my head. Then they brought out the stoles. I have more stoles than I use, so they brought out the bags. The bags were beautiful, but still no. Finally, they brought out some clutches. Aha!
Keeping a traditional form of art alive
Although none of the articles they showed us were too expensive, the thing to note here is the way they were presented. The highest priced first, when it was ruled out, you are asked if you would like to look at something in the next price range and so on. You are never told right away that there is something smaller, less expensive available. I'm quite impressed. There is no pressure, ever and you are free to leave without buying. However, the pleasure of owing something so unique and the knowledge that you have contributed to keeping a traditional form of art alive is worth the small price. Plus, it makes a great story to tell back home.
Planner, traveler, reader, writer, blogger at Travel Stories and More, and 'grammer. Alice, the Mad Hatter and the Queen of Hearts all rolled into one. Vidya's travelogue isn't just her creative outlet, it's her happy space.