Tis the season… to find the perfect gift for the travel lover in your life! Maybe you even want to treat yourself!
10 Gifts For The Travel Lover In Your Life
Here are some of the best gifts for the seasoned traveler in your life, all for $30 or less.
Packing Cubes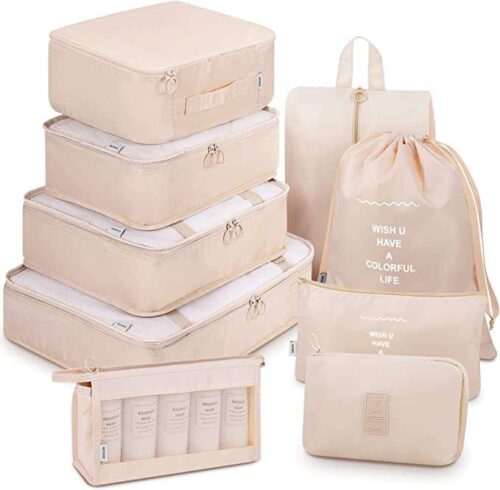 Packing cubes are a travel essential, especially since airlines have upped the prices of suitcases and carry-on baggage. They are so helpful for squeezing more cute outfits in less space, and leaving room for souvenirs on the way home! This set of nine packing cubes comes in a variety of colors, so it can match any luggage! It comes with 3 different size packing cubes for clothes, 1 undergarment bag, 1 toiletry bag, 1 drawstring laundry bag, 1 shoe bag, 1 zippered bag, and 1 electronics bag to meet the needs of everyone.
Perfect For:
the organized traveler.

the chronic over-packer.

the one who travels with only a carry-on.
Scratch Off World Map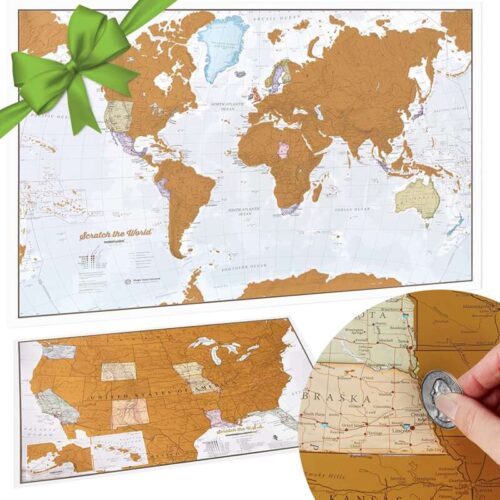 This gift is perfect for the goal-oriented travel lover, so they can track their progress as they explore the world. This world map and bonus USA state travel poster is a great decoration and conversation piece, and will leave you wanting to go to more and more places!
Perfect For:
the goal setter.

the home décor enthusiast.
Passport Cover & Wallet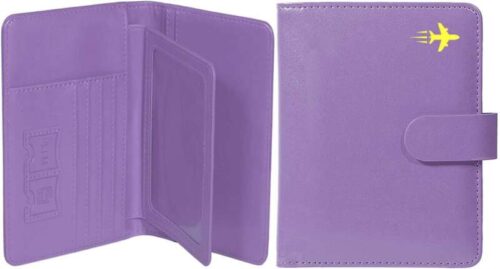 This passport cover and wallet comes in a variety of colors and is perfect for anyone who travels abroad! This cute and practical gift helps to keep your passport, money, other IDs and boarding passes all in one place. This cover even has a clear pocket to hold vaccine cards. It comes with a magnet clasp which can secure items inside, so your passport cover will not open in your bag. Ready, set, jet!
Perfect For:
the international traveler.

the practical traveler.
Travel Pillow with Bonus Eye Mask & Earplugs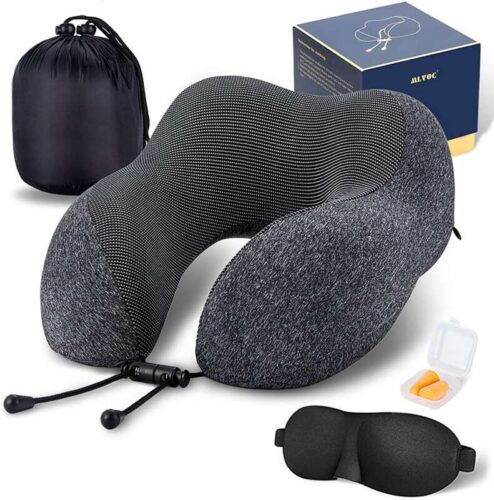 This pillow, eye mask and earplug set is perfect for any sort of travel! Whether you are on an overnight bus or train, a long plane ride, or in the car with noisy backseat passengers, this gift is sure to be a hit! The eye mask and earplugs can also come in handy when staying in hostels or shared Airbnbs. The pillow comes with a travel bag that allows the neck pillow to be compact when it is not in use. Its neck strap also allows it to attach to your carry on luggage without taking up extra space. Sleep better, and be ready for adventures when you arrive at your destination!
Perfect For:
the overnight traveler.

the passenger.

the overseas flyer.
Mini Phone Mount for Airplane Tray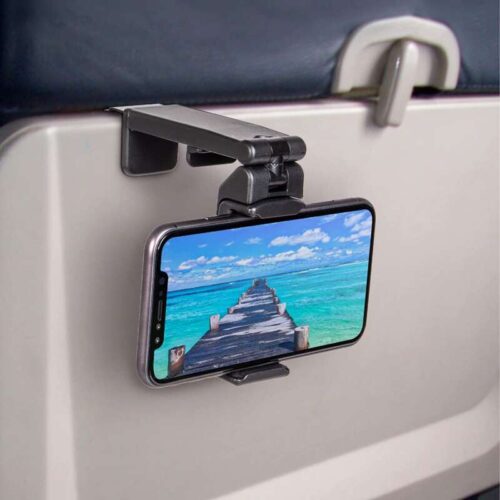 This mini phone mount attaches to almost any airplane tray for instant ease watching any show you downloaded on Netflix or answering work emails while flying. It is compatible for an iPhone Mini to an iPhone 12 Pro Max or Samsung Note 20 Plus. This gadget can be folded to easily fit into your pocket or in the seat bag while not in use. This is the gadget you didn't know you needed and now can't live without!
Perfect For:
the remote worker.

the traveler who needs to binge watch their favorite series.

the traveler with kids.
Travel Planner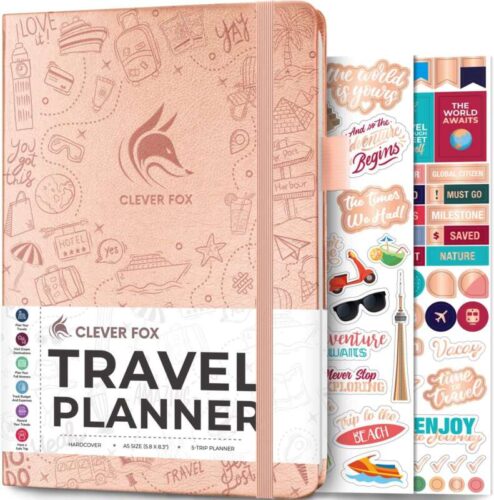 Introducing the Clever Fox Travel Planner! This planner helps you from beginning to end. It includes maps and destination ideas for brainstorming, tips for budgeting, and packing lists for preparing your trip, and a spot to review your trip and document the best moments. It even includes some basic translations and safety tips for travelers! The planner comes in many different colors and includes stickers for decorating as you plan!
Perfect For:
the organized traveler.

people who are new to traveling.

the traveler on a budget.
Prompted Travel Journal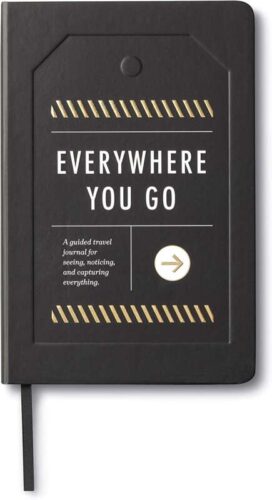 Journaling meets travel in this guided journal all about exploration of self and the world around you. The journal has 112 pages with spaces for reflecting on thoughts and experiences, jotting down things you want to remember, and some packing and preparation. This is the ideal gift for getting creative as you travel and capturing the memories to keep for a lifetime!
Perfect For:
the reflective traveler.

the creative traveler.
Knock Knock Pack This! Notepad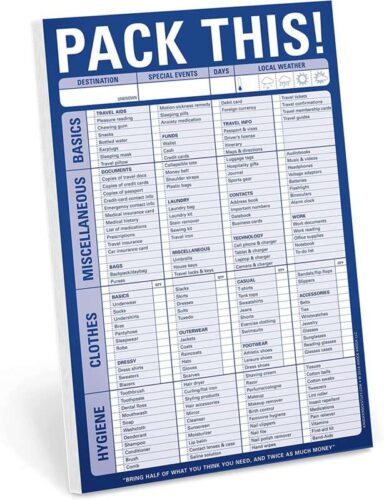 Knock Knock Notepads are keeping travelers in mind with a fool-proof packing list. It lists everything you could possibly need for any trip, and leaves space for you to account for how many of each item you need. The notepad is 60 pages long, so it will last through many adventures!
Perfect For:
the forgetful packer.

the traveler who always packs too much or not enough.
Luggage Cup/Phone Holder
Another travel essential you didn't know you needed and can't live without? The luggage cup and electronic holder is exactly that! It contains three pockets that can be used for water, coffee, phones, passports and boarding passes! This is especially great for traveling solo (ever ordered a coffee before a flight then realized you also need to use the bathroom?). The holder comes in a variety of colors and patterns for any travel lover on your shopping list!
Perfect For:
the solo traveler.

the coffee lover.

the person who always has their hands full.
Lonely Planet's Ultimate Travel List
This gift is for the travel lover x bookworm in your life. Lonely Planet ranked 500 of the best places to see on the planet, and compiled their findings in this practical and fun coffee table book! This book is full of photos, facts, and helpful hints for seeing some of the worlds best gems.
Perfect For:
the bookworm.

the wanderluster.
Hopefully you loved all these gifts! If you need more recommendations, check out these 10 best safety gifts for travelers, or these 46 adorable valentine's gifts for female travelers.
Alexis is a Special Education and English Language teacher from Upstate New York. She is currently living and teaching in Valencia, Spain. In her free time, Alexis loves to read, hike, dance, swap postcards and explore new places both near and far. She also loves anything to do with sloths!