Are you looking for gifts for women who travel? Birthdays, holidays, graduations or any other occasion that require buying a gift can be stressful. The hunt for the best gift can be exhausting. Her Adventures comes to the rescue! Here is a list of stylish gifts for women who travel. Are you looking for a gift for a woman who always tries to look stylish and loves to travel? Surprise a woman in your life with some amazing items from the HERA Shop. Here are the five best designs on items that you can wear at home, behind your desk and during your adventures.
Gifts for Women who travel by RV: RV There Yet?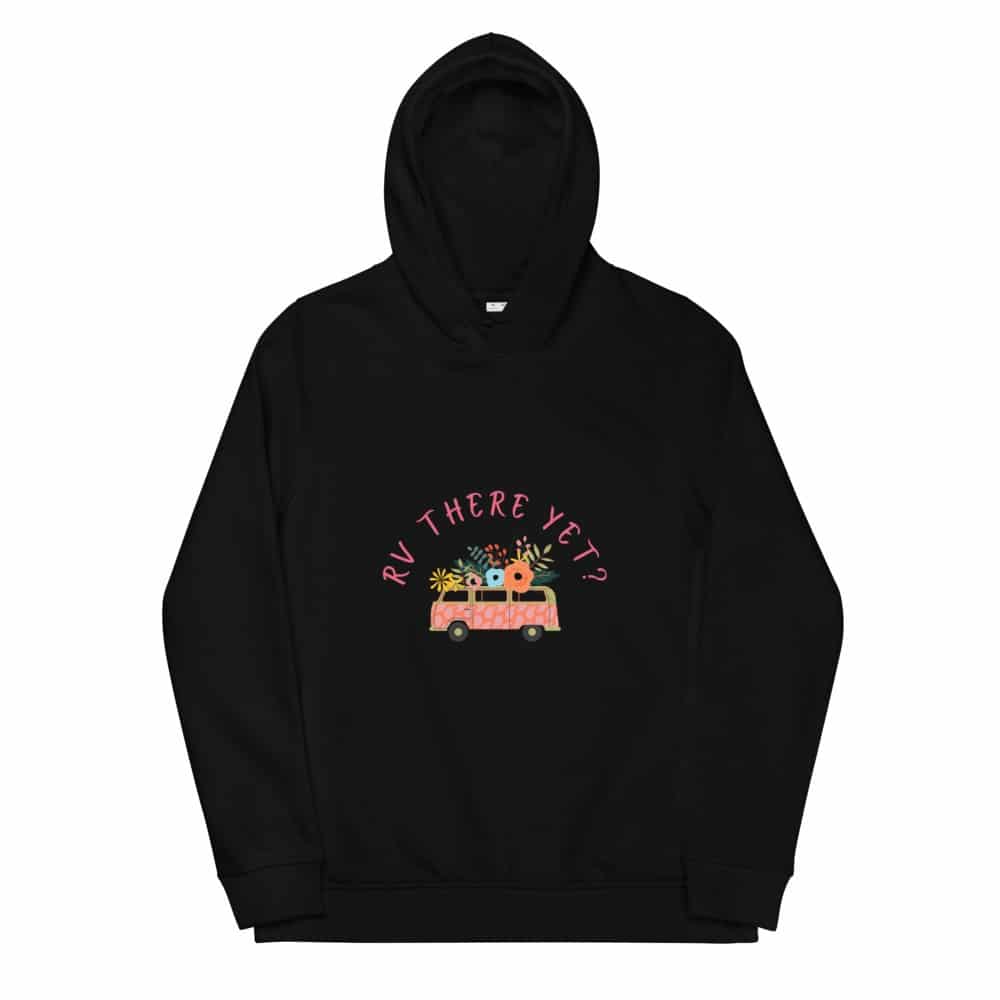 Remember all the 'are we there yets' on vacations as a kid? The HERA design team is doing a take on this infamous sentence with this awesome 'RV there yet?' design. The side-seamed pockets make it easy to carry everything you need while you are on a long car ride. It just matches perfectly with jeans, sweatpants or a dress, great for at home or being on the road.
To me making conscious choices clothing wise is very important. Being able to gift someone something eco friendly makes me very excited. Not only is it extra soft, but part of the fabric used in this fitted hoodie is recycled polyester.
Are you totally in-love with this design, like me? Take a look in the HERA Shop and order your next gifts for friends, family and yourself with this design today. It's one of those perfect gifts for women who travel.
Airplane Mode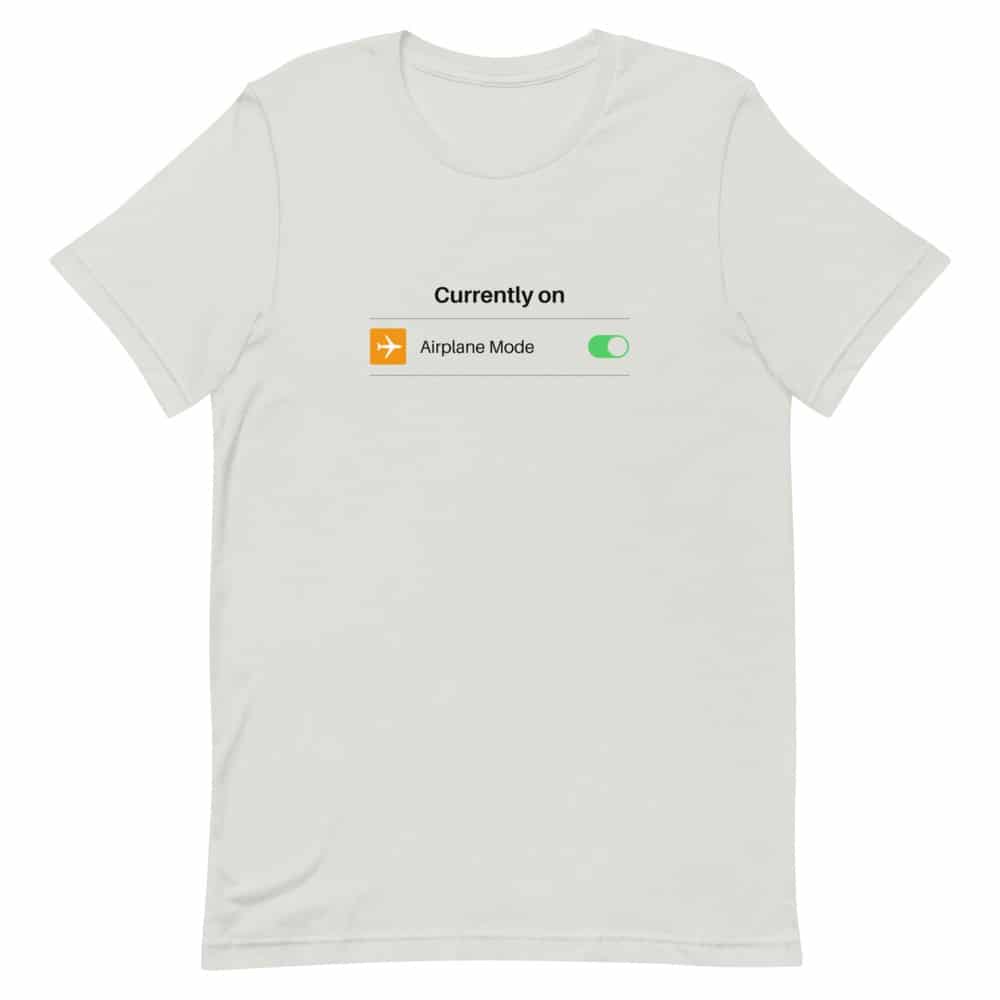 Tell the world you're on airplane mode with this fun t-shirt. Whether you are on the way to your next adventure or ready for a Sunday binge watching your favorite show, make sure you don't get disturbed.
What I absolutely love about this t-shirt is that it is made with pre-shrunk fabric. No worries that you won't be able to fit in your new favorite shirt after it has been in the wash. It also feels soft and lightweight, with just the right amount of stretch. Are you more into colored shirts instead of white? You are in luck, this shirt comes in 10 different colors! Are you more interested in hoodies or long sleeve shirts? We have you covered! Find all 'Airplane Mode' items here. Another one of those gifts for women who travel that you just have to love!
Amelia Earhart Travel Gifts For Women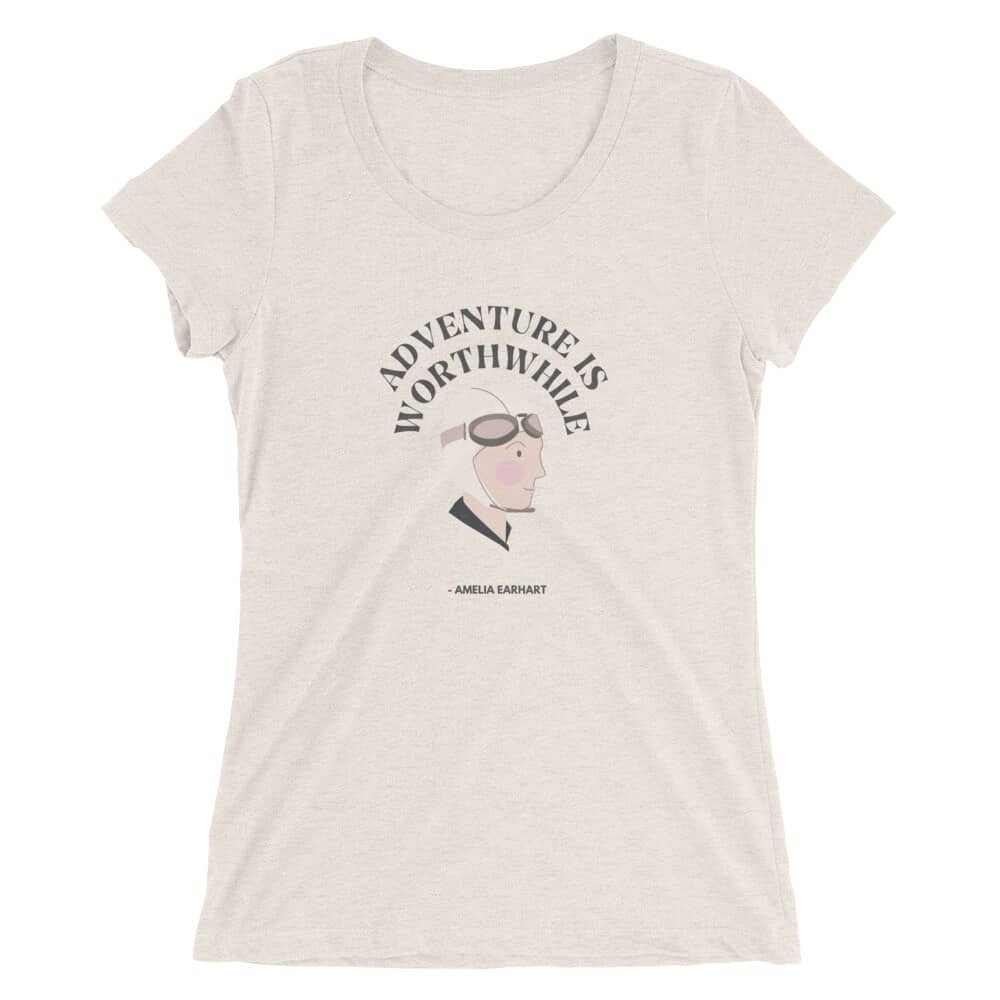 If you are looking for gifts for women who travel, this is a can't-miss. "What do dreams know of boundaries." These words were spoken by aviator Amelia Earhart, the sixteenth woman to receive a pilot's license. It's AE's legacy for equal treatment of women that still lives on today. Enjoy a cup of hot chocolate, like Amelia did during her 2408 mile flight to become the first person to fly solo across the Pacific, while wearing this cute slim fit t-shirt. Are you ready for your next adventure?
My favorite colors for the Amelia Earhart swag is definitely oatmeal. It compliments the illustration of Amelia, while wearing her goggles on her head as she didn't like wearing them while flying. Are you looking for more vibrant colors? In total this t-shirts comes in 9 different colors. Looking for other items with this very cute 'Amelia Earhart' motif? Our design-team got your covered. You can find all Amelia Earhart items here.
Sips and Trips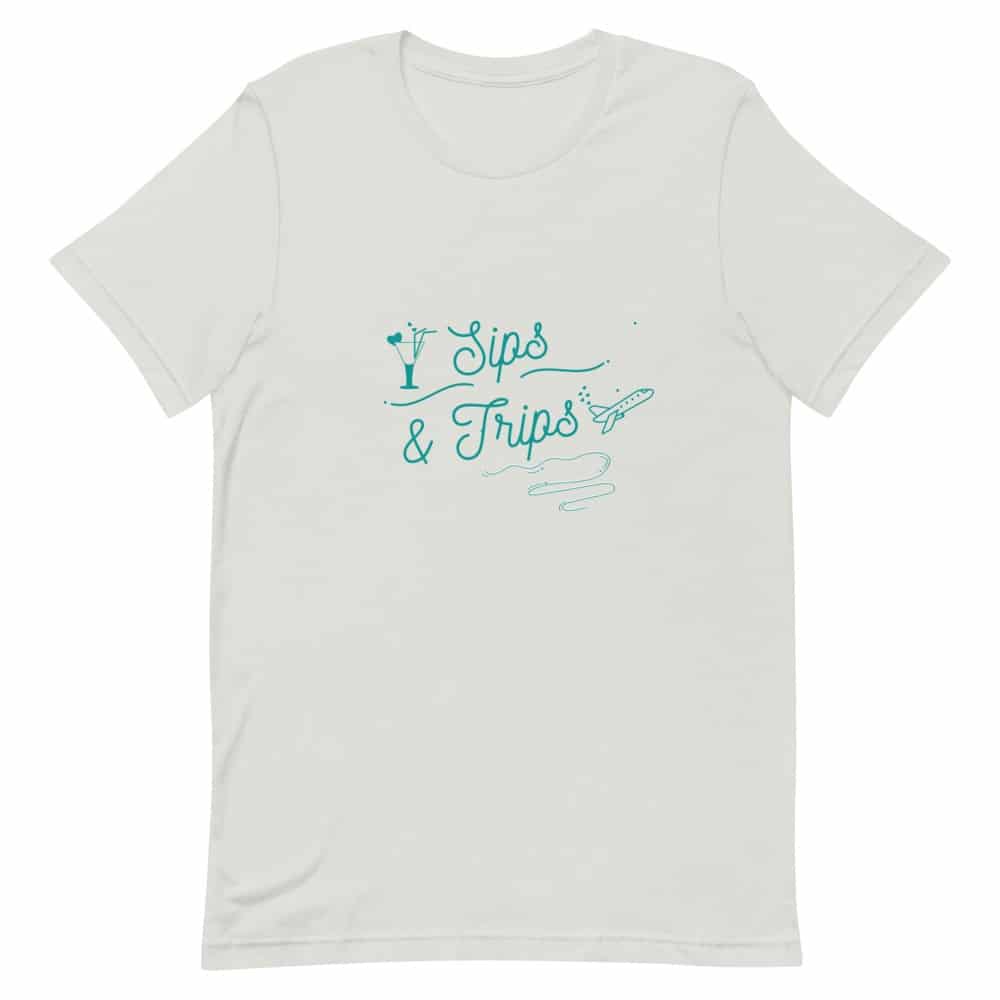 Gifts for women who travel and love sips & trips alert! Personally I love to sip myself through a new destination. Tea, coffee, beer, wine, I'm in for it all. What is better than letting everybody know what the theme of your next trip is by wearing this shirt? This shirt is perfect to wear on your trip. The fabric is soft, lightweight, pre-shrunk and has that right amount of stretch. A comfortable and flattering t-shirt for all.
Is your next Sip Trip going to a destination where it isn't t-shirt weather? Or do you prefer a funky color? No worries, check out the 3/4 sleeve and hoodie in the HERA shop with the same cool design.
Travel is my Therapy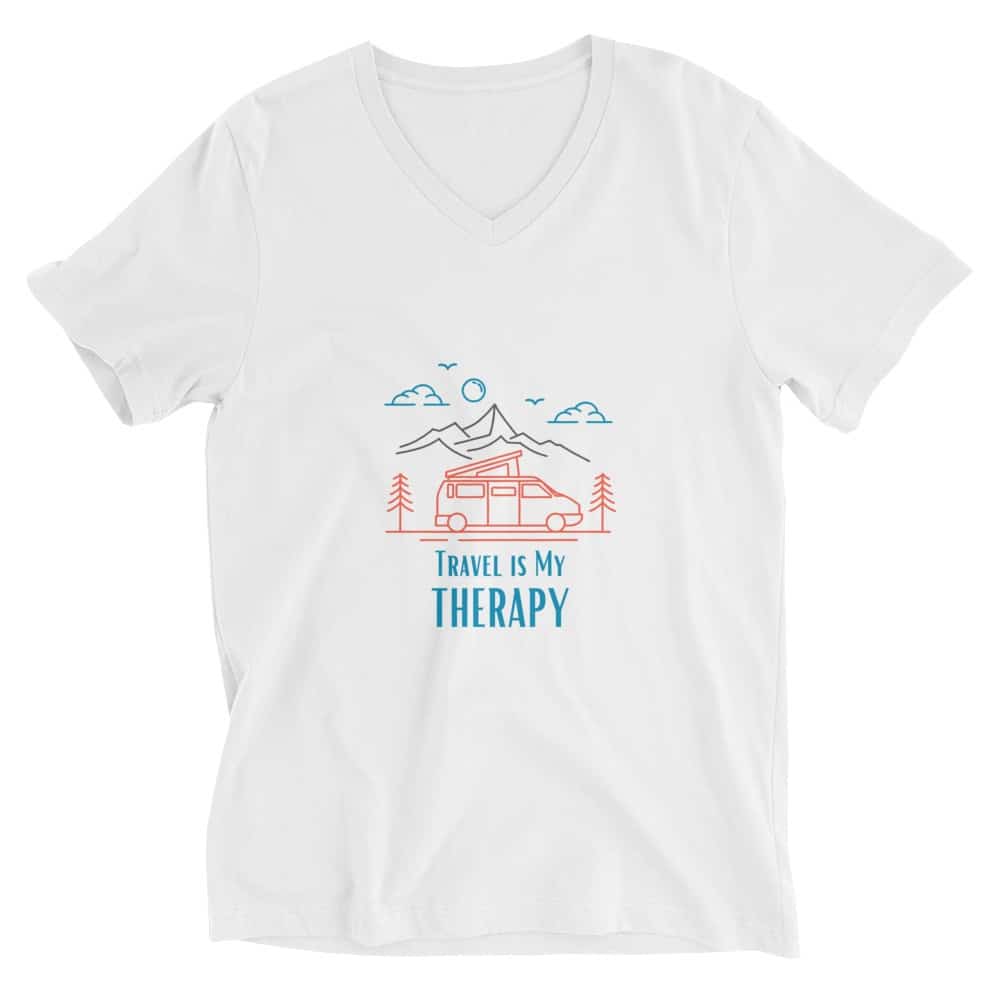 Travel is my therapy, for sure! Not being able to travel much can be hard. This very fun shirt reminds me that travel doesn't mean I need to be on a plane for ten hours to enjoy a new adventure. A walk in the forest, a camping trip nearby or just taking this shirt around the neighbourhood helps me to keep sane.
This t-shirt comes in a 100% combed ring-spun cotton. Also it has classic v-neck and being a unisex fit makes it a favourite during adventures and being home. Chill in style with this cute shirt. Want to be reminded that travel is your therapy all the time? Take a look on the website and explore on which items you can find this design.
Are you all excited and inspired to shop for the next gift giving moment? Get ready to order your favorite items. These gifts for women who travel can't be missed! Beside the above designs, that are my personal favorites, you can find many more awesome designs in the HERA Shop. The HERA design team is adding new designs often, so definitely take a look once in a while.
Martine is from the Netherlands. Six months of the year she travels with her husband who works on a cruise ship. When she isn't exploring new places she loves to read, write postcards, and crochet. You can follow her on Instagram as @martinemuis, on her blog, or watch her video's on youtube.